Hello everyone!  My name is James and I am a nurse working in Jersey City.  I am honored to be writing articles on health for this blog, and I hope you will find what I have to say both interesting and useful.  My goal is to use my knowledge and passion to help people live longer, happier lives through better health practices.
I'll start with an overview of the different parts of our body and how they work.  It's easier to understand why certain choices are good or bad for our overall health if we truly understand how they affect our body and its normal function.  I will start with just the basics, and if you read my entries in order you can build upon what you learn to gain an even better understanding.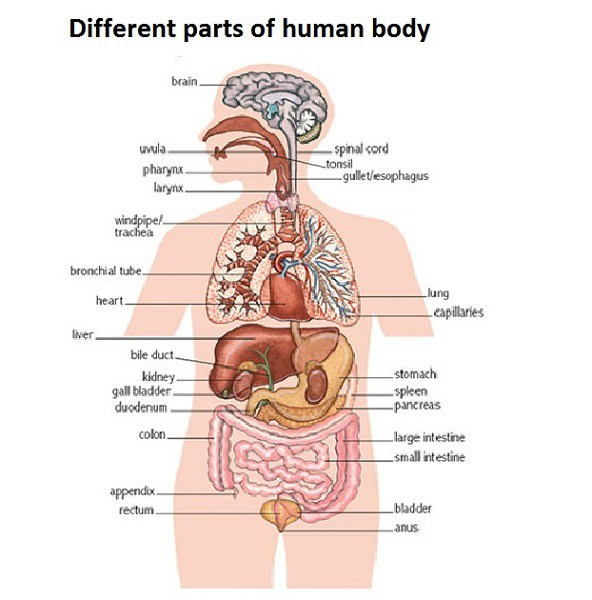 The above image gives you a good sense of most of the major parts of your body in terms of what they look like and where they are located.  I will work my way from top to bottom, placing more emphasis on the "essential" organs that you cannot live without. Bear in mind that anything I skip over is still important, but I'd like to keep each article short and easy to read.
By far the most important organ in your body is your brain.  Your brain is the command center of your body, telling everything else what to do.  Lifting a box, smelling fresh baked bread, reading this article, even just breathing – your brain makes all of this possible.  This amazing grey lump is very delicate, which is why our skulls are so thick and hard to protect our brains at all times. Still, physical trauma to the brain like a car accident can be fatal.  Two other ways the brain can die are from lack of blood flow (stroke) or from lack of oxygen such as choking or drowning, which is why the next two organs are also super important.
Your heart beats about every second for your entire life.  That is because blood, which courses through our arteries and veins to bring oxygen and other nutrients to every part of our body, needs power to travel great distances constantly.  The following image gives a better idea of how vast and intricate this blood delivery system is: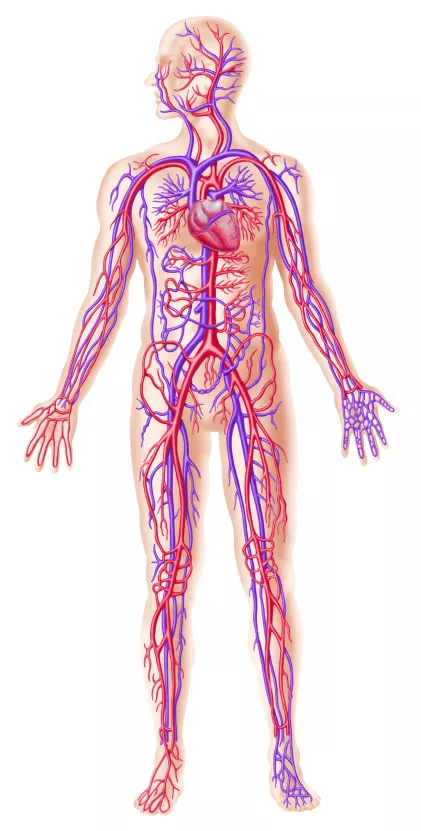 Think of your heart like a squeeze bottle of ketchup, and imagine you are pointing the bottle away from you.  The harder you squeeze, the further the ketchup will fly. Similarly, your heart will squeeze blood out as hard and fast as it needs to.  As expected, it works harder when you are exercising, and does the bare minimum while you sleep. The most common way that the heart can die is through a heart attack.  This happens because the heart needs some of the blood it pumps for itself, and things like high blood pressure or fatty plaques can impede blood flow back to the heart.
The next most important organ is your lungs.  One of the most important substances our body needs for energy is oxygen, and we can only get it from the air we breathe.  Air travels from our nose and mouth down the throat and into both lungs. Within each lung, the airway branches millions of times, and at the end of each branch are tiny sacs called alveoli.  Think of it like leaves on a tree, because the two things function identically. This design creates much more surface area for the oxygen to quickly pass into the blood so it can travel to the rest of the body.  The most common problems we face with our lungs and airway are things that block airflow, such as constriction and mucus.
Another organ we can't live without is the liver.  It is hard to succinctly describe what the liver does because it does so many different things.  Its main function is to produce chemicals called enzymes which regulate all the processes within our body.  Enzymes help digest food, fight infection, repair damage, and so much more. The most common cause of liver dysfunction is inflammation.  This can occur with alcohol abuse, infection or poor diet.
The kidneys are the body's filtration system.  When we eat food, exercise, or do anything at all, our body makes waste that is not only useless, but toxic if it continues to build up.  Our kidneys filter that waste out through urine, while making sure to hold onto enough water and other nutrients for reuse. The most common cause of irreversible kidney damage is poor blood flow, such as with diabetes and high blood pressure.
The last organ I'll talk about today is the largest, and not always thought of as an organ: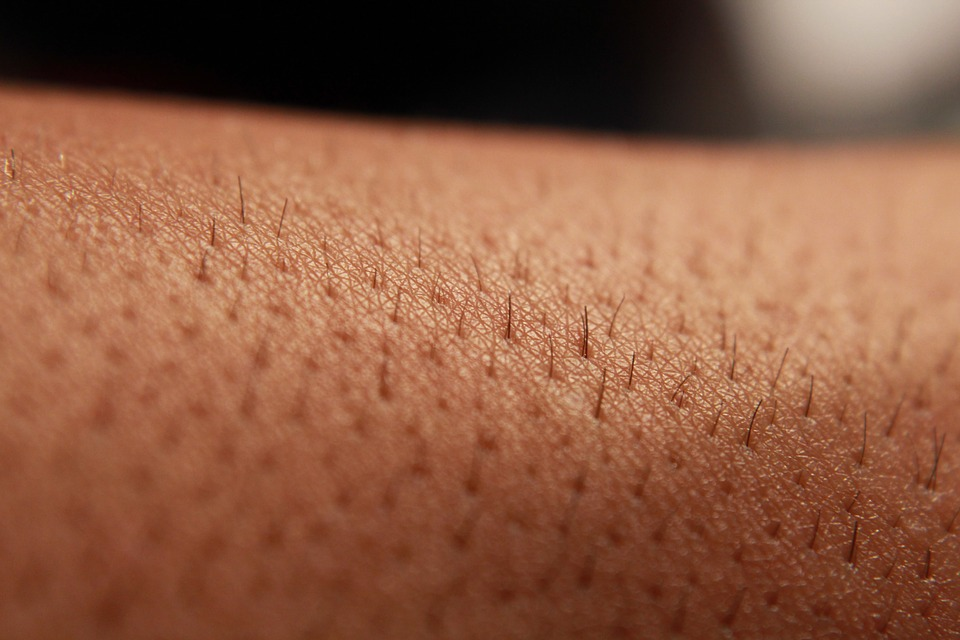 That's right – your skin is an organ, and a crucial one at that.  Your skin is your body's bouncer, always keeping the undesirables at bay, and able to take a licking from time to time.  This unsung hero regulates your temperature, protects the inner organs from physical damage, and keeps harmful bacteria, viruses and other nasties from entering your body.  Because of its frontline position, the skin has incredible regeneration ability (like Wolverine, but slower). The outermost layers don't even need blood flow, because they are constantly peeling off from everyday wear and tear, only to be replaced by new layers.  The skin is not impervious though, and serious wounds will compromise its integrity. Frequent sun exposure also makes it vulnerable to cancer, which has a nasty habit of spreading elsewhere.
Everything else in the first picture, as well as other body parts not pictured, help your body run smoothly, and I will cover everything in due time.  My next article will discuss the basics of nutrition, since what we eat is so monumental in shaping our health yet so poorly understood by most people.  I hope you enjoyed this article, and I look forward to continuing our journey towards healthier living!
---
About the Contributor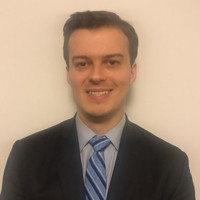 James is a former mechanical engineer who changed careers to nursing in order to better serve the community.  His curiosity is unwavering, and he always loves digging around for answers.  Equally so, he loves sharing his knowledge with other people and getting them excited about learning.  He feels that applying this to health education is the best way to help people live happier lives.