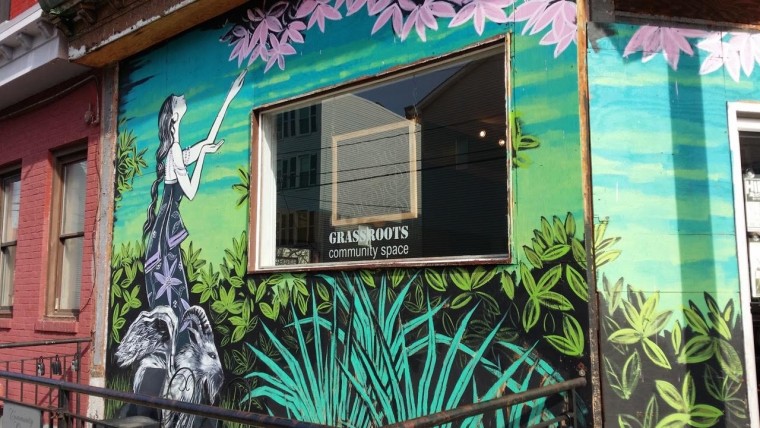 A few weeks ago, I had the pleasure of sitting down with Chelo Mercado, co-owner of Grassroots, a community space in Downtown Jersey City. I've strolled past Grassroots a few times in the past, and the colorful murals on the storefront always generated a curiosity in me about what went on inside those beautifully clad walls. Turns out, the interior of Grassroots-and the people- are even more vibrant.
I met Chelo in one of the two current spaces that Grassroots offers on an early Saturday afternoon. Sun beamed inside the high window and a couple women came in to get ready for yoga class. The energy in the room felt so positive. It's amazing what people's energy can do to make a blank area feel so welcoming.
Chelo chatted with the ladies and hung up a couple flyers for he and his wife's entertainment company for an event they were having that upcoming weekend. That's right, he's a two-time business owner. Then we namaste'ed out of there so the ladies could have their peace and quiet.
Chelo led me outside to the second room around the corner. We walked up to a garage door adorned with a simple and angelic mural. Once Chelo pulled open the door, I knew I was in for a treat. Inside there was a fun house of paintings, drums decorated with feathers, collages, street signs, costumes, vintage furniture, and mirrors.
As we continued to the next set of doors, there was an urban haven – a courtyard that Chelo uses in the warm weather for people to hang out, teach, build, create and simply enjoy. Chelo is such a kind person and when you speak to him, you really get the sense that he's tapped into a deep creative expanse within himself, like he's got something figured out that most people are still searching for.
Here's what he had to say about Grassroots, the Jersey City arts scene, and much more:
---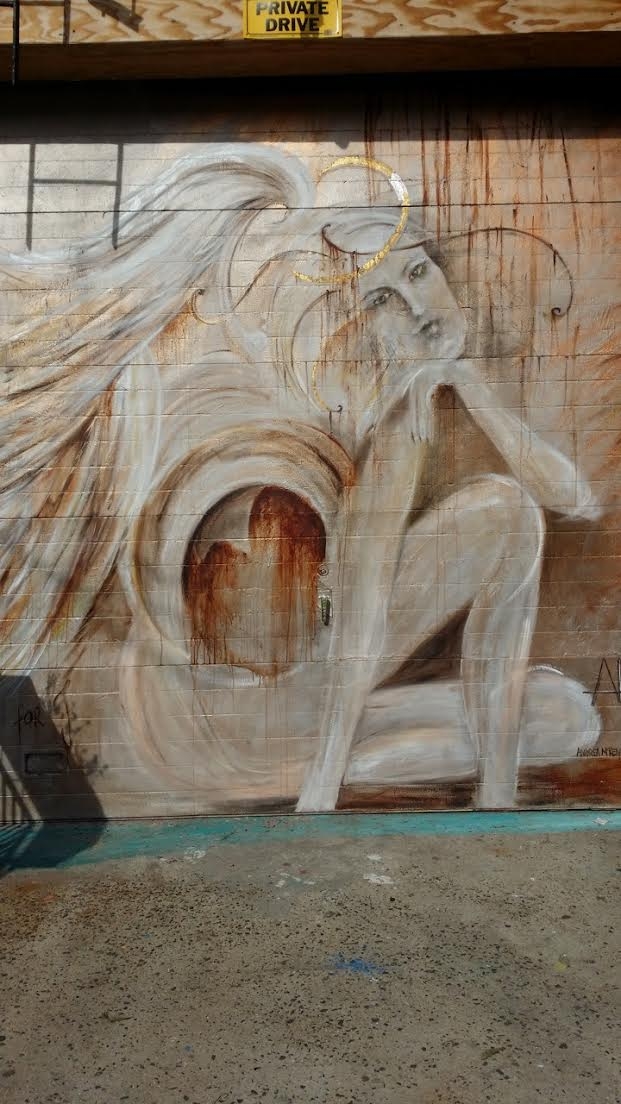 ---
For those that don't know you and don't know what Grassroots is, can you explain the concept?
Grassroots is an artist and entrepreneur incubator, so basically what we do is we give people access to our community, our social media community, all of our customers if you will, and we also provide a space for people to get their endeavors going without getting in over their heads. Rather than getting into full renovations, a long-term lease, anything along those lines- high bills, and getting their inventory together, we give them access to an open space to use as needed.
You've been in here in Jersey City for a pretty long time, right?
Yeah, we've been here for twelve years now.
Did you always have it in mind that you wanted to open up this kind of space one day?
Not this in particular. I knew I wanted to be an entrepreneur. I didn't know exactly what it was I wanted to do, but I had a lot of experience in civic programming, volunteering for YMCAs. I worked for the Boy Scouts for a long time, so a lot of outreach programs and latchkey programs. So yeah, that's how I got started- as a volunteer. I was a sports fundamental coach for kids 3-5 years of age. From volunteering, I moved my way up the ranks to youth activities director of the department. I was doing programs for the swim team, for at-risk youth, teen programs, things of that nature. That was my early experience in what I'm doing today.
That's really cool. So your main inspiration was to help people and give those who are relatively unknown a chance?
Well the spark here was really the arts because prior to this I was more on the side of sports, fitness and things of that nature. When I came to Jersey City I discovered the vibrant arts community and how cool art was. I didn't have an upbringing or a background in the arts prior to moving to Jersey City, so I guess you could say I've had a crash course in twelve years. My wife is the artist. So there I definitely got influenced early on, but for me directly, it was here where I experienced artists.
My first discipline was poetry. The very first thing I went and checked out was the open mic at this place called the Water Bug Motel run by my buddy Lex Leonard, who was my induction into the arts scene basically. I thought poetry was weak prior to that. Then I realized that these really hard dudes were saying these beautiful poems, and it was, like, really cool. It wasn't weak the way I thought it was growing up. But, it was amazing. After that, I started to discover all these amazing artists in town, and I started to question myself with, 'Why aren't all these people famous? Why aren't they doing it already? What's the problem?'
I think that all the time. There are so many talented people around.
Well, I learned. I learned over the years that it takes more than just being an amazing artist. It takes the full package. A head for business. You have to have your stuff together and make sure you're well-rounded. In some cases, it doesn't all just have to be talent either. It can be drive, and drive will eventually lead to talent that will eventually get you discovered. So after realizing that, I thought I wanted to be a part of it. I want to help these talented people to be seen and be heard. So that's kind of the idea of where Grassroots came from- from here. And my experience definitely helped early on with my professional career.
---

---
Have you always been in this location with these two spaces?
No, we've had more spaces. Originally in Jersey City, I lived on Montgomery by West Side by St. Peter's college.
That's actually where I live.
Yeah, it's really nice over there. We lived there for the first two years we were in Jersey City, and then we got Grassroots shortly thereafter. And then after a little while, we realized that the apartment upstairs was available as well, so we got that and Grassroots has been going for eight years now. That's basically how we ended up Downtown. We were always a part of the scene. We discovered the scene first- the underground arts scene which now continues to get scattered.
---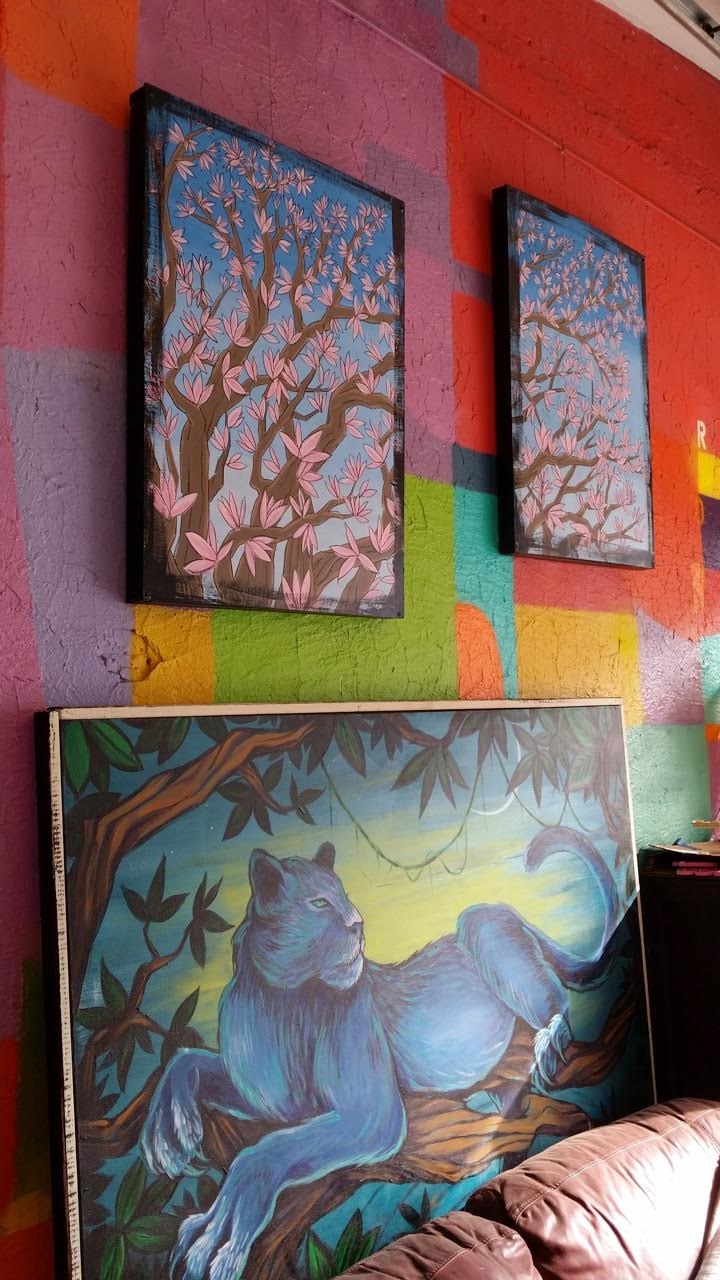 ---
Tell me a little bit more about your wife and what she does.
She's a singer-songwriter-producer. She's been in the arts her whole life really. She grew up singing with her family in Chile. She moved to the US when she was twelve years old to Dover, which is the town that I'm from. Even though we were in the same school district, I was moving around a lot. We never met each other until years and years later. She and her father have a band called the Apple in the Tree. They tour around Jersey City and New York, and they sing Chilean and Latin folk music. She also has her own album. We're really into EDM music, so she does like a house dance fusion. She produces her own music. She's also a visual artist. She makes our costumes. Look at all our pictures online. We're really into Burning Man and regional burns, really over-the-top super creative. We went for the first and only time in 2012, and that really blew our minds open to just continued evolution of what we're doing here.
She's helped me with everything. We've done Grassroots together. Our first event with the entertainment company- the entertainment company is called Cirelo- she's Sirena, I'm Chelo- together we're Cirelo Entertainment.
That's cute. I like that.
Thank you. It came together from just us going to events together in New York, and going and supporting our friends. After a little while, they would just tell us they needed us to keep coming back because we'd bring this whole gaggle of friends and party up with our costumes. It came a time where the owners of the businesses and the DJs would be like, "You guys gotta come back!" And I was always like dude… I work a full-time job! I can't go and party every weekend. So one day as a joke, I went to one of the owners and I told him we'll come back if you pay us, and he was like ok! So that's where the idea sparked, and then when we got married a few years back. Our first official event was our wedding, which was a four-day long festival out on our buddy's land- Raven's Valley in Schwenksville, Pennsylvania. It was a whole burner thing. We had fire twirlers and performers and DJs, and we had a whole tent village we called "Tent City" out there. Yeah, it was awesome.
That's so cool. So did you advertise it as an event open to the public?
No, it was a private event. Our friends helped us put it all together. We just went all out. We have a lot of very talented, interesting friends and they just all came out to lend a hand…Yeah, that was our wedding.
So then after that, we decided hey, if we can do this, we can knock anything out. So since then, we have been for the past few years- more so lately. When we were first getting established, we were really focusing on Grassroots- making sure that was stable and steady. Through Grassroots, we've seen more than sixty entrepreneurs and artists that have come.
Yeah, they've graced our doors and they've come and have opened up their own brick-and-mortars in town, and we've helped them opened up their own spaces.
---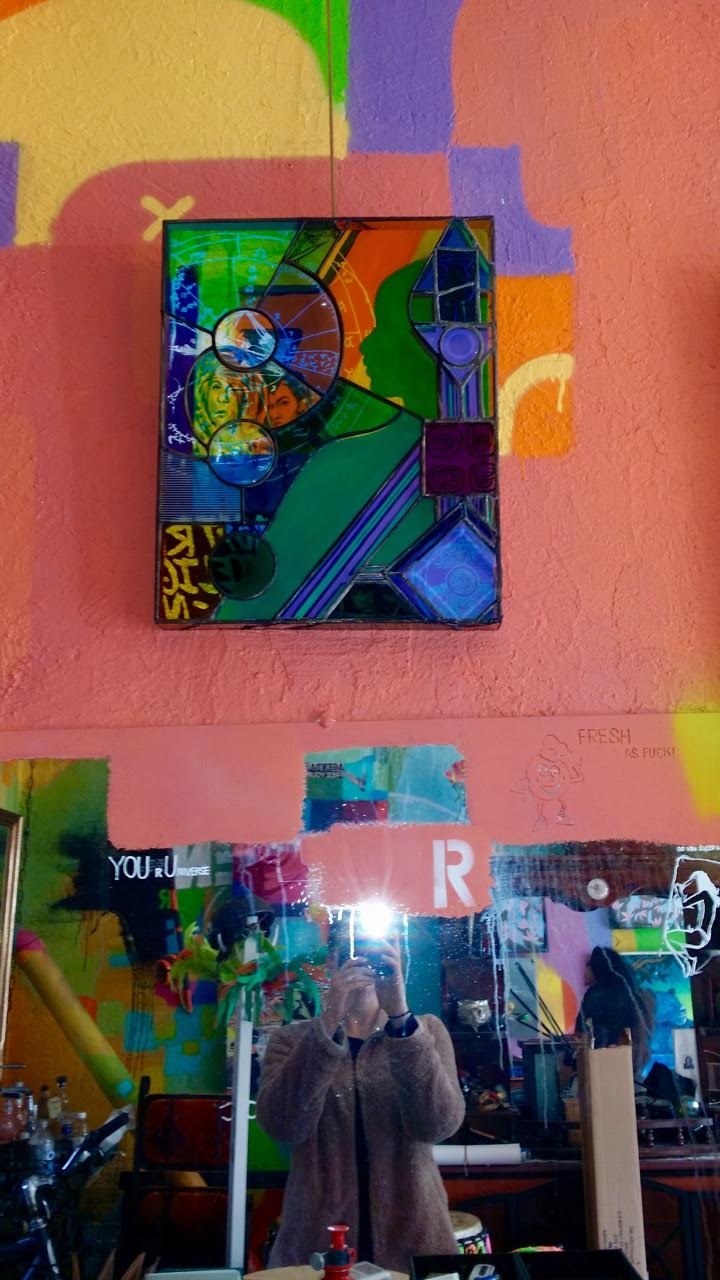 ---
That's huge! Do you mind saying who some of them are?
No, they're Performing Arts Workshop near Grove Street, AU Capoeira, which was next door but now they've moved to the Brunswick Center. NBK, another one, Nothing But Knowledge break dancers. They're over on Bright Street.
I saw them at last year's All About Downtown Festival!
Yeah, they're awesome. If you saw them, you saw our stage then! That was our stage. We set that whole thing up. That's one of the things we do.
JC Kickboxing was here for a little while, too. They're over at the Brunswick building now as well. There's Tang Soo Do Martial Arts. They're another one. They went to Hoboken after they were here. Some of them were established elsewhere and some weren't, so we'd help them get established here.
One of the things I'd say that I see most here is that sometimes people don't really want to own their own businesses. They don't know it. The good thing here is that they're not getting in over their heads.
It's more comfortable.
Yeah, it's an hourly rate. You're only out a month's rent, and not a full renovation, all of the documentation, a lease, promotions and things of that nature. It's another thing since we're around and already established- we have upwards of 5,000 followers on social media and elsewhere- then the entrepreneurs that come here get access to that. You get access to an immediate community. So it really is up to the entrepreneur, and how much they put in it. How much you get out of it is what you put into it. We do something called radical self-reliance here. We want to see that you want to do it. The more you're doing it, the more we'll help you. But if you're just blasé blah and think we're going to do it for you, that's just not going to happen. That's not the real world. A lot of people don't understand. They think, hey, this place is established. I'm going to come in here and have clients. But no, you have to introduce yourself to the community, and let people know that you're here to help.
And the community is so welcoming here in Jersey City.
Oh yeah, I'm friends with all of them over here. [gestures to the block] They all watch over me and watch out for the space for me. It's a really, really supportive community.
---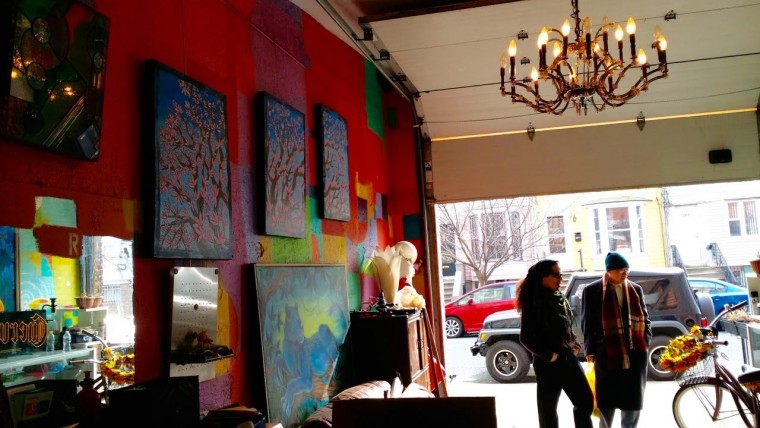 ---
So right now I saw on Grassroots' online calendar that you have Bollywood dance classes. You have yoga classes like what I just walked in and saw earlier. What else is being offered at Grassroots currently?
Yeah, it rotates. A lot of my clients have stayed with me for a really long time. They have success. It's a real nominal fee that I'm charging them, ten students in one class is doing really well. Then they stay with me for years. Some of my clients have been with me for seven years now. Others come and go. Some are new, but I would say a predominant number of the clients that I have right now have been with me, at least, two plus years…so it's good.
What are some of the most memorable experiences you've had so far? Is there anything that sticks out in your mind?
Oh man, I really love when we do this JC Fridays program that I was telling you about. I really love bringing all the elements together. It just totally drives me. I love seeing all of the talent come into the room, and I am kind of like the big picture person like I put things together so it's what I like to do. I love to bring key elements together.
In particular, our very first JC Fridays, we had AU Capoeira, NBK breakdancers. I had this holistic healer, so she was doing chakra clearing and energy. I had breakdancers versus Capoeira kind of thing happen. It was really creative.
It was a whole fusion.
Yeah, a fusion because the b-boys like to battle each other and Capoeira basically "play" or fight against one another, so it was cool because they had never done it before. So I was like dude, you guys are going to battle each other [laughs]. It was on the fly. My buddies were DJ'ing. We had a fashion show. All of these elements came together to make this thing, this ridiculous night. It was awesome. We had belly dancing one night. Body paint with belly dancing another night. I remember my wife did this thing called Pacha Mama here, and it was an all-female art event. It was all the female breakdancers, all the female rockers. Then there was an all female fashion show.
It was just a whole day of girl power. I'm really proud of her for that.
---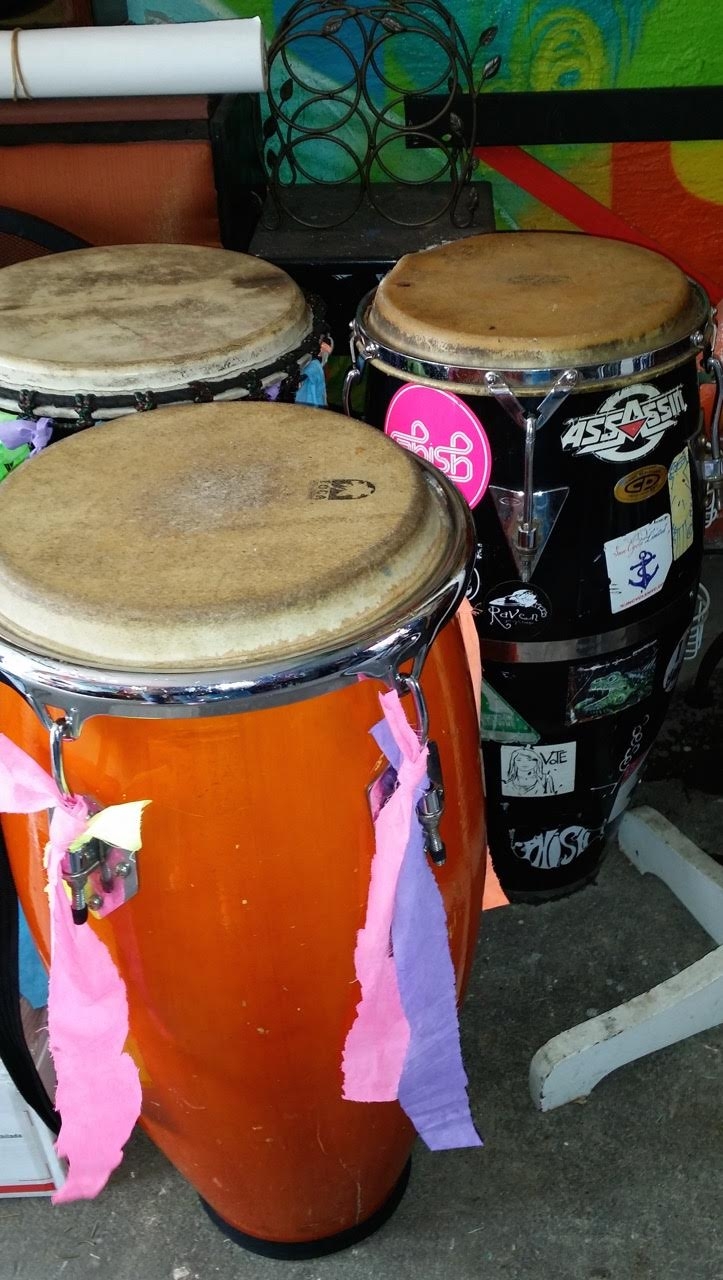 ---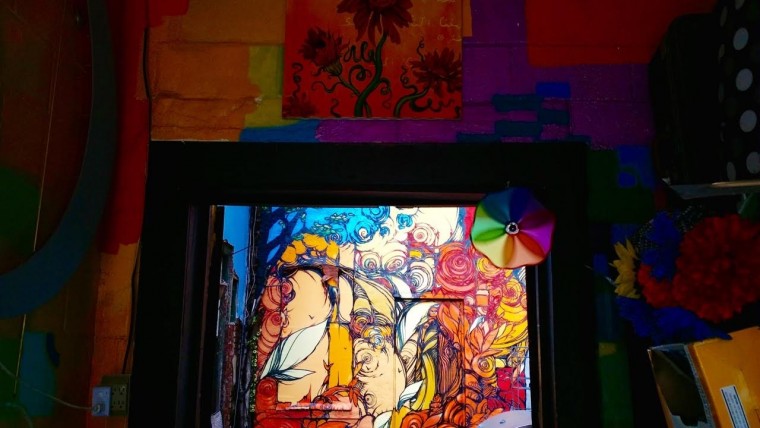 ---
For people that will be reading this article and are interested in Grassroots, how does it work? Do they contact you?
Basically, you can go to grassrootscommunityspace.com. We have all of the information on how you can get involved with us there. We also have an up-to-date calendar that tells you what programming is going on in what space, and the hours that are available in between. You're welcome to pitch your idea to us, and as long as it falls in line with our vision, then we would be happy to have you. Falling in line with our vision just means that you are all-inviting, that you don't neglect anybody that wants to get involved. As long as you're open to the community.
And it's cool if, say, someone's a yoga teacher, and there are already yoga classes going on, they can still come and do their own thing, too?
Yeah absolutely. It helps. I mean a lot of people think it's repeating what someone else is doing when really the opposite is also true because you're supporting others. And people want the variety. If there's a yoga class you might want to take, and it's three different teachers a week, you'll learn from the other teachers. It's a really supportive community. We really encourage everyone to play nice. [laughs]
Very cool. What do you envision for Grassroots' future?
We definitely do have a vision. It's a funny thing. I have to tell you, I'm always weary of telling people what the vision is. [laughs]
No, I totally understand.
It's one of those things where it's my golden nugget [laughs], and you put it out and everybody- those that might be further along might learn of the idea and want to do it themselves if you will. I'll tell you what. When we first started here, we were the first of our kind, and now there are four, five, six other places that are doing the same thing we're more or less doing. Some of them started with us. It's a love, it's a beautiful compliment, an absolutely beautiful compliment. It shows us that we're on the right track obviously.
Right, because that's what you're hoping for.
But it's nerve-wracking thing at times as well because you don't want your baby being beat up out there. Done wrongly and incorrectly, have the wrong spin on it.
But the idea is that yeah, we intend to grow. We're ready for it now. Opening more spaces like Grassroots. Keeping it on the Grassroots level. We're not interested in like a 10,000 square foot facility or anything like that. We like the small mom pop shop idea.
Yeah, it makes it more intimate.
Yeah, the fact that we're entrenched in the community. We look to the community. The community is what informs us on what's needed. What do you want as a community member, and then how can we make it happen? How can you make it happen for that matter. And how can we support you to make it happen? That's the idea. So the future for Grassroots is more space, more spaces in more towns.
---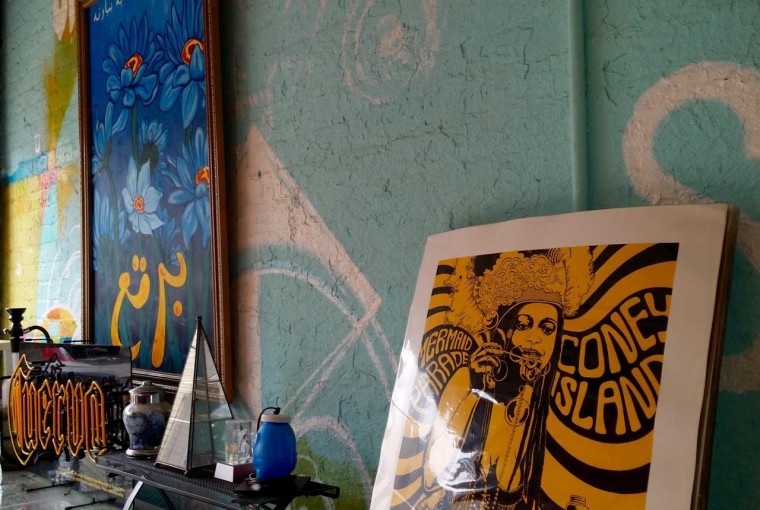 ---
Aside from Grassroots, what are some of your favorite hangouts around here?
There are a lot of them. Well as I told you we spend a lot of time, late nights, weekends, so for a long time, we threw a party at Port-O Lounge every Friday night. I try not to go out above and beyond the events that we're throwing because we're throwing an event almost every week.
Yeah, you're already supplying enough for yourself. [laughs]
It's a funny thing. And it's tough because we want to go out and support everybody, but everybody is throwing an event at the same time that I'm throwing an event.
There's always so much going on around here.
Yeah, so it's a really tough thing to be an event thrower and I guess you can ask any of the doers in town, and they'll probably tell you the same thing. It's tough to make all of these other events while you're setting up your own space. I like Port-O Lounge. I like Porta's. I like LITM. I mean, I support all the local businesses. The Key Hole is another major one. They're family friends. They're awesome….Talde, I really hit them all, but right now we are working with Transmission, which is a new place in town. I don't know if you've been there.
I've heard of it. I haven't been there yet, though. There haven't really been any clubs in Jersey City recently, right?
Not for a really long time. You weren't able to get a cabaret license in Jersey City. You weren't allowed to have music venues around. This was an old law that happened in the late '70s, early '80s. Jersey City was a whole 'nother place. To walk around these streets now, I mean literally it was dangerous to go to the PATH station, Hamilton Park…so that's where those antiquated laws came from, and then the art scene basically moved in because rent was low.
It was cheap to live around here. Dangerous and cheap [laughs].
That's where the art scene started to incubate and become what it is now. One of the buildings – 111 First Street – is this huge historic warehouse where all the artists took their own little space and made it amazing. There were these huge rage parties that would go on in this outdoor quad that was in the middle, and you wouldn't even be able to tell it was happening. Ultimately the squatters had a battle with the landlord. The building was torn down. Then all the artists shot into Jersey City and, fortunately, because now the arts is just spread throughout the entire city.
So it's funny because Transmission is located in the Powerhouse Arts District, which was the only arts district, but now there's so much art going on that the city council and everybody realized hey, we better spread this out a little because it's happening all over the city. So now there's a larger arts district, but that's where Transmission is and it is a full-on nightclub.
We really get to flex our muscles over there. We're really into larger events. We finally have this playground to play in. We're throwing a monthly event, and it seems we're going to be involved further with them and basically almost all the events that they're doing.
Cool, so more to come…
Yeah, we're excited about that, so excited.
---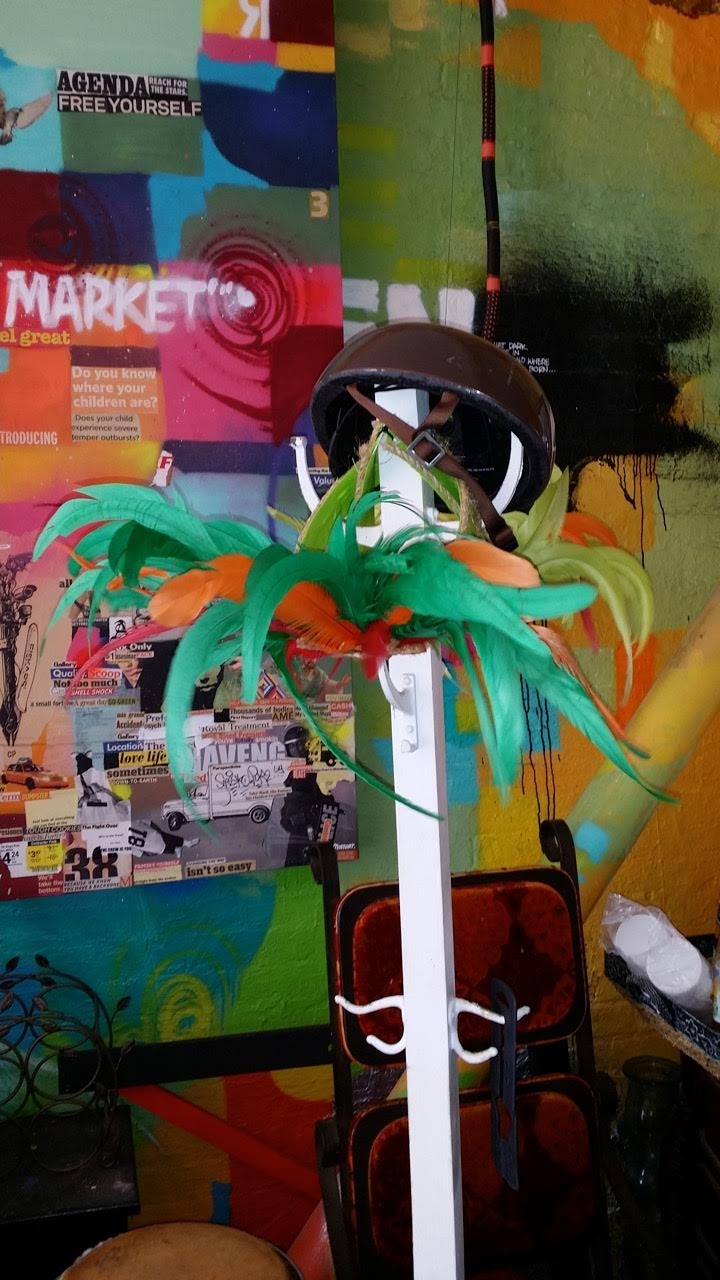 ---
Jersey City isn't as crazy and hectic as NYC, but most people that live here do work in the city, and you're always around that hustle and bustle. I think it's nice to have space like this where you feel like you're kind of stepping away from everything and around a calmer feeling when you're here. That brings out that creativity that sometimes escapes you when you're busy in the day-to-day living.
It's true, and that's actually what turned me on to Jersey City. That even though it is a city, it's a busy city it is, but it's a neighborhood.
It's a community. People say hello to you here. Even if they don't know you. I know there's a lot of new people in town, and I think the old guard here has made it a thing to say hello here, be friendly.
It's chill here. It's Chilltown like you don't have to be afraid of the big gnarly looking people. They're friendly. There's a lot of weirdos, which is perfect. It's perfect. That's one of the reasons why I feel so at home here because I feel that I am a weirdo in a sense, and I feel weird when I leave this area. Being weird is awesome. I'm not sticking out like a sore thumb which happens a lot of time.
Yeah, where people are just sort of scratching their heads like "What's going on?"
Yeah, what's going on? No, but here it's just like whatever. That's not weird. You haven't seen weird yet. [laughs] So yeah, definitely one of those things that I love about Jersey City, just the fact that it is a community. People here care.
---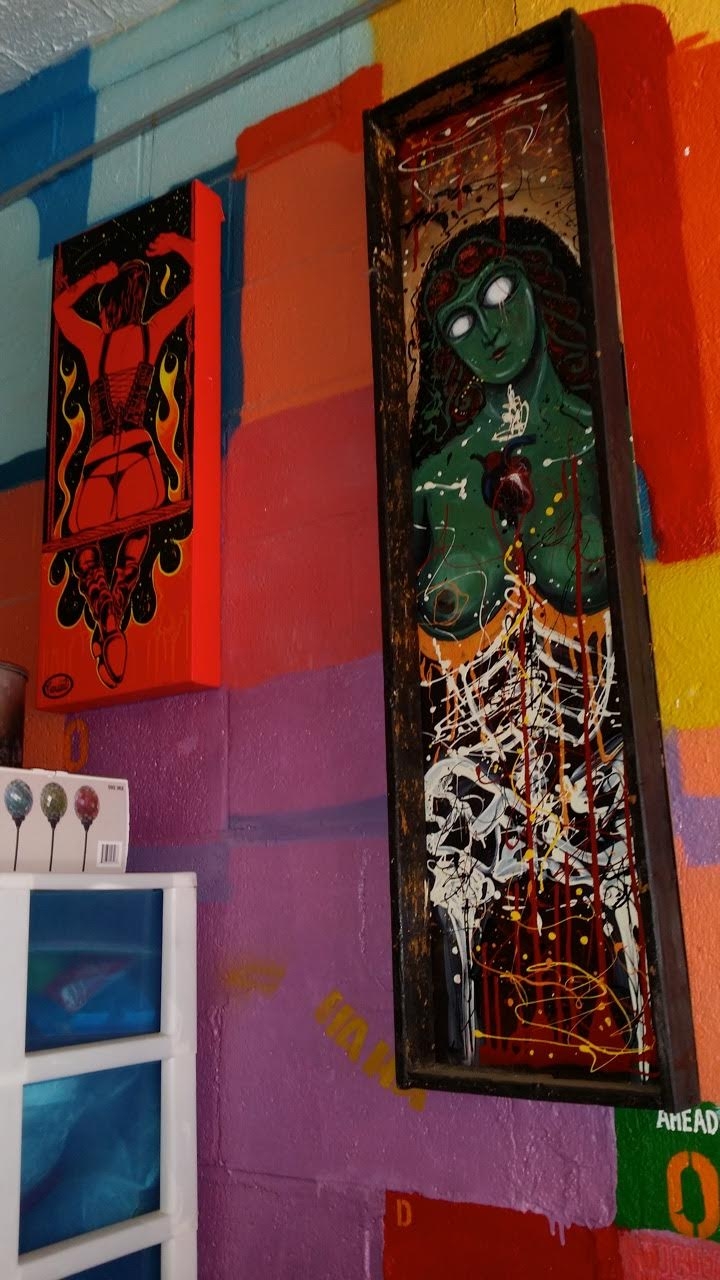 ---
So everyone has something that they think about – a daily motivation or inspiration when they get up in the morning. What's yours?
Oh cool, alright, I can dig that. A daily motivation…y'know what? I'd say that the last few years it's all been about the quality of life like feeling good, living good, being fit. And more so in these last few years, you go through your evolution of self, so what drives me is the fact that we have this beautiful opportunity to be involved with all of these super creative, super talented people. We get to approach it with our hearts, with full open love, and it's really harmonious for us. We feel balanced from it all.
So just on a daily basis, to have a daily practice of plugging into something that makes you feel good. I do yoga. I do Capoeira. I go to the gym. Lately, I've been meditating, which is something new.
I've been getting into that, too.
Meditation is really awesome. I'm digging that. Really when I sit and meditate, I count my blessings. I count my blessings of being here in this town around all of these super amazing people, having this beautiful opportunity to help and be involved in it. Not so much just what we've done for them, but what it's done for us. We're feeling blessed by it.
So just getting up every day and doing this, doing my work is motivation for me. It makes me feel good.
That's awesome.
And I'm a Jack, I do a little bit of everything. I fix my own car. I build bicycles. We're fire performers. We're percussionists.
You're a totally self-sufficient person.
Yeah, that was the idea. There was no mistake. The idea really is to be self-sufficient. I was a latchkey kid coming up. I had to be creative with what I did. It's really important for us, for me, to have our own way to make a living. We can be creative about it. Not coming from that was a little nerve-wracking, but once you get into the creative aspect and your mind opens up to how creative you can be with things, it just goes across the board. You can do it with everything. You can apply it to everything including making a living. Yeah, it's a blessing. It's a beautiful thing.
---