Before I launched ChicpeaJC.com, this website was going to be "Chicpealife.com," a fun lifestyle blog where I could write about all the shit that goes on in my head and share my outfits. It wasn't going to be a whole thing, I didn't even do it thinking people would read it. When I worked in corporate, the way of expressing my creative side was to put outfits together before work. I would take selfies and post them on my Pinterest. I decided to turn it into a lifestyle blog, and then I realized that there's more I want to write about other than fashion…. and then I realized there's so much going on in Jersey City and I wanted to explore it. And here we are…
We write about everything and anything, and the actual thing I started this blog for – fashion – well, we don't write about. Which is funny! I have been posting my outfits and looks on my social media and always get so many messages from followers asking where I shop. So I decided, let's get back to the OG Chicpea and share my outfits with the world. Here we are.
Chicpea Styles.
Every month, I will try and share my favorite looks and where to find them. I like to mix vintage with contemporary, high and low fashion, and I shop local whenever I possibly can.
Manny's JC Cocktail Bar Opening Look 
One of my favorite outfits this month, I wanted to wear something chic and also comfy as I had two events to attend that night. Special shout out to Blo Bar Jersey City for doing my hair! Getting your hair done is THE perfect outfit accessory and makes you feel FABULOUS.
Top
Got this super cute flowy top at ASOS a few years ago, couldn't find the link but if you go on their site, there are tons of cute camis that are perfect for that night out fit.
Pants 
Purse 
Gold Vintage Purse from Mint Market Jersey City
Heels 
Storets.com – Red Bow Stilletos $85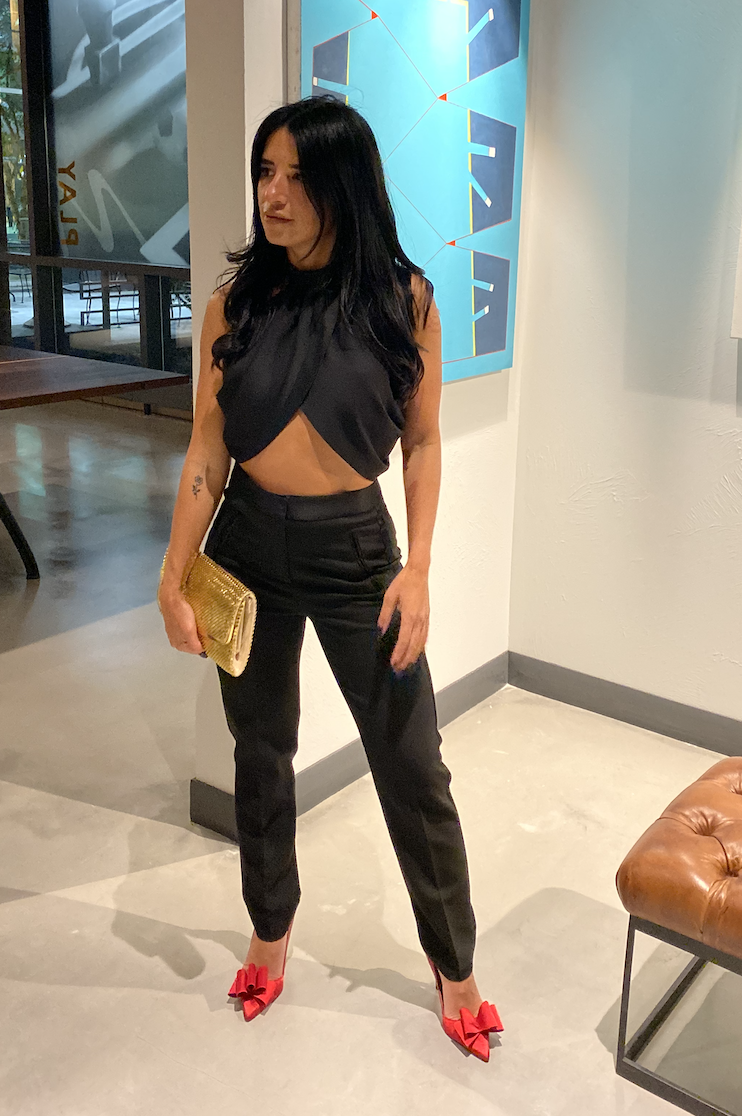 On a Monday
The advantages of working for myself most definitely includes being able to wear what I want. For this outfit, if you're looking for a business professional look, maybe don't wear a crop top (depending on where you need to go). I like this outfit for a work day that can seamlessly work for happy hour, a date, or even a night out with your girls. Take the blazer off and you're ready for the party!
Blazer 
I got this oversized vintage blazer at Another Man's Treasure in Jersey City. They have plenty still in stock. If you can't find any in your size, I found a few similar ones on these sites. I really love the oversized blazer look this year, it goes with everything and really elevates your look. Super Chic! I paid about $65 for this blazer.
Top 
Any white tank/crop top will do. This one is Naked Wardrobe. $25. I wear this a lot! It goes with everything and is the perfect basic white crop top.
Skirt 
Black-midi length skirt. This is a MUST staple in every woman's closet. This material is super flattering and really sucks everything in. I got this one almost a decade ago at Aritzia. I couldn't find the original one, but Naked Wardrobe has tons of these skirts on their site. $36
Heels 
I bought these Schutz heels a few months ago and I have been absolutely obsessed. They make my legs look LONG! And they are now on sale! Shopbop.com$108
Sunglasses 
Got these lovelies in Israel at Caroline Lemke, they are good quality and inexpensive. I couldn't find these exact ones but here is a similar pair.
Leather Backpack
My vintage Chanel Backpack was a birthday gift to myself 3 months before my birthday. I am always on the go and carry so much with me so I wanted to get myself something chic, and what better way to invest your money in a beautiful Chanel. I got this at The Classic Coco Trunk Show at Another Man's Treasure.  If you're looking for a more affordable option, I found the two cute leather backpacks online!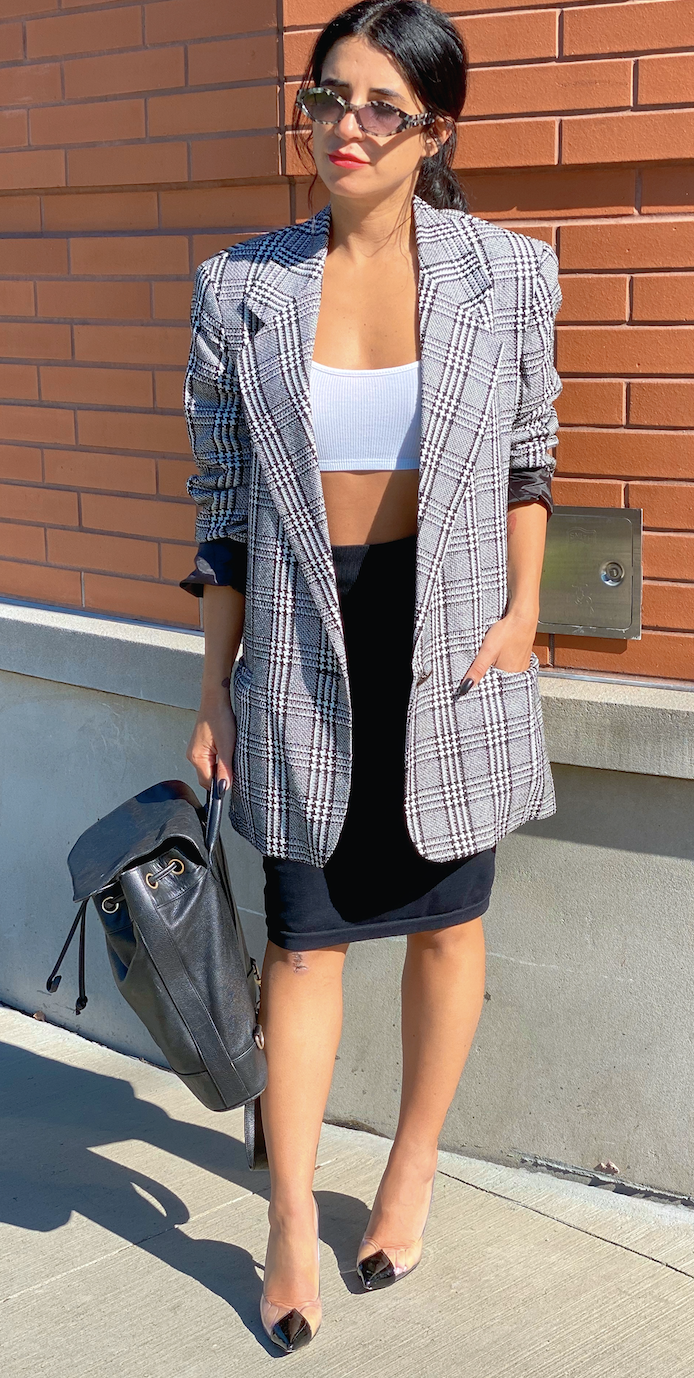 Weeknight outing look
I went to the city to meet a friend for a drink and felt like dressing casual, so I paired these super comfy jeans with a vintage t-shirt and boots! One of my favorite things in my closet are my vintage tees. They all have so much character, are super cozy, and make a bold statement. There are so many vintage shops in the area you can go to and get a few vintage tees to add to your arsenal. It's also easy to wear!
T-shirt

Vintage Tee from Another Man's Treasure, $20. Zero Kids in Jersey City also has a plethora of vintage t-shirts!
Jeans
Got these super cute stretchy, wide legged jeans from Forever 21! They are still available for $45. – Link
Gold Hoop Earrings
Also a staple. You can find these everywhere!
Red Booties
I am loving these red booties I got at Zara for that nice pop of color. Super comfy too! They are still available too! $59.9o – Link
Vintage Gucci Bag
This vintage Gucci was a gift from a family member, you can find something similar at any vintage shop! I saw a few at Mint Market in Jersey City.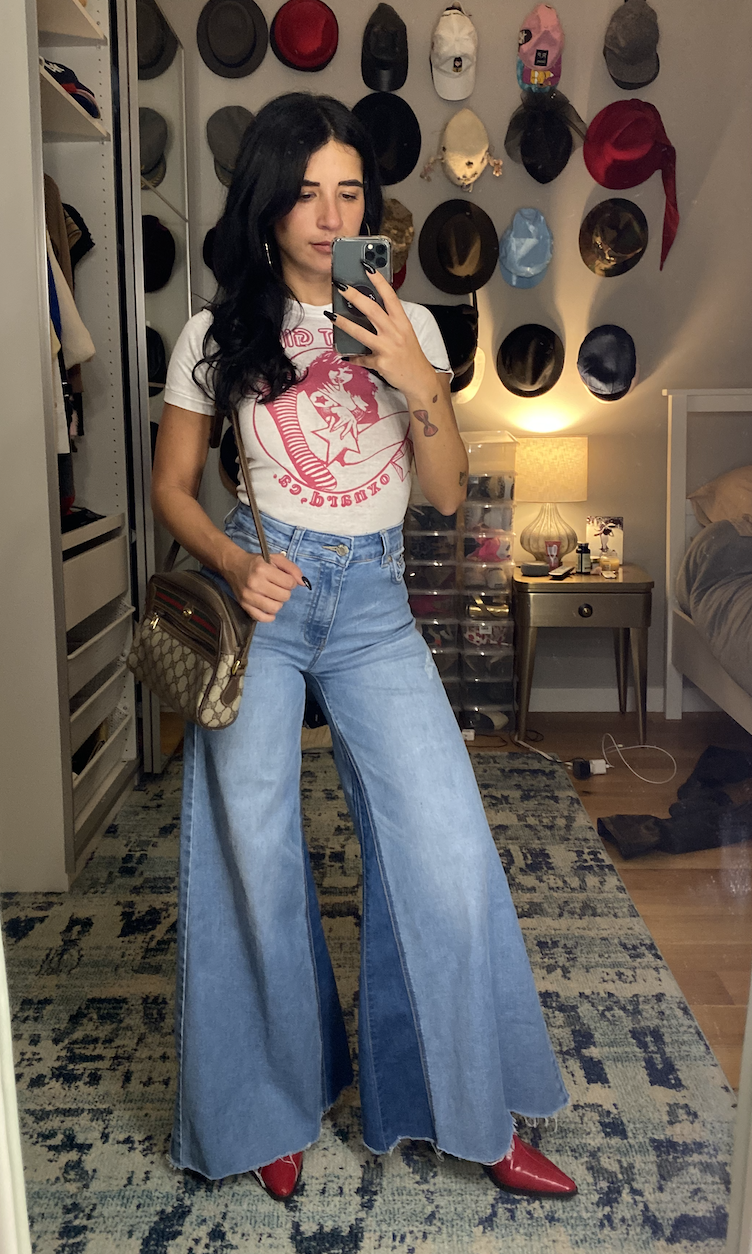 Influencer Dinner Event in Brooklyn
Was recently invited to a dinner event in Brooklyn. You can read about it here!
I had to commute from JC to Brooklyn during rush hour, so I wanted to wear something comfy and chic.
Blazer
Vintage Ralph Lauren Blazer from Another Man's Treasure. As mentioned above, I am really feeling the oversized blazer this year, it just goes well with everything.
Black Jumper
I wore a black tight jumper underneath, you can easily wear leggings and a black tank top.
Vintage Moschino Belt
One of my favorite items in my closet is this vintage belt I stole from my older sister. She got this in the 90s and I've had it for years. You can find some super cute statement belts online to cinch at the waist for that final touch.
Dr Martens
Classic, comfy, easy.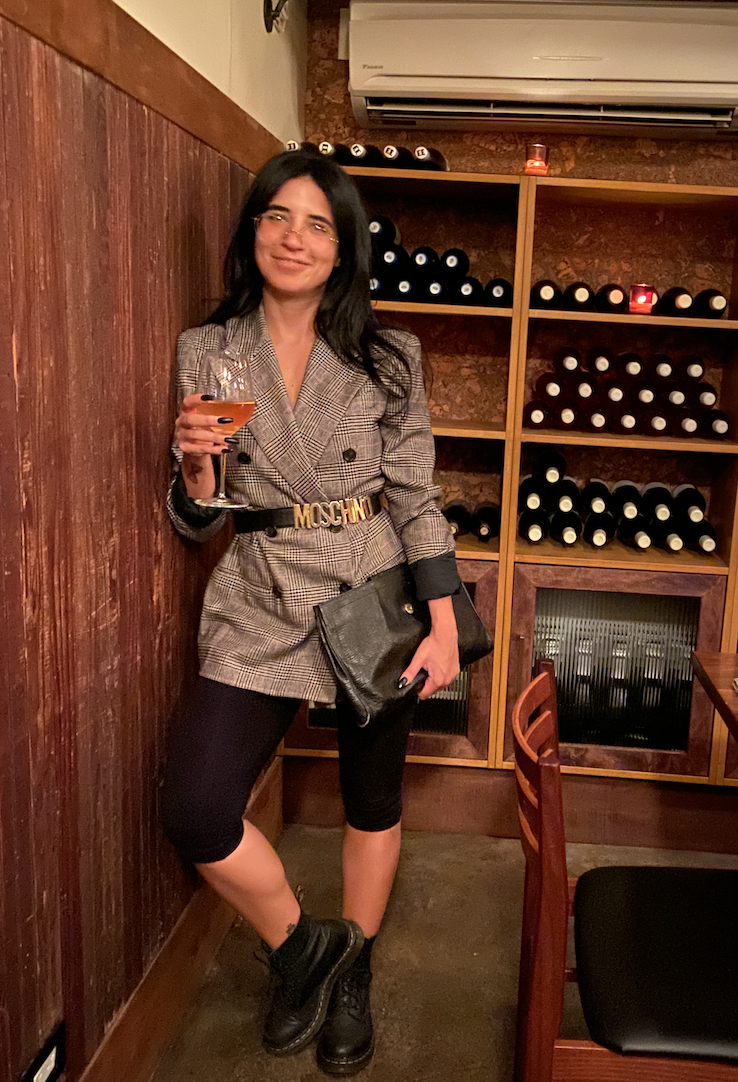 Nimbus Gala Outfit
I was invited to the Nimbus 15th Annual Gala. The dress code was "festive." I wasn't feeling too great. so I opted for an easy black dress look! Black dresses are so key. I got this one on Naked Wardrobe. Here are a few links for you guys! Paired it with a vintage gold clutch, leopard pumps and fun earrings I got in Thailand. 
This whole outfit was $75.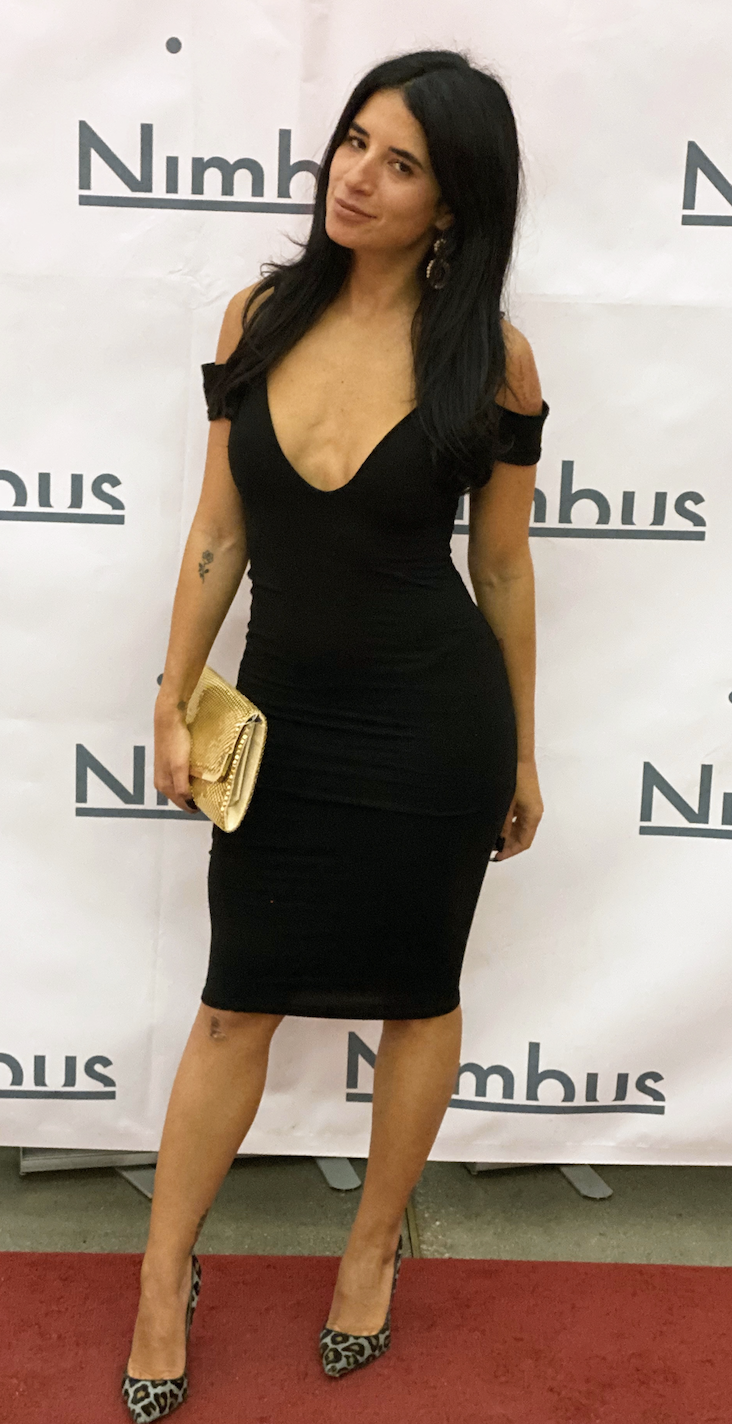 Dinner Date at Bread and Salt
Went on a date to check out a new-ish place in the heights, Bread and Salt! You can read about it here.
I really love this simple outfit. It's cute, sexy, and the stretchy jeans are key to going out for a yummy meal.
Navy Blue Turtleneck
Pretty sure you can find turtlenecks anywhere. I have one in every color!
Jeans
Straight leg jeans, got these on Storets.com but looks like they are sold out.
Silver Hoop Earrings
MCM Vintage Bag
Picked it up from Another Man's Treasure
White Booties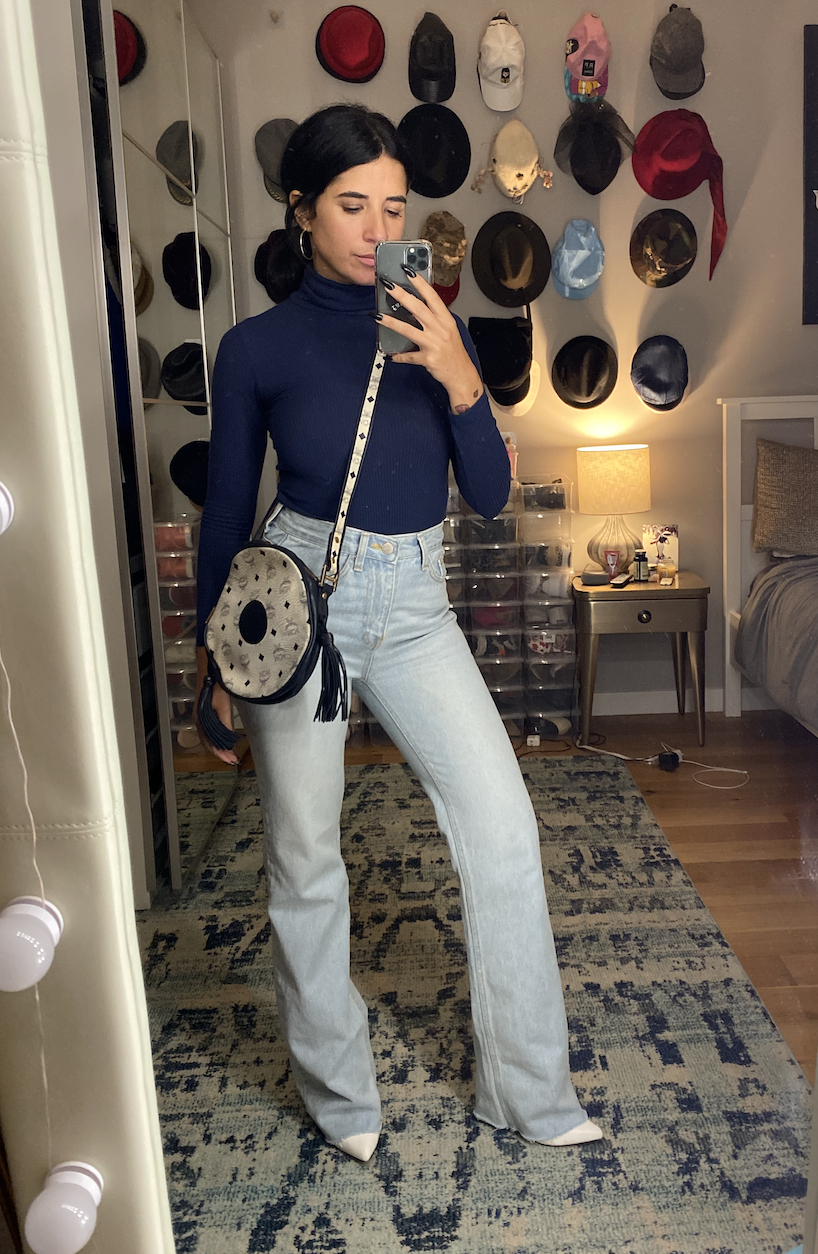 Work Work Work
I have to run around a lot and sometimes I need to opt for a comfy cozy look. I really loved this outfit, a nude look. Pencil skirt and sweater. You can find this exact outfit probably on any website! White sneakers, AirPods, and you're set.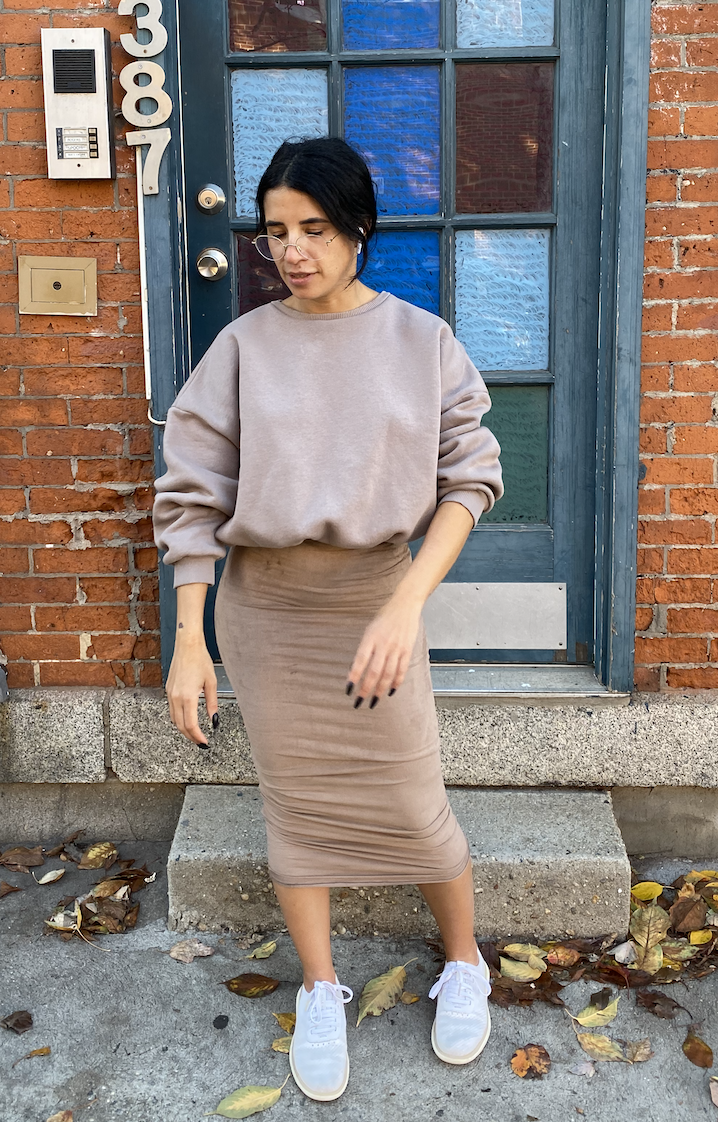 Until next month!