You could be working out of the office for the sake of a change of pace, or you could be working for yourself and don't want to stay cooped up at home. ChicpeaJC works out of a coworking space, but this whole blog started from sitting down at coffee shops. If you don't know where to go, here are some of our recommendations for places to work in the area.
---
Coffee Shops
Starbucks
Of course Starbucks is on the list. They have free wifi and, for the most part, comfortable seating. There are a few locations in Downtown JC and one in Journal Square, so you can enjoy a latte and get work done.
Short Grain
183 Montgomery St
Short Grain is a quiet cafe that offers light food and warm drinks to keep you full and feeling good while you work.
Tea NJ
262 Newark Ave
Tea NJ is a colorful space that might make you feel inspired. You can grab a delicious lunch and one of their tasty teas while you work away.
Lackawanna Coffee
295 Grove St
Lackawanna has a couple of locations Downtown. Plenty of people opt to work from their coffee shop because it's easy to get in the zone and focus, especially when it's the spring/summer and you can sit outside.
Gregory's
10 Exchange Pl
Gregory's is a chain coffee shop with two locations in Jersey City – one in Exchange Place, the other by Newport. They also have free wifi, so you can just sit down and be productive with a nice cup of coffee.
9Bar at Urby
200 Greene St
Urby's 9Bar is huge and they have communal tables for anyone who wants to work or just enjoy some coffee in peace. It's quiet and perfect for a relaxing, productive day.
modcup
479 Palisade Ave
modcup offers what is arguably some of the best coffee in Jersey City and their locations in Journal Square and the Heights are perfect for those rainy days where you just want to just enjoy a good cup of coffee while you start your next project.
The Grind
360 Communipaw Ave
The Grind has delicious pastries to compliment their drinks and their space is so welcoming, you might never want to leave.
Froth on Franklin
85 Franklin St
If you're looking for a place to catch up on a few emails, maybe review and edit some projects , Froth on Franklin is a cute spot in the Heights with a cozy corner for a casual workday.
Snapdragon
190 Monticello Ave
Snapdragon is a coffee shop and social space that has anything from book clubs to performances throughout the week. The space is filled with creativity and is likely to get your creative juices flowing if you're trying to develop a new project.
Quiet Spaces
WORD Bookstore + Cafe
123 Newark Ave
WORD Bookstore has a cafe in the back that's perfect for doing work, and you have plenty of books to check out if you want to find something new to add to your collection or need a planner to organize your life.
Library
If you want a quiet space and want to be surrounded by an endless amount of resources, stop by one of the several Jersey City Free Public Libraries. All you need is a library card!
Hyatt House
1 Exchange Pl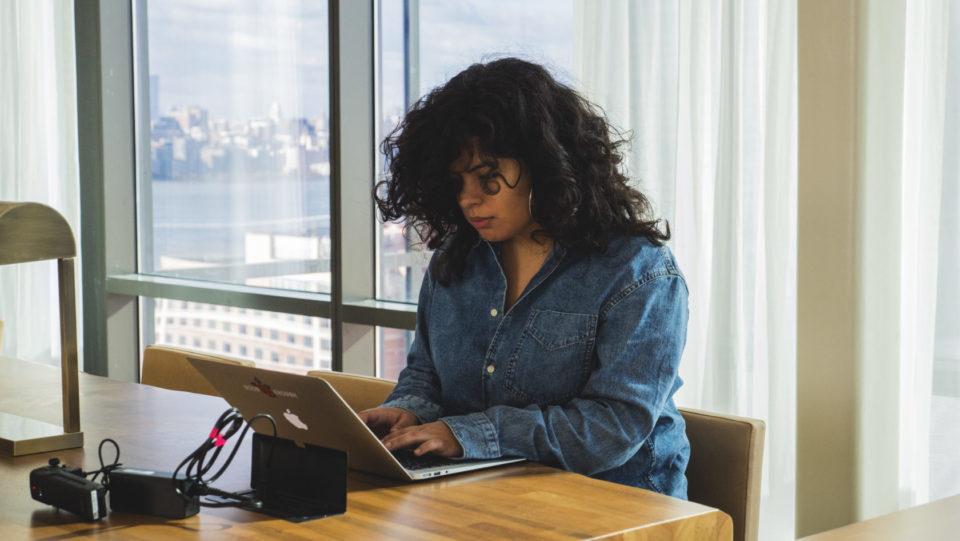 The terrace at Hyatt House is a great spot to work, especially with the massive amounts of sunlight and the incredible view of the skyline. Whether you're sitting on the couches or the wooden tables near the bar, there are outlines to keep you plugged in until your projects are done.
Coworking Spaces
If you want to work from a coworking space for the sake of networking, being in a productive environment, or just having a consistent spot to work, try a coworking space. Andco (201 Montgomery St) and Indiegrove (121 Newark Ave) are located in Downtown Jersey City and they offer tables, offices, conference rooms, and more. Each coworking space is different, so find one that works for you!