Whenever I am travelling, or even going to NYC, I always do my research for the most "Instagrammable" places. But why should I have to leave my hometown just to take a nice picture? So, I went out to ten different restaurants and cafes all across Jersey City with super cool decor (aka lots of neon signs) and delicious food that are perfect for Instagram.
1. Lackawanna Coffee
140 Bay St
There are two Lackawanna Coffee locations in Downtown JC, but the Bay Street cafe is my favorite. This little inconspicuous cafe is great for getting your work done, taking a few pictures, reading a book and enjoying a pastry. My favorite combo is a Belgian waffle (pro tip: ask for it to be warmed up) and an iced mocha!
2. Cafe Dolma
270 Grand St
Who doesn't love a pink wall? Cafe Dolma has the perfect exterior for Instagram – although the inside is just as cute. Their menu has everything from pastries to pizzas and salads to sandwiches, but I would definitely suggest trying out their stuffed doughnuts which comes in both regular and mini sizes!
3. Sub Culture
260 Newark Ave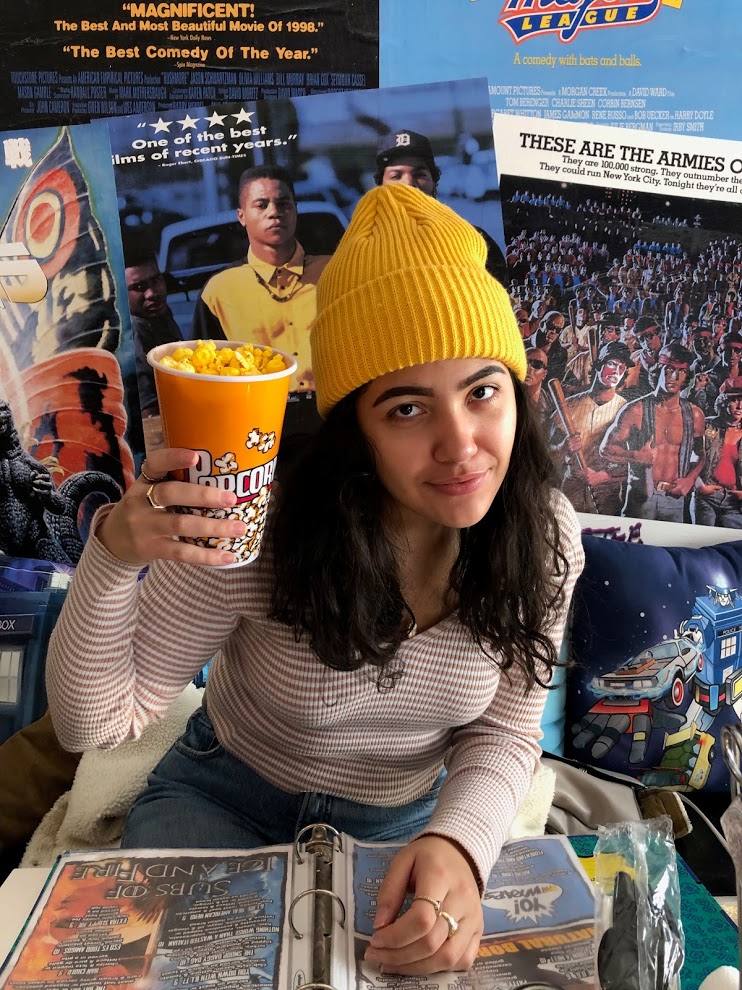 This sandwich shop has so many pop references I doubt anyone can count them all. From the entrance to their menu items to the movie posters splattered across their walls, everything will submerge you into pop culture. (See what I did there?) My favorite sandwich is from their breakfast section: The Fawlty Tower. It's a club style waffle sandwich with sausage, bacon, egg, hashbrown, taylor ham, more bacon and egg. Plus lots of maple syrup! Pro tip: ask for the syrup on the side or your fingers will be too sticky to take any pictures.
4. Square 1 Community Eatery
283 St Pauls Ave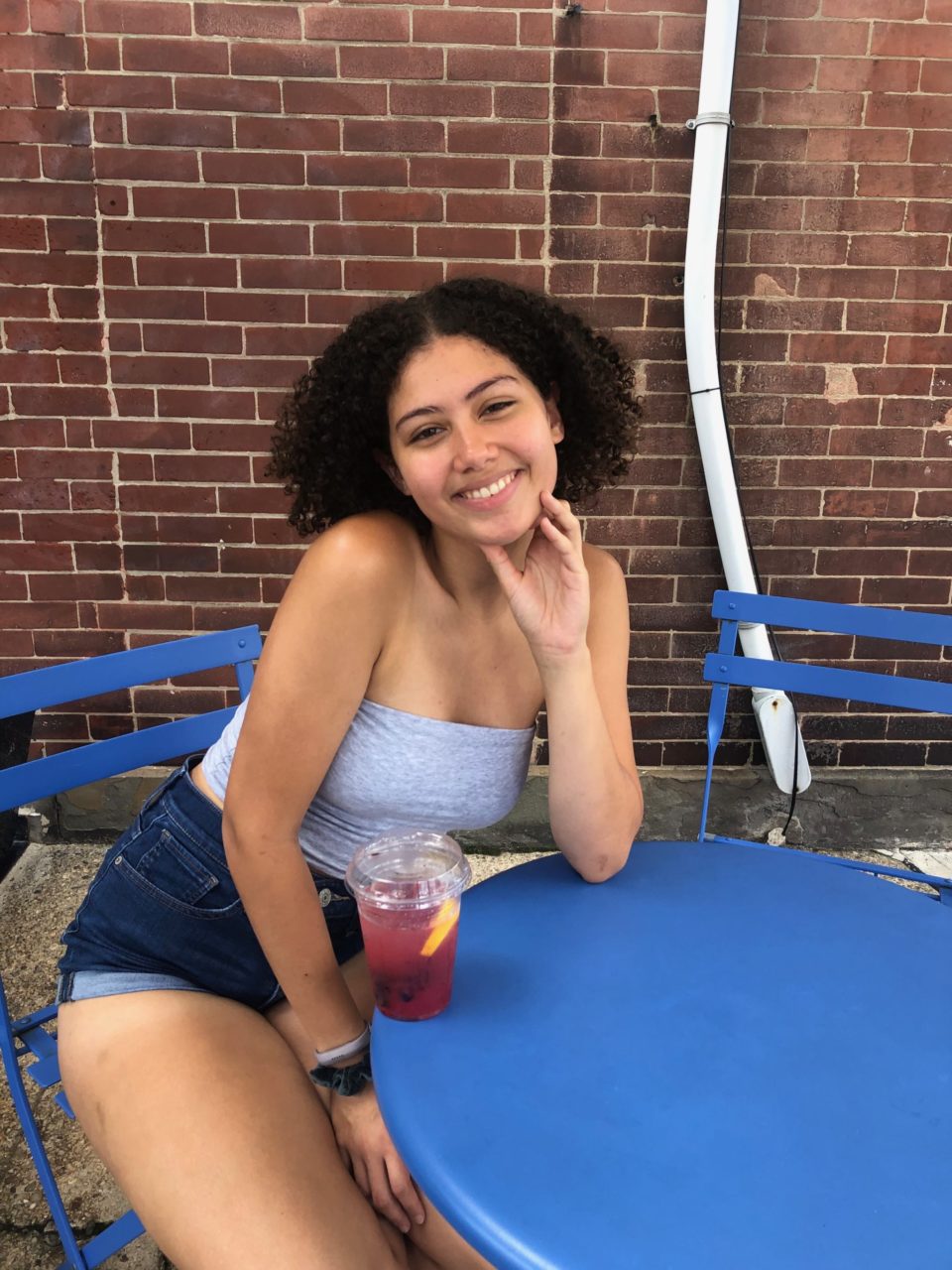 This mini restaurant has so many photo ops and tons of outdoor seating! Directly in front of the store are matching blue tables and chairs in front of their brick exterior. When you go into their little backyard they have even more seating available, as well as a wall of doors that create a really awesome backdrop for pictures. Make sure you grab one of their many delicious breakfast sandwiches (I had their Egg, Bacon and Pesto Sandwich) and a drink (pictured with their iced tea)!
5. modcup coffee company
479 Palisade Ave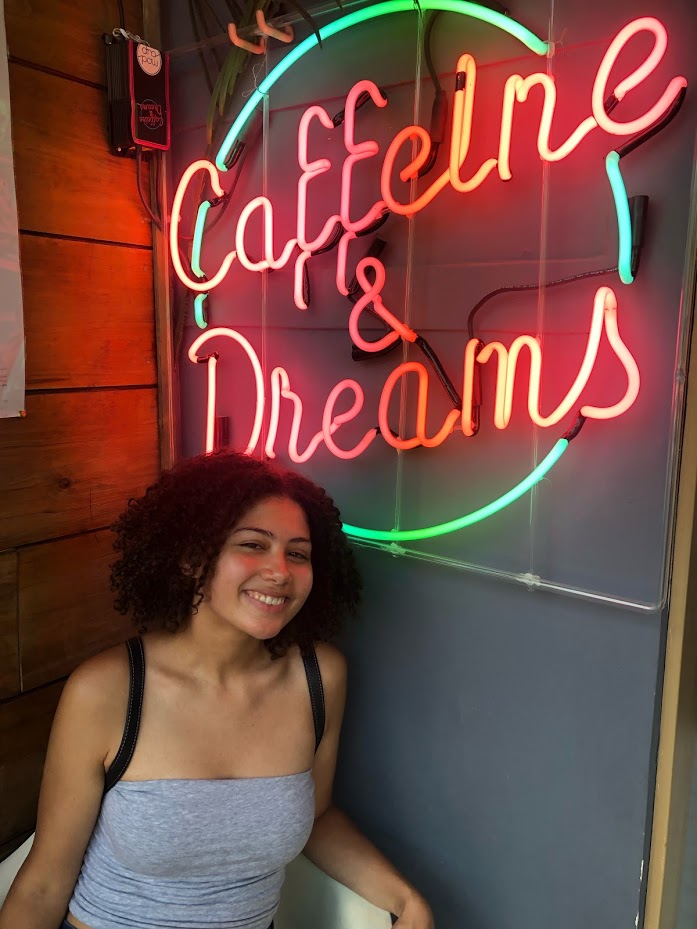 modcup coffee company has become a staple in JC Heights. Located directly across Riverview Park, this cafe has got your coffee fix. Grab a cup of joe and a blueberry muffin, as well as some of their merch. They have shirts, tote bags, mugs and enamel pins all for sale in store and online at their website: modcup.com.
6. Skinner's Loft
146 Newark Ave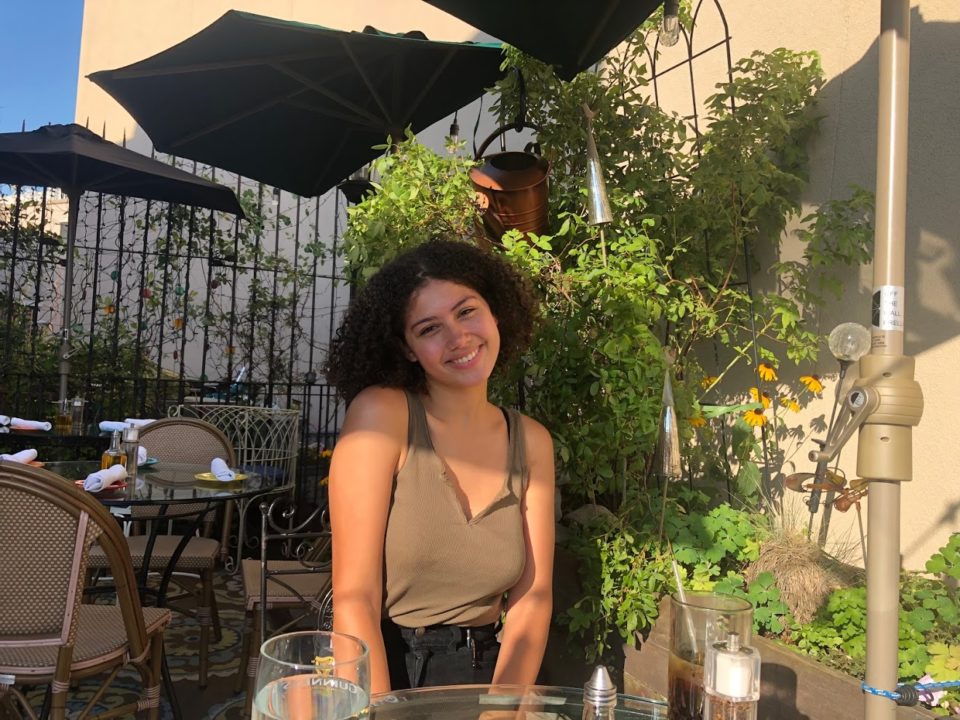 Out of all of the Newark Avenue rooftops, Skinner's Loft is the best. Overflowing with plants and dainty lights, it is beautiful both during the day and at night. The quaint restaurant rooftop feels like you could be actually be in the middle of Europe. They serve both brunch (on the weekends) and dinner on the roof – for brunch I suggest trying their Corn flake crusted stuffed brioche french toast which will definitely fill you up, and from their dinner menu, trying their vegan avocado wedges is an absolute must!
7. Crema
695 Bergen Ave
This super cute cafe is located on Bergen Ave. Their specialities are coffee, toast and ice cream! I didn't get to try any ice cream, but I essentially made my own toast by combining a BLT and Avocado toast, and it's a lot of toast and very delicious! They have plenty of adorable decor: the front has fake grass with a little neon ice cream cone and some plants on the wall, and there is a sky wallpaper on one of the walls as a cool backdrop!
8. Jersey & Co. Gelato
55 Mallory Ave
On the corner of Mallory and Claremont sits this little gelato shop! There are plenty of colorful tables and chairs outside the store to enjoy your gelato, as well as a neon sign of their logo. They have over 10+ flavors, with classics like vanilla and chocolate, as well as some more unique ones like ube and calamansi.
9. Hybrid Coffee
2nd St / Exchange Place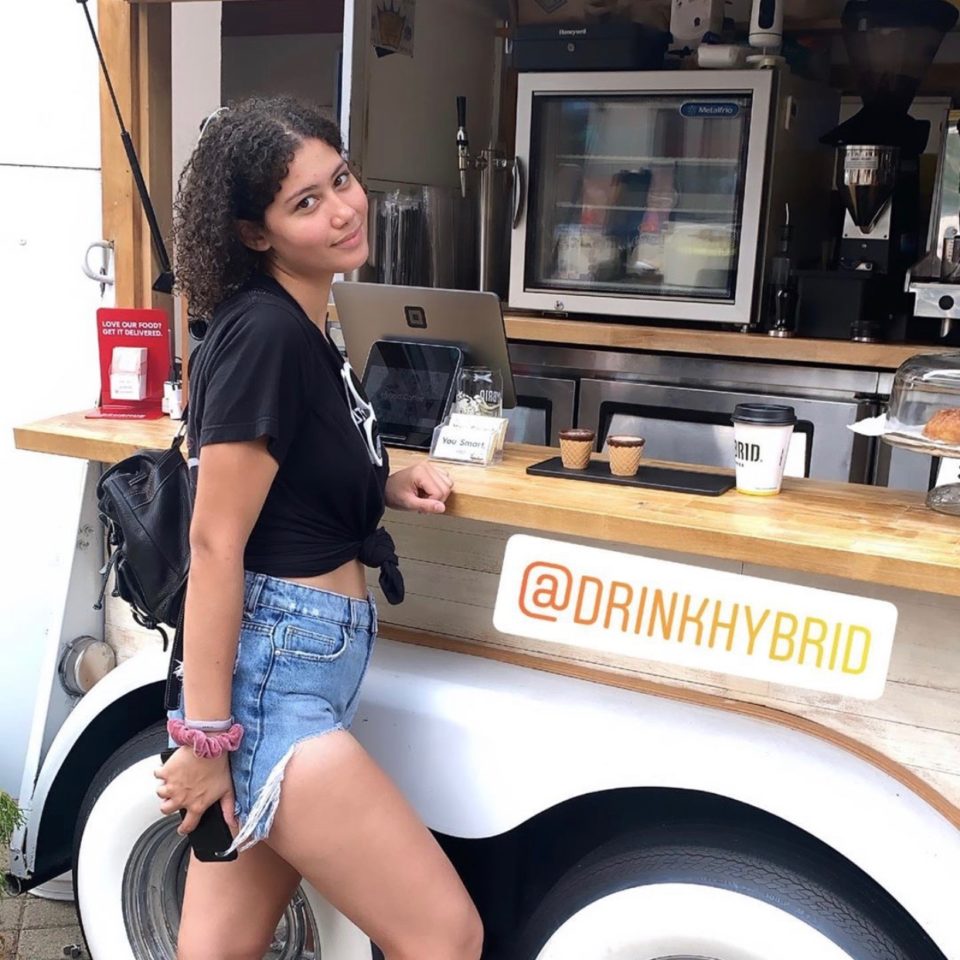 A coffee shop on wheels! Except that Hybrid Coffee never leaves its spot by the Exchange Place Path. You definitely have to try their waffle cone shot! Super yummy with any hot coffee drink, and I'm ready to go back to try their affogato waffle shot (ice cream with a shot of espresso).
10. Bang Cookies
1183 Summit Ave
When you walk into Bang Cookies in the Heights, the sweet smell of cookies wafts over you. They have 14 types of super huge cookies to choose from, all of them filled with yummy, organic toppings! Their neon sign is perfect for a photo op before (or most likely, after) you stuff your face with one of their cookies.