Summer is quickly approaching, which is an exciting time for kids. But for working parents, summer is anything but a vacation. With the absence of childcare and discretionary income, some find this aspect incredibly distressing. I'm here to tell you not to stress! Jersey City has the solution to your problem: Summer Camp!
I know what you're thinking: Summer Camp is costly and may not be an option for you. Yes, summer camp can be expensive, however, Jersey City offers economical and sometimes free options for those on a budget. Below is a condensed list of recommended camps which vary in location, age range, activities offered, session length and, of course, price.
Here we GO!
---
Jersey City Soccer Association
Caven Point Athletic Complex, 1 Chapel Ave, Jersey City, NJ 07305
Phone: (201) 401-5049
June – August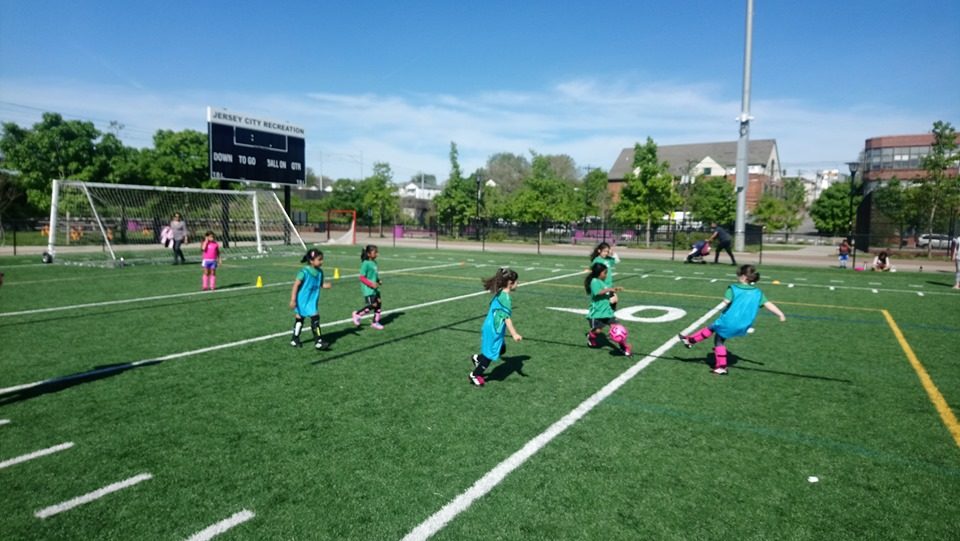 Jersey City Soccer Association opened their registration for their Summer Soccer Camp, this time with a 5-week session. From 8AM to 3:30 PM, children ages 5 to 14 can enjoy training sessions and games. Each camper gets a camp t-shirt and ball. JCSA will also provide shade tents and extra water coolers to keep every child cool and safe. It's $250 per week, and you can register online.
https://jerseycitysoccerassociation.sportngin.com/register/form/667013652
Zaniac (K-8th grade)
125 1st St, Jersey City, NJ 07302
Phone: (201) 360-2450
June 17 – August 30
Zaniac's summer program is referred to as "boot camp for the brain". It is academic based and specializes in STEAM education (science, technology, engineering, art and math). For parents who want to keep their child engaged in a structured routine throughout the summer vacation then this camp is definitely for you.  Weekly field trips to the local parks and libraries are also a regular occurrence.
They offer half and full days so you can pick the option best suited for you. Full single day is $135 and half single day is $85.
https://www.zaniaclearning.com/jerseycity/programs/camp/
New City Kids (4yr-7th grade)
240 Fairmount Ave
Phone: (201) 915-9896
June-August
New City Kids is truly a gem! It has a long-withstanding reputation in JC for excelling campers academic performances through their strong and loving community. This program is highly recommended because of the support system that embodies the foundation of their program. New City Kids teaches through a holistic approach of fusing music with academic, leadership and spiritual development. Campers are exposed to the world beyond their neighborhood through field trips that include hiking, swimming, exploring zoos, parks and more.
Also available through their program is the City Sail which is a FREE five week sailing and swimming program.
If you haven't heard of these fantastic and inexpensive programs, make sure to check them out on the link below!
https://www.newcityschool.org/uploads/assorted/Misc/Summer-Camp-Brochure-2019_web.pdf
https://newcitykids.org/citysail/
The Little Gym (3-8years old)
80 Newark Avenue, Jersey City
Phone: 201-222-6209.
June 24th – August 30th
The Little Gym of Jersey City is a new edition to the city's repertoire of camps, which will make its debut on May 4th.  I chose this for the list because it is an affordable option that has already gotten a lot of attention from parents I meet. There is a lot of flexibility which is sometimes hard to find when registering your child in a summer camp which what makes The Little Gym so appealing. Each camp theme is based on "fun, exciting missions or "Quests" that the kids are challenged to complete each day." The three camps offered are called: Get Moving! Brain Boost! & Citizen Kid!
You can customize your child's camp days to fit your schedule.
https://www.thelittlegym.com/jerseycitynj
Liberty Science Center (1st-8th grade)
222 Jersey City Blvd, Jersey City
Phone: 201-253-1380
July 8th-Aug-23rd
The Liberty Science Center is a personal favorite because it keeps my child focused and engaged which seems so difficult in the age of technology. The full day summer camp explores learning through STEM education (Science, Technology, Engineering and Math) and showcases hands-on activities that range from astronomy, robotics, coding and wizardry, just to name a few. This is truly a unique experience for children to really engage in real-world science.
Campers will also have access to all of the exciting, hands-on exhibits at Liberty Science Center including Dino Dig, Infinity Climber, and the Jennifer Chalsty Planetarium.
---
Honorable mentions:
Next Step Broadway (3-12years old)
205-566-0110
A performing arts based summer camp will engage your child in dancing, singing and acting their way to a Musical Theater performance.
The Brunswick School (Pre-K3-3rd Grade)
201-420-1550
The Brunswick school has an excellent reputation for providing engaging and interactive activities through various field trips, physical fitness, music, theater, art and daily special events.
Camp Liberty (6-15 years old)
201-432-1912
With five acres of landscape at their disposal, campers will have the luxury of engaging in sports, such as (basketball, soccer, handball, and softball).
Waterfront Montessori (2-6 years old)
201-333-5600
Campers will enjoy camp songs, biome exploration, along with weekly water play, soccer, music and dance classes, Mad Science experiments and cooking with Bambino Chef.
The Learning Suite (2.5-6)
201-706-3403
Reading, Writing, Math, and Science are all incorporated through the arts! Each week there is a different theme for camp, based on a popular children's book.
Finding a fun and affordable place makes both parents and kids happy campers ;)