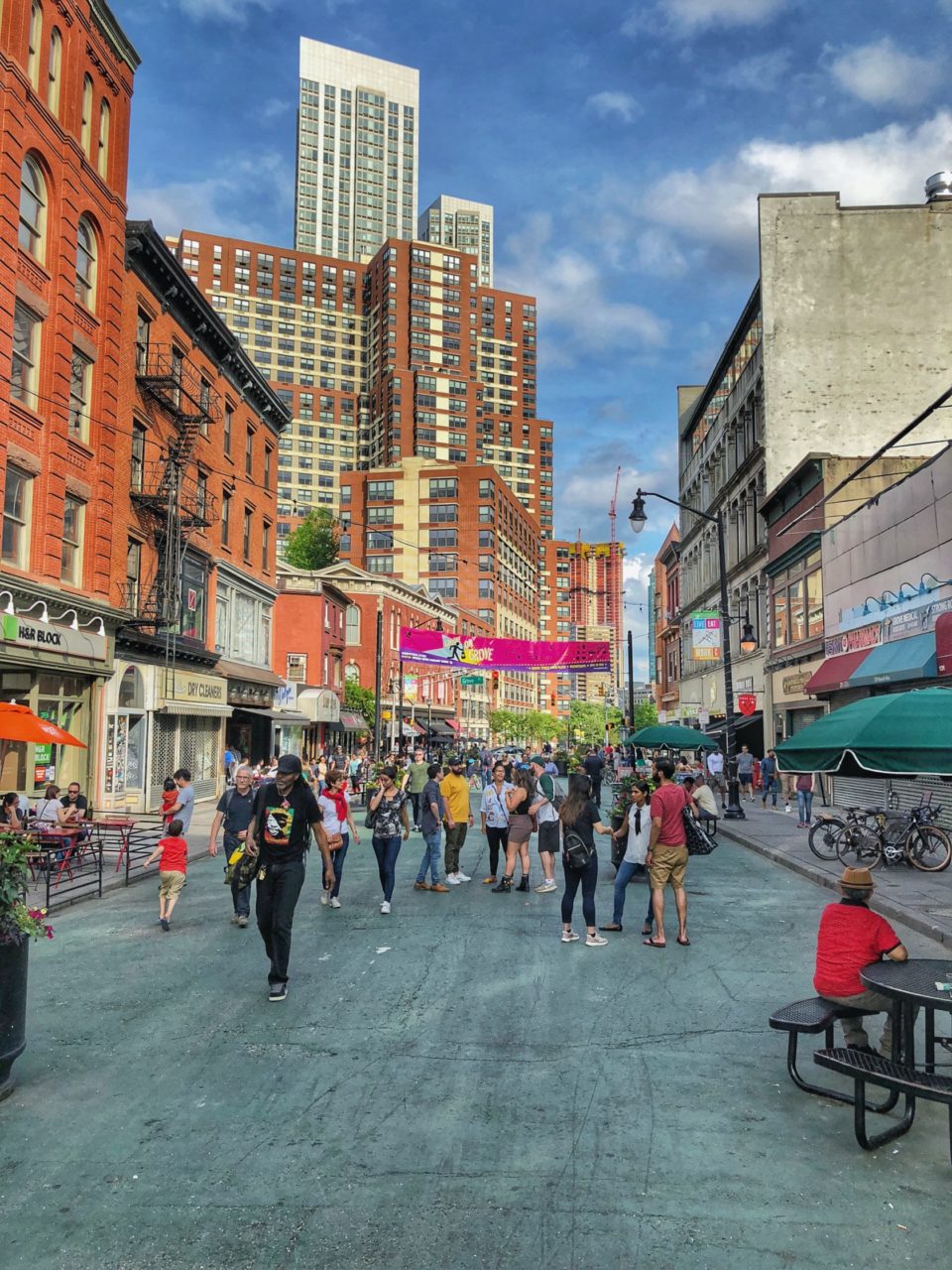 We all know the Pedestrian Plaza, located right on Newark Ave. It opened in 2015 and has since been a space for everyone to enjoy food, drinks, and community events. The appeal of the Plaza includes moveable planters and tables with seats in order to make this a public gathering space. The city recently extended the Pedestrian Plaza to Jersey Ave, and they're continuing to make improvements based on what could work in the area and the feedback from the community.
We reached out to Brian Platt the the city's business administrator (and also one of our favorite people in the world)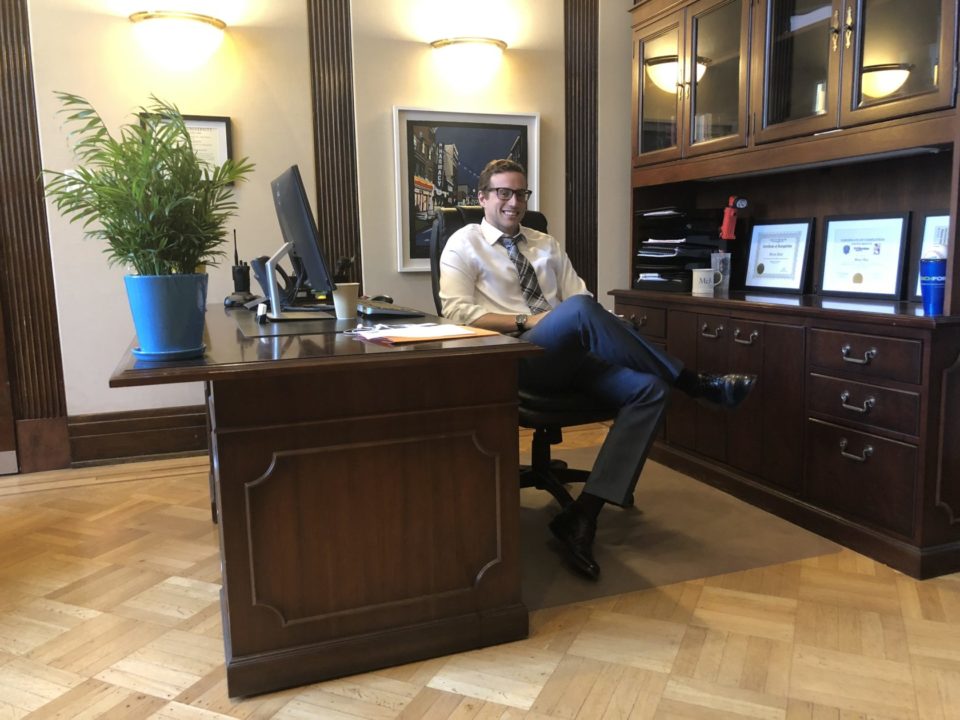 So, what changes are expected to come with the street being closed off to traffic?
The original section of the Pedestrian Mall opened in the summer of 2015.  We have continuously been communicating with local businesses, neighborhood residents, and other stakeholders as we make improvements to the structure and functionality of that space.  Creating a safe and inviting public gathering space on a city street that still requires certain types of vehicle access (such as during emergencies) has been the biggest challenge overall, but we are confident that we have found a good balance.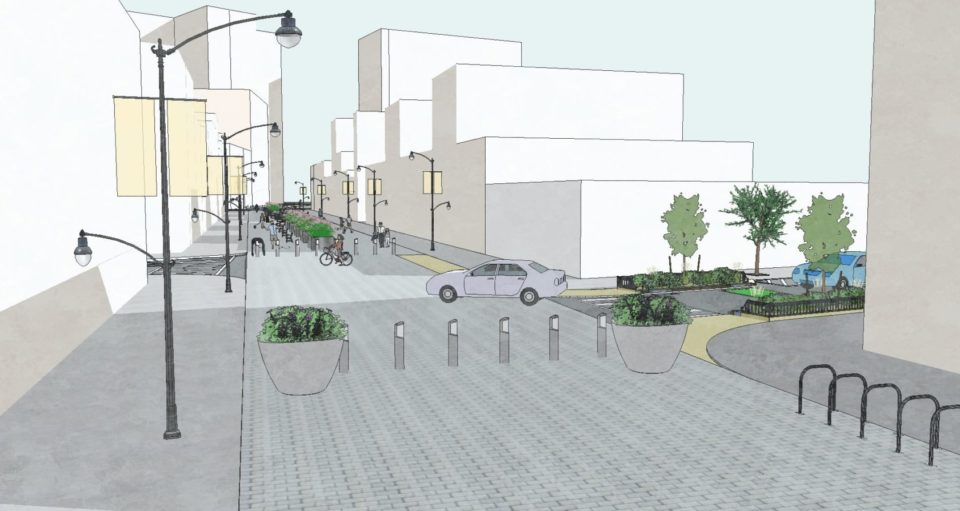 The current layout is quite simple.  Moveable planters (filled with plants courtesy of the HDSID) were placed in strategic locations for pedestrian safety but also beautification.  String lights stretch across the street to add light and layers to the design.  Additional seating was added in the center of the street, with a vehicle access lane through the center (if needed).  The street was painted green to make this space something different, something unique, but more important make it very visibly no longer a street reserved for cars.
After many requests to extend the Pedestrian Mall to Jersey Avenue and after a meeting in late winter with the Mayor, the Downtown Special Improvement District, Councilman Solomon, and City Planning and Engineering, we designed a pilot extension of the Pedestrian Mall with the same format and features as the original section: a green painted street, tables and umbrellas, and planters to provide pedestrian safety.  The extension is governed by the same rules and regulations as the original section.  We officially created the extension on May 21, 2018 but are still making some small improvements and updates.  We haven't heard any complaints or issues with the new space so far, but if anyone has questions, concerns, or suggestions about this new space they can reach out to us.  Thankfully nothing is permanent right now and can be moved around quite easily.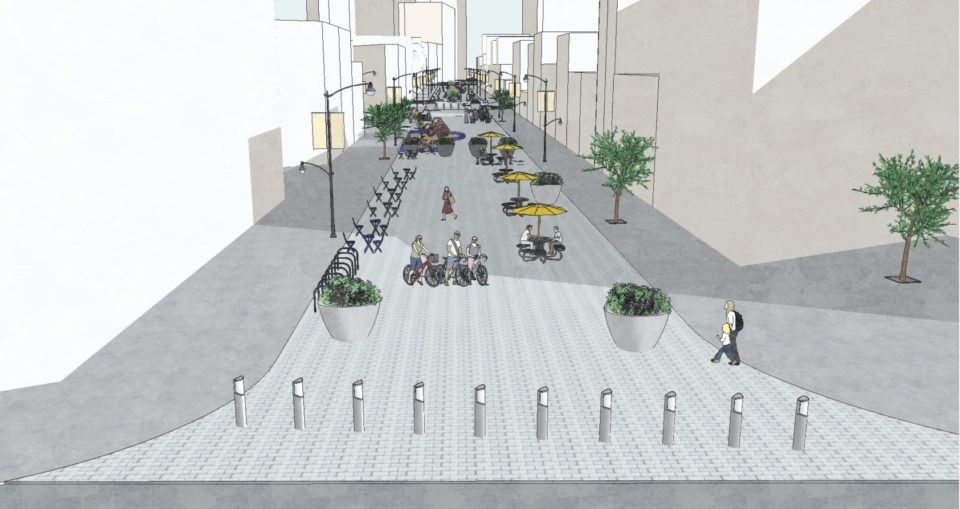 The new section has loading and unloading areas for commercial vehicles as well as local residents and patrons of businesses along Barrow Street and Erie Street, as well as the portion of Bay Street between Erie and Newark Ave.  While 8 parking spaces were removed to implement the new Pedestrian Mall area, we will be making Barrow Street one-way heading north and adding 7 parking spaces on the West side of the street, to create a net loss of only 1 parking space.
In an effort to ensure safety of this entire area, we have also added a permanent police post to the Pedestrian Mall during weekday and weekend afternoons and evenings.
The City conducted a traffic study in April of 2018 to evaluate the impact on vehicle movements in the area.  The study indicates that even during peak vehicle travel times this Pedestrian Mall extension will add less than one additional vehicle each minute on Jersey Avenue in both directions and on Erie Street heading northbound.  Many local residents noticed traffic issues during the first week of implementation in May, but unfortunately some emergency roadwork closed portions of Jersey Ave, Barrow Street, Erie Street, and Marin Boulevard all around the same time.  That work has mostly been completed at this point and traffic should be back to normal.  We will also be adjusting traffic signal timings to improve flow.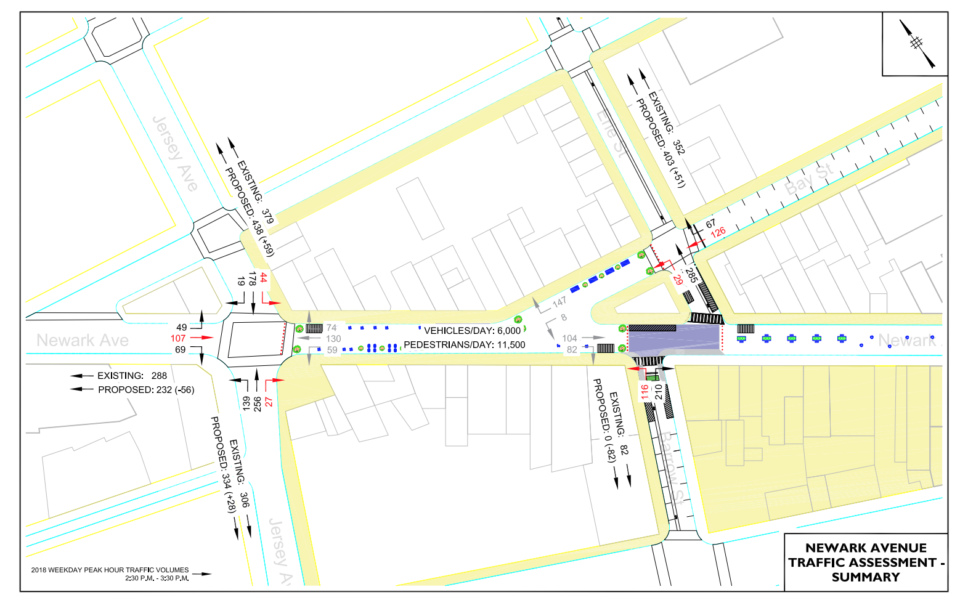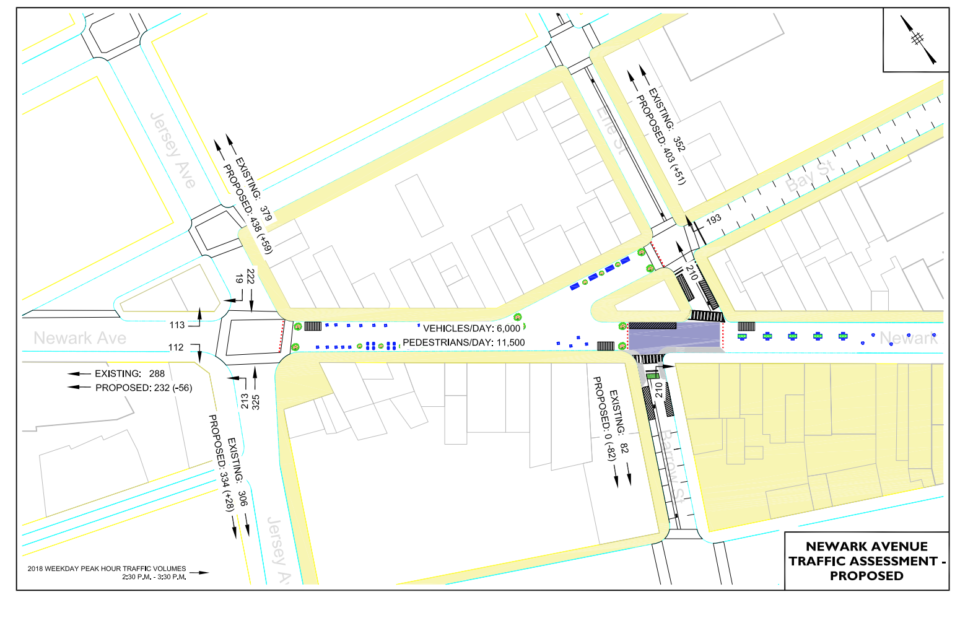 We also often receive requests to make more permanent enhancements to the design of the street, and we are excited to have finally secured $1 million of capital funds to move forward.  The plan for permanent improvements includes stone pavers to replace the green street, larger planters with benches, decorative crash rated pedestrian safety bollards, and other public space features.  We hope to begin construction this fall and if we have enough public support, we will make both the old and new sections permanent.
Barrow St is being made into a one-way street and there'll be an addition of 7 parking spaces (to account for the 8 lost parking spaces with the closing of Newark Ave between Barrow St and Jersey Ave. There's also a permanent police post to during weekday and weekend afternoons and evenings to add to the safety measures of the area.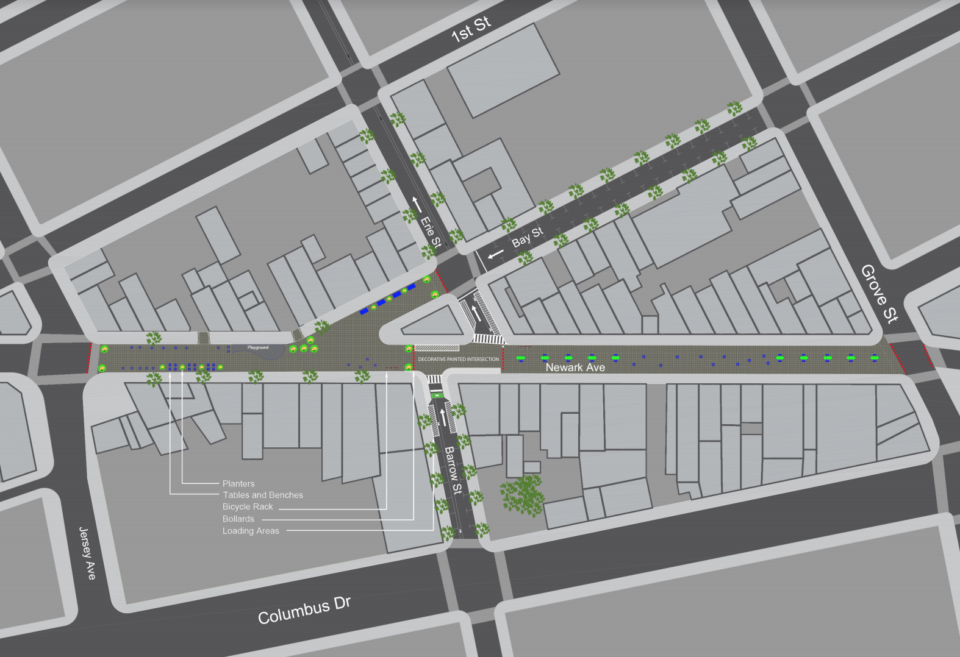 The city has recently secured $1 million of capital funds to move forward with making enhancements to the Pedestrian Plaza. The plan for improvements includes stone pavers, larger planters with benches, and other public space features. The changes are expected to start in the fall and, with public support, the improvements could be permanent.
The City is taking public feedback into account on this extension, including at public meetings with residents and local businesses. If you have questions or concerns, you can contact Councilman James Solomon or Business Administrator Brian Platt. You can find more information on the Pedestrian Plaza on  jerseycitynj.gov/PedestrianMall.