In case you don't know, there's a major privatization threat to Liberty State Park yet again. Christie wants to bring a massive marina to the non-commercial, urban family, picnicking peaceful side of the park, right behind the Statue of Liberty. Christie is pushing to have a lease signed before he's out of office on January 16.
Boats and yachts would be lined up along the South side, blocking the incredible view of the harbor, and the open space would suddenly become packed and ruined by a huge marina.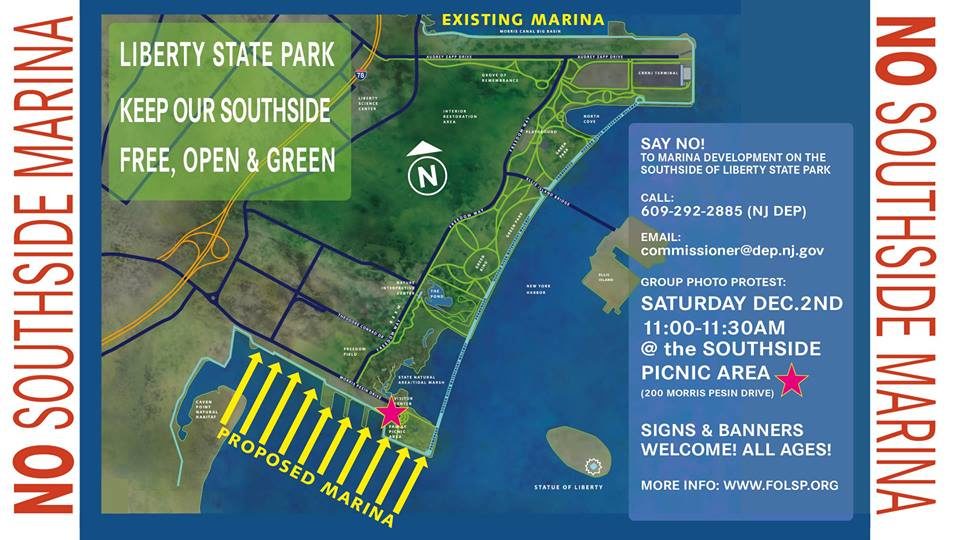 On Saturday, December 2nd starting at 11AM, join Friends of Liberty State Park for a Group Photo Protest at the South Side Picnic Area to show your opposition to the Millionaires' Marina.
We also encourage everyone to call and email the NJDEP Commissioner Bob Martin at commissioner@dep.nj.gov or 609-292-2885 to not only strongly oppose this marina, but to also demand public hearings and a public comment to address the situation.
For more information on how you can help stop the marina from happening, and to overall get more background information on the proposed plan, visit the FOLSP battle page.