This city never ceases to amaze me. The amount of individuals here who take initiative and stand up for what they believe in astounds me. I will never run out of people to write about! Simon Pereira Shorey is one of those people.
Jersey City was hit really bad during Hurricane Sandy and I will never forget that time. My daughter was 6 weeks old and we completely lost power. What we endured was nothing in comparison to some of our neighbors. People lost their homes, all their prized possession were ruined. It took a very long time for people to get back on their feet. It's really important to be prepared in the case of a hurricane and understand how you can help others during these times of need.
I sat down with Simon to get the background on Resilient JC and how we can all be involved. It is hurricane season.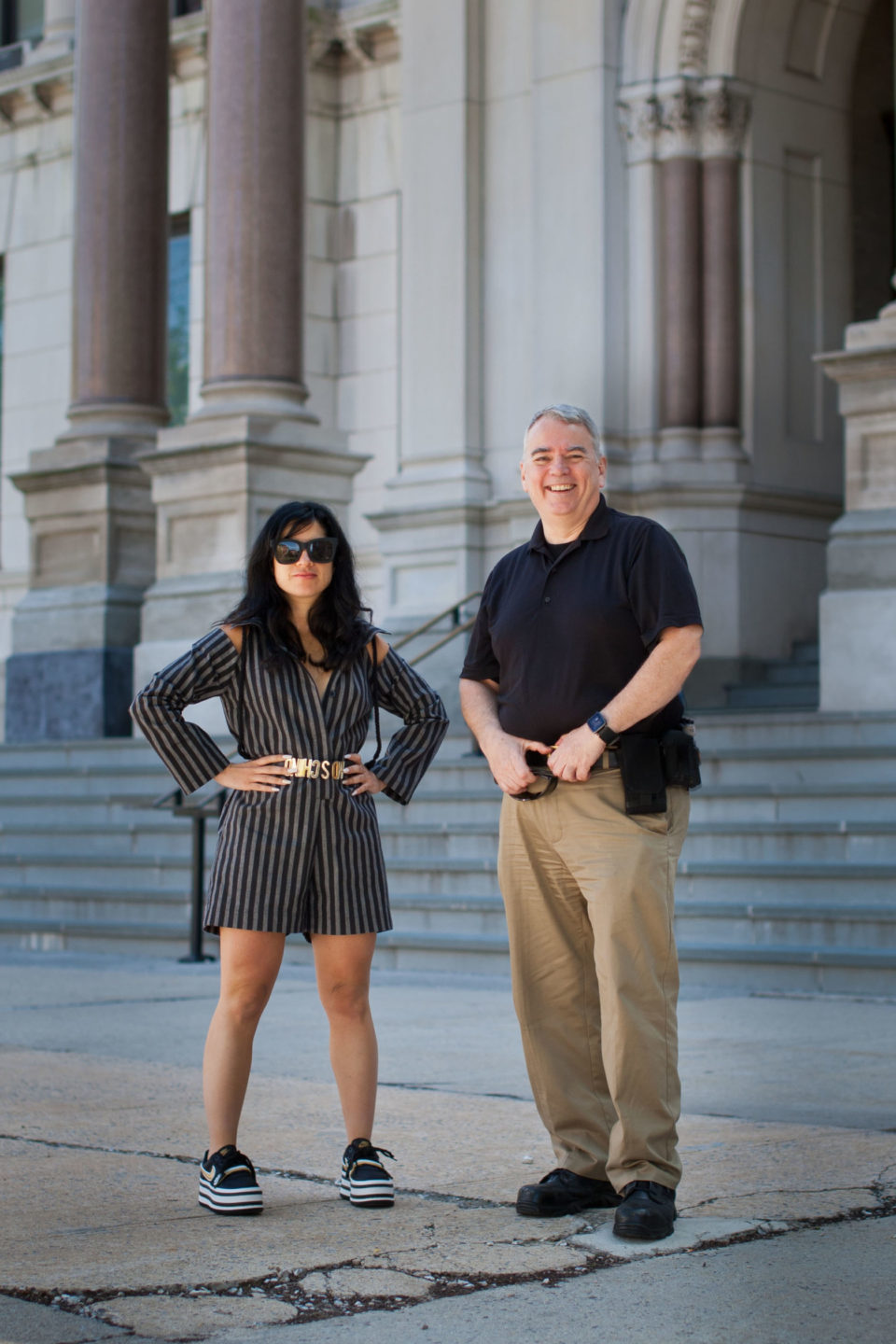 What's your name?
Simon Pereira Shorey.
What do you do?
I am the president of the not-for-profit Resilient JC and I'm also the Communications and Liaison Officer for Jersey City's Community Emergency Response Team.
What is Resilient JC?
Resilient JC was formed to support some of the current initiatives that are going on with regard to natural manmade disasters in this area. We had 9/11 in this area, we've had Sandy. We are an area that is thriving and prospering, and we just want to make sure that what we have built here is built on a solid and secure foundation that can't be washed away by a big hurricane.
How did you start this?
I was already a member of the Community Emergency Response Team that works underneath the Office of Emergency Management. We need to grow that to get more volunteers. There's a certain amount of money that's available through government funds, but we need more money and more resources to build it out than you can get through the existing channels. We initially thought we'd need a 501c3 to help facilitate that, and once we had done that, we realized there were so many other things that needed to be done in the same space. We're now working as purely supporting the Community Emergency Response Team.
Why did you get into this? What's your personal tie to this kind of work?
I've always been prepared from an early stage, having been in Manhattan for 9/11, I was here for great Northeast blackout in 2003, I was here for Sandy, and I have also been called out to several important medical emergencies just because I was in the right place at the right time. I felt that I needed to update my personal skills and also find a better way to contribute because I found that there were certain areas that needed addressing.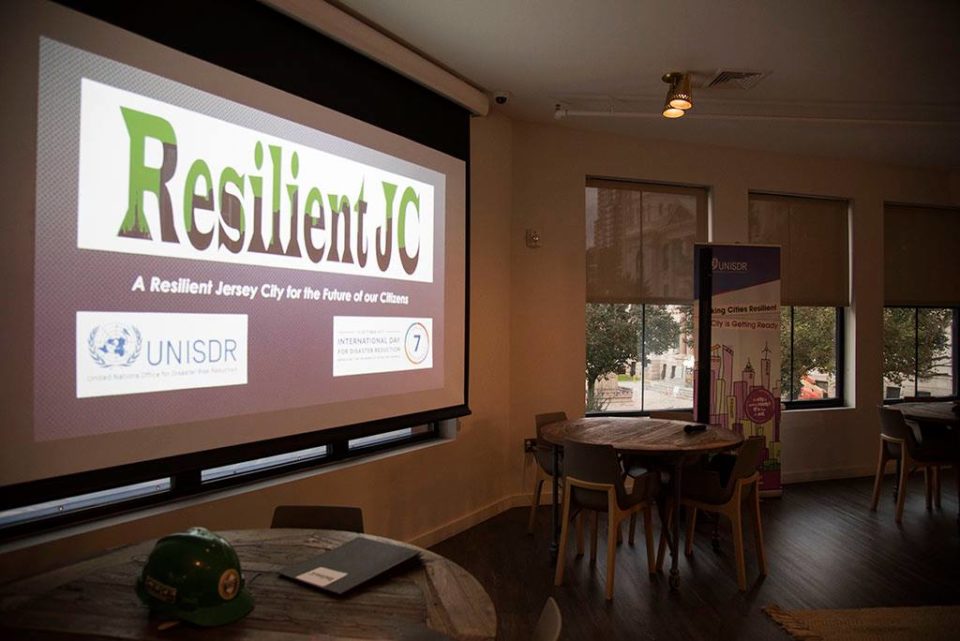 What are your goals?
The main thing is to get us stronger so that we can respond better when the inevitable disasters come. Unfortunately, one finds that with existing organizations, they don't always talk to each other. They don't what each other can do, so we need to do that. There's also been a shift over the years between just having the professionals doing it and the public sits to one side and waits to be helped, to having the public strengthen and learn skills themselves. If you think about it, there are three different levels of emergency: the ordinary one, where you have a car crash that's dealt with quickly with the resources we have here. The next level of emergency is when there's a big fire or something like that, and then they call in additional emergency services from the places nearby, maybe from Union City or Bayonne. The next level is when you have something like Puerto Rico, Texas, or Florida – you can't just reach out to the people who are next door because they've got their own problems. The only way of having the ability to deal with that in those initial few hours or days is to have volunteers locally and the public locally who can step in and know what to do. They're empowered and, to do that, we need a plan and prepare ahead of time.
Do the volunteers go through a training process?
The best training that is available in this area is with the Community Emergency Response Team. They'll give you good training as to how to prepare ahead of time to look after yourself, your household, and your loved ones; to know whether you stay and whether you go; and to make yourself as prepared as you can be. If you have that all buckled down and you're good to go, you can then go ahead and join with other individuals as a team and go help other people in need. The initial priority is looking after yourself and your family.
How long is a training?
The training is three evenings and an afternoon or two. It doesn't go on forever.
I think it's something anybody needs to do if they want to be prepared for themselves. 
We all want to be part of the solution rather than part of the problem. There are people who can't do this sort of training, for whatever reason. But if you can, it's really good. There's nothing worse than standing by and saying, "I wish I knew what to do" while somebody you care about is in dire straits.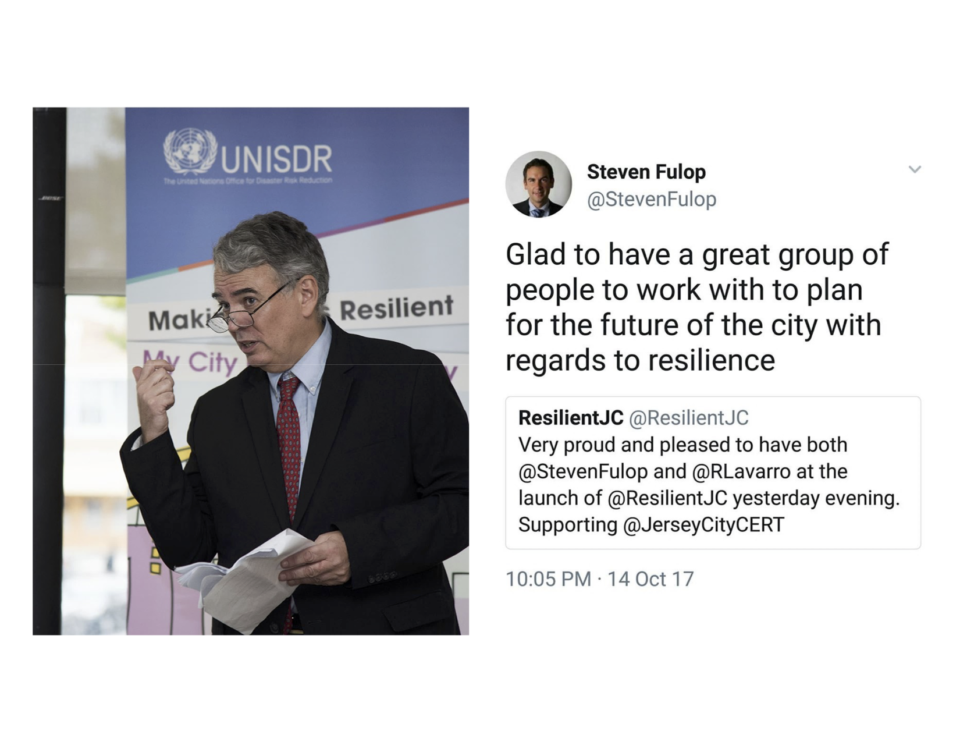 So there's United Rescue in Jersey City. What's the difference between this and what they do?
United Rescue is awesome. What they do is they focus purely on medical skills and they do this day-to-day. They go out and volunteer to use their medical skills. If you're a member of the Community Emergency Response Team, you're focused on disasters. You do have additional medical skills, but that isn't your day-to-day thing. I've been involved in some medical issues, street shootings and things like that, but what we really focus on is disasters. There is no day-to-day expectation that you are going to turn out the way they do in United Rescue. We do also learn skills that they don't, like Search & Rescue. We learn how to integrate with the greater spectrum of the fire, police, EMTs. We also do more complicated scenarios, like how to decontaminate people if there's been a nuclear incident or something like that. After 9/11, people were fleeing Manhattan to come across to Jersey City. Last year, the Community Emergency Response Team took part in Operation Gotham Shield, which was just like that but simulated what would happen if there was a nuclear bomb that went off in Manhattan. We had them fleeting across to us just like in 9/11, but this time they're coated with radioactive debris and we have to deal with that, we have to deal with their psychological needs, perhaps medical needs. It's a more complicated and sadly a higher-scale event than day-to-day accidents.
The great thing about the CERT team is that there is no call-out. You don't have to come out, you could be away.
So what's the process?
We have a multilayered way of reaching out – texts, apps, telephone calls. There are two different sorts of disasters, ones you can see coming and ones you cannot see coming. For example, with a hurricane, you can see that it's gradually coming towards you and you can get ready. If it's something like 9/11, you don't know that it's going to happen; it can suddenly be upon you and then you get a call-out. It can be a pandemic, you can see the pandemic gradually getting worse and prepare for it. On the other had, it can be the great Northeast blackout where everybody suddenly loses power and that causes problems. You have to be ready to deal with both.
What are your goals? Do you want to get more volunteers or raise more money?
We definitely want more volunteers, that's really important so we have that depth in the community. It's really important that we reach out to all the communities in Jersey City because we have a wonderful diverse community here, but we have people who speak Urdu, Mandarin, Gujarati, Arabic. We need people from all of those communities to be trained up so when we need to interact with the public, we'll have people who can speak the language and know their customs.
Do you guys partner with the city on this?
The Community Emergency Response Team operates underneath the Office of Emergency Management, which in turn reports to the mayor. Resilient JC is an independent, stand-alone not-for-profit and we support what they do. We're our own creature, so to speak, but we support what they do and we help them. We're also working on educational initiatives, on some equipment initiatives. We're working in different areas but we certainly support them, and a lot of them have different hats.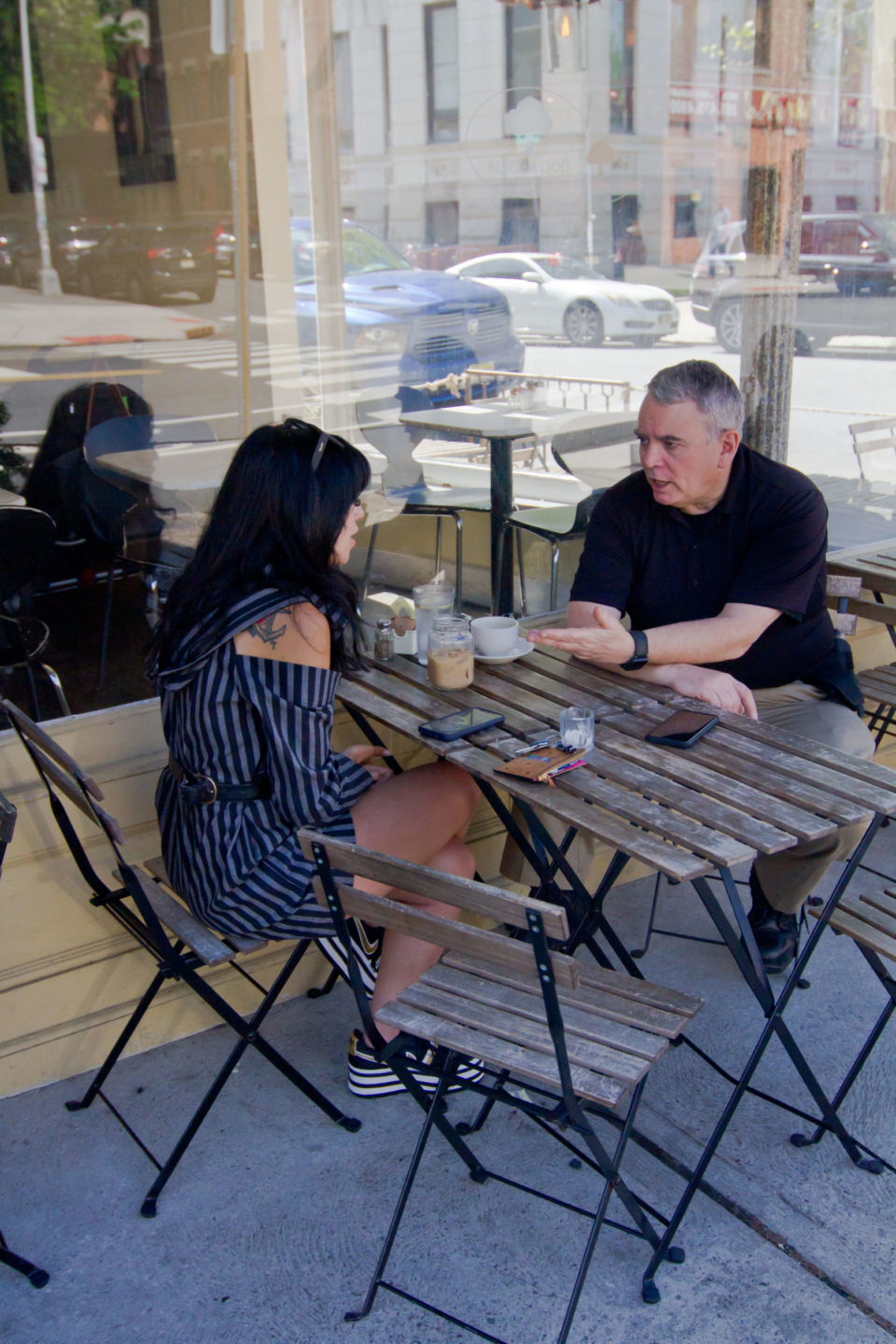 What should people have prepared in their homes, like in an emergency kit?
The very first thing you need to think about is you need to be ready to either stay or go. You need to put together a bag of things you can take with you so you can get out and go quickly if that is necessary. Most of the time, you need to stay where you are. The fundamental thing there is water – each person needs one gallon of water per day per person for as many days as you're preparing for. That could be at least 3 days, I would say 5 days to a week if you can. You also want canned food and a manual can opener because you don't know if you're going to have power. You need to have appropriate clothes and then, most importantly, medicines. If you are somebody who takes medicine regularly, go and see your doctor and ask for an extra two weeks' supply, put that to one side, and you know you have that ready. The same goes for female products, blood pressure medication, anything. Have extra stocked up and put to one side. And some cash! After Sandy, stores couldn't use credit cards. You should have cash so you can buy what you need if it's available.
If people are interested in volunteering, where can they find out more information?
The first thing you can do is reach out to me, my email is simon@jcnjcert.org. You can look at our public CERT page, facebook.com/groups/JerseyCityCERTPublic. You can reach out and message me from there.
As I said, there's no insistence that you have to turn out and help other people. It can be just to strengthen yourselves. It really good training to have.
Anything else you'd like people to know?
You can join our Resilient JC page on Facebook and Twitter.
Awesome, thanks! 
You can keep up with Resilient JC on Facebook and Twitter.
You can find the Jersey City Community Emergency Response Team on Facebook and Twitter.