NJ.com recently shared an article where Jersey City is the third-worst city for commutes, and I believe it.
Almost half of the commuters in the area use mass transit – buses, PATH, and Light Rail. In Jersey City, we're lucky enough to have multiple forms of transportation at our disposal, so there's always a way to get from one side of the city to the other. However, commute times have increased through the years (in case you didn't feel it every morning/night). In Jersey City, the average commute time is 73 minutes; we're spending over an hour a day on average just getting to and from our jobs. Looking at the study, our commute time compared to New York City's time is just 8 minutes shorter.

Crowding and a Growing Population
While we're lucky to have a wide selection of public transportation in Jersey City, especially with close proximity to New York, these commute times are killer. And this is before mentioning the crowds we face on trains and buses. If you've ever taken the PATH during rush hour or on weekends, you're familiar with crowded trains. You can either squeeze in or, if you have time, hope the next one won't be packed even though it's a slim chance. Same goes for the light rail, and even buses. A man even passed out on the train standing up because the train was so crowded. The crowds could be compared to those of the NYC subways.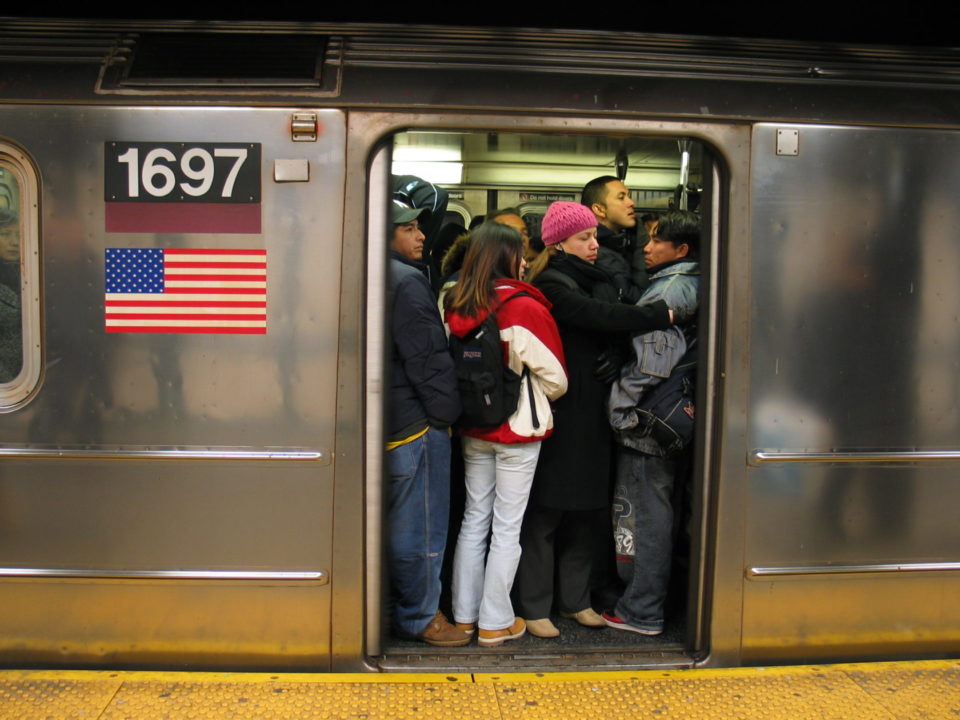 Maybe it's the growth in Jersey City's population that has led the commute to worsen. After all, there was an estimated increase of 23,156 residents between 2010 and 2016, according to the US Census Bureau. All these people have to travel somehow, and this doesn't even include the amount of people who live in New York and travel through Jersey City for work. Let's also remember that ride-sharing services like Uber and Lyft bring more cars to the area. There's too many people and not enough space. 
Transit issues
It's a shame to have public transportation readily available that doesn't perform as well as we need it to. Sure, everything typically runs on time. But then there are those moments when a train just doesn't show up for an hour, or an elevator stops working entirely and now the whole station is useless, or a bus trip is delayed because traffic is wild that day. It's no secret that we need to fix the public transportation system in Jersey City. With nearly half of the commuters using mass transit, we need some reform.
So…now what?
Developments are always being made for transportation in the area and nothing will happen overnight, but we can all agree that a growing city needs better transportation and a better commute. A growing population is out of our control, but we can always try to voice our issues with local government. We can share the need for improvements to be made to our public transit, whether it's with priority given to buses with their own lanes or open gangway rail cars. We need to figure something out together.
---
Your input
We asked you guys for your opinions on public transit in Jersey City, and it seems like most of you agreed that we need to fix our system. Many people said we're in need of more frequent routes because there's more people coming into the area, especially during rush hour on the PATH. We also need a Light Rail expansion, which they've started working on so we can only hope they continue to expand the light rail system. It's no secret that Jersey City could benefit from more stations outside of Downtown.
Someone pointed out the expense of the NY Waterway Ferry in comparison to the PATH. If it were more affordable, this could be an alternative that would help lessen the congestion on trains. Maybe one day, we can have means-based fares for mass transit.
Other opinions and ideas:
dupess: Hoboken stop for JC trains needs to be eliminated for late night and weekend PATH trains. So much talk about commute to NYC, but we need to think about commuting within JC, outside of downtown area. I have been taking light rail for almost 8 years. Frequency of service needs to be more in the evenings and weekends. Must do. Waiting for 30 mins after 9pm on open platforms in all kinds of weather is not easy. So many people with little kids and older people take light rail locally.
Alex M: Another point on transit resilience: we with the PA should consider retrofitting the Light Rail line with subterranean stormwater capture technology, so as to reduce times of disruption, repair cost and asset loss due to flooding. In Canada, flood mitigating technology has been implemented parallel to BRT and LRT lines and as part of stations to extend their lifecycles and reduce damage from rain and flood. The design and engineering today is cost-effective and much cheaper than, say, buying new LRT carriages. Additionally, the EXPL and Grove stations need to be reviewed for flood resilience. We cannot experience another months-long disruption like during Sandy.
Matt McMahon: We need more ferry services especially on the weekend with the path not going to the wtc. Future needs: Ferry terminal for bayfront and a path station at bayfront too. Light Rail: Forget using this in bad weather. One train issue and the entire system shuts down. The communication from NJT regarding the LR is REALLY bad.
copie157: The NJTransit trains and buses are a disaster, one of highest accident rate and safety violations in the country. You can wait an hour during rush hour for the #1 or #81 buses on Grand Ave. in Bergen Lafayette, especially during bad weather. I ride the LightRail every weekday and the service is pretty good, rarely any issues. Although I wish the LightRail would/could expand it's travel routes East and West, and to Bergen County, since it's called the Hudson Bergen Line. I take the PATH occasionally on weekends and experience major overcrowding.
squidagram: I mean I could talk with you about this subject for hours or days, and if you can wait a couple days I will do so, possibly over fancy cocktails lol.
But in a nutshell, the fundamental issue is that our very dense region depends far too much on privately owned cars for transportation. It's dangerous (crashes kill nearly 40,000 outright in the US every year), unhealthy (lung cancer & asthma from air pollution, heart disease & diabetes from sedentary lifestyles), terrible for the environment (climate change, oil pipelines), expensive for working families, subsidized unduly by taxpayers, and wildly inefficient in the use of limited space on roads, and especially in tunnels and bridges like the ones our urban peninsula relies on.
We desperately need to build far more and better mass transit of all types, bicycle infrastructure like protected bike lanes, pedestrian-friendly streetscapes, and a bunch of related factors. Whole countries like Holland do all these things aggressively and are MUCH safer, healthier, happier, and generally better off for it.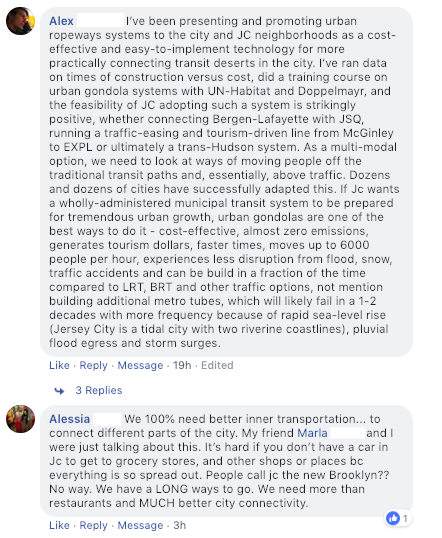 yubygirl: Where do I begin?! Being that I've been a New Yorker all my life I have never missed a day of work due to weather. Last year I moved to NJ and oh boy!! Had to work from home or run from work home because the lightrail is shutting down. And let's not forget that on a daily basis it takes up to 3 path trains in Newport before Im able to squeeze myself in. Not the best ride when someone's armpit is in your face or when you're so close you can smell people's breath. I see more and more high rises being built, let's hope we can match the transportation demands. In NY you will get to where you need to even when lines aren't running. I'm stuck in NJ when the lightrail is out of sorts. How about wknds? That's a whole other shit show.
kaygdreams: Can the Lafayette/Greenville "Pacific Ave" get more options for transportation besides the number 6 that's basically the same bus that left spongebob in rock bottom 10+ years ago. 😂 Unless ur willing to walk to Liberty State Park, u wait more than an hour to get on any other bus. I think just like there's a Bayonne Flyer, there needs to be a Hood flyer too 😩 ppl in urban/lower income communities need a boost to get to their daily grind too!!!☝🏼
prolifik_images: The Hoboken line should definitely pick up the slack at pavonia. That Hoboken train is always empty. It can happen.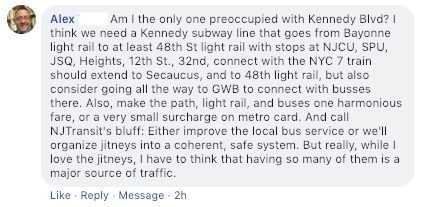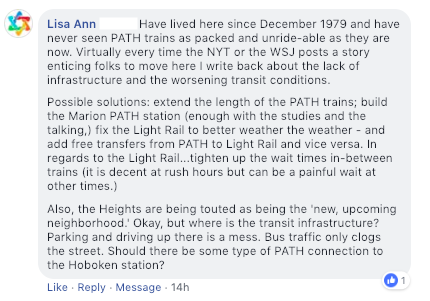 _jkinyanj_: Paterson Plank Road to Hoboken in the morning is terrible. The light rail crossing lights make no sense.
janellegunther: Have you ever seen the old map, early 1900s, of the proposed subway beneath Hudson Boulevard? 😍 Would have been a dream to have a mass transit line running north-south along JC's more dominant axis. There is woefully insufficient mass transit in the outer wards – everyone north and south of JSQ have to rely upon busses (the light rail alleviates some of this for those who live nearby). IMO buses are not always very reliable as they're at the mercy of the already overly-congested streets – surface transportation that doesn't have dedicated corridors gets harder to pull off as we continue to grow in population. Streetcars, trams, light rail expansion, etc. would be amazing, but it may be too expensive or logistically complicated to put back the infrastructure that was taken out decades ago. Another layer is neighborhoods that are more walkable for residents, where most day to day needs are met. Commuting to DTJC or NYC for work is only one concern – designing and programming neighborhoods with sufficient amenities can reduce reliance upon transportation. Strong commercial zones, even small ones, with good grocery shops with fresh produce, pharmacies, restaurants, retail shops, etc. mean residents can meet their daily needs so they don't have to get in the car and go elsewhere as often. And also a robust public school system, to reduce the tendency for families to bus or drive children to a charter school or private school – would be ideal if all families could rely upon the home school and walk a few blocks from home.