From June to September, explore the natural beauty of the Hudson River estuary with a kayak tour from Liberty State Park! The tour covers the wildlife and habitats of Caven Point right here in Jersey City.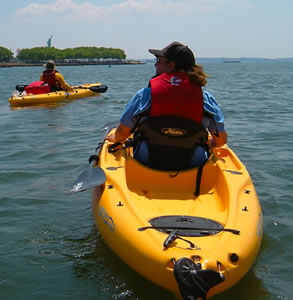 Each trip is about two hours long, and includes safety instructions to ensure that every participant knows what to do and feels comfortable. No kayaking experience needed! Just show up and have fun as you explore the best nature has to offer in Jersey City.
Please note that space is limited and pre-registration is required. It's $20 per person, and the program runs from 10AM to 12PM. For more information, you can contact the Liberty State Park Nature Interpretive Center at 201-915-3400 ext. 202 or lspnaturecenter@dep.nj.gov.