Mayor Fulop and Councilman Daniel Rivera have announced a resolution to adopt four cities in Puerto Rico devastated by a 6.4 magnitude earthquake and damaging aftershocks earlier this month. With a fundraising goal of $200,000, Jersey City officials are leading efforts to provide recovery assistance for families in the most affected areas.  The resolution being presented at the next City Council meeting identifies Ponce, Guayanila, Yauco, and Guanica as the four cities to receive all proceeds raised by Jersey City for rebuilding efforts.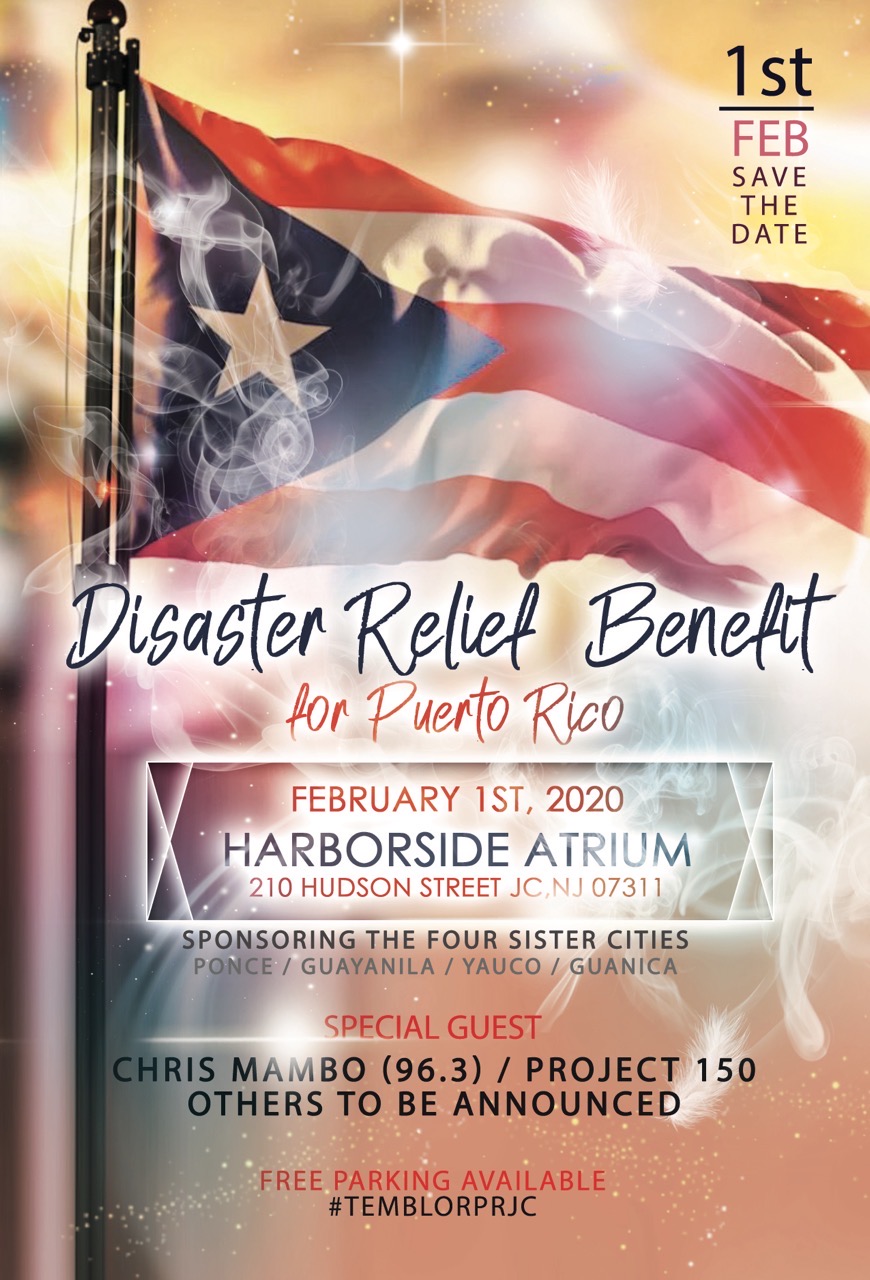 "We want to stand in solitude with our brothers and sisters in Puerto Rico who lost their homes and everything they own in the last month," said Councilman at Large Rivera. "We have a large Hispanic population here in Jersey City, many of whom have family who still live in Puerto Rico. We need to come together to help Puerto Rico bounce back, especially the families unexpectedly left living in perilous situations, which is why we'll host an event on February 1st  to kickoff fundraising efforts."
The first fundraiser for "Operation Temblor Puerto Rico JC" will be held on February 1, 2020 at the Harborside Atrium with all proceeds being donated directly to the earthquake relief fund.
As we all know the southwest side of the Island of Puerto Rico has been devastated by numerous and severe earthquakes and not a day goes by without aftershocks. This is why I am reaching out to you to see if you would like to be a part of this undertaking to help our brothers and sisters from Puerto Rico. Como todos sabemos, el lado suroeste de la Isla de Puerto Rico ha sido devastado por numerosos y severos terremotos y no pasa un día sin réplicas.Es por eso que me estoy comunicando con usted para ver si le gustaría ser parte de esta empresa para ayudar a nuestros hermanos y hermanas de Puerto Rico.#masfuertesquelalucha#inunitythereisstrength#juntosparalaisla#tembloprjc

Posted by Jcprhac Parade on Friday, January 17, 2020
Just two years ago, 1.3 million pounds of food, water, diapers, and other essential supplies were collected when Councilman at Large Rivera lead Jersey City's relief efforts after Hurricane Maria hit Puerto Rico in 2017.  Faced with the daunting task to rebuild yet again, this latest fundraising drive will directly help the battered island with financial assistance for families as they work to get their lives back in order.
"This is a time when the strength of our diversity really shines through in the darkness of devastation, and I hope we can really make a difference to help reset the course for the thousands of people picking up the pieces in the aftermath of the earthquake," said Mayor Fulop.  "We want to do all we can to help and show Puerto Rico as much support as possible during this difficult time."
Tickets for the upcoming Operation Temblor Puerto Rico JC fundraiser are $100 per person, with all proceeds directly assisting affected families.  The February 1st event will be held at the Harborside Atrium located at 210 Hudson Street, Jersey City, NJ from 7 p.m. to 11 p.m.