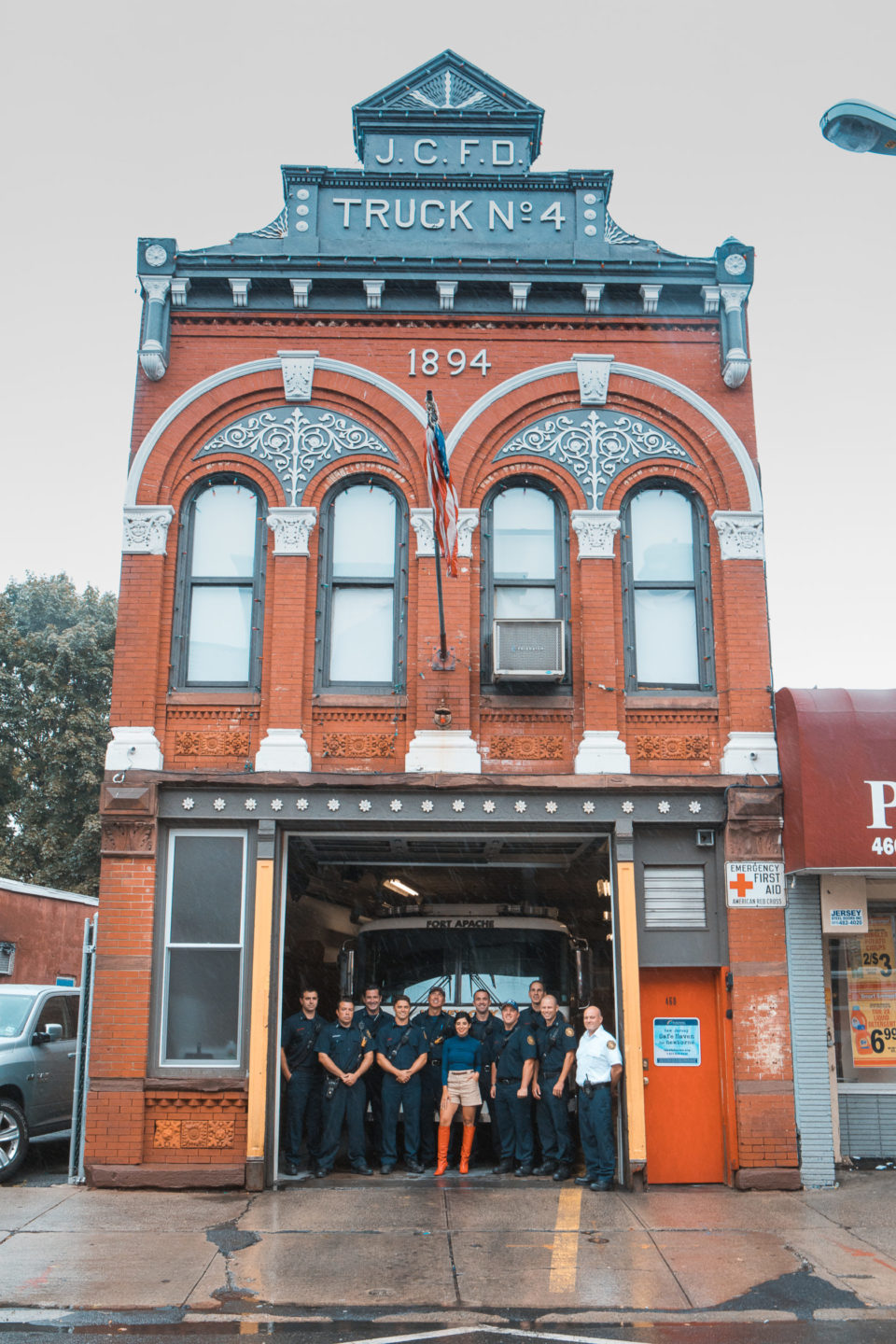 Every year in commemoration of 9/11, I visit a different firehouse and interview local firefighters as a tribute to the men and women who protect us and the heroes that lost their lives on that horrific day. My first interview was with the crew from Engine 9, Battalion 4 Group C. To this day, it was one of my favorite interviews as it really solidified that this whole blogging thing was what I was meant to do. These firefighters changed my life.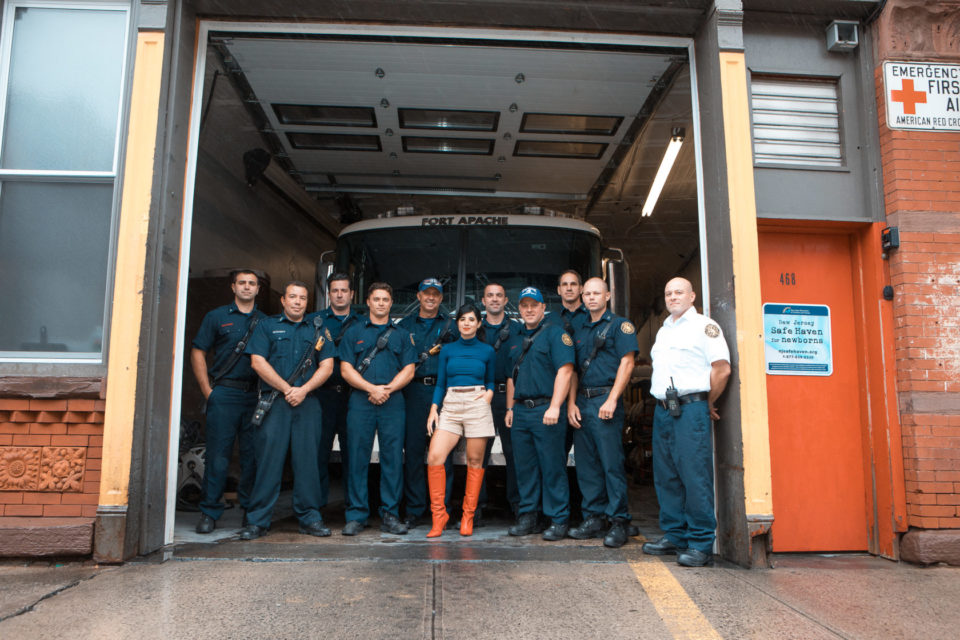 That same day, while walking to the 9/11 Memorial Ceremony by the waterfront, I ran into Mayor Fulop and he said to me that every year, less and less people come to the memorial but that it was so important to continue doing them.
Never Forget.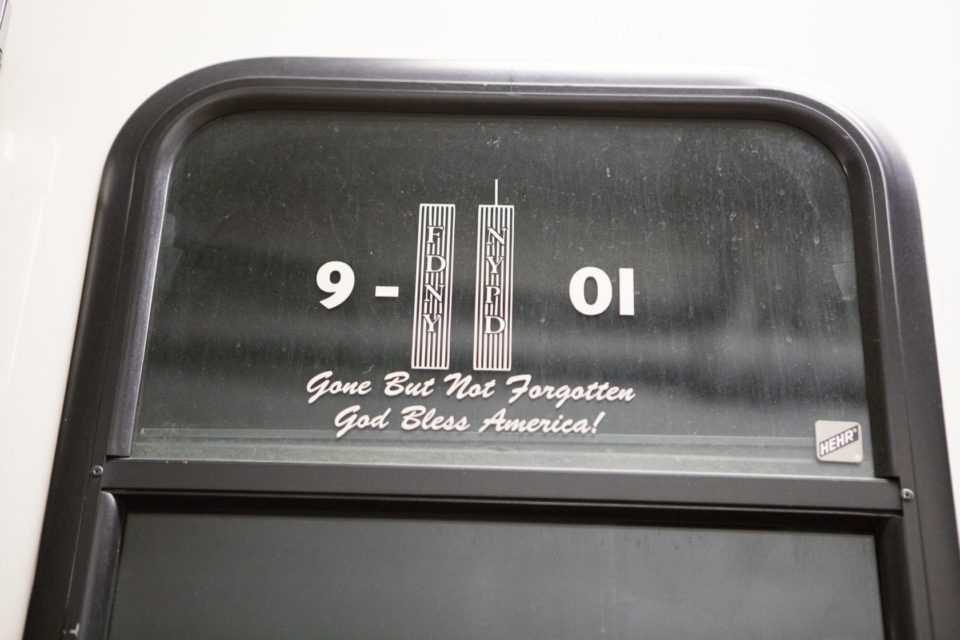 I made a vow that for as long as I am writing this blog, I will pay tribute to the amazing people that protect us.
A week ago, I looked at my calendar and realized it was already September. In a panic, I started reaching out to everyone I know to help me get an interview with a firehouse.
John Ruddy, an extremely talented local artist who also happens to be a Battalion Chief, reached out and made it happen.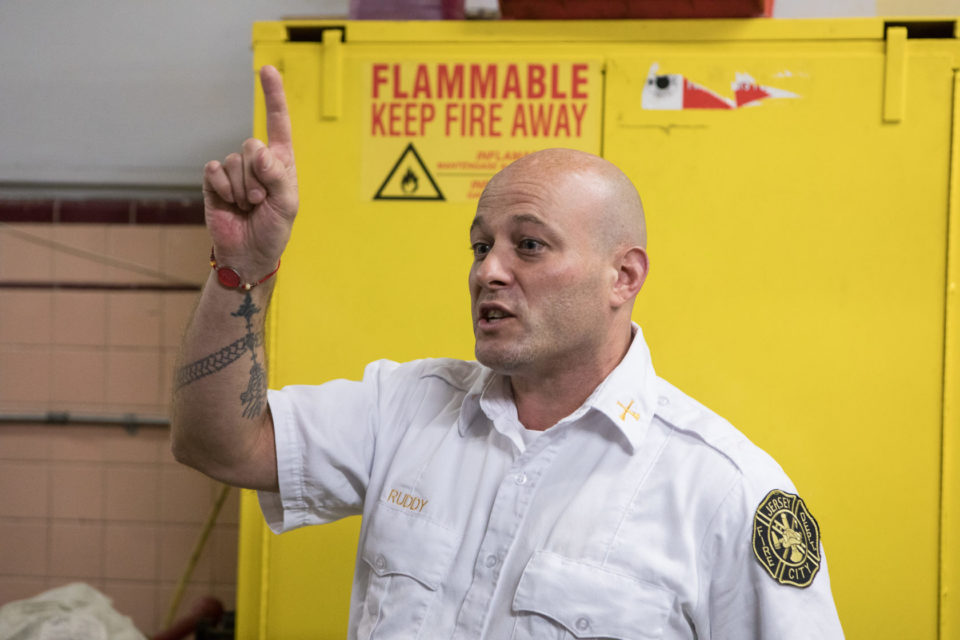 He told us we would be visiting the quarters of Engine 22 and Ladder Tower 4, a classic old firehouse located on Ocean Ave in Greenville with two veteran captains that would be working that day.
I invited photographer Greg Pallante, who's joined me in all JCFD posts, and we had a blast getting to know the guys.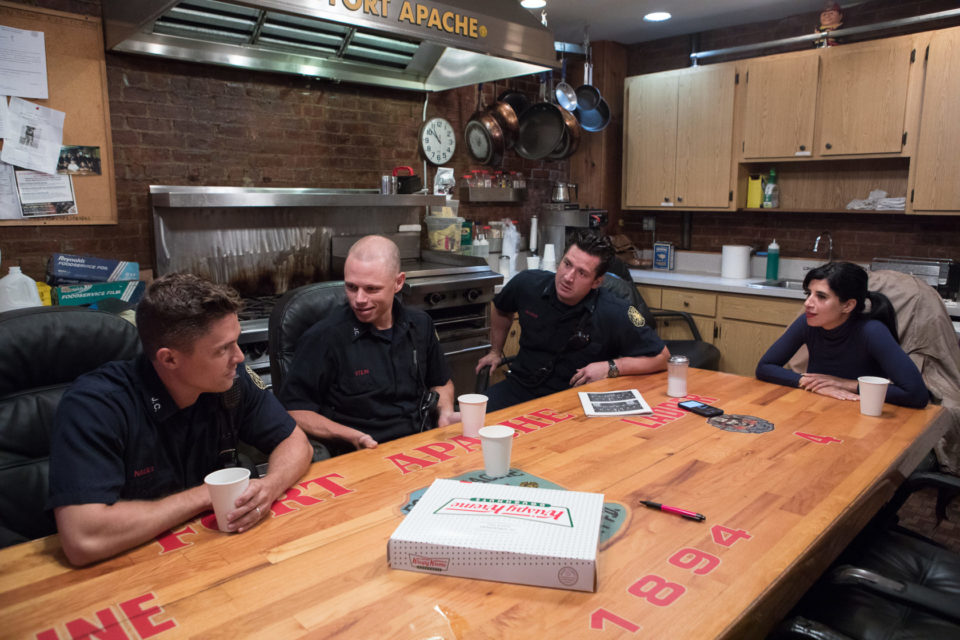 I will forever have a special place in my heart for Jersey City Firefighters.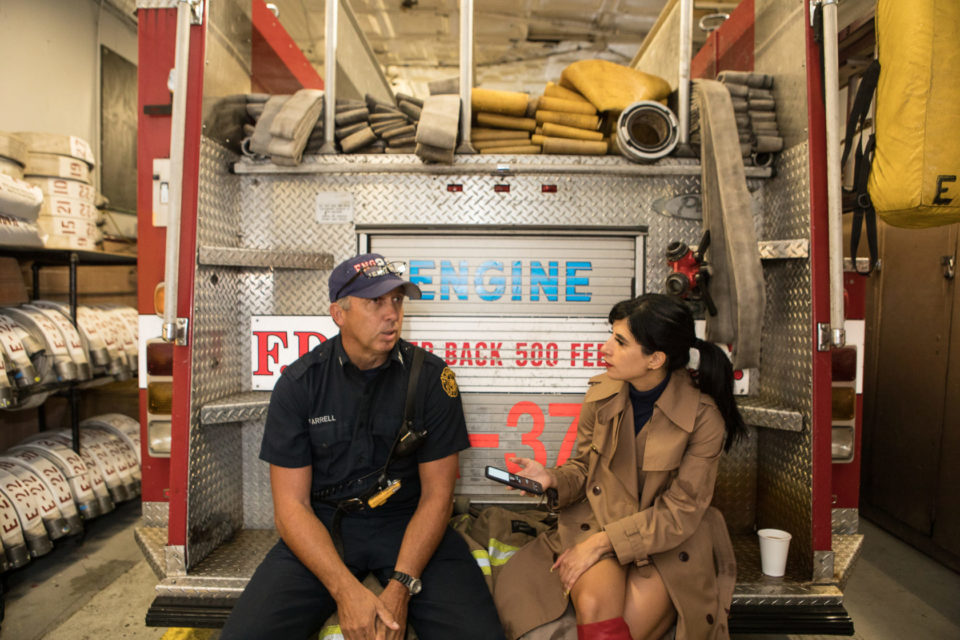 What's your name?
Captain James Farrell.
What do you do?
I'm the captain of the Jersey City Fire Department.
How long have you been a captain?
27 years.
Wow! Why did you become a firefighter?
My father was on the job for 30 years, and he was also a captain.
I see that a lot, where it runs in the family. 
Yeah, it happens. My father never pushed, it was just one of those things growing up in Jersey City. You were either a cop, a fireman, or you worked for Colgate.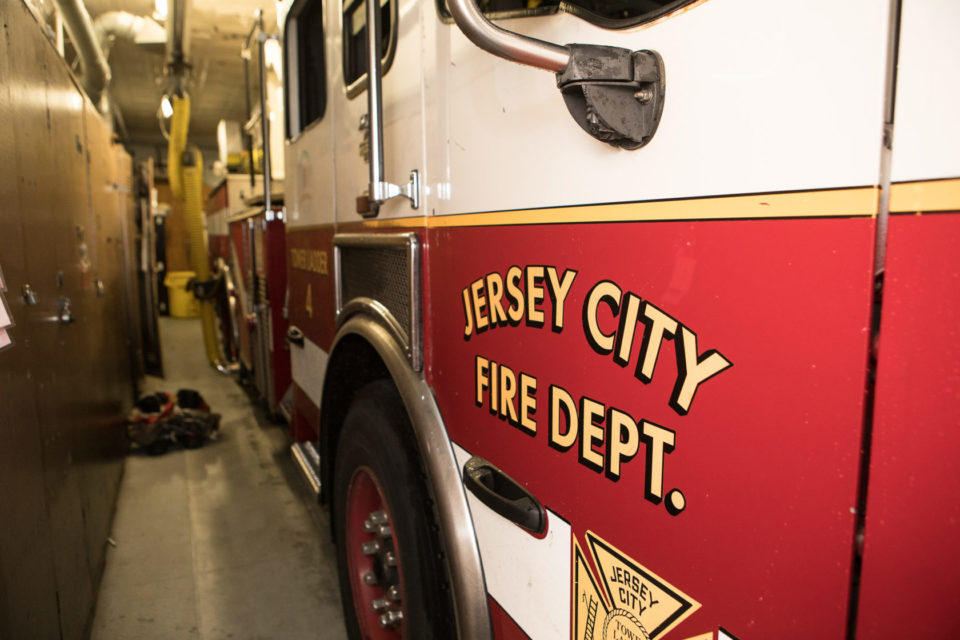 How was it, growing up in a firehouse?
I never went, to be honest. My father worked in other parts of the city, so I didn't go to the firehouse much. The test came along and I took it. It was one of those things that I didn't want to be a fireman growing up, it just came along.
What do you like about being a firefighter?
Every day, coming to work is different. The guys I work with are incredible people. Throughout my whole career, I was blessed to have really good people around me. I have a bunch of young kids now and they're all great guys, and that's probably why I'm still here.
Have you always been in this specific firehouse?
I've been in this house for about 32 years. I started here, and then I came back and became captain.
That's incredible. You must've seen so many people.
I've seen so many guys leave the job, but like I said, we have a great group of young guys. This job has changed so much in the last 10 years, but we're lucky to have a bunch of good guys with us.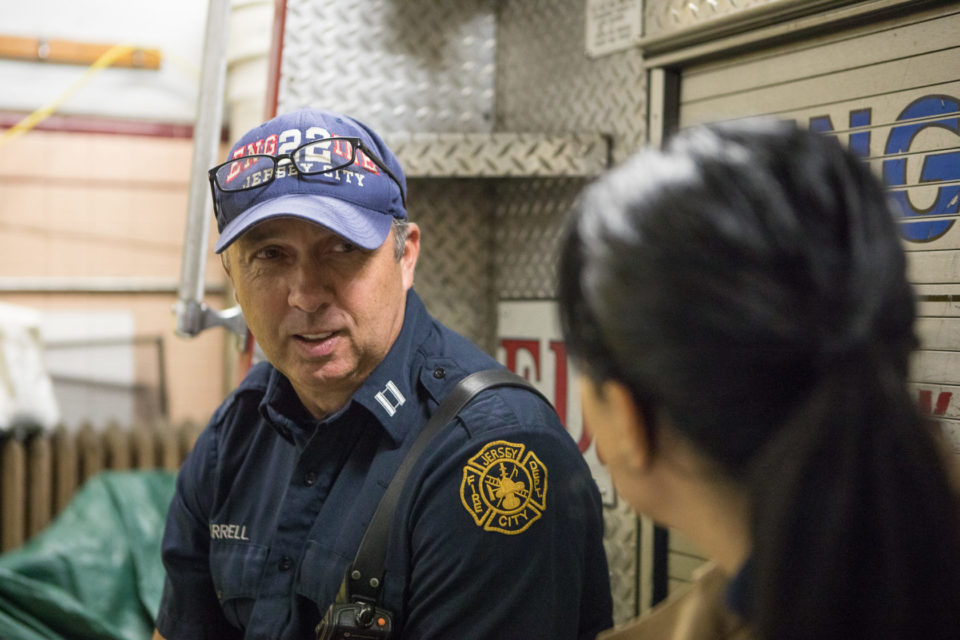 Since you grew up in Jersey City, how do you feel about the changes?
I think it's good in some regard. In other areas, I don't think it's great. Where I grew up, it's a lot worse. I was on West Side, and it was a great place to grow up. Now, it seems like it's changed a lot. You go Downtown and it's incredible. I think some parts of the city are forgotten and other parts, they do well. Hopefully, everything will come back together.
How's your experience in this firehouse?
It's busy, we've always had our fires. It's a busy area, it's always been this way, and it'll probably always be this way.
So, where were you during 9/11?
I was working right here. I came in like any other day. It was a beautiful September morning. When the first tower was hit, we didn't know what was going on at the time. We thought it was a private plane and as the day went on, we realized it was more than that. I think they relocated us downtown. We actually deconned the first wave of people that came on the ferries, and those were the last people we saw because no one else came. For the most part, it was frustrating because we were supposed to go over and we didn't. They sent us down to Liberty State Park, where we set up this huge triage area with doctors and nurses, and no one ever came. They were anticipating waves of people coming, and as we all know, no one ever came. It was a very frustrating day, and then subsequently, a lot of guys went on their own.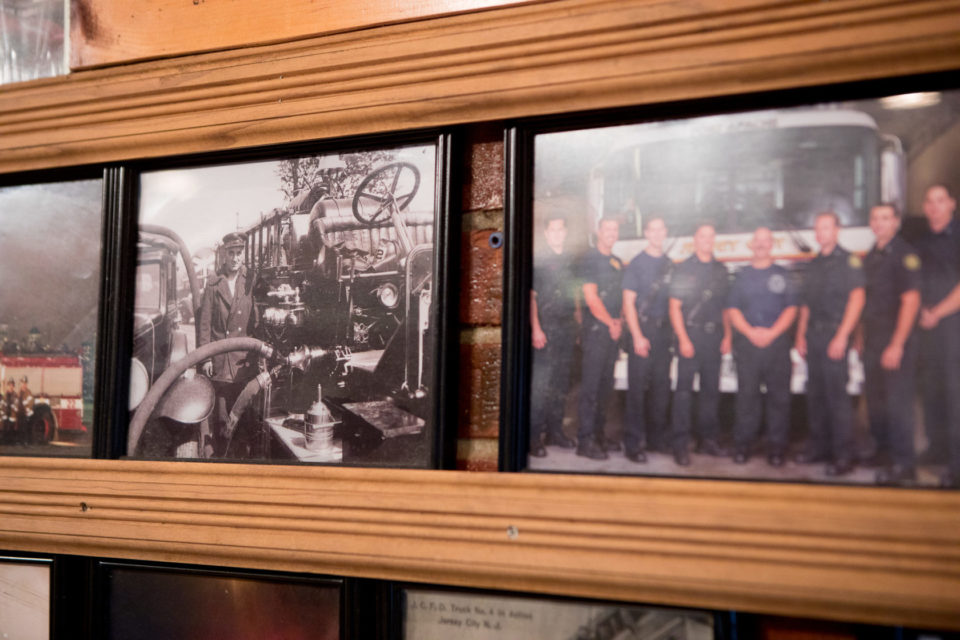 I heard that, in Jersey City, there were a few fires that day.
Yeah, a firefighter's mother's house burnt down that same day. It was a strange day.
How was that experience for you?
We've never experienced anything like that in our whole life. It's hard to explain what happened. Years later, we're still wondering how it happened and why it happened.
I'm sure things move quickly once you get a call and have to go in. What goes through your head?
A bit of adrenaline. But I think you're trained to do this and hopefully, it comes as second nature after so many years. We have so many young guys and they know what they're doing. It's very professional.
What's a typical day?
We've had three runs in the last hour. Mostly, you walk in and check your rigs. We talk to offgoing officers, see what happened the day before. You start off with training, and then throughout the day you go for numerous calls. Today, we had a structure fire, gas leaks, a lot of medical calls. Every day is different. You walk through the door and something can happen, and you have no idea until you walk in.
What do you do to unwind?
We play ping pong here or play cards.
What about outside of the firehouse?
I play softball and do a lot of fishing. I used to kayak around the Statue of Liberty before work. I do a lot of stuff with the guys, we go snowboarding in the winter and play ice hockey. We try to make it a family here.
That's great. Do you have a favorite Jersey City hangout spot?
Park Tavern, years ago.
---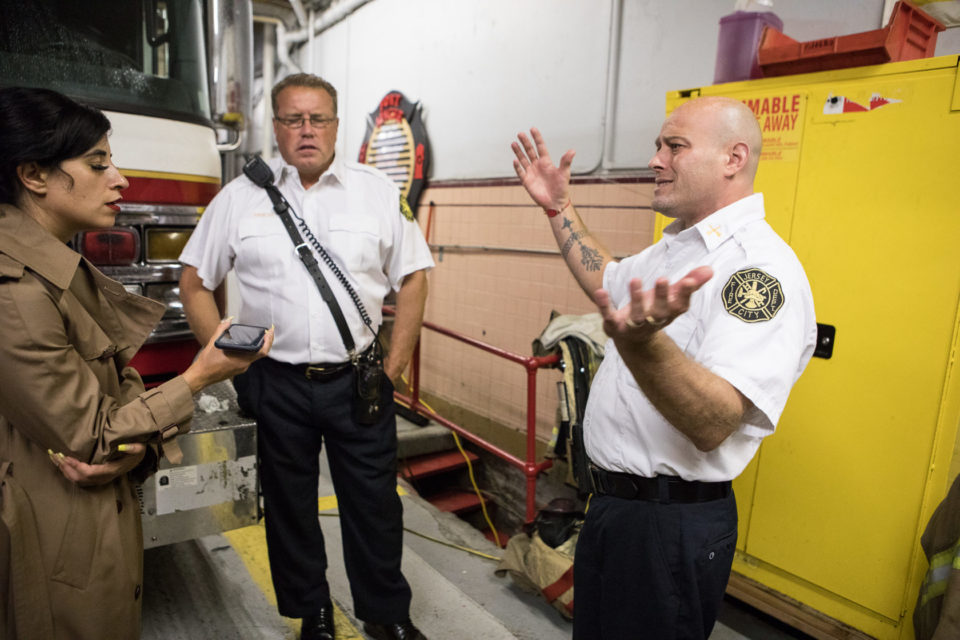 What are your names?
Battalion Chief Peter Griese.
Battalion Chief John Ruddy.
What do you guys do?
John: A battalion chief would be the next-to-highest rank in the fire department. It's firefighter, captain, battalion chief, and then deputy chief. And then the chief of the department would be on top of that hierarchy.
Peter: You'd have Battalion Commander, incorporating 6 to 7 companies of firefighters.
So you guys visit different firehouses?
John: We're generally in control of one quarter of the city.
Peter: We're broken into four battalions, so each quarter of the city has one.
And you guys started as firefighters and moved up.
Yes.
How long have you guys been firefighters?
Peter: Around 36 years.
John: I'm on 24 years. I'm the young chief.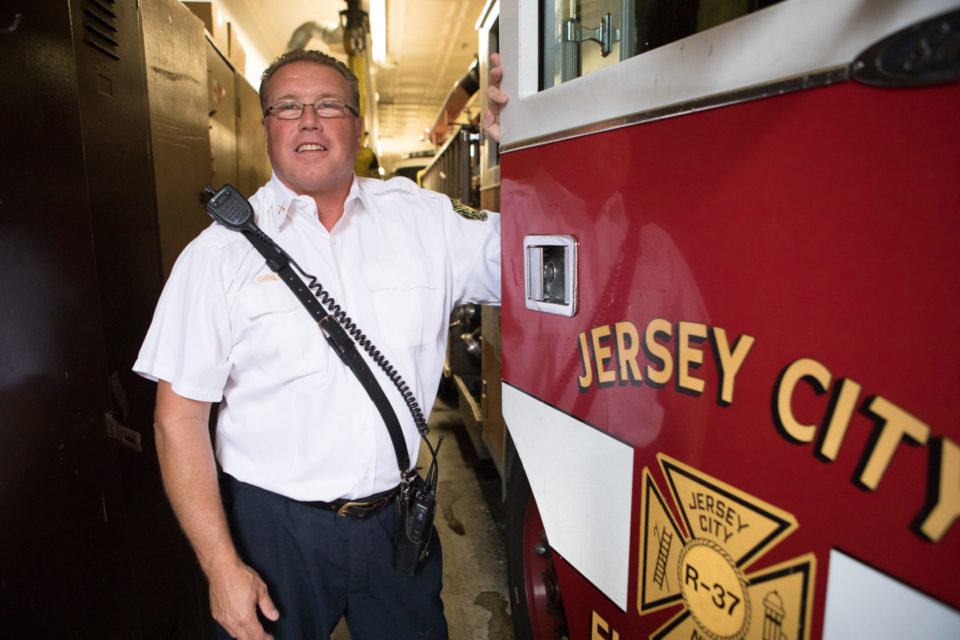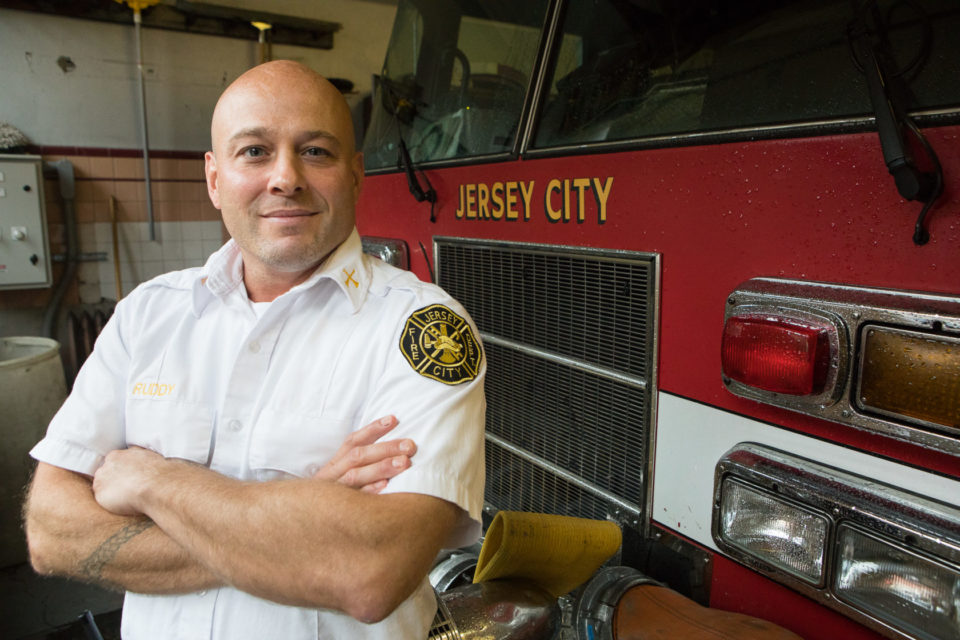 What made you decide to become a firefighter?
Peter: At the time, it was just a good job. I working on Wall Street, clerking, and I met a friend who was a firefighter and worked part-time on Wall Street. He asked if I wanted to start the application and I said, "sure." It was a steady job, good pension, good benefits. It was great.
John: It ran in the family for me. My father was a retired battalion chief, I had two uncles who were retired as captains in Jersey City. Growing up as a kid, I grew up on Highland Ave by Saint Peter's College (now Saint Peter's University). My father worked at 15 Engine, which is over by Sip Ave in Journal Square. As a kid, I remember going in there. Even today, I walk in and it has that smell. There's a smell that goes back to my childhood.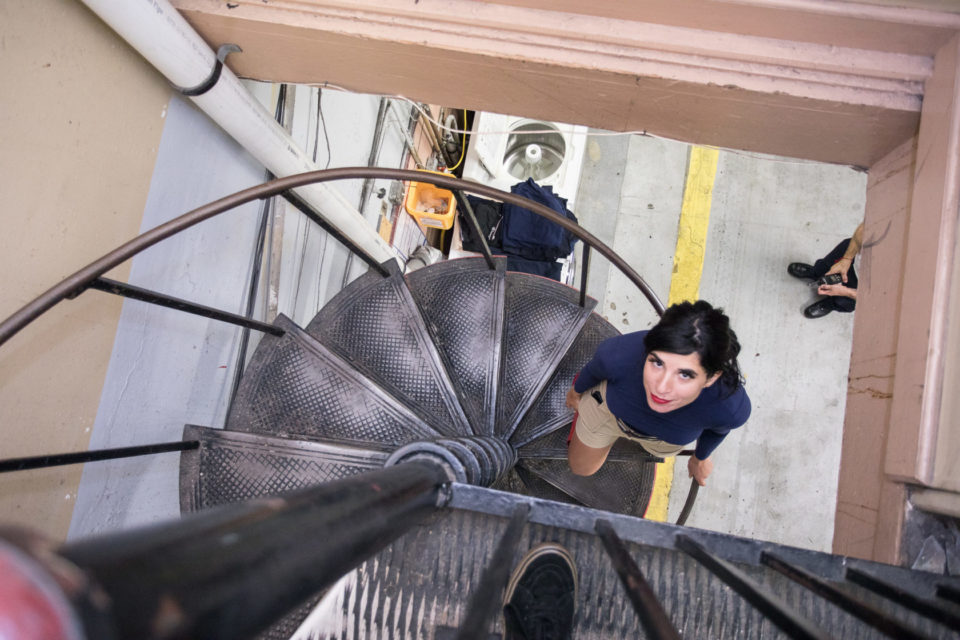 So when you were a kid, you knew you wanted to be a firefighter?
John: No, I didn't necessarily want to be a firefighter but it was always in the background of my life.
Was your father proud of you when you decided?
John: Yeah, I think he's still proud. I hope!
What do you like about being a firefighter?
Peter: The best part is that no day is the same. Every day, you come in and it's something different. There's a routine, but you don't know what's going to happen that day. You're kind of surprised, but it's interesting.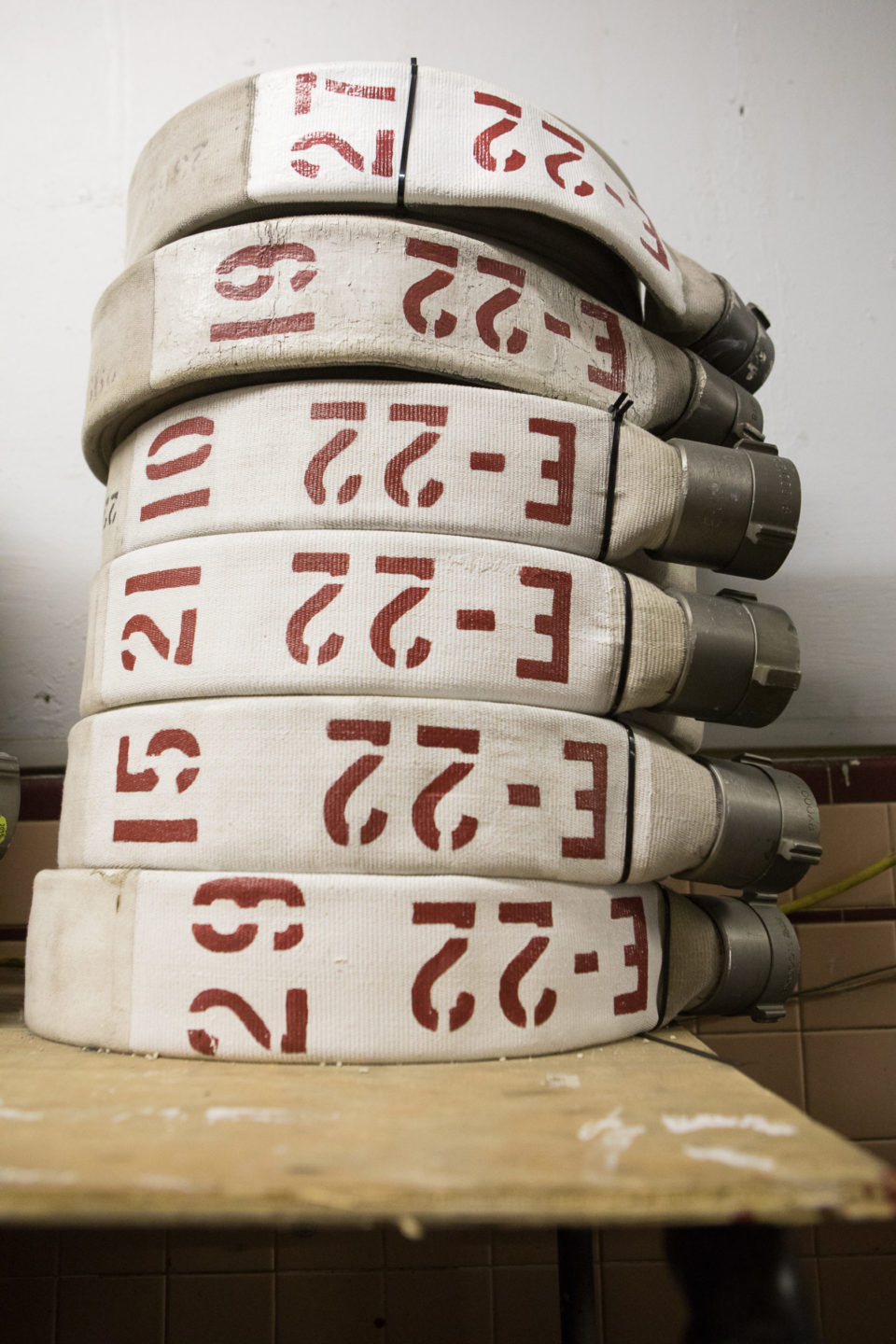 John: A big part of what we do is manage chaos. Every day is a struggle against chaos. Whatever comes our way in Jersey City, whether it's a fire or train accident, we know that we're the ones who have to put it back together. To me, I never feel guilty about going to work because I'm always doing good for somebody.
You guys are saving lives.
John: We try, that's our intention.
There's also this brotherhood when you're part of the JCFD.
Peter: Oh yeah, you can go anywhere in the country and find out guys in California or Florida are from the same circle.
So, where were you during 9/11?
Peter: I was working as the captain of Rescue Company 1. We just finished breakfast, it was 8:45AM, and all of a sudden on the news, a flash comes over about a plane striking the World Trade Center. We heard one of the guys working down in the firehouse on Grand St, and he came over the radio telling us about it. We had scanners to listen to the radio, listening to the chaos that was happening over there. As a rescue company, we started getting all the equipment we would need just in case. New York City is so vast, they have so many medics and guys out there for any incident, for us to go to NYC is a rare opportunity.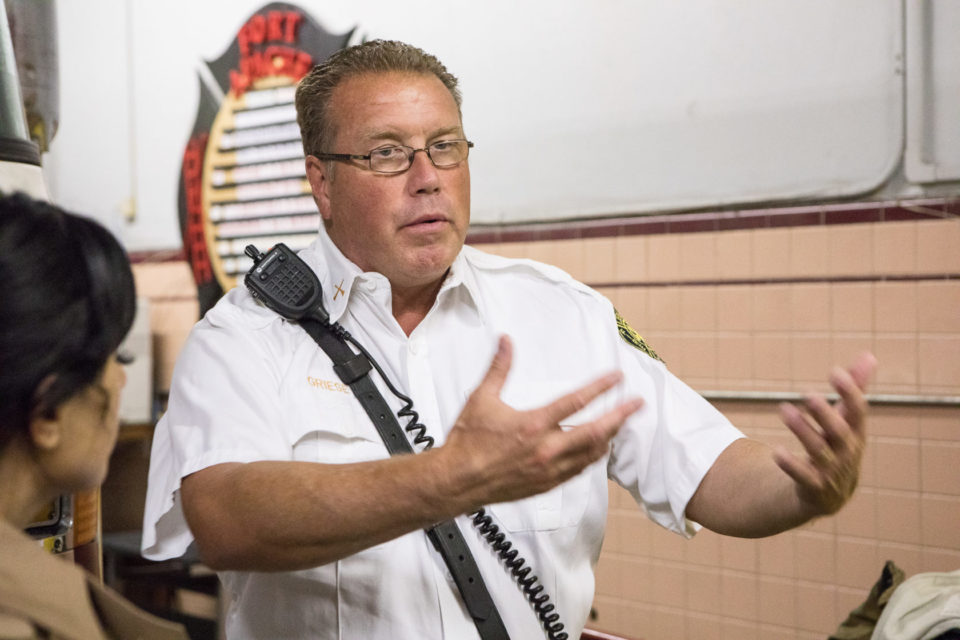 How was your general feeling?
Peter: Everyone was just dumbfounded, nobody knew what was going on. Everyone thought it was a small, private plane. But then we started looking at pictures of the size of the hole, and it definitely wasn't a small plane. Then when the second plane hit, everyone kind of knew what was going on and knew it was all planned. We waited all day. We took whatever we could after the first collapse, anything we had, and went down to headquarters and stayed there until 4PM.
We had a couple of guys over there early in the morning. Port Authority called us specifically for our air truck. They went over with the battalion chief early on and got caught in the first collapse, and one dispatcher who went over with them was killed. Around 4PM, a couple of battalion chiefs and the deputy chief over at the scene made the decision to send the task force over. We had double shifts on each piece of apparatus. We went over and they directed us into a place just north of the Trade Center, and you could still see everything still burning.
John: I was riding Engine 17 that day, so I was also working with the task force that went with Chief Griese. We went through the Holland Tunnel, which was closed off and they had to escort us through, and then the first thing I remember is the West Side highway was just littered with firemen.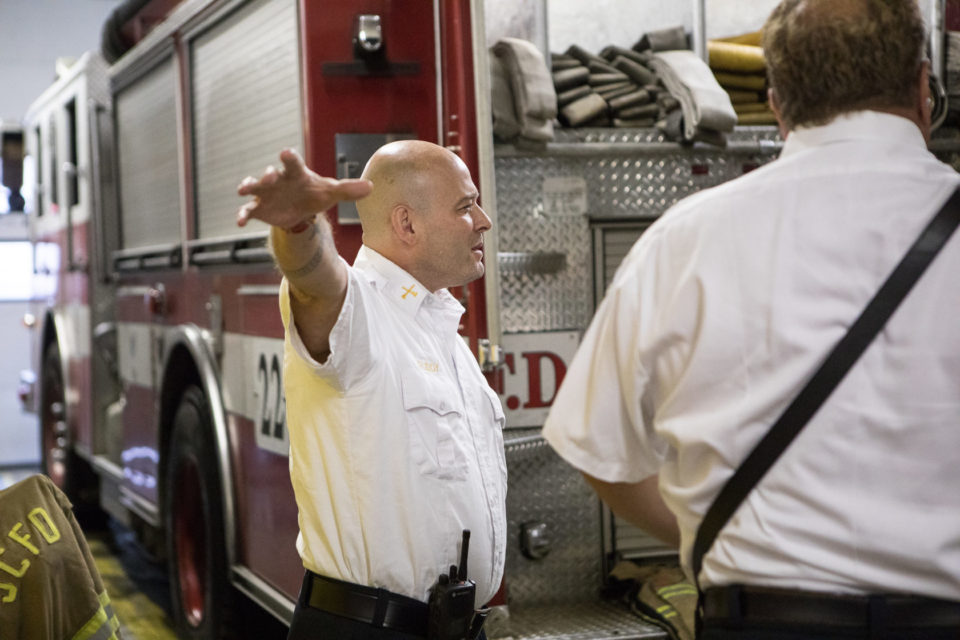 Peter: There were New York City guys everywhere, covered with dust. Coming out one of the side streets, people were cheering. Nobody really knew what was going on. We knew about the collapses, just watching from Marin Blvd. When one of the buildings collapsed, you could feel the rumble across the river as it came down. New York City has a vast amount of guys, so they throw so much equipment into any incident they have. You knew the first building must've have dozens of guys. We didn't even fathom it'd be 343 guys.
What went through your heads while all this was happening?
John: I think the most tangible feeling I remember having was frustration. Whatever was happening, happened already. All of these people died when the building collapsed. By the time we got there, and I remember seeing the wreckage, there were firetrucks bent in half.
Peter: For blocks! There were people giving you food and it was bizarre.
John: I do remember watching 7 World Trade collapse. We were maybe five blocks away.
Peter: As we came up the street, I think it was 15 floors of fire.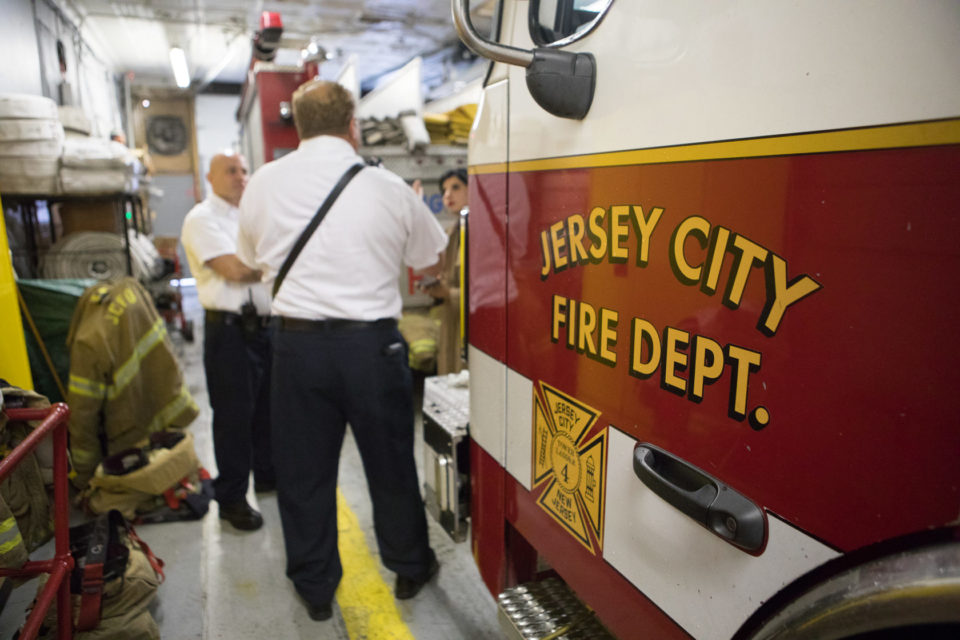 What was the general sentiment at the firehouse after this tragedy?
John: It was a little bit of shock on the first day.
I'm sure it was a traumatic experience. 
Peter: That was the thing. After a couple hours of staging, we just started looking around. Everything was covered in dust for blocks. It was like a scene from a movie. There was really no rescue because there was nothing to rescue.
John: At one point, they mobilized a few hundred iron workers. I remember them coming in with torches to look through the debris and look for people. At that point, I don't think it had sunk in yet that there's no way anyone could've survived it. There was one person trapped in an elevator who had survived.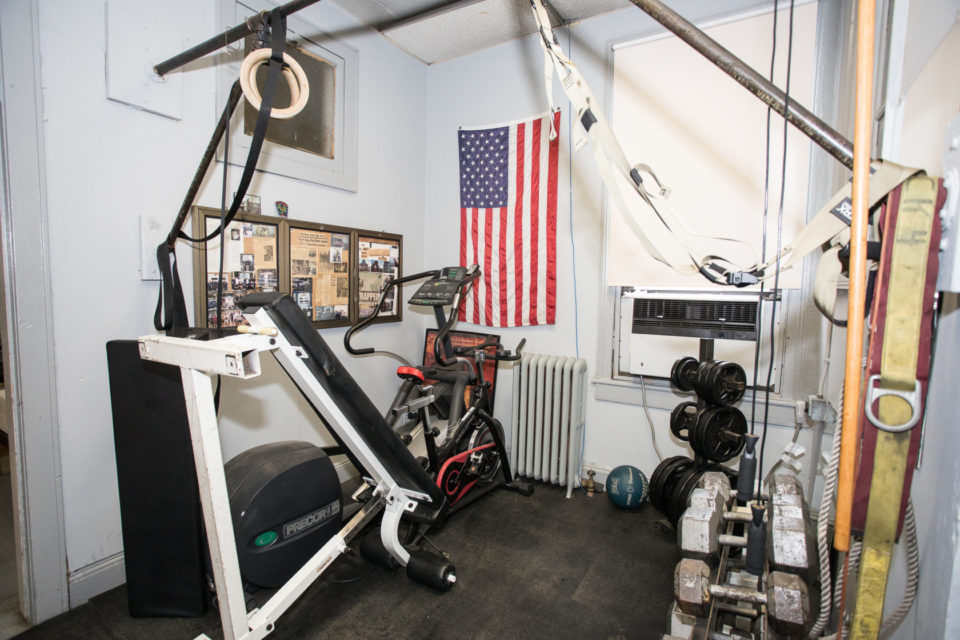 Peter: No one understood the magnitude of that building collapsing.
John: With firefighters, their inclination is always to fix the situation, but there was nothing.
Peter: We came right behind Trinity Church, and we came upon a pumper where the whole hose bed had been burnt off. It was still hooked to a fire hydrant, running. We walked up, opened a cab door, and found the little magnetic quill and it was Engine 288 from Queens. Months later, once they figured out the status, we found out the whole crew died.
John: The old World Trade Center had those gothic arches. I remember there was that famous image with the arches still standing.
Peter: That was the only thing that was recognizable.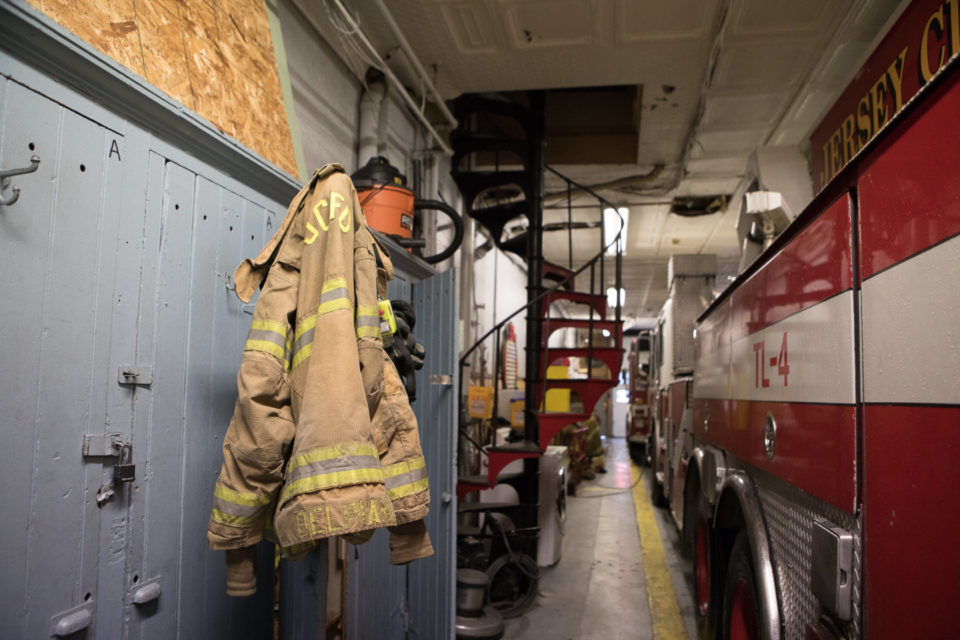 What goes through your mind when you get a call? Are you ever afraid?
Peter: Oh yeah!
John: Fear is a tool we use.
Peter: Understanding the risk, getting as much information as you can, knowing the area you work in, the buildings you work in. When you show up, you're trying to recycle all that information.
John: It's the ultimate multi-tasking because you're thinking of 7 different things at once. You're listening to a radio, putting on your equipment, watching your men, understanding your environment, and if you're running into a burning building it's dangerous.
Peter: Your career changes it, too. If you're a firefighter, you're running on adrenaline. As a captain, you have some responsibility for your guys. As a battalion chief, I feel responsible for over 30 guys. Your mindset changes.
John, you told me about this firehouse and how it's historical. 
John: It's one of the oldest houses still standing in the city. It's been around since 1894. When this was built, they were still running horses and old school steamers out of here. Greenville is probably the last neighborhood to be developed in Jersey City.
Peter: Myrtle Avenue was the line, and it was the last one to come into the consolidation.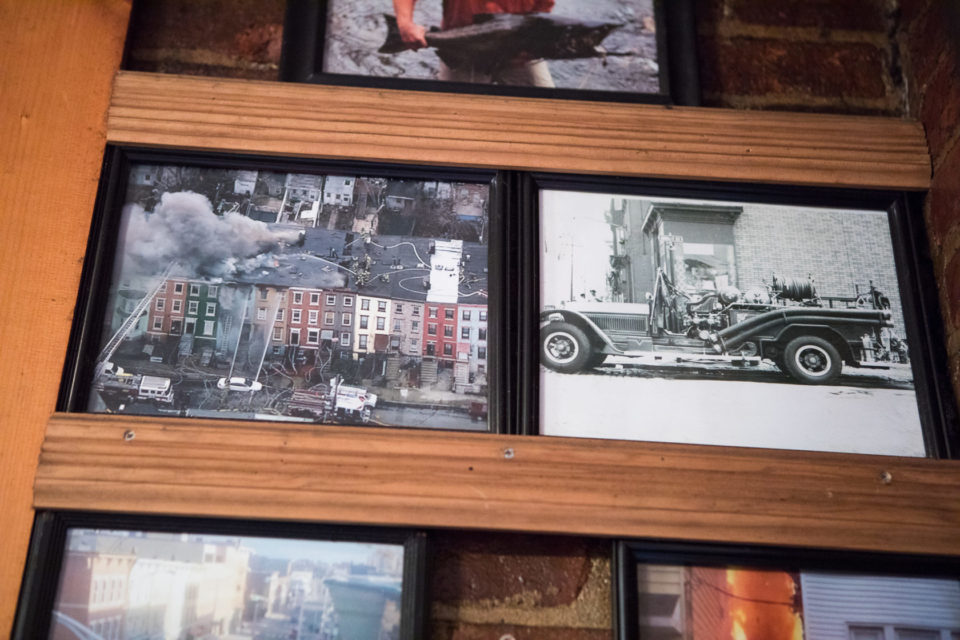 John: It used to be the Village of Greenville.
Peter: Even at the turn of the century, it was still a lot of farms. This 4 truck was on Danforth Ave originally. They moved here in 1894. They were the only two rigs down here. There was nothing down here. Then everything built up after the war.
John: Right around the 60s and 70s, the neighborhood started to decline economically, a lot of industry left like in a lot of cities in America, and you had a lot of fires here. Even today, this district probably has more fires than the rest of the city.
Peter: This was one of the busiest houses in the country, for sure.
You guys grew up in Jersey City. How do you feel it's changed?
Peter: It's nice to see it come back economically. It's just kind of bizarre to see the overwhelming development of everything.
John: Jersey City is literally a mile away from Manhattan, and we were always this little scrappy city sitting in the banks of the Hudson. We have our own identity. Growing up, it was very insular. People knew each other and there were networks. To see the new layers of what's been happening these past couple of decades, on one hand it's interesting with a lot of beneficial parts to it, but it's a little nostalgic when you see the older things.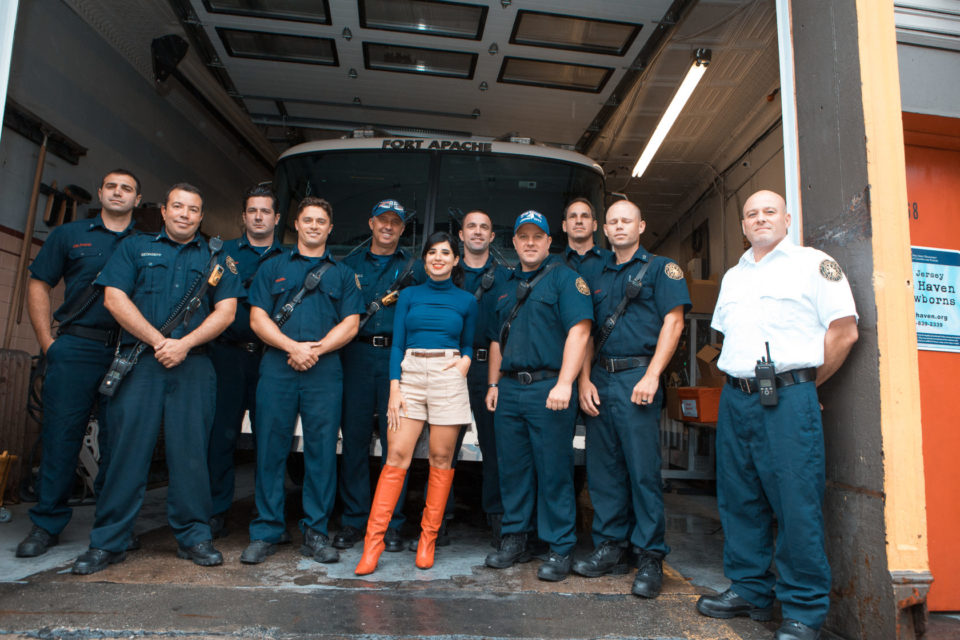 Peter: There's very little "old" in Jersey City, as old as the city is. Everything was bulldozed and rebuilt.
John: From a professional perspective, our biggest challenge now is coping with this massive development. If you're going to put up a 100-story building, it's going to take a whole lot of resources and understanding to protect them.
Peter: The traffic is unbearable, especially during school hours.
John, I know you're a super talented artist. How do you handle these two identities?
John: From my perspective, it's what I studied in college and what I always wanted to do. I think I viewed being a firefighter from a very practical perspective. It was a good job, it was flexible in the sense that we work long shifts. It worked out for me. Early on, I wanted to keep a distinction between my job and my art. As you get older, it's less of an issue.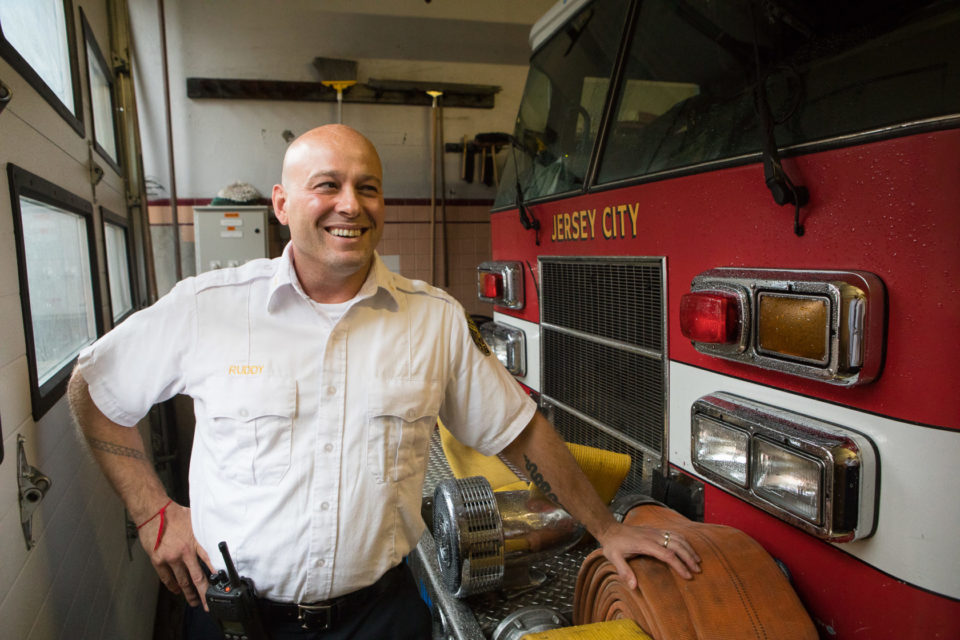 Does some of your work here inspire some of your artwork?
John: I think you couldn't go through an experience like being in the fire department and not be affected by something from it. There's so many profound experiences you're going to go through.
That's what I love about firefighters, they kind of have two identities. What's your second life?
Peter: I'm a part-time instructor at the Morris County Fire Academy, and then I'm a volunteer in my town. I have nothing else going on but firefighting. I just walked into it, but the passion took me.
John: No matter what else you do, this is going to define your character.
What's your favorite Jersey City hangout spot?
Peter: Nowadays, very few. We'd go to the Park Tavern.
John: I've been going to Cellar 335 lately. Good drinks! And Abbey's is another one of my local spots.
---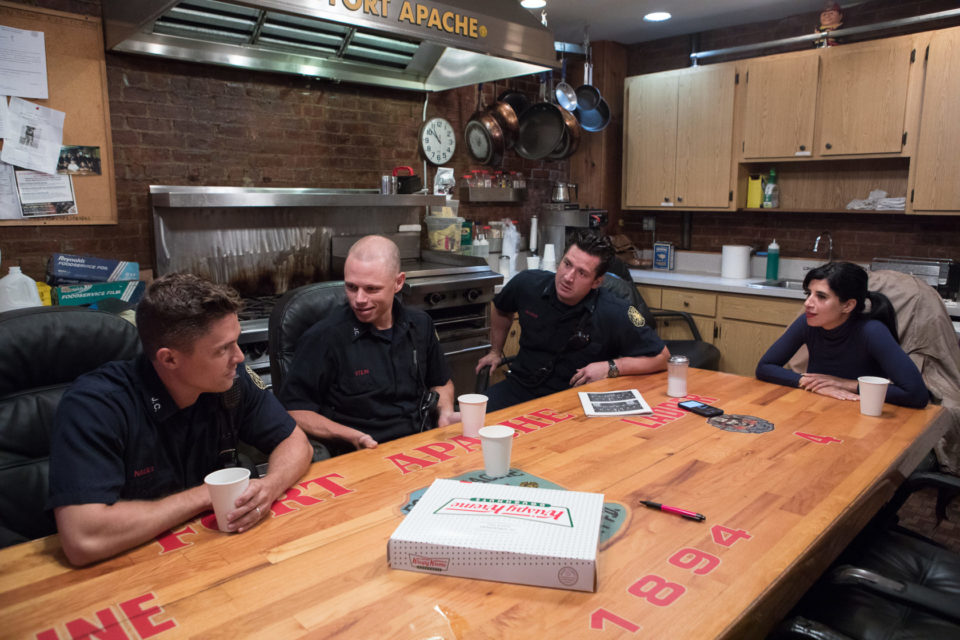 What are your names?
Firefighter Jimmy McGraw. Firefighter Rob Stein. Firefighter Tyler Nagel.
How long have you guys been firefighters?
McGraw: I'm in my 8th year now.
Stein: Just a year.
Nagel: I'm in my 7th year.
Why did you guys decide to become firefighters?
McGraw: I grew up in the Jersey City Heights, I went to high school here and Rob went to high school here. We went to Saint Peter's Prep. I wanted to be a part of the community. I just decided to take the test.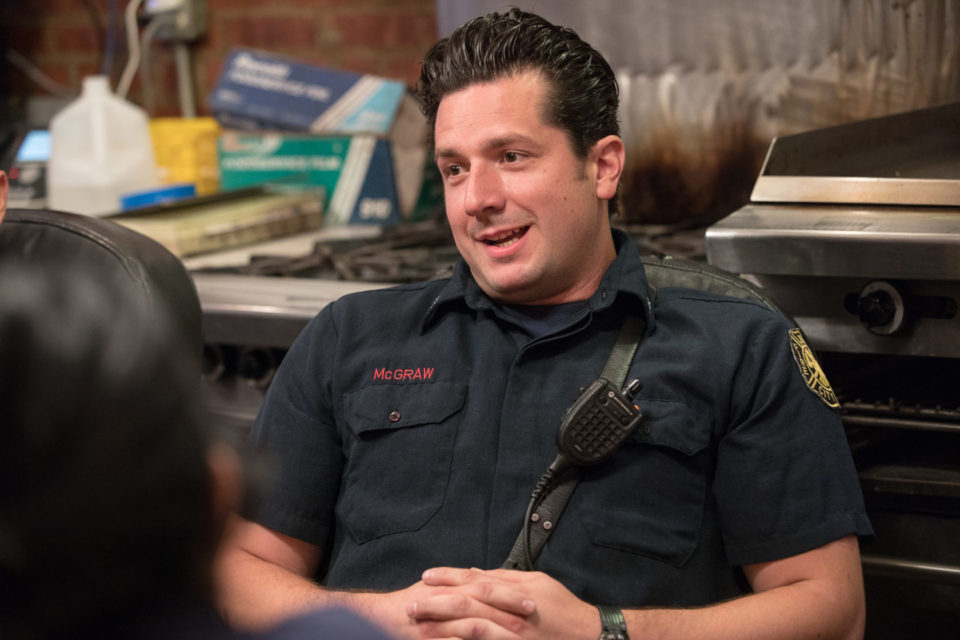 Stein: I wanted to stay in Jersey City. For me, it was a career change. I was a teacher before this and took the test on a whim. I did well, talked to some friends who were on the job, and it seemed like the right move.
What does the test require?
McGraw: There's a math and English portion of it. There's a biodata section, where they give you a situation and have you respond to it. If you pass that, you take the physical test. Our test was different than Rob's. Our physical course counted towards our grade. Now it's different. It's pass/fail now, the physical.
What's required for the physical section?
Stein: You wear a weighted vest and it's an obstacle course.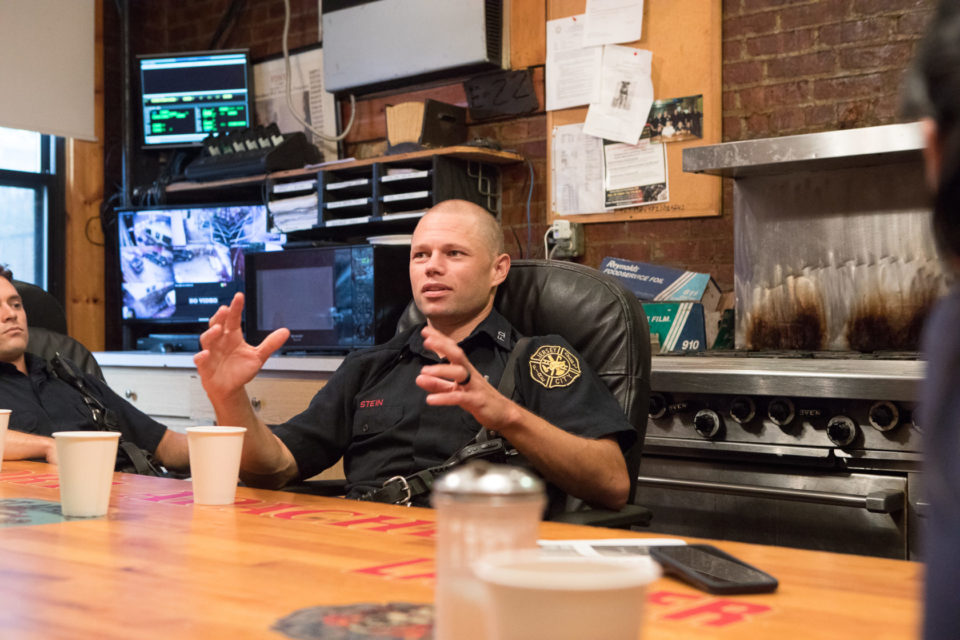 What made you decide to go for it, Tyler?
Nagel: A neighbor of mine was a fireman here for 25 years and he told me I'd be a good fit. At the time, I was a student and didn't know what else to do. I took the test, did well, and now I'm here.
What do you guys enjoy about the job?
McGraw: I love coming to work every day. Even after 8 years, I still just love being with the guys. It's not that fires excite us, we're just not as nervous as we used to be. We see fire and know what to do. We get in there and take care of business.
How's the first experience?
McGraw: Your heart's racing.
So, do you all cook here?
McGraw: Yeah, everybody helps prep. Ty and Rob did a lot of cooking in Casino at the Park.
Stein: We generally eat well, we take it very seriously.
Did you also grow up in Jersey City, Ty?
Nagel: No, I was in Jersey City for 5 years and now I'm down the shore.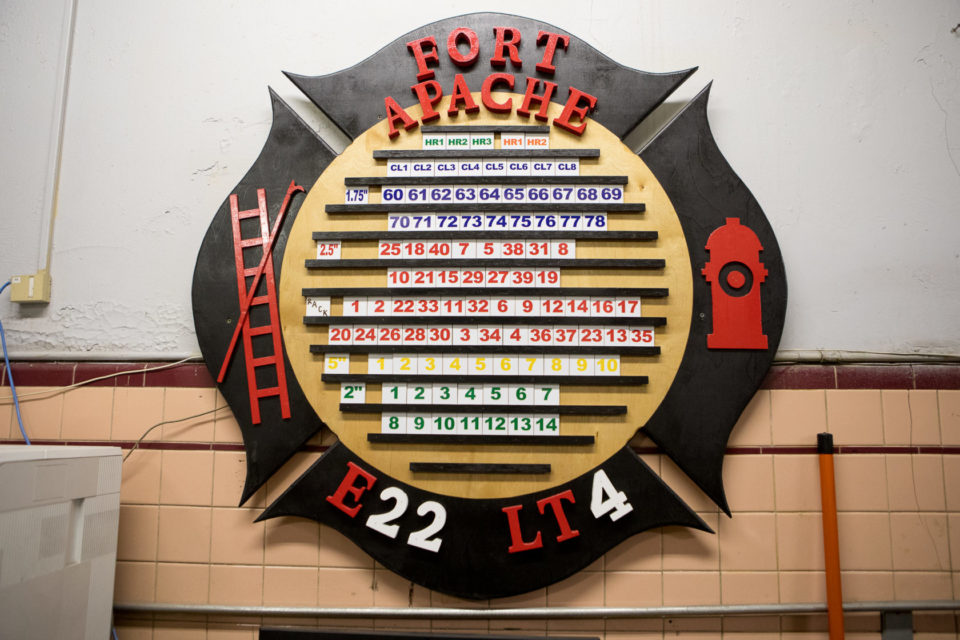 And you guys are born and raised?
McGraw & Stein: Yes.
How do you feel Jersey City has changed in the past decade or so?
McGraw: It's wild. Downtown, especially.
Stein: When Jimmy and I went to Prep, the light rail didn't even exist yet.
McGraw: The football field didn't exist.
Stein: When we went to high school, the Golden Cicada was there and nothing else.
McGraw: I think the changes are great for the city.
Stein: Yeah, it's good. There's a lot of money coming into the city, a lot of things being built. The city's developing more. Obviously, we need to get some of that influence in this neighborhood.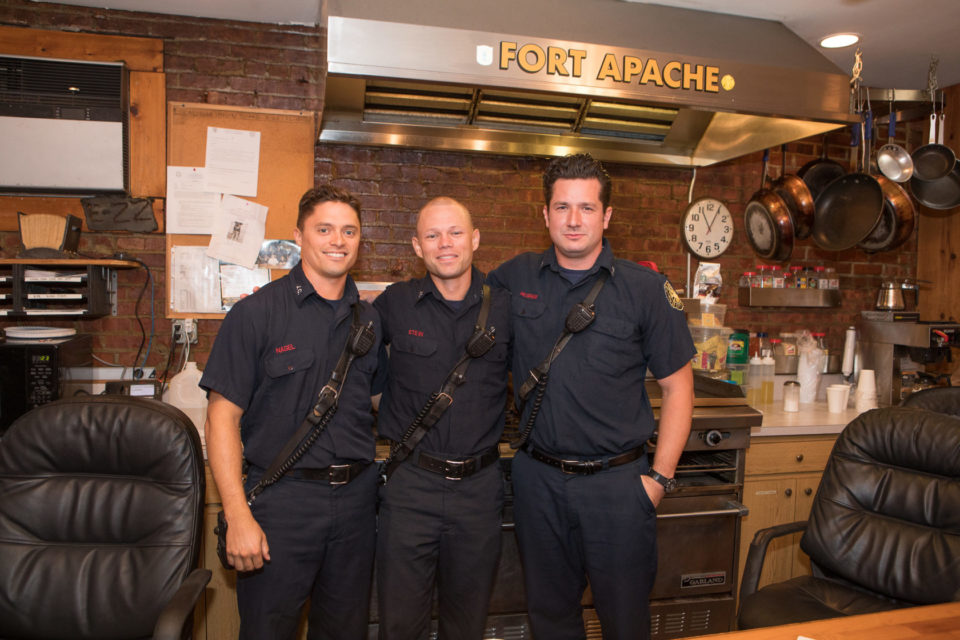 How is it, working in this neighborhood?
Stein: It's exciting.
McGraw: They love us, too.
Where were you guys on Sept 11th?
Nagel: 8th grade.
McGraw: I was getting ready to head down to Rutgers, I had just graduated Prep.
Stein: I was a senior in high school
Even after that experience, did you still want to be a firefighter?
McGraw: It kind of made you want to be.
Stein: It was cool to see everyone come together. I never realized how crazy this job could be until that happened. At that time, I wasn't even remotely thinking about this job.
Do you ever have a fear of something similar happening again?
McGraw: With the high rises we have now, there's a chance. The way the trade center is built, there's flaws. They never expected that to happen.
Stein: I try not to think about it.
What are your favorite Jersey City hangout spots?
Stein: A lot of us do Christmas parties at the Park Tavern. That's a go-to spot for a majority of guys on the job. I also go to Laico's to eat.
McGraw: Basic, I always sneak down to get an iced coffee when I'm doing construction.
Nagel: I go to Park Tavern.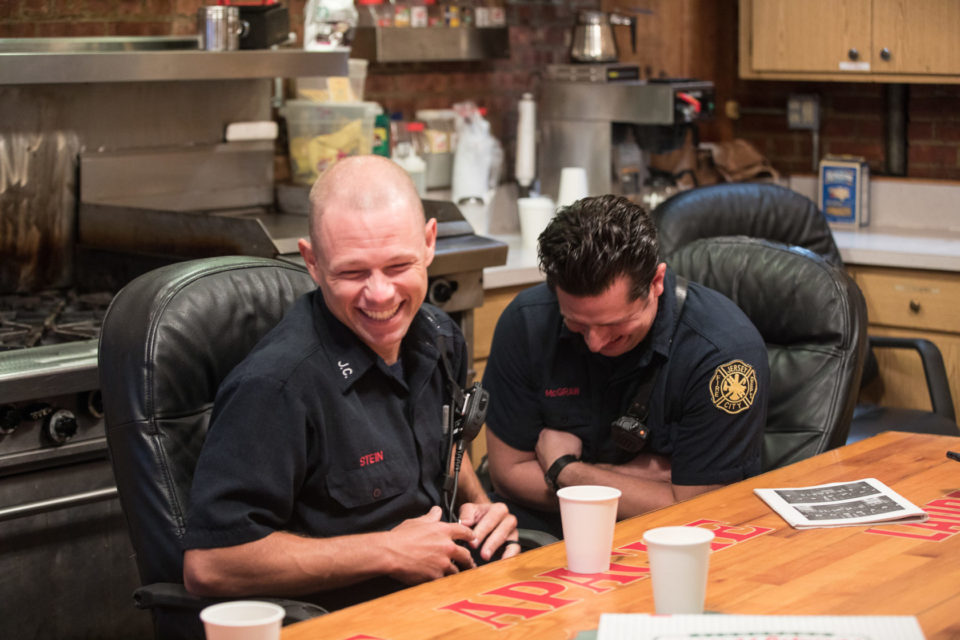 What do you guys do when you're not here?
McGraw: I do construction, I was a carpenter before I got on.
Stein: I do a little bit of everything. I was bartending for a while. I pick up what I can.
Nagel: My wife and I just had kids.
Oh, congratulations! That's the toughest job. 
---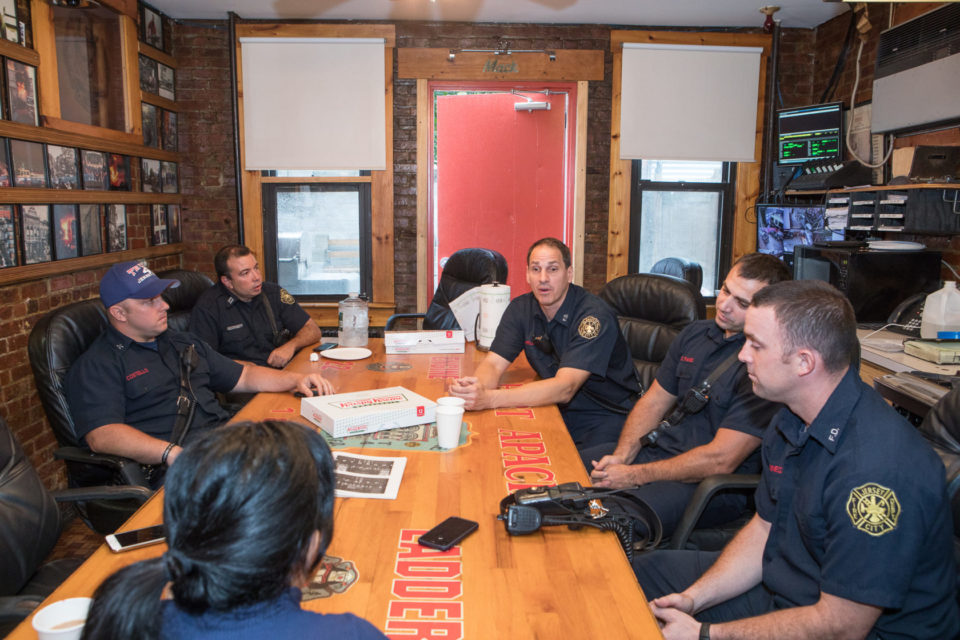 What are your names?
Bryan Giannecchini. Justin DelPiano. Gregory Melin. Nick Georgieff. Matthew Costello.
How long have you guys been firefighters?
Giannecchini: They hired me in 2012.
DelPiano: I was hired in 2014.
Melin: March of 2007.
Georgieff: 2003.
Costello: 2012.
Why did you guys decide to become firefighters?
Giannecchini: It was just something I've wanted to do since I was little. I have a couple of cousins who are firemen in New York.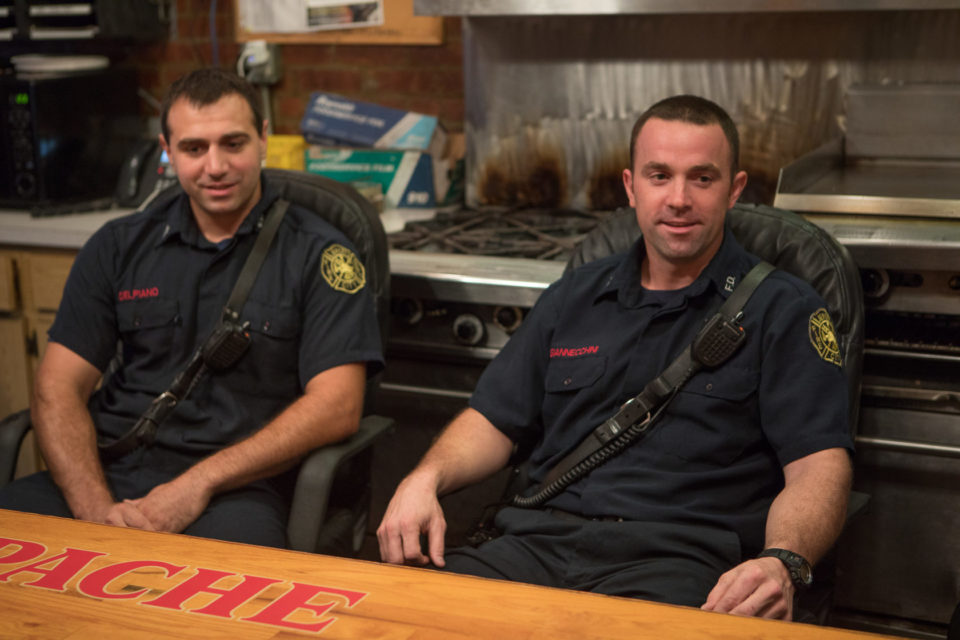 Are you from Jersey City?
Giannecchini: No, I grew up in Cranford and moved to Jersey City in 2010.
How about you?
DelPiano: My father was a firefighter. I initially didn't want to be a firefighter, then I worked in the corporate world for a couple of years and hated it. I took the test to get on the job and it ended up being the right timing. It all worked out and I wouldn't look back, I love it.
Are you from Jersey City?
DelPiano: I'm not from Jersey City, but my parents are from Jersey City. I moved up here in 2007.
Melin: I took the job because I figured this was a good opportunity. I had friends who said this was a great job, and I've lived in Jersey City since 1990 so it worked out. I got in on my second time taking the test.
Oh, really? It's really hard now to become a firefighter. 
Georgieff: In 2003, I needed a job and was delivering food seasonally. A friend and my cousin were on the job, and they brought me the application to fill out one day. I filled it out, took the test, and here I am 15 years later. I'm born and raised in Jersey City, and went to Dickinson High School.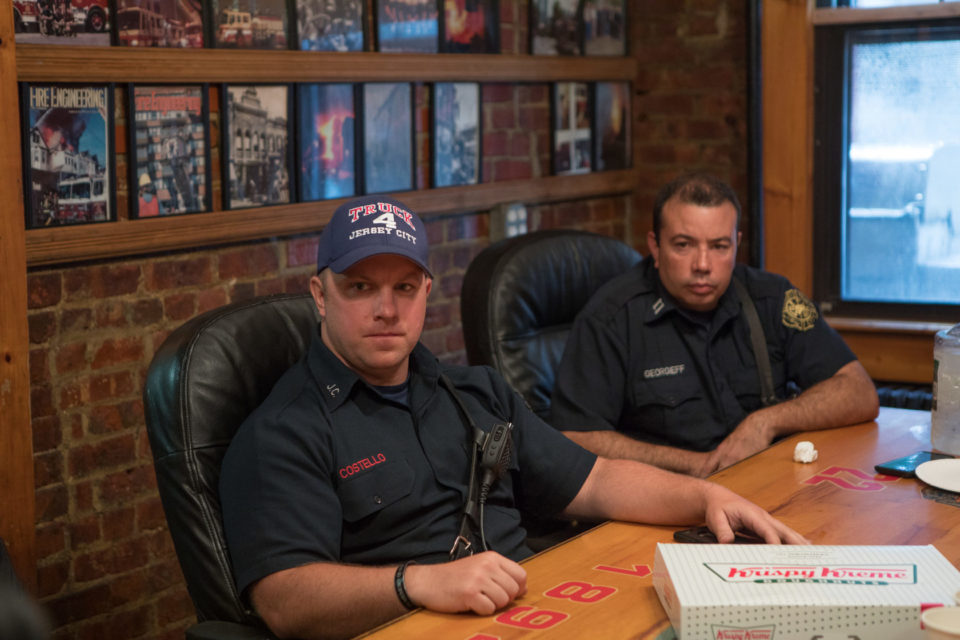 What do you like about being a firefighter?
Georgieff: Job security, the guys, and more than anything it's family-oriented. You have a family here.
What about you?
Costello: My stepdad was a firefighter, so it's just something I wanted to do.
How do you guys interact with each other? Are there any pranks?
We bust each other's chops a lot. Usually, if the guys are joking around, it means they're getting along with each other. You feel welcome when everybody's busting your chops.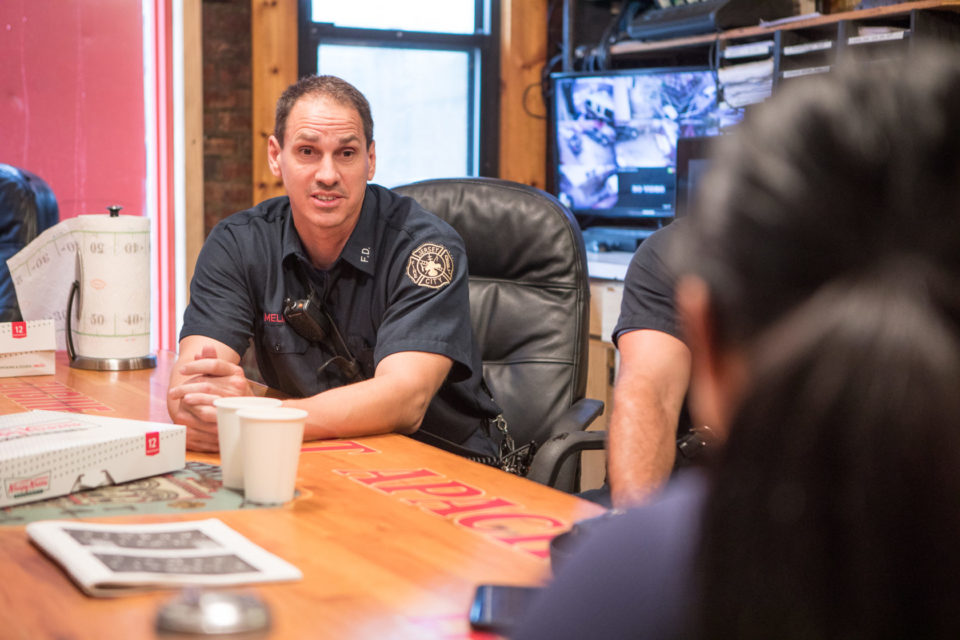 What do you guys do when you're not here?
Giannecchini: Landscaping. I own a landscaping company.
DelPiano: I do carpentry.
Melin: I just take care of my son, mostly.
Georgieff: Construction Site Fire Safety over in New York.
Costello: I go to NJCU and work with a dumpster company.
Cool. Where were you guys during 9/11?
Giannecchini: I was a sophomore in high school. I'll never forget the second period gym class, everybody started hearing bits and pieces of what was going on. Where me and Matt grew up, Cranford, half of the town commutes to Manhattan for work so it was crazy with a lot of people's parents. It was an insane day.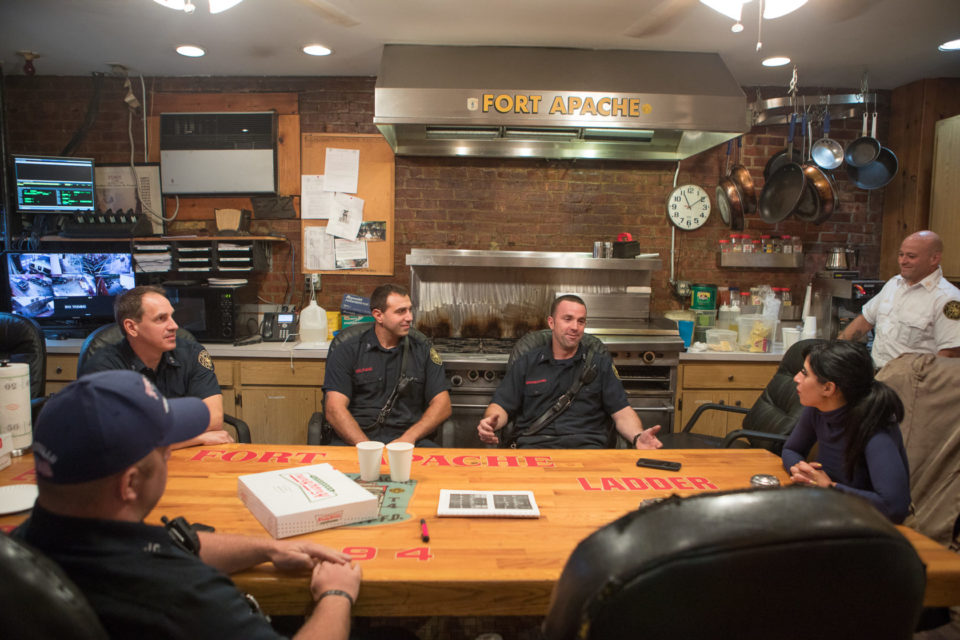 Do you ever feel afraid with your job?
Giannecchini: You kind of just react, it's your job and you can't be afraid. I'm sure there's scary stuff we deal with, but we train a lot and do our job.
DelPiano: Plus, you have a bunch of guys and everyone's got your back.
Giannecchini: We're fortunate to have a big department.
Melin:I was on the Skyway and saw the second tower going. We were stuck there all day. Walking from Newark to Kearny on the Skyway through the exit ramp, a lot of people were doing that. People really didn't know what was going on. We knew it was a terrorist attack. Cell phones weren't as good as they are today, so there was barely any communication. It was just a lot of panic and people wondering how they'd get home. I remember that day as clear as yesterday.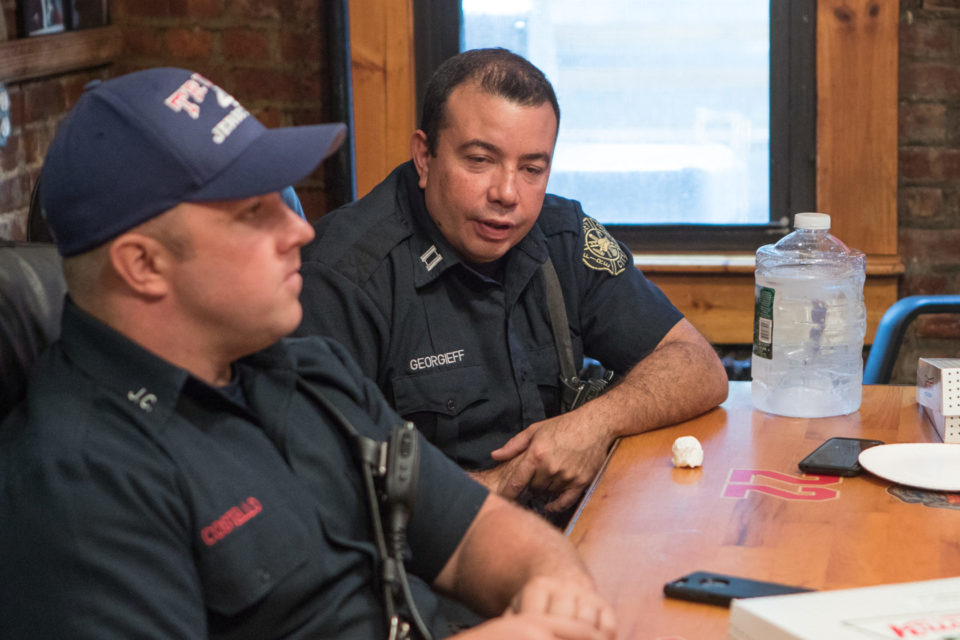 Costello: I remember sitting in grammar school. I was in 8th grade at the time. I remember my dad was working and I wasn't sure if he'd be going there. There was a lot of emotion. My next door neighbor actually passed away in the attack, so we were trying to entertain his 2 and 4 year old while his wife tried to figure out how to tell the kids.
That's awful. That happened, and you guys are currently firefighters. Do you guys ever think about what you'd do in that situation?
I remember watching a special that was done on 9/11, and a chief said, "We went there to go put the fire out. That's what we do." I'd hate to say it, but if it happened here, we'd go and try to put the fire out. Nobody knew they were going to come down. You just think you'll go and save as many people as you can.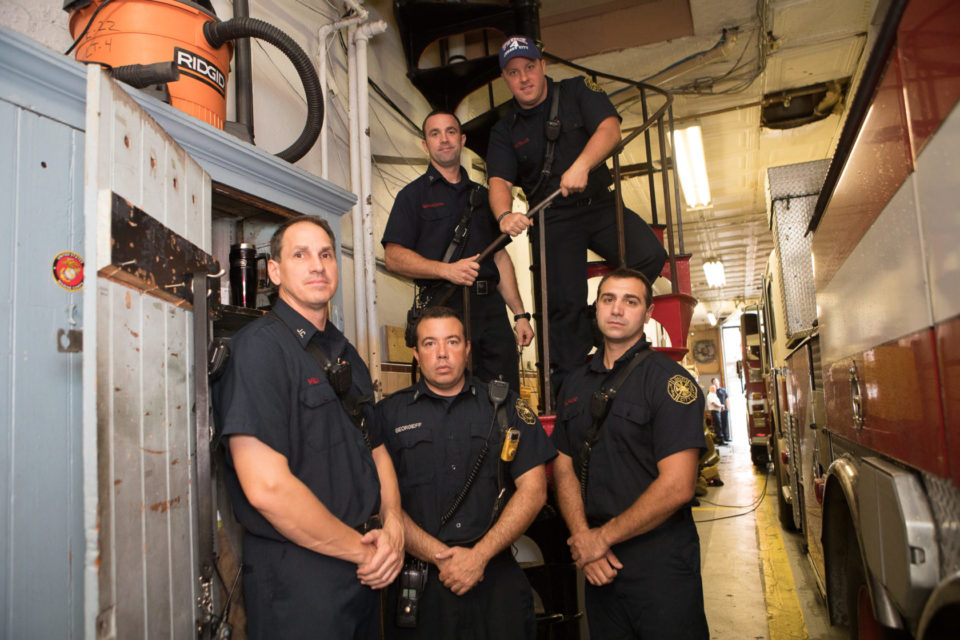 Great, thank you guys! Thanks so much.