A list of the top 10 Most Sports Friendly Bars and Restaurants in Jersey City!
So the NBA finals are done and Stanley cup is finished.  But….we're so close to one of the greatest seasons.  Yes Football season is approaching as well as the World Cup!   And if you're anything like me finding the best place to watch the game (aside from your couch) can be just a important as the game itself.  Whether you're a Giants, rooting for The Jets this year or know nothing about sports and just want to go out and enjoy sports culture … these places are sure to please.  It doesn't matter if you live in the Downtown Area, Heights, Greenville, or Bergen/Lafayette, because there is a place on this list close to you!  While the list is in no particular order it does take into consideration price points, food, vibe, and overall service  (yes all dirty work has been done for you) all you have to do is show up for your game of choice, Kick back and Relax.  
1. Third Base Sports Cafe (aka The Coffee Shop) 116 Newark Ave, Jersey City, NJ  (Downtown / Grove street Area)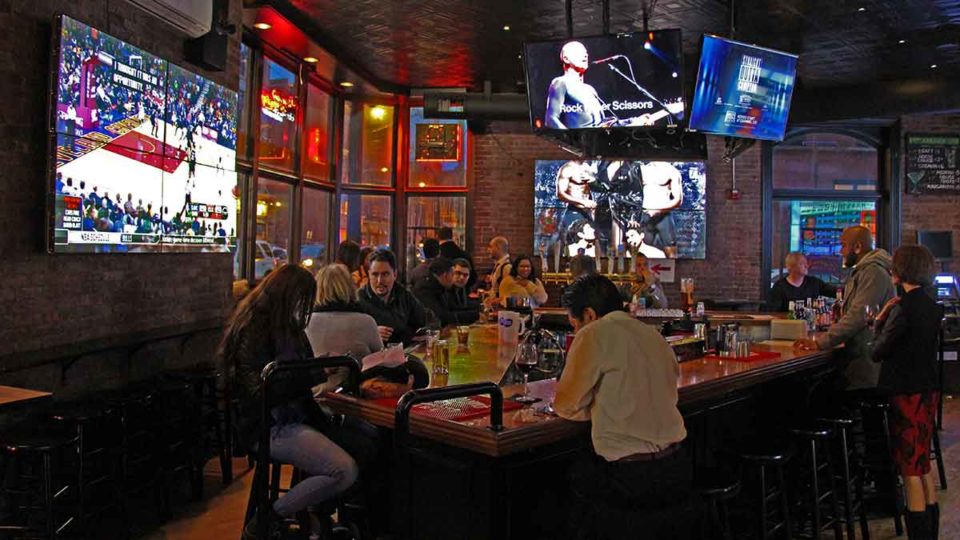 This sports bar is a local favorite and is located within seconds of the grove street path station. This open space features 2 full bars with endless big screen TV's.  There is even outdoor seating with windows and speakers for the passer-byers (if thats a word) who wants to stay updated.  Whether you are standing, sitting, or you're outside you will always have a view of the game but make sure you arrive early because from personal experience it does get packed! With 1$ drafts, 2$ house drinks, and 5$ mojitos all part of their 4 – 10pm happy hour this place is definitely worth a shot!  
2. Halftime Bar and Grill 746 West side Avenue Jersey city, NJ. Between Fairview ave and Duncan Ave. (West side near Lincoln park Area)
3. Corkscrew Bar and Grill 61 congress street Jersey City, NJ (Heights)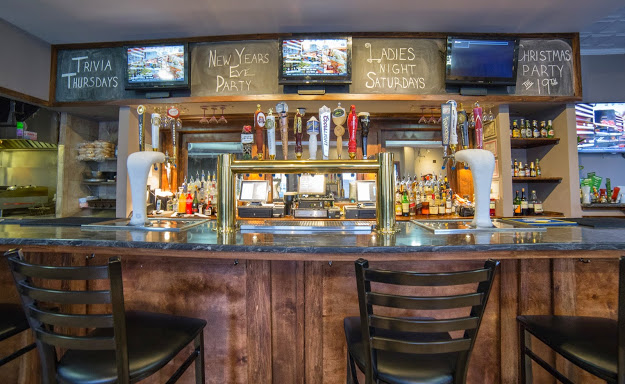 The Corkscrew is located on the corner of Congress and Webster avenue in the Heights section of Jersey City.  It is small and Intimate but they do have multiple tv's and one of the best craft selections you'll find in the area – from Bronx Brewery drafts to Brooklyn brewery drafts, to Ipa's to Stouts and everything in between; most of which are priced at only 4$ each.   If craft beer and sports are your thing than this neighborhood bar is for you!  They have a full bar, offer a full menu of food including 6$ wings, tacos, fries and even have a brunch menu.  Minutes from the Congress street light rail station, Hoboken, Corkscrew Bar and Grill could be your next place to watch your big game.
4. O'Hara's Downtown 172 1st street Jersey City, NJ (Downtown Area)
O'hara's is located in the Downtown area of Jersey city blocks away from Newport mall.  They are open until 2am on the weekdays and 3am on the weekends and with over 15 televisions as well as a projector you're guaranteed to never miss a second of any of your favorite teams.  You can enjoy daily food/drink specials and they even offer a generous 25% off discount to ALL menu items on Thursdays.  O'hara's provides it guests with indoor and outdoor seating; they even have happy hour from 11am – 7pm daily with extended happy hour on wednesdays from 11 am – 10pm making them the longest happy hour in the area!  Whether you're stopping in to watch a daytime Baseball game or at night  O'Hara's has a television and a happy hour made for you.     
5. Hopscotch 286 Washington Street Jersey City NJ (Downtown financial Area)
Hopscotch features over 21 televisions and various board games on their tables (including connect 4).  The owner considers it "Where Recess Meets Happy Hour" and "Where Beer Meets Scotch."  Hence the name Hop-scotch.  I know pretty clever right?  Hopscotch features German and Belgian inspired foods and has a LARGE selection of draft beer.  While they are a bit higher priced than other local bars on this list they do offer good specials and 50% off cocktails, bottled wines and appetizers throughout the week and on the weekends.
6. Cherry Lounge102 Martin Luther King jersey City (Greenville Area)
Cherry's Lounge was proudly owned and operated by Leroy Cherry who has passed the business down to his grandson.  It is a true family owned and operated business.  Cherry's features bar food ranging from $6 and and their most expensive entree is $12.75!  They offer a 2$ tuesday special amongst many others and the small space has a good amount of Tv's. If you live in the Greenville and are looking for a smaller family-like intimate feel with bargain priced food and drinks then Cherry's is for you.
7. FM Bar and Restaurant 340 third street Jersey City NJ (Downtown near Newark Ave)
FM bar and restaurant prides itself on being a 1970's music lounge bringing a different vibe to the jersey city bar scene, showing all sports including the NBA finals and Hockey.  They have a good selection of craft beers and huge sized portions of food including paella, mac and cheese, pork chops etc.  FM features happy hour from 5pm to 7pm throughout the week and ALL DAY on Tuesdays. They also serve up some veggie style options making it the perfect place for sports enthusiast with various different palettes
8. The Hutton 225 Hutton street Jersey City NJ (Heights)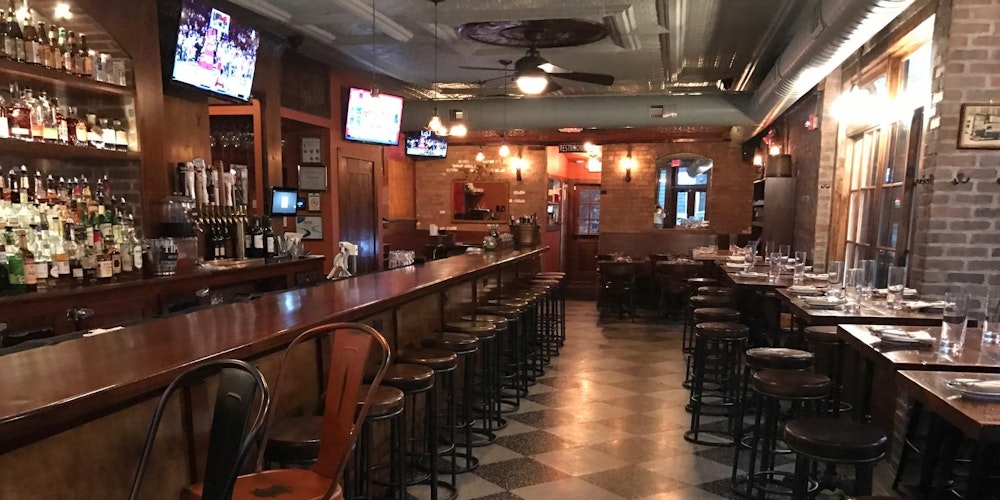 The Hutton is "A cozy-chic locale with a heated patio offering elevated American plates, beer, wine & cocktails." It is located in the heights section of jersey City.  More notably is their stellar selection of bottled and canned beers.  They do have a full bar but represent a more polished and elegant feel.  You can watch the game in style with 7$-9$ bar eats and since they are open until 1:30 am, you can be sure to catch every minute of every game.
9. PJay Ryan's Squared 4 path plaza Jersey City NJ (Journal Square Area)
Pjay Ryans Squared is located in the heart of the Journal square area in the middle of everything!  They have tons of Tv's, are open till 3am and have a good beer and spirit selection.  The bar is a good size and there is tons of seating.  They are reasonably priced and offer a wide array of bar food / bar snacks like popcorn, pretzels, and even a jar of pickles! This location is convenient and situated in the center of all major public transportation within Jersey city.
10. Carvao BBQ 686 Bergen ave Jersey City, NJ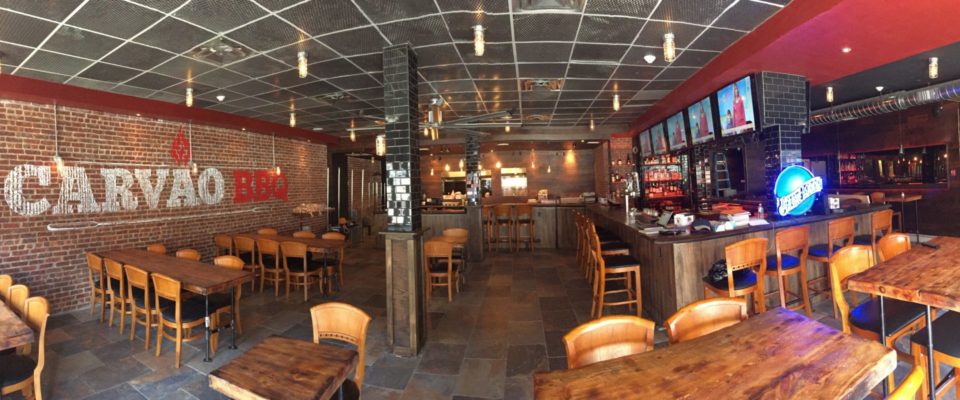 Carvao BBQ is a friendly local bar serving up all kinds of BBQ goodness.  Carvao is actually the portuguese word for charcoal!  Everything is super reasonably priced and they have an amazing variety of things to eat, from pasta to rice and steaks to Salmon to everything in between! When it comes to satisfying your BBQ needs Carvao has got it all! And with an open space featuring over 13 flat screens you're sure to catch every single minute of your favorite games.