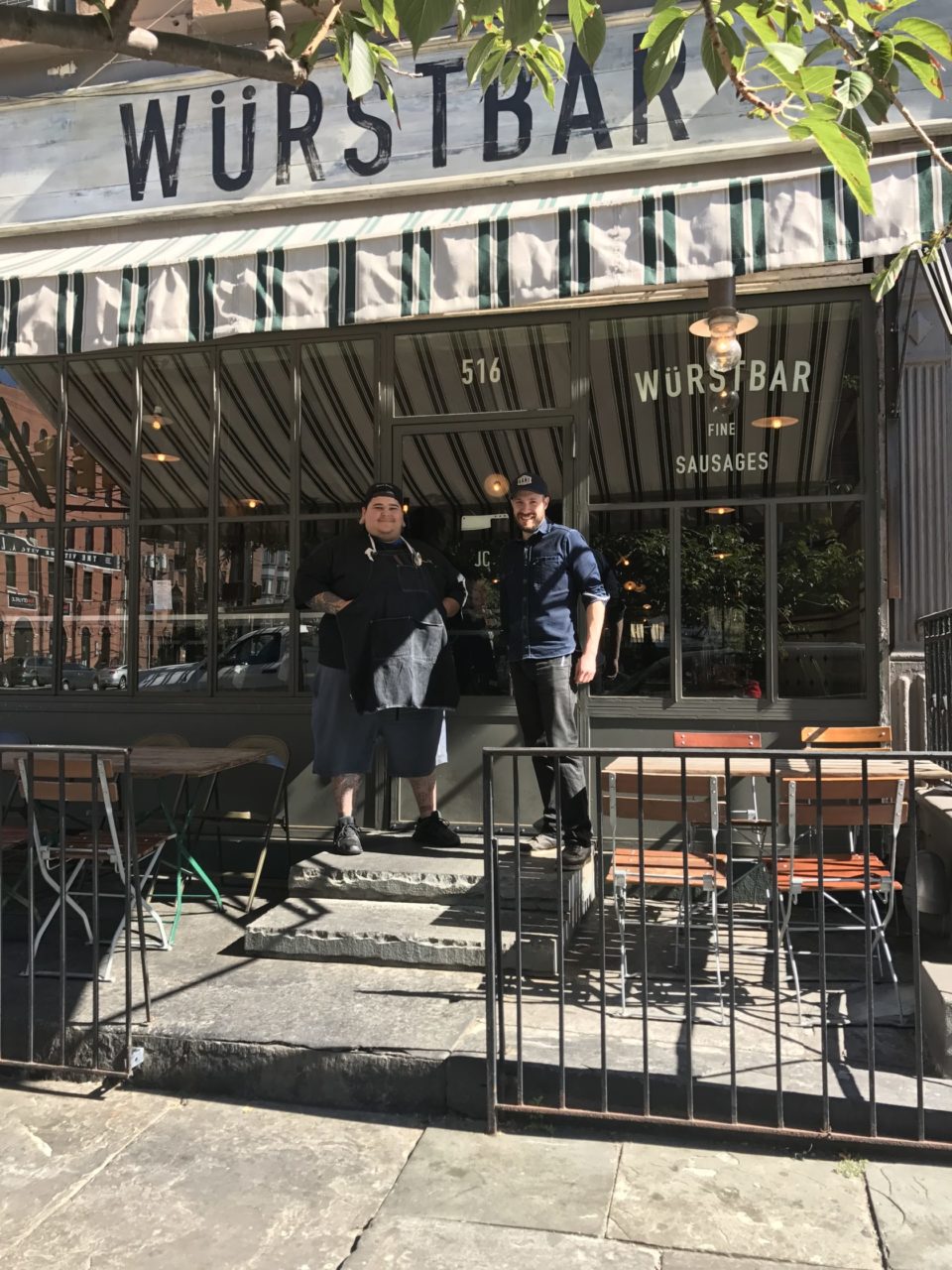 Wurstbar opened their doors a year ago and I was honored to be at their grand opening and ribbon cutting. Since then, I've eaten at Wurstbar on multiple occasions and absolutely love their food. As some of you may know, I was born and raised in Montreal and one of my favorite foods are Poutine! I am very picky with my Poutine but Wurstbar definitely delivers and I visit them whenever the french Canadian in me has a craving.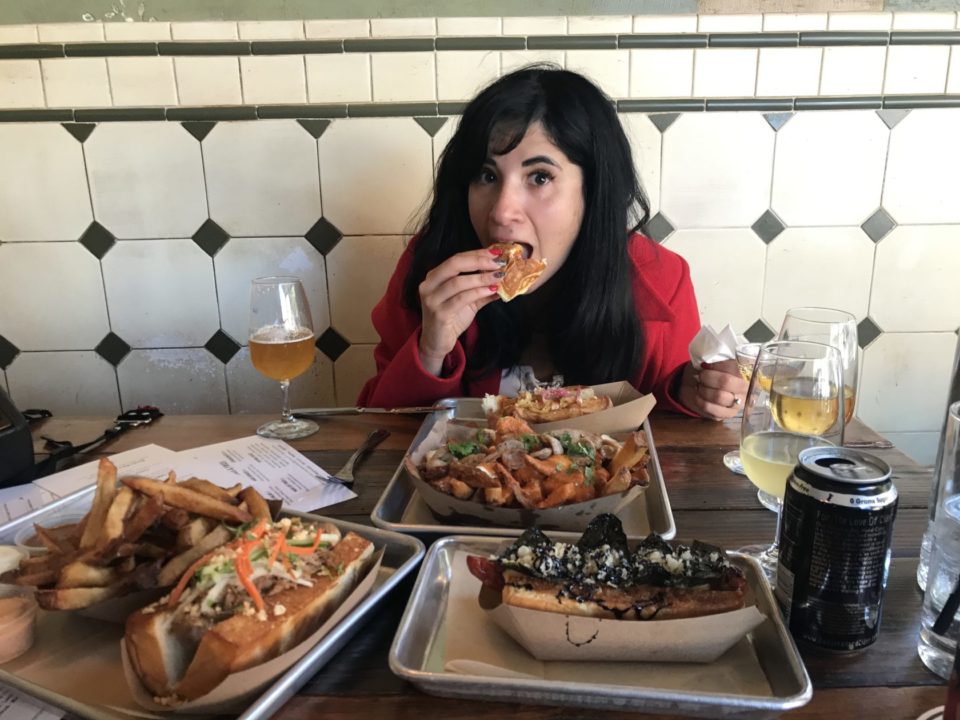 Wurstbar recently won the Chili cook off at an event in Cathedral Hall, and their prize was winning this post (I think I am more of a winner in this case, but shhh).
They invited me for lunch and I had a chance to chat with one of the owners Aaron, who also ordered half of the menu for me to try. I am still full thinking about it. I probably should be checking my cholesterol levels soon… oy vey.
Aaron, so what's the story…
How did Würstbar come to be? I was in the beer industry for a long time, and my business partners and I formed a really good relationship because I was handling their beer programs. I've lived in this neighborhood for a while and I wanted to open something that Jersey City didn't have yet. A lot of bistros and restaurants were opening up and I wanted to open up something fun, almost a fast casual style menu but in a full service, cool, local neighborhood kind of space. My business partners were used to opening Beer Gardens and larger beer halls, so it made sense that they wanted to take some of their concepts and make gourmet instead of traditional sausage plates. We wanted to do more creative, progressive fun stuff with sausages, a large variety of sausages, not just stick with the German and Eastern European styles.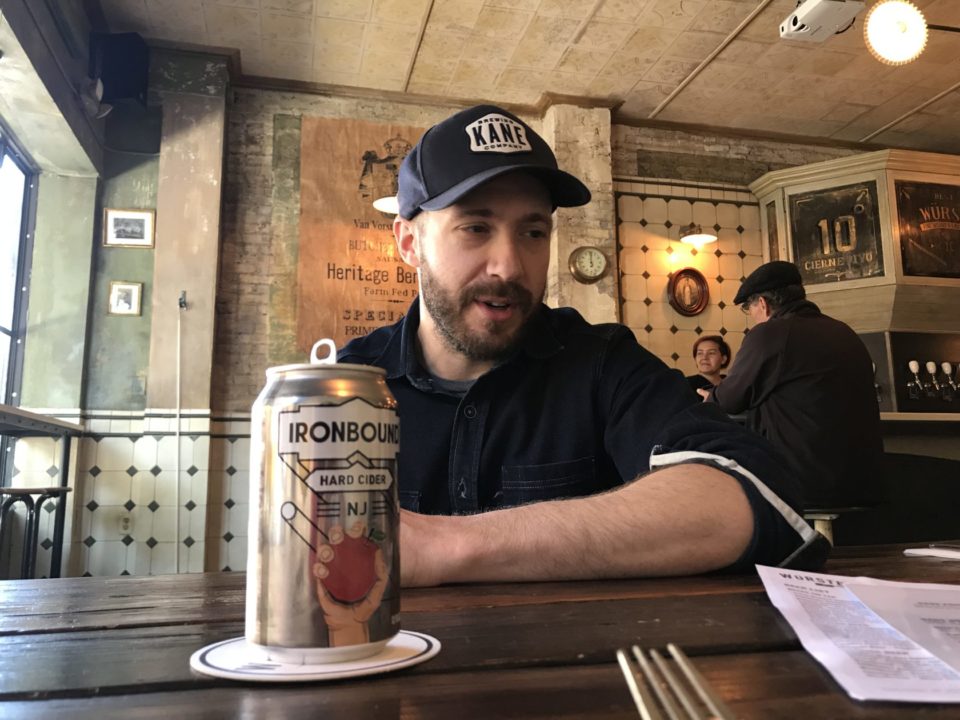 A lot of us, the chef included, my business partners, myself, have done a lot of traveling, and I think we all realized that no matter where you go in the world everybody has an encased meat. Everybody makes sausage. No matter where you are in the world, everybody has a sausage. We kinda wanted to, bring that to the Würstbar. If you look around, it definitely has a Czech, German kind of feel but we do have Moroccan style sausages, chorizo, we do some fun creative stuff with the traditional sausages. We take the traditional bratwurst, but we add a lot of Asian flair to it, stuff like that. We wanted to keep it pretty simple, just like sausages and hot dogs at first and then hand cut fries. The poutine thing came about because I used to live in Burlington, Vermont and so I went to Montreal all the time and my freshman year of college when you couldn't drink in Vermont.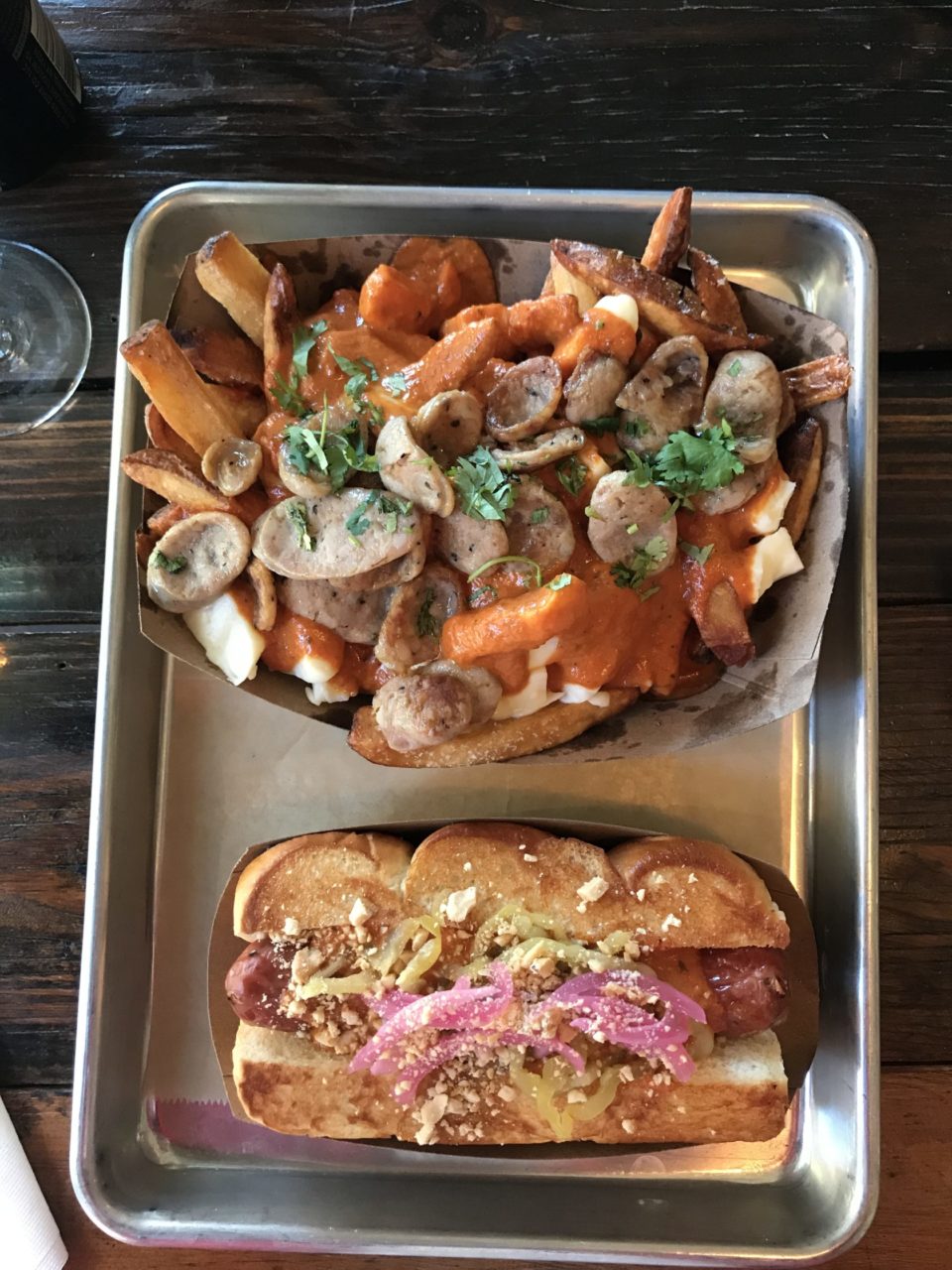 Poutine was always kind of a thing. And my chef, he was in a hardcore band and he spent a lot of time touring around Canada as well with his band, and he got really into poutine. And I was like, "Just do it." It´s kind of a hip thing, people are getting into it. Then we sort of realized that no matter where you go in the world, everybody  sort of has kind of a sauce or gravy. So we're like, "Oh, we're kind of doing that with our sausages, let's do it with the poutine as well." So we did our chicken masala poutine. Instead of just using a brown gravy, we do an Indian tikka masala sauce on it.
Am I trying more food?
You are. Yeah, don´t go crazy with the curds.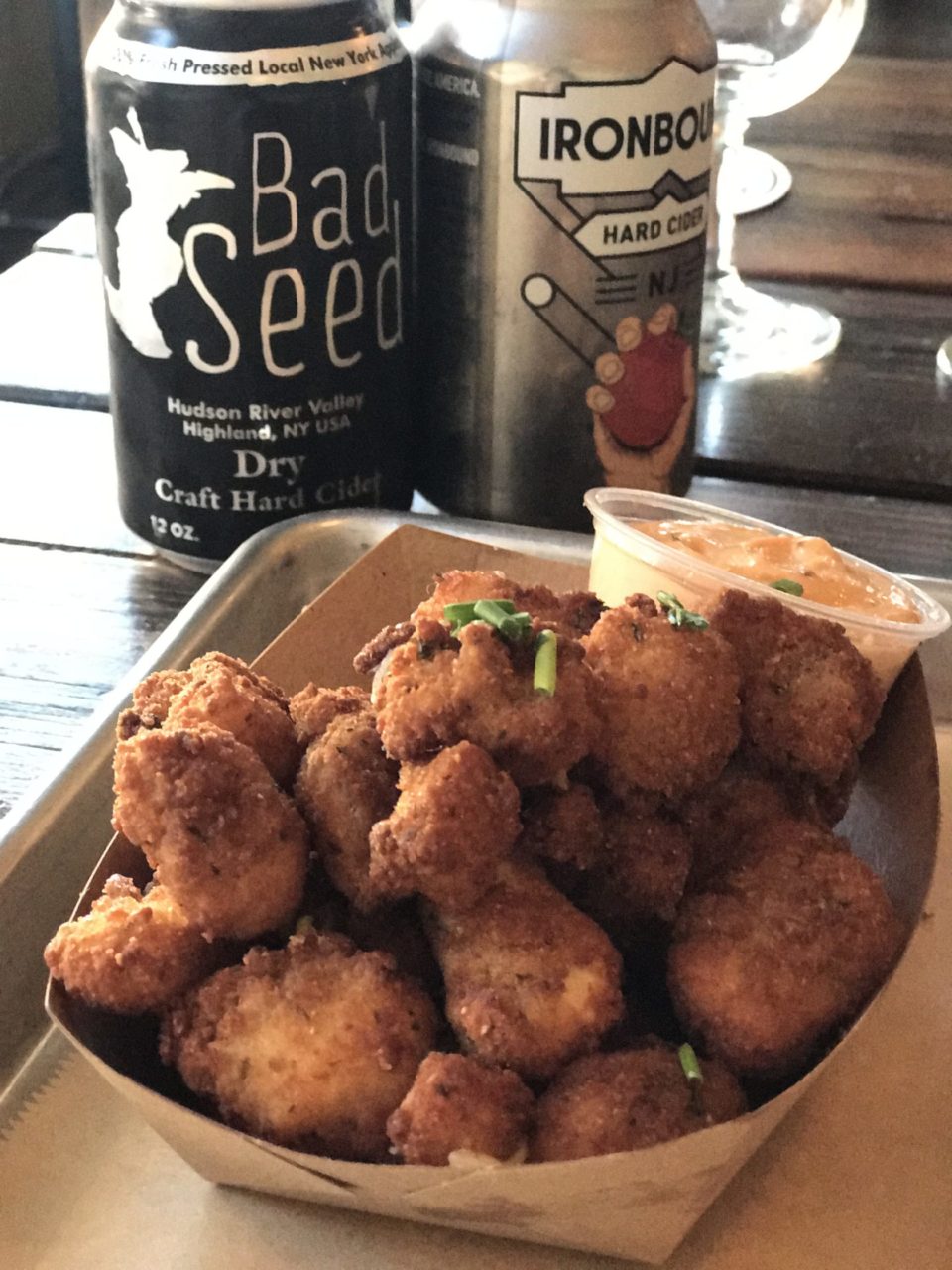 They're so fucking good. Oh my god, I wish I was a little drunk.
Ah, well we could do that too, ya know.
I have to go back to work, but…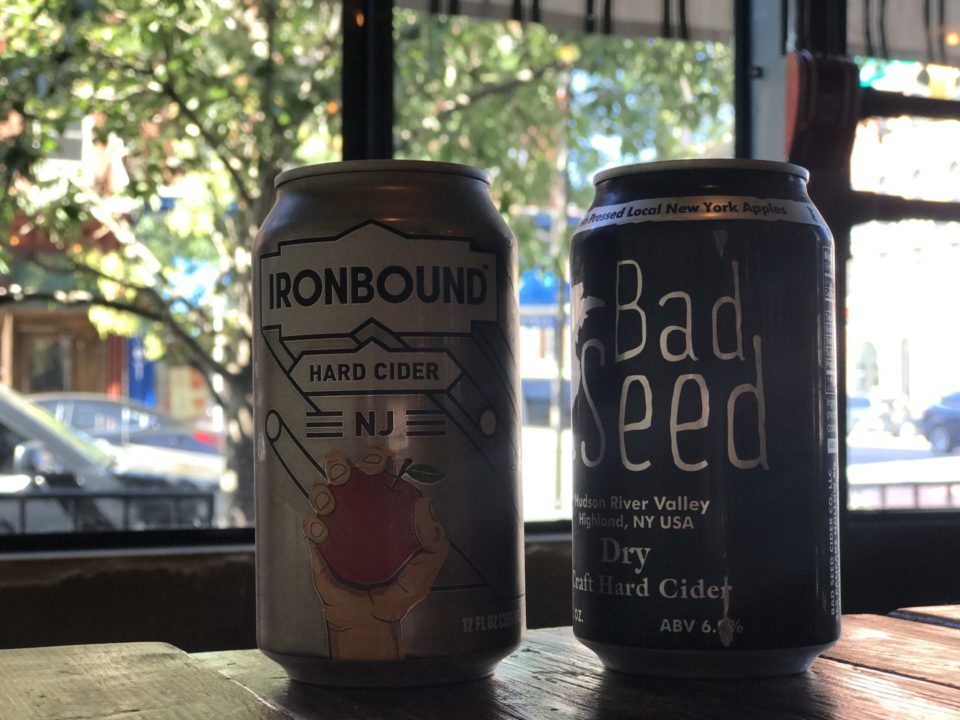 So do you feel like Jersey City is accepting the poutine?
Yeah, they love it.
So what's the difference between poutine and disco fries? I tell people it's not the same thing.
Right, I know. Basically its the cheese. It's the curd. The curds make poutine. Anybody could throw cheese and gravy on fries. I've had the disco fries and it's always like shredded cheese and it's always really melted.
Yeah, I don't like that.
Sometimes I have to remind people that it's not disco fries but sometimes they're like, "Oh, why isn't the cheese completely melted?" I'm like, "Well, it's supposed to be soft and squishy. If it's completely melted, we should just use shredded cheese."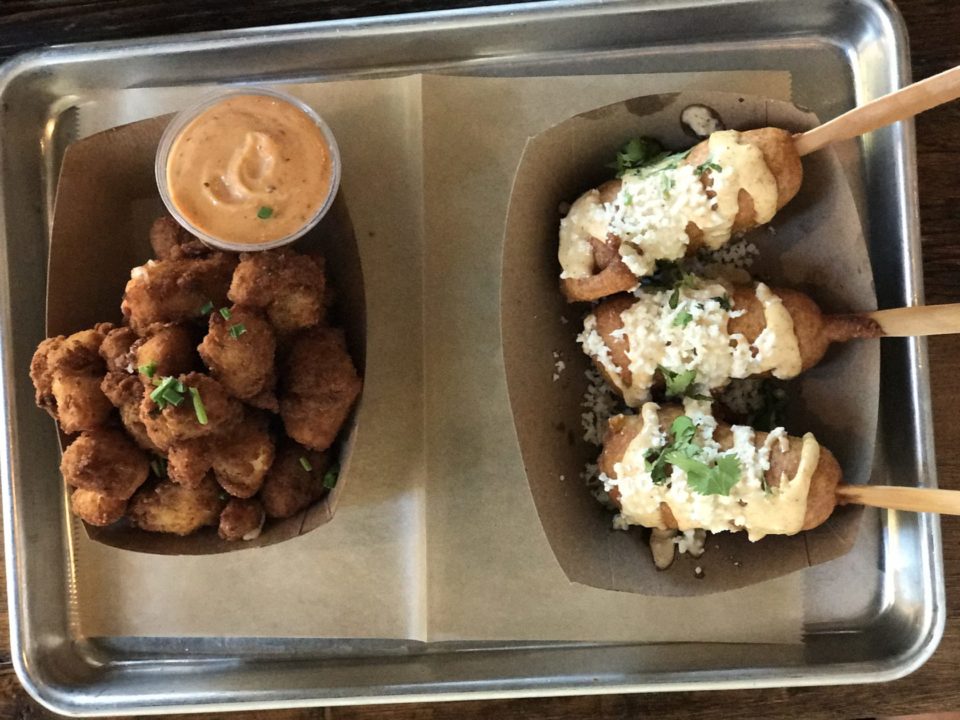 That's a good point. When I did top places to get poutine, I got ripped apart.
Oh yeah.
They're like, "It's disco fries!" I'm like, "You guys are dumb. Go to Montreal." You're telling a Canadian! Somebody was like, "Go back to Canada." Oh ok. Alright, guys. It´s just food.
Right, right. I know. So we try to really make a distinction. People ask, they're like, "Oh disco fries!" We say no.
It's not the same.
Yeah, we take our fries pretty seriously here. We sampled a whole bunch of potatoes and we settled on the Idaho Burbank. We do a soaking method and then we do a double fry, and obviously all hand cut in house. We take our fries very seriously.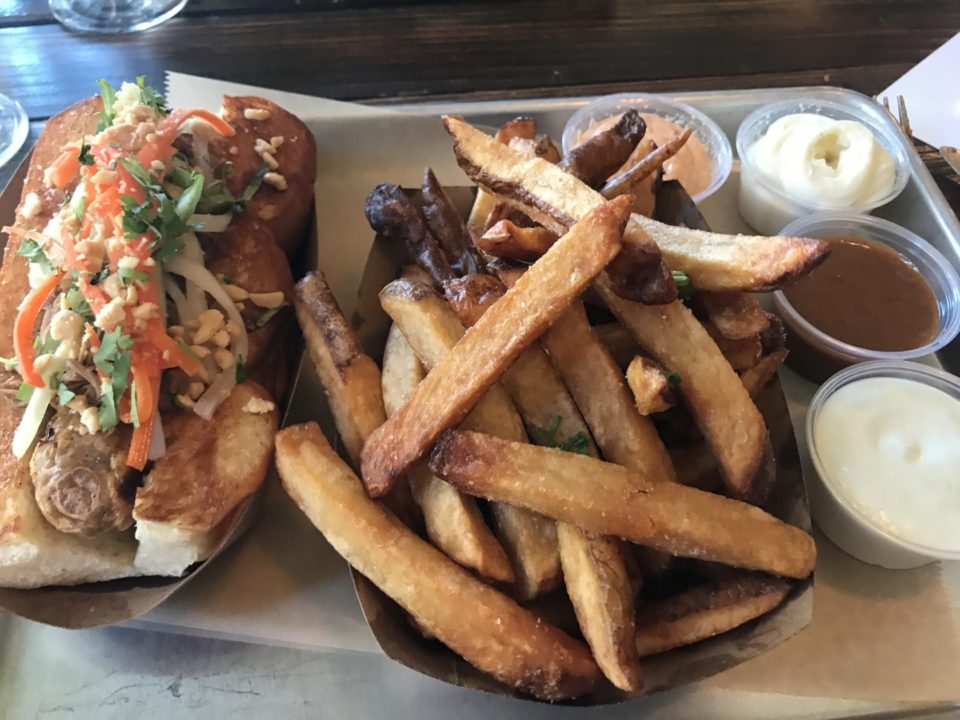 Do you live in Jersey City?
Yeah, I live next door.
Oh, really? That is so convenient. How long have you been here?
I've been here 6 years.
Where did you come from before?
I was out West, I was in Colorado. I lived in Jackson Hole for awhile. For 4 or 5 years, I was out in Wyoming. In Colorado, Northern California, and right before I moved back to Jersey City, I traveled for like 6 months. I took off to Southeast Asia, India, Nepal.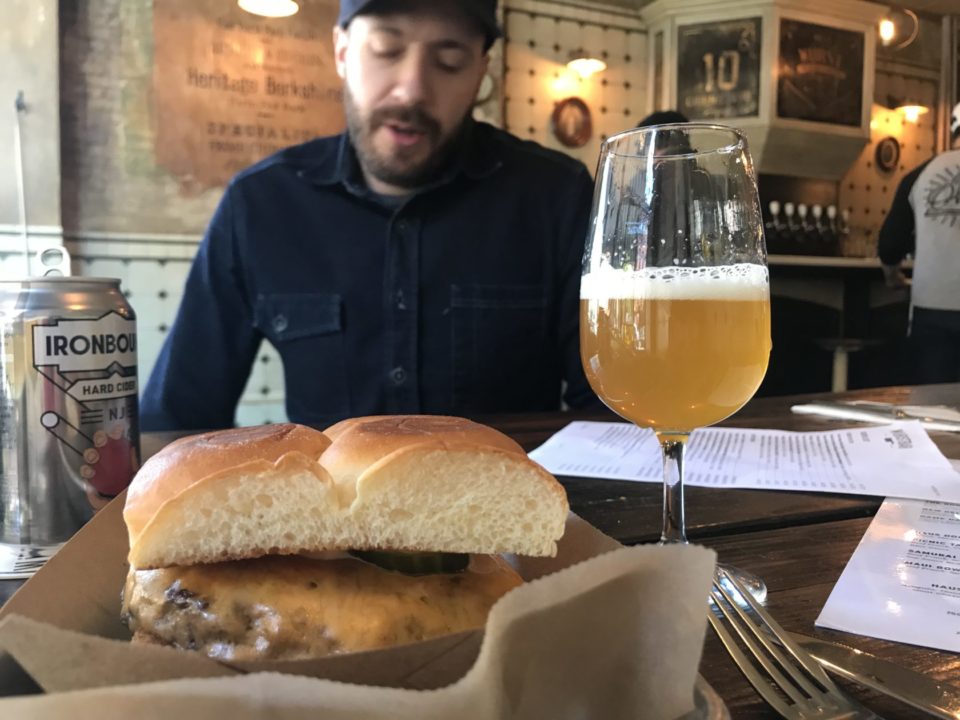 How do you feel Jersey City has changed in terms of restaurants.
It's awesome, there is a lot coming in. I think when we first moved here, there were only 3 places that we went to. And then it kind of happened overnight. It was like all of a sudden, Porta started building, then Talde started building, and then they opened and more people started coming in. It´s been quite a journey for this city and it's happened really fast. It´s pretty awesome.
Do you feel like, do you have a favorite hangout spot that you like to go to?
I'm a beer nerd, so if I'm leaving here to go have a beer, I´m probably going to Barcade. I also really like the Archer. The owners, Jess and Ken, are good friends of mine. I like to hang out there. As far as eating, we go to Razza a lot. Dan's a great guy. Taqueria, too. I go to Kitchen Step every Wednesday.
Oh really, why?
I don't know. It just happens. It's right next door, they're great guys, great food. I like hanging there on Wednesdays.
So to someone who hasn't been here, how would you describe the experience?
It is definitely a sausage party.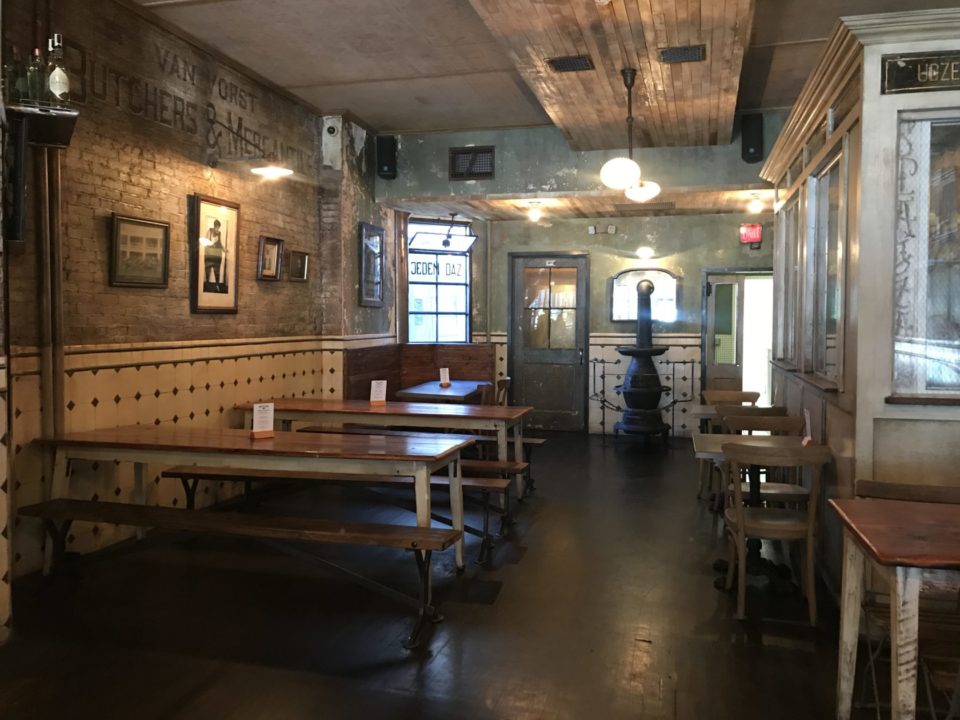 You're getting sausages and hot dogs. We want people to also really learn a lot here, especially with our beverage program. We are working with a lot of smaller breweries that are making very progressive, esoteric styles of beer. Same thing with our ciders. We built a really big cider program here. It started out with 12 ciders and everybody thought I was crazy for bringing 12 ciders to a spot. Now we are up to like 40 something, so for Cider drinkers this is the greatest place on Earth. If you're not into ciders yet, we want to be a good learning experience for you.
I like it.
Our staff is very trained.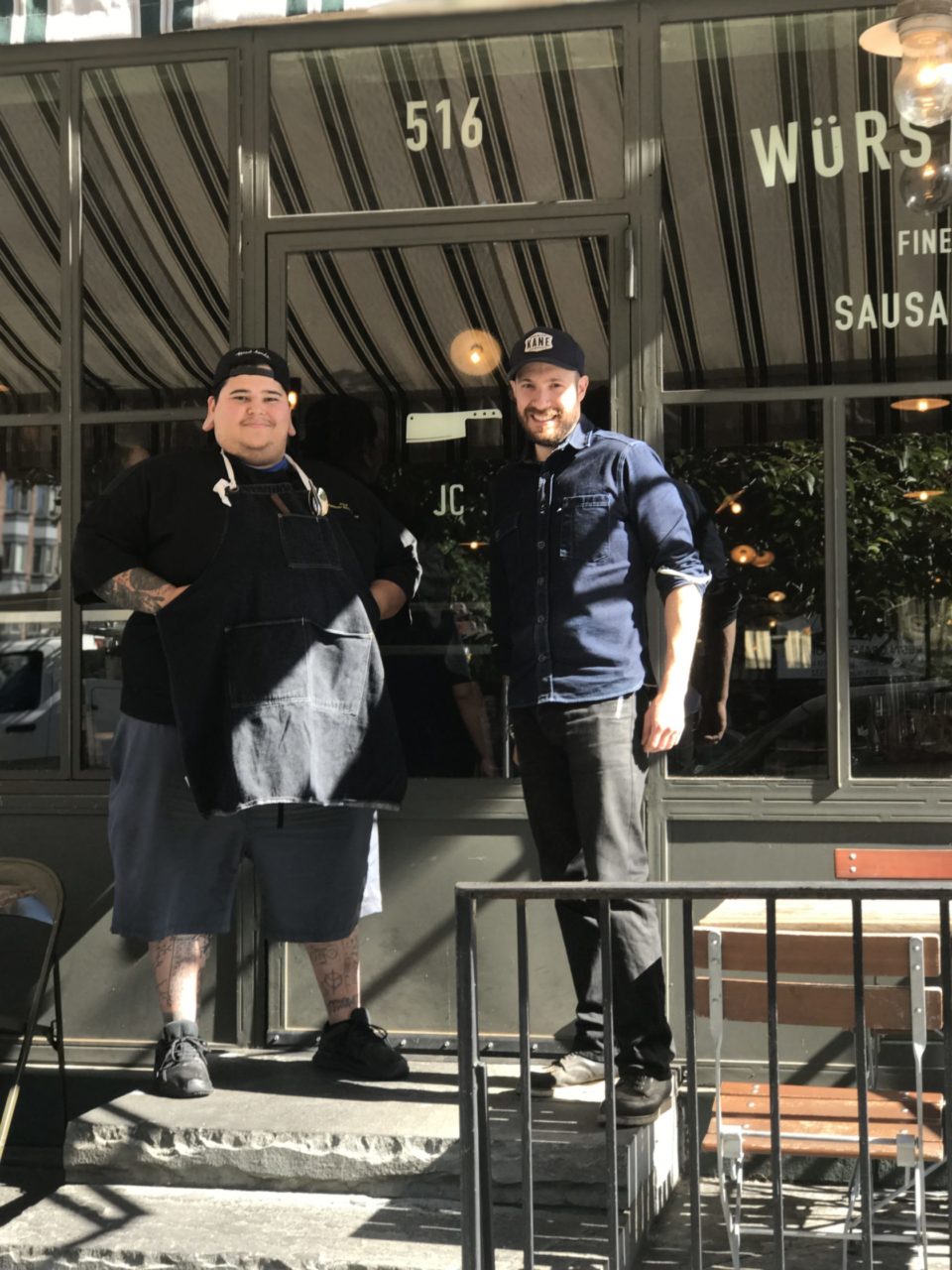 I like sweet. My favorite beer is the grapefruit beer, what's it called?
Schofferhofer.
Oh my god, I'll drink that like it's a bottle of water.
Do you like the tartness of it?
I just like the sweet grapefruit-ness.
Let´s see if I have a beer for ya.
For the record, it is 1:20 and I am getting drunk.
You can follow Wurstbar on their site, Facebook, Twitter, and Instagram. 
And for the whole month of November, Wurstbar is raising money for local animal shelters and rescue organizations! $1 from every hot dog and Ironbound cider sale will go to local shelters.