There's no shortage of good Cuban food in the area; especially when it comes to the sandwiches. I think it's safe to assume that everyone's had a Cuban sandwich (Cubano), or at least heard of one by now. You can pretty much find one on every menu now a day. I'm obviously exaggerating but I guarantee you know where to find one.
But It's the Cubano's lesser known relative, Pan Con Bistec (Cuban Steak Sandwich), that I want to bring to your attention. Pan Con Bistec, which literally translates to "bread with steak", is by far one of my favorite sandwiches. Thinly sliced steak that is tenderized, marinated, fried in olive oil and then topped with sautéed onions and pressed on a "plancha" to a buttery golden brown. Some people add lettuce and tomatoes, some people add ketchup and mayo but in my opinion what makes it a real Pan Con Bistec is the potato sticks sprinkled on top. Just thinking about it makes my mouth water!
Although the origins of this sandwich are unknown, it might have been developed with the Cubano during the cross-cultural pollination of food that was happening in Ybor City sometime in the mid-1800s[1]. If you ask me, someone's abuela probably whipped it up in the kitchen with some leftovers.
As an avid eater of sandwiches, I set out to find where I could get Pan Con Bistec in town. After some research on the internet, asking the local folk and hitting up my regular spots, I was able to find a few places that had it on the menu.
Check out the list below. Let me know which one is your favorite!
Banyan Café – 110 Bright St, Jersey City, NJ 07302 – $7.50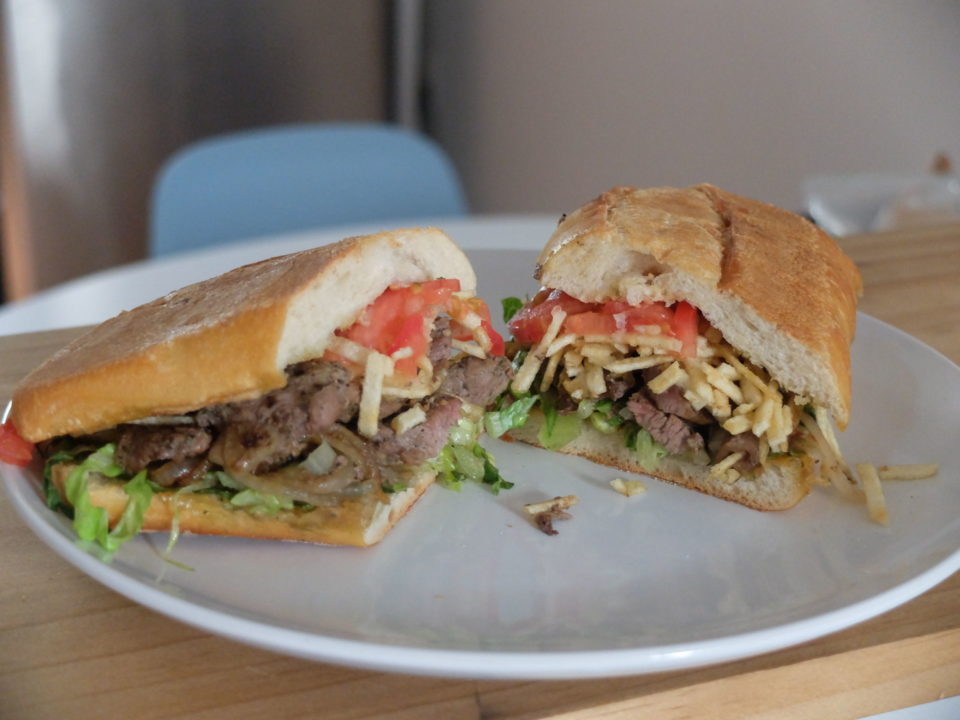 Nestled on the corner of Bright St and Varick St, this neighborhood café is popular amongst locals. Although seating room is limited, it's a good place to order out. Great food and friendly owners make this a must try. They add a special dressing to their sandwich which takes it up a notch and makes it that much better.
Rumba's Café – 513 Central Ave, Jersey City, NJ 07307 – $3.95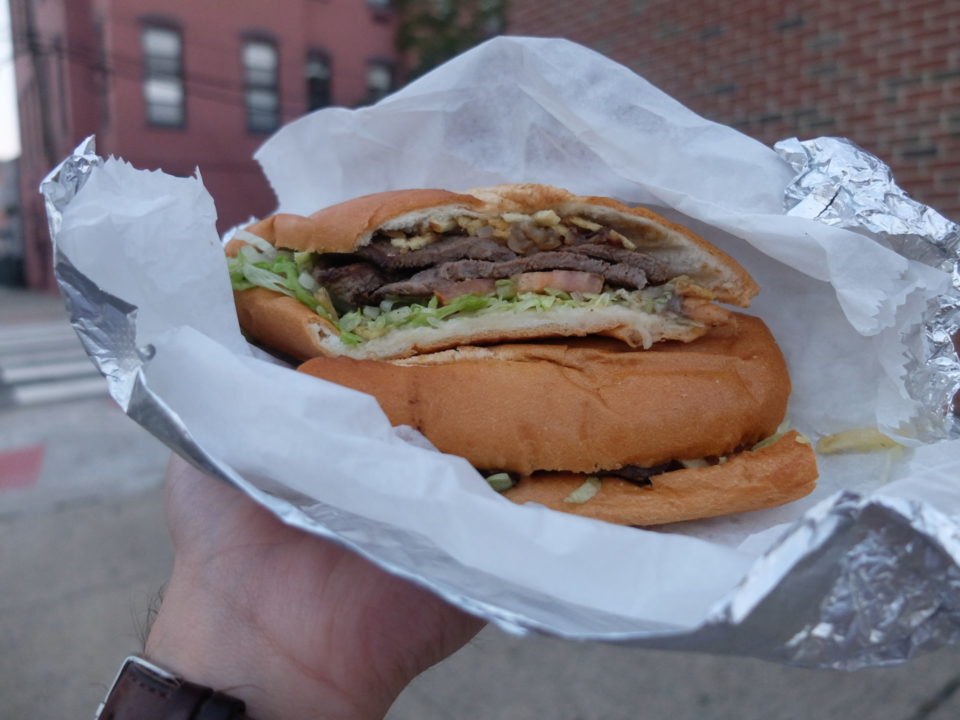 This Cuban Diner is a staple in the community; offering large portions, authentic flavors and incredible prices. This Pan Con Bistec is exactly how you'd expect one to taste. In my opinion, it's the "purest" version of the sandwich I found. The word rumba comes from the Spanish word "rumbear", which means to party. Pretty damn fitting considering no matter what you get here, you're bound to have a party in your mouth.
Pio

Pio Café & Restaurant – 449 Central Ave, Jersey City, NJ 07307 – $5.50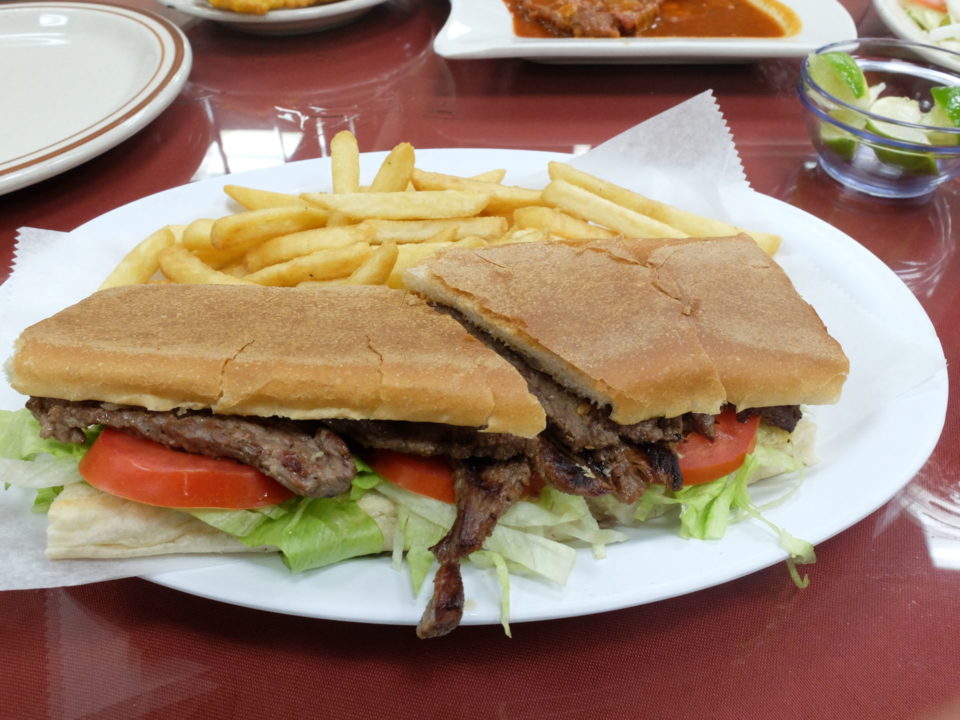 This no-frills restaurant gets right to the point, bang for the buck. This place is many people's favorite take out spot for Latin American Cuisine. This Pan Con Bistec is fresh, perfectly pressed, and it even comes with fries! You can never go wrong with fries. They're vegan, right? Oh, right if you're eating a Pan Con Bistec…
Honorable Mention
El Burrito Loco – 6005 Hudson Ave, West New York, NJ 07093 – $7.99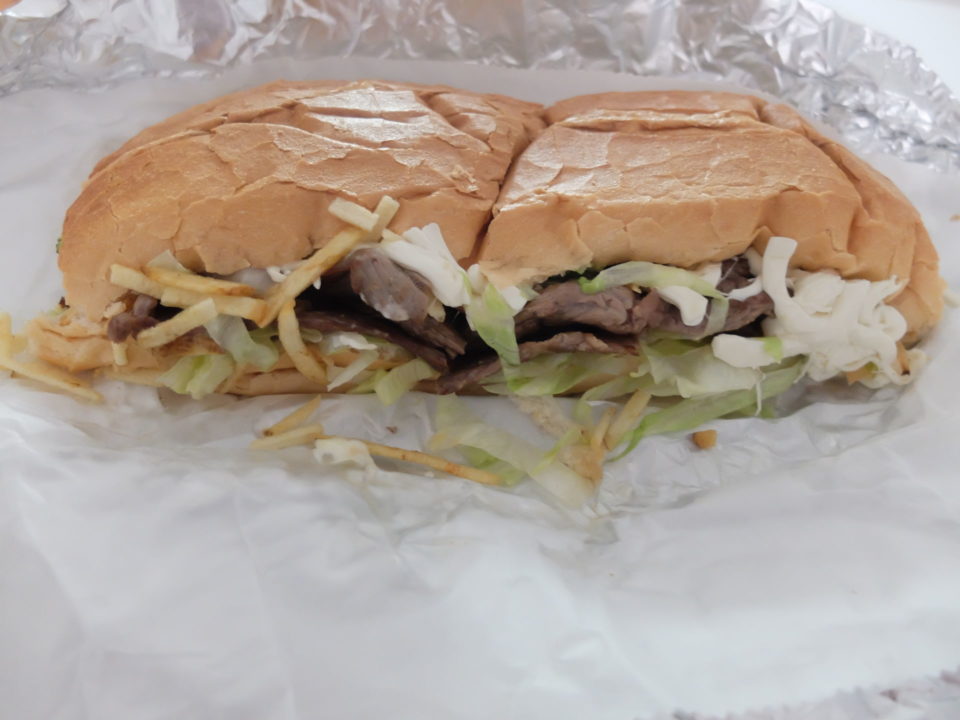 Now I know what you're thinking. This place is not Cuban, it's not in Jersey City and doesn't even have Pan Con Bistec on the menu. Ok, ok I get it. Hear me out though. UberEATS, which if you don't have then you should reevaluate your life. Order the Bistec Sandwich. This is a Mexican spin on the classic Pan Con Bistec. It's prepared on French bread, with Oaxaca cheese and best of all it has avocado. It might change your life.
---
[1] http://www.tbo.com/dining/tampa-history-is-traced-in-its-sandwich-37914