As a single mom, my goal is to get the most bang for my buck, whenever I spend my hard earned money. For this reason, when I go out to eat I want to make sure that I spend as little as possible, but eat as well (and as much) as I can. For this weekend's brunch, I decided to try SamAM.  I Googled their menu, and nothing was over $14 – winning!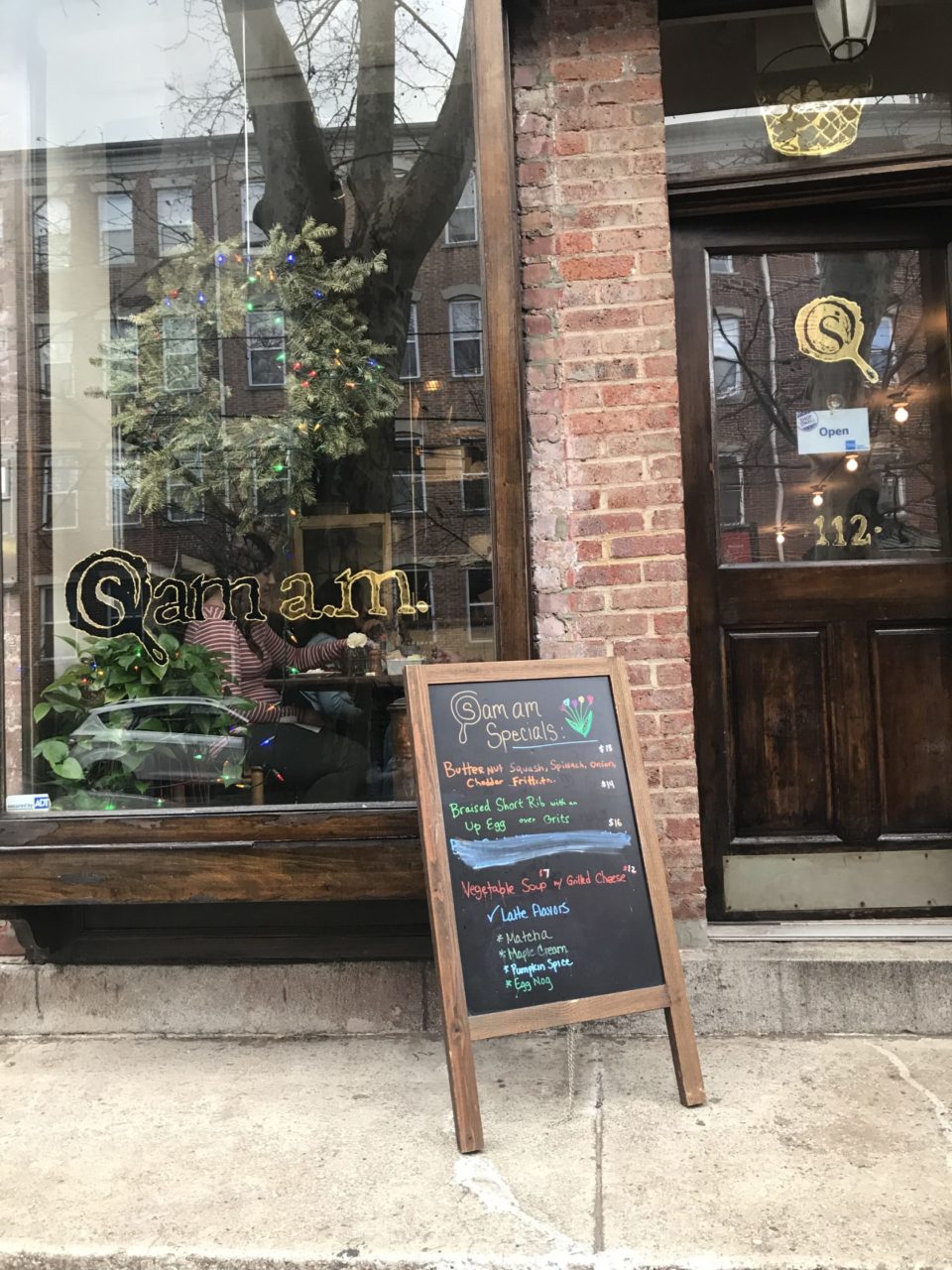 SamAM is nestled in the Paulus Hook section of Jersey City, on Morris Street. As a bonus to the delicious food, you're a two-block walk to the marina. You can stuff your face, and then go for a walk along the Hudson.
SamAM has a seasonal menu. Currently their menu is Fall centric. The menu is small but diverse, and they have specials regularly. In addition, they offer a variety of drinks and baked goods. I tried the mini chocolate donut to tide us over until our table was ready. It was more like a mini bundt cake, and enough for two people so I didn't mind paying $3.75. The donut was moist, fudgy and crunchy all in one. The perfect combo for an ice cold glass of milk.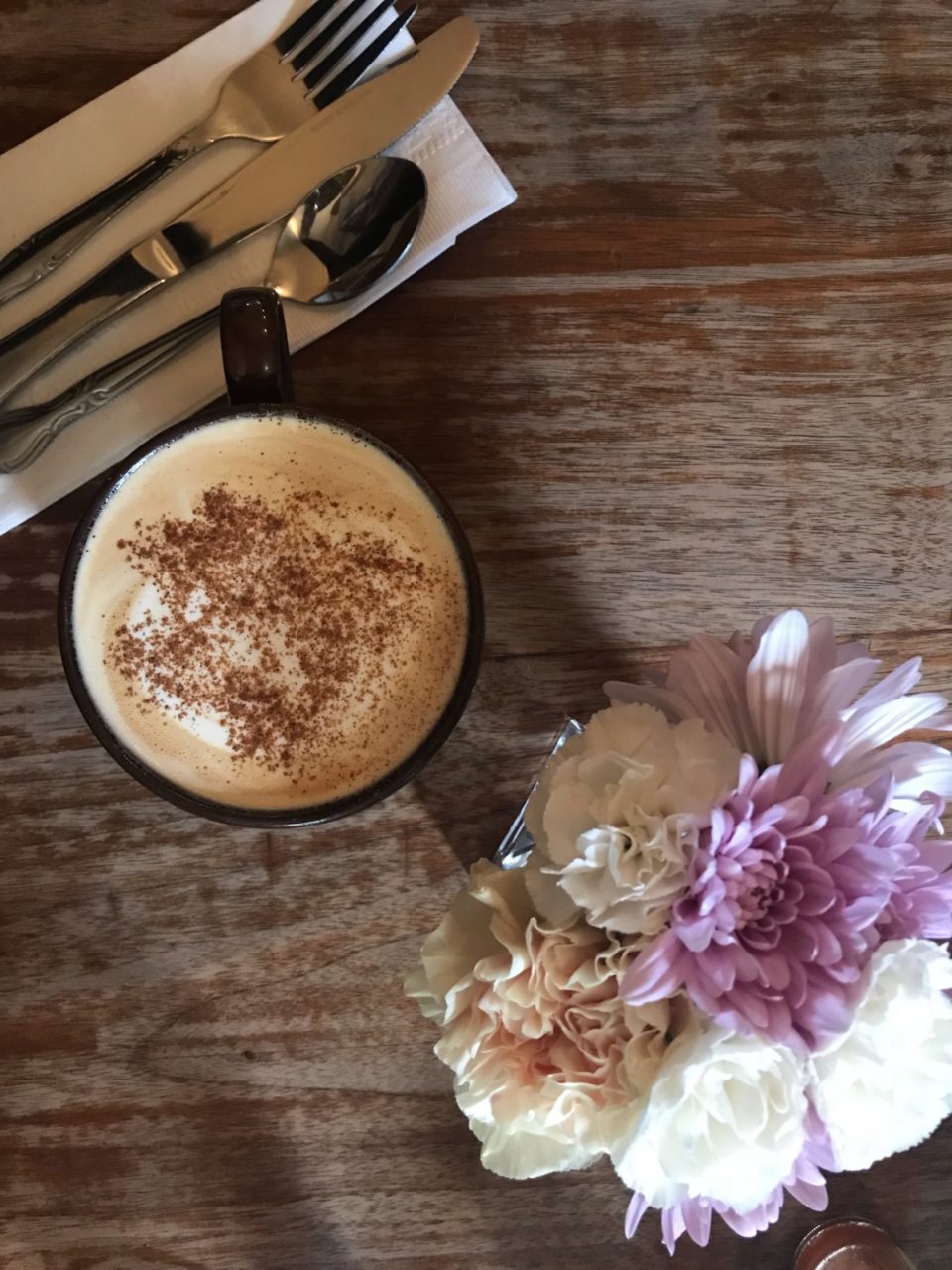 Once seated, I ordered the Maple Pecan latte. I'm not a huge fan of anything other than Starbucks, but this was the smoothest latte I've had in a while. The lattes are the priciest drinks on the menu at $4.75, but definitely worth every penny.
For my main meal, I ordered their special of braised short ribs over cheesy grits with a sunny side up egg. The special was the most expensive item at $16. My daughter ordered the Belgian, which is buttermilk waffles with berry compote and hand whipped cream. Since we were starving, we also had a side of potatoes and toast.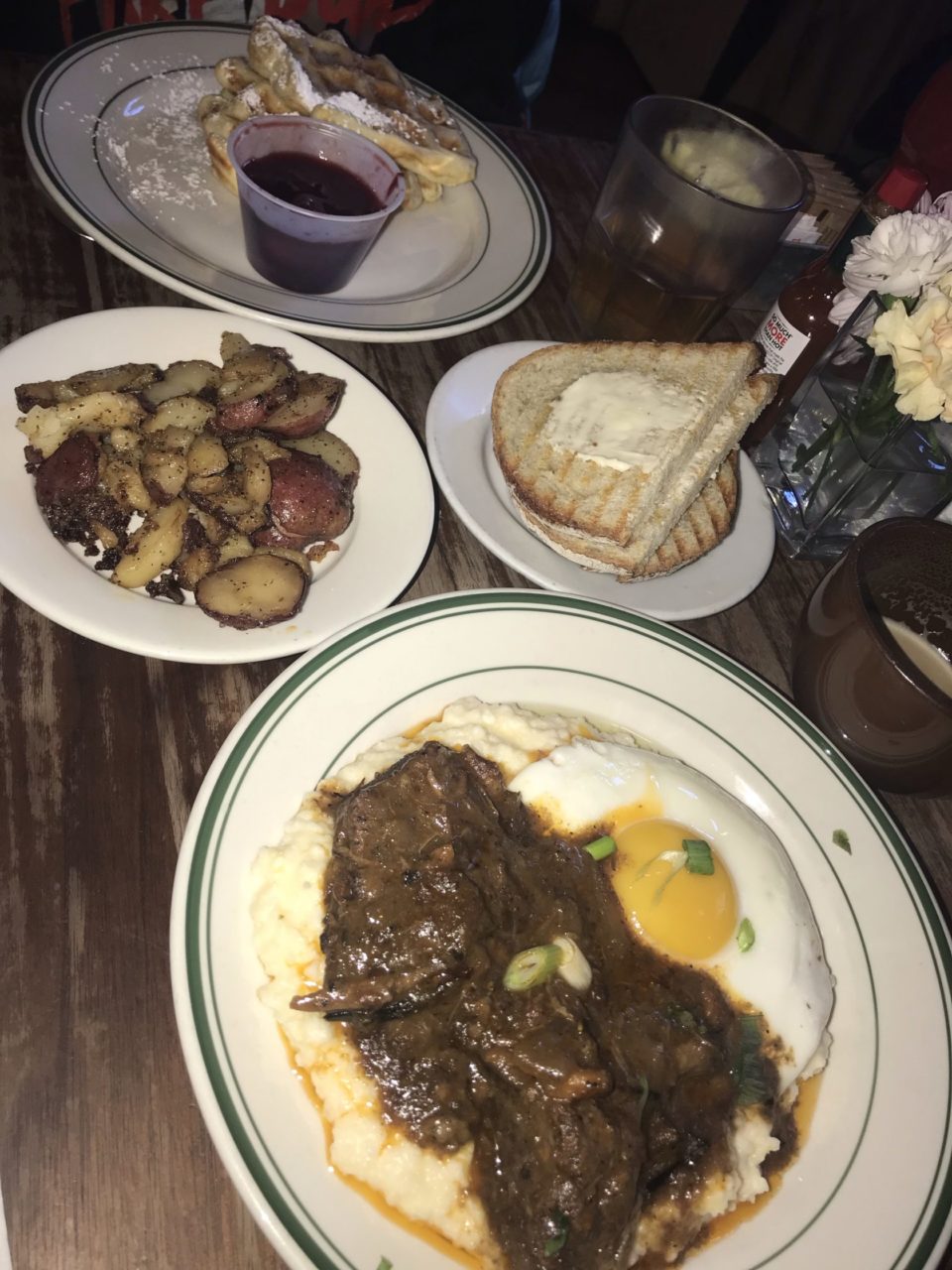 When my meal arrived all that I could utter was "fuckkkk." The smell was intoxicating. I was a little nervous about the grits, but they had cheese on them and damn, if everything isn't amazing with cheese. I thought my mouth was going to have an orgasm after the first bite. The short ribs cut like butter and mixed well with the grits and egg. I literally cleaned my plate with the last piece of toast. My daughter's waffles were fluffy and delicious. With the berry compote, and whipped cream, she said they were "fresh and yummy."
My bill was approximately under $45.  If I hadn't eaten with my eyes, and avoided ordering the potatoes and toast, it would have been under $40. Brunch for two people at that price, for the sized portions you get, is very affordable. I would definitely recommend this place and I plan to go back. The couple next to me ordered the Carlos' Cubano and Classic French toast. I felt a little drool drip out of my mouth when I watched their orders being placed on their table. Clearly, I already have my next order in mind!
---
About the Contributor
Maria Fernandez is a freelance contributor to ChicpeaJC. As a Latina, food was always a staple in Maria's life. Being around her mother and grandmother, Maria not only learned how to cook, but also developed a huge love and appreciation for food. Working in corporate America didn't fulfill her enough, so Maria decided to start writing freelance in order to have a creative outlet.
Being a frequent visitor of Jersey City, Maria loves to try out new eateries and sample the eclectic cuisine that's offered in this town. She wants to share her "taste bud travels" with Jersey City readers, so they know the best (or cheapest) places to eat.
Not only is Maria a Business Analyst for one of the world's top apparel companies, but she's a single mom to an 11 year old daughter (aka The Spawn), who has the same love of food and Jersey City that she does.
You can find her on Instagram.