Finding good veg-friendly foods used to be like finding the holy grail, but through time, vegetarian and vegan options in restaurants have become more commonplace. Now, I can go virtually anywhere in the area and find something good to eat that is free of animal products. Whether you're vegetarian, vegan, or just looking to try different foods, check out our list of top veg eats in Jersey City!
Tea NJ
262 Newark Ave
Open Tues. – Sun. 8 AM to 6 PM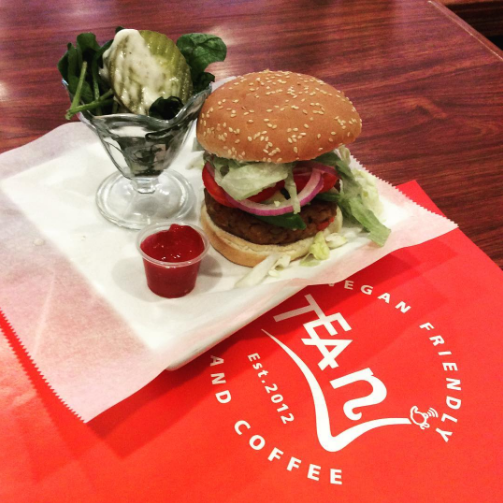 This quickly became my favorite place to grab a quick bite to eat. They have a clearly defined vegan menu with wraps, salads, and even desserts for anyone to enjoy! Their Spicy Devil salad and wrap are amazing, everyone raves about their black bean burger, and they've just introduced a new vegan rice wrap to their menu (it sounds incredibly good).
2. Subia's Organic Market & Cafe 
506 Jersey Ave
Open Tues. – Sun. 8:45 AM to 8 PM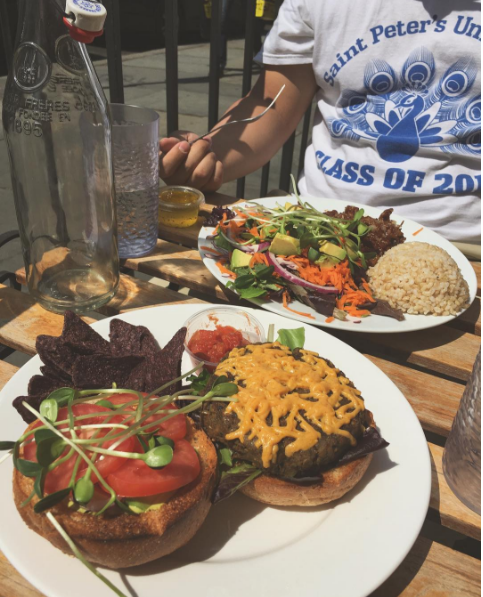 Right off the bat, their smoothies are the best and incredibly filling. When I first found out about Subia's, I managed to convince a non-vegan to eat The Reuben, and she loved it so much, she ordered it more than once for her and her daughter. It's definitely the best place to go grab a bite to eat without wondering if there's dairy, egg, etc.
3. Pet Shop JC
193 Newark Avenue
Open Mon. – Thurs. 4 PM to 2 AM, Fri. 4 PM to 3 AM, Sat. 12 PM – 3 AM, Sun. 12 PM – 2 AM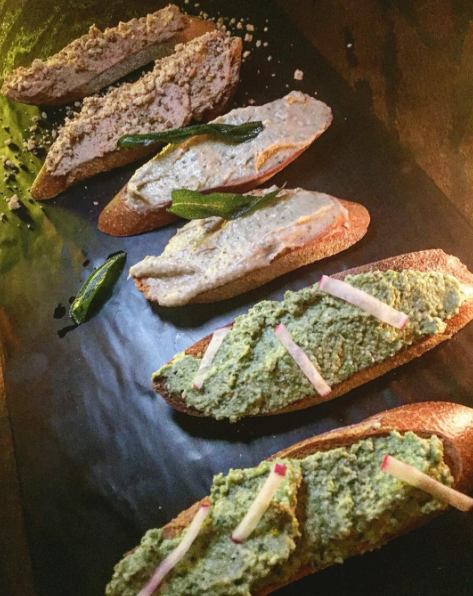 As a bar and all-vegetarian restaurant, Pet Shop seems like it'll be a new hotspot for vegetarians to enjoy their meals without the worry of having animal products accidentally make their ways into their meals. Most of their dishes can be made vegan, so it works for everyone! However, Pet Shop is 21+, but children can be allowed for early meals on weekends.
4. Seven Sheep Coffee 
342 7th St
Open Mon. – Fri., 6:30 AM to 5 PM, Sat. 7:30 AM to 5:30 PM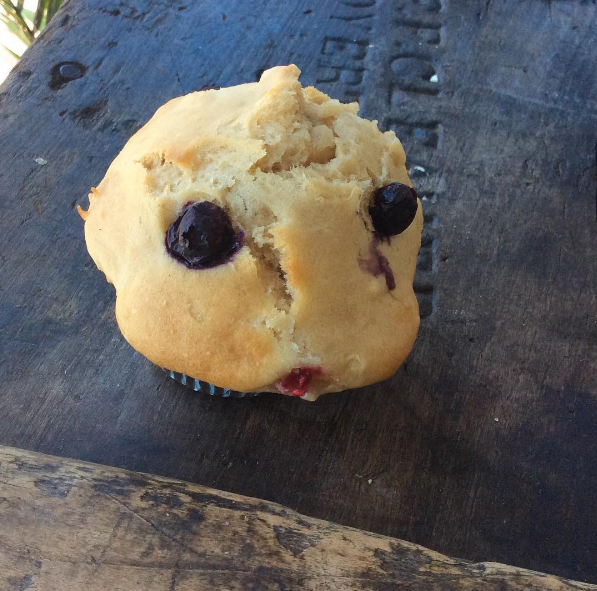 Seven Sheep offers delicious vegan pastries and treats, like their incredible vegan apple walnut muffin. If you're also interested in gluten-free options, they offer a vegan and gluten-free cinnamon roll!
5. WHOS Gluten Free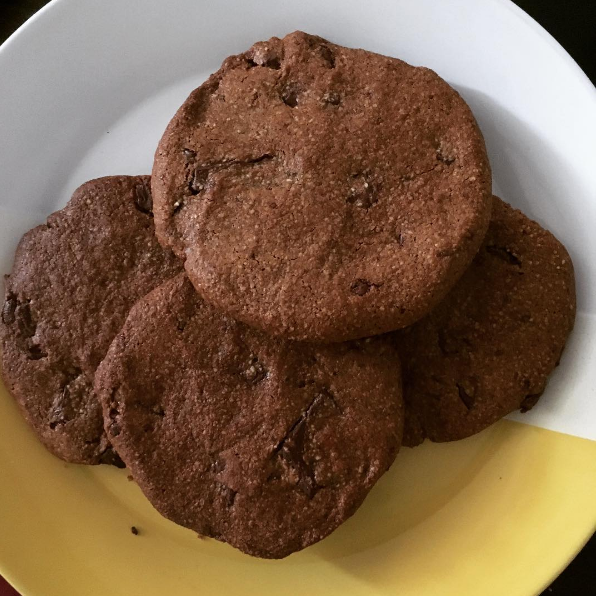 I've heard nothing but good things about WHOS Gluten Free. I hadn't known about them until earlier this year, but I'm already interested in trying everything they offer! At the moment, all of their granolas and trail mixes are vegan, and other treats are marked on their site as "vegan" if applicable. They currently don't have an open brick-and-mortar, but you can find their delicious treats at 9BAR Cafe and The Big Straw. They can also be found at different markets, and you can place orders via email to try their large selection of tasty snacks.
6. Two Boots Pizza 
133 Newark Ave
Open Mon. – Thurs. + Sun. 11:30 AM to 12 AM, Fri. – Sat. 11:30 AM to 3:30 AM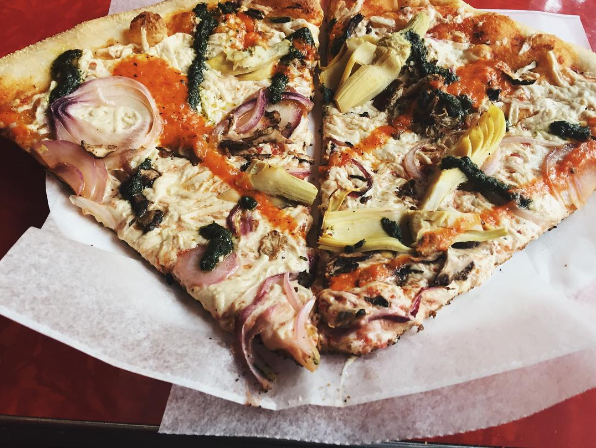 Although not a local business, it's important to note that even nationwide places offer vegan treats! If you're into vegan versions of fast food, the V for Vegan pizza is delicious. If you're not a fan of vegan cheese or would simply rather opt out of it, Earth Mother is packed with veggies and doesn't need cheese to taste good! There's so much flavor packed into a slice; you need to give it a try.
7. Busy Bee Organics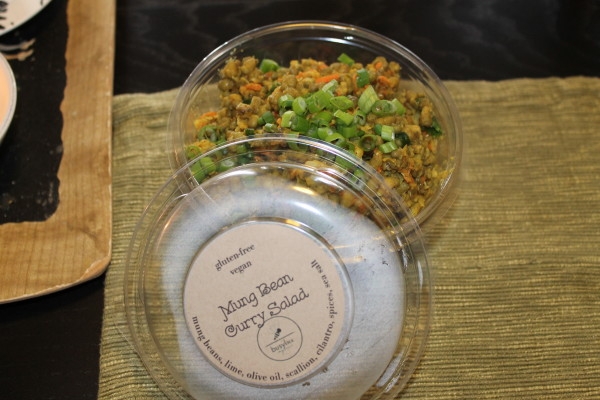 Busy Bee Organics is one of the healthiest food options one could possibly choose. While browsing their menu, everything is labeled with choices from nut-free to vegan. There truly is something for everyone here, and it's all fresh and delivered to you! You could also find Busy Bee Organics at farmer's markets. Find more info on how to get Busy Bee Organics here.
8. Sapthagiri
804 Newark Ave
Open Mon. – Fri. 11 AM to 11 PM, Sat. – Sun. 8 AM to 11 PM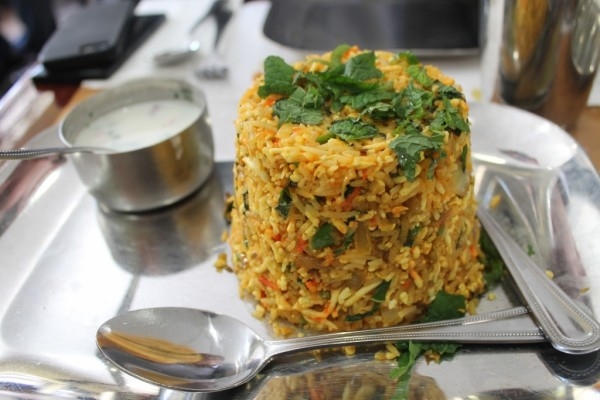 Anyone who loves Indian food knows vegetarian options are usually available, but an all-vegetarian menu with vegan options seems unbelievable. From their Vegetable Biryani to their Aloo Gobi, it's veg-friendly heaven! Their tomato rice is amazing, and who doesn't love a good samosa?
9. Ibby's Falafel
303 Grove St
Open Mon. – Fri. 10AM–12AM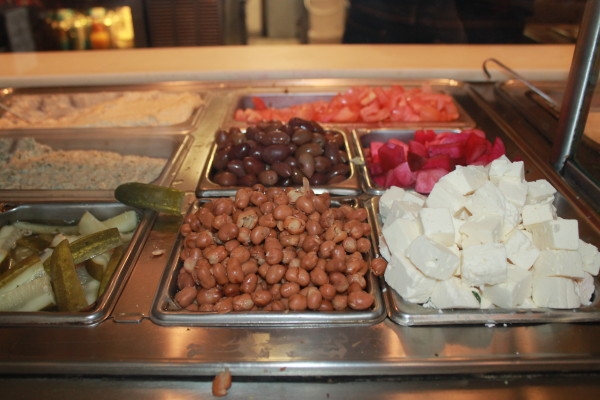 Falafel is one of those foods almost everyone knows and loves. If you're looking for some good falafel, Ibby's Falafel in Jersey City is the place to be! It's veg-friendly and makes you feel right at home.
Let us know if you've tried any of these restaurants, or share any of your top veg eats in the area with us!