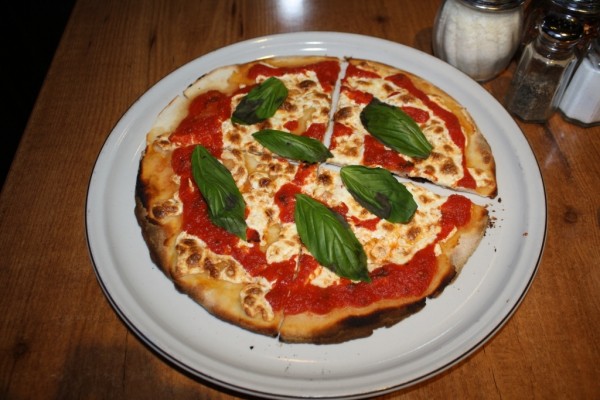 A couple years back I was diagnosed with this challenging allergy.  I thought great, of course, I would get the most misunderstood allergy in all the land.  Time to get prepared for eye rolls from waitresses as soon as they hear that first "glu-" syllable come out of my mouth. Arrivederci, to my favorite Italian restaurant with  bread crumbs and pasta. Goodbye, bakeries with your sweet treats!  Not to sound dramatic, but I thought my life was over!  However, I'm here to tell you that where gluten ends, a whole new world of deliciousness begins- especially right here in Jersey City.   So whether you're just passing through or live here and are tired of having to scour the Internet for gluten-free options every time you go out. I've done my bidding (eating) for you and rounded up the top 12 gluten-free eateries in Chilltown.
This list is a breakdown of not only the food but how knowledgeable the staff is. At none of these places will you get the whole "Yes, our burger is gluten-free. Wait, what's gluten again?"  I'm not including any places for their naturally gluten-free meals (where's the fun in that?) because we all know how frustrating it can be to walk into some place hangry and get told your only option is a salad. These are all original recipes and concoctions that would otherwise normally be glutenous.  You'll also find out about the ambiance and if the owners or chefs at these spots have personal experience in the g-free life as well, which has never been a deterrent for picking a place but just always gives a little extra piece of mind.   I will also address whether they avoid the gluten-free "rut." A gluten-free rut is where a restaurant has maybe two gluten-free options and that's it.  It never changes, and you're left longing for more.  And last but not least, I'll cover whether our gluten-eating friends will notice a difference. Because there's a huge difference between "This is amazing! Better than the regular stuff! Wow!" and "Yeah, this is pretty good… for being gluten-free."
Alright, time to eat!
…or during this first stop, drink!
1. Departed Soles Brewery
Powerhouse Arts District
http://www.departedsoles.com/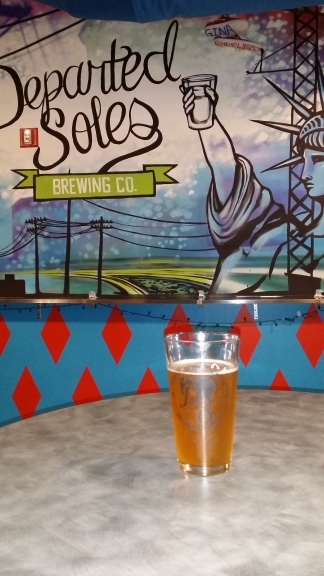 Departed Soles kind of swooped into Jersey City under my g-free radar. I didn't hear about this brewery until a few weeks ago. After doing my usual hunting, filtering, and Googling for new gluten-free places to try. That's when I saw- wait- could it be? Am I seeing this right? An actual brewery with gluten-free options?!
G-free people know that the idea of tagging along with friends for the day to tour a brewery is pretty much not on your weekend bucket list after receiving the Celiac stamp.  Most bars will have one cider or one mediocre beer at best as an option, so the idea of a brewery catering specifically to g-free people was exciting!  This was my first stop on the g-free train and let me tell you, it is just as cool as it looks.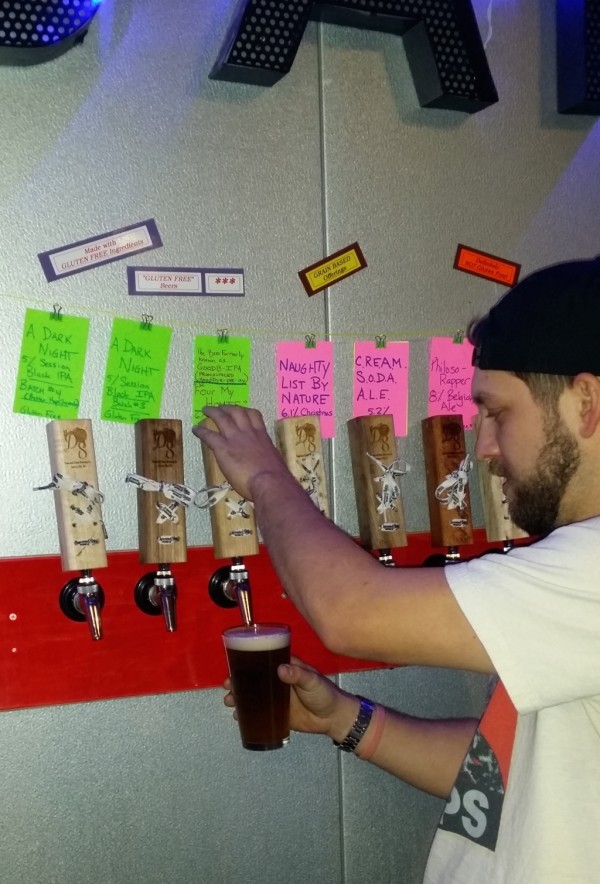 This spot is run by Brian who's a one-man-band when it comes to brewing, selling, and basically manning the whole operation. There's a lot of heart behind this brewery.  His inspiration came from his departed friend who was diagnosed with Celiacs and seeing what awful choices there were for g-free beers.
As I sipped the "Four My Homie," a floral and citrusy IPA, I took in the vibrant graffiti clad walls. I watched the other patrons chilling out over their skateboard beer flights (yes, you heard that right) and listened to the great old-school emo music like Fall Out Boy and Yellowcard coming from the speakers.  I immediately texted my friend that "We need to bring all our friends here next time we go out! This place is cool as Hell."
The really nice thing is that the gluten-free choices change and there are regular beers your friends can have if they aren't feeling adventurous.  AND you can order food to be delivered there. Maybe one of the next places on my list? BOOM! Date night complete.
Next, I made my way to none other than…
2. Milk Sugar Love
Hamilton Park
http://www.milksugarlove.com/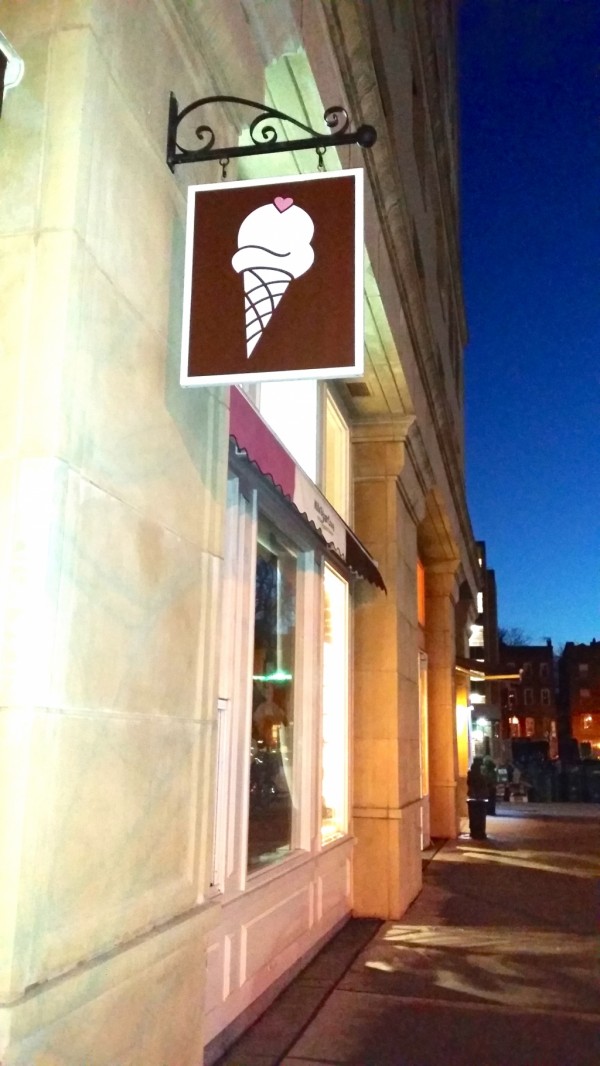 This is the best ice cream I've ever had.  Hands down, I kid you not.  You can tell that a lot of love is put into this sweet treat. Best of all, not only do they have gluten-free and also dairy-free choices (like the mint chocolate chip coconut ice cream), they also have oatmeal cookie ice cream "sammies"! Which are also literally the best oatmeal cookies I've ever tasted, gluten-free or not. I used to not even think I liked oatmeal cookies until I ate these.
Next up on the list…
3. Koro Koro Rice Ball Cafe * Celiac Friendly
Downtown Jersey City
http://korokorocafe.com/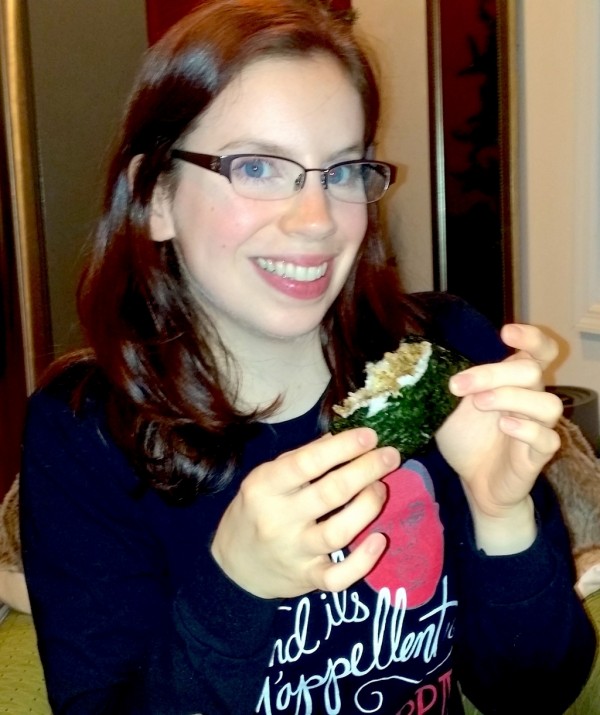 Koro Koro has an entirely gluten-free menu! Although mastering the proper way to open up these rice balls may take some time (the owner will gladly demonstrate for you!). You will immediately love this delicious g-free comfort food. This Celiac-safe cafe is very colorful and cozy, great for date night, hanging out with friends or just chilling out with your laptop. In the warmer months, they have wrought iron tables and chairs to sit out on the sidewalk and enjoy the scenery of Downtown, Jersey City. The nice part is they are always coming up with new themed rice balls, so no gluten-free rut here! I've tried just about all of them and they're all delicious, but my ultimate favorite is the Cuban which is filled with pork, plantains, and black beans. They also have healthy sides like Miso soup and offer ice cream from their neighbor on this list, Milk Sugar Love.  It's a match made in gluten-free Heaven.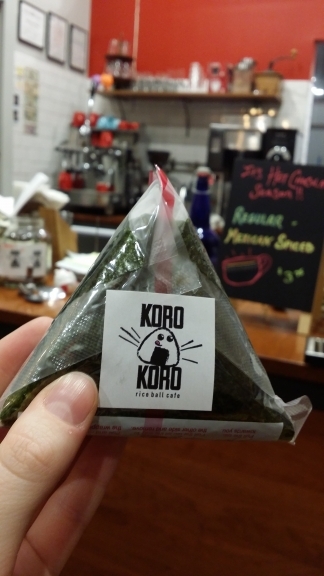 I knew I had a little more room so then I wandered on over to…
4. Roman Nose
Downtown Jersey City
http://www.romannosejc.com/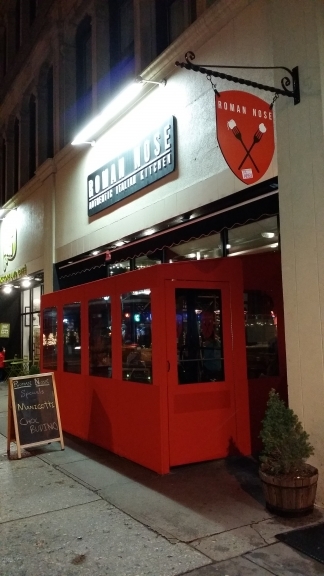 This timeless old-school Italian joint is hands-down my favorite restaurants in Jersey City. It was my favorite spot before my body developed a disliking for gluten, and I'm glad to say it still is now.  On their menu, you'll see that there's gluten-free quinoa pasta substitution which you can do with almost all their pasta dishes. There will be no evil eyes here because of gluten-free talk with the waitstaff. There are  also plenty of mouth-watering options for the rest of your friends, too.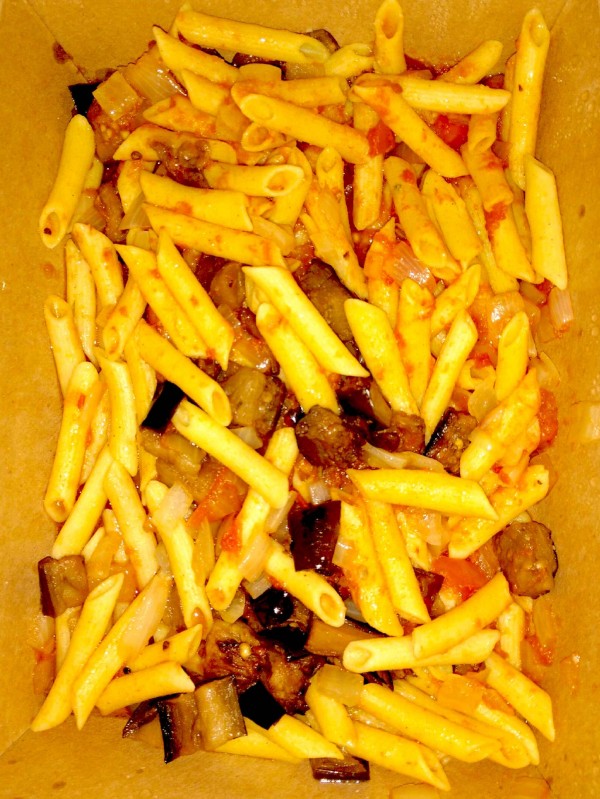 The owner's mom was there when I stopped in and she explained to me that they saw a big need for a g-free option early on and were happy to oblige.  I normally opt for their pesto dish, but tonight I decided to try something new in the spirit of this tour. I went with the Casarecce alla Norma which is sautéed eggplant, onion, basil, tomato, and ricotta.  Believe me, it did not disappoint, and I think I wolfed it down in 30.5 seconds flat.
Always nice to see that your food is clearly labeled.
I wasn't full yet! Next stop was dessert at…
5. Downtown Fro-Yo
Downtown Jersey City
http://www.downtownyogurt.com/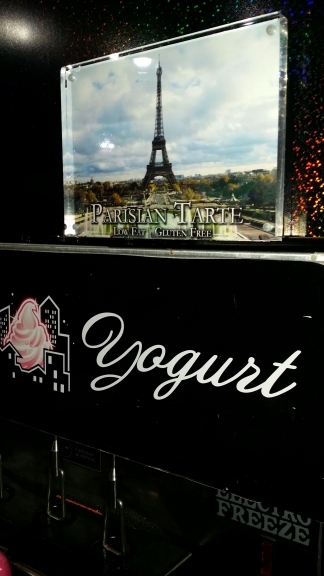 This may seem like a strange choice. Isn't fro-yo normally gluten-free? Well, the short answer is no. In this day and age, a lot of things have hidden ingredients. Having an intolerance can definitely induce some anxiety when stepping into a new eatery but in this case at Downtown Fro-Yo, you don't even have to ask.  All of the flavors are labeled!  This is such a cool feature, and as a fro-yo connoisseur, this is the only spot I've ever been to that does this. The ambiance is just plain fun and great for hangouts with friends, date night or just a quick pit stop when you're having a craving like I did today. I usually have the Pineapple Dole Whip, but today I was in more of a decadent mood and did a Cinnamon Bun and Belgian chocolate combo.  Just be mindful of what toppings you put on your yogurt and you're good to go!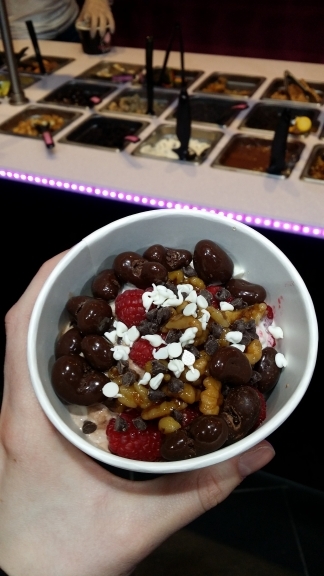 I have to admit, as the sky was growing darker, I was growing fuller by the minute and realized I would have to get home, change into comfy pants and turn my tour into a two-day event. Nothing wrong with that!
The next day my gluten-free adventures continued at…
6. BaseBar
Downtown Jersey City
http://www.basenj.com/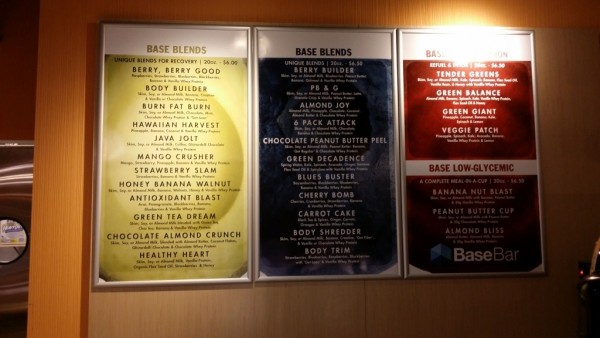 I know what you're thinking. A gym? I have to admit, I love going to this gym…to eat. Similar to salads, there's just something about someone else making a smoothie that makes it ten times better, am I right? This spot has its own juice bar that's filled with amazing smoothies, post-workout protein bars, and healthy on-the-go prepared meals that are half, if not more, gluten-free!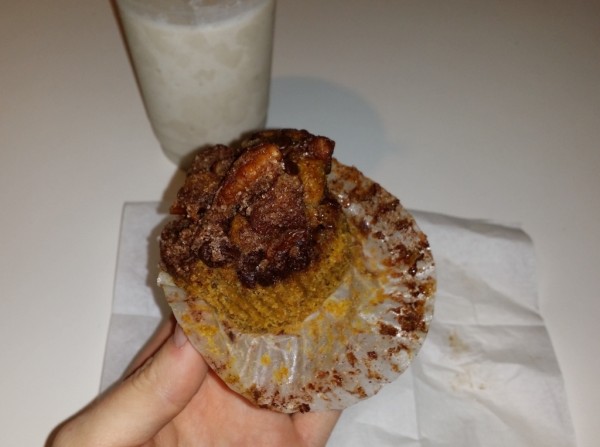 The staff is very knowledgeable and friendly when it comes to gluten-free options and advising on how to make healthy choices in general. They will automatically use gluten-free soy protein powder in your smoothie, which is awesome, but it's always good to just double check when you order.  They'll gladly tell you all about the powder and let you check out the packaging for yourself if you'd like.
You don't really feel like you're in a gym at all when you're here. The BaseBar is super modern. It's in a seperate area that's so bright, airy, and cheery that you'll totally forget that someone is pumping iron or Zumba'ing only 30 feet away from you. I highly recommend the Almond Joy as well.  Pineapple and chocolate make for an amazing combination.
Feeling energetic from Basebar, I power walked over to…
7. Subia's Organic Cafe
Downtown Jersey City
http://www.subiasorganiccafe.com/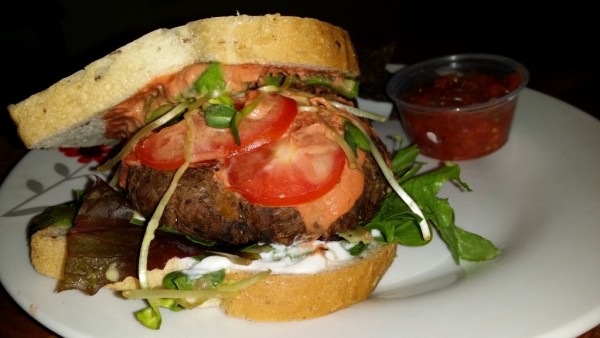 You feel healthier the second you step in Subia's. This place is a market, a juice bar, and a restaurant all wrapped up in a pretty little cafe. It's reminiscent of a place you'd stumble upon roaming the streets of New Orleans. My friend who tagged along is not a vegan, not gluten-free and a total carnivorous foodie and LOVED the riblet sandwich. Before he was even finished, he wanted to start planning when we're coming back. He also loved (aka stole) the gluten-free chicken nuggets off my plate saying they were better than any other chicken nuggets he's ever had.  There's just something really special about the combinations of original flavors you'll indulge in here at Subia's.  A little tip ahead of time: they automatically load your sandwich with sprouts, tomatoes, lettuce, and avocado. If you'd like a modified version of that just let them know your ideal sandwich situation.  I highly recommend the g-free chicken nuggets, the apple yam mash, and the walnut lentil burger. You can also request gluten-free bread on almost all the sandwiches.  The owner also told me that they do a gluten-free waffles brunch during the weekends, too.  No rut here!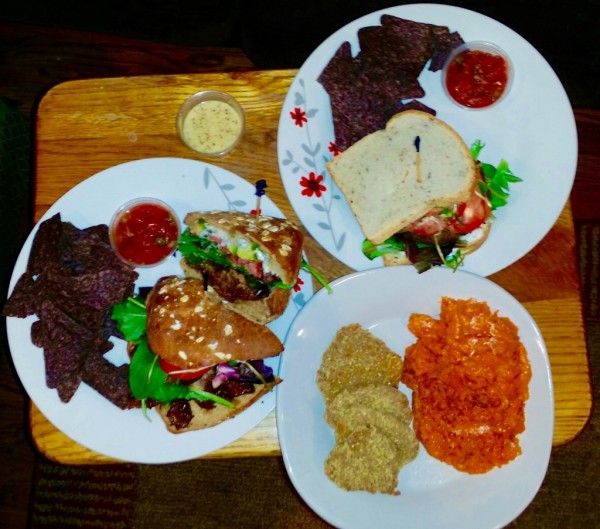 8. WHOS Gluten Free? *Celiac Friendly
The Heights
http://www.whosglutenfree.com/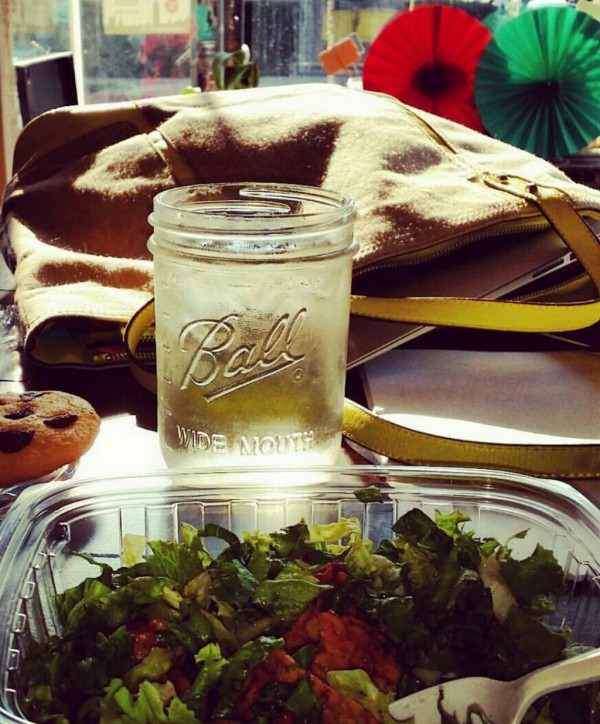 Who's Gluten Free is probably the spot that resonates most for Celiacs and gluten-free farers in the Jersey City region. It's all right in the name, after all. This is a dedicated gluten-free kitchen, so it is safe for Celiacs. The owner and top baker herself is a Celiac and her business partner is a nurse at Jersey City Medical Center. These two are really creating a gluten-free movement with what they do at this cafe. It's clearly taking off because Who's is in the process of moving to a larger kitchen across town.  (Congrats!)  They plan on reopening sometime in February. Check them out on social media for updates.  Who's has been a really great place to chill out, enjoy some delicious worry-free food and even color! I'm sure this new space will only make for an even greater experience. Bonus: pick up cupcakes, a pie or a cake to take to your family for the holidays or a special occasion. You won't feel left out when dessert time comes (and your friends and family won't know the difference!)  Everything I've tried here is scrumptious, and the Lord Grey cupcakes are to die for!
Commence day three of my best Jersey City gluten-free eats!
9. John's Pizzeria
Paulus Hook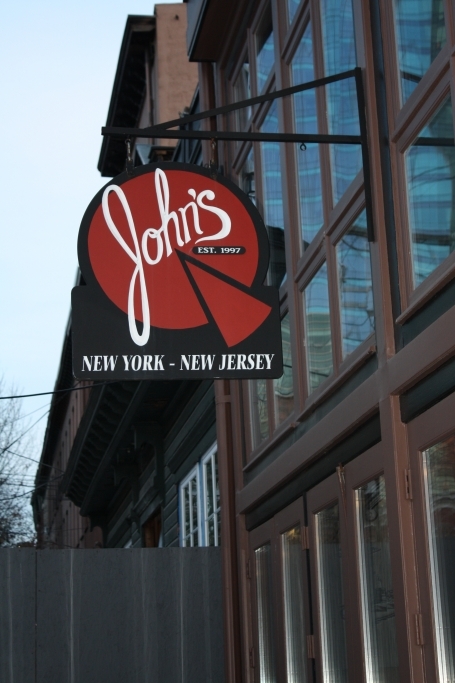 http://www.johnspizzerianyc.com/JCandArthurAve-Menu/-Pizza
Tucked away in a cute Paulus Hook neighborhood is John's Pizzeria. John's offers gluten-free pizzas, ravioli, penne, and even grilled calamari without the breading.  This pizza is one of the best gluten-free pizzas I've ever had in NJ (which is saying a lot having grown up in an old-school Italian neighborhood with pizza rivalries left and right). I bet gluten-eating friends will not know the difference. In fact, my friend who I brought my leftovers too didn't. The thin crispy powdery crust creates a great crunch as you savor each bite. The waitress told me that they make the dough themselves, and it shows.  It reminds me of my Italian grandma's homemade pie.  John's has been serving gluten-free options for a couple years now, and this is a great date night spot with its dimly lit ambiance and a spot-on playlist is a sexy date night spot.  Shout out to the waitress Megan for being such a kind host!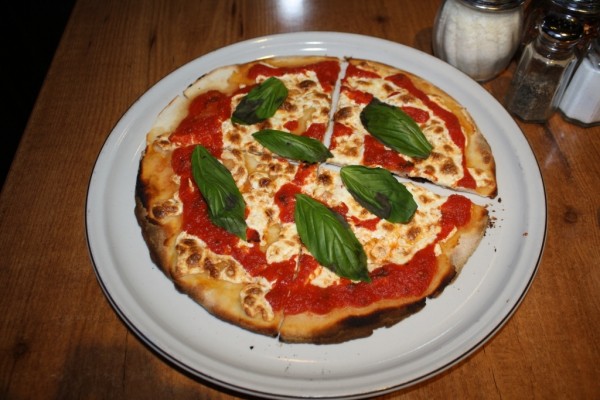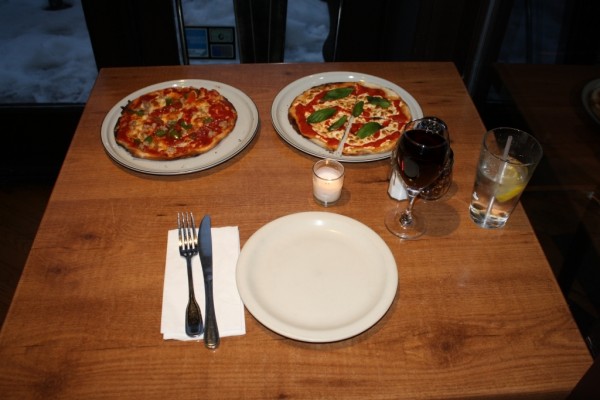 10. Cocoa Bakery
http://cocoabakerycafe.com/
Van Vorst Park
Grab your post-dinner date dessert at Cocoa Bakery.  This cute and cozy spot feels like a warm hug when you walk in. The aromas of tea and hot chocolate fill the room along with a plethora of pretty cupcakes and cookies in the displays.  The owner, who I spoke with for a few minutes when I stopped in, said that Cocoa has been around for two and a half years serving gluten-free choices and that she was baking gluten-free well before she even opened here.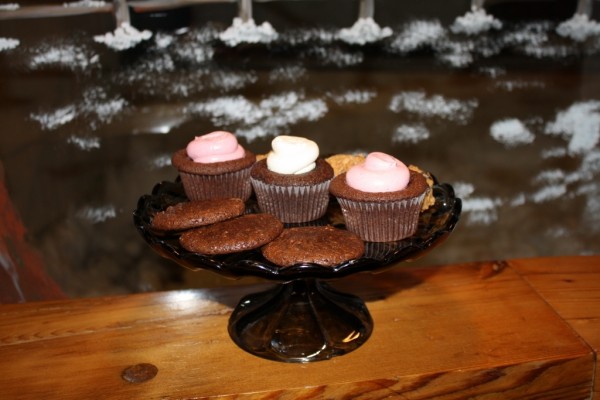 Try the gluten-free chocolate almond cookie, oatmeal raisin cookie or chocolate almond cupcakes with a choice of chocolate, raspberry or vanilla buttercream frosting.
11. Porta
Downtown Jersey City
http://pizzaporta.com/JERSEY-CITY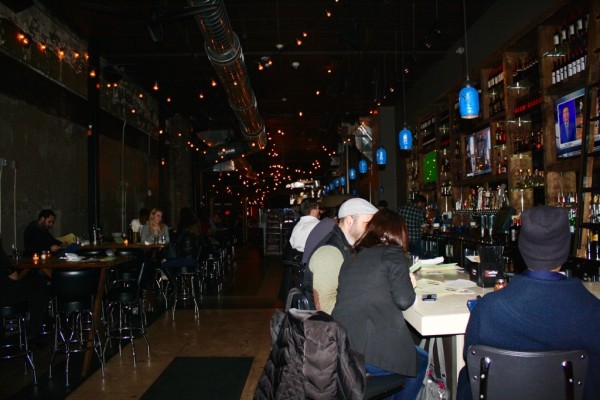 Feast your eyes on this! For those of us who partake in the wheat-less walk of life, Porta has risotto substitutions for almost all their sauces. When I arrived, Chef Anastasia carried out these three beautiful and tasty dishes and personally explained to me the story behind each. At Porta, they use carnaroli rice, which is a medium-grain rice imported from the Northern provinces of Italy. The reason why it's considered top-notch is that each grain is equally sized to best absorb their house made parmesan stock. Chef Anastasia went on to say that when Porta first opened this didn't offer gluten-free options, but they quickly saw a big need for it from the Jersey City community and were happy to satisfy customers' needs and in a variety of ways.   I didn't even need to address the "rut"- she totally got it!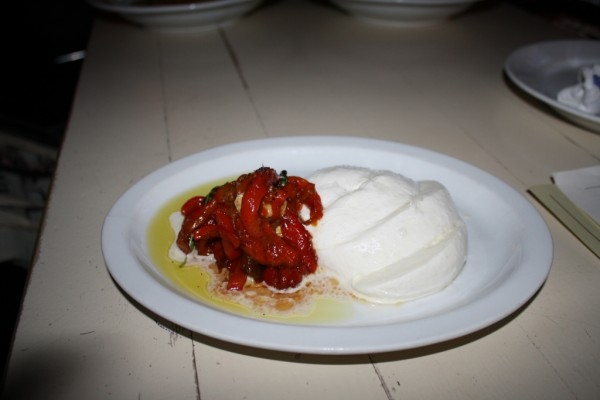 12. Sapthagiri
Little India, Journal Square
http://www.sapthagiri.biz/JerseyCity/
Paneer Tikka Masala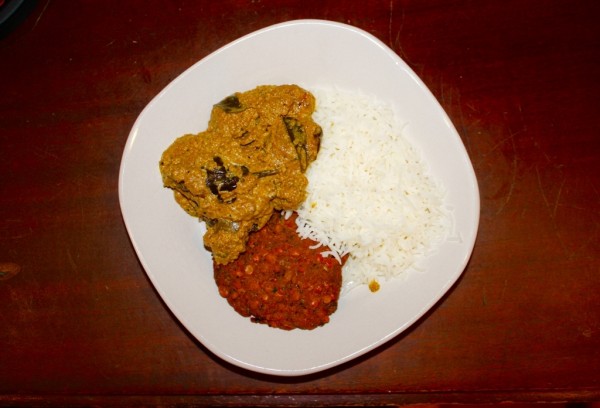 (Cottage cheese, bell peppers, and onions in spicy sauce)
Sapthagiri is a south and north Indian vegetarian restaurant. What is most notable about their rather large menu is that everything that's gluten-free is labeled with a "G," which takes the work out of it for us.  Thank you, Sapthagiri!    No need to come up with a plan A, B and C for what you're ordering when the waiter comes over. Typically, curries and fried doughs have wheat in them, so I was particularly eager to try their Masala Vada, gluten-free fried lentil donuts.  End result:  I may just get four bags of those next time!  So crunchy with a cookie-like texture!  The variety of g-free items here are endless and your vegetarian and gluten-eating friends will no doubt also love it.  Take a look at what I had below.
Gutti Vankaya
(Eggplant in spicy, creamy sauce)
MASALA VADA
                                                             (Flat fried donuts made with lentils, peanuts, garlic, and spices)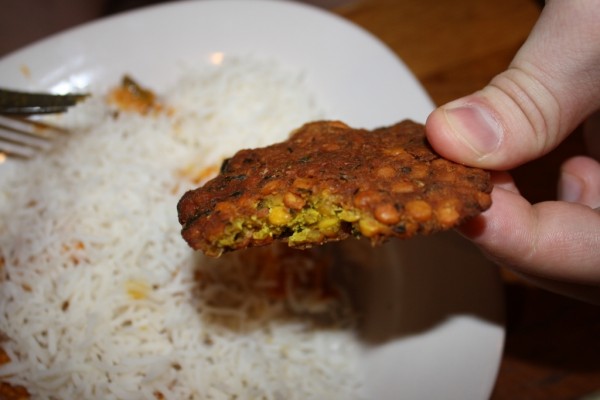 Grocery: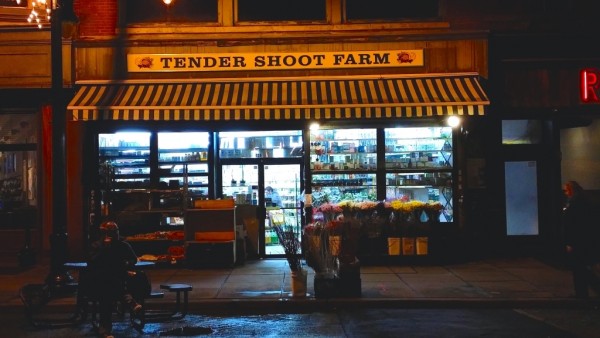 While Tender Shoot grocery is not technically a sit-down restaurant or cafe, this store has the best selection of gluten-free products in the city. So for those nights when you want to cook your own delicious gluten-free meals, make a stop here for all your ingredients.
Now, get to eating and enjoy!
About the Writer:
Say hello to Jess Maiuro, aka "The JC Explorer." She grew up in Central New Jersey and is now happy to call Jersey City home. Jess is a copywriter for an apparel company in Brooklyn, and has done freelance writing for local publications like The Aquarian, The Jersey City Independent, and Hudson County News. She's also a signed voiceover actress. She has been fortunate enough to lend her voice to a wide variety of TV and radio commercials, and has even dabbled in on-camera work. Her most memorable experience was working on one of her favorite shows, Orange is the New Black! Initially, she moved here for the typical reasons- close location to work and NYC. Little did she realize what an amazing spot she picked. It's been amazing for her to watch how much JC has grown in such a short time. She loves exploring all the nooks and crannies of this city that are filled with beautiful cafes, events, history, and people. She loves the diversity and energy that comes from getting in on the ground floor of a destination city, and she is so excited that she can share what an awesome city JC is by being a health and wellness contributor for ChicpeaJC!
@thejcexploreer