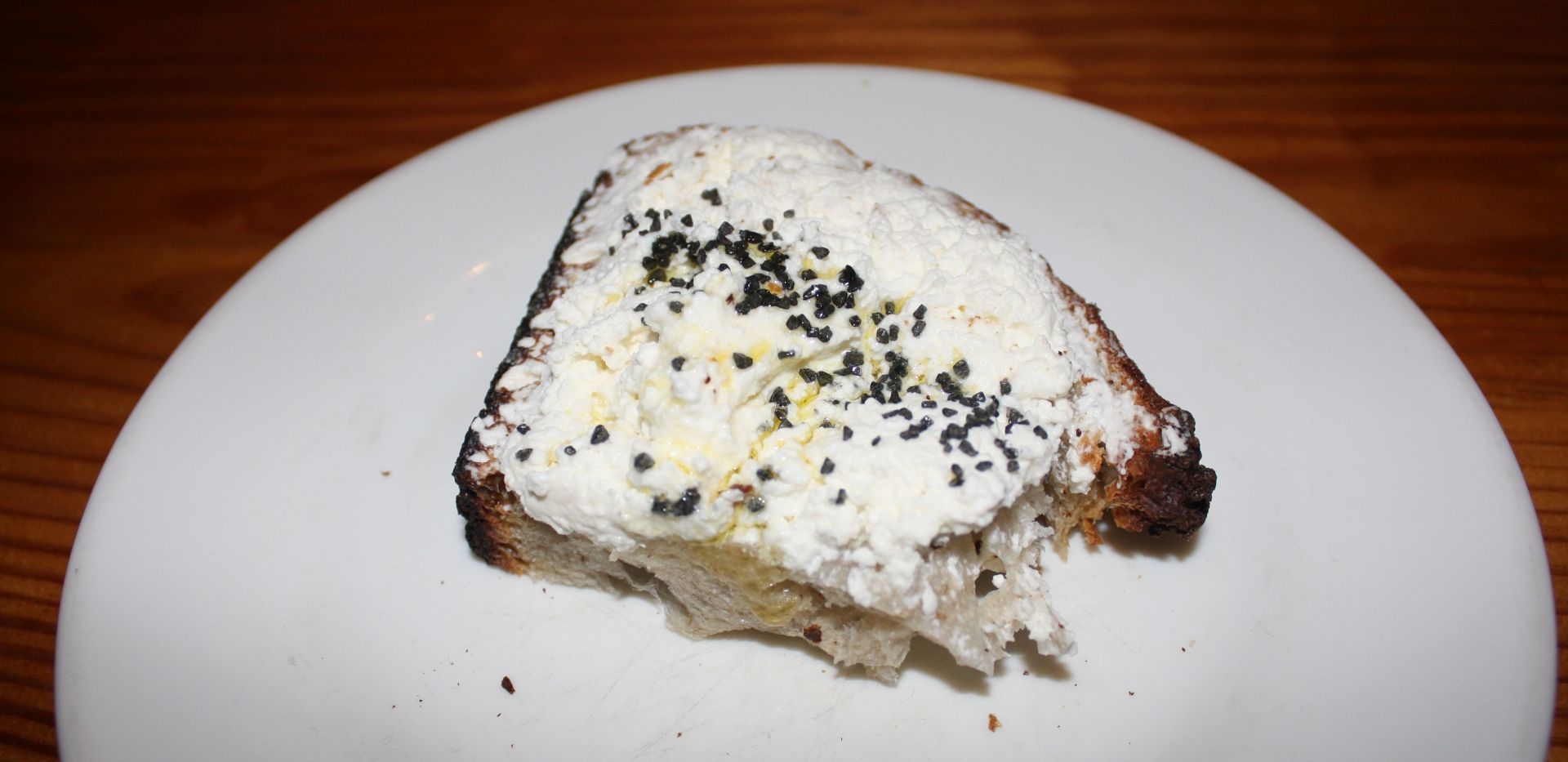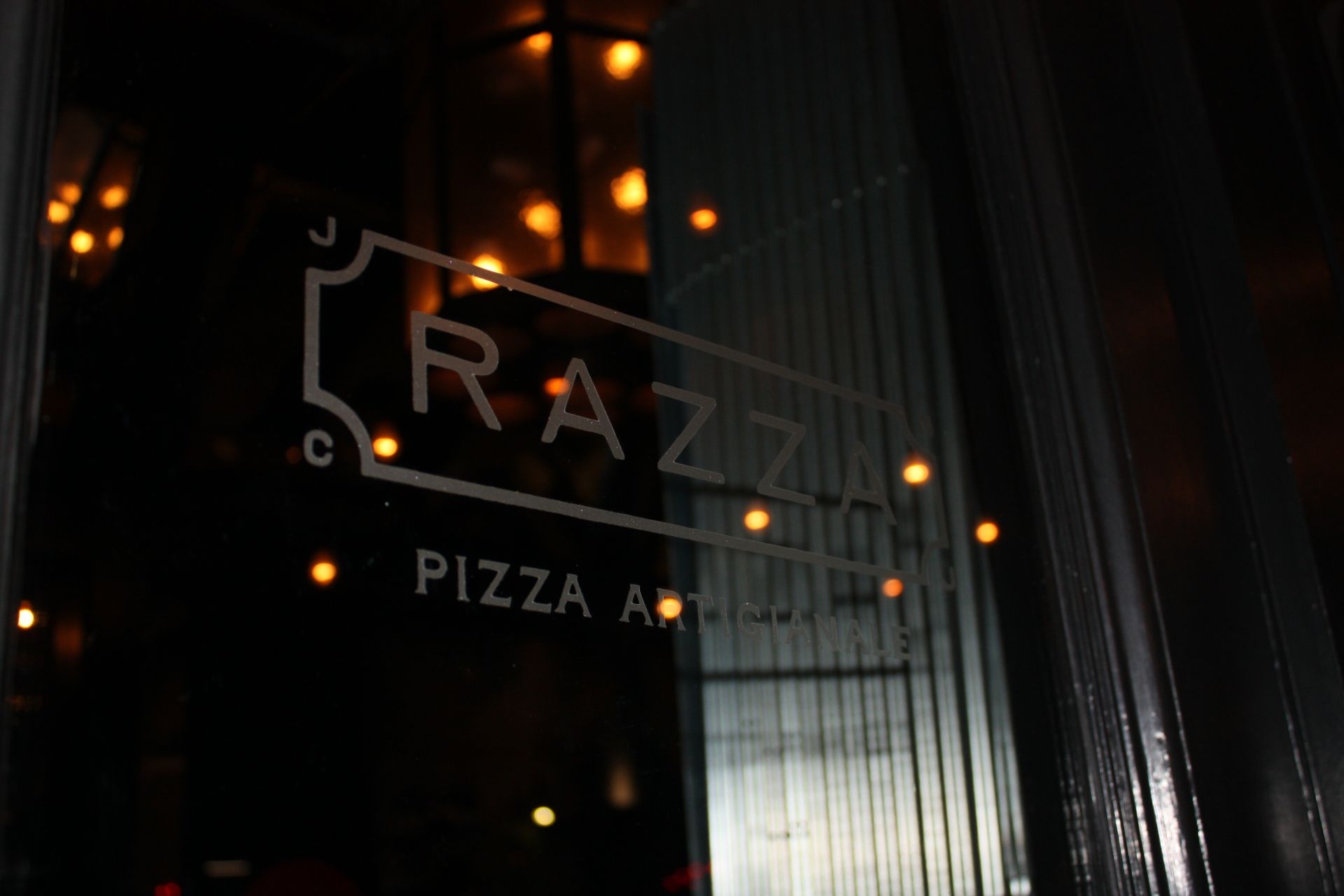 The chefs at Razza pride themselves on using high-quality ingredients to make their amazing pizza. They use flour that is milled in Clifton, New Jersey, and they even have their own yeast culture that they use to make the dough rise. Everything down to the bread and butter is homemade. Although I do enjoy making my own pizza at home, it just can't compare to the pizza at Razza. If you haven't been there yet, I highly recommend it! On our recent visit, my husband and I enjoyed cocktails and appetizers. The Ricotta Crostini shows off the amazing bread and ricotta cheese, topped with olive oil and some fancy black salt. It is a simple yet delicious appetizer that can be easily recreated at home. This works well as an appetizer, or you could even pair it with salad or a cup of soup for a light lunch. It's actually pretty filling.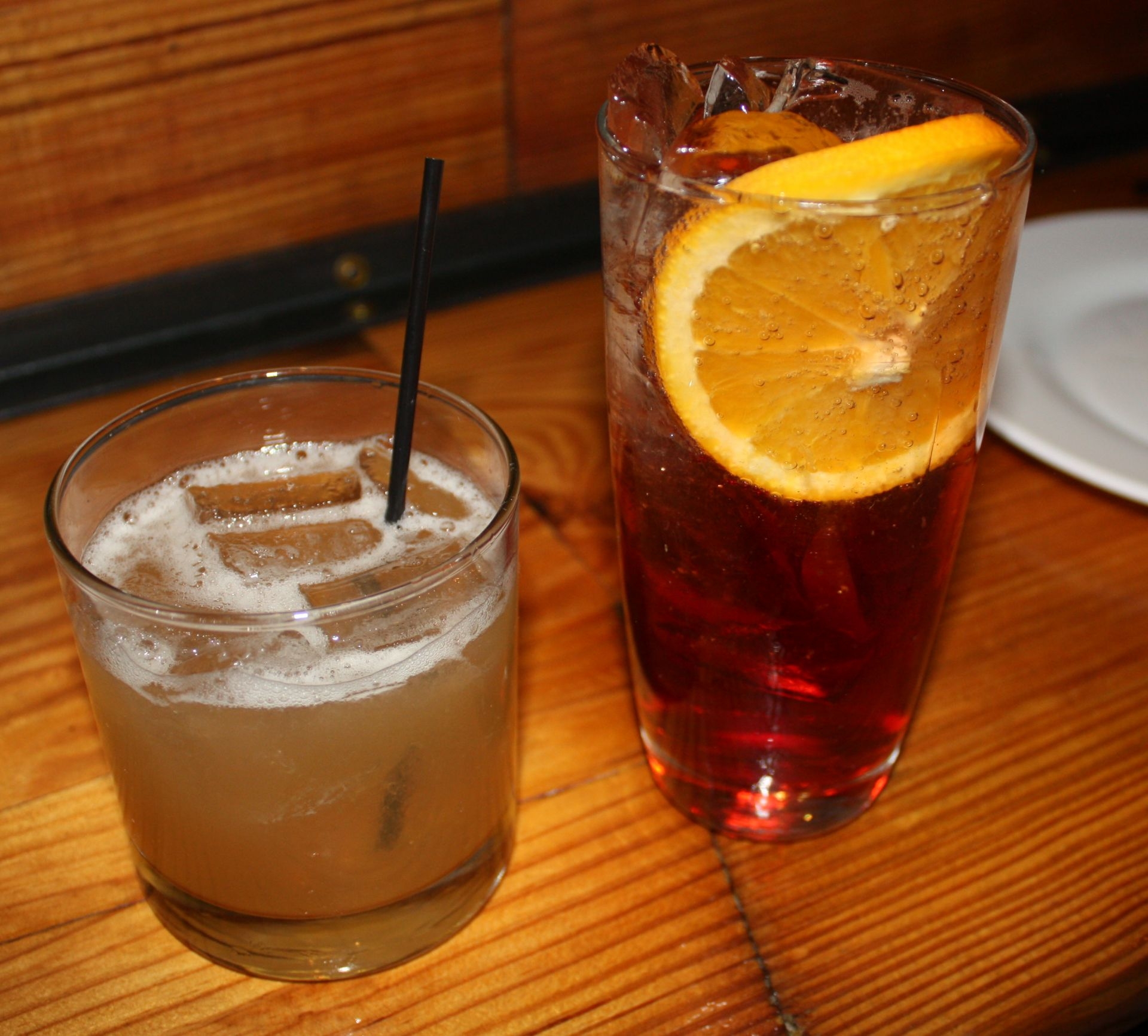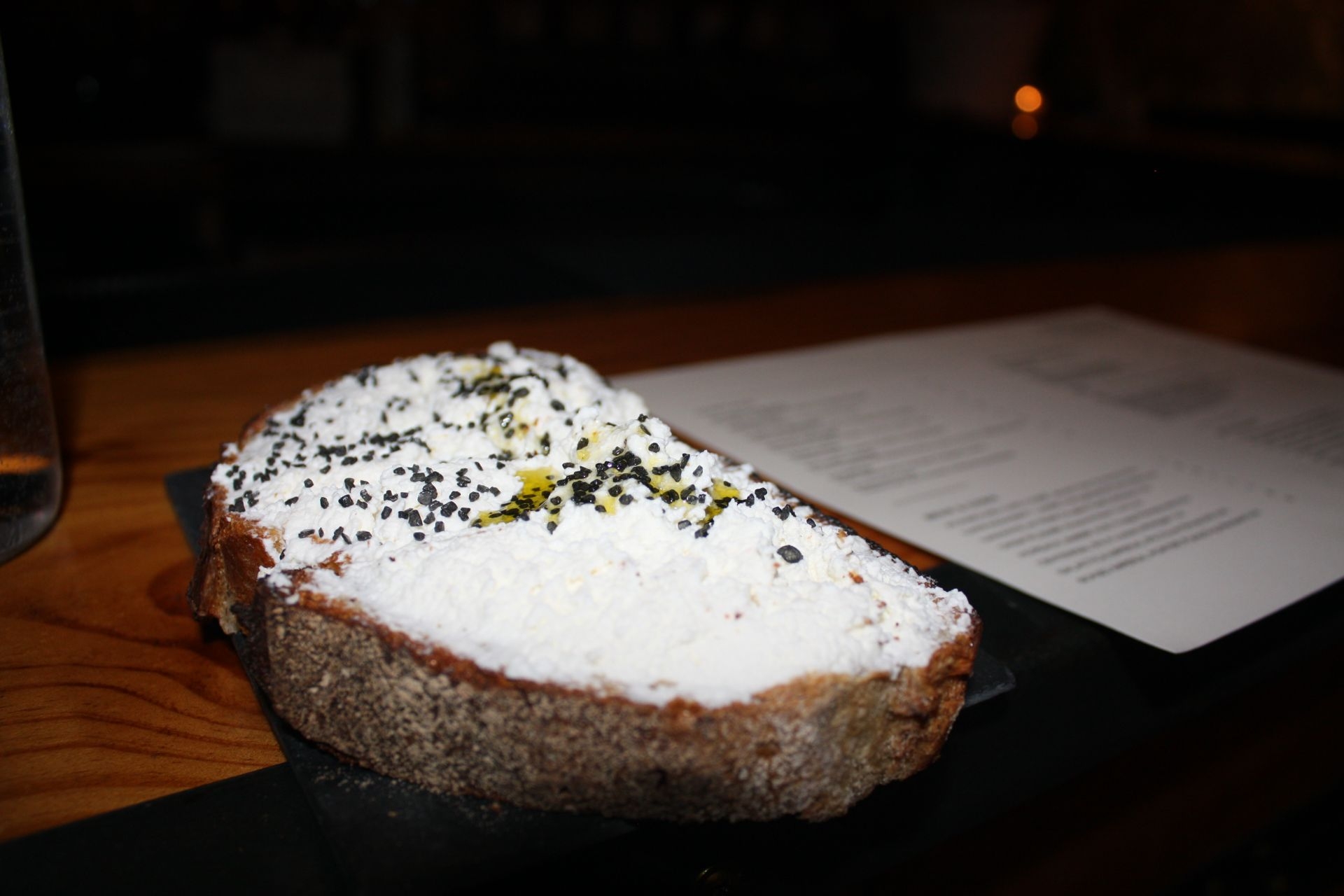 The ingredients that you choose will make a big impact on your end results. Look for some great crusty bread that's soft in the middle. For the cheese, this isn't the time to grab the store-brand ricotta. I decided to shop locally and support some great Jersey City businesses. I visited Prato Bakery and picked up two types of bread: a multigrain for some added nutrition, and an unsalted Tuscan-style bread. Both worked really well for this recipe! Prato is such a cozy, warm spot…it reminds me of the bakeries that I visited on my trip to Italy last summer. For the cheese, I decided to visit Van Hook Cheese and Grocery. This shop is amazing–not only do they have a great selection of cheese, but they also have some really interesting packaged food and snacks. I bought a ricotta cheese that's made by hand in Vermont. It didn't disappoint. I had to stop myself from eating the whole tub with a spoon! This recipe has just a few ingredients and it's super quick to put together. Why not try it tonight?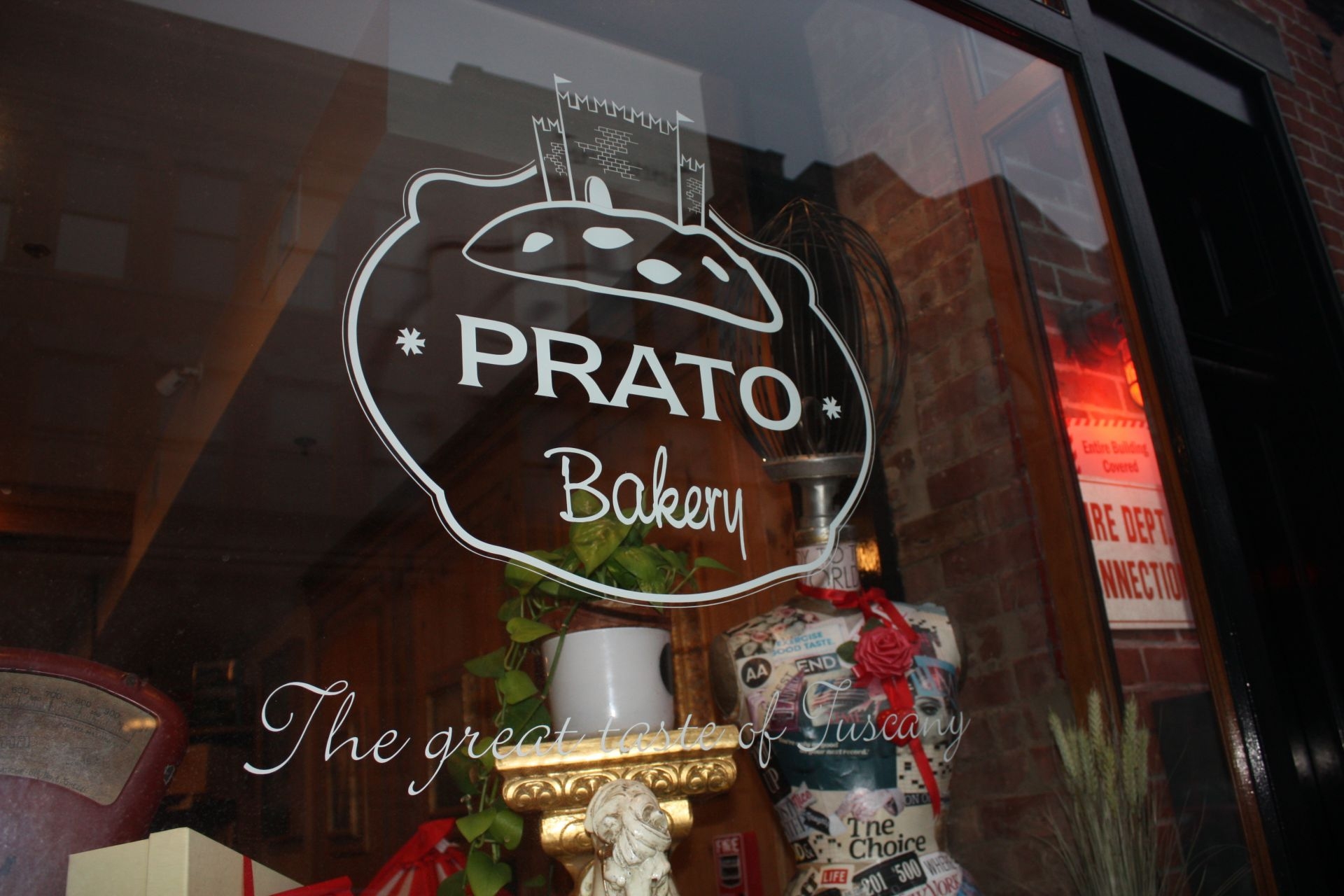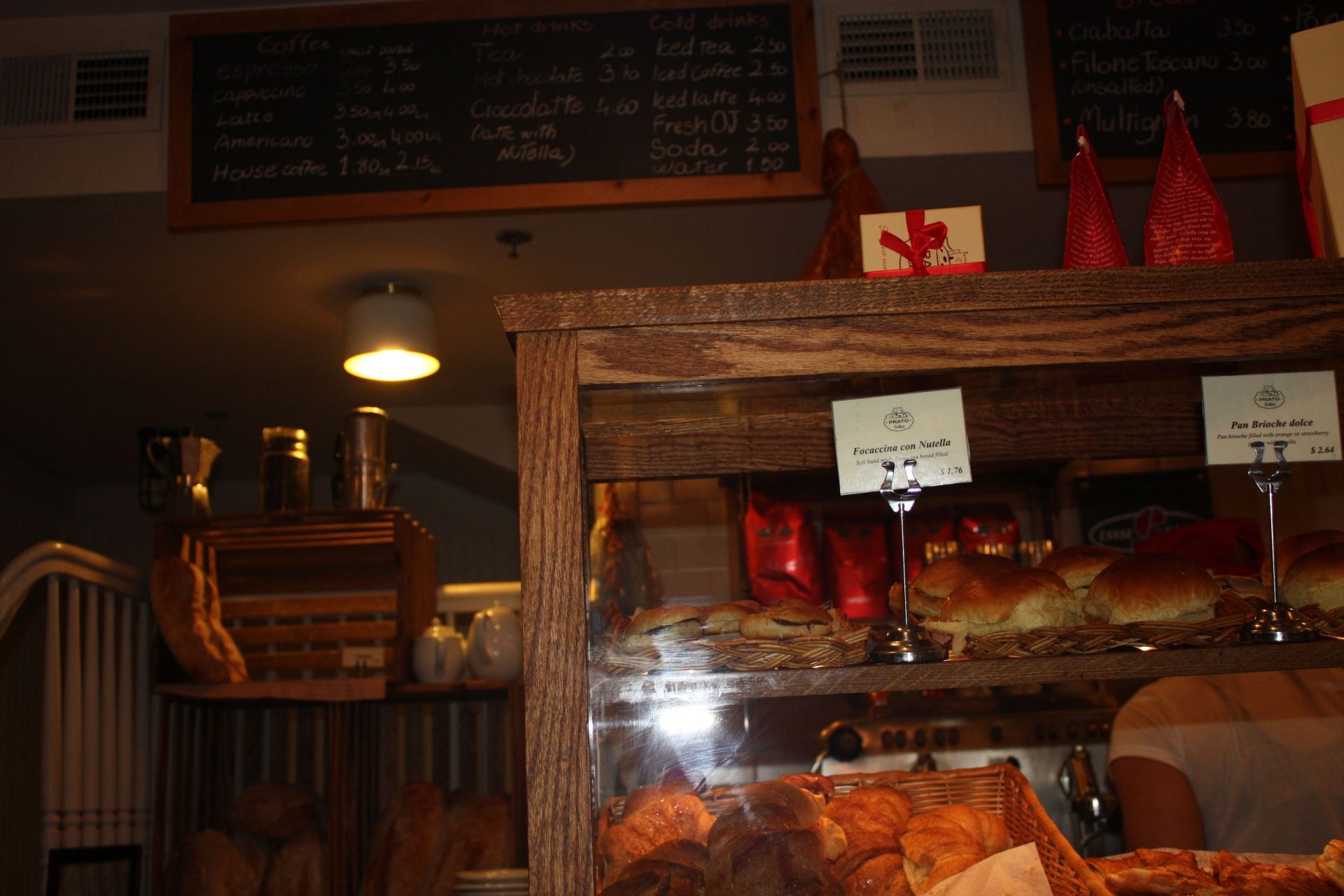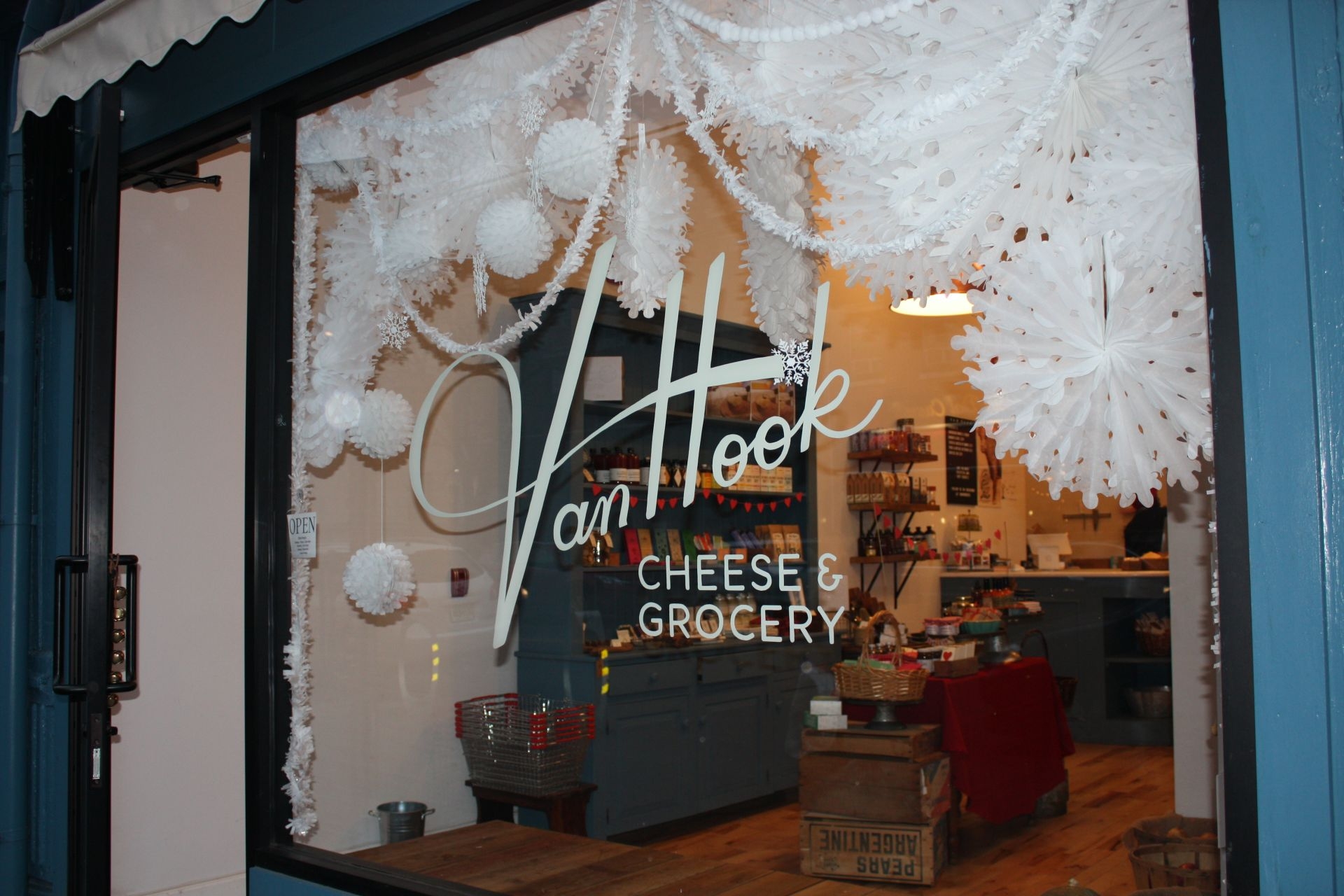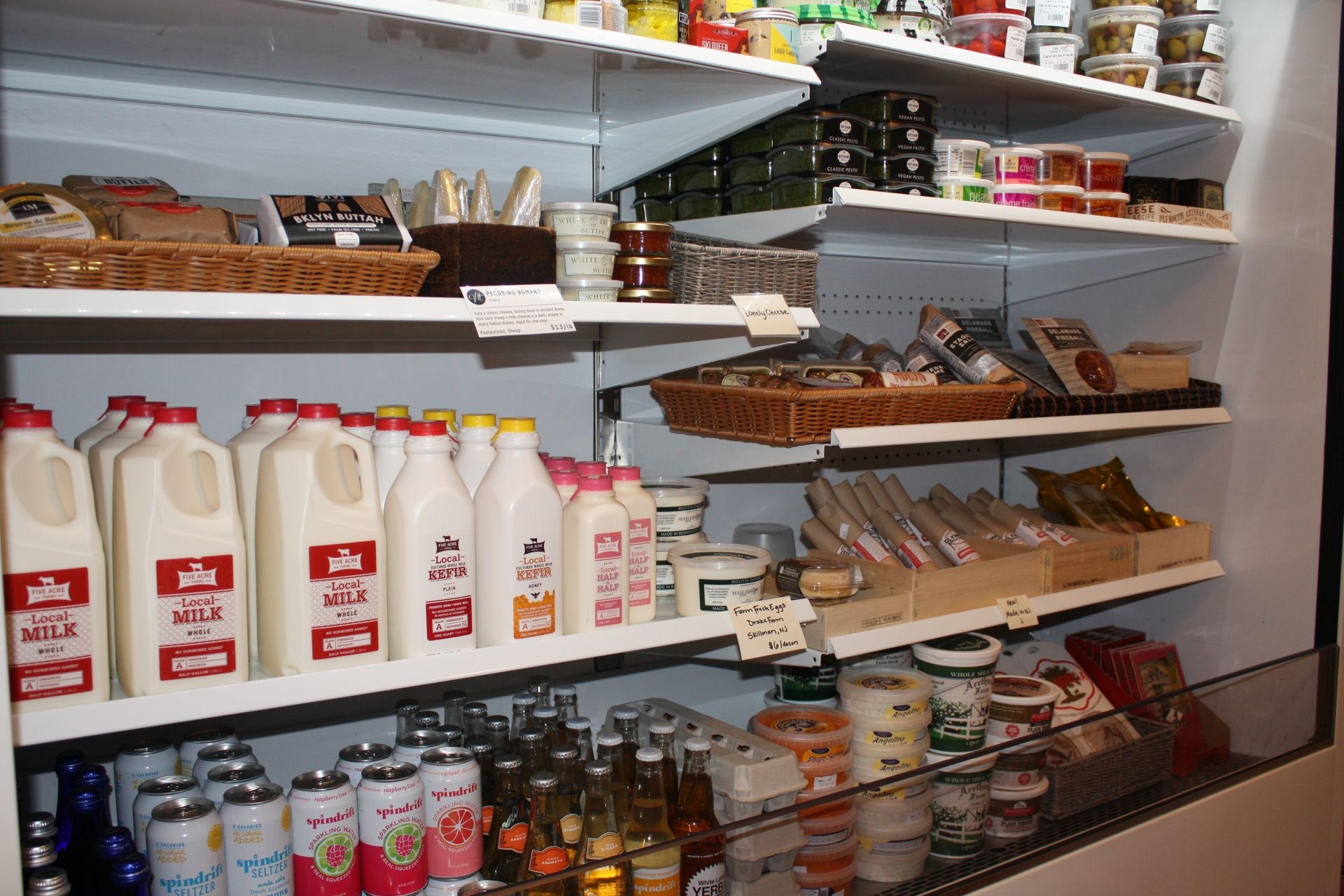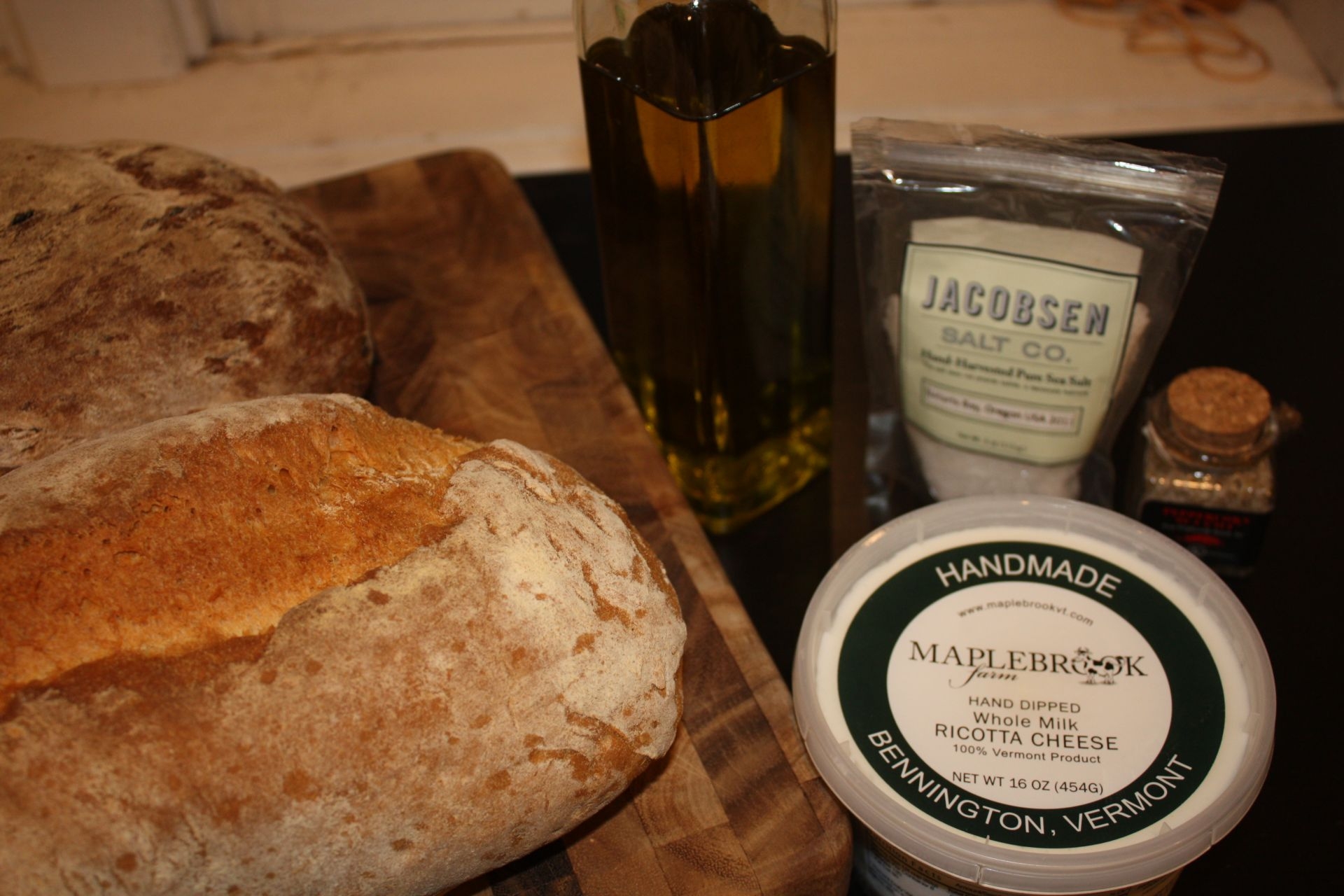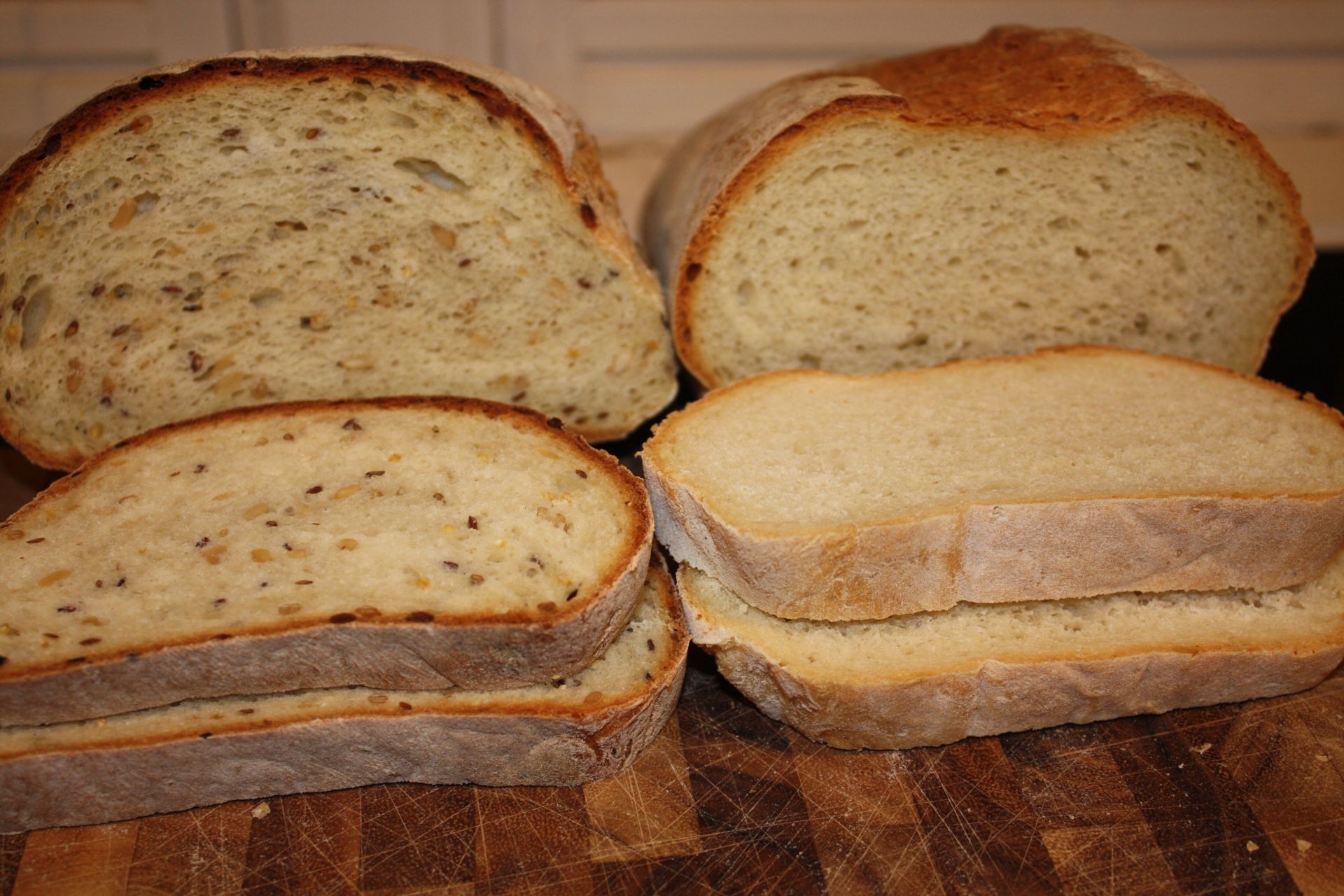 Ricotta Crostini
Serves: 1 (easily multiplied to make more!)
Time: 10 minutes or less
Ingredients:
Good crusty Italian-type bread: This is worth a trip to a bakery or at least the bakery section of your favorite grocery store. I got mine from Prato Bakery here in JC and it was delicious!

¼ cup ricotta cheese: Again, use the best ricotta you can get your hands on. I got some amazing Vermont ricotta from Van Hook Cheese and Grocery. If you want to lighten things up some more, you can use part-skim.

½ tsp olive oil

½ tsp coarse sea salt (or more/less to taste): This is a great time to use that fancy salt someone gave you and you don't know what to use it for! You could also probably use regular salt, but you won't get the crunch of the individual salt pieces.
Directions:
Slice your bread. My slices ended up about 5 ½ inches long and 3 inches wide. Make sure your slices are thick enough to stand up to the ricotta topping.

Toast the bread on the lightest setting of your toaster. You want the bread to be warm, and the crust to be crispy, but the inside of the bread to still be soft.

Spread the ricotta cheese on the bread.

Drizzle the olive oil on top, then sprinkle the salt over it. Enjoy!