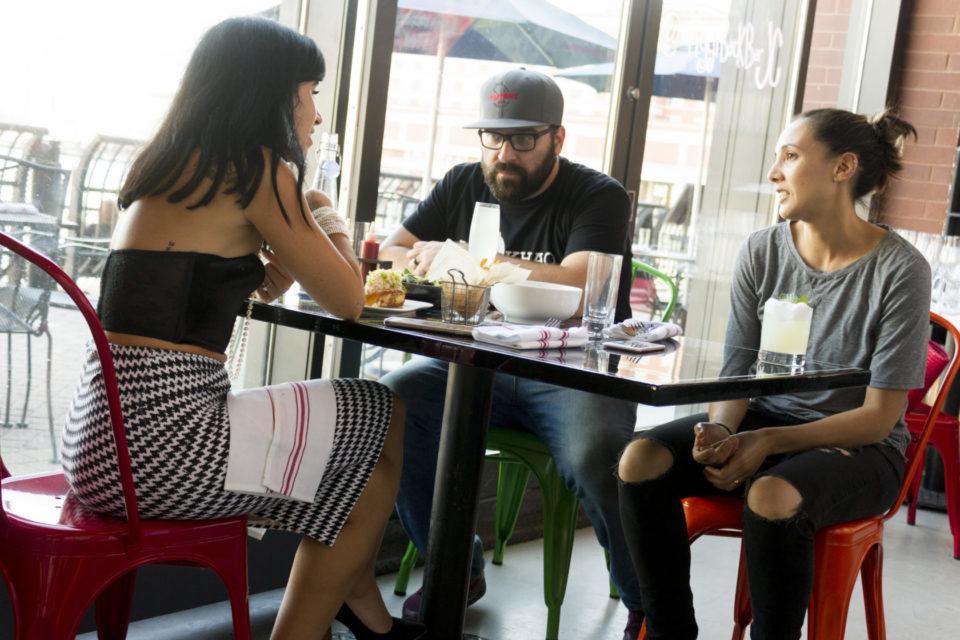 The Waterfront has seen some incredible changes in the last decade. That being said, it was always a pretty corporate area with a few coffee shops and lunch style eateries. The waterfront was not really a place you would go to on a night out to enjoy a dinner… all that is changing.
The Mack-Cali peeps have been changing the Harborside area at an extremely fast paced rate. Opening new pop up shops, restaurants, the Lutze Biergarten, which is a huge hit, throwing epic events like the Beer/wine/whiskey festivals and most recently showing the big Mayweather x McGregor fight, which attracted more than 1K people. They are trying to activate the area, and it is becoming the next spot where people can eat, play, live and work. Even recently, they launched a ferry from Harborside that will bring commuters to and from Manhattan.
Piggyback Bar is their latest addition to the waterfront and is the second restaurant for Chef Leah Cohen and her husband/co-owner Ben Byruch of Pig & Khao, which is located in the Lower East Side.
Piggyback Bar features a menu of elevated American bar fare fused with Asian flavors, which is complemented by a list of Asian-inspired cocktails developed by the team from Black Crescent, an extensive beer selection and a thoughtful list of wines by the glass.
I joined Leah and Ben for lunch at Piggyback bar and got to try a few of their dishes and drinks as well as hear their vision for the future. I really enjoyed the vibe and looking forward to coming to hang out more on the waterfront. You really can't beat those views.
What I was happy to hear is that most of their employees are from Jersey City. I think it's awesome when a new business engages with the local community and gets involved.
Welcome to Jersey City Piggyback bar!
---
What's your name?
Leah Cohen
What do you do?
I'm the chef owner of Pig & Khao and, now, the newly Piggyback Bar in Jersey City.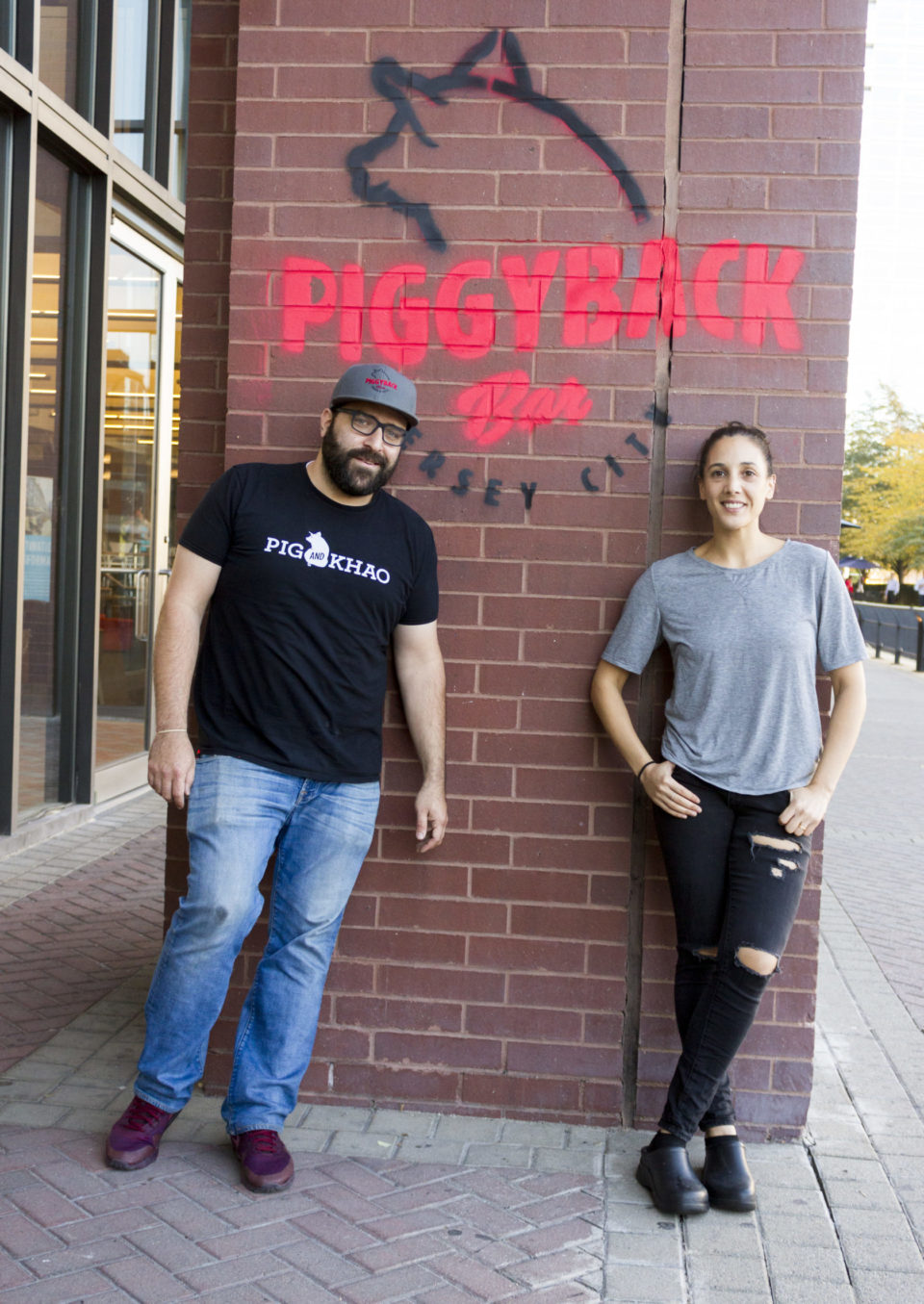 Why Jersey City?
We wanted to expand the brand and we wanted to do it in a different state, but we didn't want to do somewhere that was too far that we couldn't go back and forth between the two restaurants. Since Jersey City is so close, literally 4 minutes on the PATH train, it made sense that it would be our next location. Plus, when we met with Mack-Cali and we saw this beautiful view and the space, that was a huge selling point for us.
Ben: Also, how cool Jersey City is, we really knew nothing about Jersey City.
Leah: I had no idea. I'm a New Yorker, born and raised in New York, and I've never visited Jersey City. I've been to Hoboken twice, so we didn't know what to expect. When we saw it with all the cool graffiti and everything, it just fit into what we do and is a very close extension of what we do in the Lower East Side.
I used to live in the East Village, and I moved to Jersey City ten years ago. It's crazy seeing the restaurant scene change here. It's great to see you guys here! How do you feel being part of the Jersey City community?
Ben: We love it, we just moved here.
Oh, you moved here? Why?
Ben: We moved here because our staff is great at Pig & Khao, and we want to be able to go back and forth, and we feel like it's easier to get here.
Leah: Plus, we like to be close to wherever we are, especially for a new restaurant, because it is very time-consuming and if something happens, we're accessible. We're close to put out a fire and figure stuff out.
Ben: You also get more bang for your buck, the view is beautiful, we have a great apartment. It was awesome for us.
Leah: Everything just made sense for us.
Ben: We were looking to get a bigger space, anyway. We were able to move to a bigger apartment in a nicer building with amenities.
I love it. Tell me a little bit more about the food and what people can expect when they come eat here.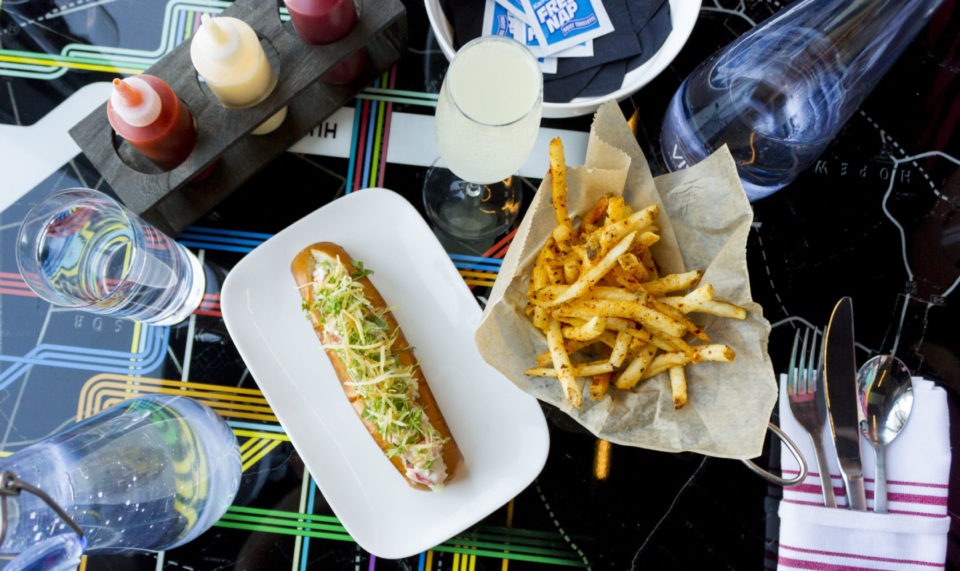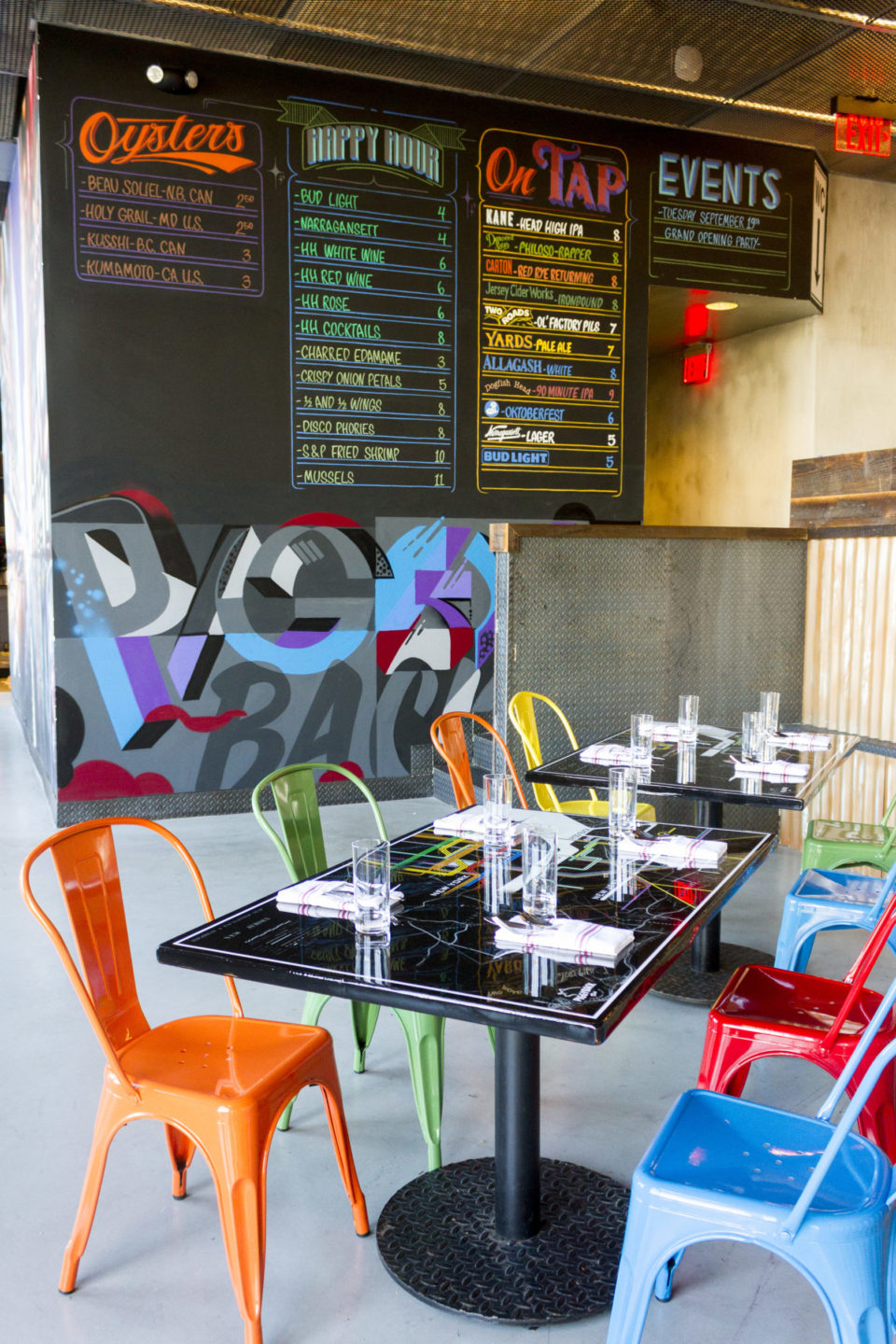 Leah: The space before us was very much set up to be a bar. We wanted to do bar food that was different than what you'd typically find and my background is in Asian flavors. That's what I do well, so I wanted to be able to incorporate what I've learned in my travels through Asia into fun bar food that you can't find everywhere. That goes for the food and the cocktails, as well.
Ben: We thought it was a great, natural extension of Pig & Khao while still being a good fit for an office building. As much as we want to be part of the Jersey City community and once we open on weekends, people can come here for dinner and brunch, we're still in an office building. I get that some people don't want a bowl of noodles every day for lunch, but a burger or chicken sandwich is more familiar and is a little bit more approachable.
Awesome! Tell me a little bit more about your background – when did you start cooking, and how did you get into it?
Leah: I went to culinary school in 2000, and I basically did European food until 7 years ago. I spent time in Italy, I got the CIA Bachelor's degree, I did the whole Michelin thing out there. Then I came back, worked at fine dining restaurants, and then kind of fell out of love with doing fine dining food. I tried to go to a more casual Italian place, which was great, and then after Top Chef, I was a chef at an Italian restaurant in the West Village. Then I lost passion for doing that type of cuisine, so I packed my bags up, moved to Southeast Asia, and haven't looked back since.
How long were you in Southeast Asia?
Leah: For a year. I wouldn't say I was backpacking, but I was in a bunch of restaurants throughout Southeast Asia. My mom is from the Philippines, so I've been going to that part of the world since I was four years old. I never knew that I understood those flavors very well, but I grew up eating those foods. It comes easy to me than any other cuisine.
How was your experience on Top Chef?
Leah: It was really hard, really intense. I was definitely not ready to be in a competition like that, but if at 26 someone asks you if you want to be on TV, you're like, "Uh yeah, why wouldn't I?" It was great. It was good and bad, both positive and negative things, but it helped shape what I'm doing now, opening Pig & Khao, all that stuff. I'm very grateful that I was on it, grateful I did as well as I did. It was very intense. Very, very hard. Very stressful.
It looks intense! How about being a woman in this industry? How do you feel it's changed?
Leah: I feel like it's a hard profession no matter what, you just have to try to be the best at what you do. Sometimes people don't listen to you because you're a female or they have preconceived notions of how you are before they start working for you, but that's with any business. Once they work with you, once they get to know you, they know what you're about and then that's it.
Ben: And she's a beast. Once anyone sees her work, it's hard to look it as, "Oh, my boss is a woman." It's more just like, "Wow."
Did you guys get a chance to explore Jersey City a little bit?
Leah: A little bit. On the weekends, we've been trying to. We're here in the morning, and then we get out of work and go straight home because we're exhausted. Or we go to Pig & Khao after work. We've been to Talde, and we've been there before we even moved to Jersey City. We went to Ani Ramen, it's awesome. They're super cool.
Ben: Ani Ramen and Talde are the places that feel, to me, the most New York and similar to what we do.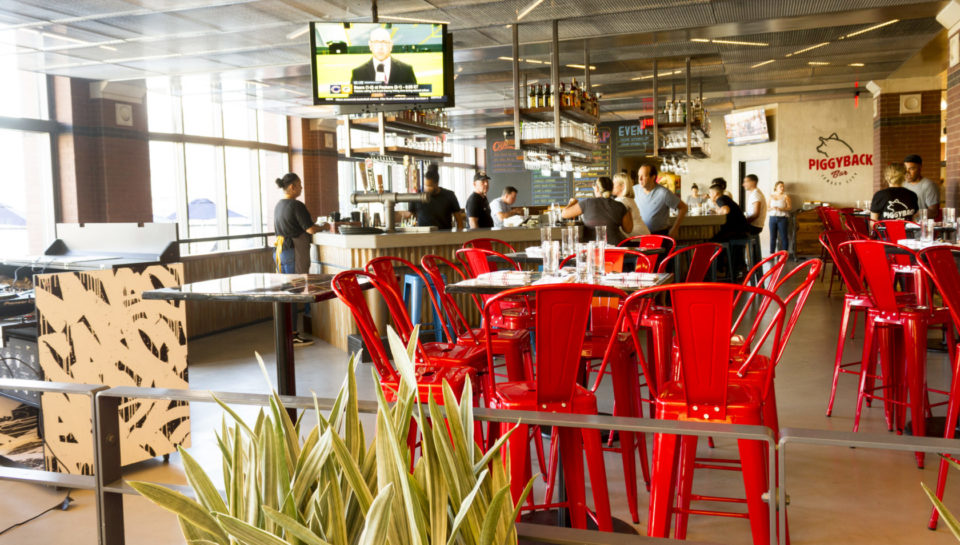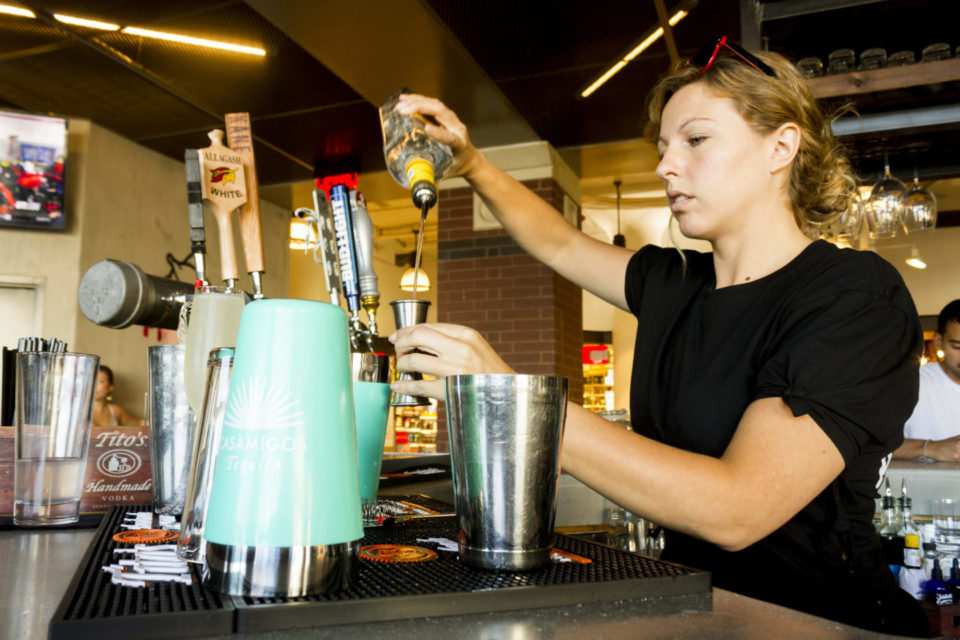 What would you say about the gentrification situation going on in the area, with Jersey City trying to be like New York?
Ben: I don't think Jersey City's trying to be like anything, which is what I really like about it. I feel like Jersey City feels a lot like a cool, emerging version of Wynwood. I think Wynwood is the coolest neighborhood in America, by far. As long as there's still a place for people that are from the city, and anything that comes in brings something new and a different angle, I think that is awesome.
Leah: Everyone who works here is from here. It's actually quite refreshing having staff from Jersey City as opposed to New York because it's a bigger pool with less restaurants and you get quality employees that want to work for you and do a good job.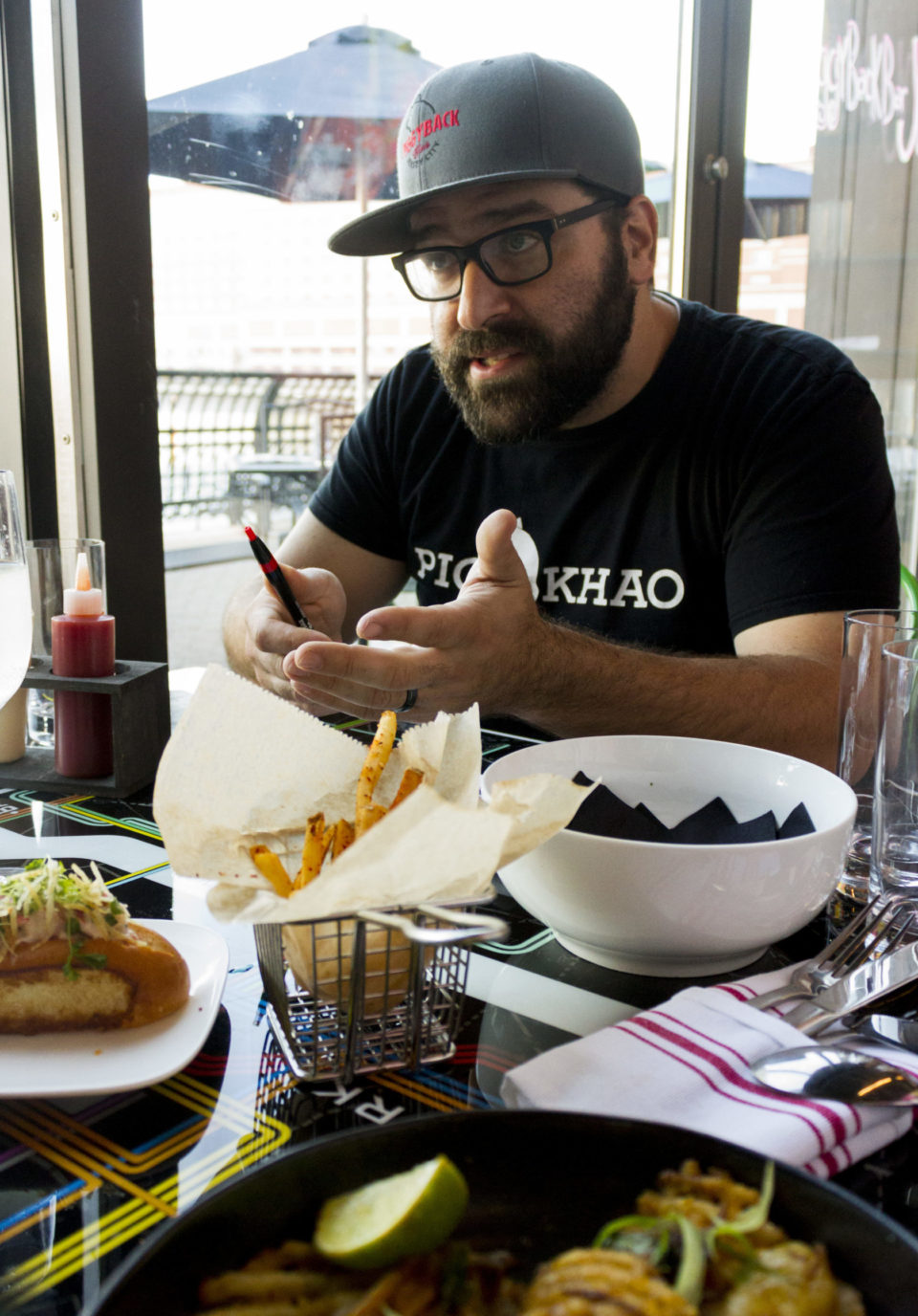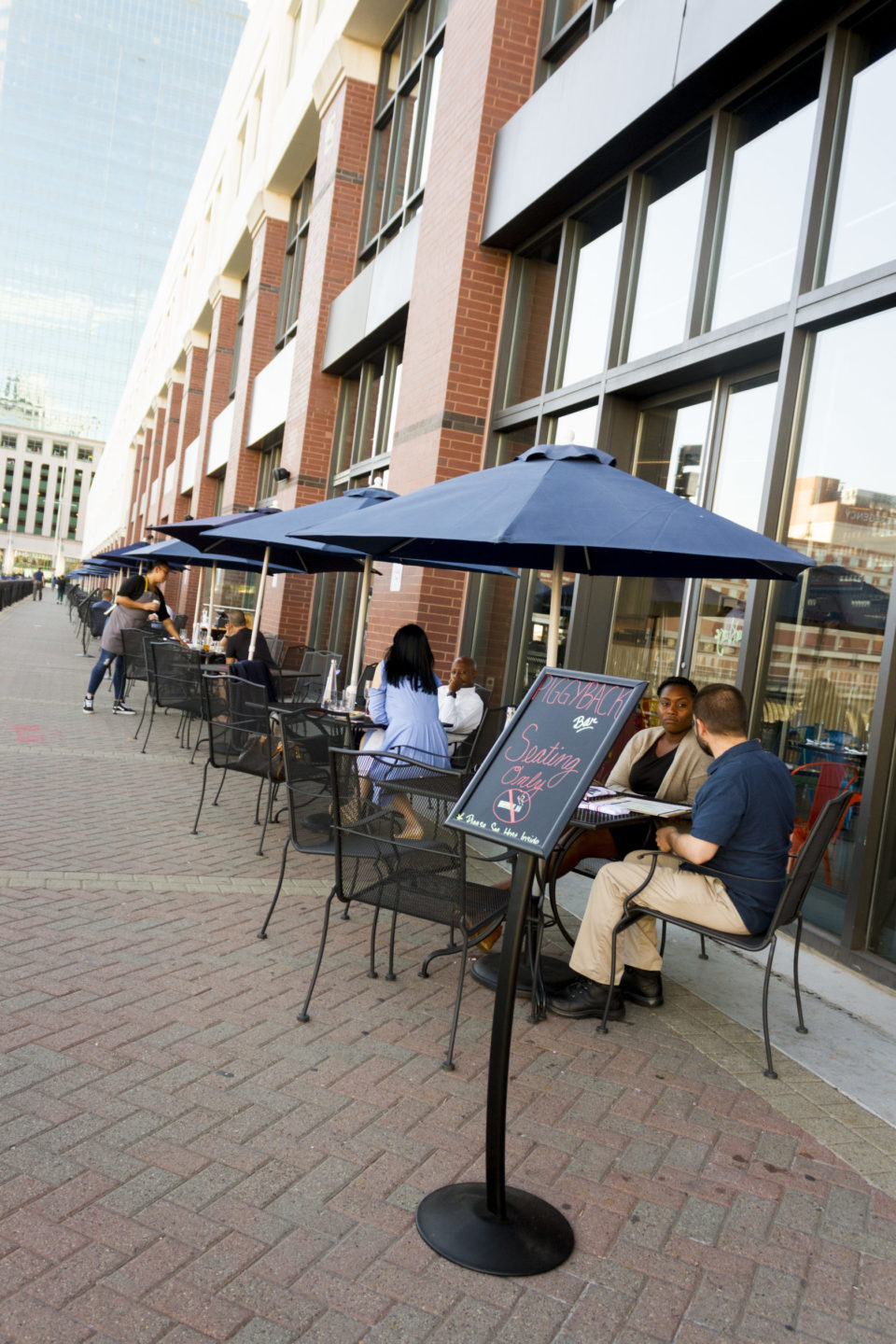 And you guys are also kind of the first to shape the Waterfront and what it can be. 
Leah: It's crazy because it's beautiful and there's so much potential, and that's one of the things I think is so great about Mack-Cali. Mike Demarco sees the potential and he's a native. He wants to activate the space and wants to make it a destination for people. I'm all about what he's doing. It's great for us, it's great for the Jersey City residents, it's great for Mack-Cali. It's a win for everyone.
Ben: As for our space, the outside space is still a work in progress. We did put our logo on the tables, but we're going to spruce it up in the spring.
And this view, you can't beat it.
Ben: It's awesome! We're going to have a DJ every Thursday for Happy Hour, which starts around 5. We'll have happy hour specials, we're doing events outside and in the atrium, the menu will have specials on it. We'll probably have daily dinner specials, and they'll always be different.
You can find Piggyback Bar at Harborside on 200 Hudson Street. You can also check out their website and Instagram.