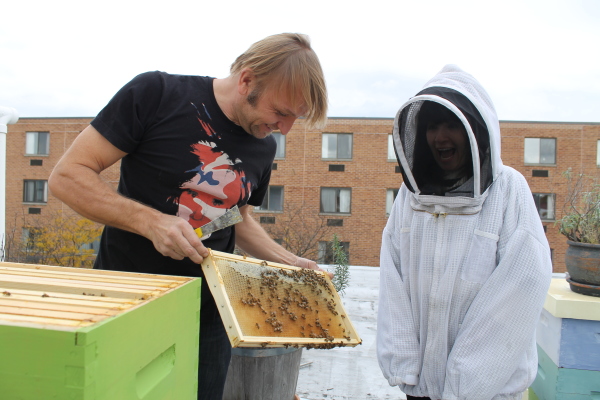 When I interviewed Dennis from Damaged Wear, I asked him if he knew of any interesting people I could interview in The Heights. The first one was Bobby Black, editor of High Times Magazine… He also told me about his neighbor across the street who was a bee keeper. My reaction to that was "There is a bee keeper in The Heights?!". On this one block you can get some cool gear from Dennis and chill in his amazing garden, then walk over to Bobby Black to "chill" , and then for munchies head over to the "Oh Honey" household for healthy treats. #bestblockever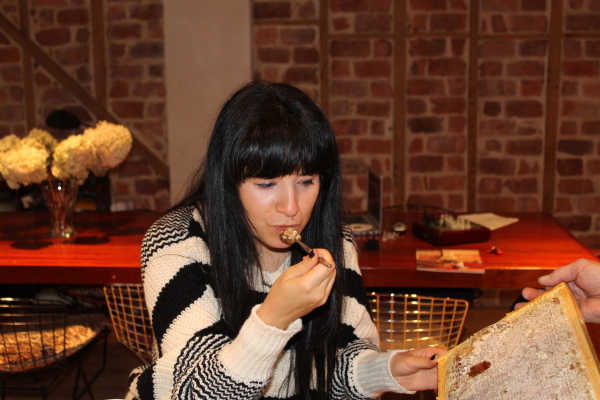 I went to check out their booth at the Farmers Market one day to meet Darius and at the same time taste the honey. I loved it! the fact that this honey is cold extracted and raw is amazing but when I heard the bees where also untreated I knew I had to hear more. Darius and his wifey Tine invited me to their home in the heights to meet them and talk about, well you guess it Honey! I also got a chance to wear a suit and handle some bees myself, I think I was screaming the whole time while trying to remain still. It was sort of scary and I felt like such a wuss after. Maybe going to Bobby Black's home before this one isn't such a good idea after all. #paranoia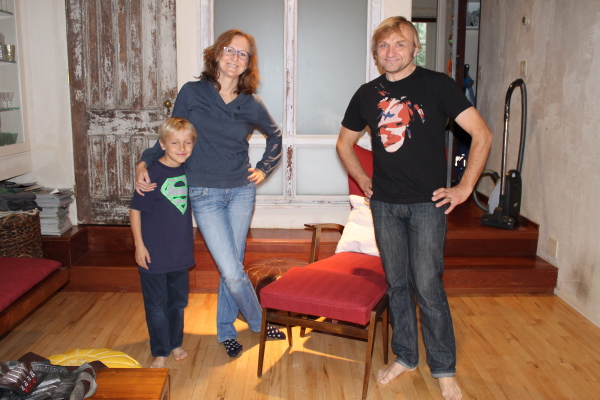 How did Oh honey start? (Darius) I came to this country as an artist and started doing other stuff to make money… because you cannot be a starving artist for the rest of your life! I built this house which is a part of my artistic expression. I designed everything, this was my project.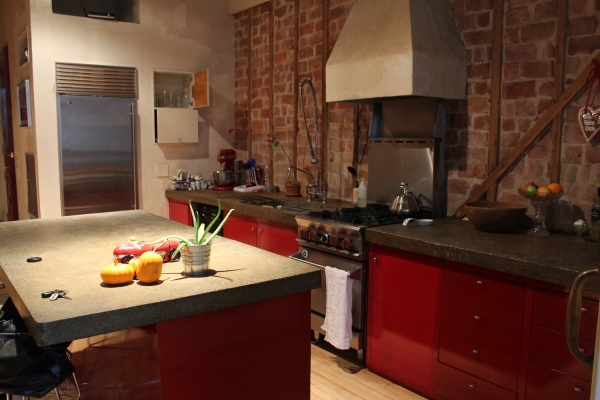 Bee keeping is also sort of an art form because there is a lot of science involved but a lot art in it as well. You can't just read a book and then do it… since its always different…The thing with bees is I am always learning new things about them; Their society and how they live. Most animal kingdoms its 50% male and 50% female but in the hive its 90% female and 10% male and one queen.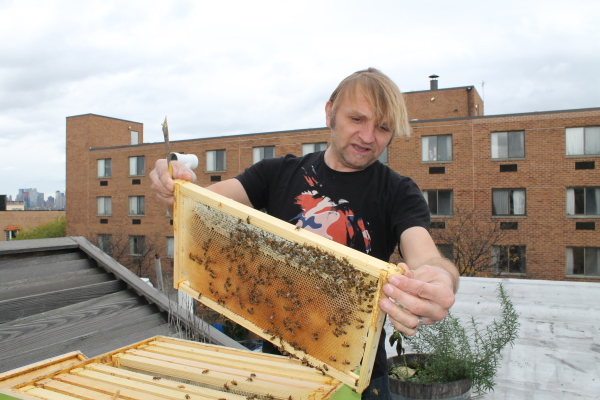 I love that haha! Girl Power! The female bees they are working bees, except for the queen. She is also working but laying eggs, that is her job. If she is not performing well they kill her and make a new queen.
(Tine) That's called a dud.
Wow. So if she's a queen and not pulling her weight she's a dud. Interesting! Ok so let's rewind a bit. So there is one queen and her job is to reproduce, now there is only 10 males right? so are they just busy getting busy with the queen? (Darius) No wait. When the queen hatches she is a virgin queen then she flies out to get mated. She does that once in her life. Then she comes back and lays her eggs for the rest of her life.. so she basically goes out to collect semen and she brings it back. She goes to drone mating areas and they inseminate her… hundreds of male bees try to inseminate her. Only about 10 get to do it and then they die right after…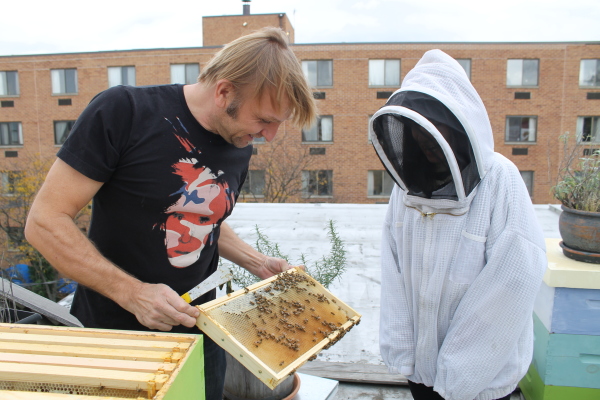 Oh wow. Queen is really going around! The lucky ones die immediately because once the penis penetrates it falls off and they die.
So wait!! when the male has sex with the female bee he dies? Yes he dies on the spot.
Does he know that? I don't know! I doubt it. But that is all they do, they don't work, they just rest in the hive after their daily flight… they eat the honey and lounge around.
Wow this sounds like a really good reality TV show! Now if you go in the hives the drones are gone, they get kicked out. The female guard bees don't let them in the hive so the drones end up dying.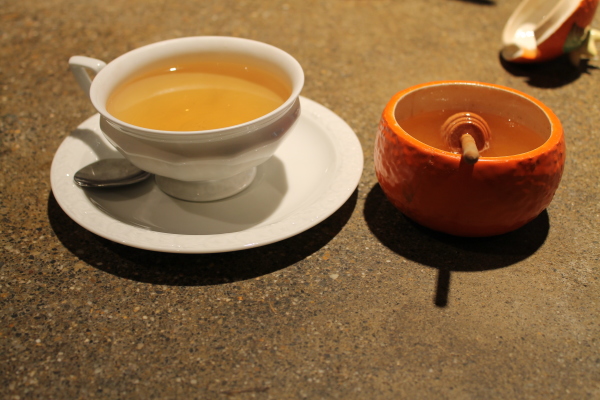 What got you to keep a bee hive? Everything I read and learned about it, I find it amazing. The smell of honey and having bees around… I love it.
How many times have you gotten stung? Pretty much every time I open the hive.
(Tine) He doesn't wear a suit.
(Darius) Sometimes I do, sometimes I don't. It depends on how fast I have to go through my hives.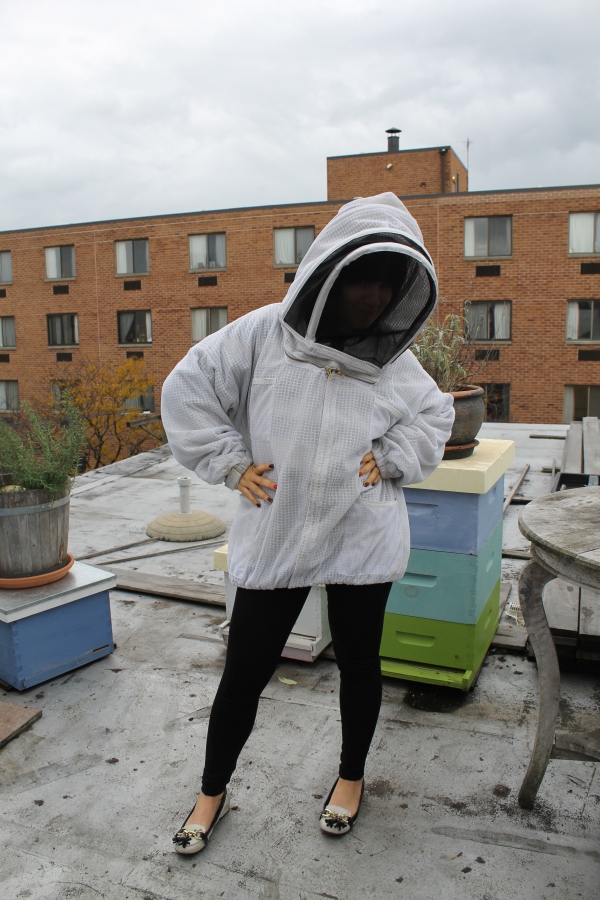 What's the process of making honey? The bees make the honey and I gather it. The honey is always different, it's dependent on the flower the bees get too…
How many hives do you have? About 60. Here in Jersey City Heights I have 6 honey-producing hives. I don't just keep them for the honey… it's a whole system. I raise new queens and make new bee colonies.
Why raise bees? I don't want to buy new bees in the spring from the South because they have poor genetics since it's like factory farming. So I make small colonies that go through the whole winter… Then some of those winter survivors become honey producing colonies, others I split to new colonies again. The idea is to be sustainable.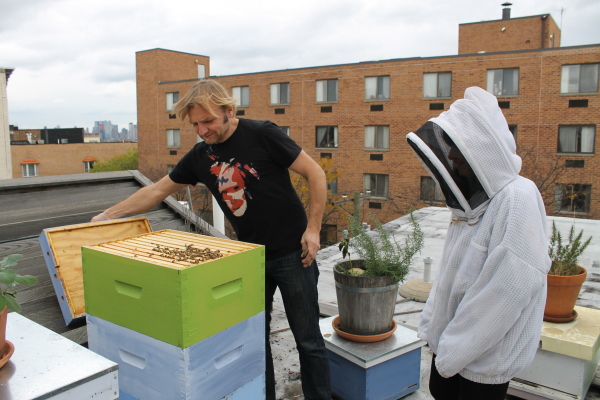 Can you tell me more about the benefits of consuming honey? The enzymes that they add, are anti microbial, anti fungal. Local honey is also very good for allergies. The bees go to the plants, collect pollen and bring it back to the hive. Pollen is actually what causes allergies for most people. If you consume raw local honey like ours that has live enzymes and lots of pollen it's better than benadryl. Honey is a much better way to treat an allergy.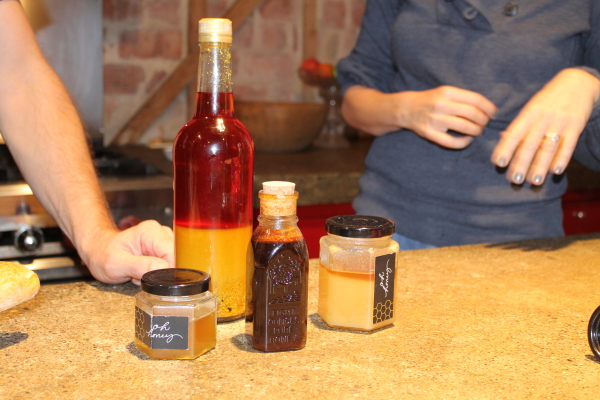 (Tine) When Darius takes the honey out, it gets put into this centrifuge thing and it spins and the honey flies out.  Then it sits in the settling tank, all the debris floats to the top. Then webottle the honey. All the good stuff stays in, that's why, if you look at the honey, you can see small bits of propolis and pollen floating on the top… it's cold extracted, raw and unfiltered. Another thing that Darius has gotten to is that he doesn't treat the bees with any chemicals which most commercial bee keepers do. I think that's what makes the honey really special.
(Darrius) So this is a honey frame. This is how it comes out of the hive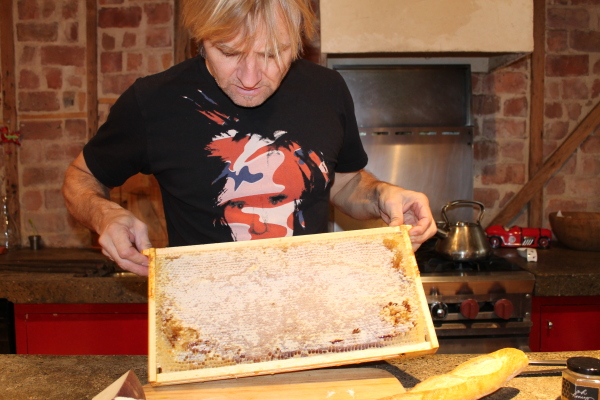 Can I eat this with a spoon? Sure!
OMG. This is so good. Yumm. It's so sweet.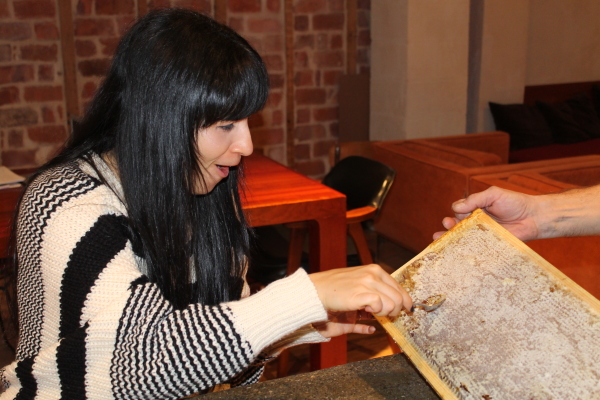 Why Oh Honey? We thought it was cute. A good friend of ours came up with it and we liked it.
(Darius) So our bees are treatment free. 99% of all bees are treated… with chemicals or medication to keep them healthy. We don't treat our bees. Once you start medicating the bees they can't live without it, Chemicals weakens their immune system and they can't take care of themselves anymore.
How much honey do you guys eat? We eat it every day. We always find new ways to eat it… or new recipes.
(Darius) We love cheese and honey.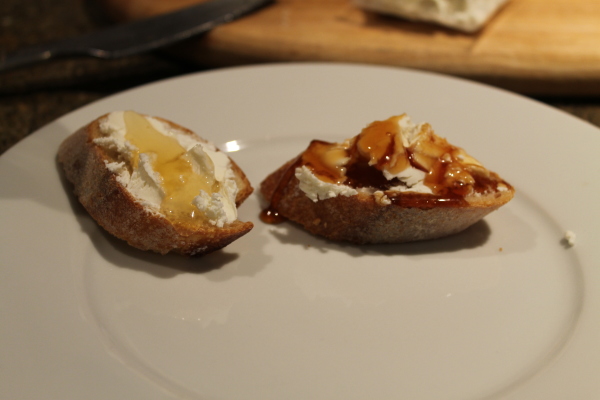 Where else do you sell your honey? Farms in the Heights and Grove Street Farmers Market, some stores… Pig and Pepper and Madame Claude Wine here in Jersey City.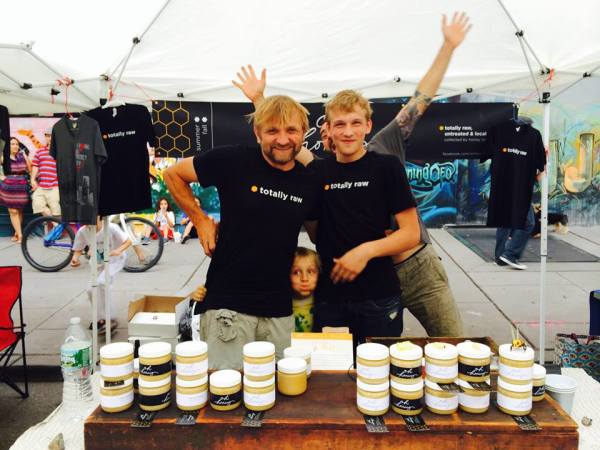 Online too? I have the online site there, but some people come pick it up and they bring back the jars for us too..
Small town farmer like… so what are your future plans for oh honey?  I have a construction business in Manhattan which is a small company and that's what pays the bills and this is like a hobby…
(Tine) But it's also a service that you provide for the community to be apart of…
So is that something you'd want to do, just make honey? Yeah – raise bees. But it's very hard to support yourself financially, because in order to be profitable you must have so many hives, it becomes too labor intensive, at least 500 hives in several large beeyards.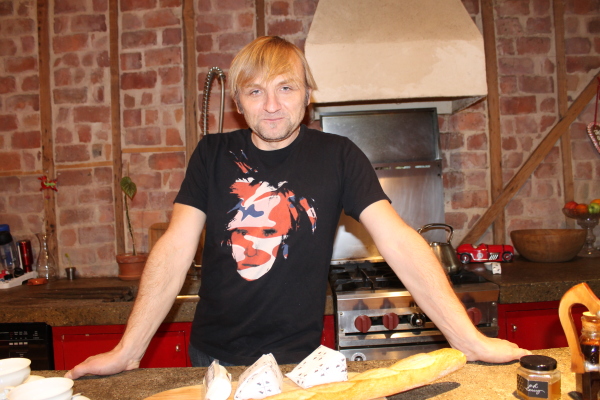 (Tine) But what we were thinking, in the future, we also have a property in upstate NY it's not yet finished, it's like a weekend project. But it's a beautiful places in the country middle of no where, we were thinking about doing bee keeping workshops there. Like a retreat. And people can come ask questions learn.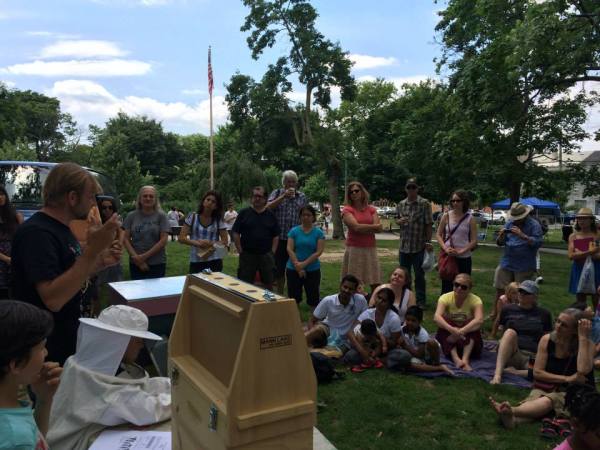 Do you guys have a favorite JC hangout spot? We used to go to Madame Claude a lot when there was nothing else around…We also like the Light Horse Tavern, sometimes we go to Satis, we've been going to White Star quite a bit, there's a play ground across the street so we can bring our kid and hang out.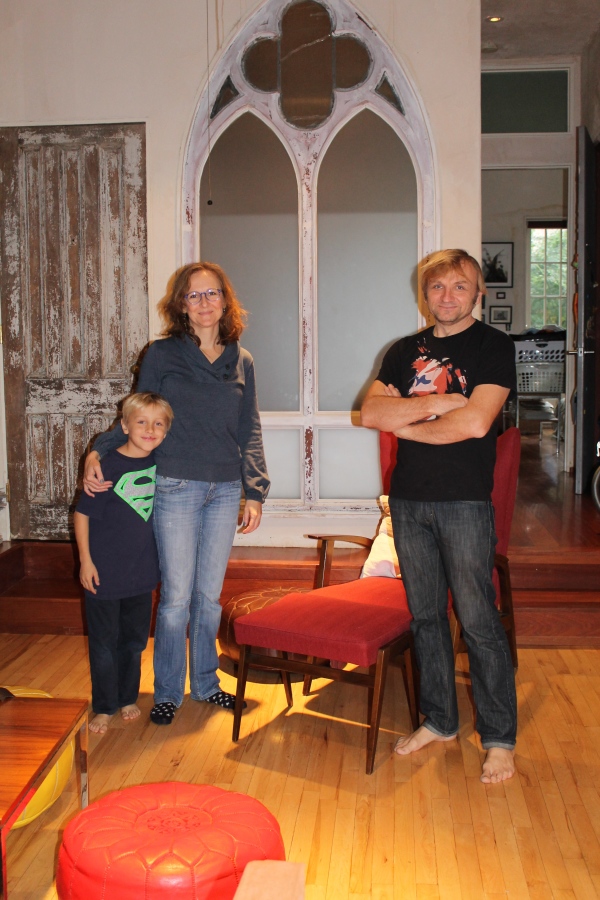 Anywhere in the heights?  Darius is such a good cook so when we are here, he cooks and like when were looking to go out we'd rather spend more money for an amazing meal once in a blue, and there isn't that much around here yet, you know…
I need to taste this amazing cooking! We often cook for and with friends and we have foreign movie nights with matching meals; it's so fun.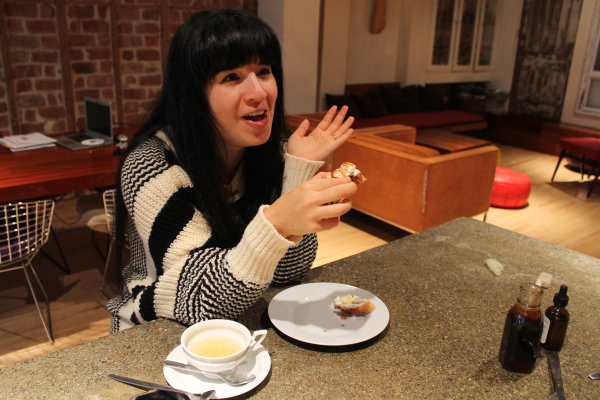 Does your son like honey as well? Yeah – he loves bread with butter and honey.  We are butter snobs though, we only buy European butter.
Any Stories? (Tine) I was at Dames getting coffee last spring, when I saw all these bees just swarming, and I called Darrius and, I'm like, there's bees swarming. Someone had called animal control and they were so happy that a beekeeper was on his way to help. So the Fire Department came with a huge ladder truck. Darius crawled up this big ladder, got the swarm off the tree with a cut-up water jug, and just scooped them into a hive box, where they eventually settled.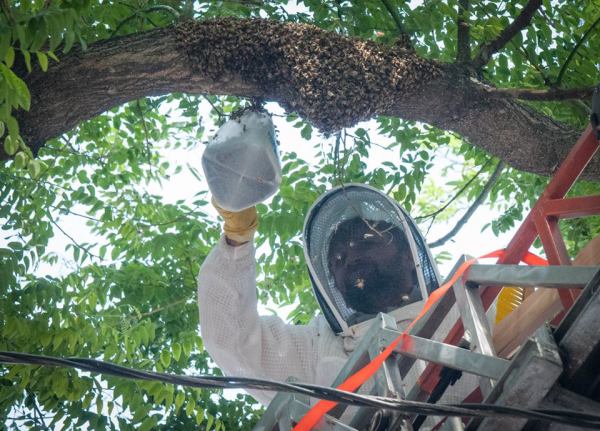 OMG You're the bee whisperer! The street was closed everyone was watching him just get all the bees.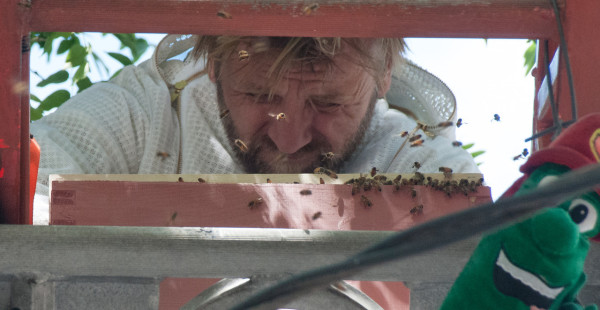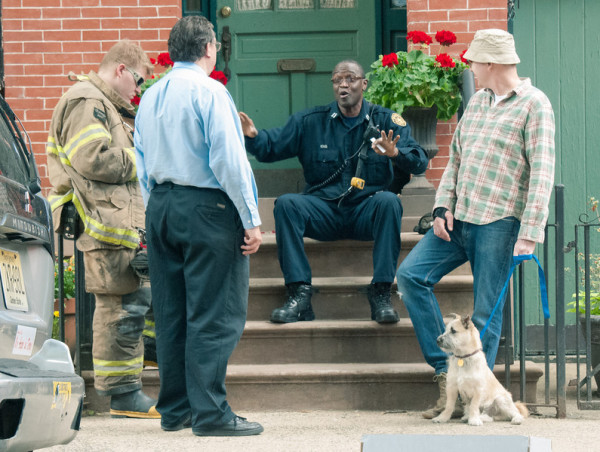 (Darius) I scooped them off the branch and shook them into the box; then left the box on top the ladder for awhile, then the remained bees flew and crawled into the box to join he family. The bees fill themselves with honey three times the weight of their body, so usually they aren't threatening at all when they swarm.
Well you guys are the bees knees!