Hippity Hoppity!
Spring has sprung and Easter week is here! As we approach the holiday, I can't help but get excited about Easter treats and crafts. If you know me personally, then you know that I consider myself to be the "Fairy Godmother of Parties." With every holiday that passes, I love to DIY most of the decorations styled in our home, and I enjoy baking cupcakes & treats with holiday themes. I run my own small party planning business, Dessert Pixie Treats & Parties, so my life often feels like one big party!
This year, my husband Robert & I are hosting friends for our Easter dinner after church. Between being a mom, an entrepreneur, and a youth leader at my church my time is often very limited. But I am always thinking of fun, quick DIY projects to create for my business & our home.
So, for the party host who needs something quick & fun, I've got you covered with easy step-by-step instructions. I'll be showing you how to create two NO BAKE Easter desserts that'll have your guests crowning you as the best party host ever! So let's get into!
Peeps Easter Bunny Candy Kabob
TIME PREP: 12 minutes or less
SERVINGS: 1 dozen Candy Kabobs
These Easter Bunny Kabobs are super cute, festive, & easy to create. Who doesn't love sugarcoated marshmallows?!
These can be used in Easter baskets or distributed individually to your guests.
MATERIALS NEEDED:
Peeps Bunny Marshmallows. I used three different packs in the colors of pink, blue, and yellow. – $3.00 total
1 pack of Bamboo Skewer Sticks – $1.00
Craft ribbon, 3 yards – $1.00
1 pack of clear cellophane bags – $1.00
ALL FROM DOLLAR TREE!
Scissors
1 small cup of water
STEP 1
Take one wooden skewer and dip half of it into a cup of lukewarm water. This is to avoid splinters. Then gently use a paper towel to pat dry. The damp skewer will make it easier for the candy to slide onto the stick as you stack the bunnies. Pull apart your bunnies & sort them in the order that you will stack them.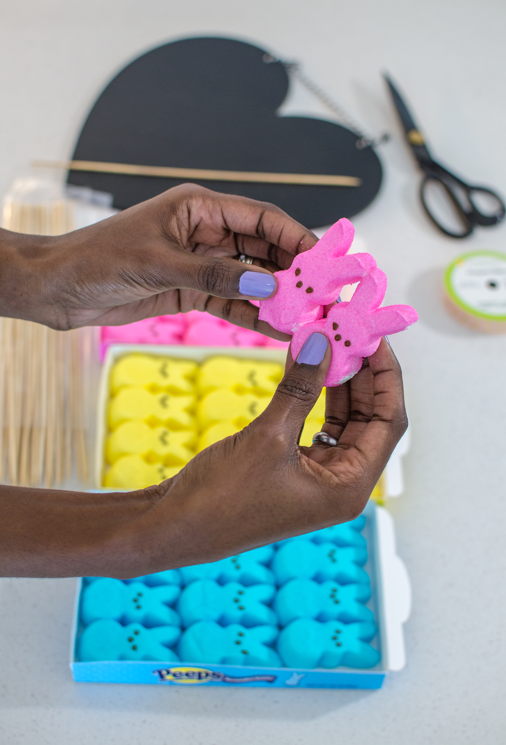 STEP 2
Gently and slowly, poke the middle of one bunny from the bottom, and then slide it down the skewer to about the middle of the stick. Repeat this step again with your second and third colors.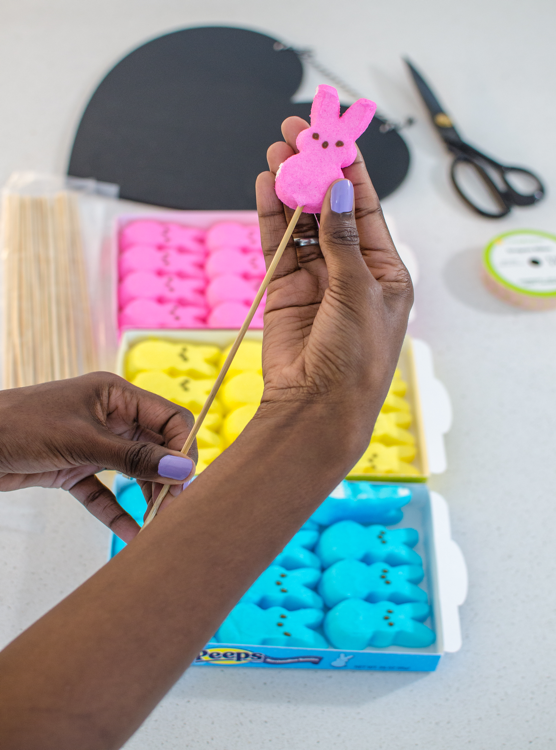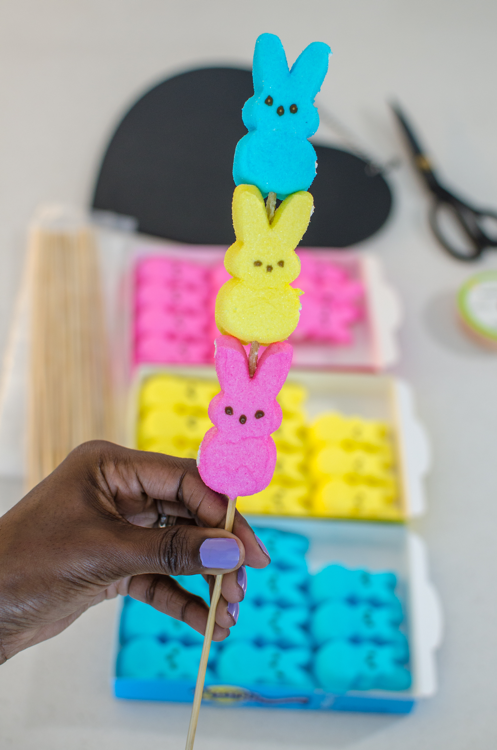 STEP 3
Once your bunnies are stacked, place your kabob into a clear cellophane plastic bag. This step is optional, but I like to put mine in the cello bags to preserve the peeps from turning a little hard due to being out in the open.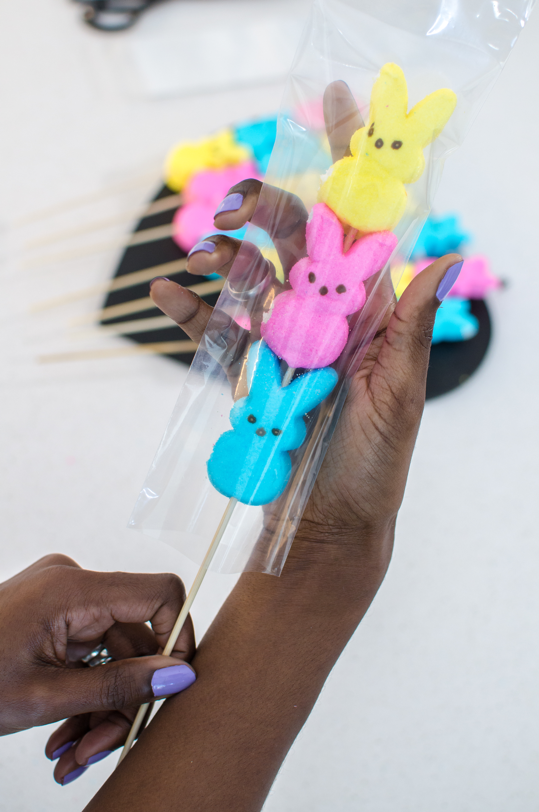 STEP 4
Cut a piece of your ribbon at finger length. Then wrap and tie it to seal the cello bag. And voila!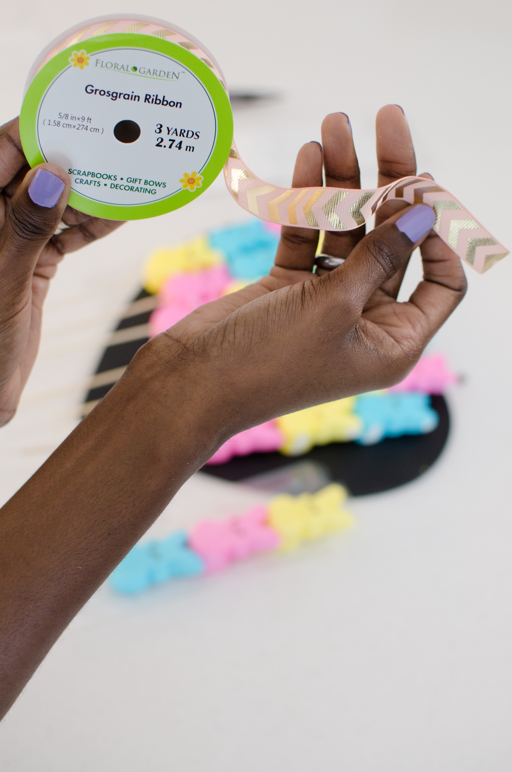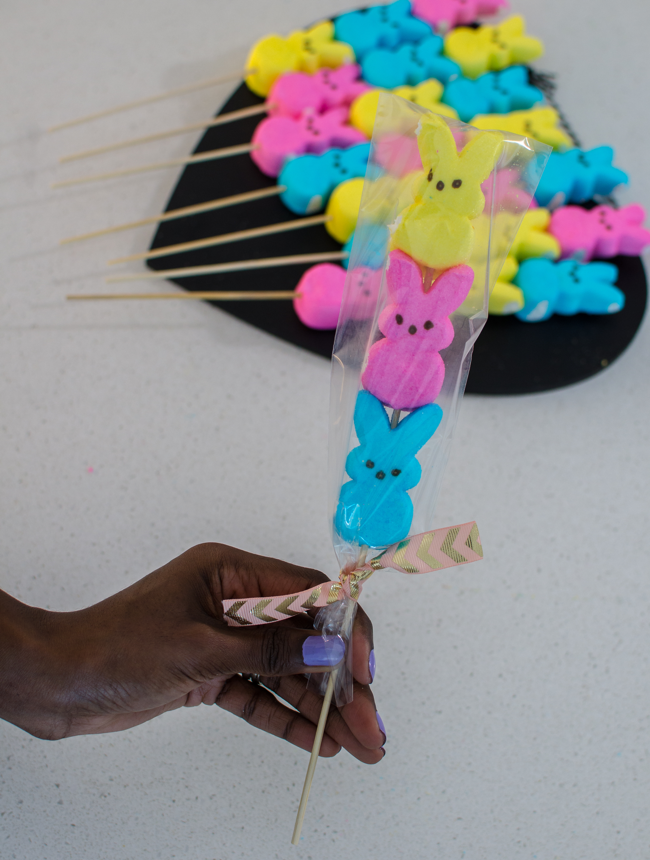 Repeat steps 1 through 4. Three packs of bunny peeps makes one dozen candy kabobs. After I finished my Bunny Kabobs, I placed them into my DIY Easter egg centerpiece.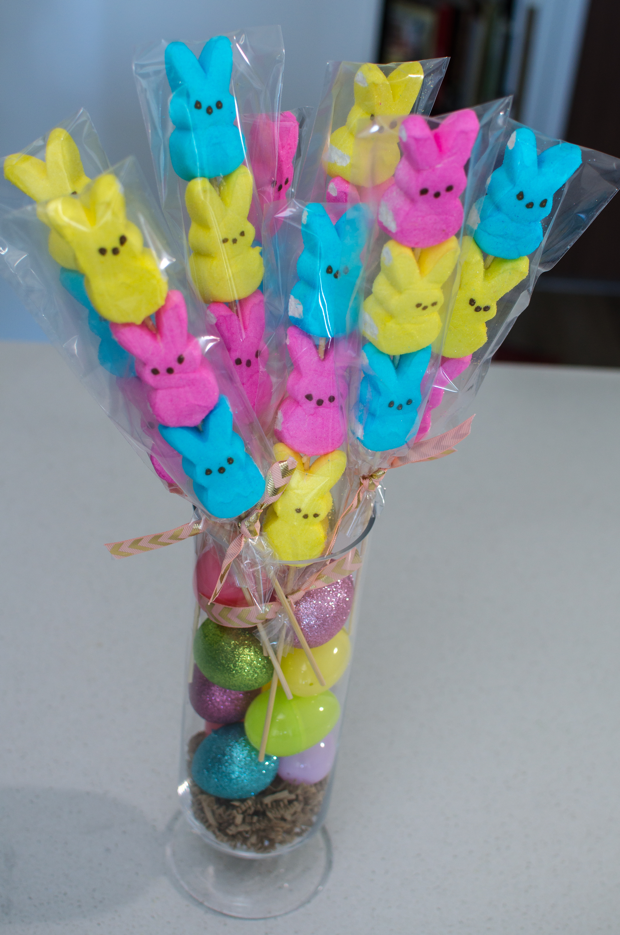 No Bake Easter Cake
I'm going to show how to transform a store bought cake into an Easter masterpiece without breaking your pockets. There will be no hot & messy kitchen on this Easter!
MATERIALS NEEDED
5 inch cake – $8.99 from the Shoprite Supermarket Bakery
1 bag of Whopper Robin Easter Eggs – $2.00
1 Russell Stover Chocolate Bunny – $1.00
Wilton Spring Sprinkle Mix – $2.00
Two Tooth Picks
Cake spatula
Sharp cutting knife
Saturday and Sunday will be such a busy day of Easter prep for me, so I'm 100% sure that I won't be able to bake as much as I would like to for our Easter dinner. Yesterday, I went to Shoprite just to browse the bakery to see which cakes they were selling this week. I wound up purchasing a five-inch chocolate mousse cake for under $10—what a steal! It looked so yummy that I couldn't resist. Next, I went down the seasonal aisle and picked out some of my favorite Easter candies to decorate the cake with.
Here's how I transformed my store bought cake into a unique Easter bunny cake:
STEP 1
Open your bag of Whopper Robin Eggs & choose random sizes and colors to cut in half or into small pieces. Once you cut the amount of eggs that you desire, place them into a bowl – I used half almost half of the bag.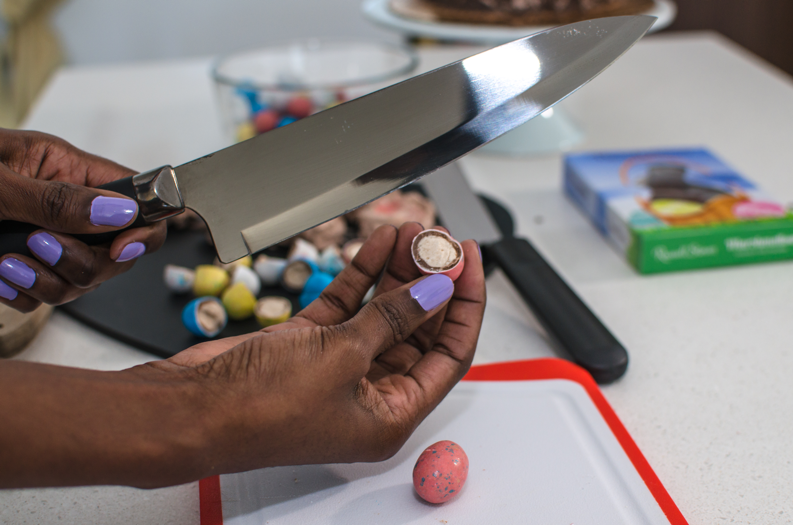 STEP 2
Remove the cake from the box. Using a small cake spatula, gently remove the cherry from the center. Next, proceed to remove the piping on top of the cake. Once all of it is removed, gently smooth out the top of the cake.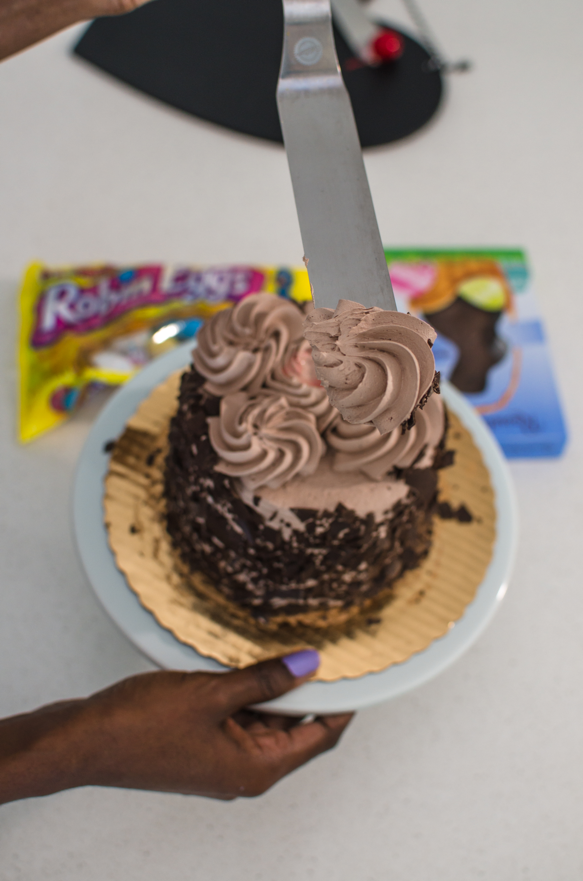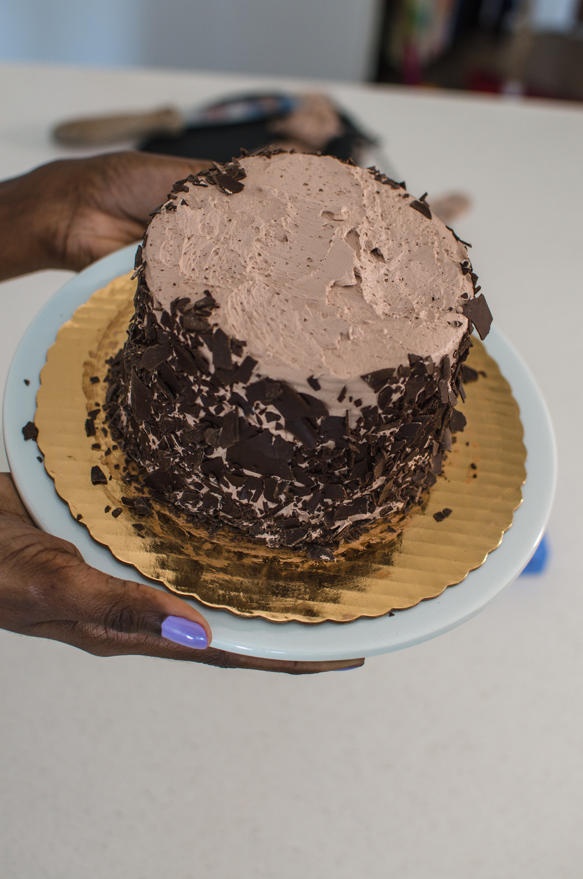 STEP 3
Using a smooth cake knife, I gently removed the chocolate shavings in one section of the cake. Try not to remove too much of the frosting as you go, because you will need the frosting for the next steps.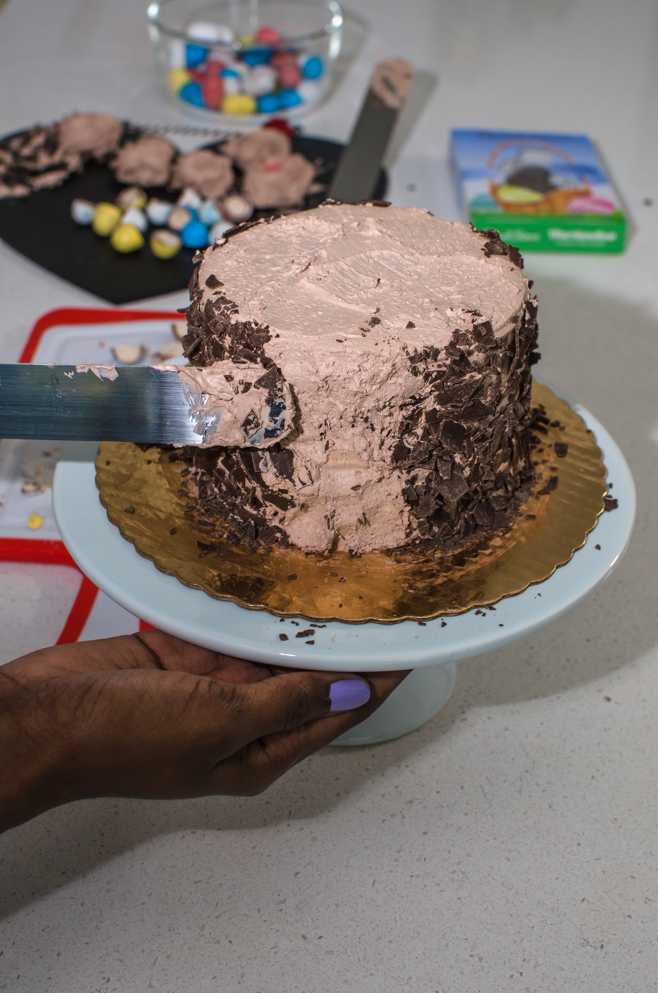 STEP 4
Using the cut egg candies, gently start placing different pieces in the open space on the cake, starting from the bottom and work your way up to the top.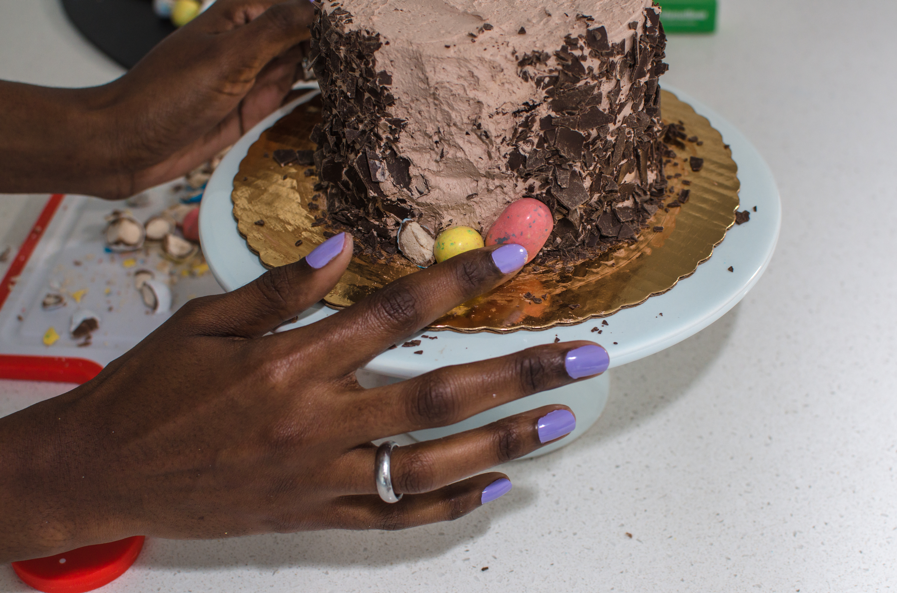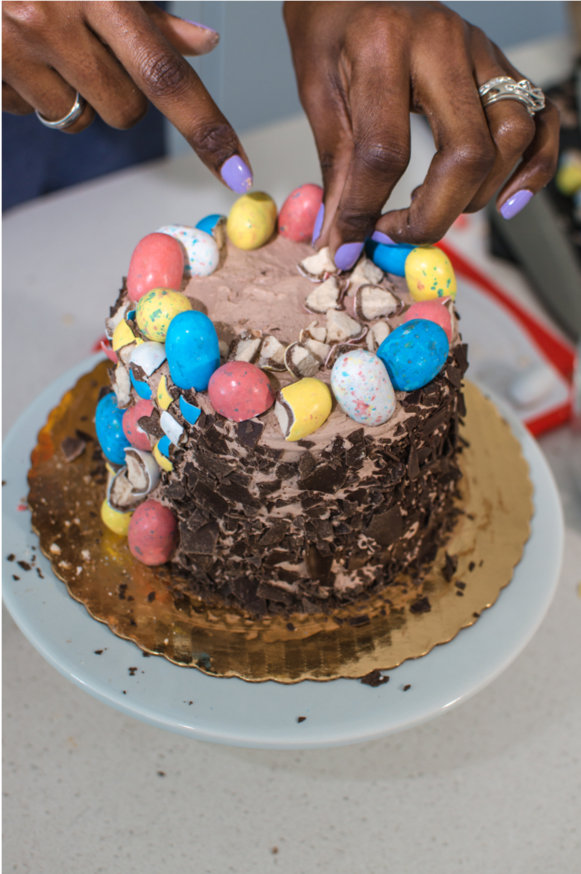 I placed full sized eggs around the top edges.
STEP 5
Gently insert two toothpicks into your chocolate Easter bunny from the bottom. Make you sure you insert one toothpick in left side as well as the right. This will help to keep your chocolate bunny steady in the center after you press it down into your cake.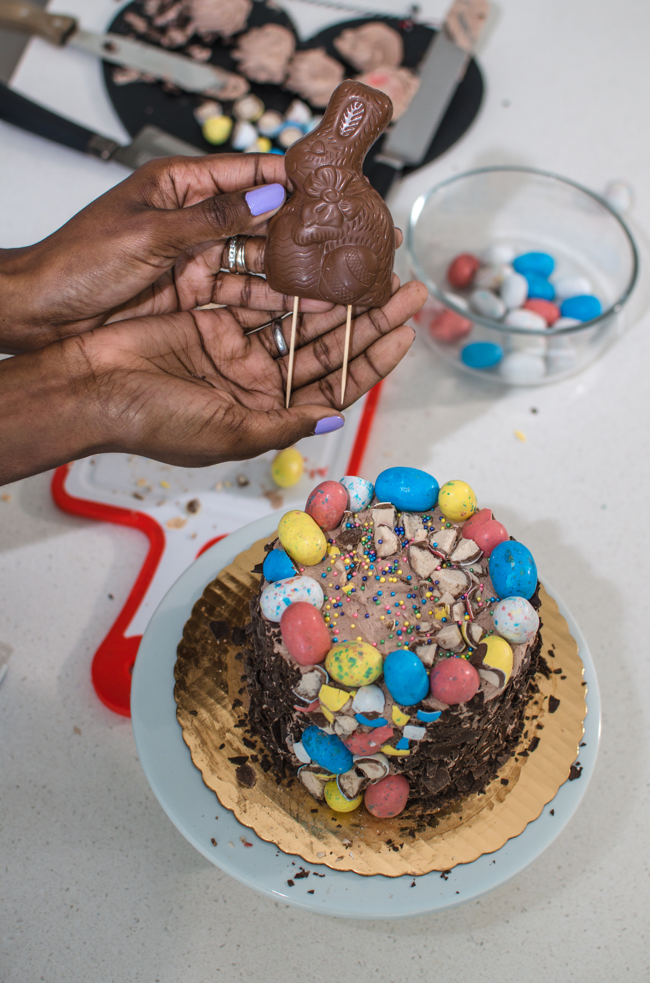 STEP 6
Place full size eggs up & against the back of the chocolate Easter bunny. This also helps to secure weight of the bunny.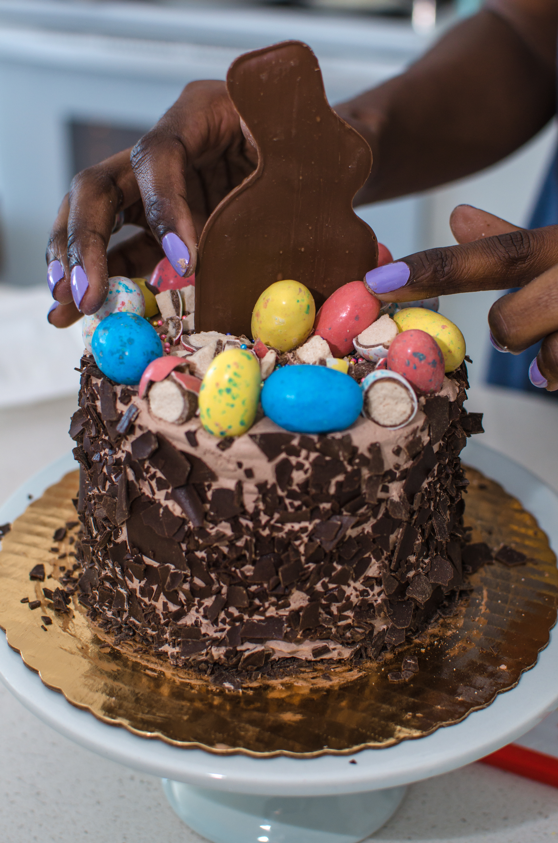 STEP 7
Last but not least, sprinkles!!!! Sprinkles make everything look magical!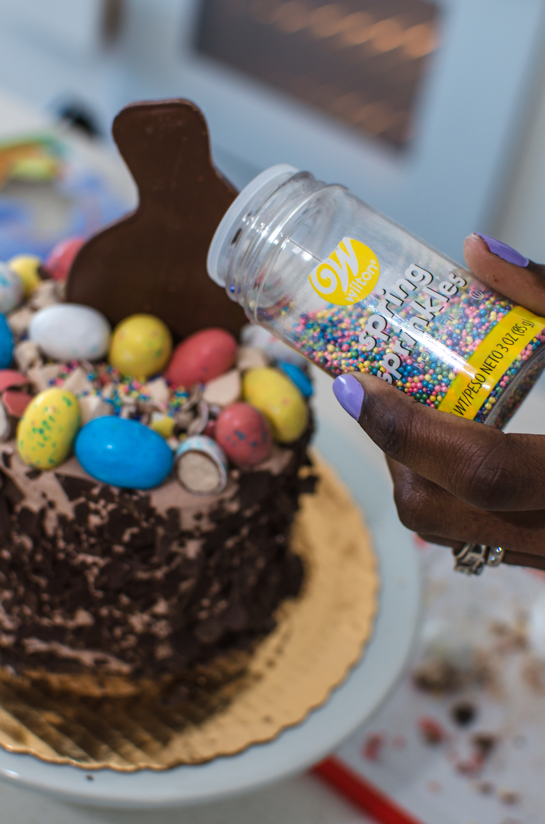 And voila! With no baking skills needed, you've just created an Easter masterpiece. This is one of the easiest cake hacks that I've done in less than 15 minutes!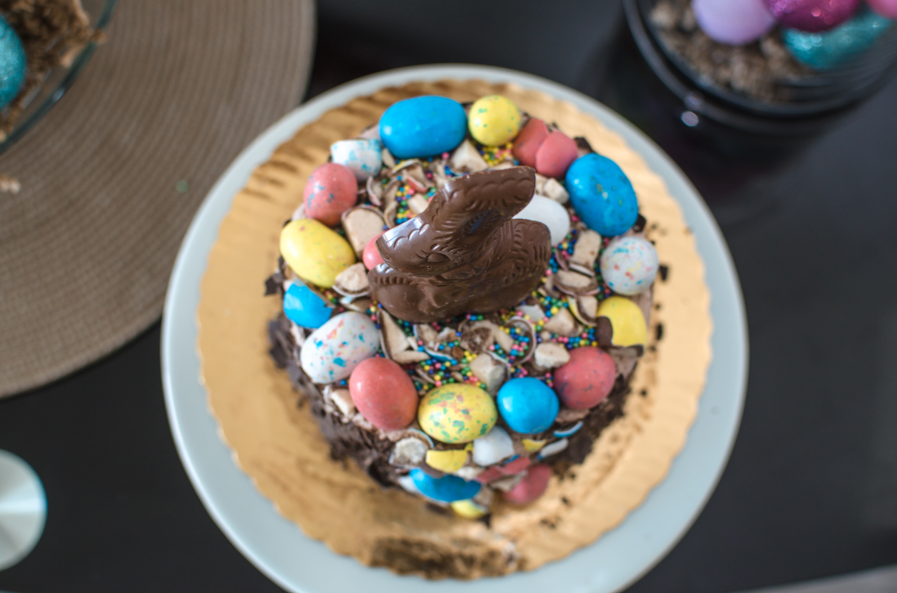 Of course, presentation is everything, so take your time, have fun, and get creative!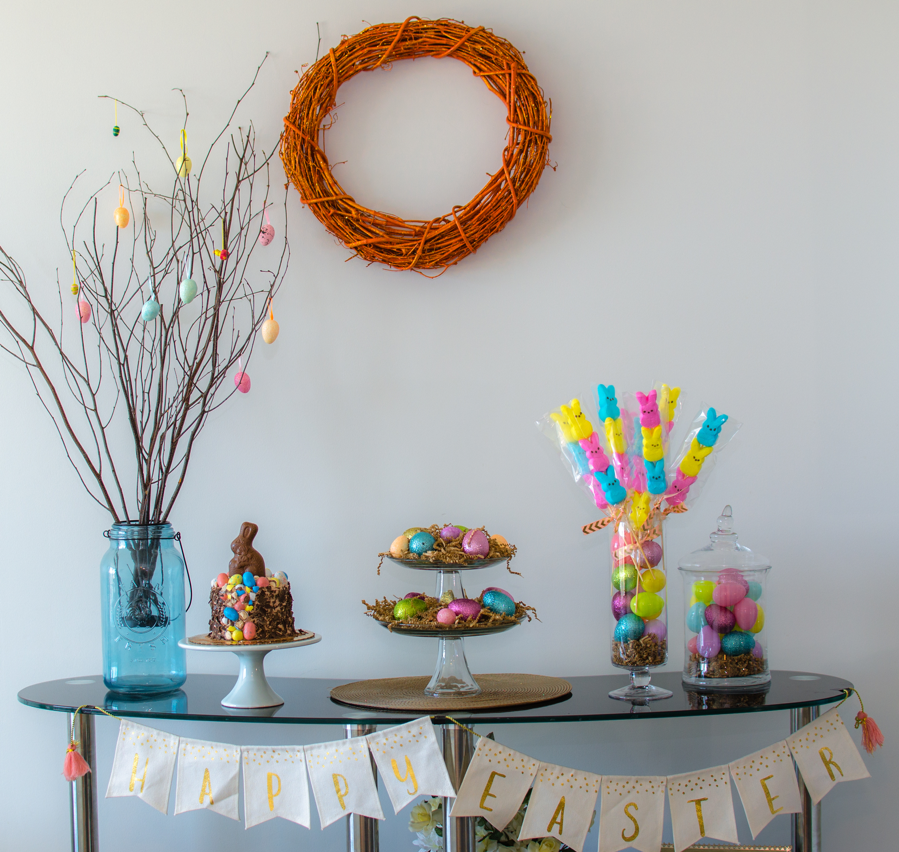 Pictured are both, my bunny candy kabobs & my no-bake Easter cake sitting pretty on my candy bar!
I've decided to make fun desserts like these an Easter tradition for years to come! My 3 year old son couldn't even contain himself while my husband captured these photos — he was so excited to eat the bunny off of the cake! I'm looking forward to making these treats for our dinner this Sunday.
No, these aren't your traditional Easter desserts like carrot cake or fruit tarts, but I hope that I have inspired you to think outside of the box and have fun with your dessert & treats. Happy Easter everyone! Sprinkling some of my Pixie magic your way!
---
Joy. Peace. Love. Blessings
Shakera Frazier-Rosa aka Dessert Pixie
All photos captured by Robert Rosa Photography (@robert.rosa3rd)
FOLLOW ME: