More Life Cafe opened at the end of May 2018 on 191 Mallory Ave and has since been attracting vegans and non-vegans alike in Jersey City. It's refreshing to see a vegan spot open outside of Downtown, offering healthy food options to residents in a convenient location. More Life stands out through its buffet-style set up, which allows customers to choose what they want, the combinations of foods they'd like, and the amount of each item they want to serve up for a sit-down meal or for take-out. Their prices are also on the more affordable side, especially for a vegan spot, and makes plant-based meals more accessible to anyone looking to add some healthier foods to their diets.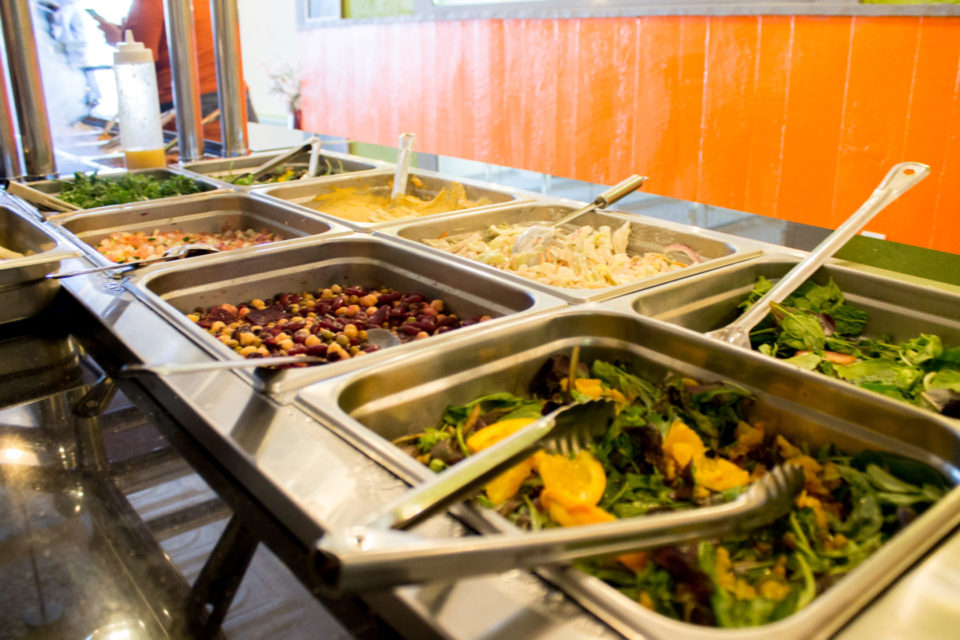 In underserved areas, healthy foods are not easily accessible and prepared vegan foods at restaurants are not affordable in comparison to quick and cheap fast food joints. More Life Cafe is located in a neighborhood that doesn't see the wide range of healthy options in restaurants and overall access to resources you might find in Downtown Jersey City. By opening a plant-based restaurant in West Side, Marcell of More Life Cafe is introducing these foods to the community in a way that is enticing and feels like a home-cooked meal with a tasty, healthy twist.
As a nice touch, the name "More Life" comes from the idea that eating healthy food and learning about the importance of health is basically adding more energy and more life to your soul. We sat down with Marcell to talk more about the concept behind the restaurant and what we can expect.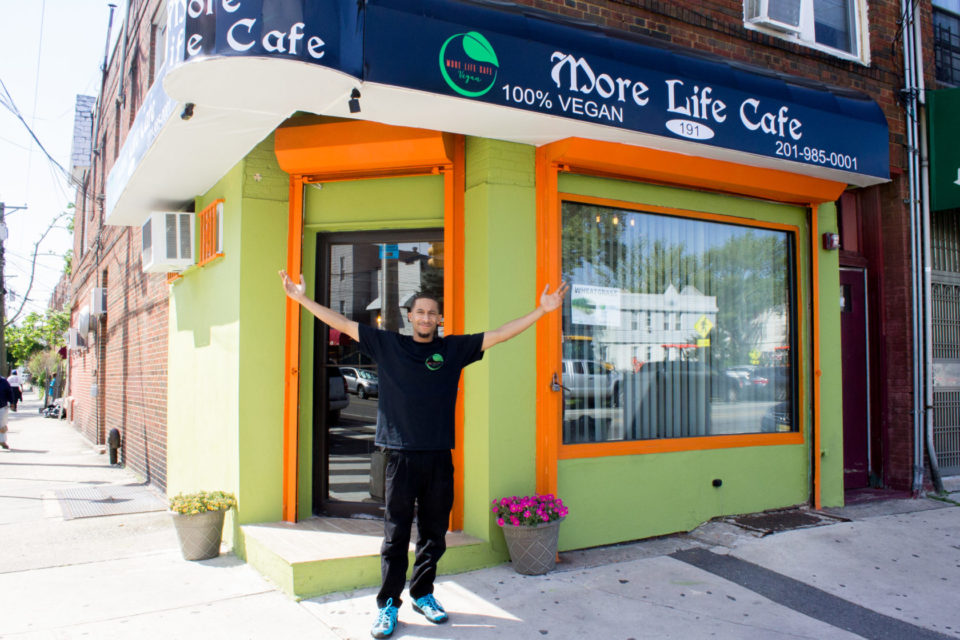 ---
What's your name?
My name is Marcell Portes.
What do you do?
I cook and I manage More Life Cafe.
Tell us about More Life. How did the concept come about?
The concept of More Life came about around January 2018. I wanted to open up a restaurant and I was looking for a place. I knew we needed more healthy options to eat in Jersey City, and I knew that it's a growing trend. Everyone wants to eat better and it's something I've always wanted to do – spread the vegan lifestyle and veganism.
And you're vegan, right?
Yes, I've been vegan for four years.
How's that been so far?
It's been a journey. It's kind of hard living in a city where there's such a diverse community and these cultures mixing together. People are going to look at you differently when you're doing something like that because everyone's so used to their culture and their lifestyle. It's something new, something different.
Did you just jump into veganism or did you transition first?
I just jumped straight to veganism because I knew that's what I had to do. When I first started, I knew I had to become vegan but I was hesitant. It was hard and it was a process, but I knew I had to do it. I started cutting off dairy products; the first thing I did was cut out milk, eggs, all that.
So with the food here, how would you describe it? 
It's very diverse. We use a lot of chickpeas and eggplant. I like to switch it up for the buffet. We're still working on our menu items, but we're going to have a lot of healthy food and vegan junk food, pastries, everything to please everyone.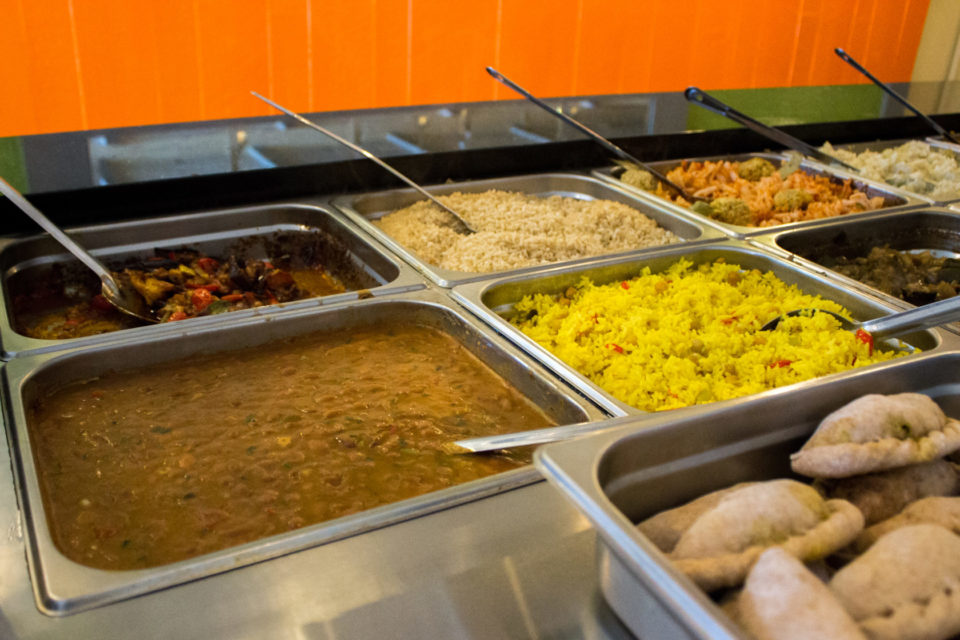 Did you want to make it a buffet style from the jump?
Yeah, I always liked the buffet style because it gives you options and makes the customer feel like they're free to choose whatever they want.
That was my favorite part of coming here, to be honest. At every other place, you just order what's on the menu. 
Yeah, here you can create your own plate of food and it's always going to be something different. We're always trying to add more items.
Are there any new items you already have in mind that you're definitely going to start offering?
We just put out this Asian noodle pasta. We use quinoa penne and quinoa noodles, and peanut sauce with that. It's really good, I like peanut butter. I like to use a lot of stuff that I like to eat. I take suggestions from my cooks all the time, I tell them to do research, and I take suggestions from customers all the time. It's pretty cool.
We heard it kind of runs in your family to open restaurants.
The restaurant business runs deep in my family. My mom owns a restaurant and she's been open for 17 years. My uncle owns another restaurant, he's been open for 21 years. Then I have another cousin who used to own three restaurants, but it was hard work for him so he had to cut down to one.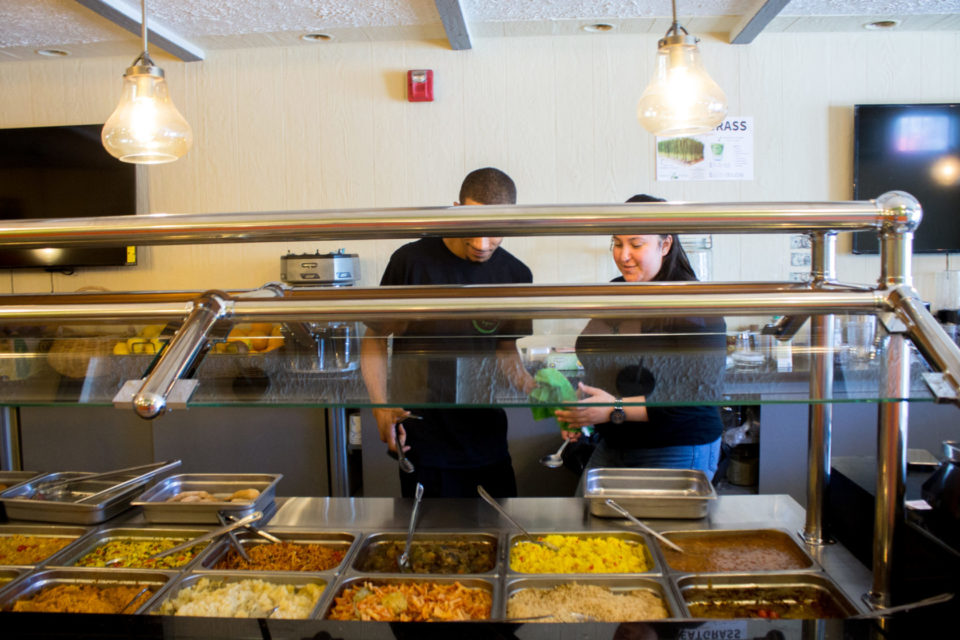 It runs deep. 
Yeah, it runs deep and it's something I like to do. I never thought I'd be doing this, but here I am.
How old are you?
I'm 25 years old.
And you already have your own business! That's awesome. 
For sure.
So you guys also offer juices?
We have juices, smoothies, fresh organic wheatgrass, vegan ice cream, and all of our cakes are homemade. I'm looking to reach out to other caterers and manufacturers, whoever wants to join the team or supply me with different options. I'm willing to work with anyone. I'm very open minded with what I'm doing, and I'm always willing and able.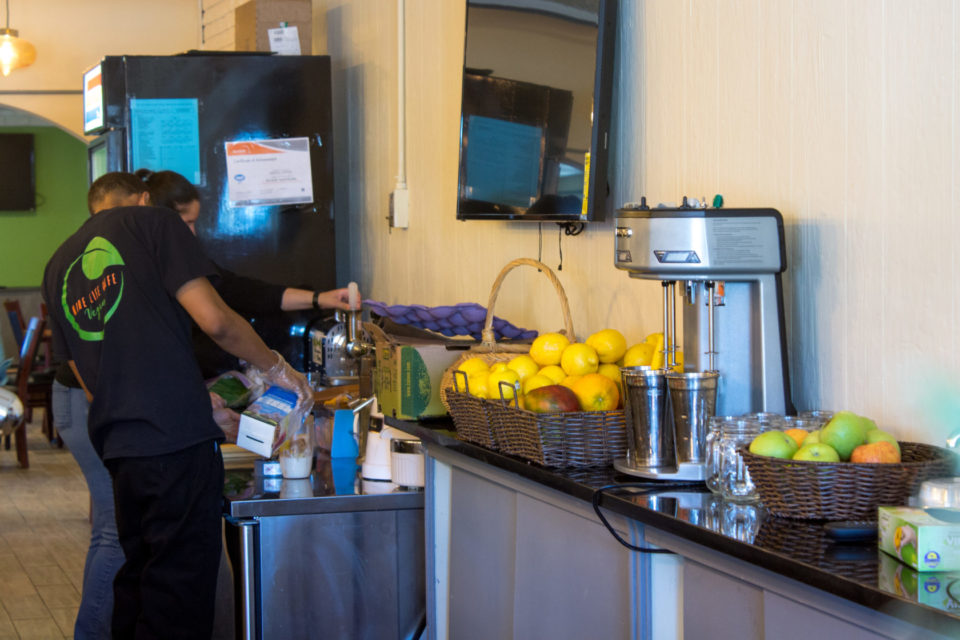 What has the feedback been so far? I see people coming in and out. 
The feedback has been great, I didn't think it was going to be this good. I didn't know it was going to be this big. It's kind of overwhelming but I like it. I'm always up for a challenge.
With this business, do you see it growing outside of the neighborhood or outside of Jersey City in general?
I definitely see a growth in the vegan restaurant business. Hopefully, one day I'll get another restaurant. I see it happening in the future.
I'm happy this is here, there aren't many healthy food options out here. 
I was actually looking to go Downtown but I had to do it here first because I grew up in Jersey City my whole life and when I first became vegan, it was hard for me to find something healthy to eat. I always knew I needed to make it easier and more accessible to the community. This is why I chose to do it in this particular location.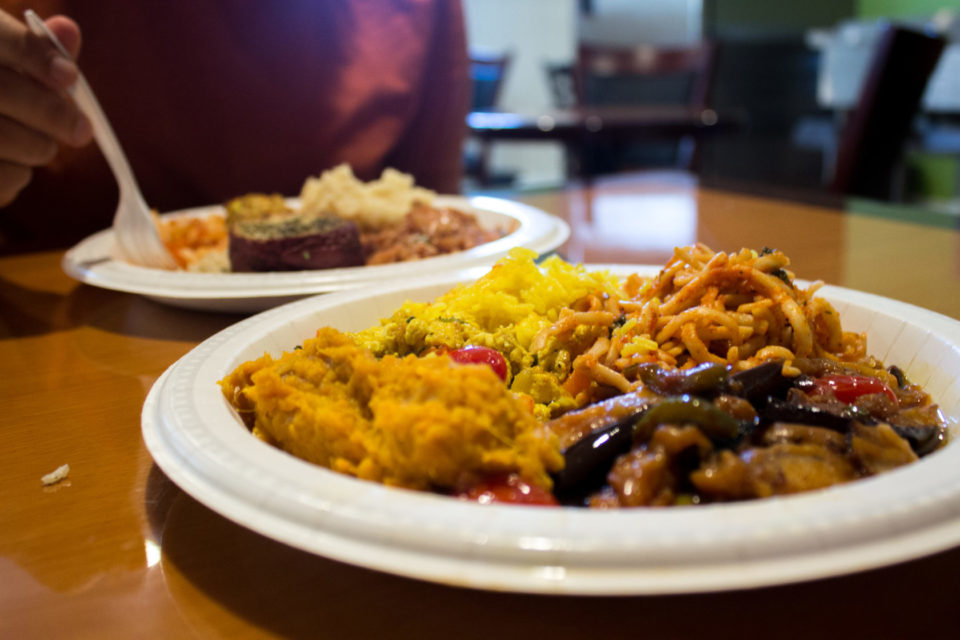 That's awesome. Is there anything else you want people to know about the restaurant or you?
We're just here to spread knowledge about health. We're here to bring healthy food to the neighborhood, to a place that never really had that and nobody really knows about vegan food. Personally, it's all about knowledge. Once you obtain it, you'll always have it with you. That's the most important thing I'm trying to spread: knowledge about health.
That's awesome. Thank you so much! 
---
Since our interview, More Life has added more food items and desserts! You can visit More Life Cafe on 191 Mallory Ave in Jersey City. They're open daily from 11AM to 8PM. You can also find them on Instagram: @morelifecafe.
Find more photos of the space below!