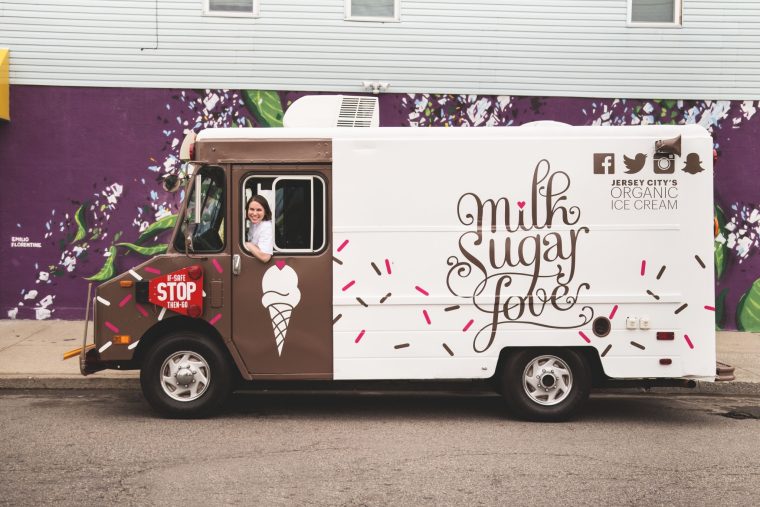 A few months after I started ChicpeaJC I was introduced to Emma by another local business owner. I interviewed her on the spot inside her new ice cream shop; Milk Sugar Love. It was the first time I ever tried her ice cream, and I was completely blown away. Since then Milk Sugar Love has been written about multiple times in various publication and mentioned as the best Ice Cream in Jersey City and even the state! I've grown close to Emma, an amazing human and lady boss who is so passionate about her business.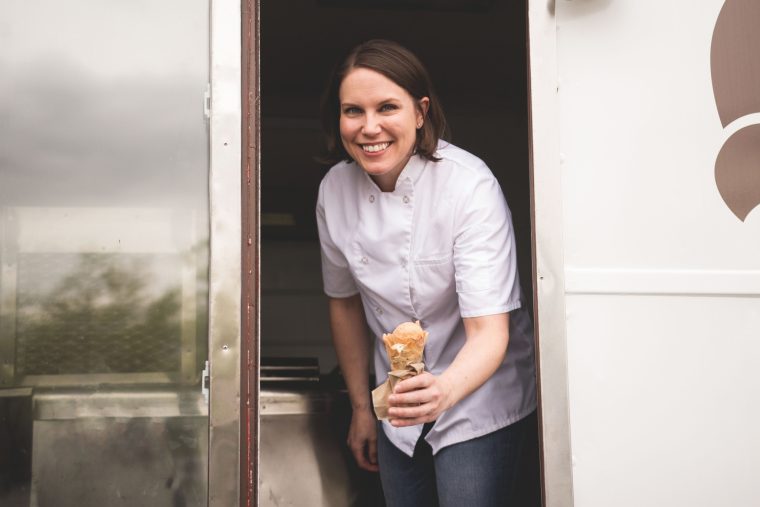 Since we are both approaching our two-year anniversary (we are a month apart) I wanted to catch up with her and get the "scoop" on her new business adventure. Milk Sugar Love is now the proud owner of an old school ice cream truck!! The goodness of MSL is going to come to a neighborhood near you and instead of the typical ice cream truck music she will be playing trap music (kidding).
I invited photog and friend Andy Mac to join me on this ice cream adventure and capture this beautiful moment. Andy has never tried MSL so when Emma gave him a cone, I had to capture the moment. Naturally he loved every bite and even tweeted at me days later about how good the ice cream was and how he needed more.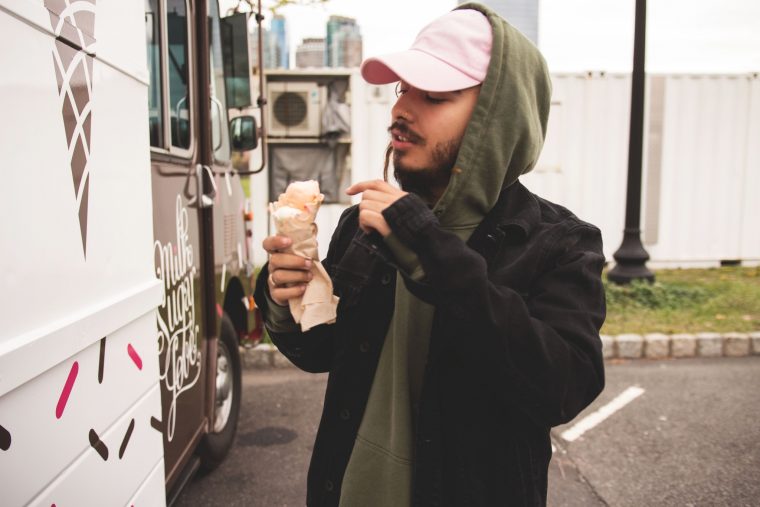 Milk Sugar and Love Handles PT2
What's your name? My name is Emma Taylor.
And what do you do? I am the chef and owner of Milk Sugar Love, Jersey City's Organic Ice Cream.
 What are we doing today? Today we are looking at the inside and the outside of my brand new ice cream truck.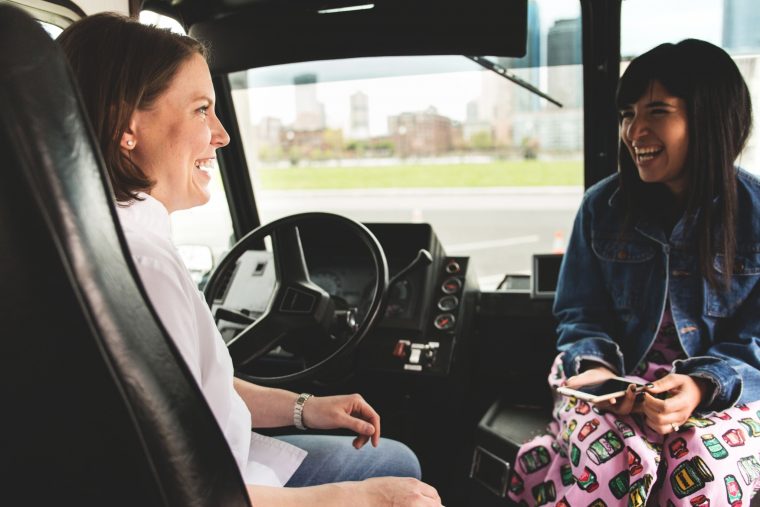 Tell me more about the concept of your ice cream truck. Well, the idea was sitting down and looking at how the business can grow and is growing. We're doing most of our business in the summer which makes sense, it's ice cream, it is seasonal. So I decided, "How can I increase my sales in the summer without increasing overhead?"and that's how I came up with the idea for an ice cream truck.
How's the experience been so far? It's been good. It's all about being humble enough to ask for help and understanding if you don't know something, it's okay, and there will be people to help guide you. There's been a lot of mechanical knowledge that I've gained through this and a lot of chutzpah to be able to be able to drive the truck.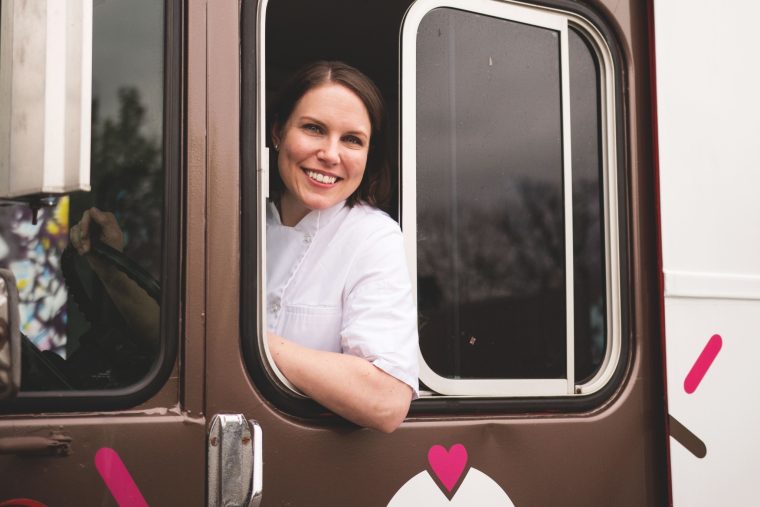 You're doing a great job. So you do everything—you make the ice cream, you run the business, now you drive the truck. So since I interviewed you, what has changed in the past year and a half. I have a bigger staff at the shop, so that allows me to come out on the truck. I have a team that I love and I trust, and they're able to take all my recipes and execute them as I need them to be done and also be able to create a wonderful welcoming atmosphere for all of my customers.
You've been mentioned in the press as being the best ice cream in Jersey City. How does it feel? It feels amazing! It's not why I got in business, but it's nice to know that other people recognize that we're working hard here and that we love Jersey City, and we've made a big commitment to try and make a great product in the city.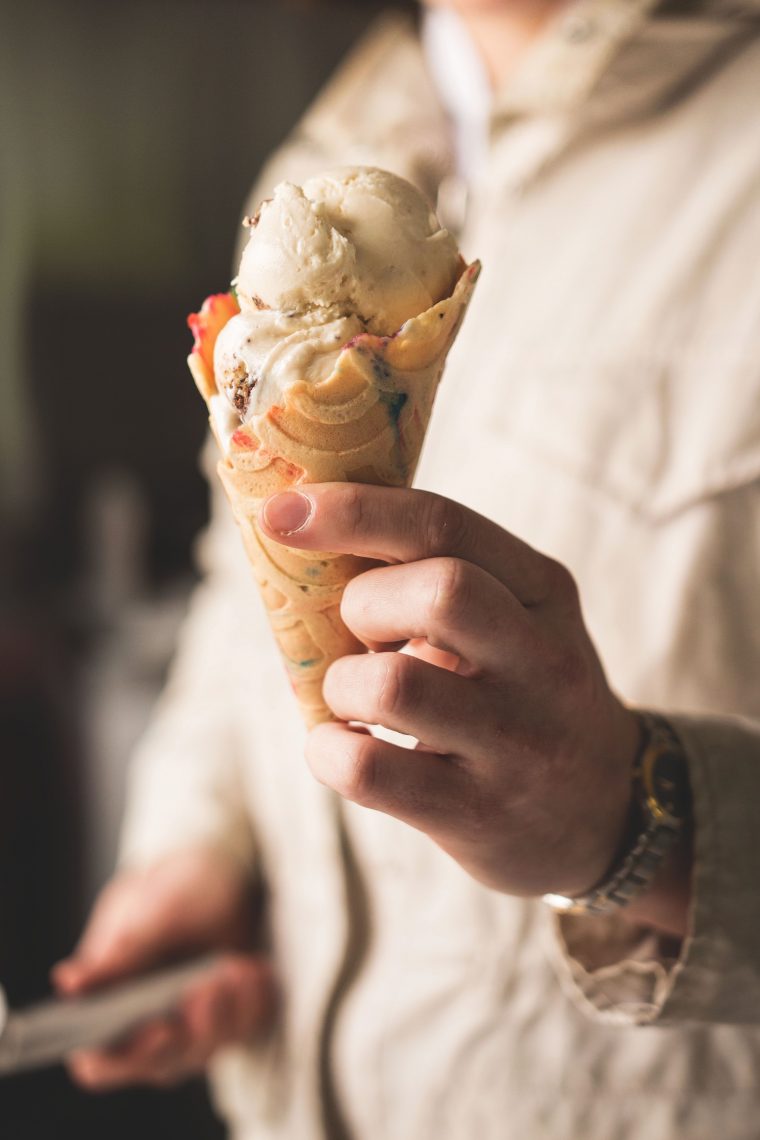 What are your plans with the truck? Do you have a route in mind? Well, you can find us on Twitter and Snapchat and Instagram—I'll make sure to keep all the social media outlets updated with where we'll be. We're going to be at all the major events that we did last year with the cart, and we'll just have better and bigger presence with the truck. We're going to be at Freedom and Fireworks for 4th of July and even better, Project: Eats all weekend long. And then we're also going to find a permanent parking space once a week at the HUB parking which is near Exchange Place on Hudson Street, and there's a regular rotation of food trucks from all over, and we're going to be there too.
Are you going to be the food truck person? That's going to be me!
How does it feel going from being a storefront to managing a truck? I feel ready for this and really happy to get back on the road. I needed that break after being outdoor with the cart so long, moving to the storefront felt like a great next step and now I'm ready to get back out. This truck came about because I entered a competition for a grant from the Jersey City Economic Development Corporation and you were supposed to pitch an idea that would directly help you grow your business. So I pitched the truck, I had found one for the exact grant amount which was $15,000, and I said "We'll buy this truck, and it will revolutionize my summer," and so we won the grant and so I bought the truck.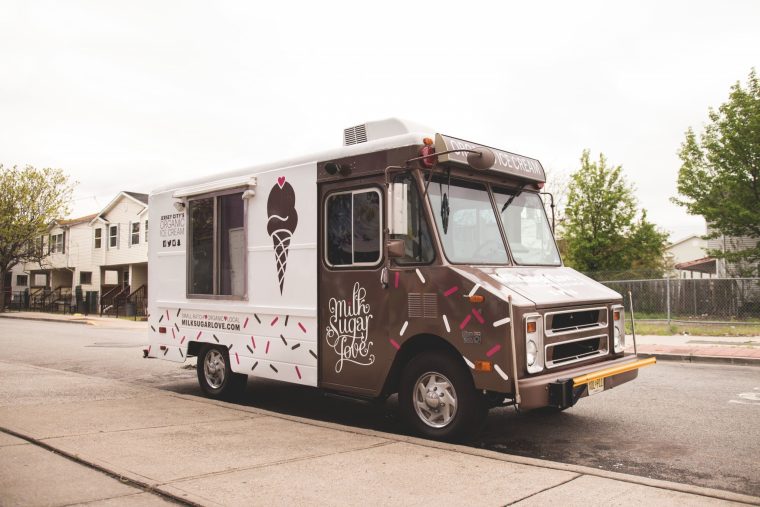 What new flavors do you have going on? Well, we're still doing our flavor of the month, and I'll bring that out on the truck every time. We're doing a Mango Lassi this month which is a mango frozen yogurt with some spices like cardamom.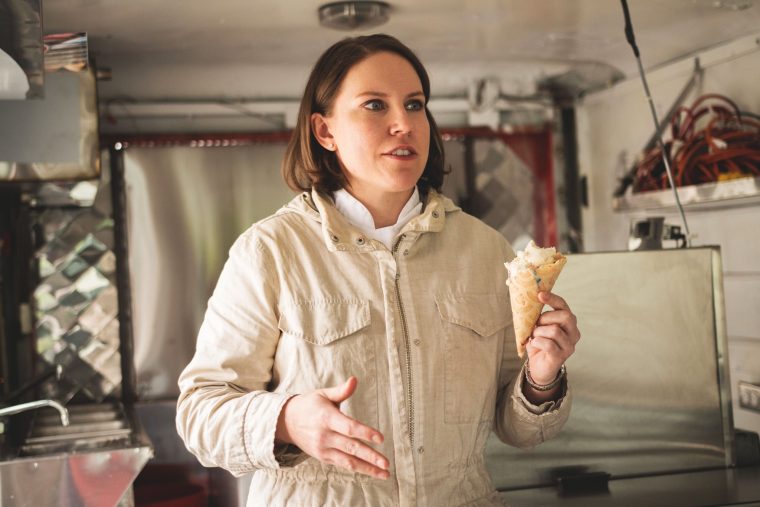 Is it like Indian style? Absolutely, except we use a super fatty yogurt. And then, hopefully, if I can get it hooked up in time, we'll be doing a full array of what we do in the shop, so we'll offer milkshakes and sundaes.
How do you come up with your flavors? It's eating out. As much as I can get out and eat savory food and be inspired by that and by different cultures and different ideas, and that's the best way to get inspired.
Your flavors are different—they're not the normal vanilla, chocolate. They are inspired by the food I eat but also by people I work with which is the whole idea of Summer of Sundaes, which is coming up at the shop. I get to collaborate with the best small business owners and best chefs around town, and together we make something new.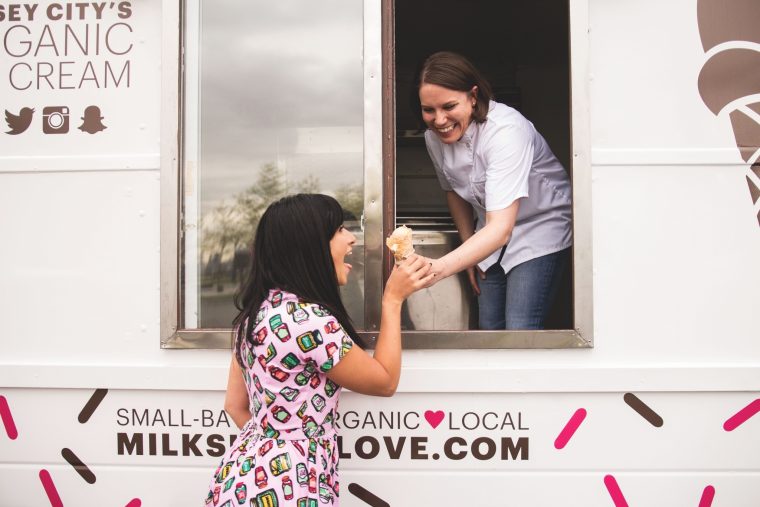 Can you tell me about the Summer of Sundaes? So every month—May through September—during the weekend at the shop we'll offer a different sundae that I collaborate with a different chef or business owner. It's exclusive to the store, and it's something we won't ever run again, so you have to mark your calendars, come out and try these sundaes.
ChicpeaJC is going to be the first Sundae! What's the ChicpeaJC flavor? So the ice cream is going to be roasted cinnamon and honey, and the toppings are going to be caramelized sesame chickpeas and honey salted caramel sauce and whipped cream because it's not a sundae without it.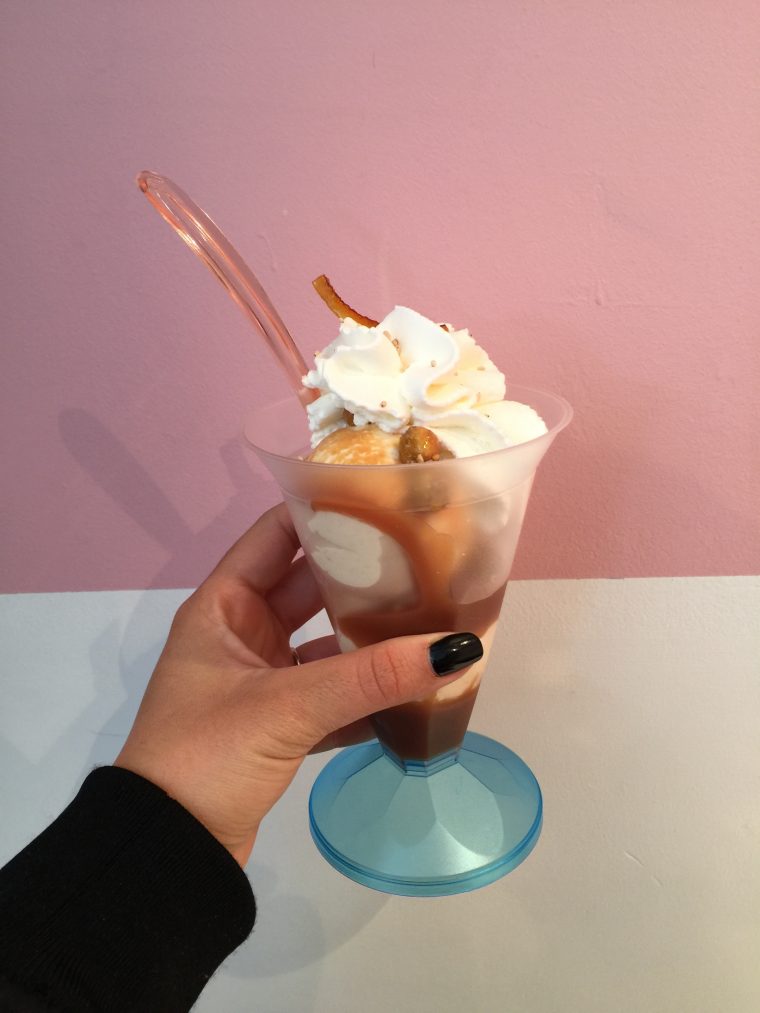 You're also going to be at ChicpeaJC Turns 2. Tell me more about that. Well nobody throws a party like you, so this is going to be awesome. We're going to have the ice cream cart there for the after party, and we're also making your cake because it's not a party without a cake.
I can't wait!! Last year I ate the leftover cake for like a week haha. 
So you have a truck, you have a cart, you have a storefront, you're the best ice cream in Jersey City. What's next? I want everything to run itself so I can do more ideas. I love ideas, that's what I want to do, the best creative part of this. If I can get everything smoothed out and running its own, then I'll be able to push whatever it is forward.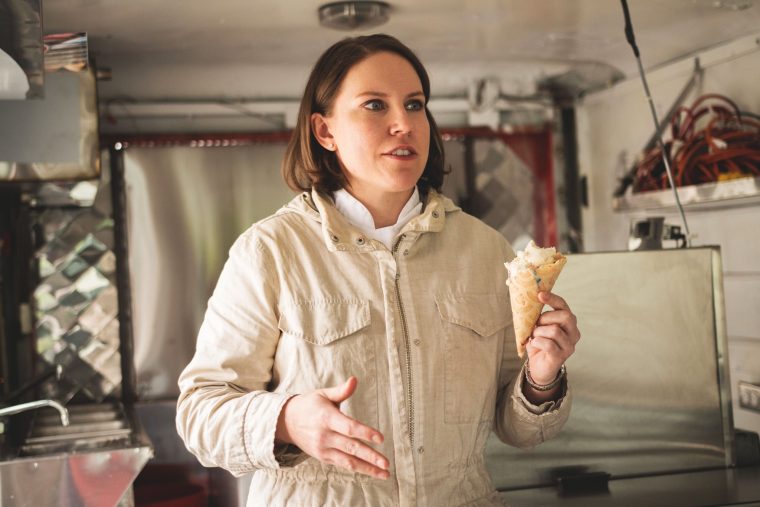 When you eat your ice cream are you ever like, "Fuck yeah, this is amazing!" Definitely, especially when people are like, "Why did you do that?"
Have you ever had a failed attempt? Oh yes. We tried to make ice cream with actual chickpeas and honestly, I kind of liked it because it was like a sweet hummus. Everybody else who ate it was like, "This is so weird." A lot of things that don't come out are usually an issue with texture, and the texture was compromised with that flavor.
Any other flavors? The first couple tests of the blue cheese ice cream that we ran last year.
What is your favorite hangout spot now? Now I finish every week, Sunday night after we close the shop at 11:30 PM, at Dullboy and I have myself several martinis, and it's a fantastic end of the week. My favorite bartender, shout out to Chris!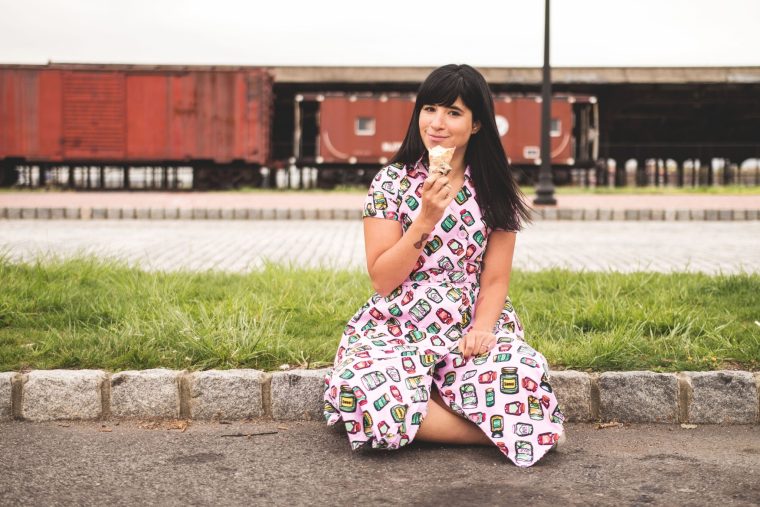 Whenever I eat Milk Sugar Love, I don't feel like shit after, is it because of the products you use? Absolutely. It's about using the highest quality products you can when you make food; it's all about the quality.
How much ice cream a day would you say you eat? I have at least a regular scoop every day. We're tasting all day because you have to taste it when you put the product out in the morning, you have to taste it when it comes out of the machine which is the best bite of the day.
How do you balance it out with nutrition? I love green juices and like you, I'm addicted to Short Grain and all of the goodness there.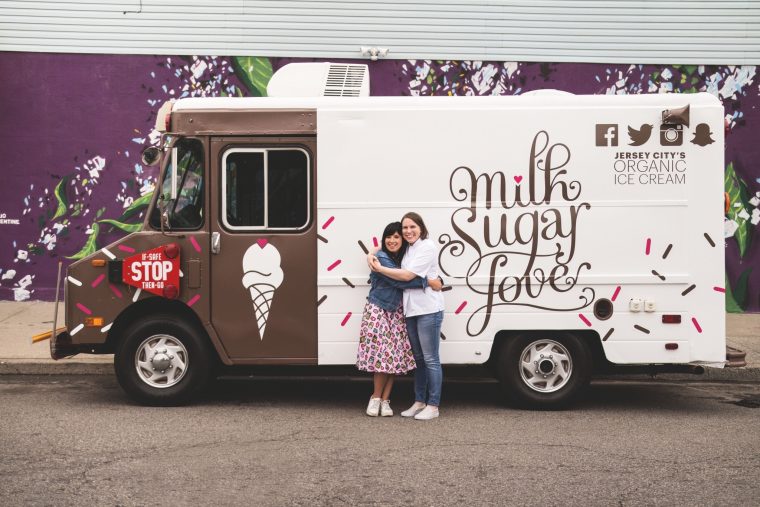 Anything else you'd like people to know about Milk Sugar Love? We're making all of our ice cream with grass-fed organic milk and cream and all the best local produce.
The best ice cream in Jersey City. According to many, the best ice cream in Jersey City, we're honored.
Who are your contenders? The person I love the most in the state, I could eat their ice cream every day of the week for the rest of my life would be The Bent Spoon. Their product is fantastic, and they use organic products as well, and they have an amazing local following. If you live in New Jersey, you know exactly who they are. If I'd like to be somewhere someday, I'd like to be on that level.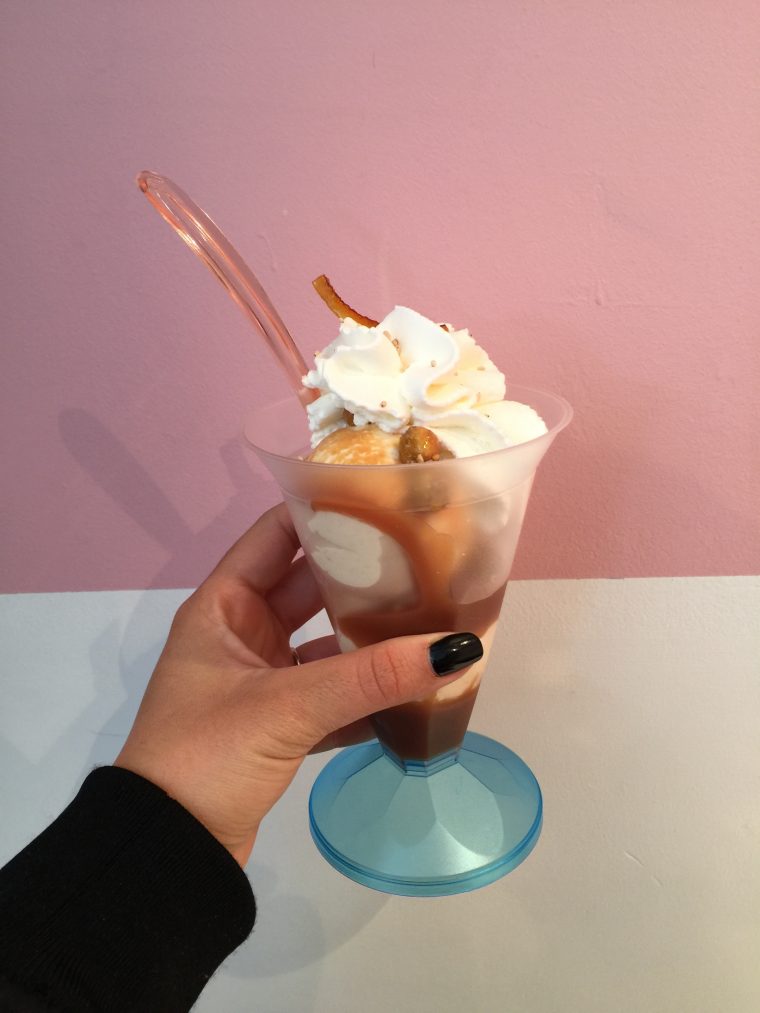 Social Media