People are typically deterred from trying plant-based burgers because there is a difference in flavor and texture in comparison to beef burgers. Veggie burgers are kind of in their own category. You could never compare them to regular burgers because … well, they're nothing alike.
I'll admit, I usually don't care much for veggie burgers. They're fine, but I'm 13 years into the meatless lifestyle and the (very few) alternatives got boring very quickly. Thankfully, we've evolved a bit in the veggie burger scene and have two new contenders to enjoy:
The Impossible Burger by Impossible Foods
The Impossible Burger was created as an alternative to beef burgers for the significantly smaller impact the production process has on the environment in comparison to animal agriculture. The main purpose was to create a sustainable burger that compared to a beef burger in texture, flavor, and nutritional value.
The Beyond Burger by Beyond Meat
The Beyond Burger has the goal of being a plant-based burger that cooks, tastes, feels, and fills you up like beef. By offering a great protein alternative, they aim to redefine the way people view plant-based protein and make it a welcoming option. As a result, the Beyond Burger is stored in the meat section of grocery stores instead of the usually-slim section of meatless foods.
If you find yourself near one of these spots and want to try a good meatless burger, it's worth your time and money.
---
Impossible Burger
Bareburger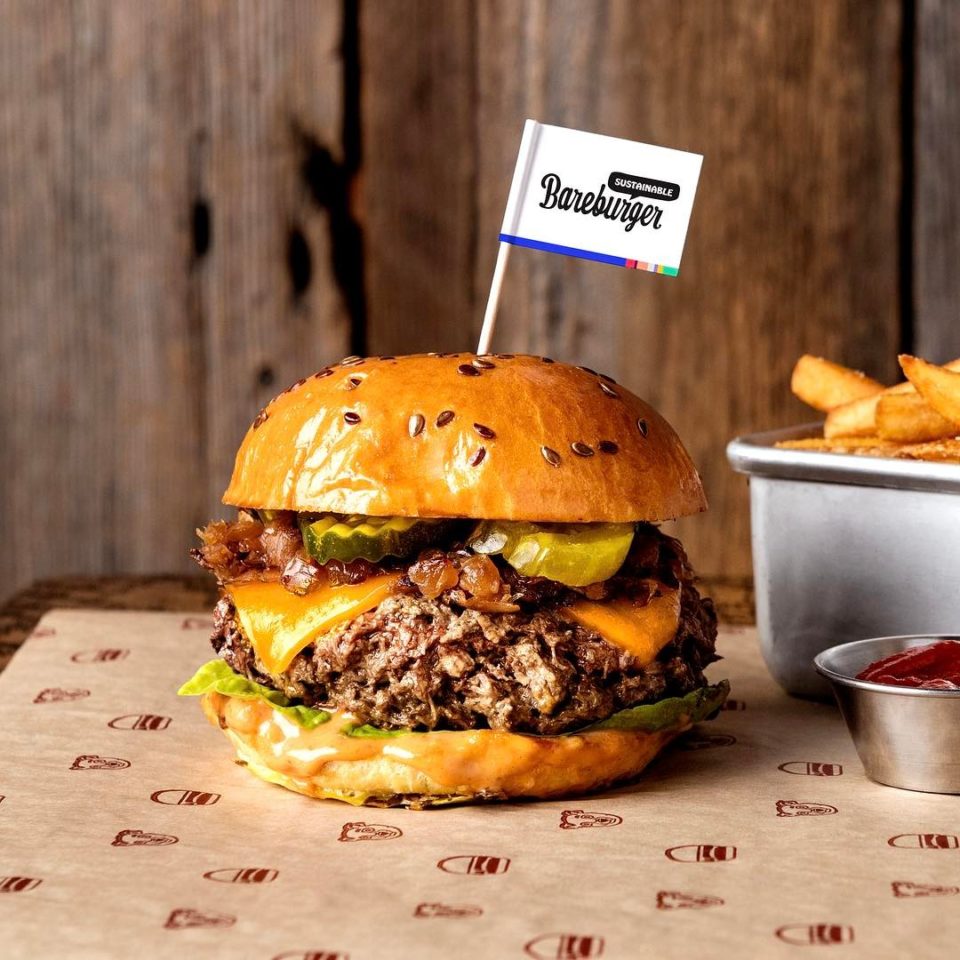 Bareburger is known for their organic and healthy options, and they have plenty of vegan options. They offer a bunch of veggie/meatless burgers including the Impossible Burger. You can order it as the menu suggests, with American cheese, caramelized onions, dill pickles, green leaf, and special sauce on a brioche bun. You can also make it your own if you want to make it vegan, and even swap out the bread for a collard green wrap.
Houlihan's
Houlihan's offers the Impossible Burger as its own burger option, topped with cheddar, lettuce, tomato, and their special sauce in a brioche bun. You could always opt out of the sauce, cheese, and bun or you can just try it as-is if you're new to meatless foods!
Applebee's (NYC)
A few locations in New York City offer the Impossible Burger, which is perfect because Applebee's didn't have a veggie burger on their menu at all before this. You could most likely get this as a substitute in any burger, or make it your own with some simple lettuce, tomato, and onion.
White Castle
If you're just picking up a quick bite during a drive and find yourself by a White Castle, they offer the burger in their traditional slider form. You can order it with or without cheese and pickles.
The Cheesecake Factory
You can pick up the Impossible Burger at The Cheesecake Factory. It comes with lettuce, tomato, pickles, onion, and their special sauce (why does everyone have a special sauce??) on a brioche bun.
Dave & Buster's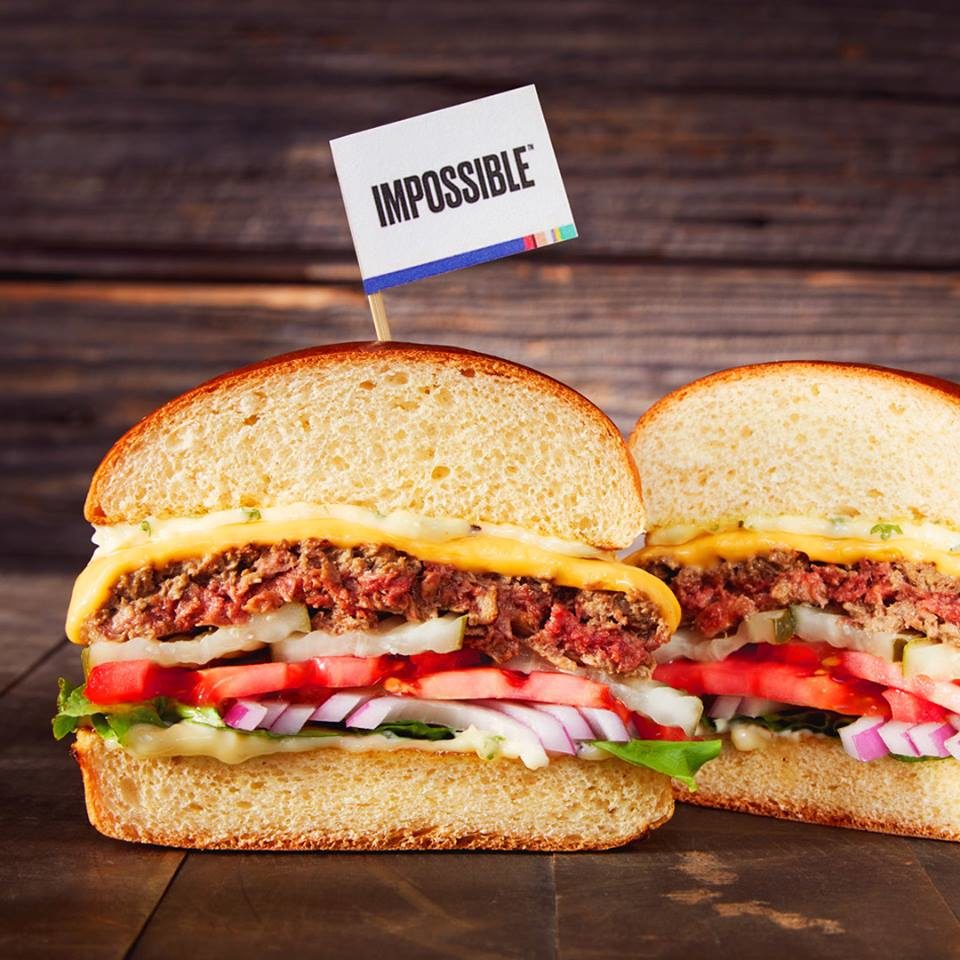 Enjoy a night of games and drinks with your friends, and pick up an Impossible Burger while you're there. It comes with American cheese, lettuce, tomato, onions, pickles and garlic aioli but you can always swap things out. You can also replace the other burgers with the Impossible Burger patty.
Beyond Burger
TGI Friday's
If you happen to be around a TGI Friday's, they have the Beyond Burger on the menu! It's listed as a Beyond Cheeseburger and comes with white cheddar, lettuce, tomato, red onion, pickles, and Fridays sauce. You can also sub any burger with a Beyond Burger patty. If you want to make it more vegan-friendly, you can get it sans bun and sauce (and obviously without cheese).
Bareburger
Along with the Impossible Burger, Bareburger also has the Beyond Burger on the menu. The menu item is entirely vegan and comes with vegan american cheese, sweet pickles, red onions, green leaf, vegan mayo, and ketchup all on a sprout bun. You can also customize your burger, as with most items at Bareburger.
BurgerFi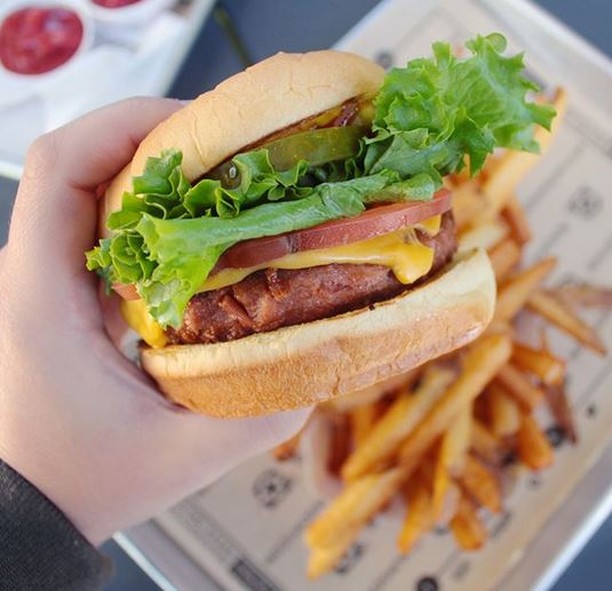 BurgerFi has a veggie burger on the menu, but the Beyond Burger patty is its first fully plant-based option. The menu item includes American cheese, ketchup, mustard, mayonnaise, lettuce, tomato, pickles, and onions on a multigrain bun. If you want to make it less loaded, you can customize the burger and make it green (swapping out the bun for lettuce).