The other day, I spotted some local apples at the Hamilton Park Farmer's Market–one of my favorite signs that fall is here! I immediately started daydreaming about how to use these apples to celebrate the new season. I decided to make apple cinnamon crepes, inspired by the crepes from one of my favorite Jersey City restaurants–Madame Claude Bis.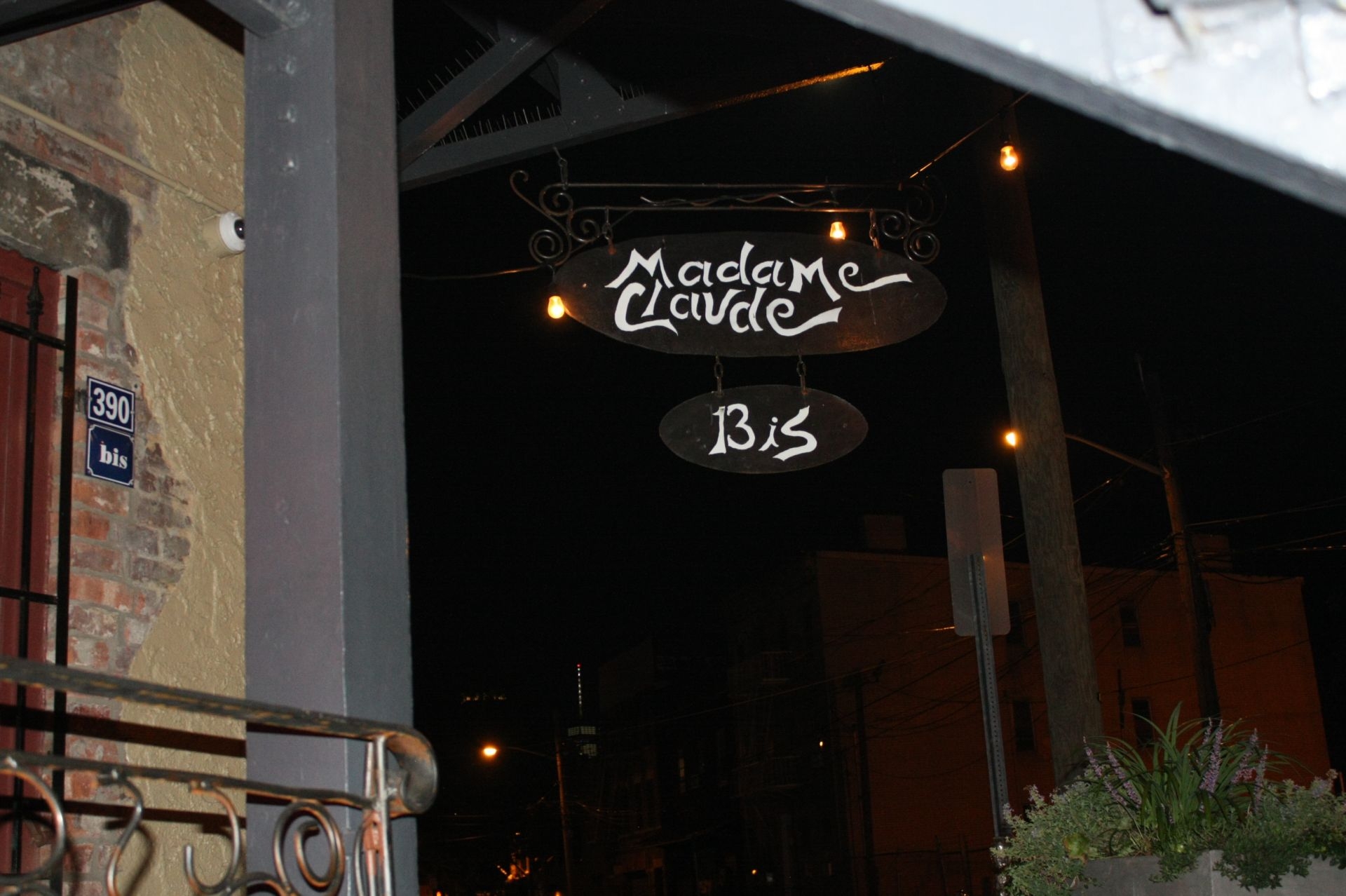 Madame Claude has been one of my go-to restaurants for a special meal ever since I first visited the cafe back in 2011. The cozy, intimate atmosphere and amazing food always made for a great night out. Now the restaurant has expanded, moved to a new location, and added a liquor license (and started accepting credit cards!), to great success. If you haven't visited Madame Claude Bis, you really must. Everything I've ever tried there has been superb.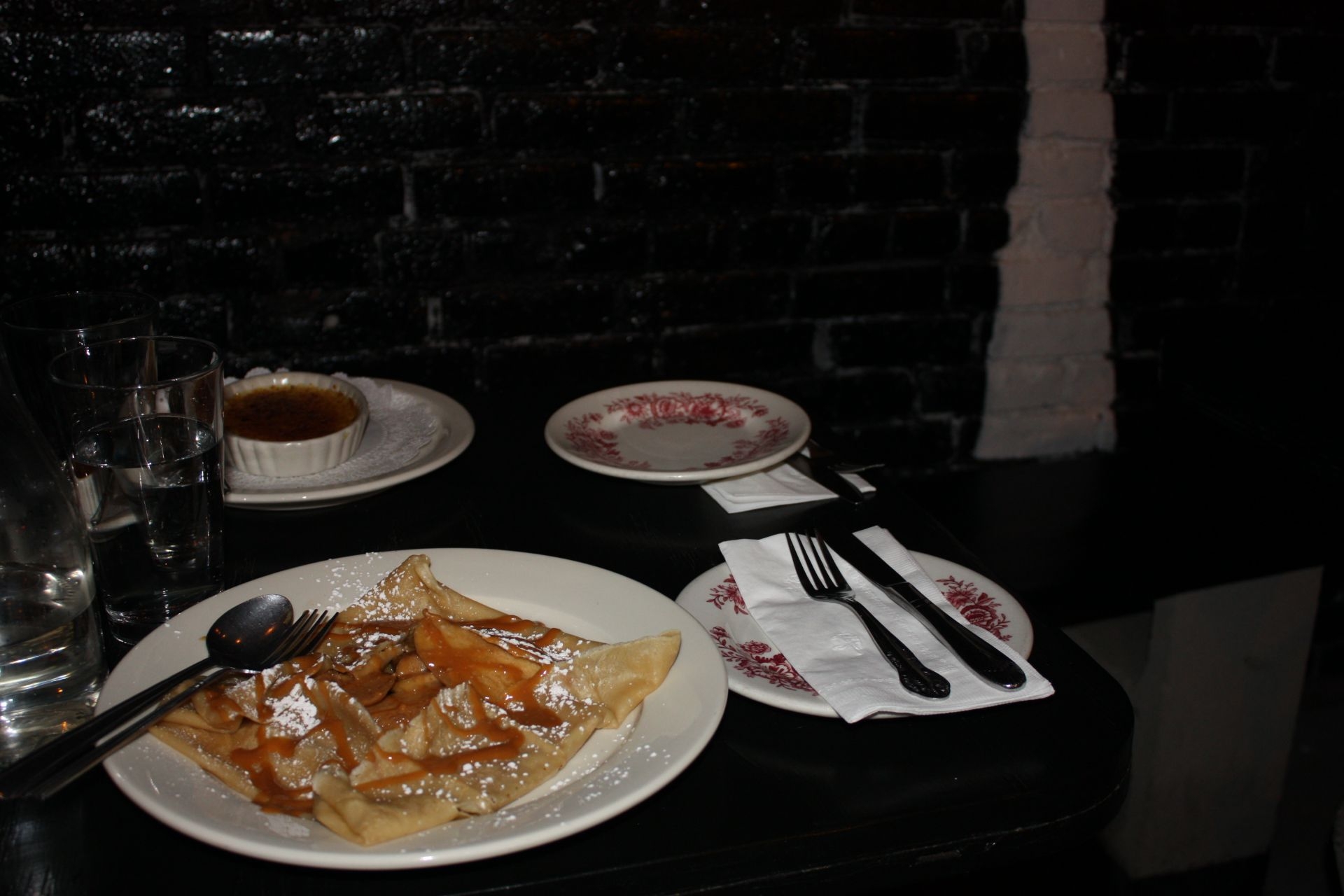 Although I usually do try to stick to a healthy eating style, Madame Claude is one of those restaurants where I just cannot skip dessert. I love the creme brulee, but their crepes are also amazing. The Normande crepe is great for fall, with apples and a delicious caramel sauce. My husband and I had a lovely time enjoying dessert at one of their outdoor tables recently.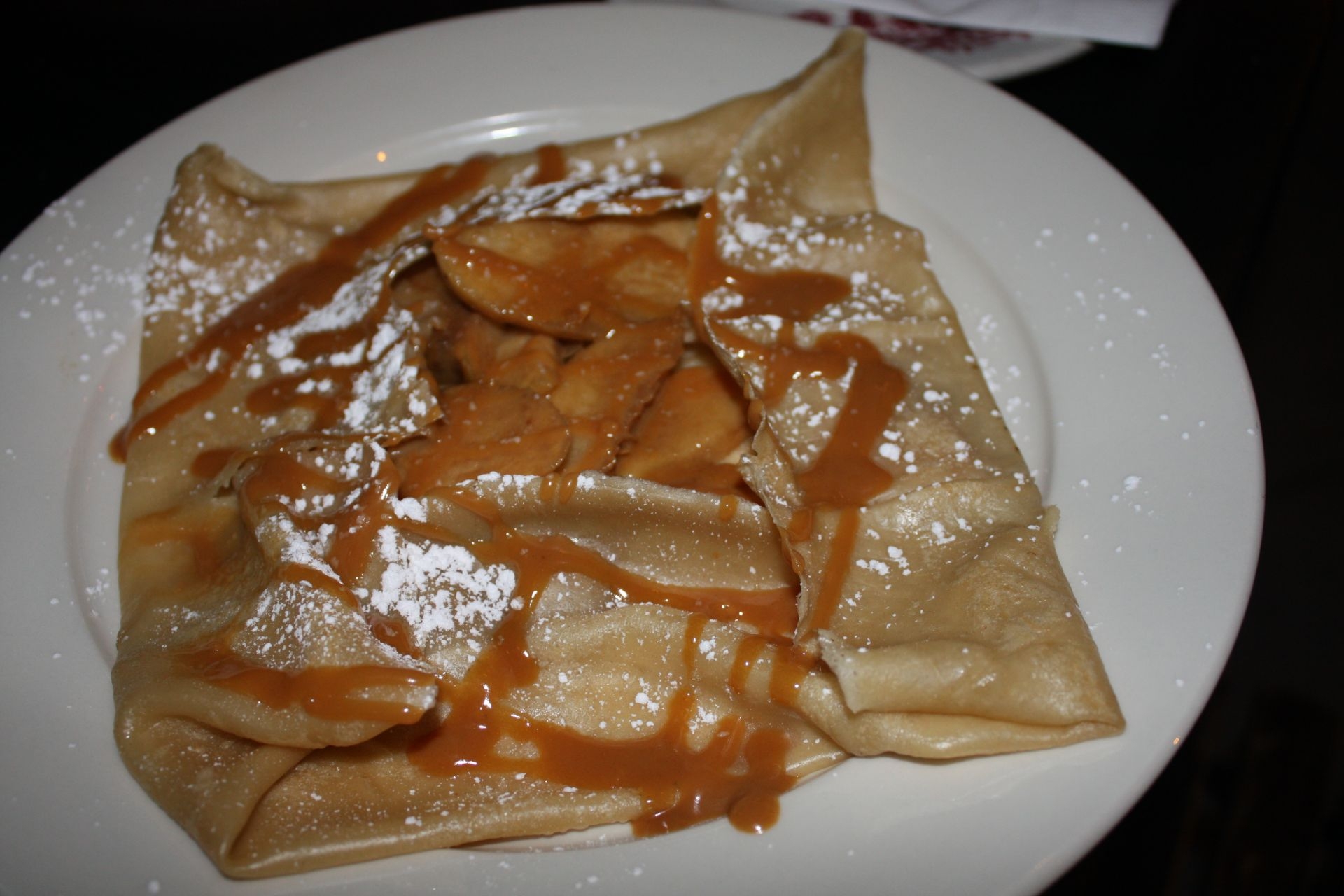 deliciousness
Inspired by the Normande crepe, I decided to create my own, lightened up apple crepes. Instead of a caramel sauce, my version uses cinnamon and a bit of brown sugar to provide plenty of autumnal flavor. I use white whole wheat flour to add nutrition, and an unsweetened coconut beverage saves calories compared to whole milk. The filling stays light, with just enough butter and brown sugar to create a delicious sauce for the apples. If you want your crepes extra stuffed, you could double the filling ingredients but keep the crepes the same. These quick and simple crepes are a great way to celebrate the beginning of fall!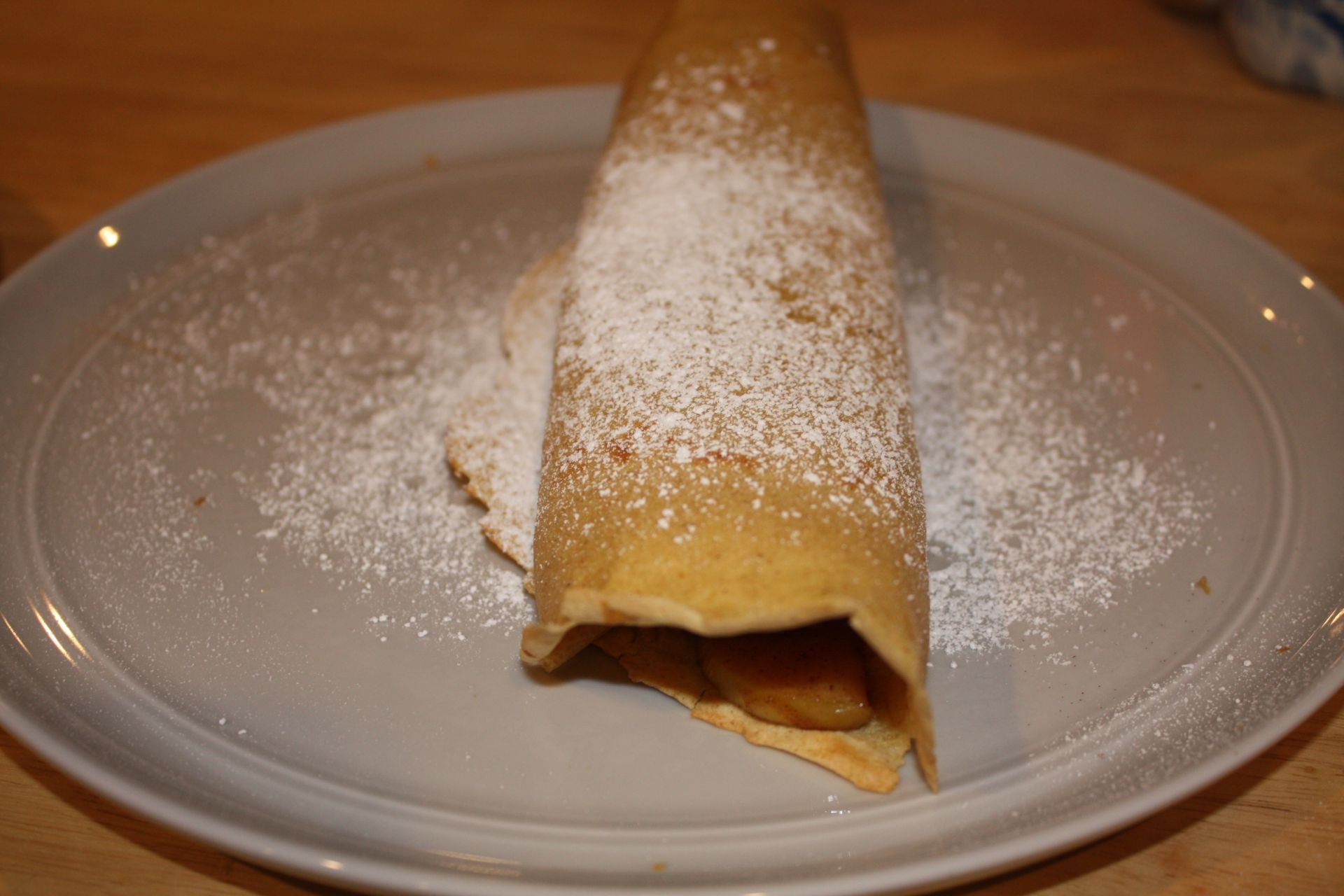 Apple Cinnamon Crepes
Time: about 30 minutes
Yield: Two servings
Ingredients:
Crepes:
2 large eggs
A pinch of salt
½ cup white whole wheat flour
⅓ cup plus 1 tablespoon milk (your choice; I used Trader Joe's unsweetened coconut beverage to save calories. Regular milk or almond milk would also work)
Butter to grease the pan
Powdered sugar (optional)
Filling:
1 apple, thinly sliced
1 Tablespoon butter
2 Tablespoons brown sugar
¾ teaspoon cinnamon
Directions:
Put the eggs, salt, flour, and milk into a blender and blend to combine completely. You might need stop the blender and scrape down the side with a spatula if there is flour stuck to the sides during blending.
Melt the 1 Tablespoon butter in a small saucepan on medium-low heat. When melted, add the sugar and cinnamon and stir to combine.
Add the apples to the butter/sugar/cinnamon mixture. Stir well to combine. It will bubble! Bring it to a simmer then reduce the heat to low. At this point the apples will continue to cook for about 15 minutes while you're making the crepes. Stir the apples occasionally to keep them from burning or sticking.
Rub a 12" nonstick skillet with butter. After the apples have been cooking for about 5 minutes, start making the crepes. Set the skillet over medium-low heat. When the pan and butter are hot, pour a scant ½ cup of batter onto the pan. Pick the pan up and carefully swirl it around so that the batter runs all the way to the edges. Cook on medium low for 4 minutes, or until the surface looks dry. Flip carefully using a spatula and cook about 2 minutes on the second side. Put the crepe on a plate and cover with foil to keep warm.
Repeat the above directions to cook the second crepe.
To assemble the crepes, split the apple filling evening between the two. Spread the apples down the center of each crepe. Make sure you scrape out all of the delicious sauce! Roll the crepe up. If you want to be fancy, sprinkle with powdered sugar. I used a sifter to lightly dust each crepe. Enjoy!