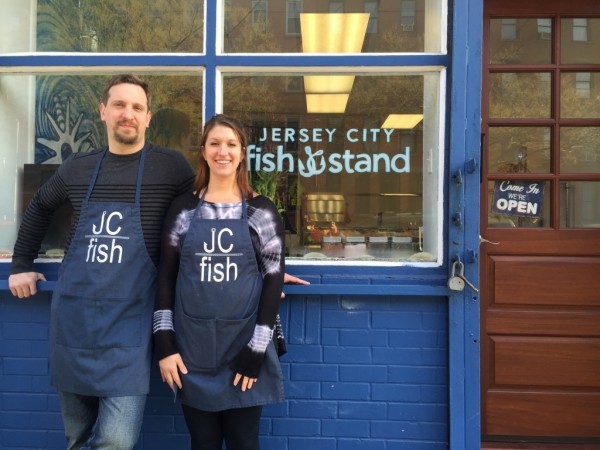 It's really hard these days to trust the food we buy and eat. I've watched so many documentaries and read books about the food industry in the Unites States that at one point I became a vegan. I was afraid of my food. Fast forward to when I started blogging – I met some lovely folks in Jersey City and realized that eating healthy, organic, sustainable food was possible and even available to Jersey City citizens.
Beef and chicken have been covered thanks to some new storefronts and vendors at the wonderful farmers markets (see my post here) …but what about fish? It's best to buy wild and organic fish, not factory farmed… (google it). Until a few months ago there was nowhere in JC to buy wild or organic fish from sustainable sources. Then Jersey City Fish Stand started vending at the Downtown Farmers' Market over the summer.
Jersey City Fish Stand recently opened a store front on Jersey Ave and I couldn't be more excited! Fresh fish all year round!! I went by to check them out and get the background scoop. John and Jill, two of the three owners of Jersey City Fish Stand are also partners in life and truly share the same passion for bringing fresh fish to the JC community.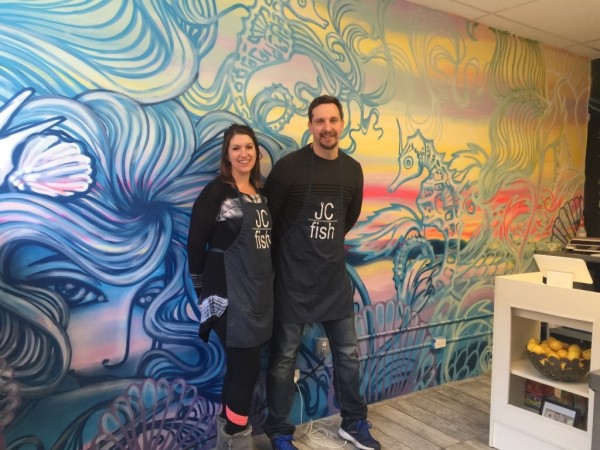 What are your names?
I'm John Sabochick.
I'm Jill Sabochick.
And what do you guys do?
John: We are co-owners of Jersey City Fish Stand, along with Kevin Pipchick.
Jill: And local fishmongers.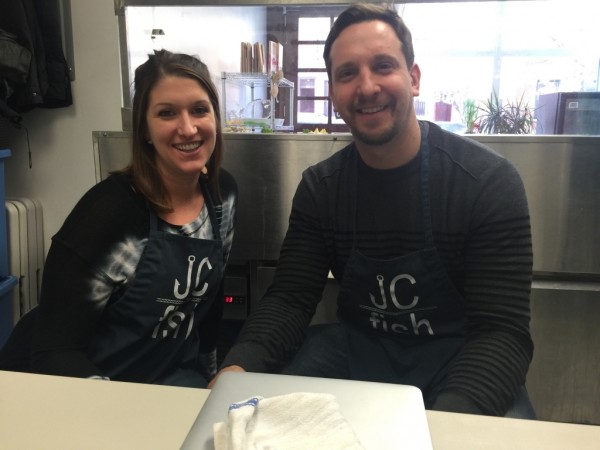 How did you get into that?
John: Well we moved to Jersey City and we were looking for fresh fish. Something besides a big grocery store because that's just kind of what we were used to. We couldn't really find anything so we thought, "Why don't we open a store?" But before we did that, we decided, let's try this and see if other people want a fish market by going to the farmers markets around town. So we did a couple of those, you know Grove Street and Van Vorst and there was good reception. As that season was getting ready to wind down, we opened the store.
So you just decided you wanted to sell fish at the farmers market?
John: Basically we had to find a good supplier of fish and somebody that was principally in sync with us about what type of fish we wanted to supply and the quality and the sustainability of it. So that took a lot of work finding the right person. Our strategic partner actually coordinates getting the fish and we found someone who's been in the business for forty-something years.
What were you guys doing before?
Jill: Both in startups, I was in educational tech.
John: And I was in accounting technology.
How has the change been going from the corporate world to being a fishmonger?
John: I love it. It's awesome. I mean we're learning a lot which is always exciting. I think both of us have an entrepreneurial spirit which is why we got into those businesses.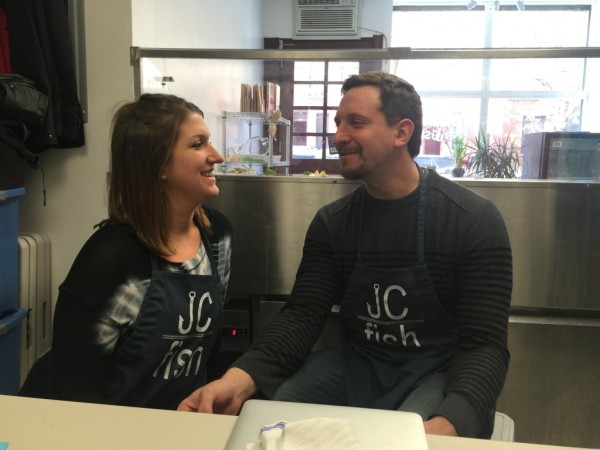 And you guys are also married?
John: Yeah and we're married.
Cute. How is it working with each other?
Jill: It's actually really fun. We are working together pretty well and it's mixing up the day and bouncing a lot of ideas off of each other and splitting up the tasks.
John: I think it's great. We bring different things to the table so there's that complimentary aspect. It is all day long, though—
Jill: You're with each other.
John: —So, at least, we're friends too so that works out.
Right, you guys get along.
Jill: And we get to eat a lot of good seafood for dinner together.
Where do you actually get your fish?
Jill: It comes from all over. First we try to get it as local as we can and wild and then from there just kind of whatever is coming in and catching and at a reasonable price.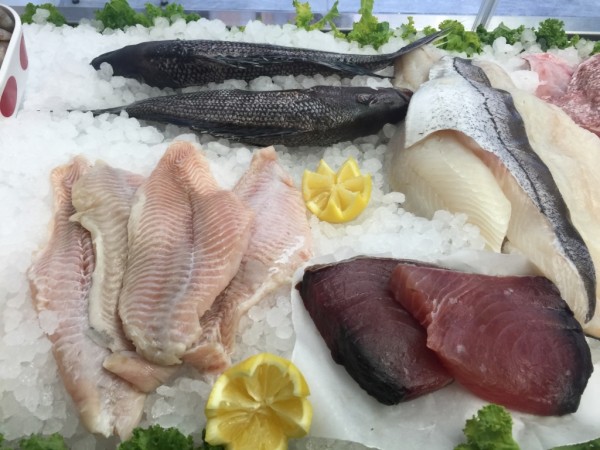 John: It's an old business so you have to have relationships with people on docks all over North America and Europe, all over really. So for example, the shrimp we're selling today is from South Carolina. So that all comes in from this dock and gets flown or trucked up overnight to a distribution point in New York. Then we get that picked up early in the morning and then it's brought here.
How's it been so far?
Jill: It's been good.
John: It was swamped during the holidays.
Jill: Yeah the holidays were good.
John: We opened a week and a half before people were in holiday mode. Since then it's been good to actually just get our feet underneath us. Moving from a farmers market to a store is a totally different inventory to manage.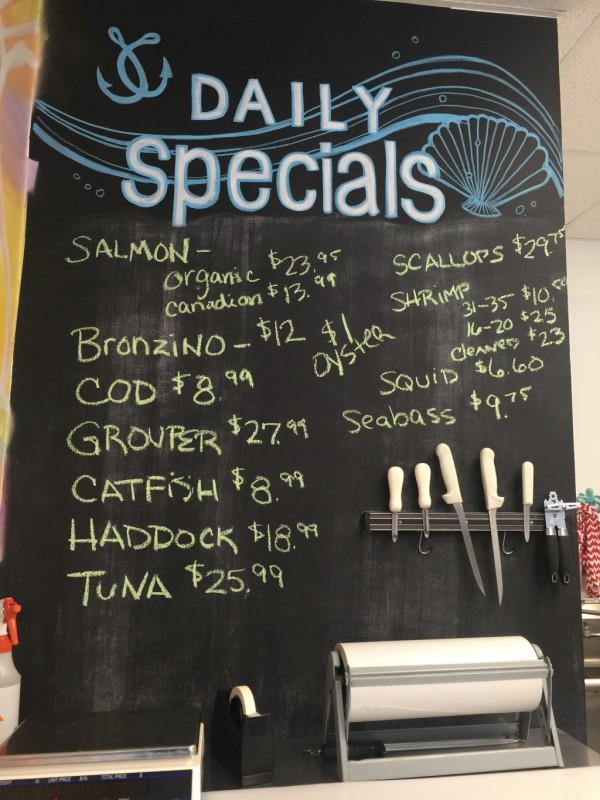 Are you still going to be in the farmers markets?
Jill: Yeah, once that starts back up. It's a good way to reach more people and just be supporting local events, knowing what's going on, and getting our name out there even more.
John: And I think there's fourteen farmers markets in Hudson County. So we'll see but it would be great to do all of them, you know from Bayonne to Hoboken to Kearny. Jersey City obviously has several and we want to get to different parts of Jersey City to do it too.
I feel like you don't see a lot of fish stores it's like a dying art. In the old school days, you'd go to your butcher, your cheese place, your bakery. How do you guys feel being part of this movement of buying local and sustainable food?
Jill: That's something we're really proud of. Growing up, I loved going to the butcher and going to the seafood market and getting to pick what you were going to have that night. I think it's something really special in the community that I'm proud to be bringing back to Jersey City. This actually was an old fish location back in the day.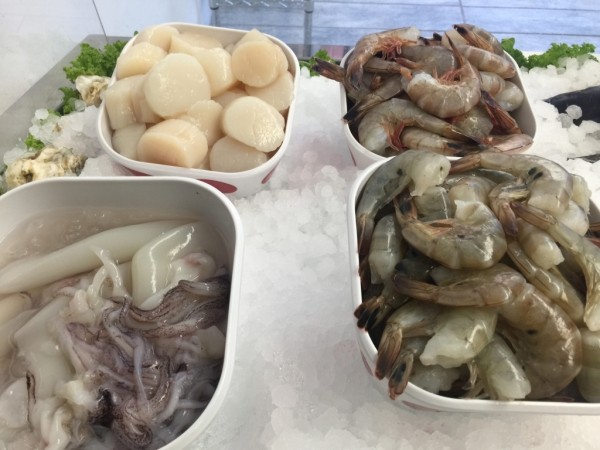 John: Like when we were kids.
Jill: So we have some people coming in being like, "I remember growing up forty years ago and this was an old fish shop," so that's really cool. There was also one across the street and now there all gone. So we're proud to be bringing it back.
What can you tell people who are apprehensive about buying fish and making their own fish?
Jill: Everyone is overwhelmed by cooking seafood for some reason but it is the easiest thing to cook! You throw it in the oven, the broiler, or in a pan and season it however you want and it's delicious.
John: Fish is interesting because there's so many types of fish. It's not like beef where it's all from the same animal. There's hundreds of fish we sell. I usually like to break it down into, "Do you want to grill this, pan fry this, or bake it?" and then you can kind of figure out from there how they want to do it.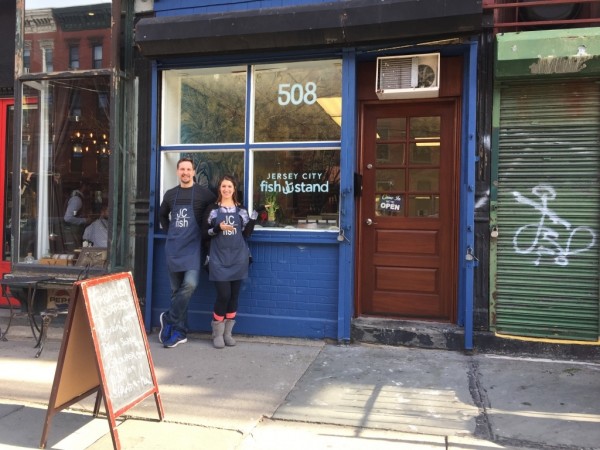 Do you guys sell whole fish and do you scale it and clean it?
John: So this is a small store.
Jill: 300 square feet.
John: We do a lot of filleting off-site just so that there isn't a lot of waste here.
Where do you guys do that?
With our supplier. No one wants scales flying anywhere. But yeah, we bring in the whole fish scaled and then sometimes sell it that way or if—
If they want to fillet it. Don't fillet a whole fish! It's so good! The cheeks are like the best part, the eyeballs too.
John: So I try to not fillet it, but sometimes you have to. So we do a little bit of the cleaning here too.
It's very clean in here too and it doesn't smell very fishy.
John: Good. Well, it's fresh.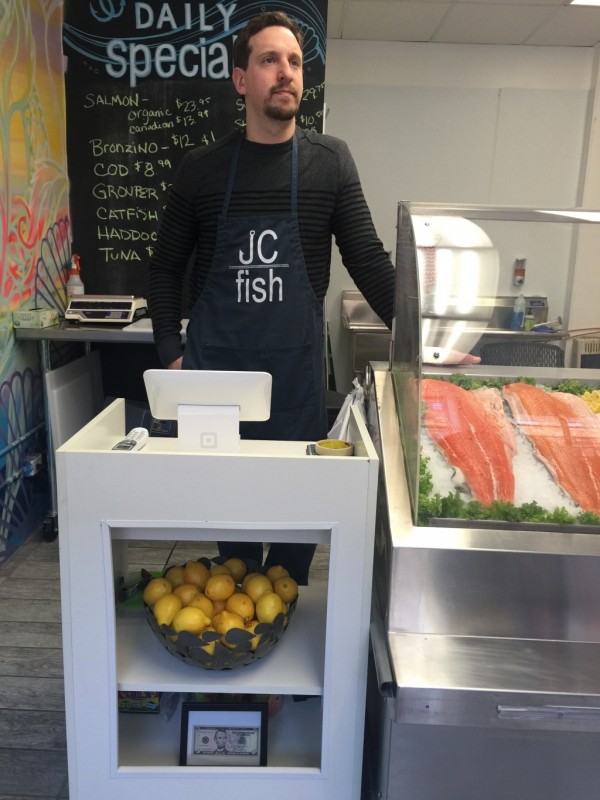 Are there any plans to make prepared foods or things like that?
Jill: So that's something we're looking into now. We're going to start with partnering with some of the other farmers market people that we're friends with and do some stews and soups and prepared sides.
John: So we got really close with the owners of Bread & Spoon, Bone-In, and Busy Bee. Bread & Spoon is doing some meal starters for us so like, for example, you'll take one of her concoctions which have the oil base and flavoring and seasoning. You buy our fish, you put those two together, heat it up and you're done. Bone-In is taking some of our product and turning it into a ready-to-eat meal so we'll be doing that too.
That's awesome. I'm in.
John: We have seafood here, we have spices but we want to cater to those that want to get their whole meal here.
Jill: We're also looking into delivery services so we can start providing fish to Hoboken and the Heights and different areas
John: For people that it's kind of a trip.
That's a really good idea. Awesome guys. So you guys live in Jersey City right?
Jill: We just bought in Bergen-Lafayette.
John: There's beautiful houses there. They're like a hundred years old so we had to do some restoration to it, it's a lot of house. But it's cool to have a backyard in the city.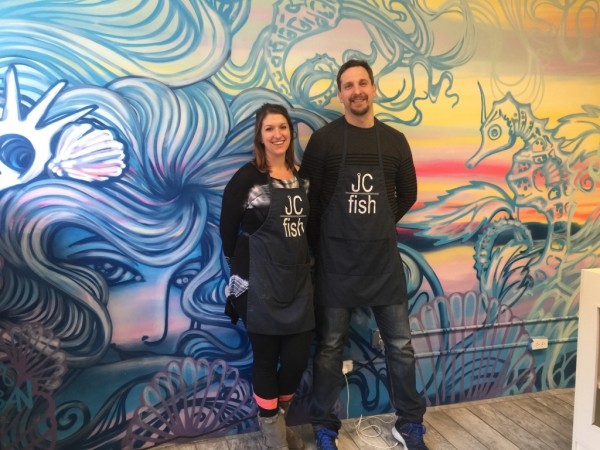 That means your next step is little bambinos.
John: One step at a time.
Do you fish?
Jill: I love to fish.
John: We like eating fish. On our honeymoon we went and got scuba certified so I think we just like being in that environment.
What's your favorite Jersey City hang out spot?
Jill: We've been mixing it up. We were living in Paulus Hook so we were going to Satis, Light Horse and Amelia's and trying out all those places. Now that we're in Bergen-Lafayette we've been trying some places around us and trying more places Downtown like Barcade. We really mix it up a lot, we don't always go to the same spot.
What's your go-to dish?
Jill: Scallops usually just because they're so easy to cook and they're delicious.
Buttery, yummy.
John: I mean you cook two or three minutes on a side and it's awesome. I mean it's so easy and tasty.
Jill: I like the organic trout a lot too. That's my favorite fish we've been getting.
John: You know what I didn't grow up with but I'm really liking is porgy too. We get some in from Long Island, it's really tasty.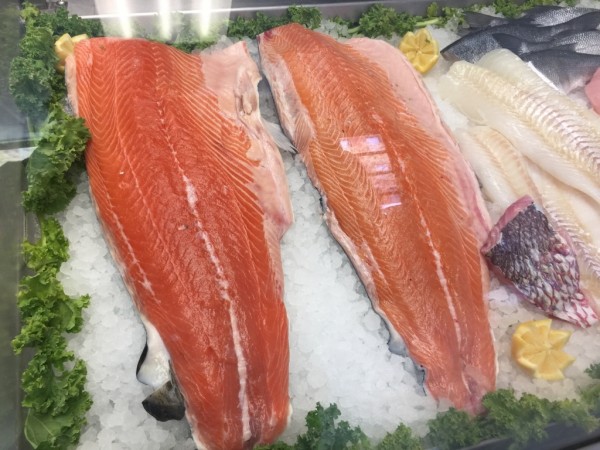 It's healthy, low in fat, high in protein. Do you have smoked salmon because I'm a Jew, I need smoked salmon in my life.
Jill: We usually get it in on Friday and Saturday.
Anything else you'd like people to know about JC Fish Stand?
Jill: Our awesome mural is by a local artist, Blair Urban. As far as fish goes we mix up the menu daily. We post it online every day once we get our delivery in so people know what we have and then we always take suggestions if there's something in particular, we can try to rotate it in. Since we have a small space we don't have everything right now until we have more room.
John: So check the website.
Jill: Or make a suggestion. We're going to be doing a Valentine's Day sale for lobster tails, king crab legs, and scallops and a variety of finger foods like shrimp, oysters and such for the Super Bowl.
John: So before every major holiday we'll have something like that so just stay tuned for that.
Jill: We're really happy to be here. I'm extremely proud to be opening a store Downtown and all the local businesses and neighbors have been very nice in welcoming us here. It's been a great experience so far opening a shop!
508 Jersey Ave.