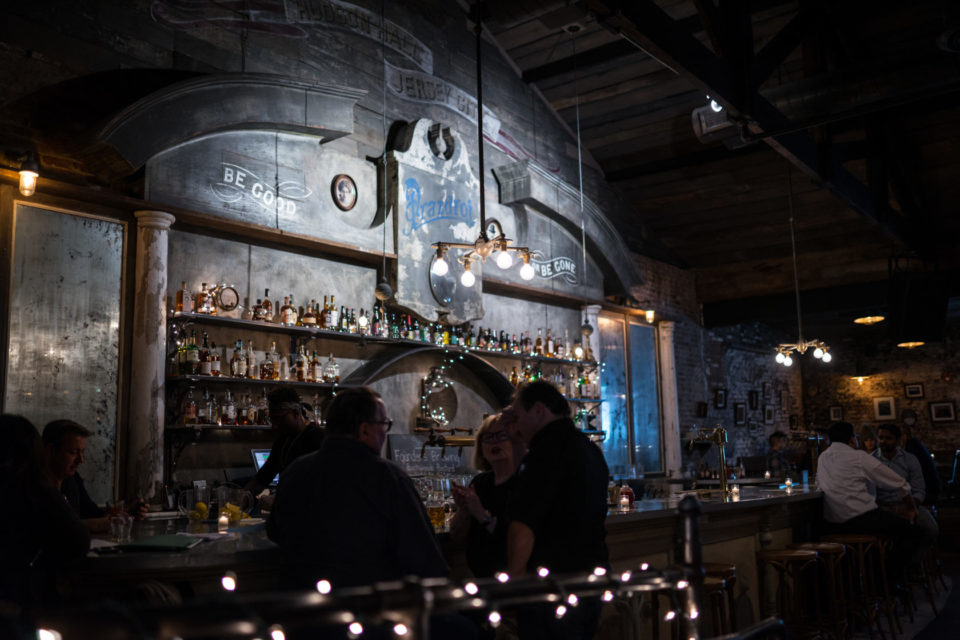 Hudson Hall, a delicious smokehouse in Jersey City, opened in the fall. This spot is a game changer in the restaurant scene in our city. I went to tour the space before they opened and was completely in awe of the interior design. When you walk in, you are transported to somewhere else! I felt like I was in Europe; the decor, the bar, every single detail has been thought of. But what about the food and drinks? A few weeks after they opened, I went to eat there for the first time. I had no idea what to expect. I went with my family so we ordered one of their family style dishes, and boy… (insert heart eye emoji). The meal was incredibly satisfying, the meats were smoked to perfection and paired with a cold beer and good conversation, it was the perfect meal. I couldn't wait to go back.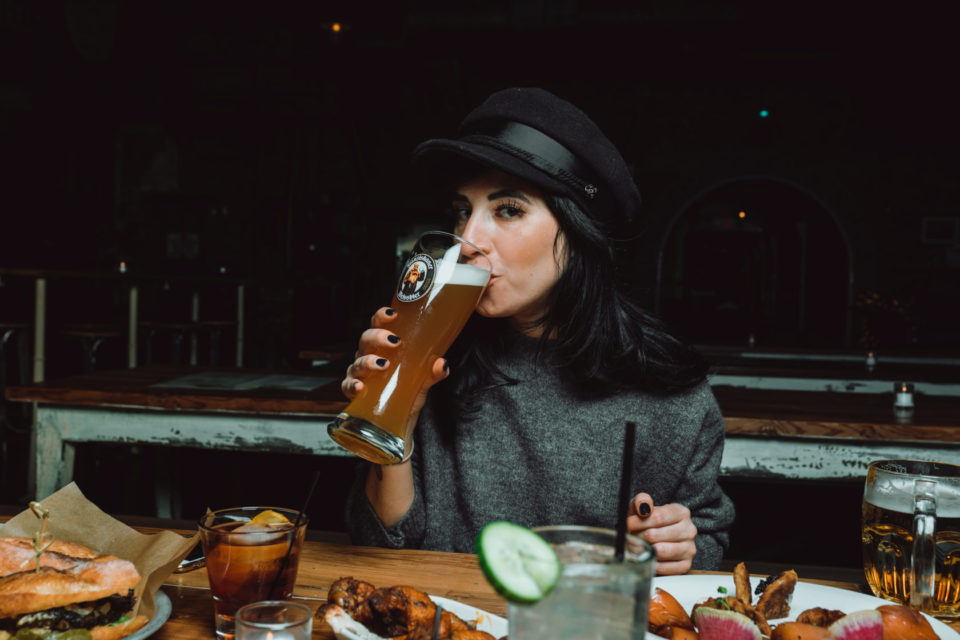 I came back a month ago with Mike aka @5thPhvse to try (almost) everything on their menu and had the chance to sit down with one of the partners, Peter, and their amazing Chef Klaus over some beer and food.
When I do these tastings, I usually just "taste" because it's too much food for one person to consume, but in this case, the food was so delicious. I ate so much that I was full for the next 24 hours #truestory.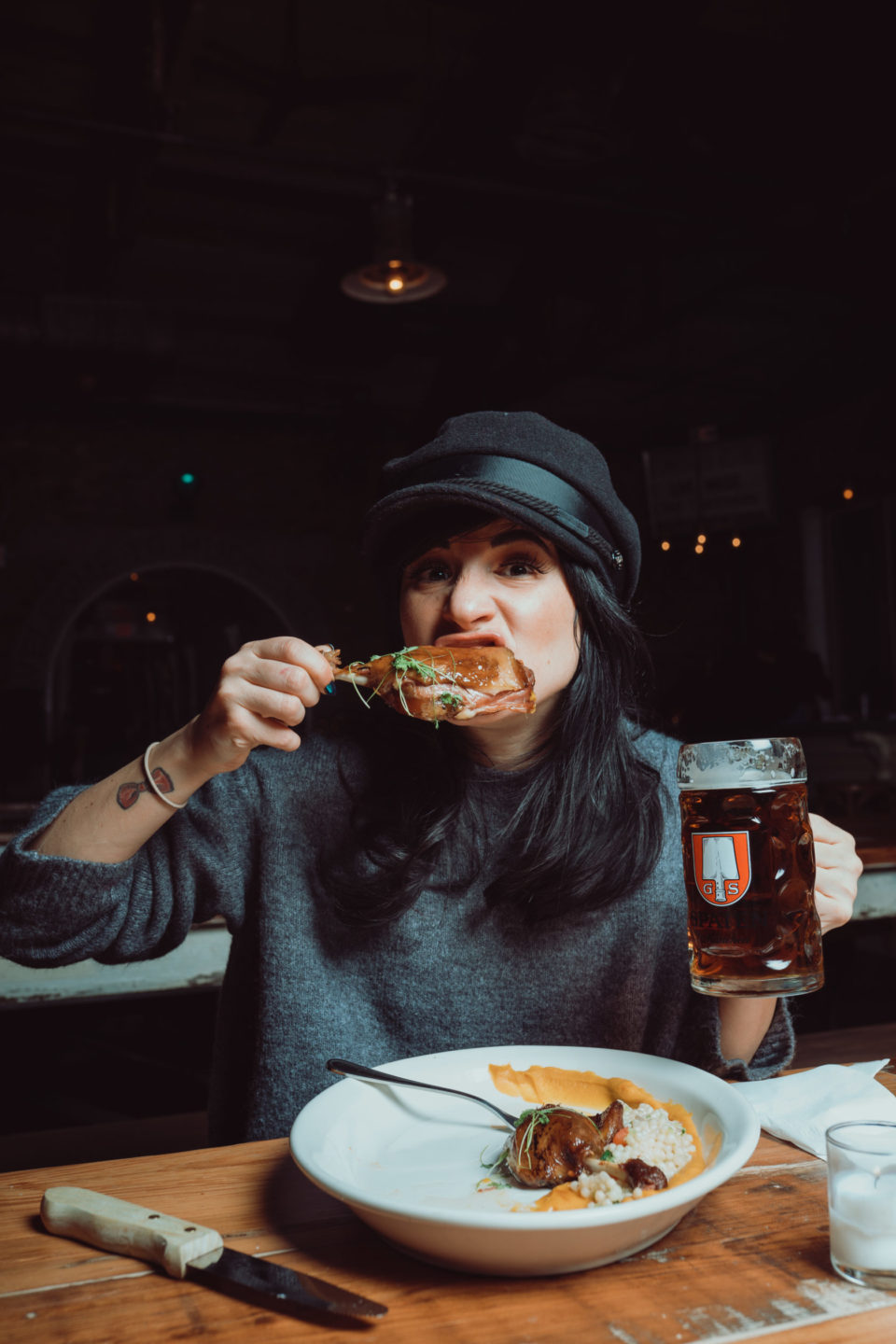 Hudson Hall is a must! The ambiance is so chill whether you want to grab a drink with friends at the bar after work, or bring a date and share food (which is super sexy btw) or even come with the family on the weekend and watch a game. It's really kid friendly! I brought my mini me here and she had a blast and actually ate something! On the weekends, they have DJs and different things going on, so it's definitely worth checking out.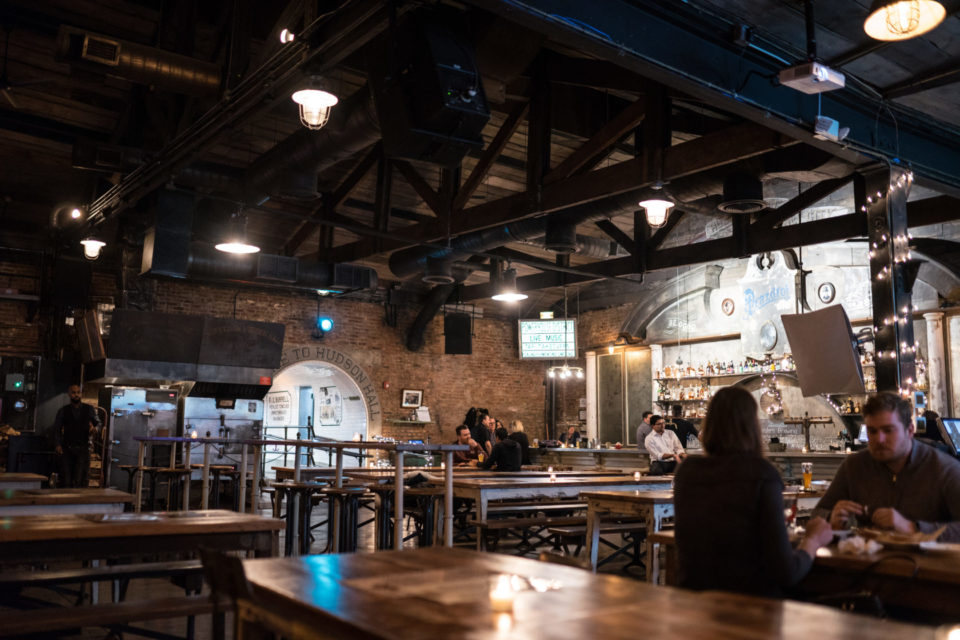 What are your names?
Peter Borovicka and Klaus Kronsteiner. Klaus is Austrian, and Peter is Slovakian.
So tell me, what do you guys do?
Peter: I'm one of the partners, I'm one of the owners of Hudson Hall. I'm Operating Manager.
Klaus: I'm the main chef.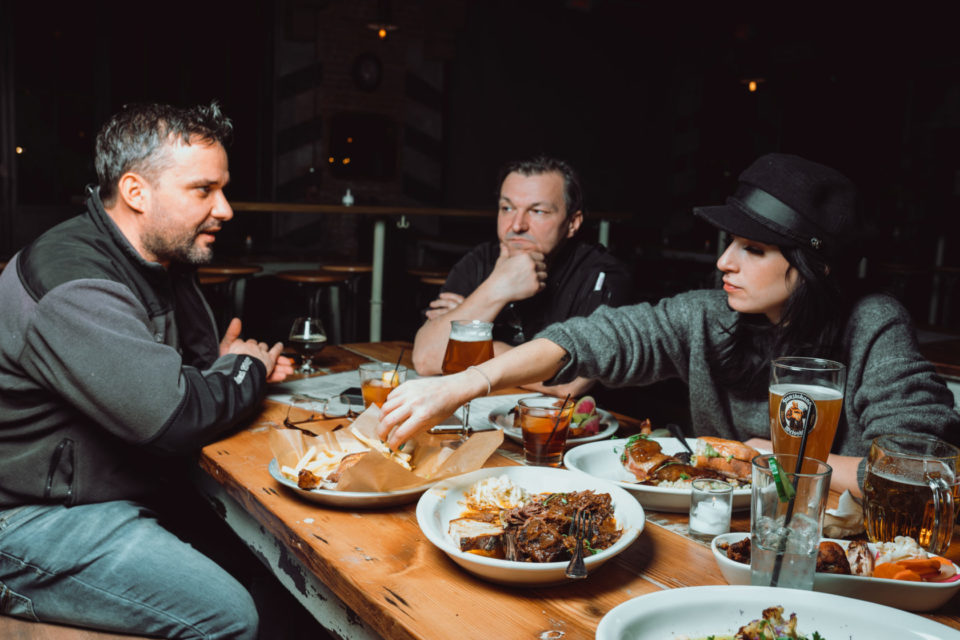 When did you guys open?
We opened in September 2017. It was a long journey of almost 2 years. We completely gutted this place out and the only thing left standing were the walls. Everything else was taken out and we rebuilt. At some point, we decided to dig out the basement for patrons, which took a while because we couldn't use any machinery. We had to dig it out by hand. There's 1800 square feet of basement downstairs, but all the storages and coolers were dug out by hand. Then we decided there'll be a secondary bar on the corner space, on Marin and 1st, and it works as a take-out/delivery spot. On Fridays and Saturdays, it'll be more intimate, like a lounge.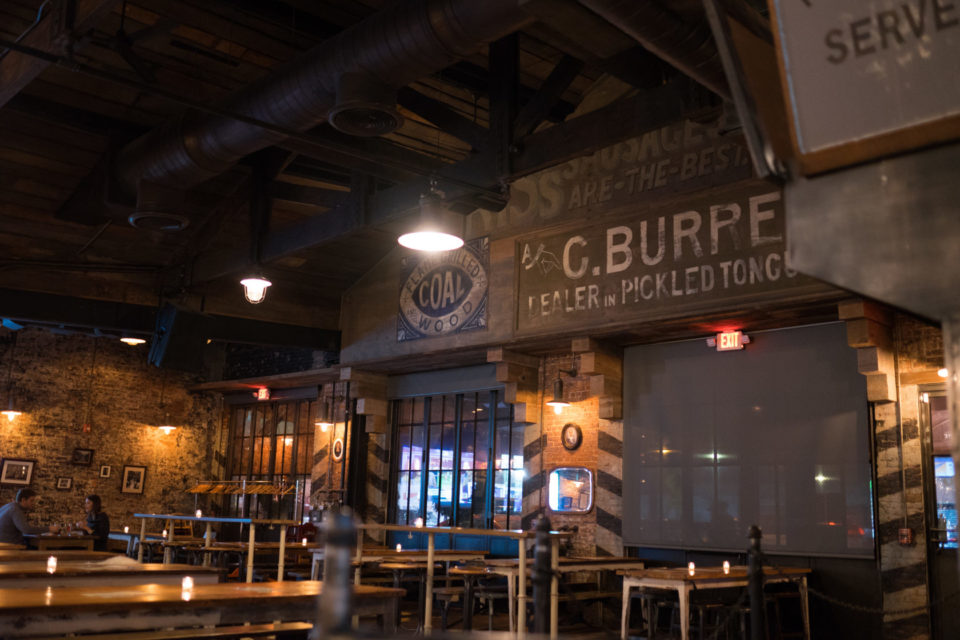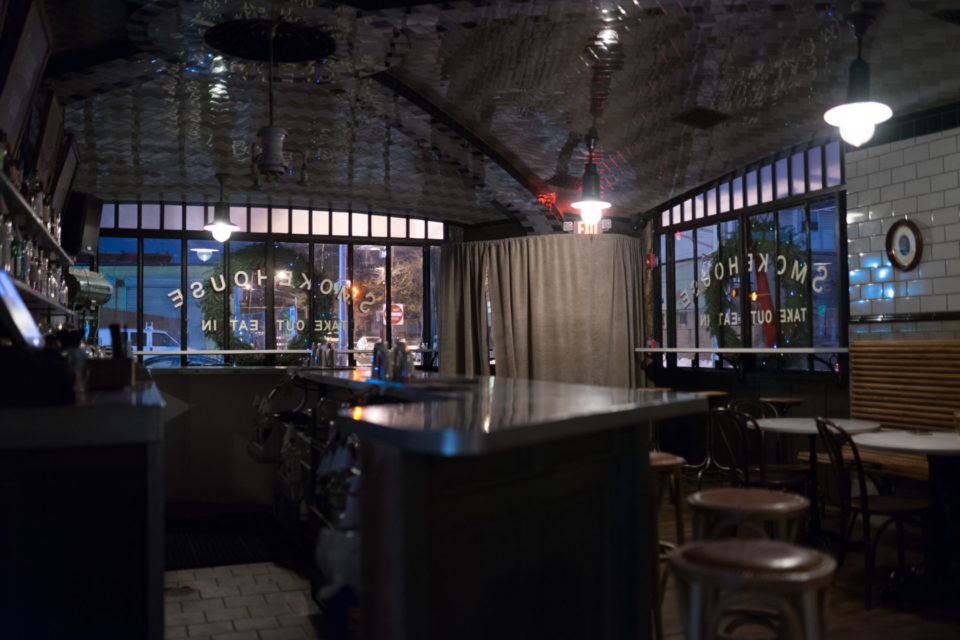 How did you come up with the concept and decide this is what you wanted to do?
Peter: My partner Mike from Hamilton Pork came up with the idea to do a smokehouse. He has a barbecue place, but he wanted to do a smokehouse more on Central and Eastern cuisine. No heavy sauces, lighter dishes, flavorful dishes, lots of pickling and fermenting. We want people to come, eat, enjoy the food, keep drinking, and have a good time. There are communal tables, which are very unique because during the construction when we were digging out the basement, I saved every single beam that we took from the old floor and turned them into these tables. So these tables are as old as the building.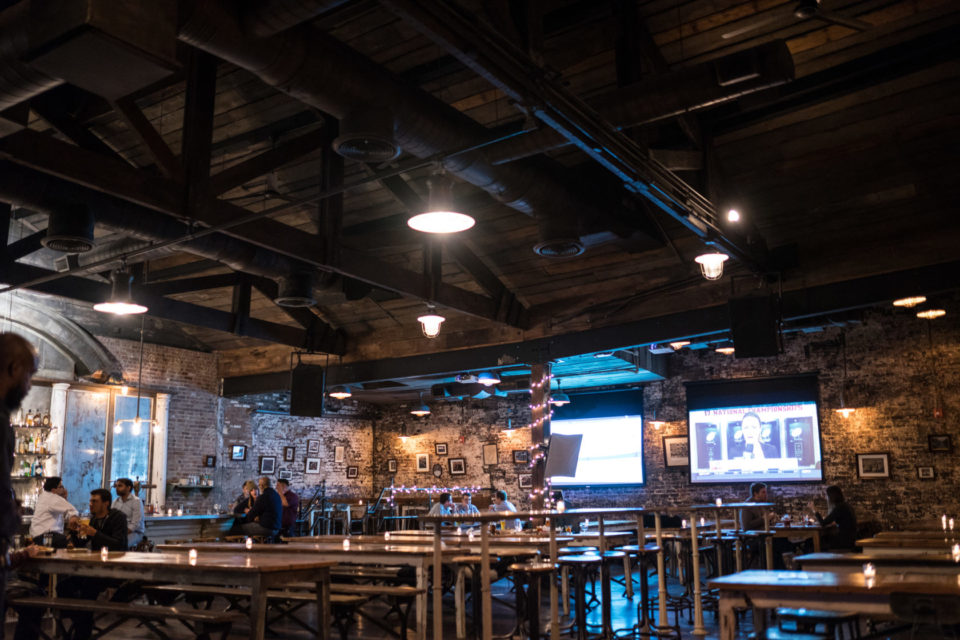 That's amazing. 
If you look at them, they're beautiful.
That's awesome. Tell me a little bit about yourself and your background, and about the food.
Klaus: I was born in Austria and never wanted to be a chef. I'm the opposite of all the chefs. I learned how to cook because my mother's from Northern Italy and they're in the hospitality industry. They have everything from pasta to nightclubs.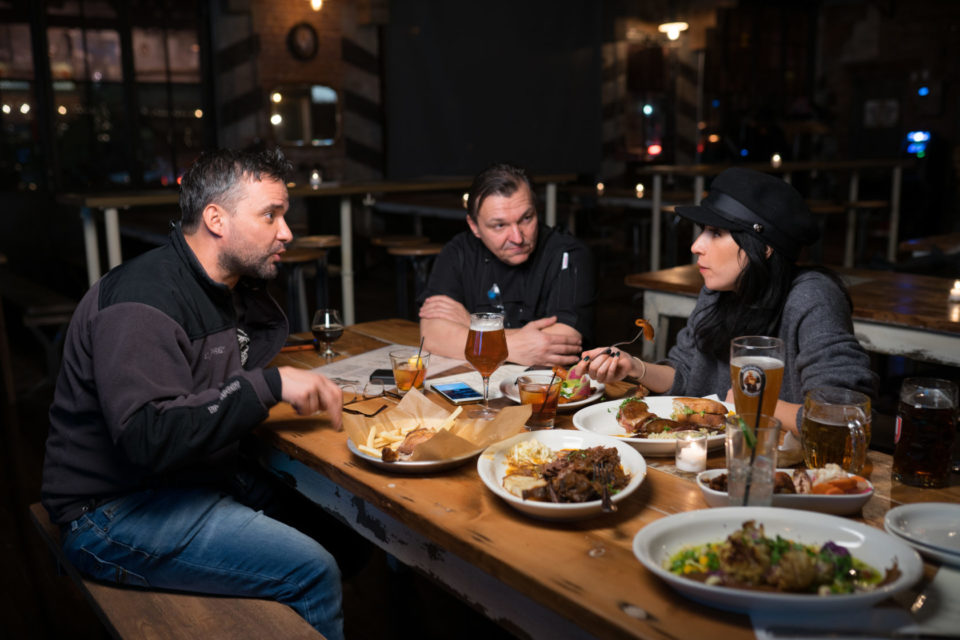 It's, like, in your genes.
Exactly, but I hated it. I wanted to be a ski racer and professional musician, which I did for a living for some time. My dad made me go to culinary college because he said I needed a leg to stand on, and music and skiing might not work out. It did for some time, I made a good living on it, and I came over here as a musician and ski instructor.
Wow.
I went back into the industry after meeting a woman here in New York, I moved to the city, and I worked in a retirement home for some time. I moved back to Europe and when I came back, I luckily became the chef at Liberty National Golf Course for some time. I worked for Trump, which is not on my resume. I have friends who've worked for him for 6 years and don't have it on their resume.
That's hysterical!
Then I met Peter, left Liberty National, and consulted in the Zeppelin Hall.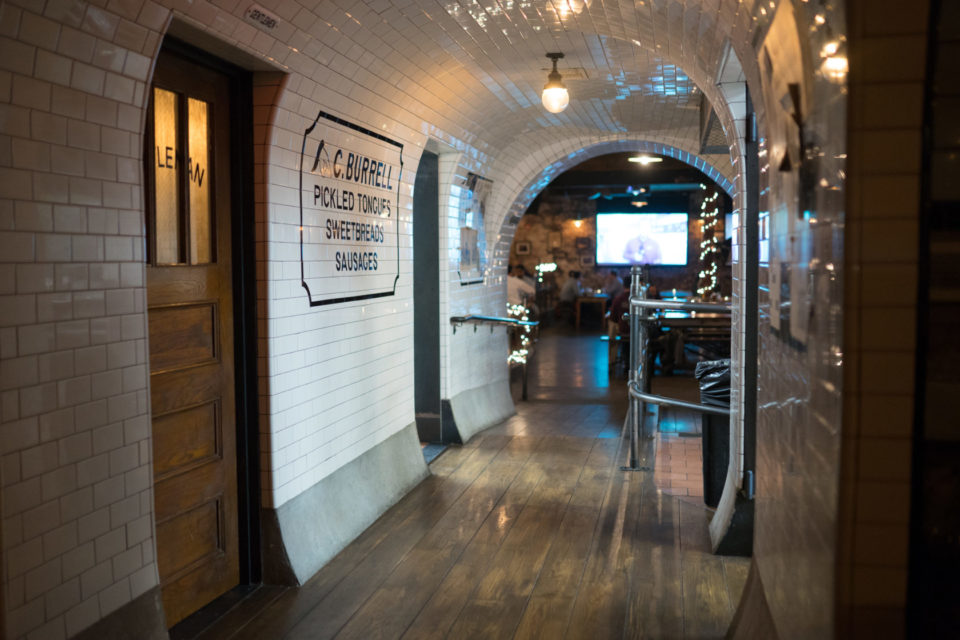 Do you love being a chef now?
Well yeah. When I was an apprentice, it was 18 hours a day from 7AM to 11PM, and it was exhausting. It's not so romantic to clean a pig stable. It's a lot of work and it stinks. I think most chefs do this for show, but I do this for a living. I'm a chef – I bring in the stuff and make good food out of it. When Peter approached me, he already had a chef there, and he introduced me to this concept and said he wanted light fare. I thought to merge old traditional dishes with American dishes. We even have a vegan dish where we smoke the cauliflower. Same with the duck confit, we smoke the duck and confit it. With the pastrami, we don't want to be a competition to Katz's because it's almost impossible to have a chance against their pastrami, so we try to do it our own way. Straightforward, six days in the brine, then we smoke it for 16 hours. The salmon is house-cured, one of our youngest guys came up with the idea.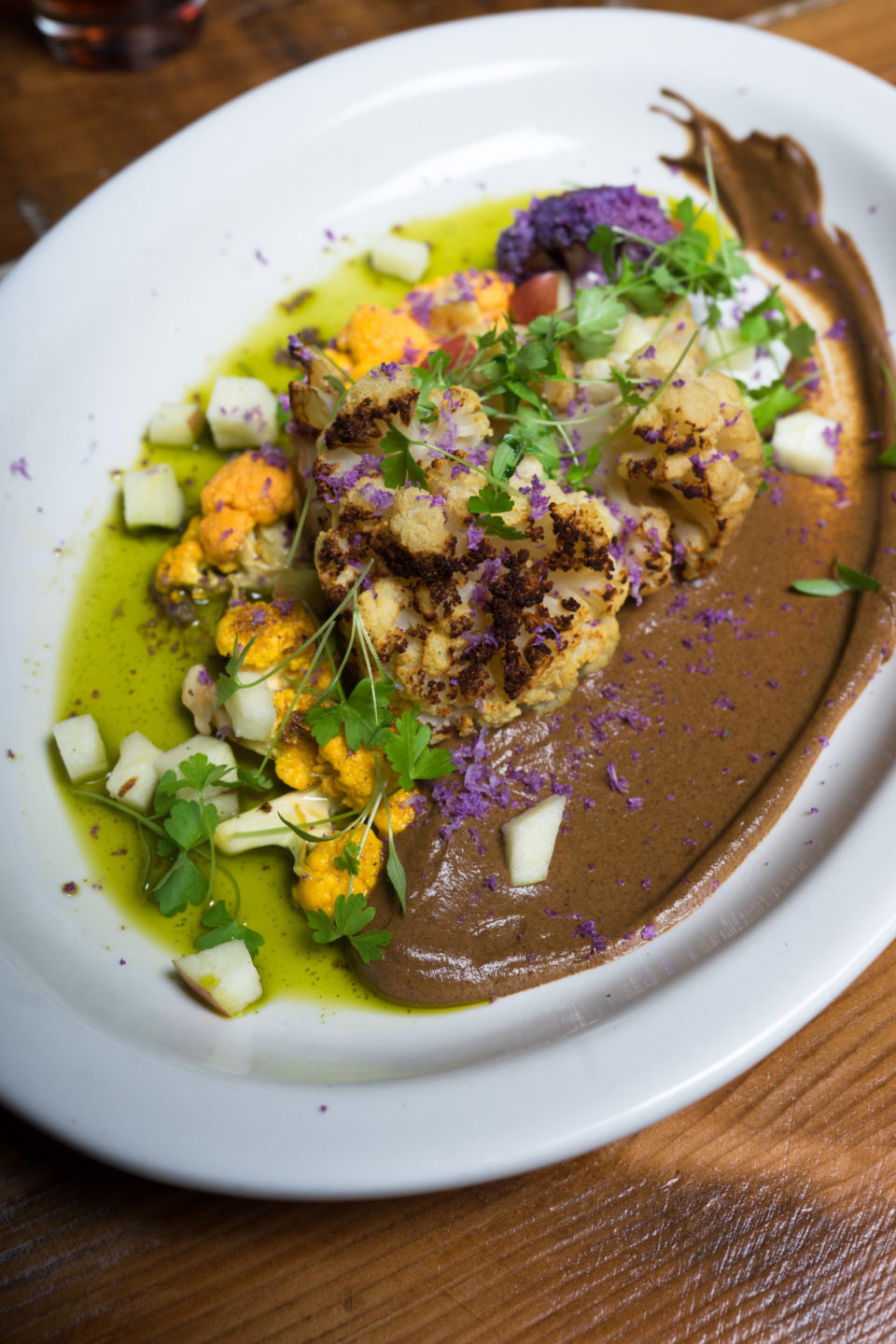 I love smoked fish! So you smoke everything in house?
Yes.
I heard you guys have owners from Asbury.
The co-owners are from Pilsener Haus in Hoboken. One of them still owns a biergarten in Asbury Park, and they own Wurstbar.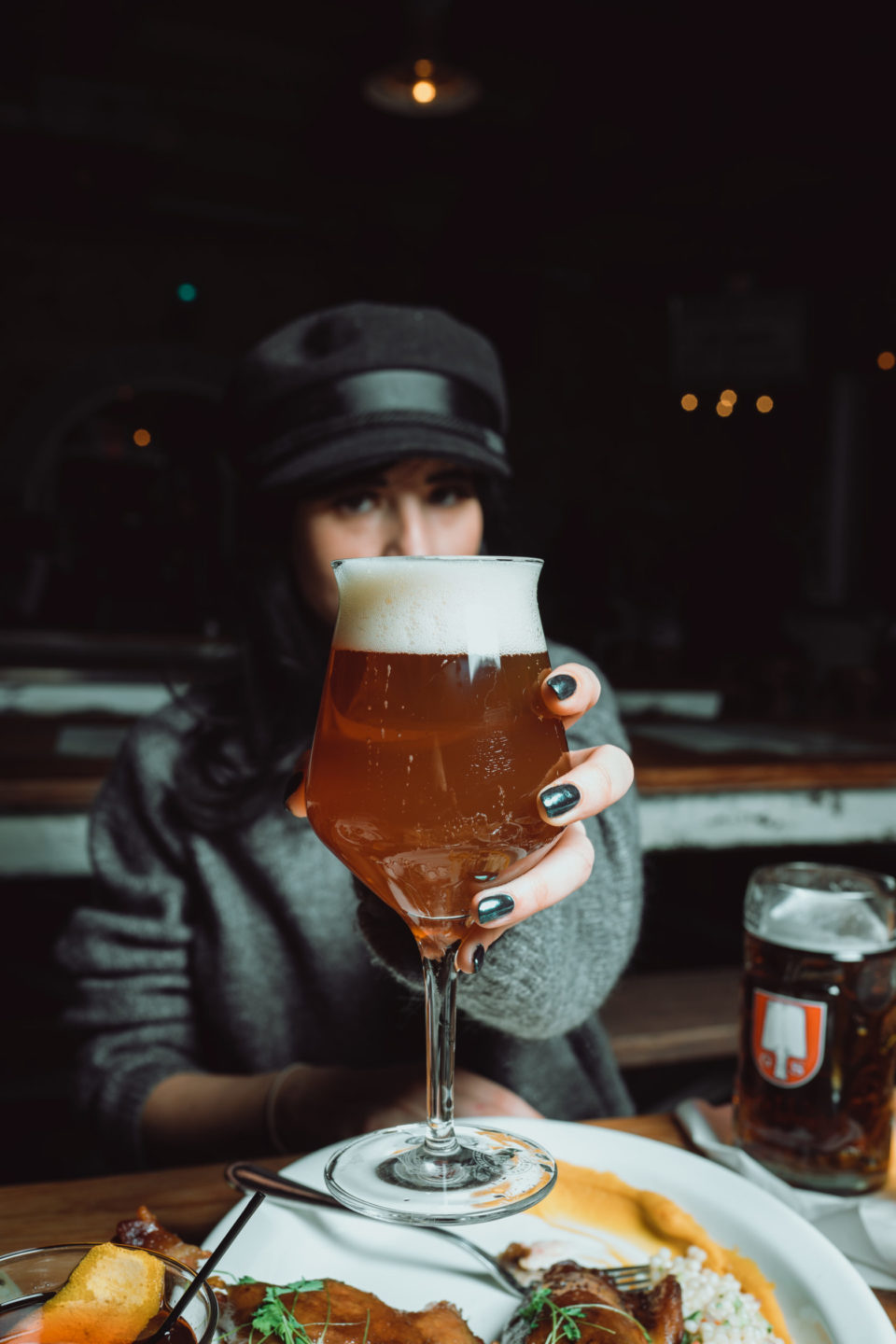 So you're all kind of connected in a way. How is it, being in Jersey City?
It's been great. It was a slow start, but we opened much later than we were supposed to. We were supposed to open in March, but it never happened because of the construction, permits, and everything. We pushed it to September, which was the end of summer. One of the biggest things in this place is that the doors can open and you can connect the outside with the inside. We didn't have the chance to do that. Not that many people know about us yet, but I'm pretty sure in this Spring when we do open the windows and people see the food, they'll start coming in.
What goes on here on the weekends?
We have live music on Thursdays. Fridays and Saturdays, we have DJs. Later down the road, we want to bring bands for the weekends as well.
You guys had a New Year's Eve party, right?
We did! It was awesome, it was great. It was actually very busy. We had a kid's party in the afternoon, it was crazy.
And you guys play sports regularly?
Yeah. We're not a sports bar, but we still want people to come here and watch their games. We play one or two games on Sundays in the background.
What are your favorite dishes on the menu?
Klaus: The duck confit. I like the salmon, and I like the short rib goulash.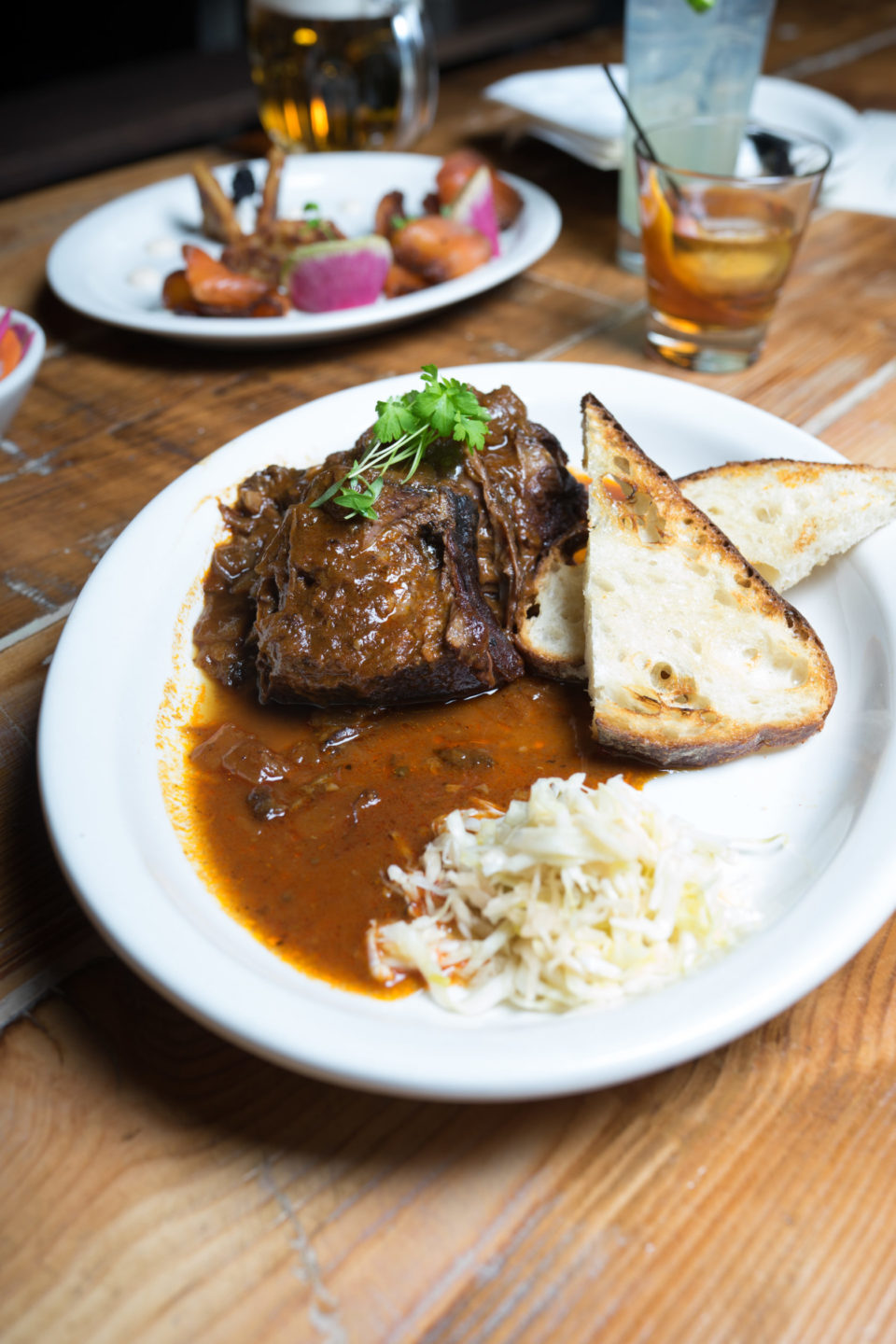 Would you say the food here is more family-style?
Yes, absolutely. Sharing and homemade food. It's a very family-friendly place.
We're getting more and more people coming in, and since we're a little pushed away from Newark Ave, we're missing that foot traction and the mingling.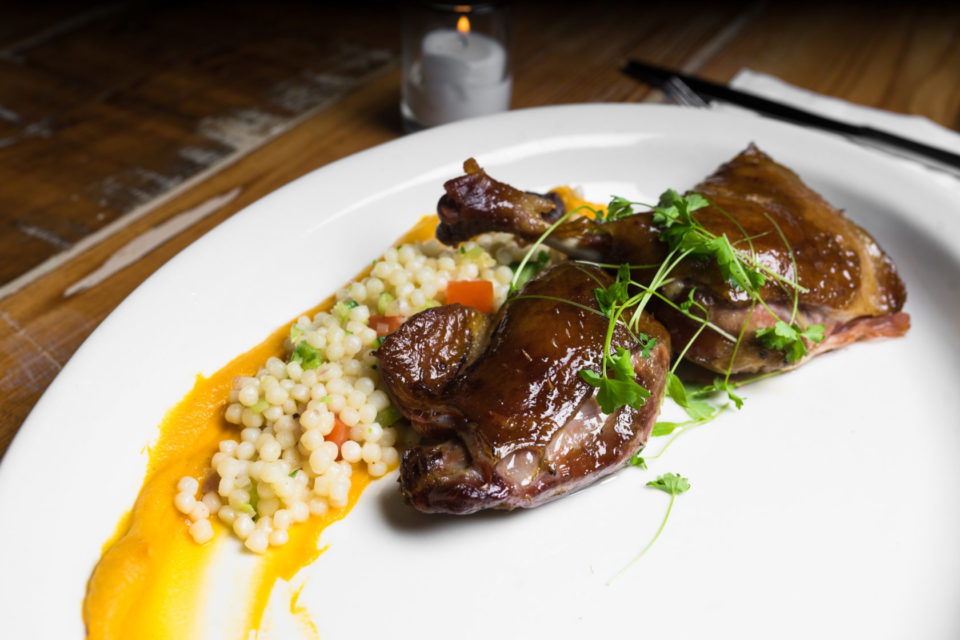 Anything else you want people to know about Hudson Hall?
It's a beer hall with great cocktails, great bourbon, smoked meats, smoked dishes. Klaus is doing a phenomenal job with his crew.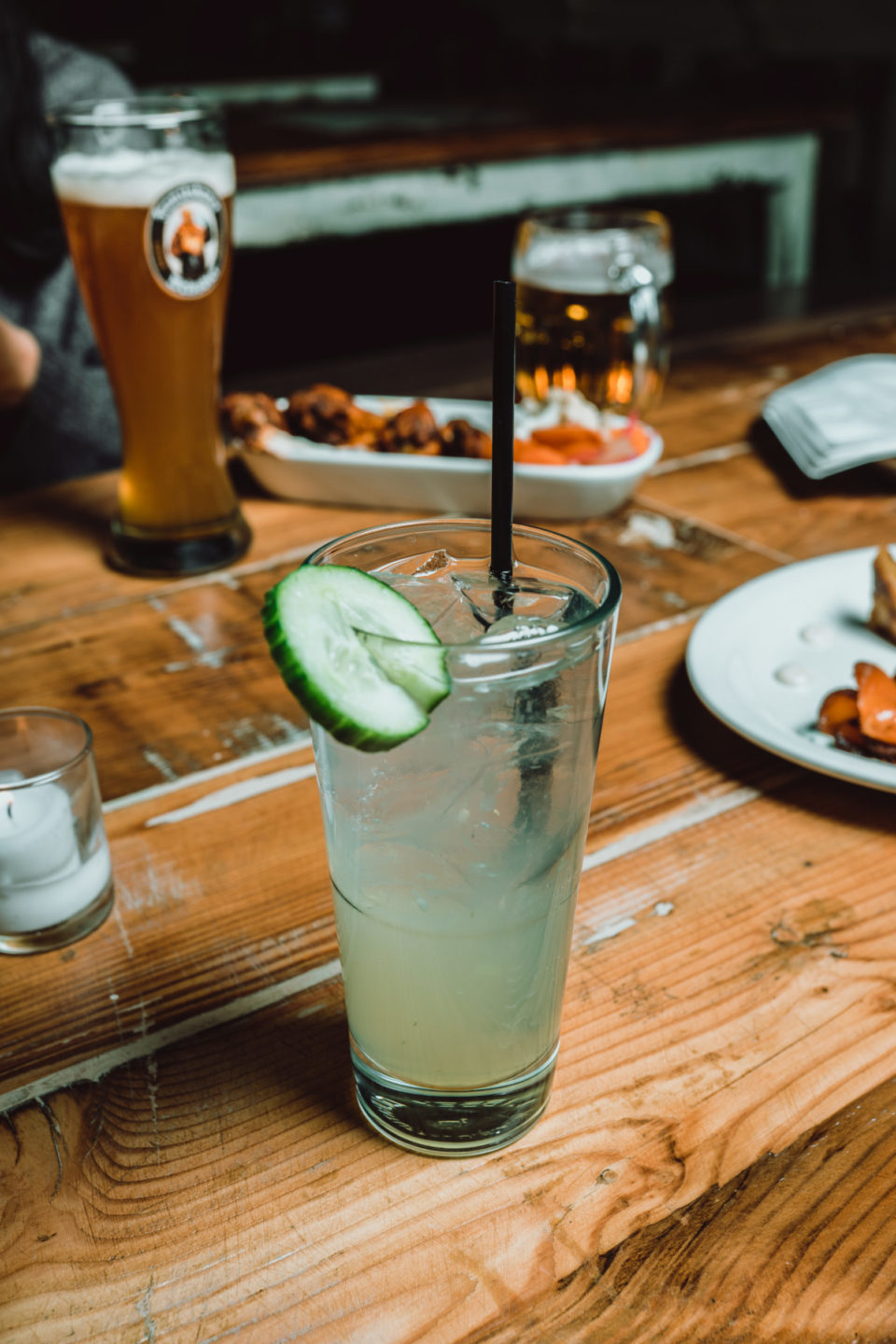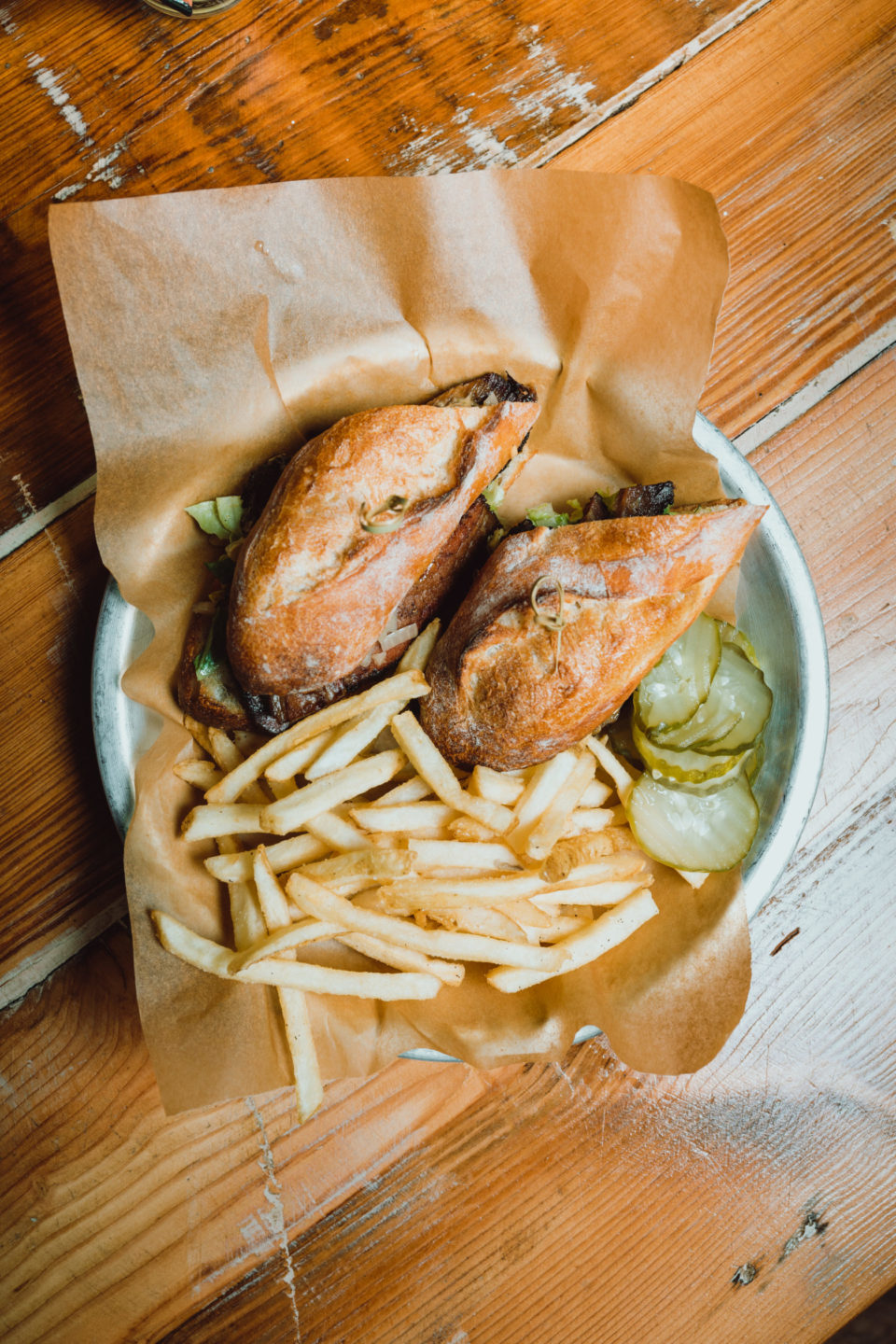 Do you guys live in Jersey City?
Klaus: I don't, I live in Whitehouse Station but I have a long history in Jersey City. I came over to Liberty National Golf Course, I was at Zeppelin Hall, I consulted Amelia's, I worked in the kitchen at Grove St. I always come back to Jersey City. It's difficult to get an apartment here, I have 4 dogs. I've worked in Liberty House, too.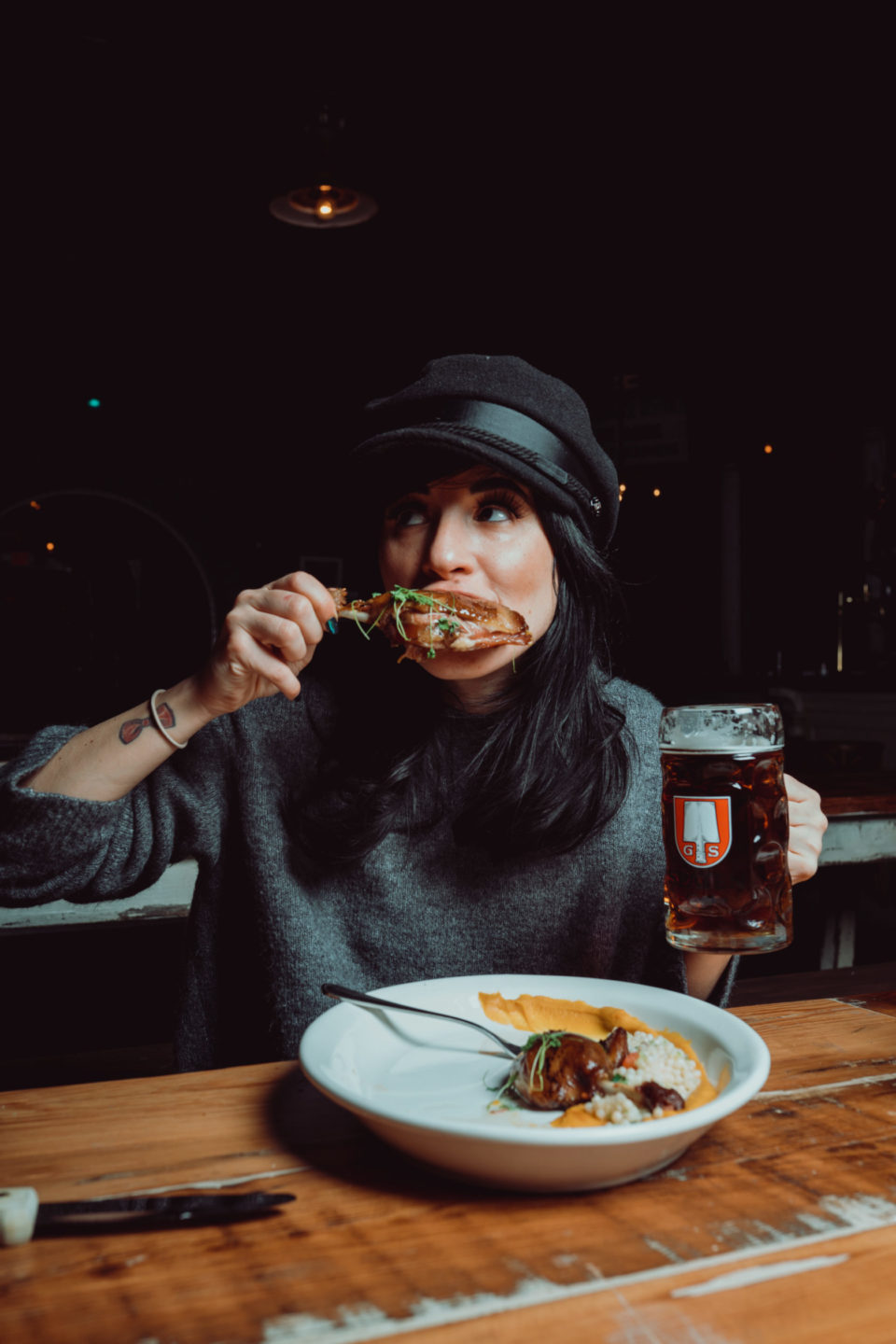 Amazing! 
Check out Hudson Hall at 364 Marin Blvd, and check out them out on Facebook, Instagram, or their website hudsonhalljc.com.