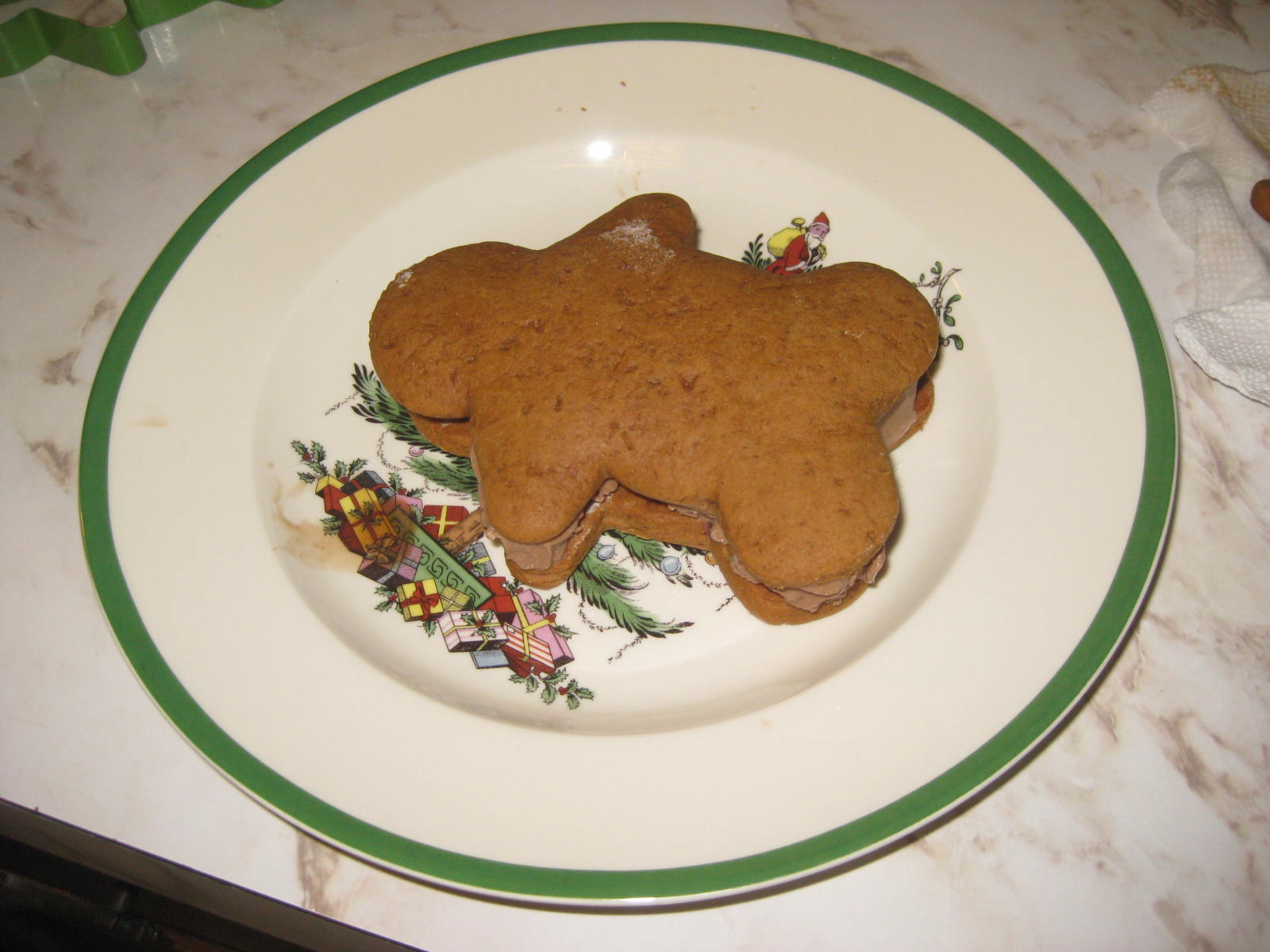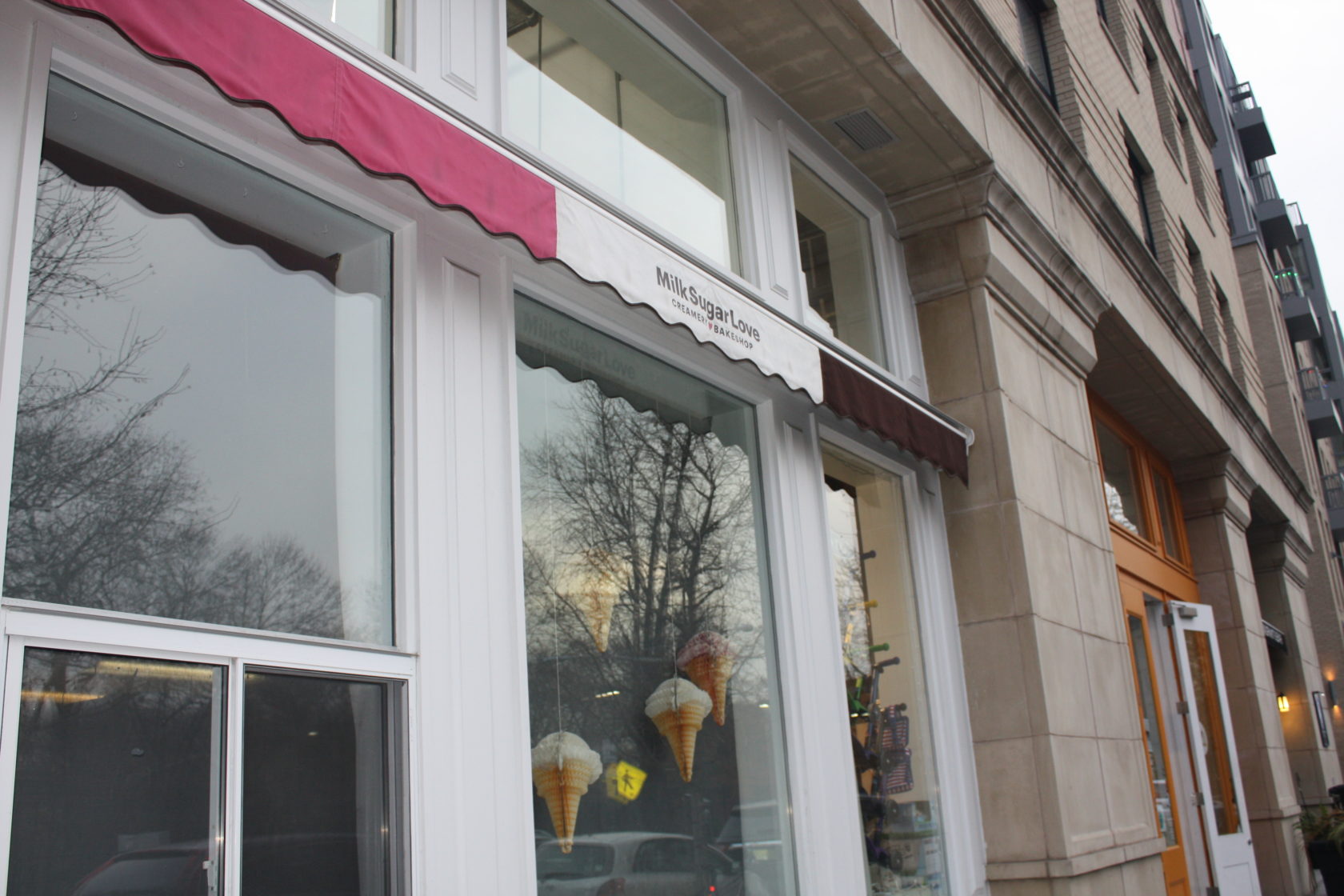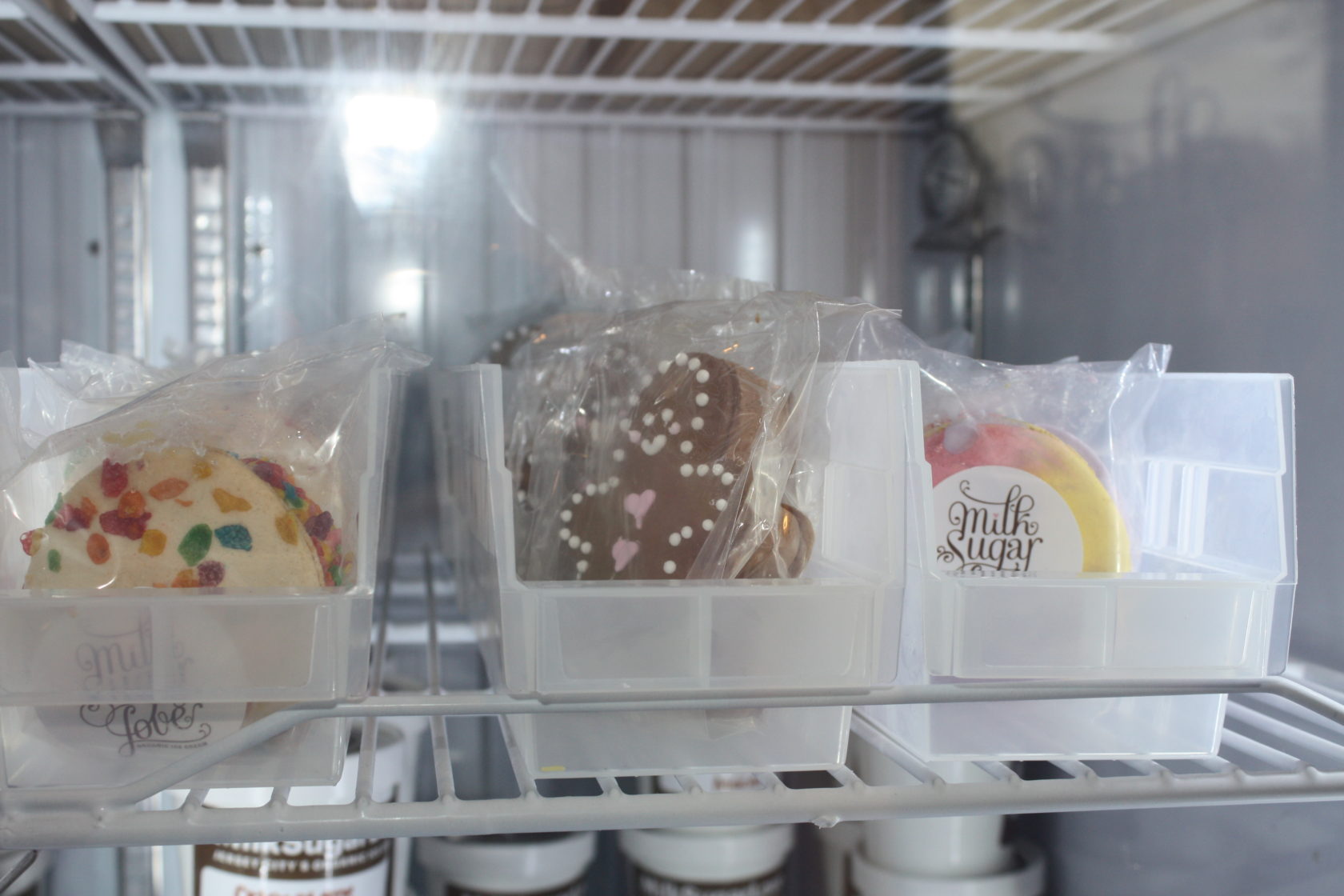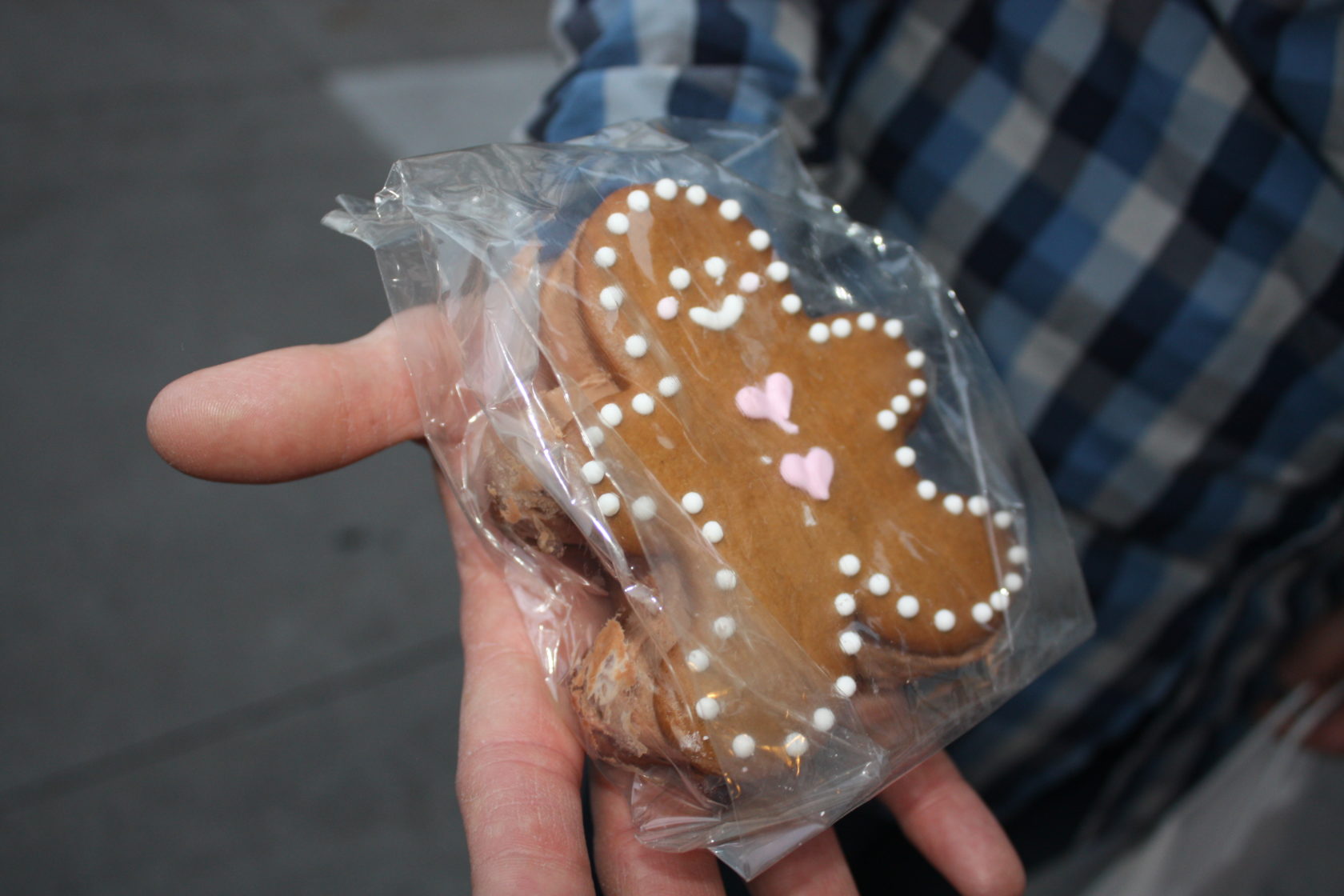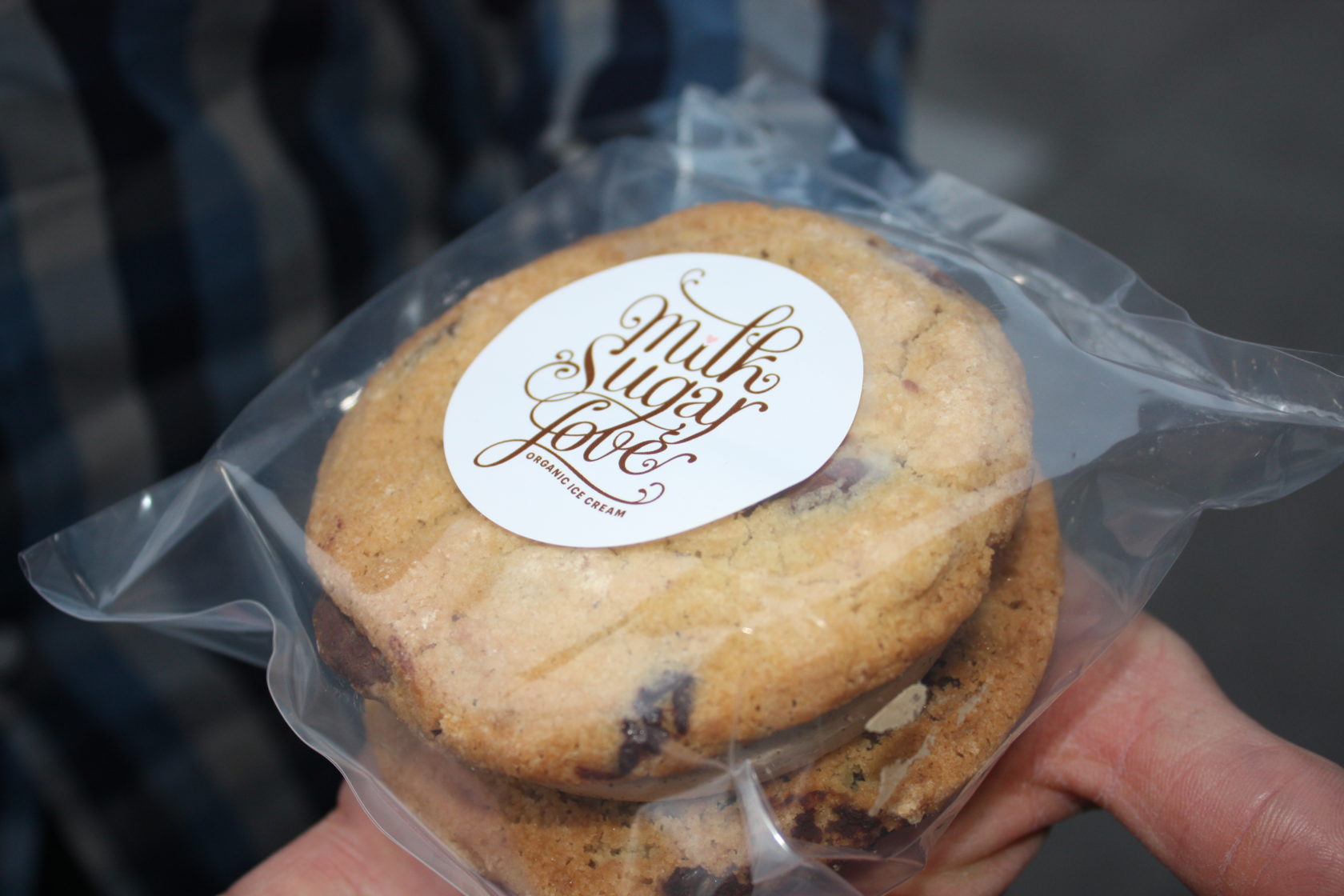 For this month's edition of JC Dishes Lightened Up, I decided to tackle a sweet treat. It is the holidays, after all! My favorite JC spot to visit for a sweet bite is Milk Sugar Love. My husband and I almost always pick up an ice cream sandwich when we stop by. You can choose to make a custom ice cream sandwich with any ice cream or cookie. We particularly love the combination of a chocolate chip cookie with coffee ice cream. Now that the holiday season is here, there is a special combination being offered– a gingerbread cookie with peppermint ice cream! I stopped in for one on a recent Saturday and decided to try to recreate it at home so that I could share it with friends and family.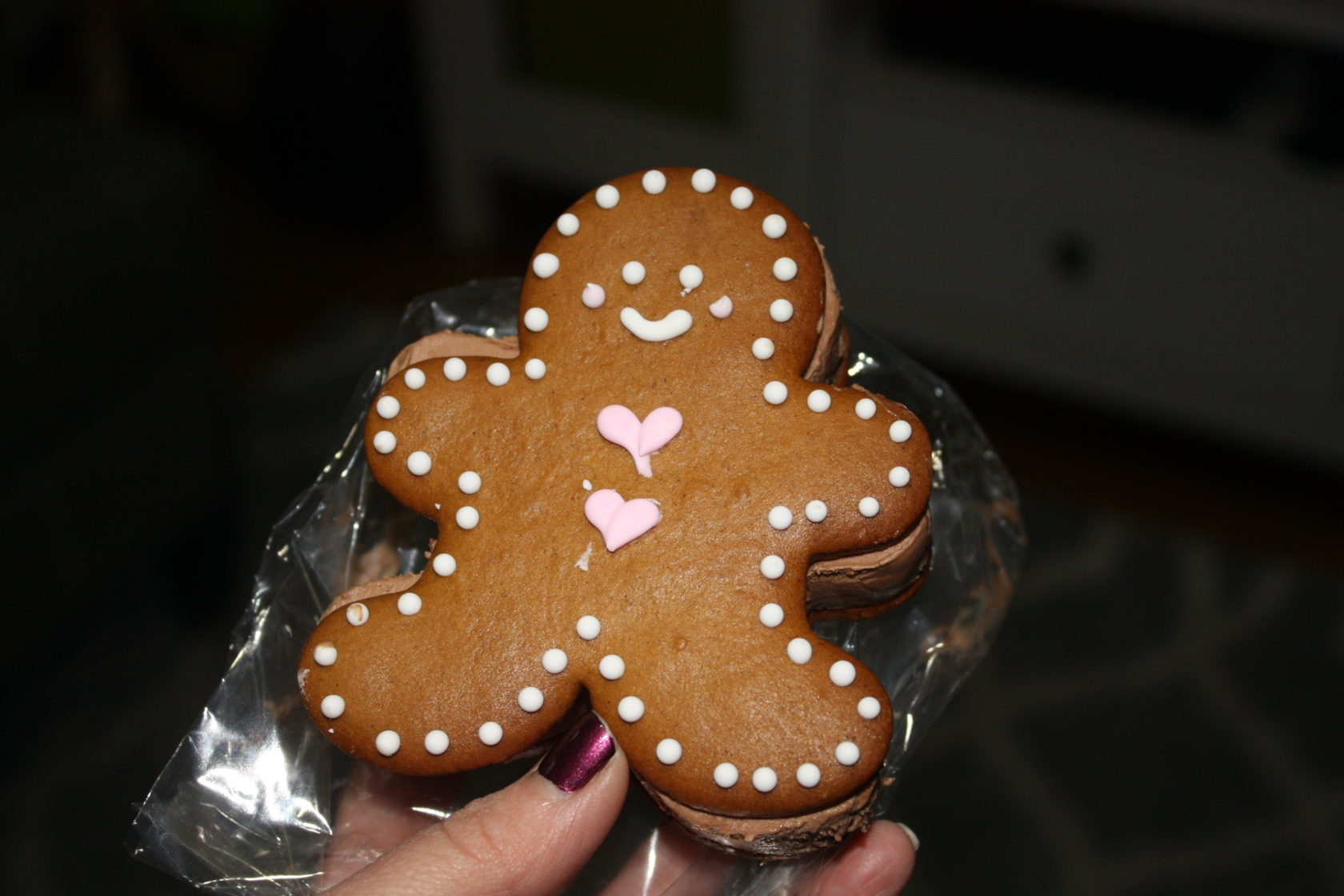 Although I still would not call this recipe healthy, I did make a few substitutions to improve the nutrition a bit. I decided to make my own cookies, and to make a very small batch of them. This recipe only yields 6 cookies! Making a small batch of cookies means that you won't have too many sitting around, tempting you. It's a perfect recipe to make and share with a friend, partner, or kids. You can use whatever cookie cutters you want–and if you use smaller ones, you'll end up with more mini sandwiches rather than a few larger ones.
Instead of white sugar, I used coconut sugar. Coconut sugar is something I finally bought recently, after hearing about it for awhile. I found it easily at Trader Joe's. It's all natural, made from the sap of coconut trees. Coconut sugar has the same amount of calories as regular sugar, so it doesn't change the calorie count. It does have a lower glycemic index than white sugar. And it has a great, more complex flavor. I decided to try it in these cookies, and it works perfectly! If you'd prefer, you could use regular white sugar instead.
For the ice cream, I encourage you to use your favorite. As a treat, I love to have a small serving of high quality ice cream, such as the ice cream from Milk Sugar Love. In fact, I normally do not buy ice cream to keep at home. For this recipe, I decided to try Halo Top ice cream, since I've been curious about it for awhile. You should feel free to use whatever ice cream you want. You could even go pick up a pint at Milk Sugar Love to make this recipe really authentic! I give directions on how to turn a pint of chocolate ice cream into chocolate peppermint ice cream, since that is what was used in the original ice cream sandwich. Again, this is your choice. Have fun coming up with whatever combinations you can think of!
Gingerbread Ice Cream Sandwiches
Yield: 2 large and 1 small sandwich
Ingredients: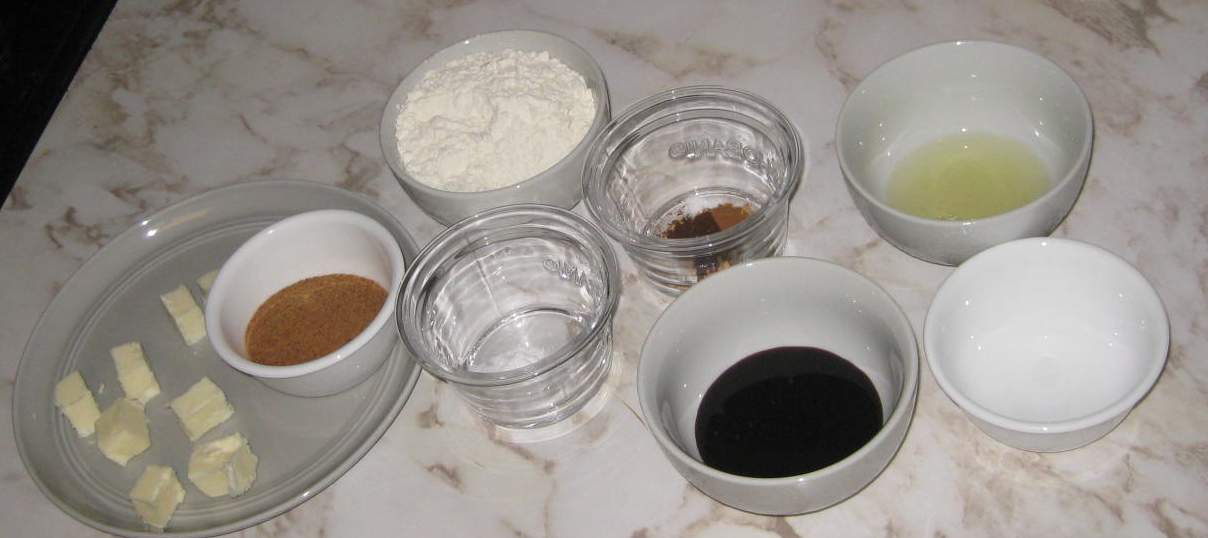 Gingerbread Cookies:
3 tbsp butter, at room temperature

3 tbsp coconut sugar (or you can use regular white sugar if you want)

1 egg white

3 tbsp molasses (NOT blackstrap)

1 tsp white vinegar

1 cup all-purpose flour

¼ tsp baking soda

Pinch of salt

½ tsp ground ginger

¼ tsp ground cinnamon

¼ tsp ground cloves
  [or just use store-bought cookies]
Chocolate Peppermint Ice Cream:
1 pint Halo Top chocolate ice cream (or your favorite ice cream brand)

1/4 tsp peppermint flavoring or extract (NOT regular mint!)

2 squares Ghirardelli peppermint bark, chopped (optional)
  [or use your favorite flavor of ice cream]
Directions:
For cookies:
Using a handheld or stand mixer on medium, beat butter until it is soft. Then add the sugar and continue beating until the mixture is light and fluffy–about 2 minutes.
2. Scrape down the sides of the bowl with a spatula. Add egg white, molasses, and vinegar. Mix together (still using your mixer, but it can be on a lower setting now). Scrape down the sides of the bowl again and make sure the mixture is fully combined.
3. In a separate, medium bowl, whisk together the flour, baking soda, salt, and spices.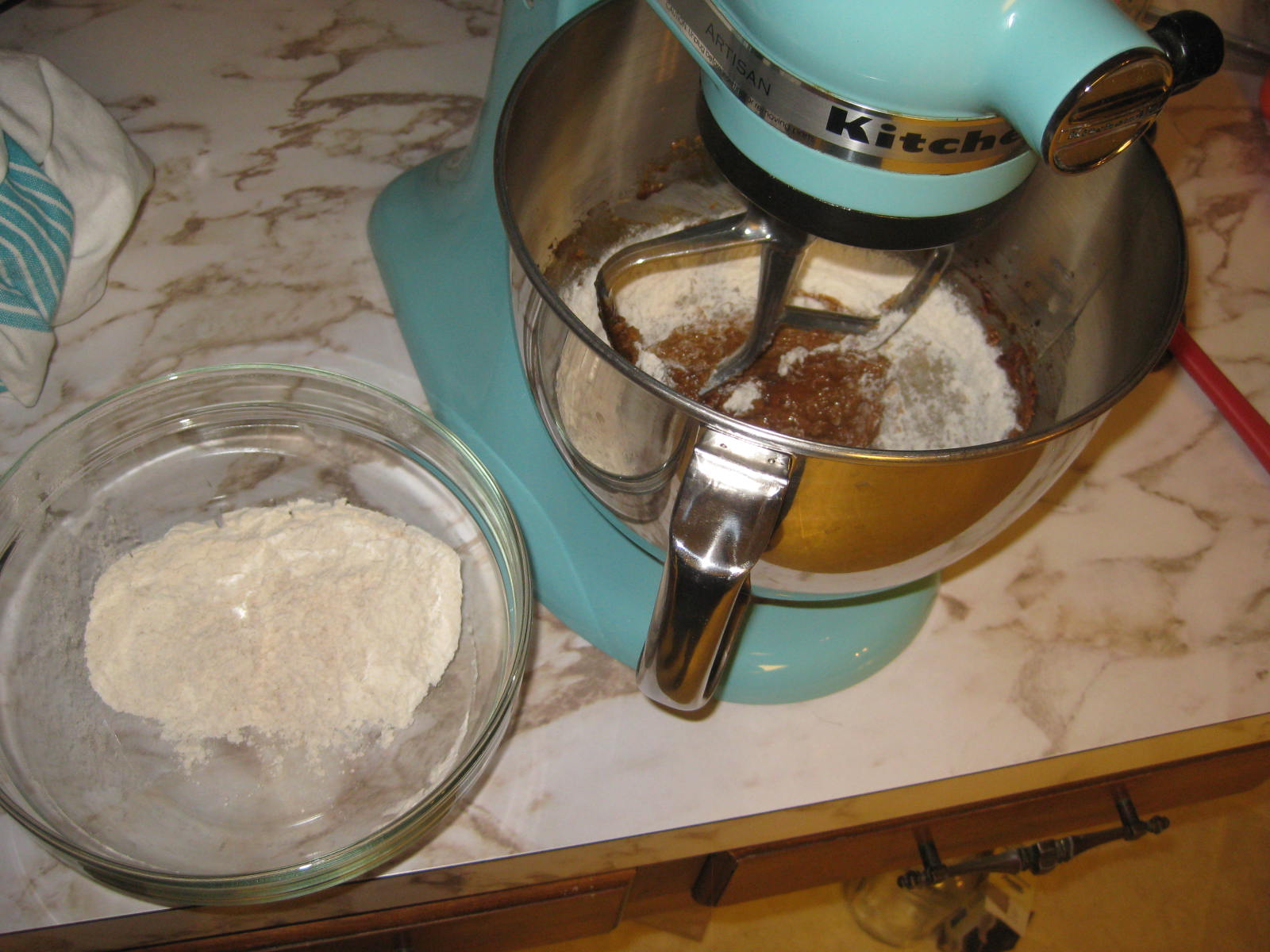 4. Add the dry ingredients to the wet ingredients and use your mixer on low to combine them. The dough will be pretty wet and sticky. 
5. Scrape the bowl out onto a large piece of plastic wrap. Wrap the dough completely in the plastic wrap, and refrigerate for at least 30, or up to 90, minutes. 6. While dough is chilling, preheat the oven to 350 degrees. Line a cookie sheet with a silicone baking mat or a piece of parchment paper. Prepare a large cutting board or other surface by sprinkling it with flour. Also sprinkle a rolling pin with flour.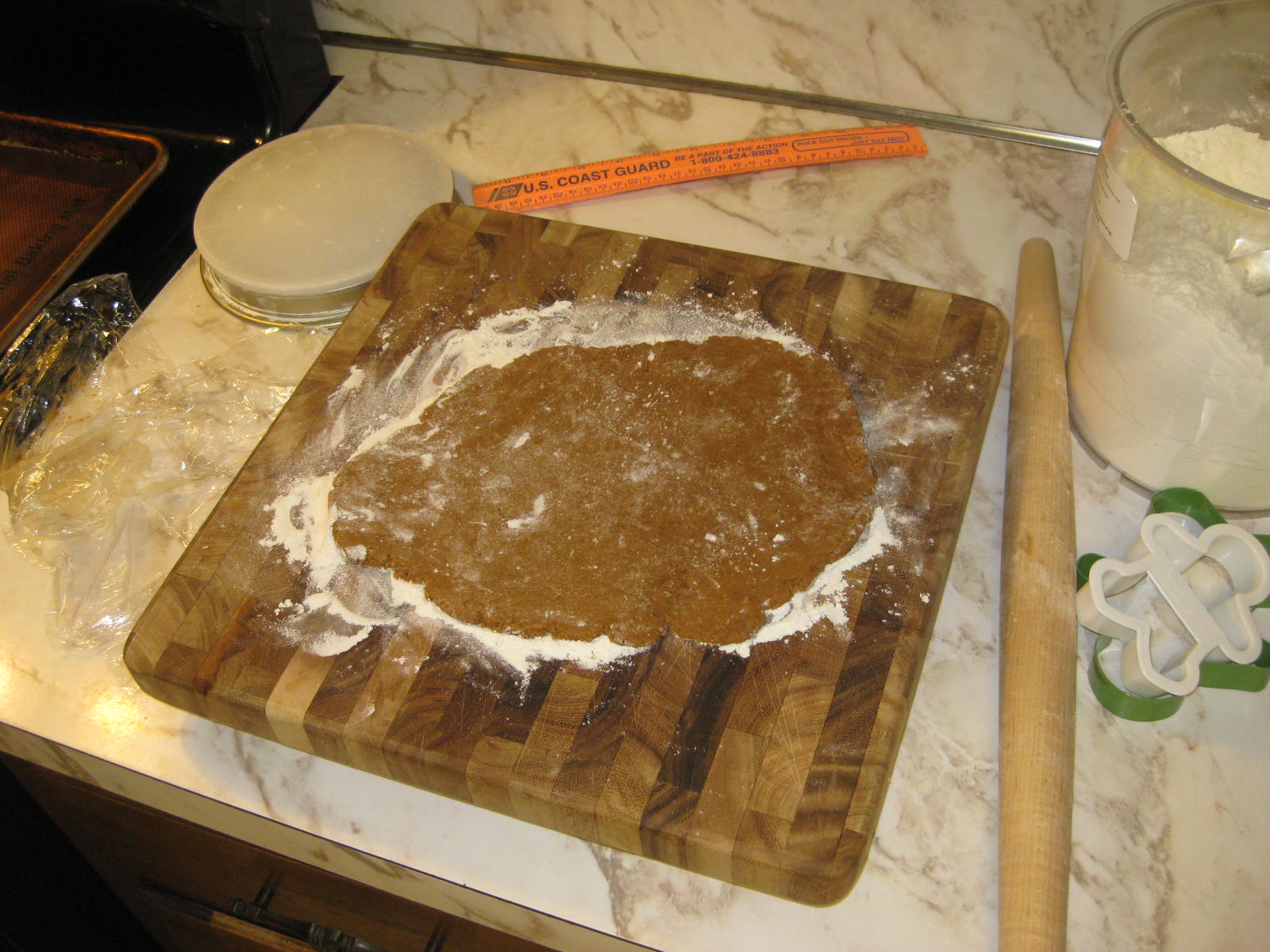 7. Roll the dough out to about ½ inch thick–yes this is thick! After I rolled mine out, it was about 9 inches long by 8 inches wide. Cut out your cookies with your favorite cookie cutters and place on the baking sheet. Keep the cookies pretty far away from each other, because they will spread. About 2 inches should be good. I ended up with 4 large cookies and 2 small cookies, but your yield will vary depending on the size of your cookie cutters.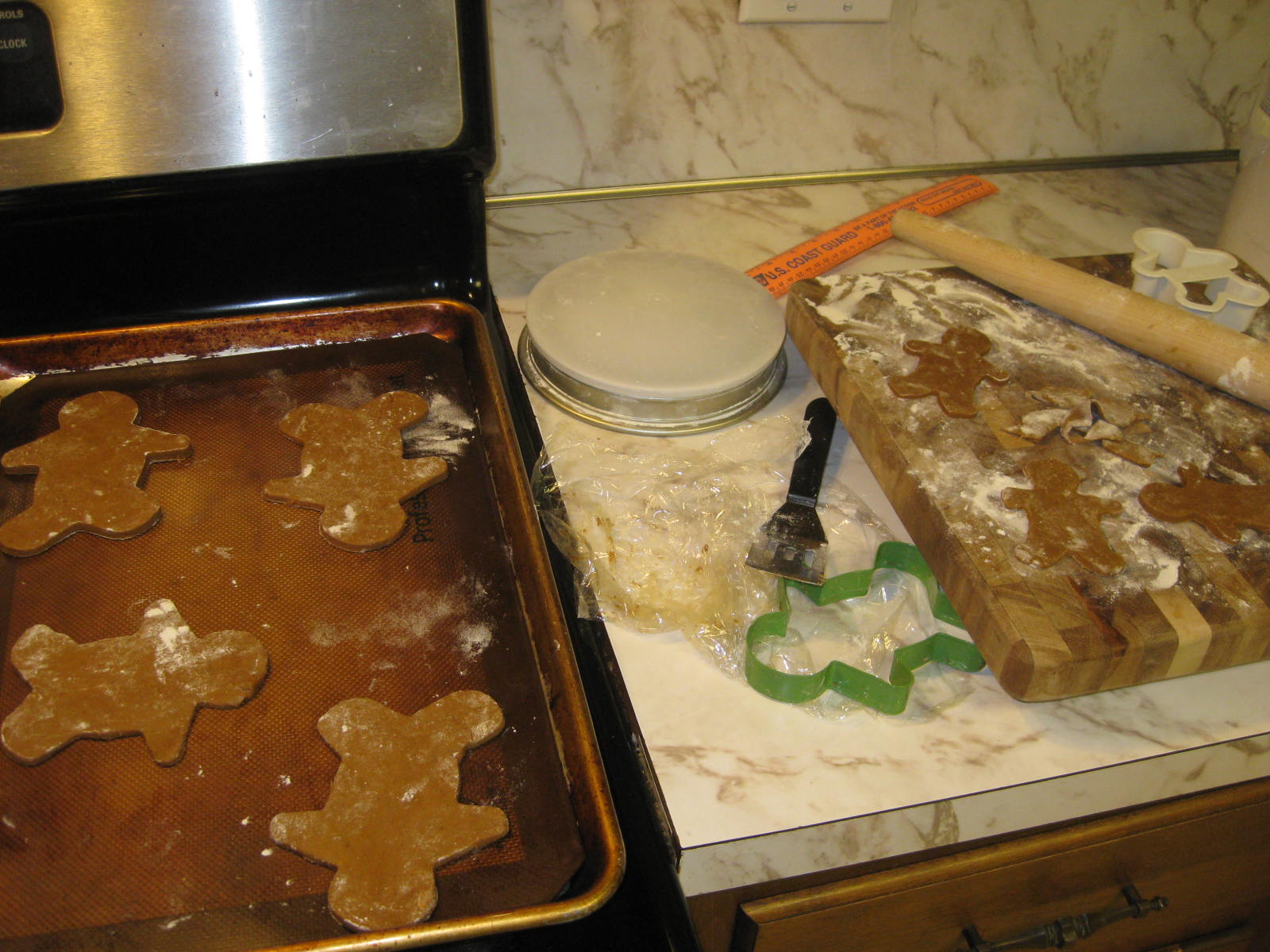 8. Bake for 9-11 minutes. You want the edges to look dry. The cookies will not really change color–if they do, you've been cooking them too long! Leave them on the cookie sheet for 5 minutes, then put them on a cooling rack to cool completely.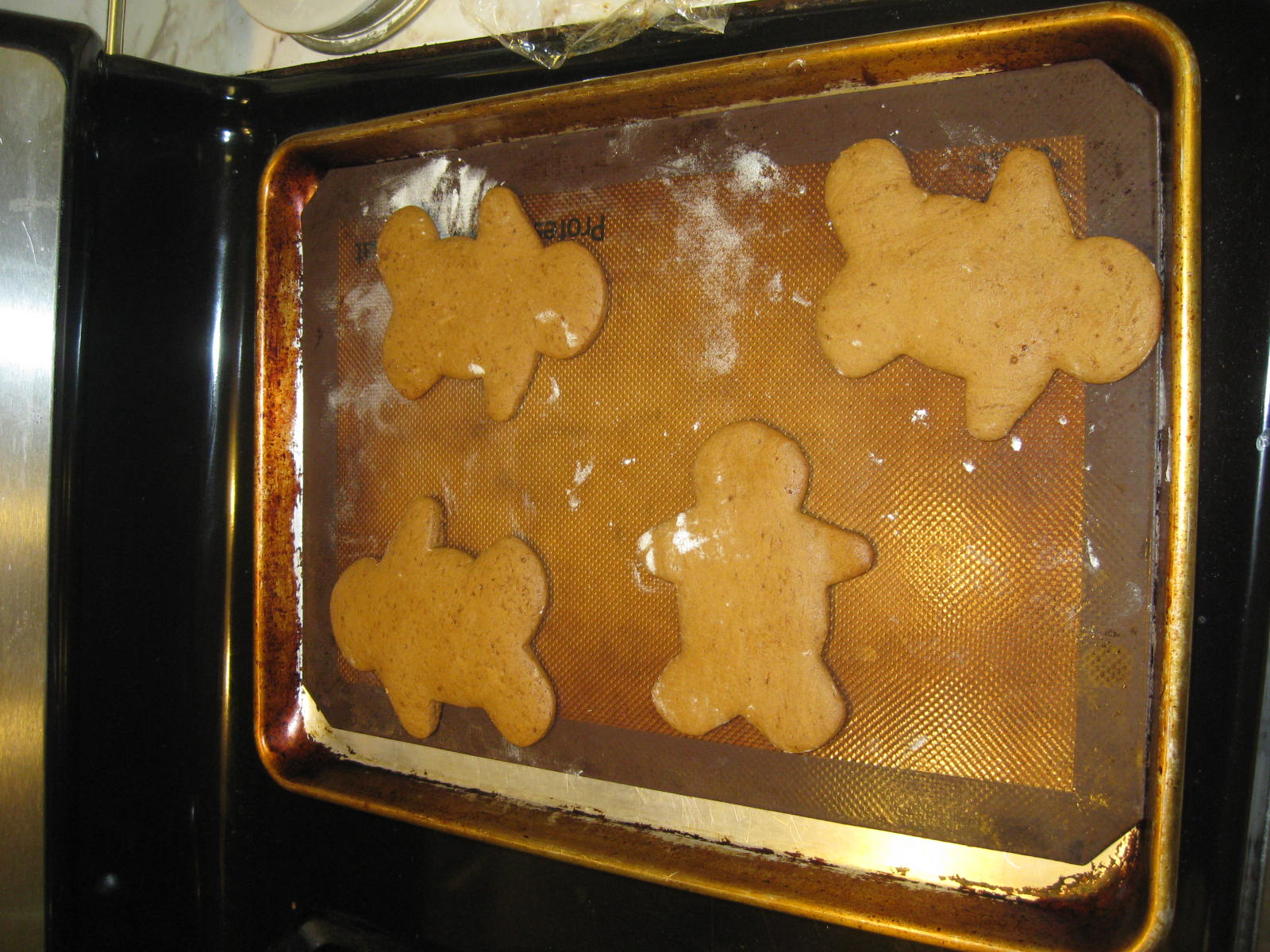 For ice cream: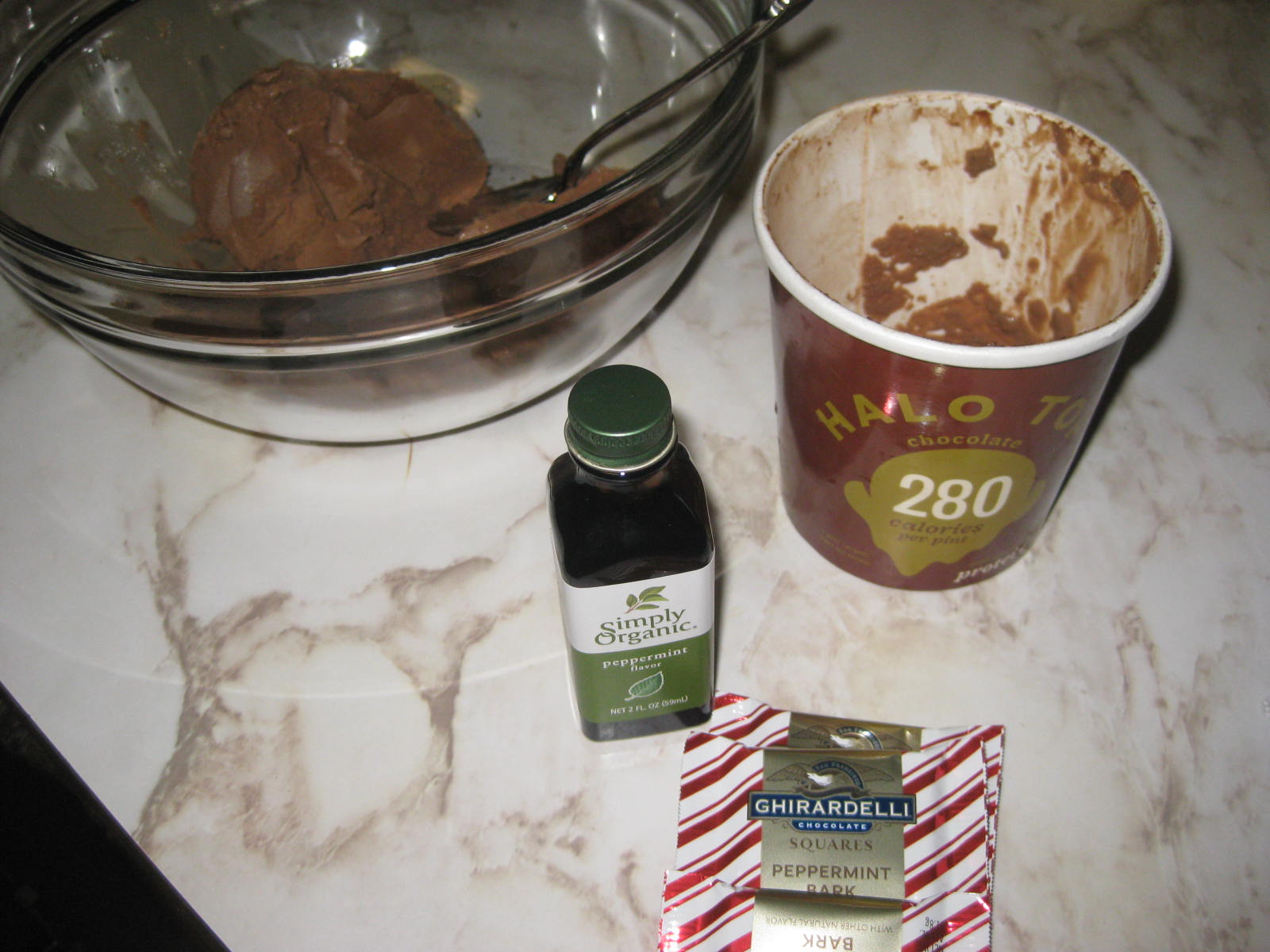 Take the ice cream out of your freezer and let it sit on the counter for several minutes. You want it to be soft enough to stir. Halo Top ice cream is very hard, so it actually took about an hour for mine to get soft. If you use a different ice cream, you may have to adjust the time.

Scoop all of the ice cream into a bowl and stir in the peppermint extract. Stir it thoroughly to combine, then taste it to see if you'd like to add more peppermint flavor. If you're using the peppermint bark, add that too, and stir to fully combine.

Put the ice cream back in the freezer to firm up before you make the sandwiches.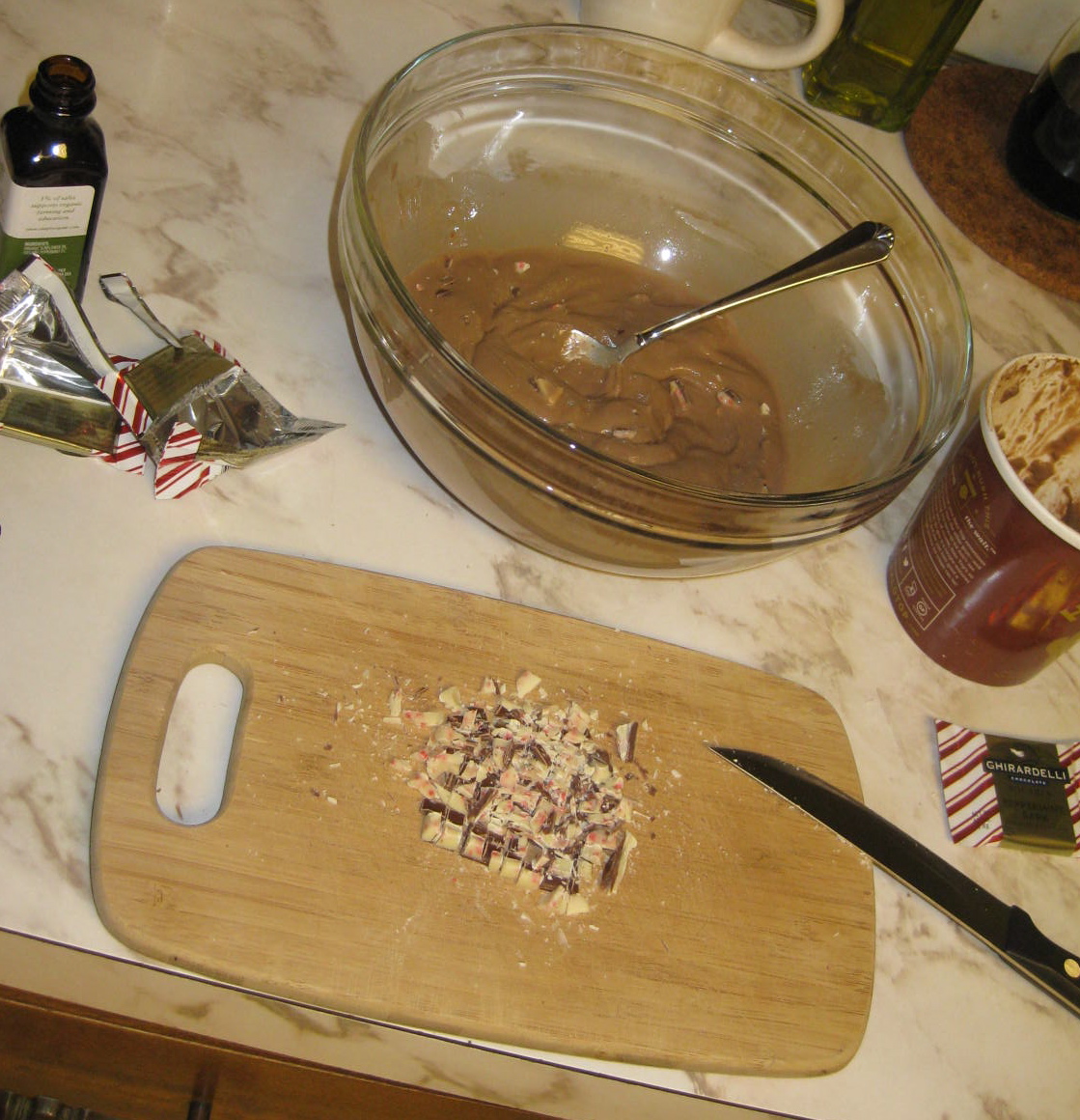 To assemble sandwiches, just spread some ice cream on a cookie and add a second cookie on top! 
You can enjoy these right away, or freeze them to enjoy another time. They should keep well even for up to a month.