It's officially the winter season and you know what that means? You will likely start coming up with every excuse in the book to stay in and hibernate. But watching holiday movies and snuggling up by the fire only lasts so long before the sight of your winter coat starts haunting you and you know it's time to put down the remote, stretch those legs, and get outside.
Luckily for Jersey City dwellers, there are plenty of restaurants and bars that offer not only savory food, but also unique winter cocktails worth hitting the pavement for. I took it upon myself to venture around town and try some of Jersey City's finest. My discovery? I'd bear the cold and ditch homemade hot chocolate for these any day! Below are some of my favorites.
Hot Spiked Cider at Skinner's Loft – 146 Newark Ave.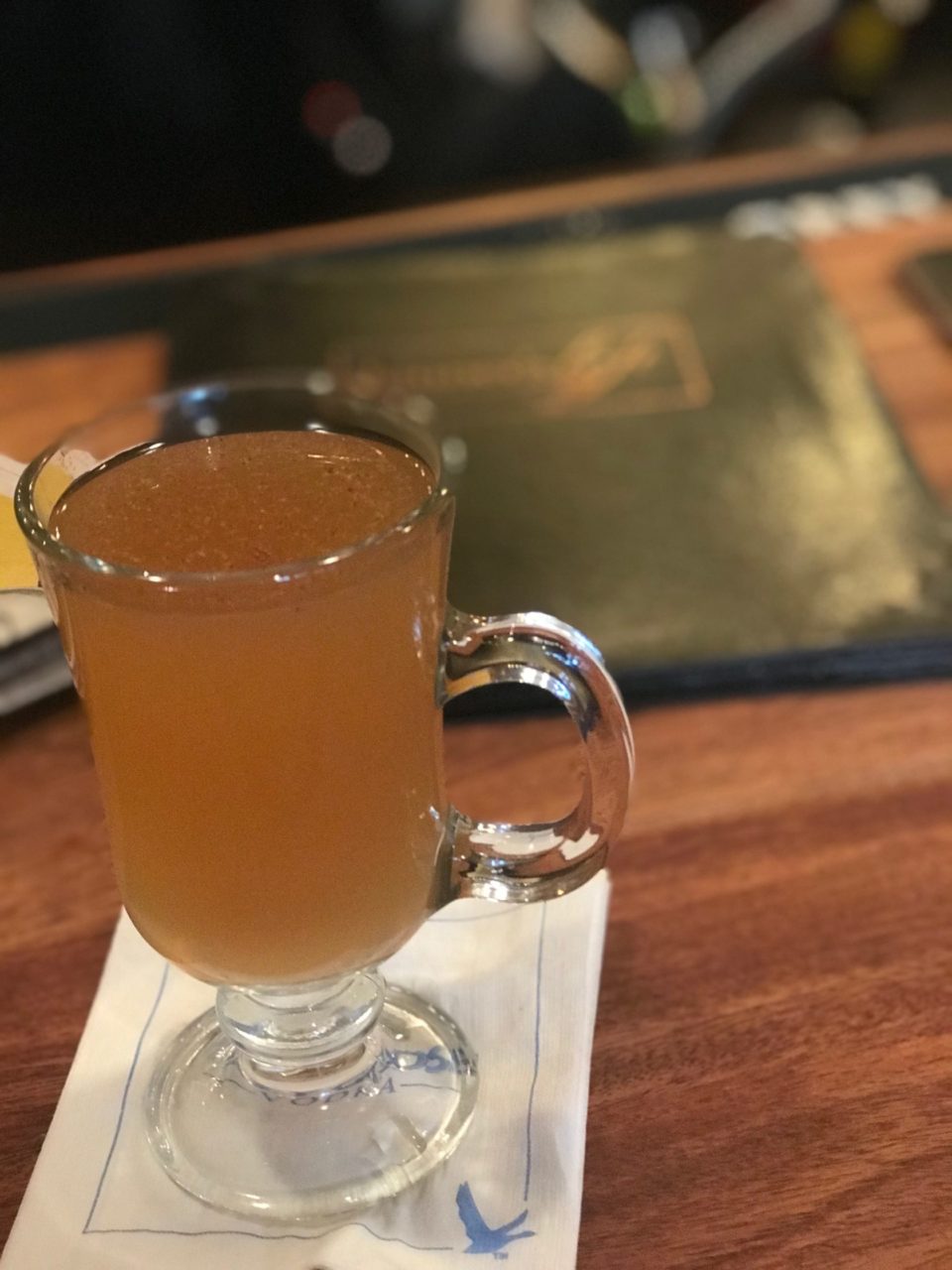 The hot spiked cider at Skinner's is a treat you will not find on the menu. But ask and they deliver! Skinner's Loft is known around town as one of the go-to spots for brunch. But the bartenders know their savory dishes could use a nice libation for pairing. That's why they decided to spice it up for winter with this offering. The spiked cider calls for the same concoction found in the one of Skinner's popular house cocktails, the Punch Drunk. The mix is aged rum, brandy and peach schnapps. Piping apple cider is then poured on top. The hint of the peach schnapps and boldness of the rum and brandy pairs well with the cider. Topped with a dash of nutmeg and cinnamon, and this drink hits the spot.
Winter Eclipse at Pet Shop – 193 Newark Ave.
Pet Shop is one of my favorite destinations in Jersey City for a cozy, dim-lit atmosphere. The establishment is well known among non-meat eaters in town for their vegetarian menu, and to wine lovers for their underground wine bar, P.S. I hate to admit it, but before I had embarked on my winter cocktail journey, I had not given Pet Shop's cocktails a try. But those days are over. If you're a fan of rye, the Winter Eclipse is perfect for you. The drink is made with Woody Creek Rye, apricot, aged maraschino and vanilla. What I loved most about this drink is the hint of sweetness the aged cherry and vanilla provide. It's also served with a dried apricot perfect for munching on when the rye makes your eyes bulge out of your head (if you're anything like me, that is). Lastly, I'm a fan of large ice cubes. This drink is poured over a giant one, which guarantees less dilution and more flavor. The Winter Eclipse is wonderful take on rye – and provides a good buzz, if I do say so myself.
Johnny Apple Cedar at Mathews – 351 Grove Street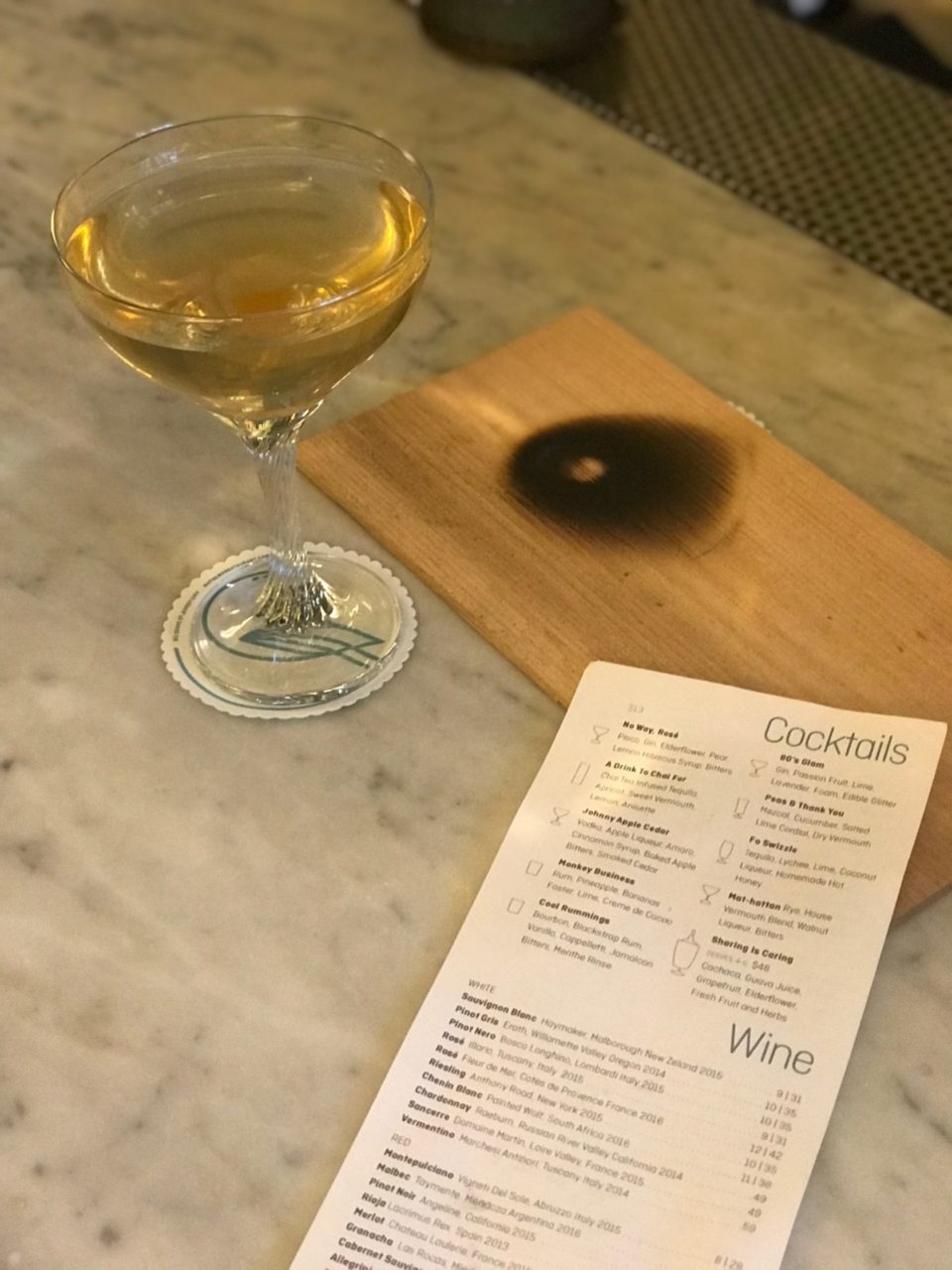 Mathews is the prime destination in Jersey City for inventive cocktails and the Johnny Apple Cedar does not disappoint. In fact, if you order this drink it comes with a nice little show. To make it, Mathews bartenders lie a piece of cedar on the bar and set it on fire before your eyes. Your cocktail glass is then placed over the burning cedar to create a smoky taste, which pairs well with apple. The drink calls for vodka, apple liqeur, amaro, cinnamon syrup, and baked apple bitters. The best part? It will be served all winter long.
El Reno at the Hyatt Regency's Vu – 2 Exchange Place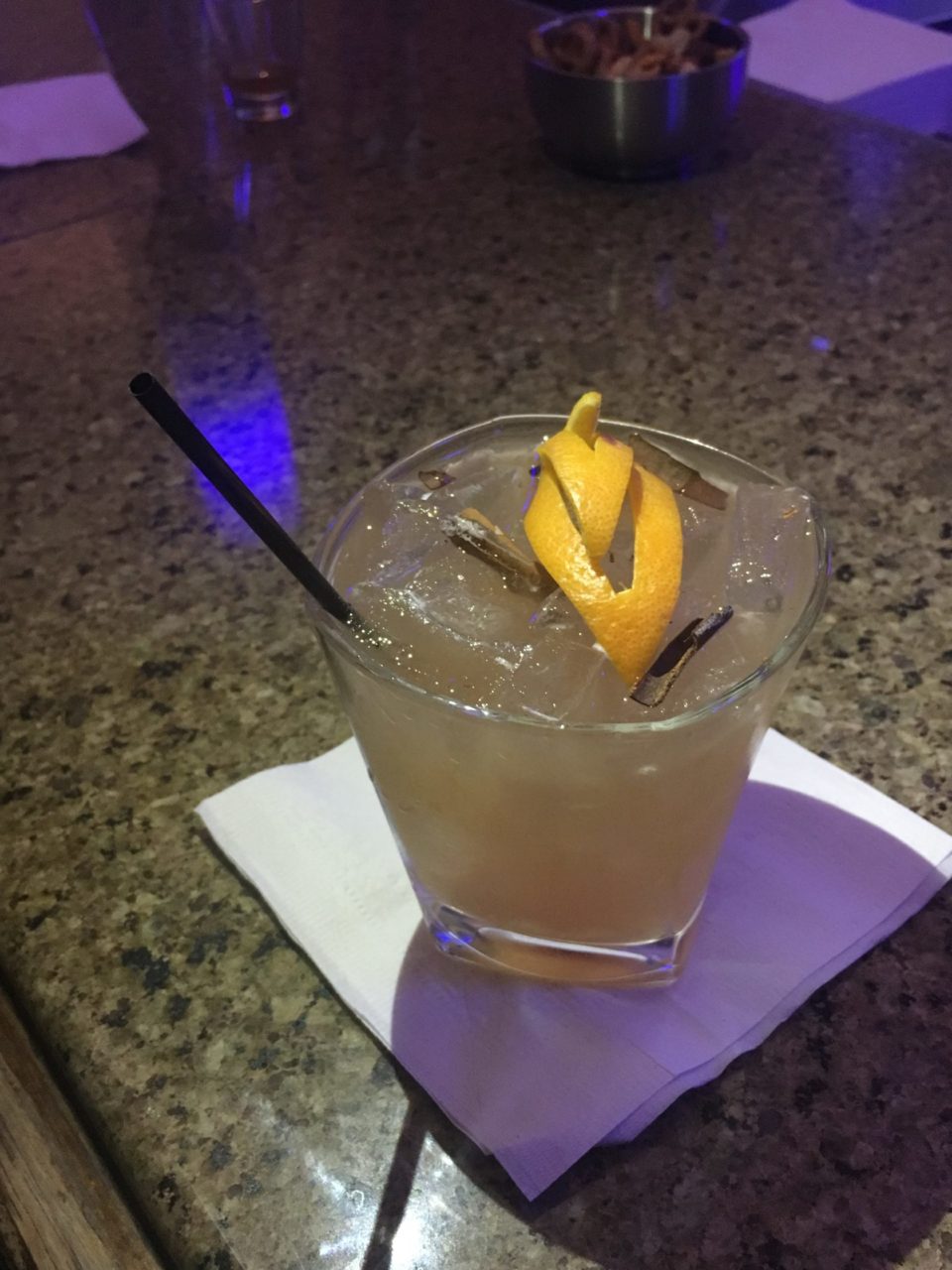 If you're a fan of tequila (who isn't?) and you love the holidays, Vu, which is located inside the Hyatt Regency on the Hudson, needs to be on your list of places to try. At Vu, bartenders are encouraged to come up with their own concoctions. I was lucky enough to be greeted by Samantha, the bartender who created this festive drink. It's just one of the cocktails that is featured in Vu's "12 Days of Christmas" cocktail program to be sold all December long. Now, I suggest ordering this if you're a fan of spicy drinks. The El Reno calls for Patron Reposado, Ancho Chille pepper, cinnamon simple syrup, orange bitters and a splash of grapefruit. It gives the perfect kick that is sure to warm you right up.
The Golden Elixir at South House – 149 Newark Ave.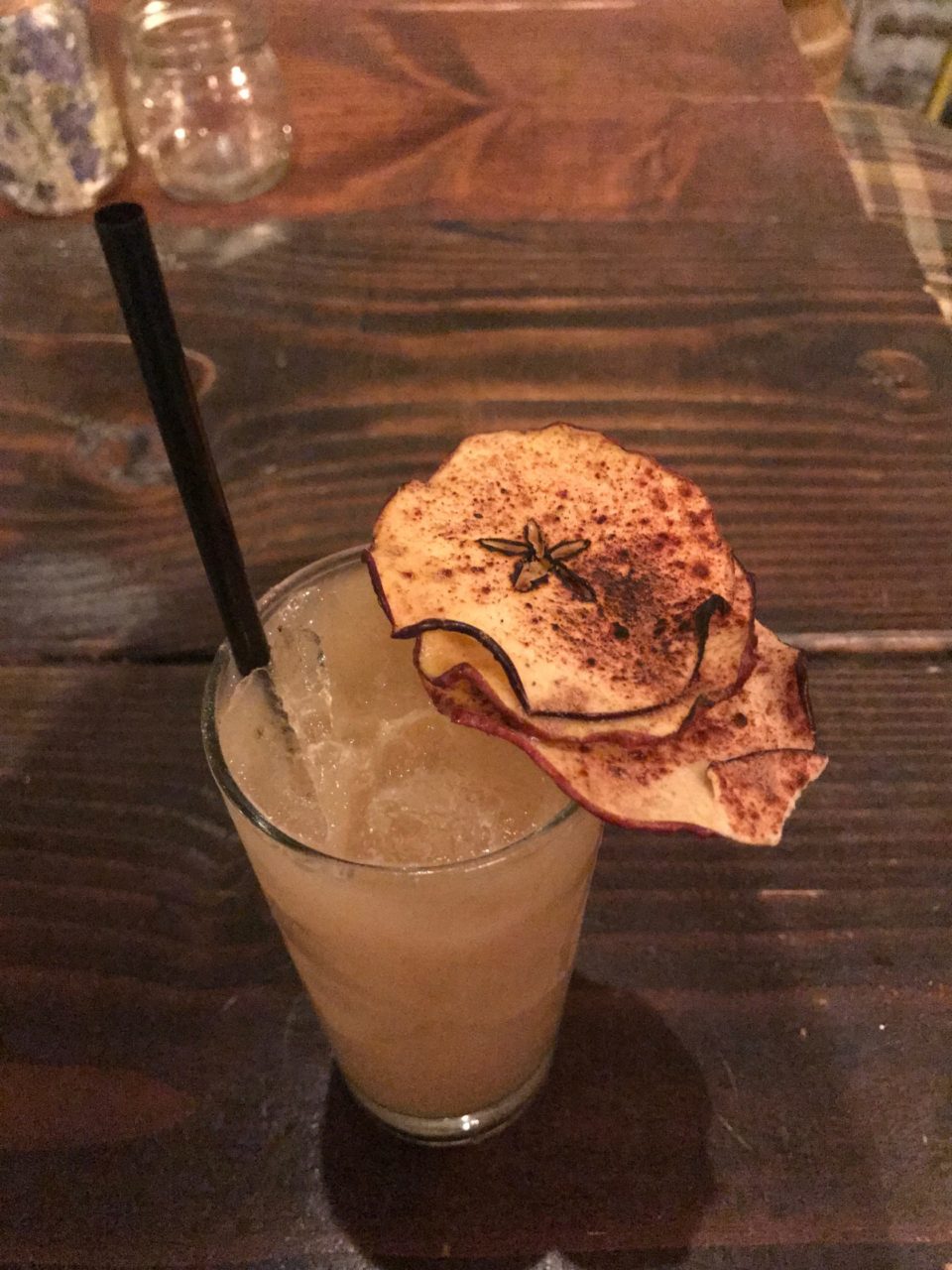 South House's motto is "Simple Southern" but I have to say their cocktails seem far from simple. South House, one of the best places in Jersey City for savory comfort food, is my go-to spot for a flavorful cocktail. The Golden Elixir features all of your favorite winter spices: cinnamon, turmeric, cardamom and nutmeg. Those spices are mixed with Copper and Kings apple brandy, coconut milk, angostura bitters and gold flake. The folks at South House go the extra mile to make their drinks as pretty as they are flavorful. This libation is topped with torched dehydrated apples. Sexy!
Leap in the Dark at The Archer – 176 Newark Ave.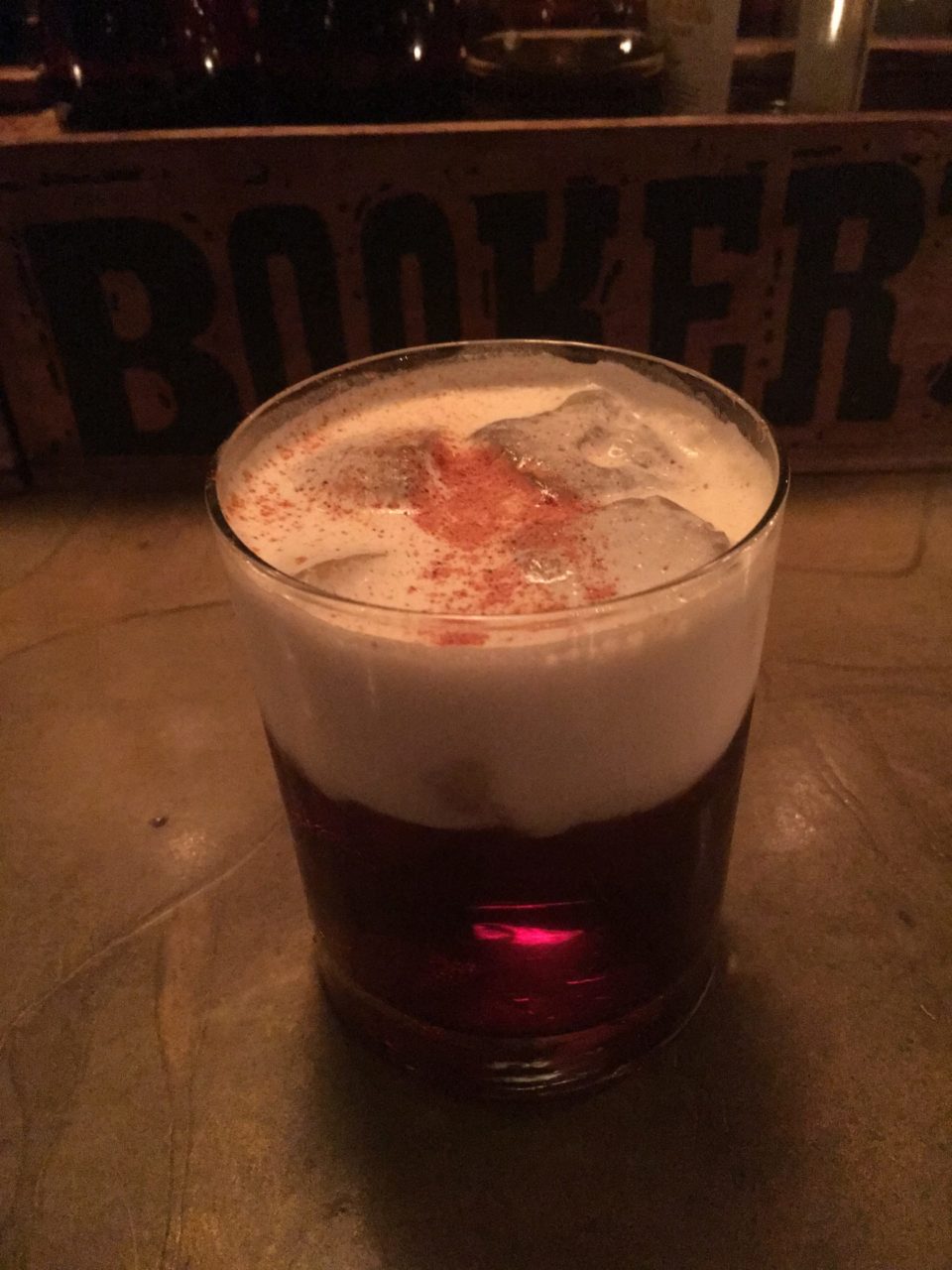 Tucked away on Newark Avenue, it's quite easy to miss The Archer. Though an understated exterior, once you walk into The Archer you'll feel right at home. It's the perfect winter destination because its menu features a list of winter warmers, including a Hot Mai Tai, Hot Sazerac and Hot Mulled Cider, to name a few. Although I was in the mood for something over ice and looked no further than the Leap In The Dark. Boy does this drink have the perfect texture. First of all, I'm a coffee lover and when I noticed there's cold brew coffee (from Modcup in JC!) I knew I had to give it a go. The cold brew is mixed with aged rum, Jamaican rum, cinnamon, allspice and cream. The cream is super frothy and thick, pairing perfectly with the bold cocktail. It doesn't stop there. The drink is finished with a dash of cayenne pepper providing the perfect spicy aftertaste.  I walked out of The Archer completely satisfied and texting my S.O. with plans to come back there the coming weekend.
Salted Dulce del Leche Martini at LITM – 140 Newark Ave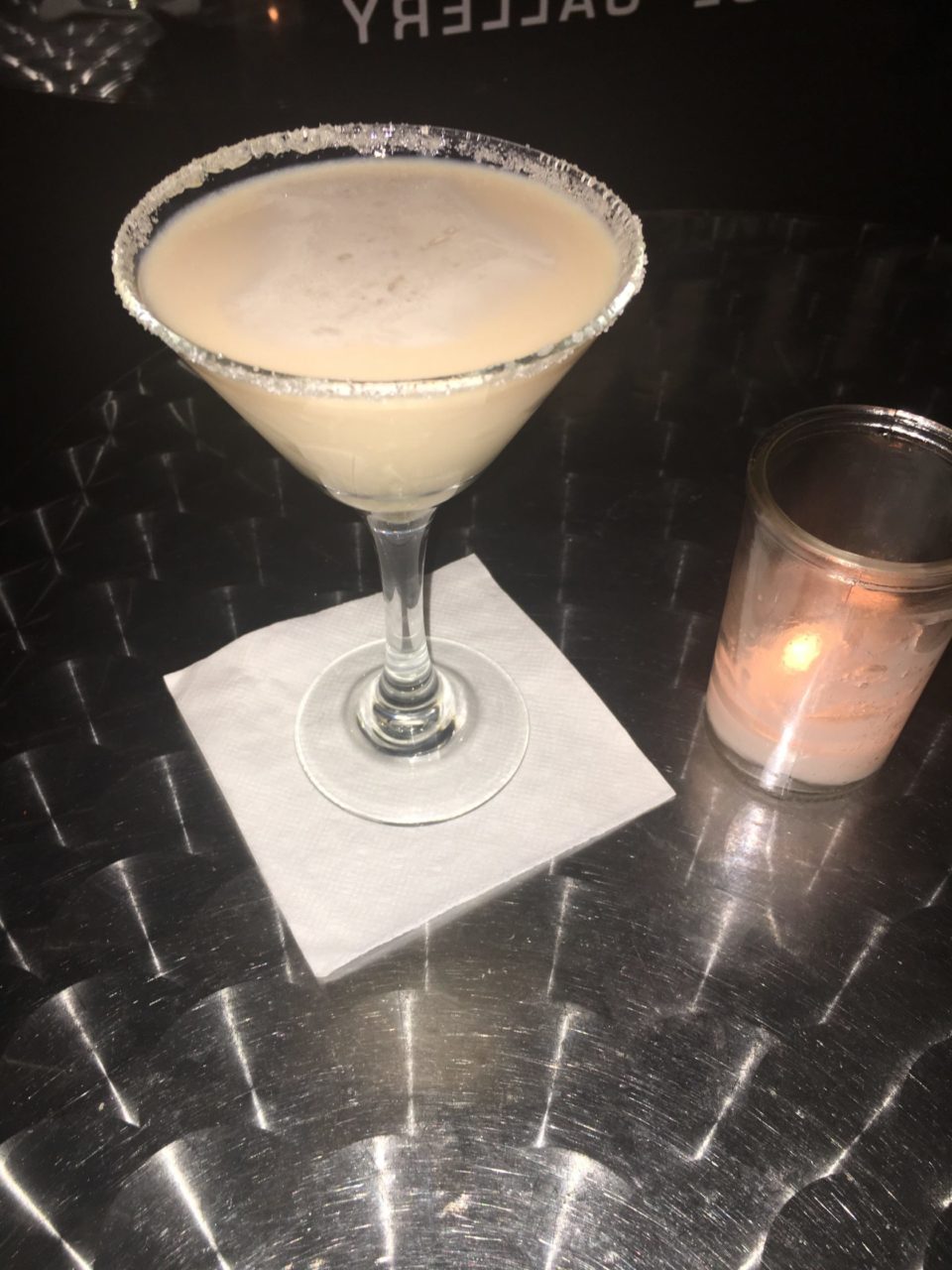 There was no way I was leaving LITM's Salted Dulce del Leche martini off this list. This drink is way better than dessert! In fact, it's a brand new drink and was created by Andrea Morin, LITM's general manager and curator. I highly recommend it if you've got a sweet tooth. This martini is made with Van Gogh caramel vodka and Bailey's. I know, it already sounds amazing. But what makes it even better is the salted rim, giving off a perfected salty-sweet flavor. Think chocolate covered pretzel, but 20 times better.
So, there you have it. I've successfully found a cure for cabin fever and it's right in your neighborhood. Get out there and start checking these fab cocktails off your list before winter passes us by!