Written by: Amanda Scrivani
We all know that Jersey City is home to countless amazing restaurants, bars, and cafes. Here in JC, we benefit from a vibrant and varied food scene, which I treasure and appreciate. Although I love trying new restaurants, I also do enjoy cooking for myself at home. Lately I've been on a new mission—to make at-home versions of popular dishes from JC restaurants. If I can make them a bit healthier and/or quicker to make—even better! I'm not a professional chef, just someone who is passionate about cooking, trying new techniques and recipes, and of course—enjoying life to the fullest here in Jersey City! Follow me on Instagram and Twitter for more pictures and thoughts about my culinary adventures and life in JC.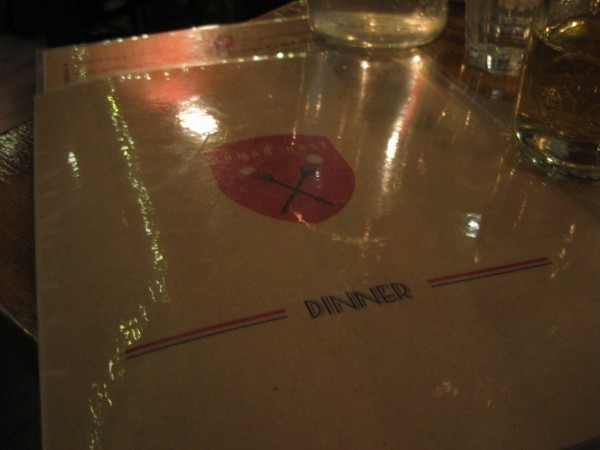 Roman Nose is one of my favorite Jersey City restaurants, so when I started coming up with ideas for restaurant dishes to cook at home, it was first on my list. I remember trying the meatballs at a street festival in 2012, before the restaurant had actually opened. Since then, it has become a popular spot in the busy and ever-growing Grove Street neighborhood. I love the cozy atmosphere and delicious food! When my husband and I first ate there, we fell in love with the Spaghetti alla Carbonara. It was our go-to dish for a while…until we tried the Gramigna con Salsiccia! It's so creamy and flavorful. The pasta, rosemary, and sausage work together beautifully, but unfortunately, it's not the lightest or healthiest dish in the world. Last year, I avoided eating creamy, heavy pasta dishes in the months leading up to our wedding. I spent a lot of time daydreaming about Roman Nose! Of course, the day we returned from our honeymoon, we went there for dinner and both ordered the Gramigna.
Although this dish is amazing as-is, I wanted a version that I could make at home and enjoy while still maintaining my typical healthy eating habits. I used a lightened-up alfredo sauce recipe as the base and added rosemary to bring in the flavor of the original dish. Of course, Roman Nose makes its own amazing homemade pasta. Gramigna is a short, hollow, tube-shaped pasta that's hard to find locally. For this at-home version, I've substituted long, hollow pasta that has been broken in half to more closely match the shape and size of gramigna. With your favorite pasta and sweet Italian sausage, this recipe will allow you to enjoy the taste of Rome from the comfort of your own kitchen!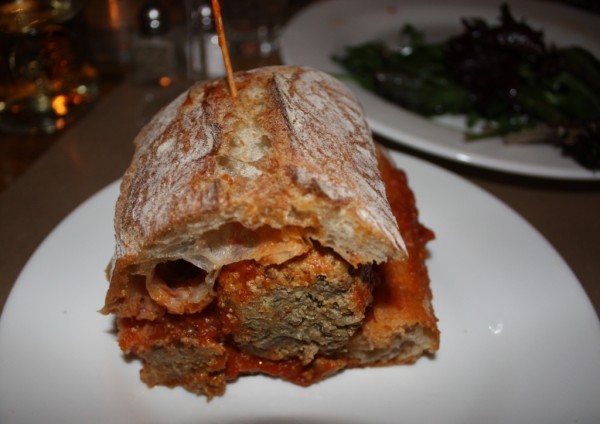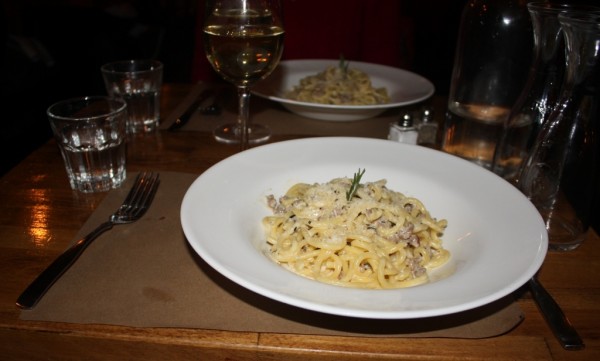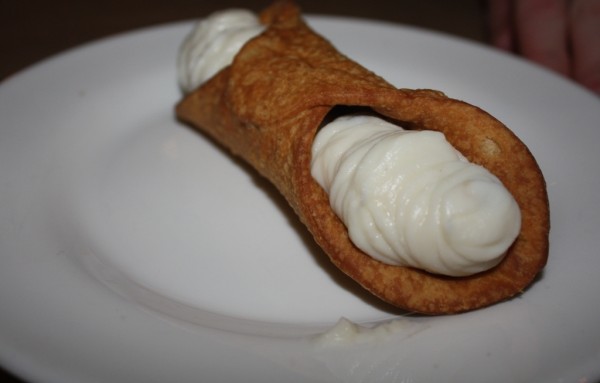 Pasta with Sausage and Rosemary
Inspired by Roman Nose's Gramigna con Salsiccia
Serves: 4 restaurant sized portions or 6 health-conscious portions
Time: about 45 minutes
Ingredients:
For pasta:
12 oz long pasta, broken in half- I used Ronzoni Perciatelli, but bucatini or even a thick spaghetti would work.
1 lb sweet Italian sausage- the package I used was 1.24 lbs, which contained 5 sausages.
½ Tbsp olive oil
For the sauce:
1 Tbsp olive oil
4 cloves garlic, minced
3 Tbsp flour
1 cup chicken broth
1 cup 1% milk
1-2 Tbsp finely chopped fresh Rosemary, plus more for garnish- I used 1 Tbsp, but I would suggest using closer to 2 Tbsp if you love rosemary. 1 Tbsp is enough to bring flavor to the dish, but I would say that closer to 2 Tbsp would be even better.
¾ cup grated or shredded Parmesan cheese, plus more for garnish- the fresher the better. I used pre-shredded Bel Gioiso Parmesan, which is a more economical choice than buying a block of Parmesan.
½ tsp. salt
¼ tsp. pepper
Directions:
Begin boiling the water for the pasta. While you wait for it to boil, assemble and prepare your ingredients. Continue with the next steps while the water is heating up. Then, when your water boils, cook the pasta according to package directions.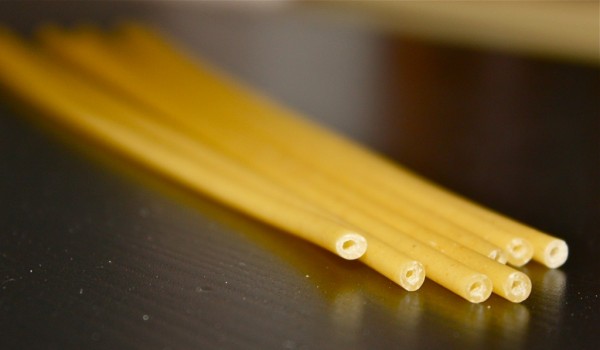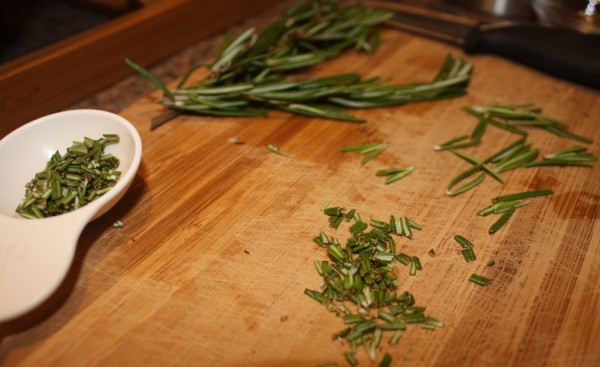 Remove the casings from the sausage. Using a sharp knife, carefully make a slit in each sausage, running up the length of the sausage. Then peel off the casing and place the meat onto a plate.
Heat a nonstick skillet over medium heat and add the ½ Tbsp of olive oil. When hot, add the sausage. Break it up into small pieces with a wooden spoon. (I found that using two spoons was helpful.) Stir occasionally as it cooks. You want to cook it fully so that it is brown and no longer pink at all, which will take about 12-13 minutes total.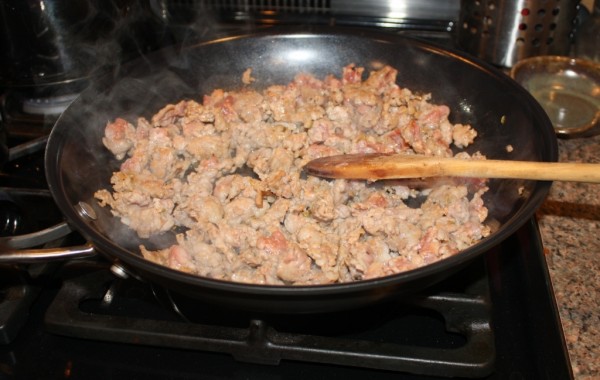 After the sausage has been cooking for about 5 minutes, start the sauce. Heat the 1 Tbsp olive oil in a saucepan over medium heat. Add the garlic and cook for about a minute, stirring to keep the garlic from burning. After 1 minute, add the flour and whisk. Cook, stirring occasionally, for about another minute to cook the flour.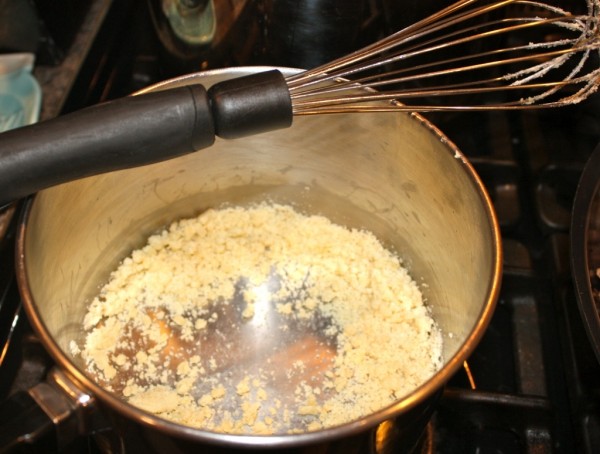 Don't forget to keep stirring the sausage occasionally as it continues to cook! If it is fully cooked before the sauce is done, remove from heat. Also remember to follow your pasta's package directions for cooking times. When it's finished, drain in a colander, saving about a cup of pasta water.
Returning to the sauce…whisk in the chicken broth and then the milk. Cook for 2 minutes, then whisk in the rosemary. The sauce may seem clumpy, but whisking will help. Bring to a simmer, continuing to whisk occasionally. Simmer the sauce for another minute or two, until thickened. Then whisk in the Parmesan cheese, salt and pepper and stir until the cheese melts. Remove from heat.
By this point, your sausage and your pasta should be done. If you haven't done so yet, drain the pasta, saving about a cup of pasta water, and return it to the pot. Then add the sauce and the sausage. If the sauce is a little thick, you can loosen it up with a little pasta water. Stir well to combine, then serve with additional rosemary and Parmesan as desired.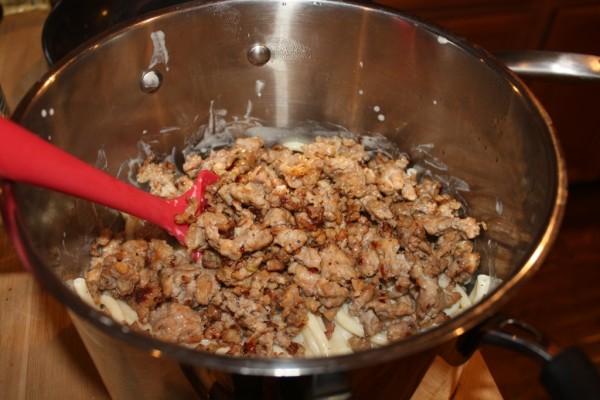 Yum!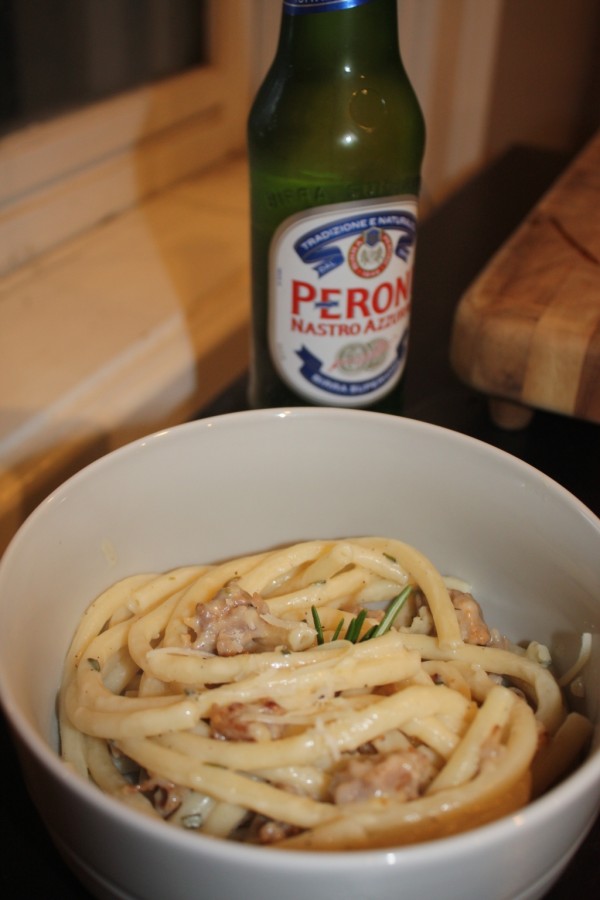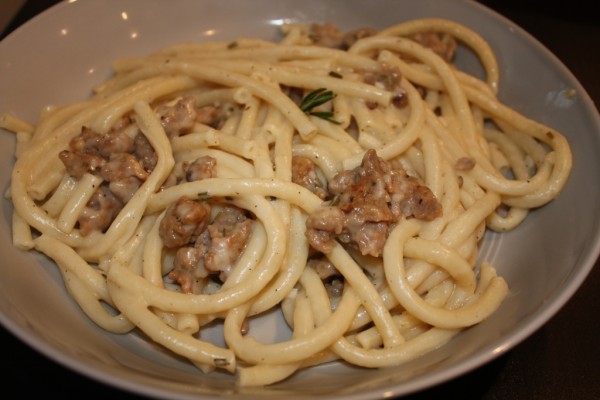 About the Writer:
Amanda moved to Jersey City in 2011 and quickly fell in love with its spirit, attitude, and–oh yeah–its restaurants! She loves exploring her favorite city, whether it's biking through Liberty State Park or trying out a new food spot. She is a middle school teacher who loves to cook, bake, knit, and take long walks through the neighborhood. She's excited to bring you her own easy, homemade versions of famous dishes from JC's fabulous restaurant scene!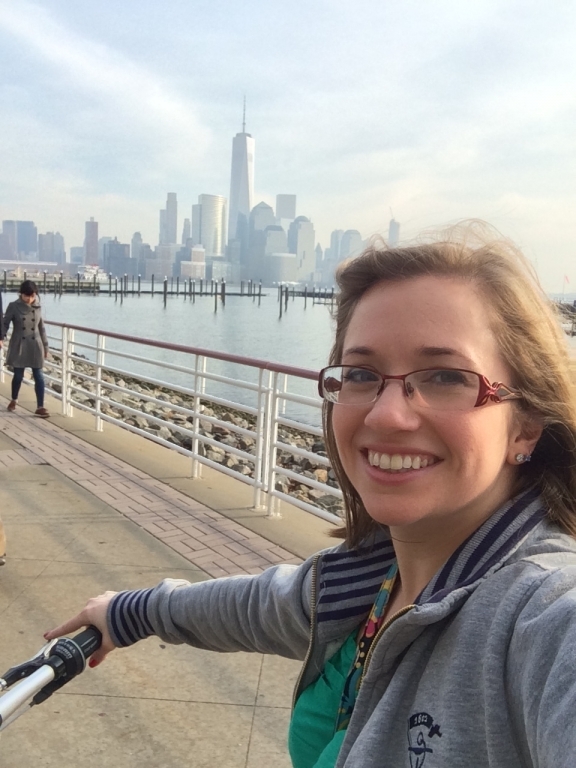 Facebook: https://www.facebook.com/amanda.estes
Instagram: https://www.instagram.com/ladyeowynofnj/
Food Blog on Instagram: https://www.instagram.com/myjerseykitchen/
Twitter: @amandaleighe