Bread and Salt opened in the Heights this past summer offering up Roman-style pizza, freshly baked bread, and other incredible dishes. After being previously located in Pittsburgh, baker Rick Easton brought it over to Jersey City. There's been a lot of hype since they opened all over local and national media, and it's all well-deserved. Bread and Salt was recently featured on Infatuation and The New York Times.
We finally decided to go check it out. This trip was long overdue. Since it opened, we've heard nothing but great things! Part of me was delaying going there in fear that it'd become my new addiction, like the Carbonara pizza at Porta that I eat once every week.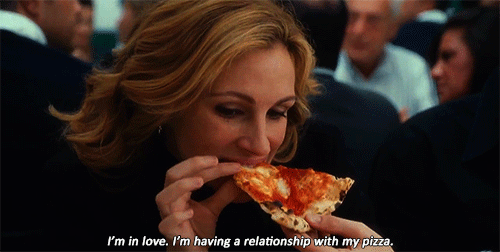 For those of you who follow my social media channels, pizza is a huge staple in my diet. Sex is like pizza: when it's good, it's good. When it's bad, it's still pretty good. That being said, my first time at Bread and Salt was like that encounter I'll always think about and will most definitely come back to, sober and all.
Bread and Salt is located on Palisade Ave in the Heights. It was a beautiful evening, so the garage doors were open. I could smell the baked bread from two blocks away. I felt like I was in Italy for a second. It's BYOB with counter service. When you walk up to the window, it's almost overwhelming because you have a few minutes to decide which slices you want; you can't order a full pie, which I love because it gives you a chance to try everything. It all looked incredibly fresh, almost shiny. I knew it was going to be legit. No frills, good food. I was already salivating.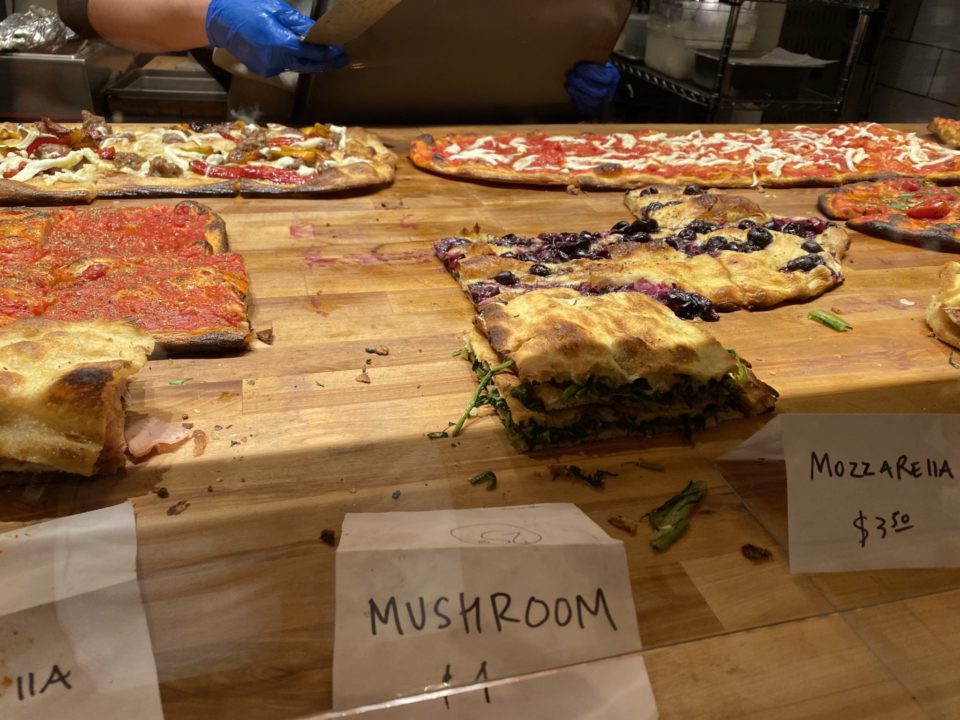 I asked one of the chefs if they had any recommendations. He gave us 6 options to choose from and said, "If you're still hungry after these slices, come right up and get six more." I looked at him and said, "You betcha." There's also a chalkboard with appetizers, salads, and specials that change regularly. They gave us a number, we grabbed a bottle opener, sat down and opened up a bottle of wine. I was loving it. Even though it's no frills and there's no wait staff, I still felt like it was a cute, romantic place.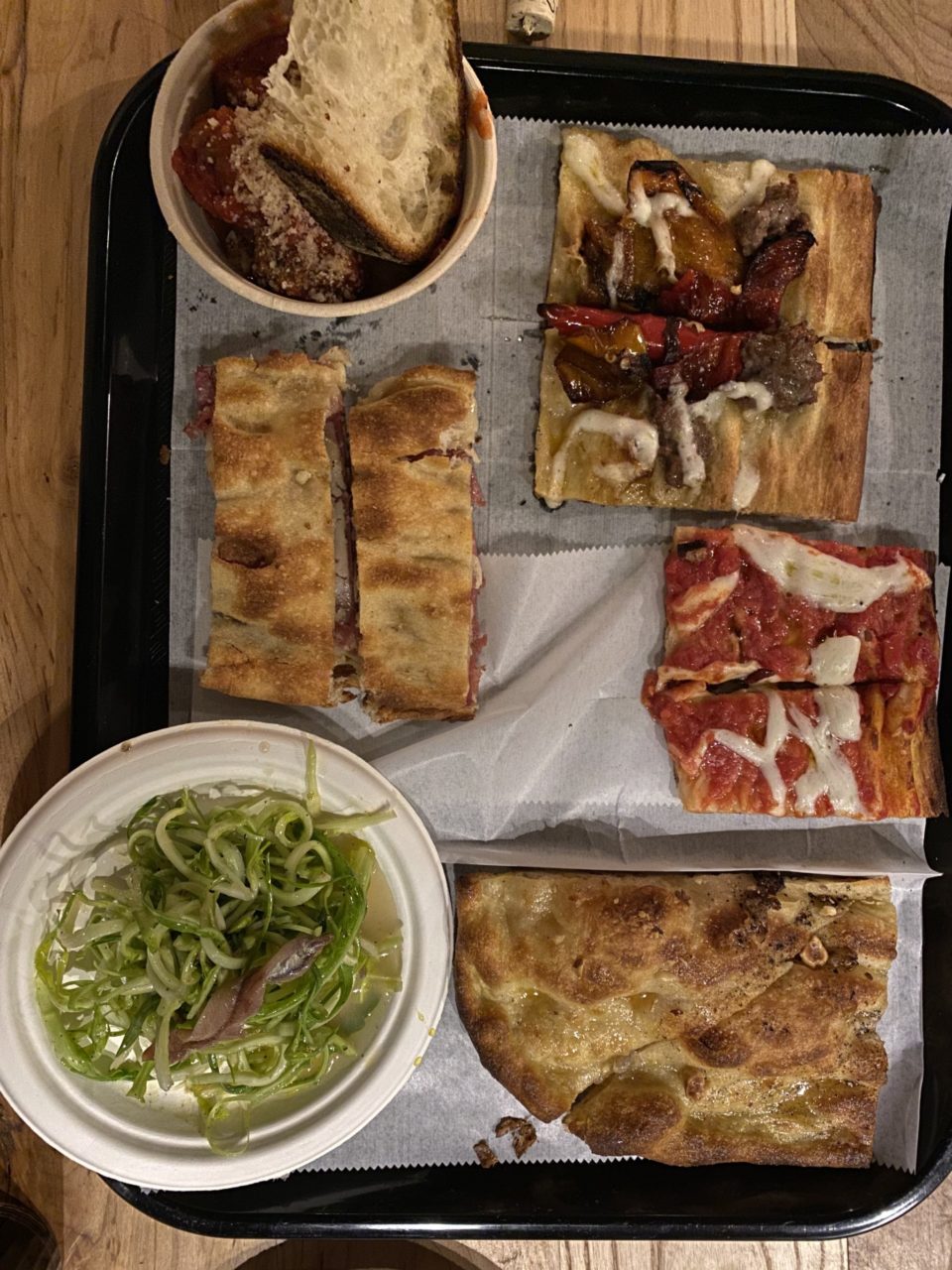 We had the meatballs, which comes with a slice of really delicious bread. The meatballs were amazing and practically melted in my mouth. They were perfectly seasoned and moist (which is a word I hate to use but it's the best way to describe these meatballs) with tons of tomato sauce. You might even need extra bread. I think we tried every slice of pizza that was available. Honestly, you can't go wrong with anything.
Let's talk about the pizza – it's so light, crispy, and flavorful. It's not your typical pizza experience. It's both crunchy and chewy at the same time and hits every note on your palette. There's saltiness, sweetness, an explosion of flavor in your mouth. So many thoughts were running through my head. I was really in the moment and enjoying every bite. I was definitely full after the first round, but there were a few more slices I needed to try, one of which I have never seen before – it had grapes. I bit into it and I was in heaven. All was right in the world. Then we also went for round 3 – a peppers and egg sandwich. Mind-blowing.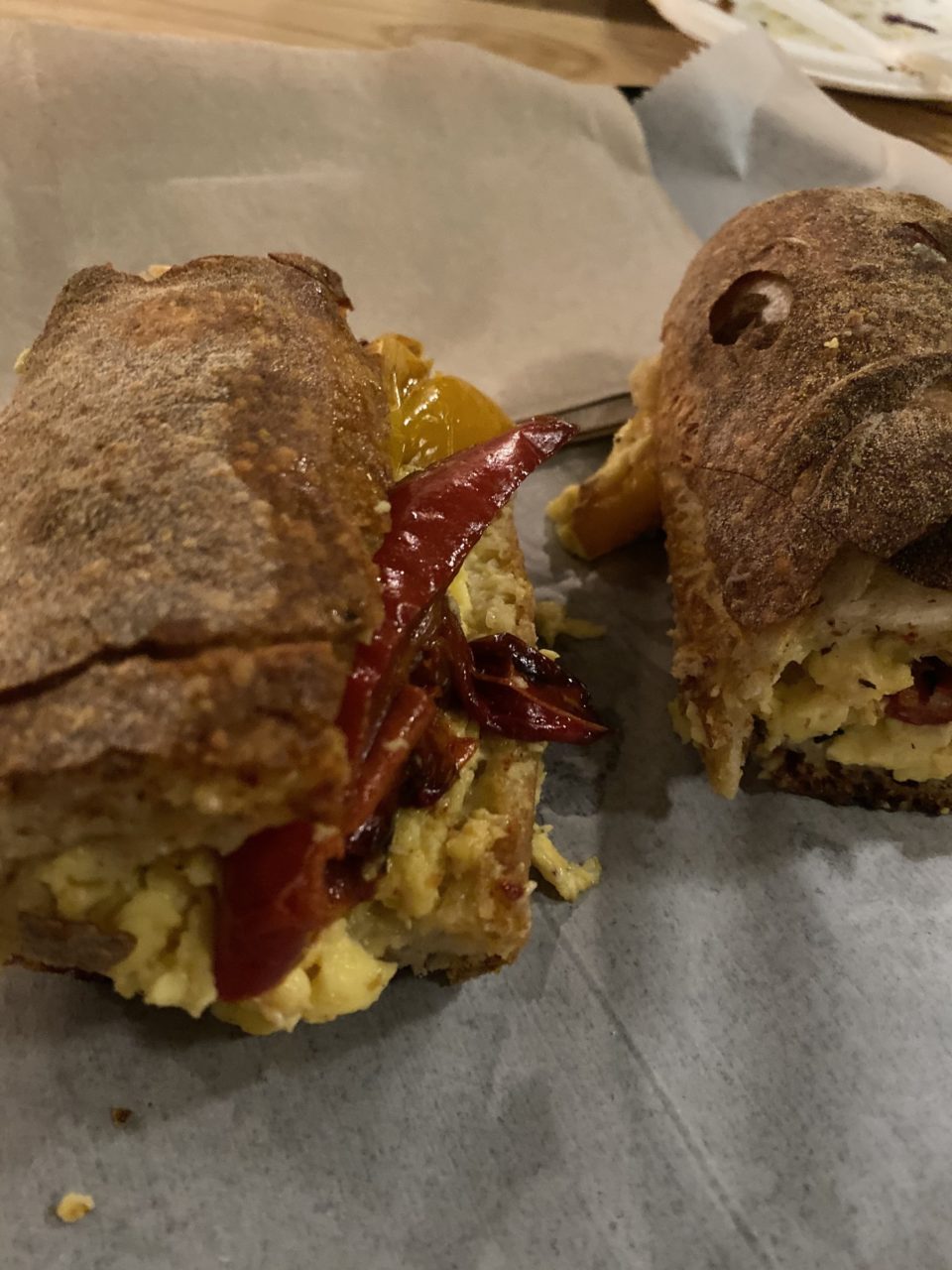 You'll probably go there and want to just eat pizza, but you need to make room for a sandwich. Something so simple like an egg and peppers sandwich totally blew my mind. I felt like I was hanging out in Rome having breakfast. It's so fresh. This place is good. REALLY good. Might even give Razza a run for their money. And if you're only just joining us now, Razza was considered the best pizza place in the New York City area by the New York Times.
The hype is real. Pizza is life and makes everyone happy, so we're excited to share our experience.
---
You can follow Bread and Salt on Instagram, and you can find them at 435 Palisade Avenue in Jersey City, NJ.