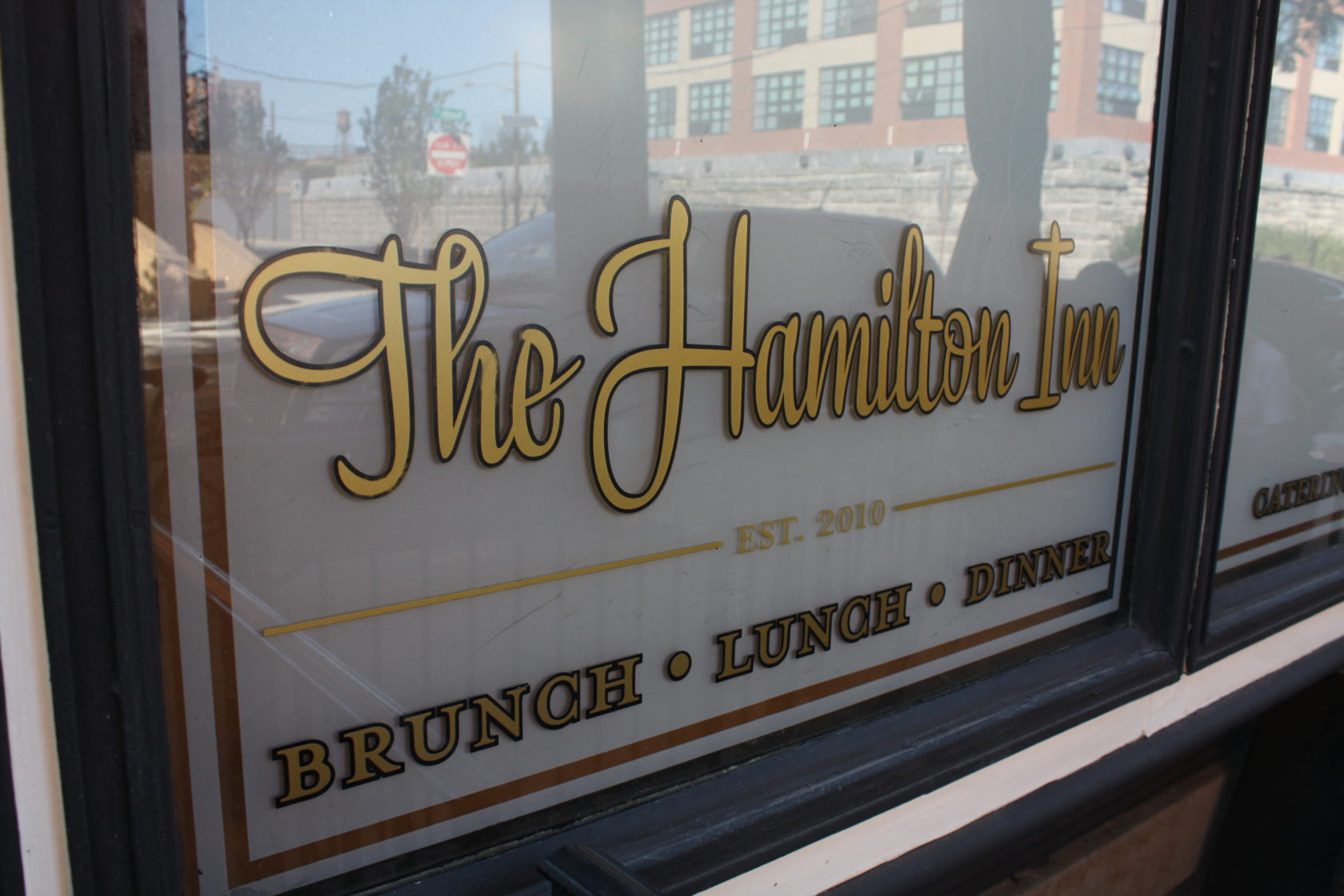 Ahh, brunch. What would our weekends be without you? For me, brunch is often the highlight of my weekend. Whether it's a get together with friends or a brunch date with my husband, brunching is one of my favorite weekend activities! The only problem is, Jersey City has so many great brunch options, it can be hard to choose. One always popular brunch spot is The Hamilton Inn. In 2015, it was chosen as one of Open Table's Top 100 Best Brunch Restaurants in America!  It also happens to be the site of the first date my husband and I went on together. On a recent Sunday, we returned there to celebrate 5 years together and enjoy a delicious brunch.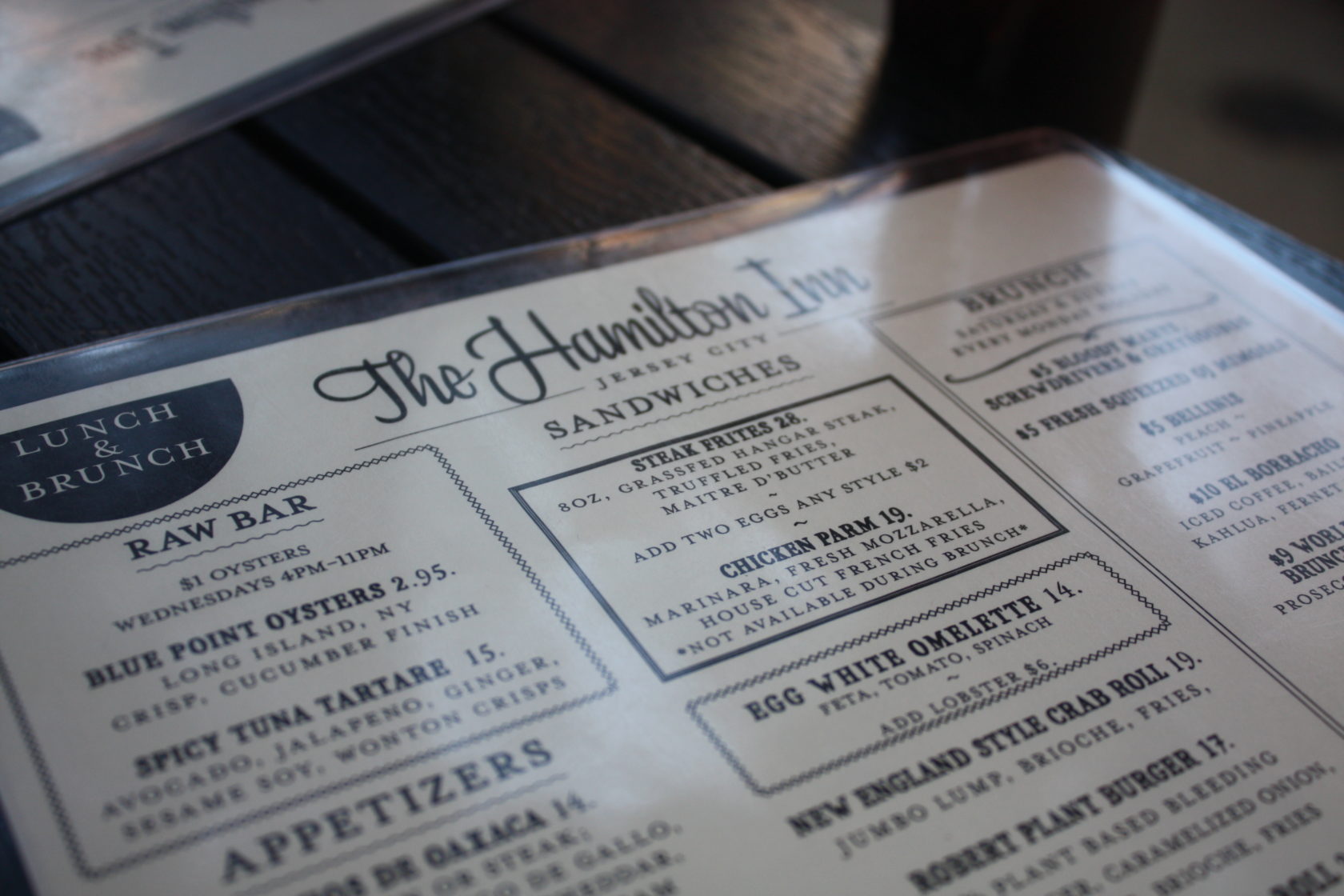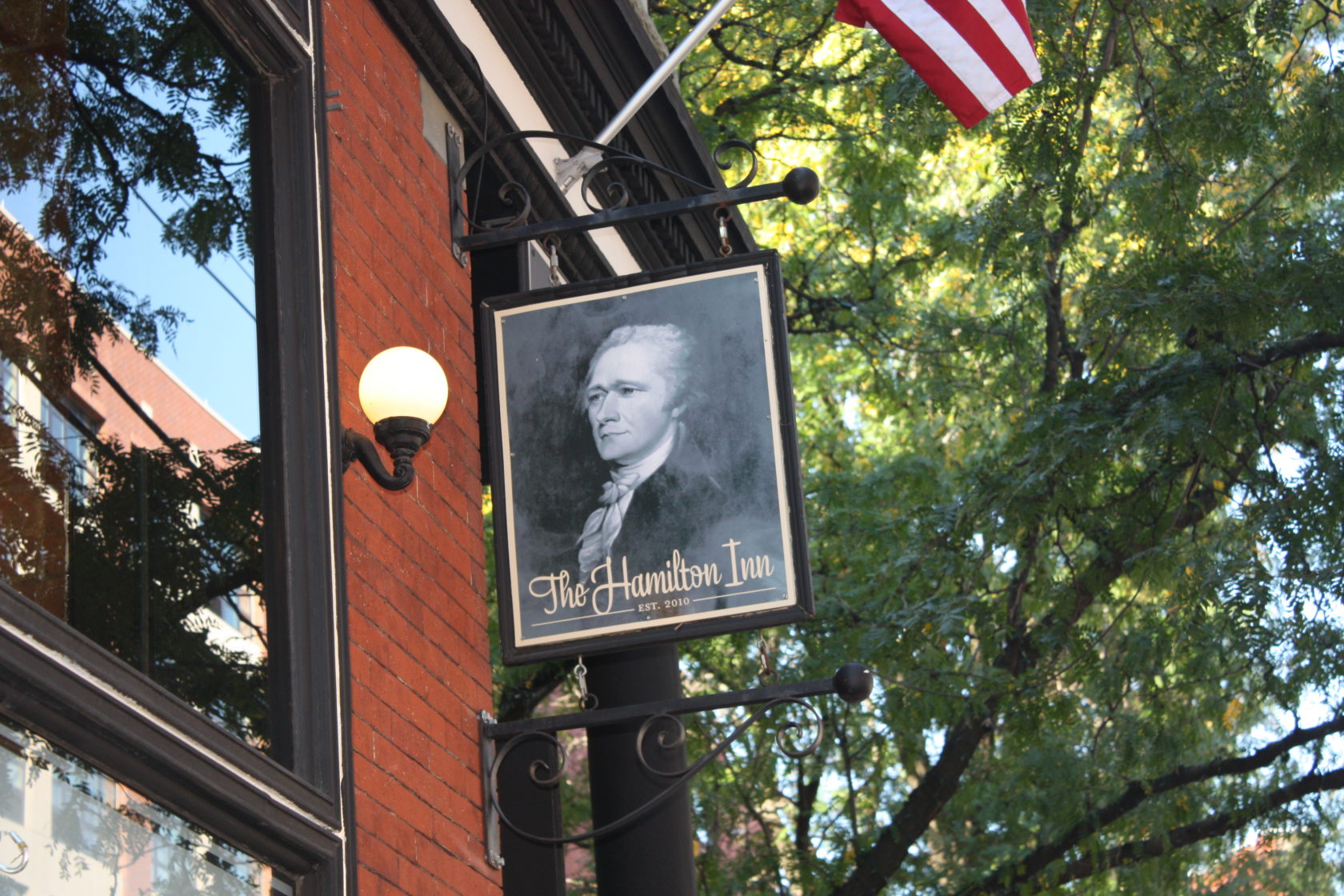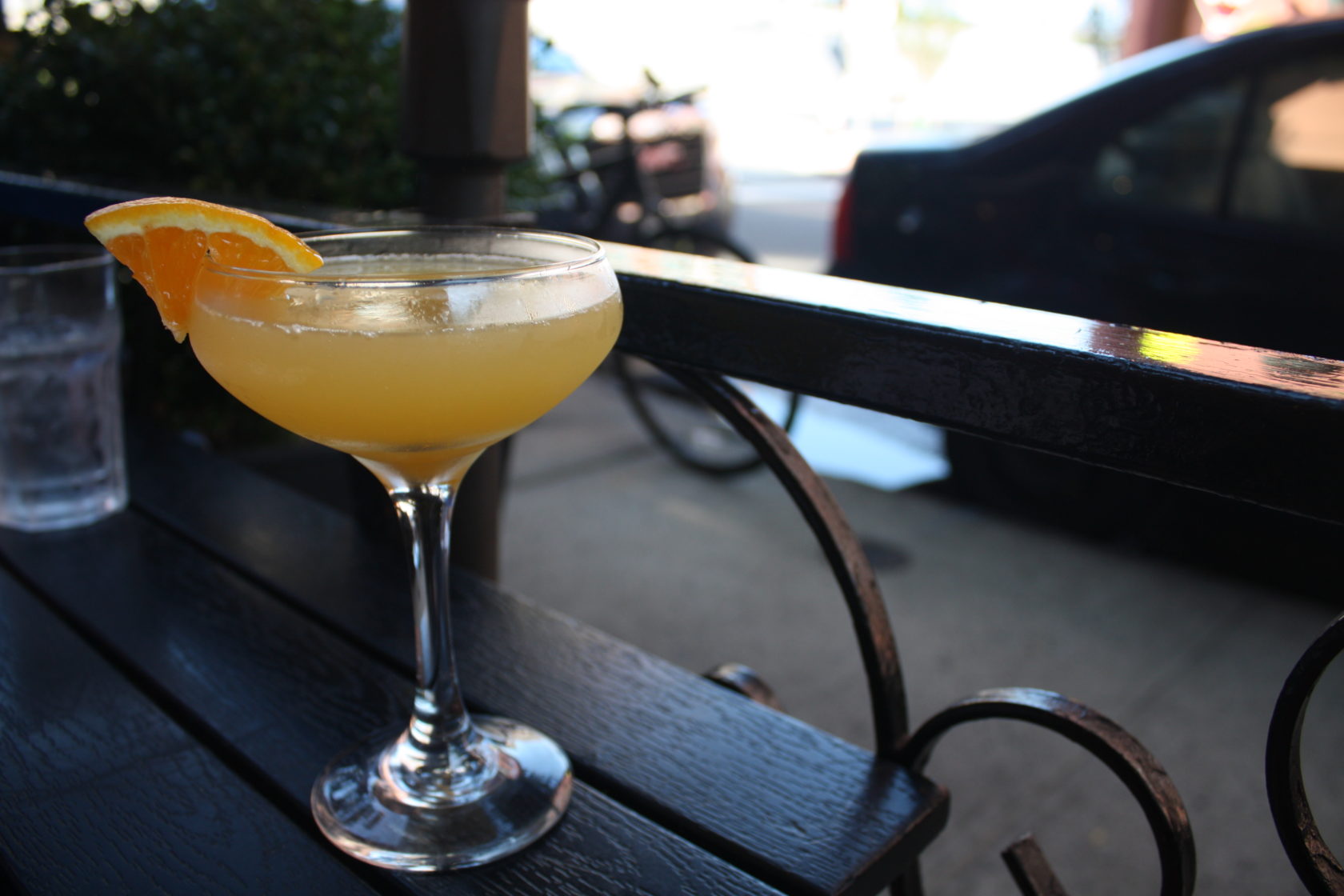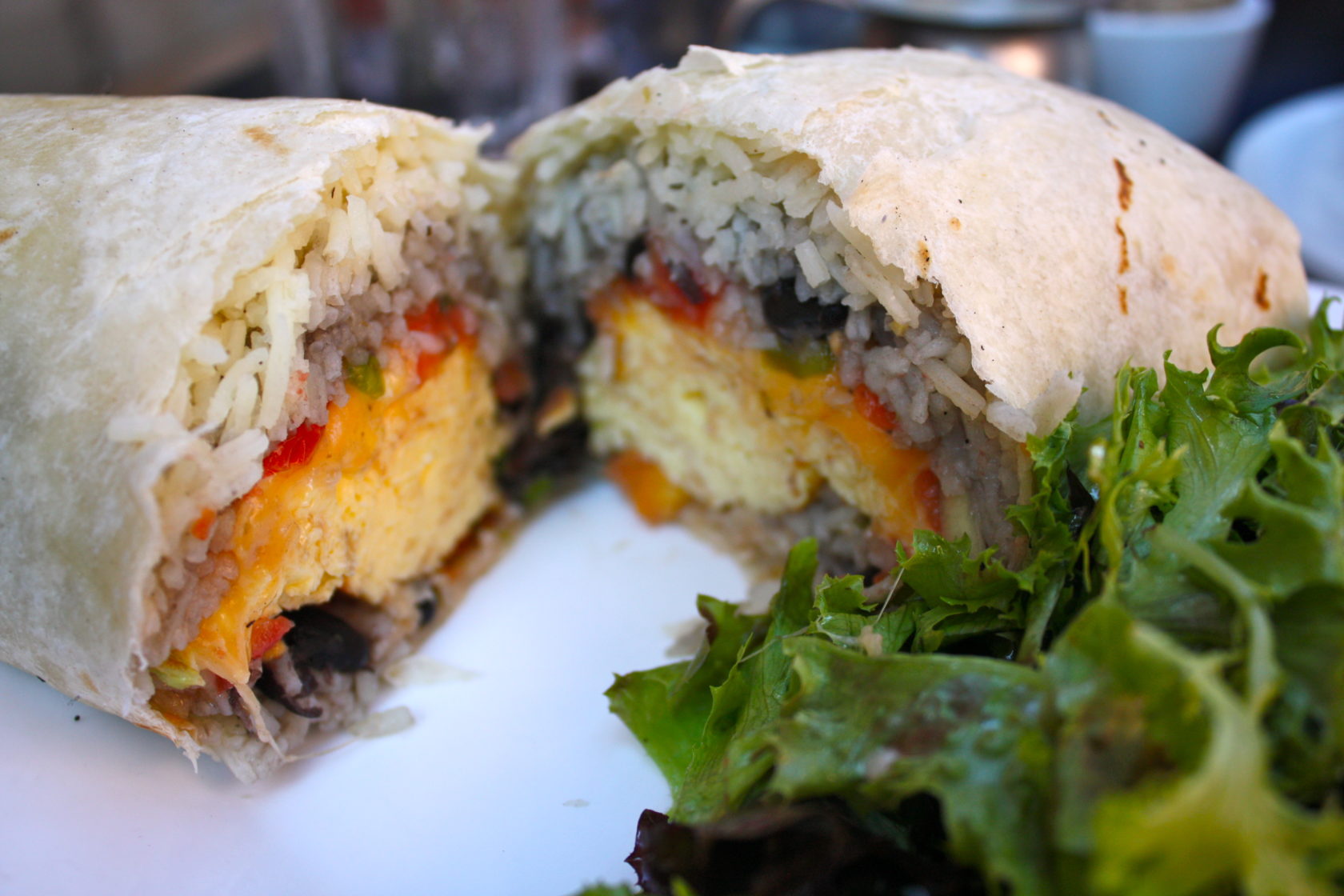 Everything on the brunch menu here is delicious, but I decided to try the breakfast burrito. I was thinking that it would be a great option to make at home for healthy, filling breakfasts. I was not disappointed! The burrito at The Hamilton Inn was huge, flavorful, and delicious. It was full of rice, beans, scrambled eggs, pico de gallo, and cheese. I knew that I could recreate this at home while at the same time reducing the calories a bit so it could be a healthy weekday breakfast option.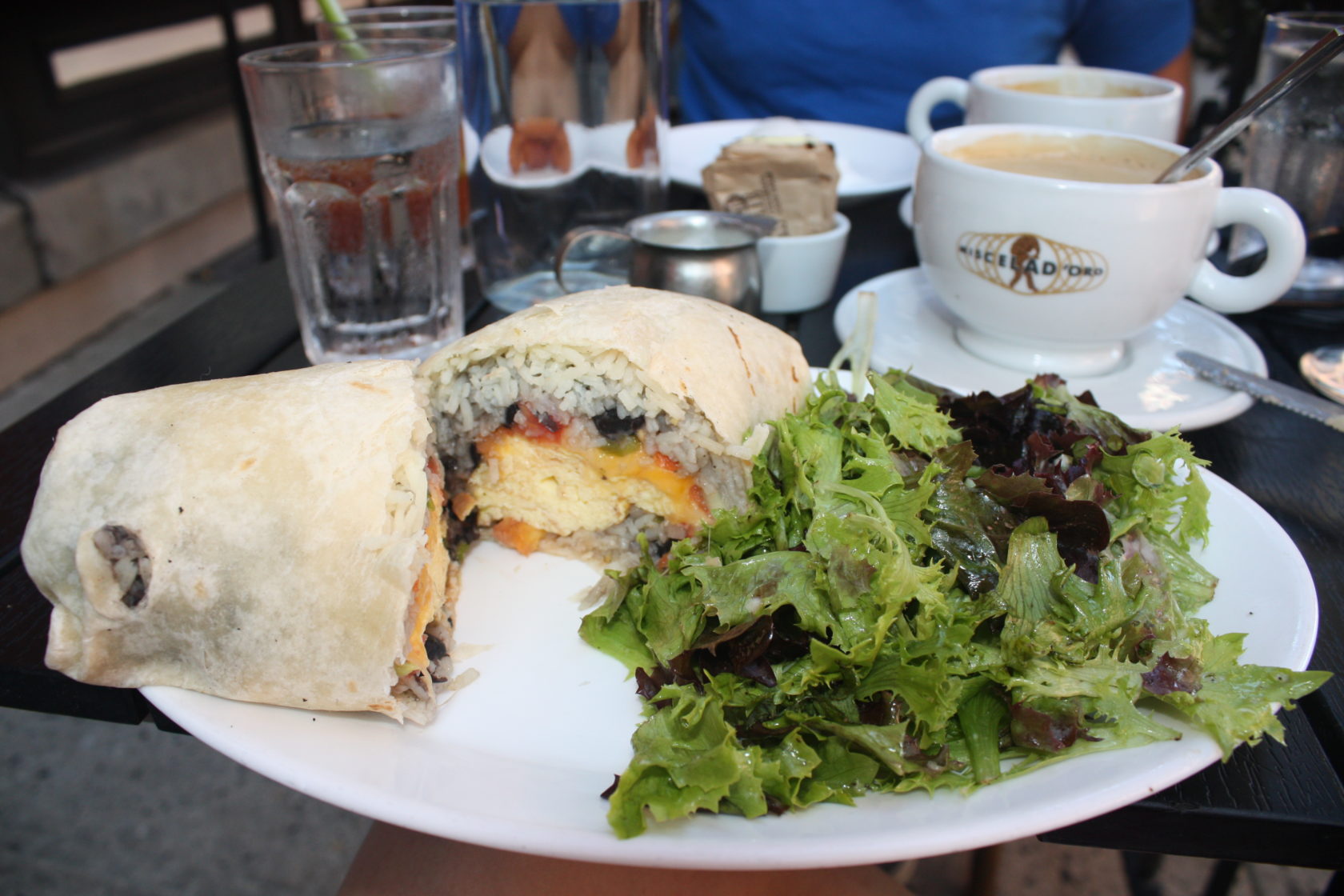 I don't know about you, but I feel like I'm always in a rush in the mornings. But as a teacher, I need a filling breakfast to tide me over until my lunch break. (I eat breakfast at 6:30 and often don't have lunch until 12:30!) Breakfast burritos are a perfect make-ahead option to have on hand for weekday breakfasts. You can easily make a big batch in about half an hour. Then you can freeze them individually. In the morning, you can grab one and microwave it for a quick and delicious breakfast before you head out for your day!
Breakfast Burritos
(Makes 6 regular size or 12 mini burritos)
Ingredients:
About 1 tablespoon oil or butter for cooking the eggs

8 eggs

Salt and pepper

1 (15.5 oz) can black beans, drained and rinsed

½ cup shredded cheddar cheese

½ cup pico de gallo, or more if you want

6 tortillas (9 or 10 inch for regular size–I used Trader Joe's flour tortillas with whole wheat) or 12 small tortillas (6 inch–I used Trader Joe's reduced carb whole wheat flour tortillas)
Directions:
1. Scramble eggs in a large nonstick skillet using your preferred method. I used 1 tablespoon of olive oil for mine. They seemed a little oily at first, but the extra oil really helps when you end up adding the other ingredients. When the eggs are almost done, add the black beans and stir well.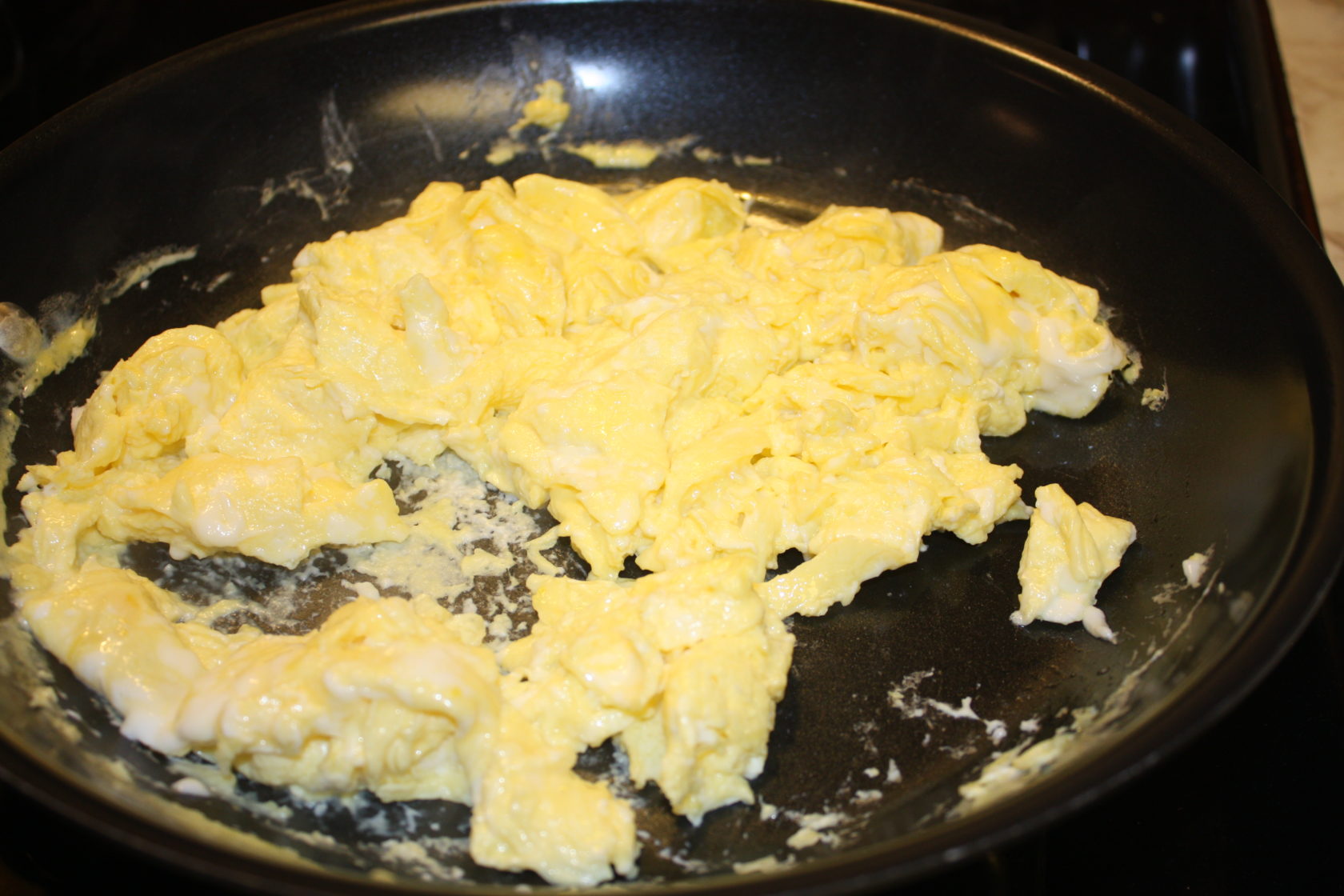 2. Turn the heat to medium-low, if it's not there already. Cook for one minute, continuing to stir occasionally. Add salt and pepper to taste.
3. Add the pico de gallo. Stir and cook 1 more minute.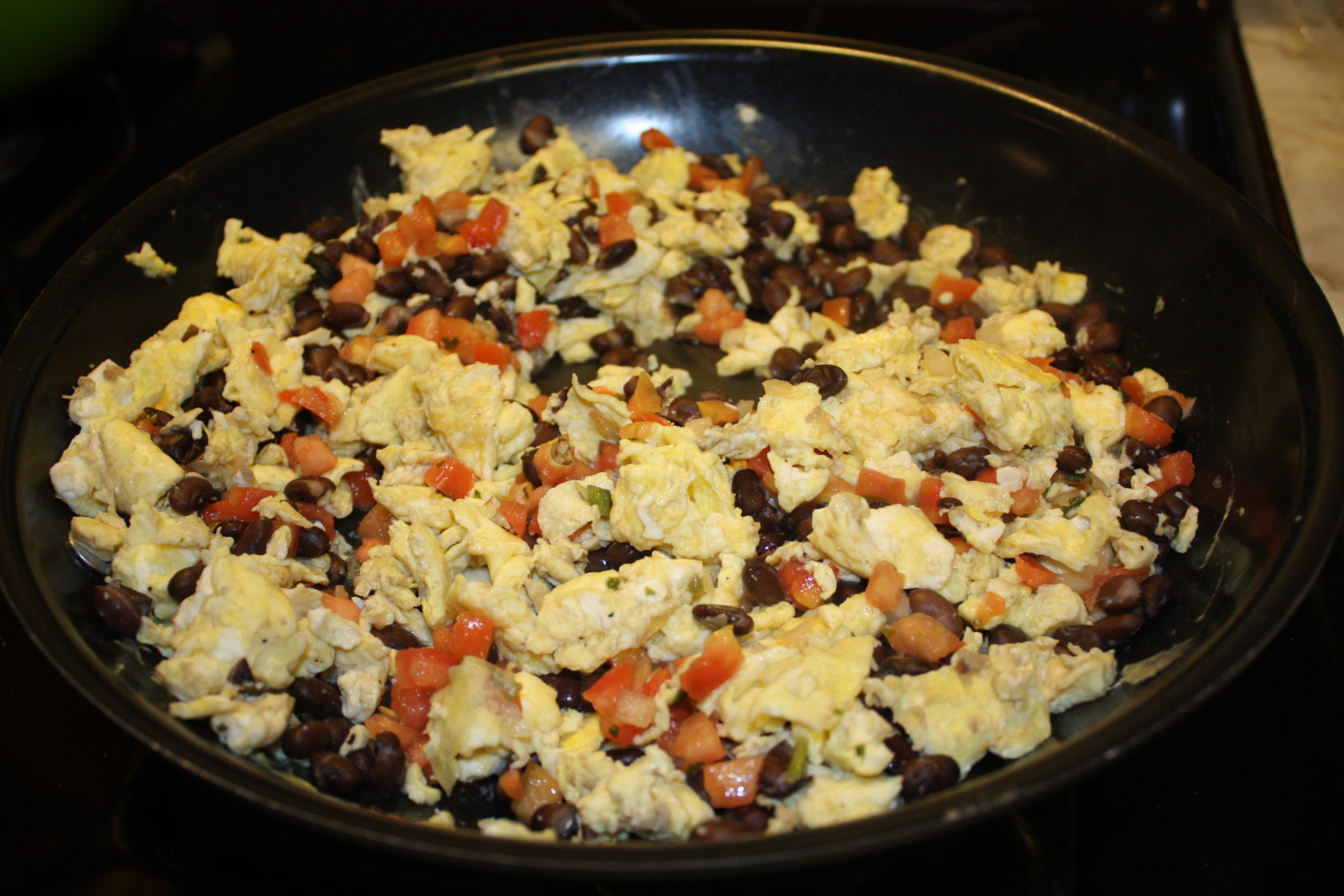 4. Turn off the heat, add the cheese, and stir until it's mostly melted. Taste the mixture to see if you'd like some more salt, pepper, and/or pico de gallo.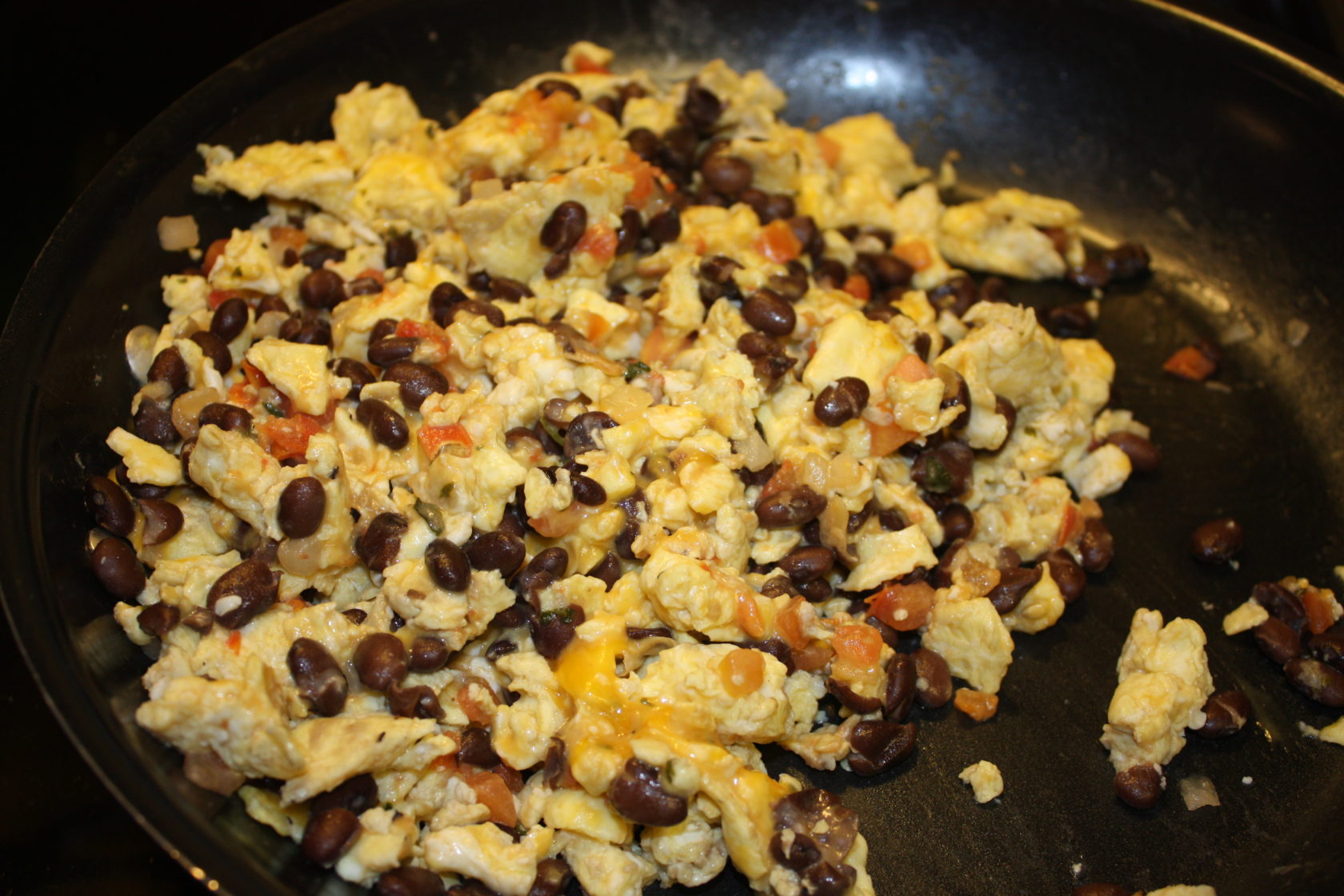 5. If you're eating the burritos now, heat up the tortillas according to the package directions. If you're not eating them now, no need to heat them up
6. Portion into the tortillas and roll them up. If you're using the regular size tortillas (9 or 10 inch), use about ⅔ cup filling per burrito. If you're using 6 inch tortillas, use about ⅓ cup filling per burrito. See the pictures below for my burrito rolling method. Also feel free to add some more pico de gallo here if you like!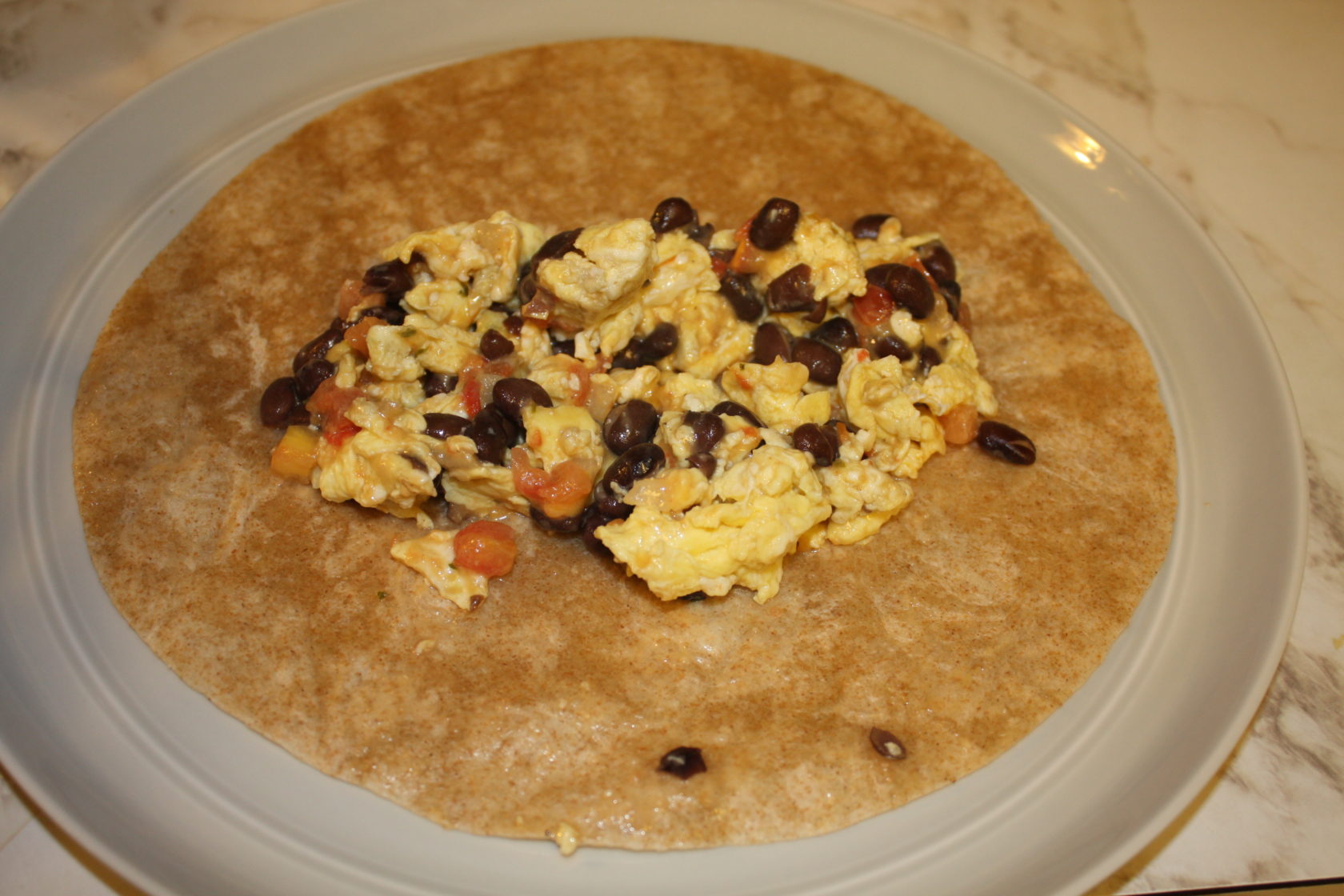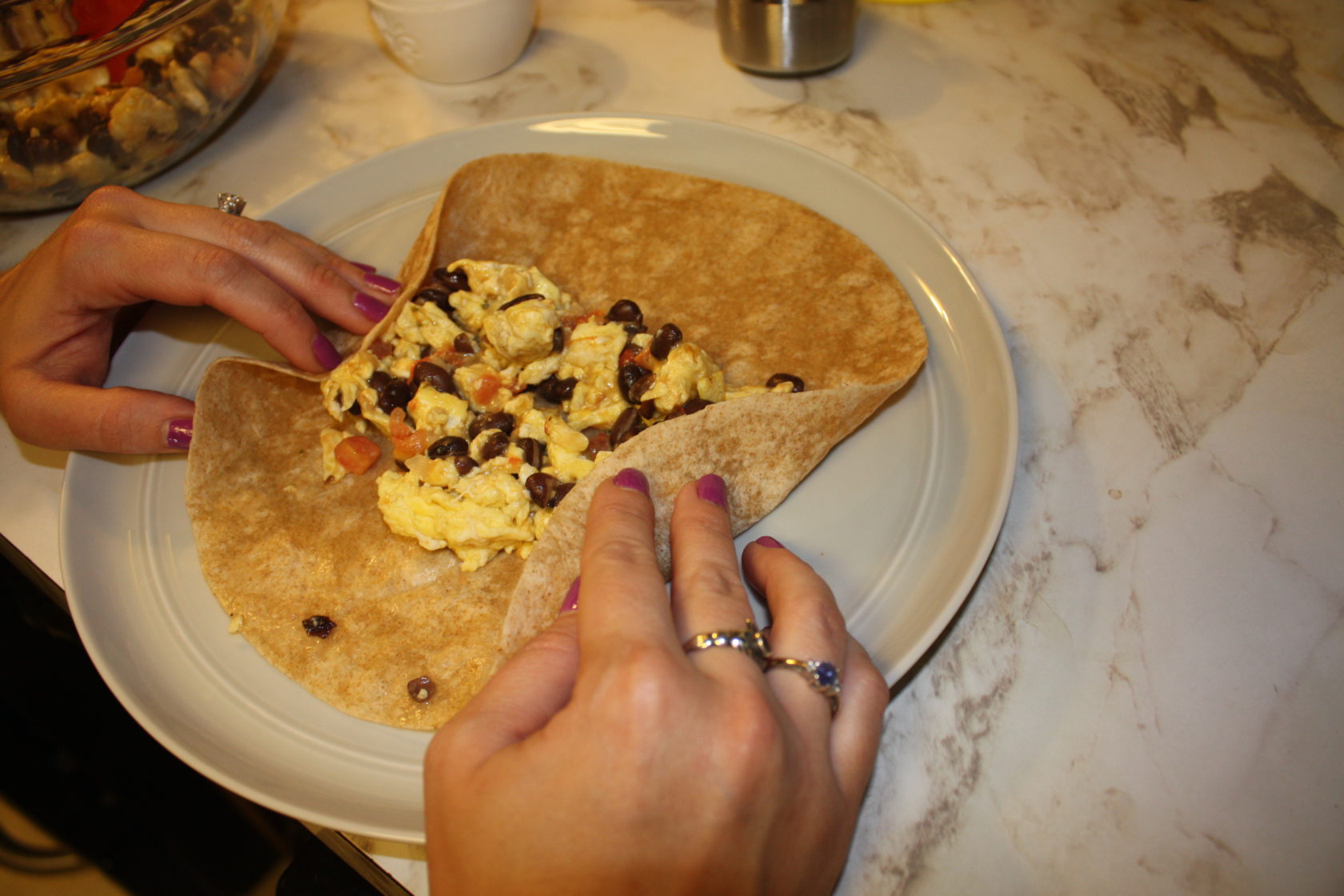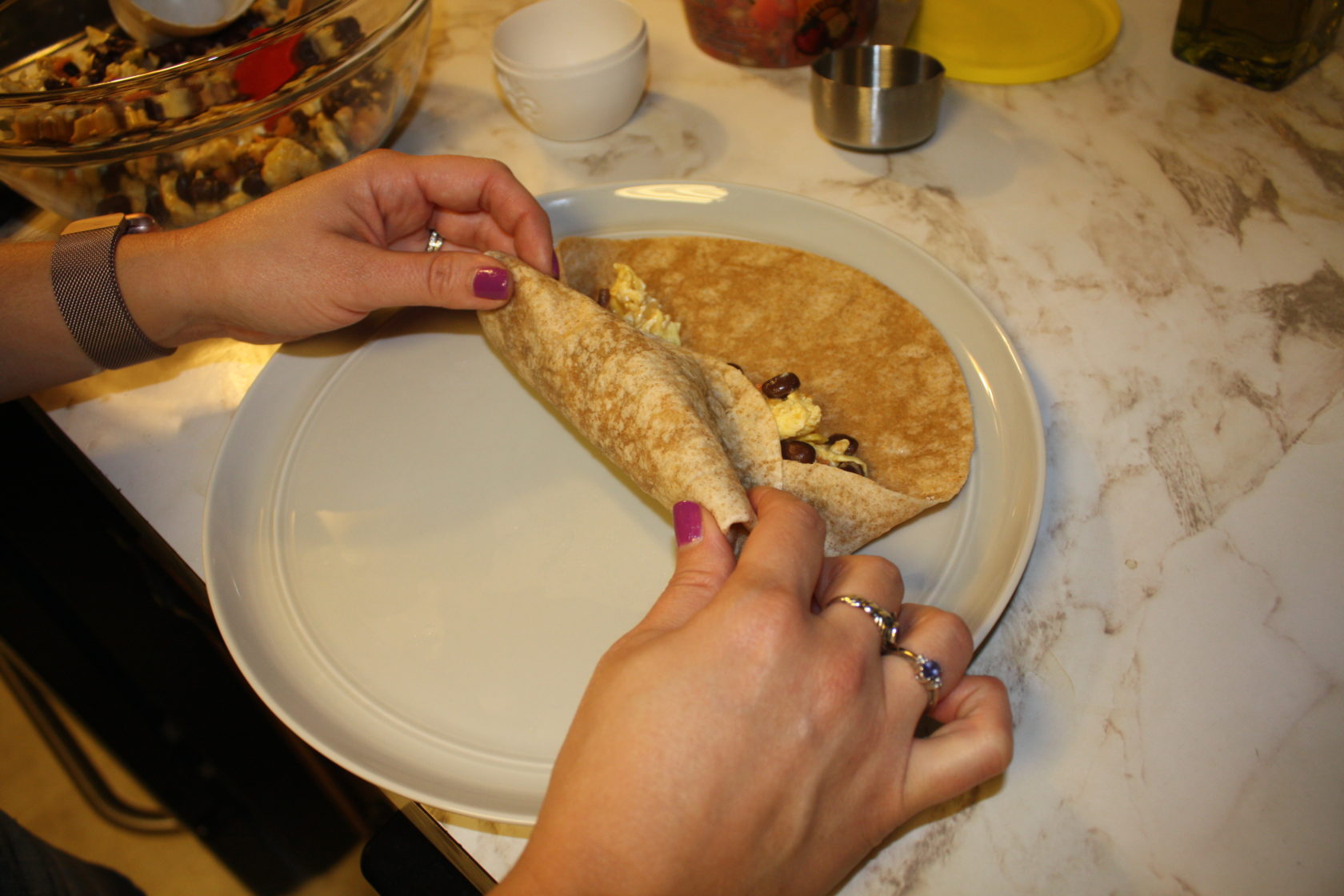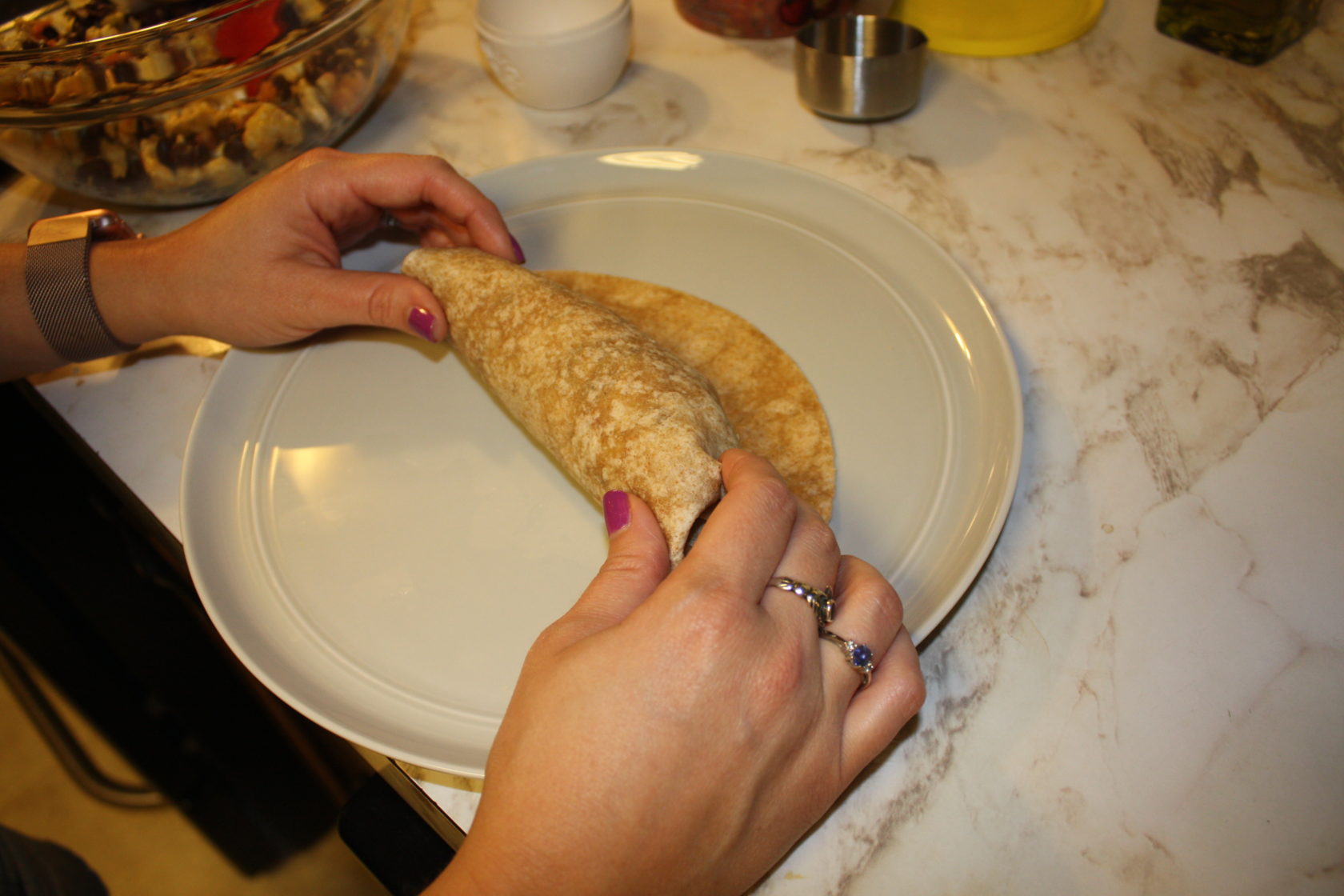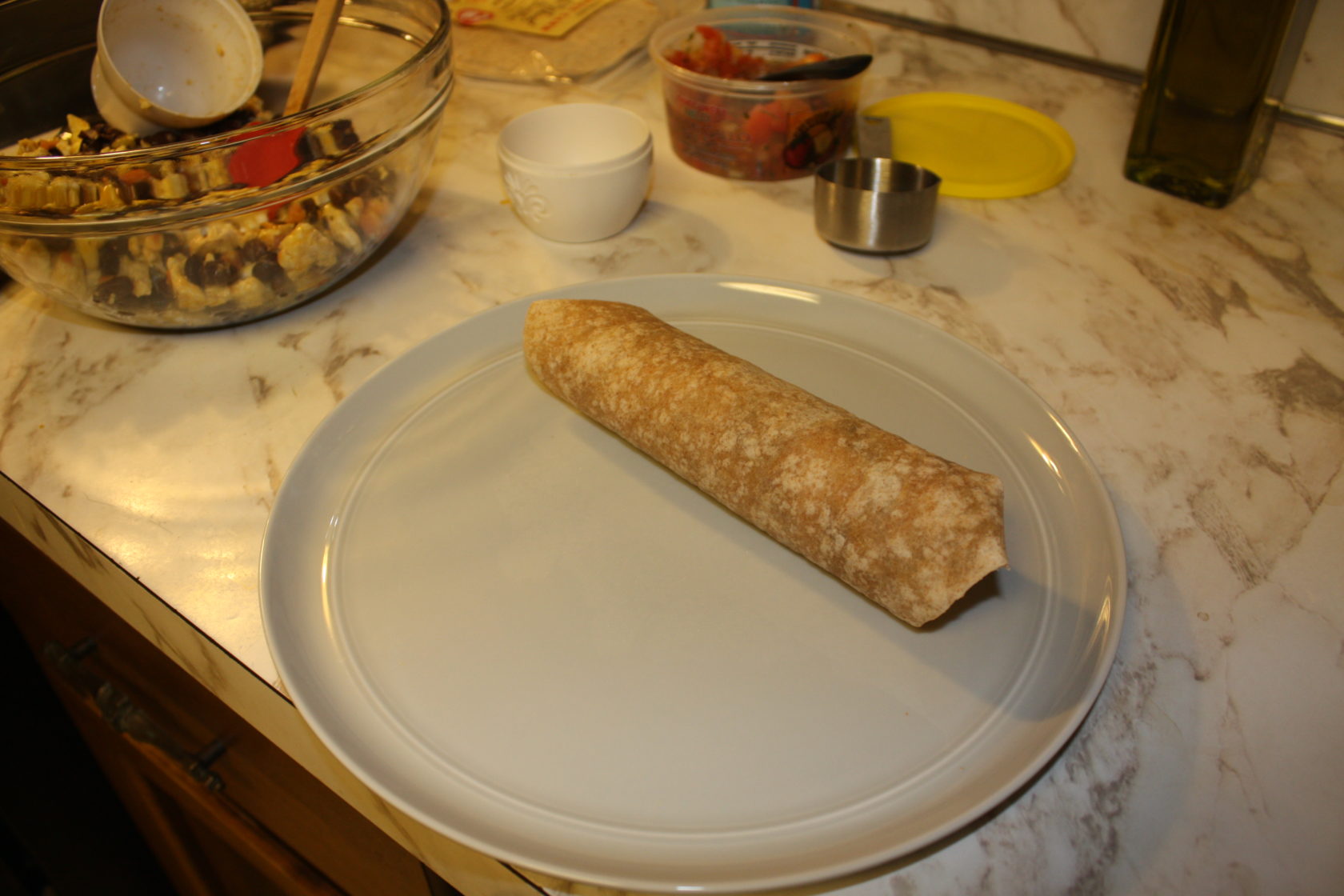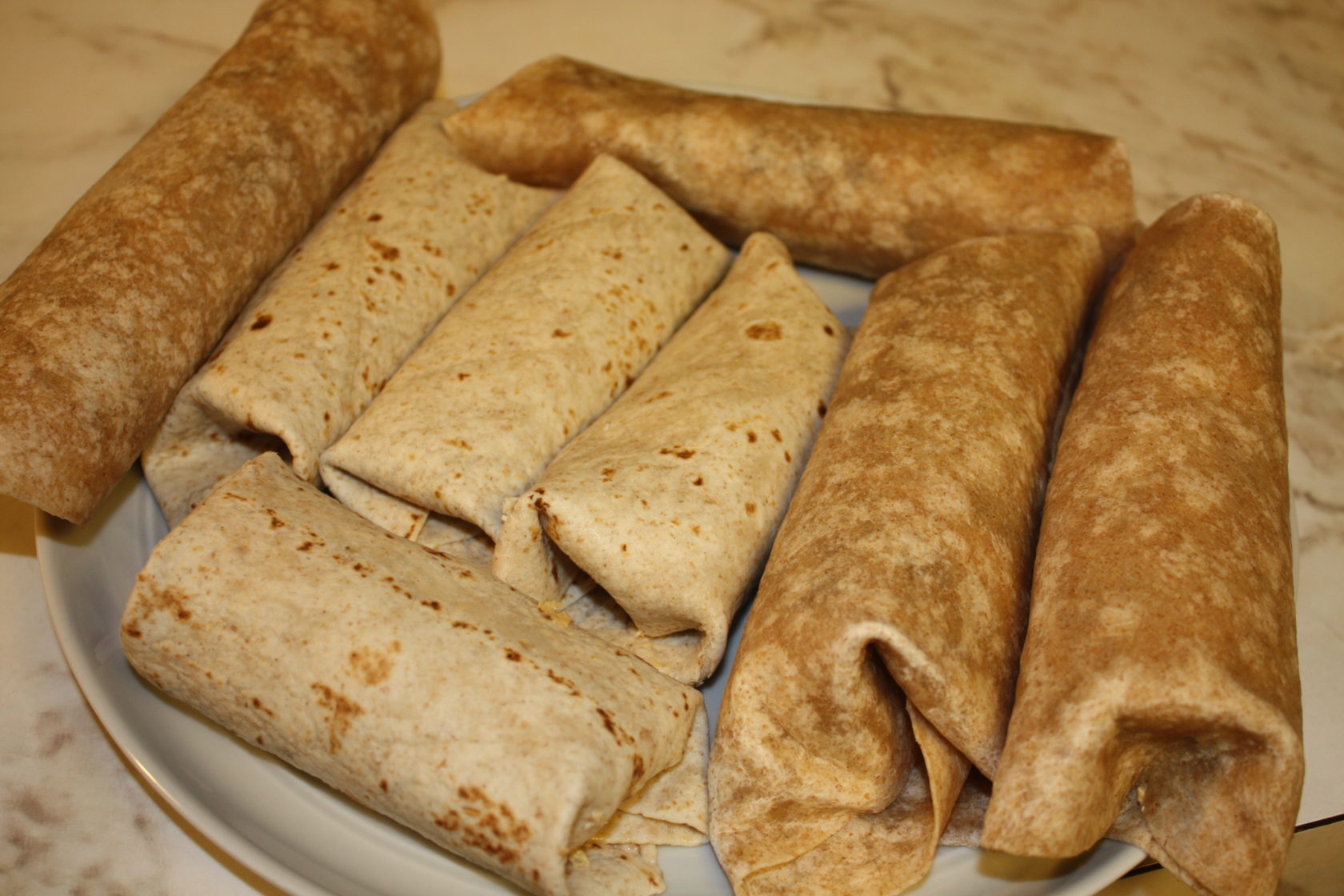 7. If you're eating them now–enjoy! If you'd like to save them for future breakfasts, roll the burritos up individually in plastic wrap. Place in the freezer.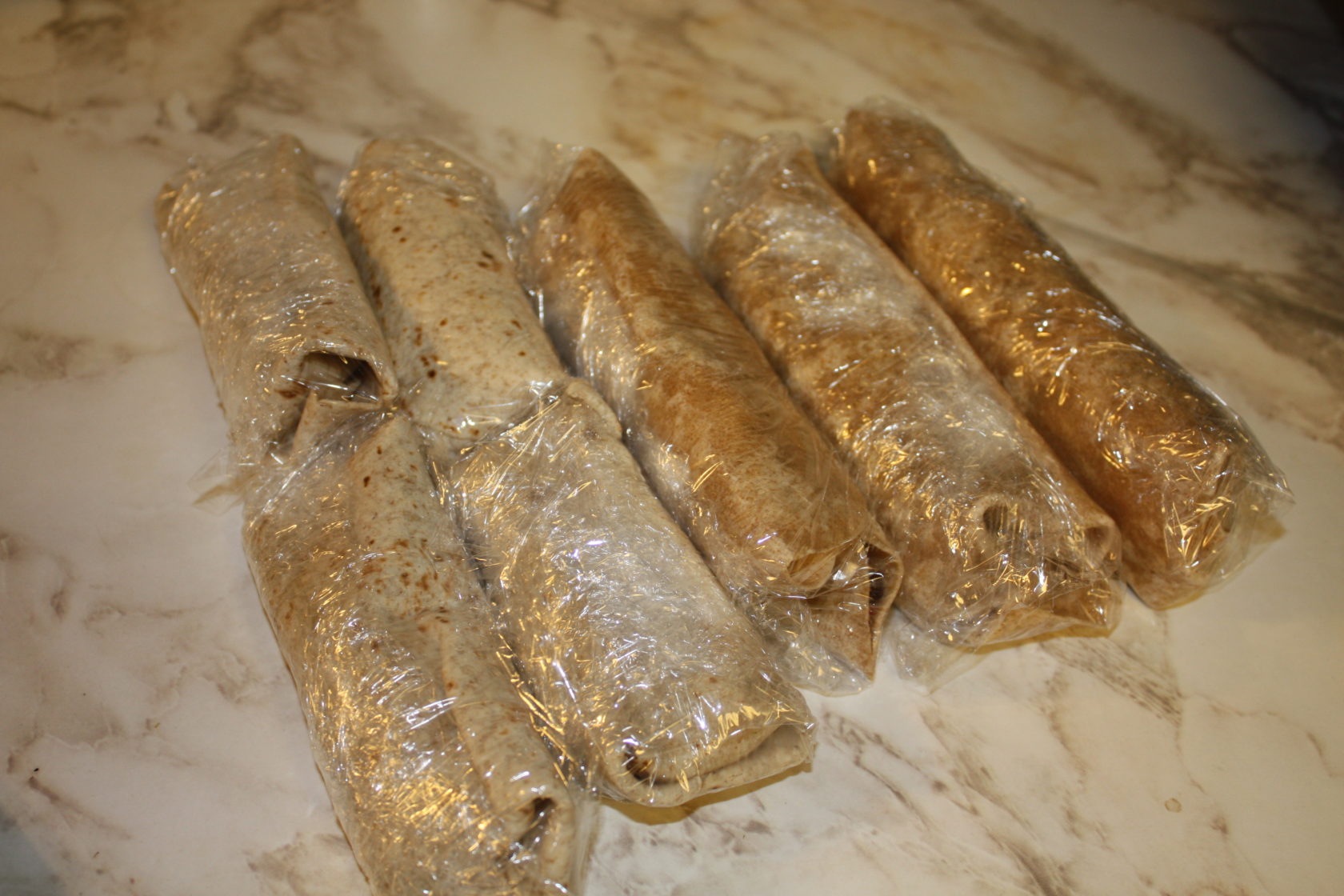 To heat from frozen:
Remove the plastic wrap and place burrito on a plate. Heat in the microwave on high for about 45-60 seconds. Microwaves vary, so you might need more or less time to heat up your burrito. You can also defrost the burritos overnight in the fridge and then microwave them in the morning. Enjoy!