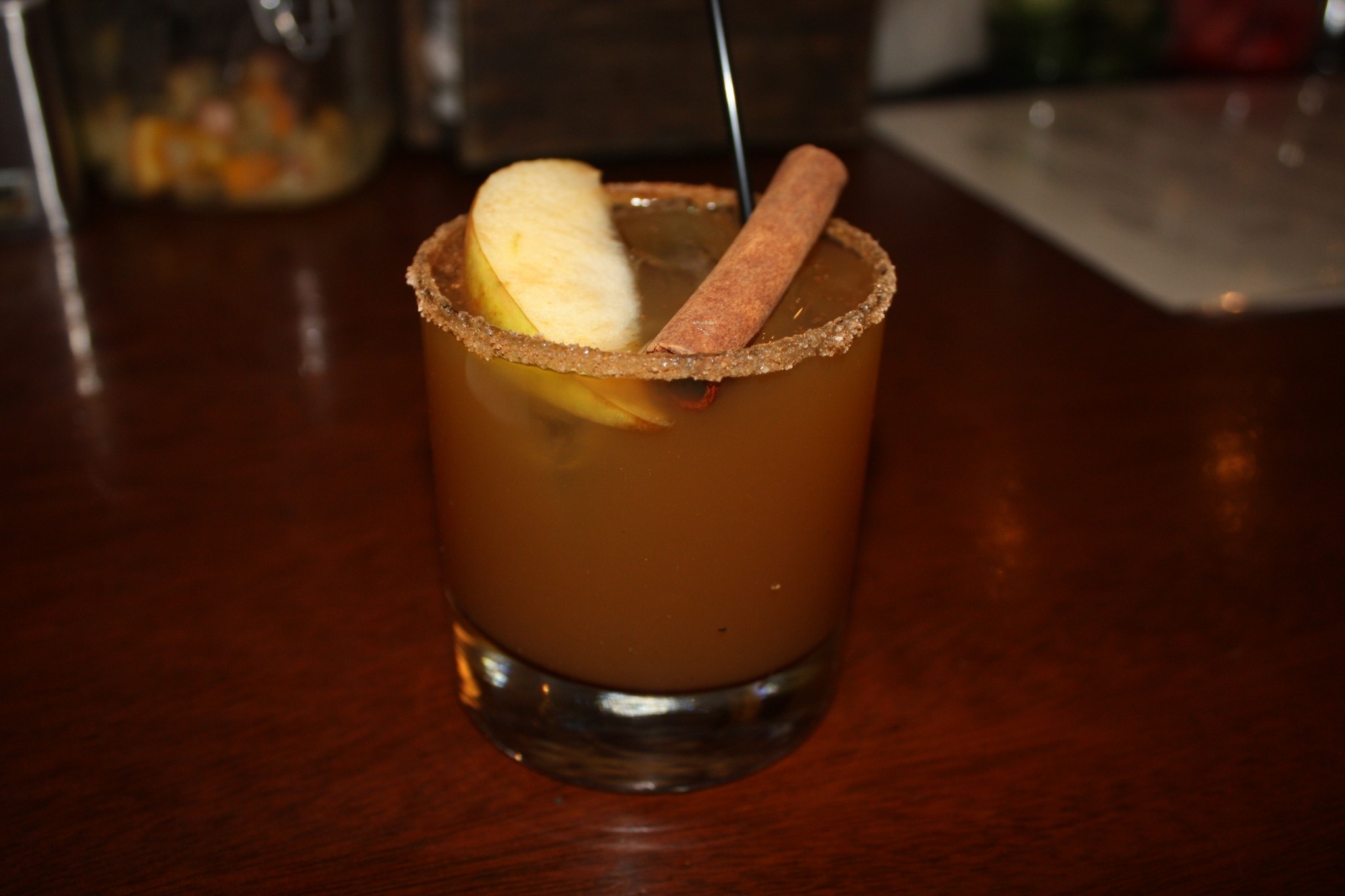 I'm back with another recipe for you today! In my last post, I shared my lightened-up recipe for Gramigna con Salsiccia, inspired by the dish from Roman Nose. For today's recipe, I decided to go with something a little more fun and a lot quicker and easier—a cocktail!
This Apple Bourbon Cocktail is inspired by my favorite drink from The Hamilton Inn, a restaurant in the Hamilton Park neighborhood of Jersey City. My husband and I have fond memories of The Hamilton Inn—we always say that we had our first date there, although I didn't know it yet! In fact, it was our first time ever spending time together outside of work. In my mind, we were "hanging out," but in Andrew's mind, we were on our first official date! We ended up sitting outside at The Hamilton Inn, nursing drinks and talking for hours. We've returned there many times over the years, enjoying the great drinks and amazing food. I especially love the brunch, but then I also do love the fried chicken sandwich…and the pierogies. Okay, so it is really hard to narrow down my favorite food item from The Hamilton Inn! What isn't hard to narrow down is my favorite cocktail to order there. I think I've gotten this same drink the last six times I've visited! They call it the Bonita Apple Bum, and I think it's the perfect amount of sweetness and flavor. Even if you don't like bourbon too much, I would recommend trying it. The last time we went, I watched the bartender make it, and I realized how simple it is to make!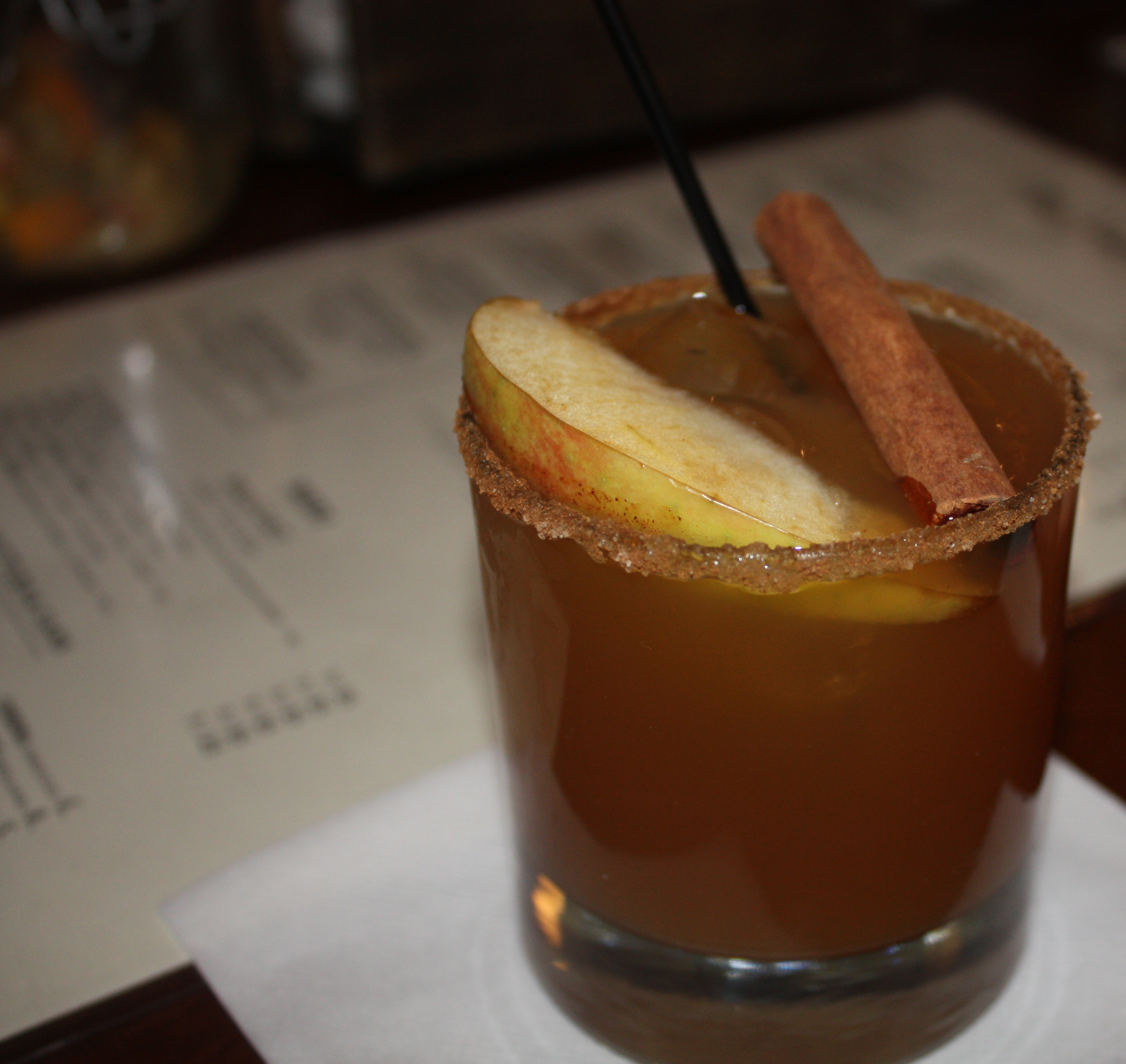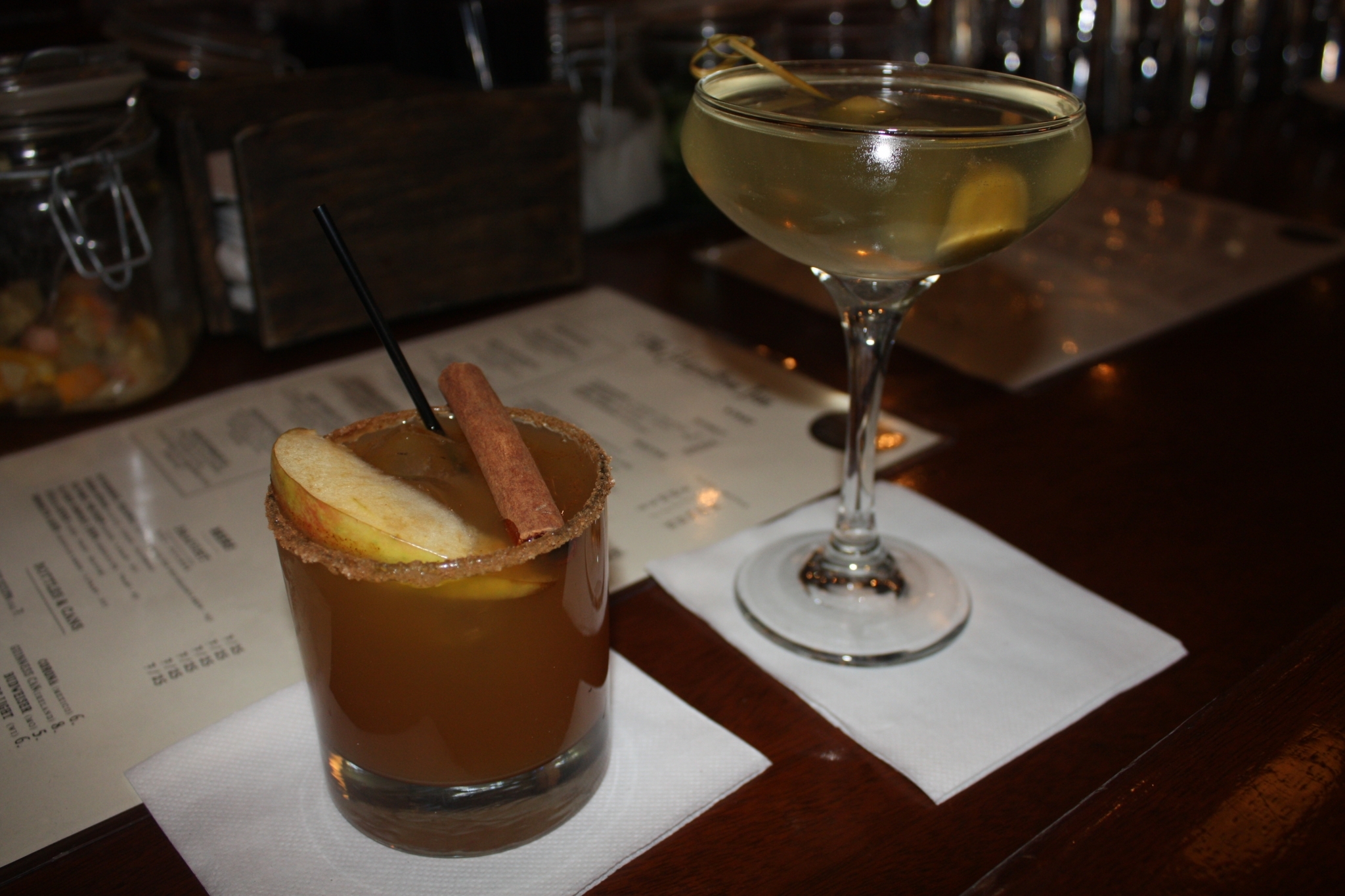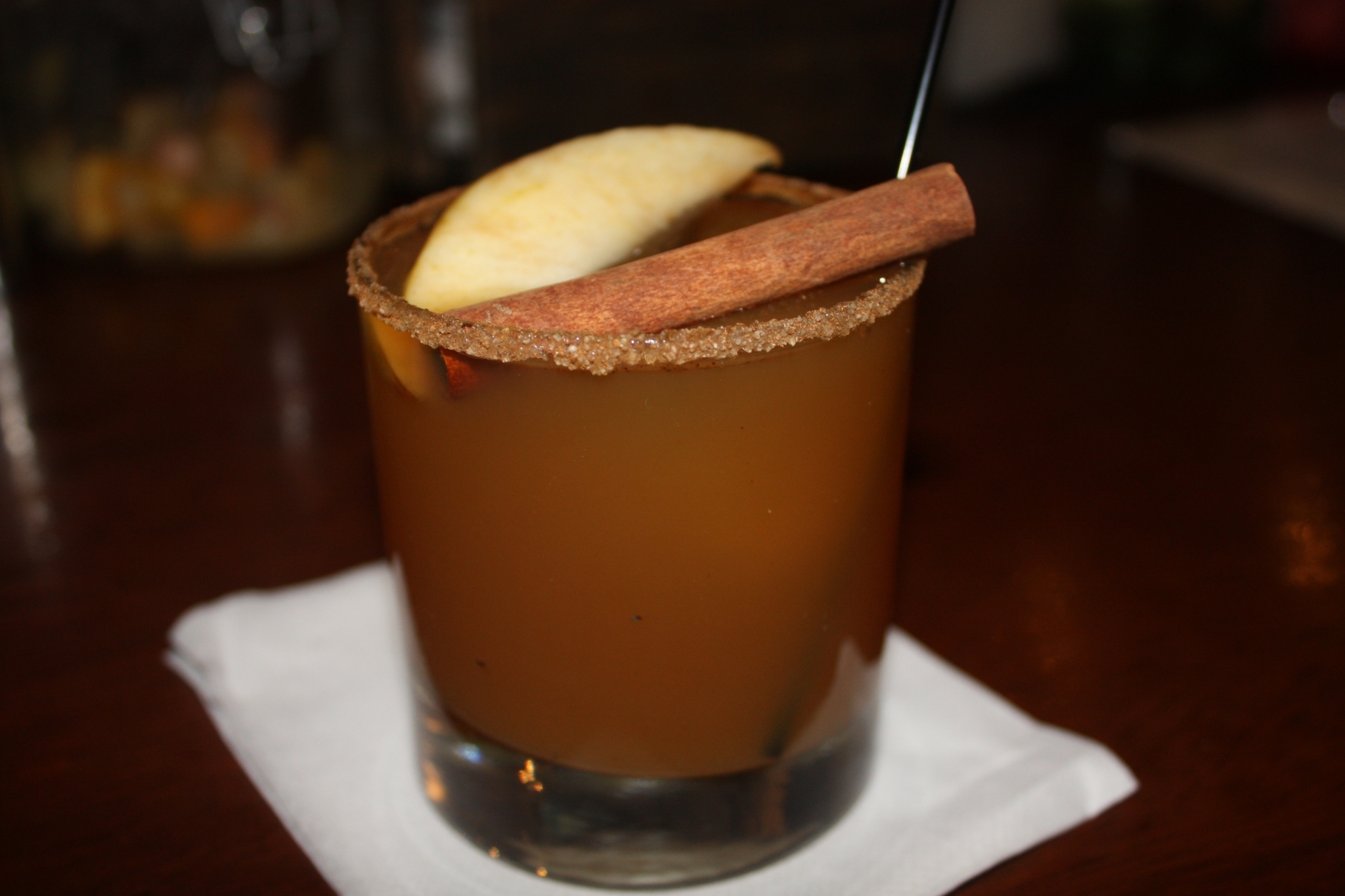 As much as I love the atmosphere and vibe at Hamilton Inn, we can't always spend the money to go out for drinks as often as we'd like. Since moving into our apartment, we've been building up our home bar and gathering drink recipes. With only three ingredients, this cocktail is easy to make at home. Bulleit bourbon is an inexpensive choice that's great for those who are new to bourbon. Since it's one of the cheaper bourbons out there, it's perfect for making cocktails. I found a bottle at Buy Rite here in Jersey City, and then it was time to start experimenting!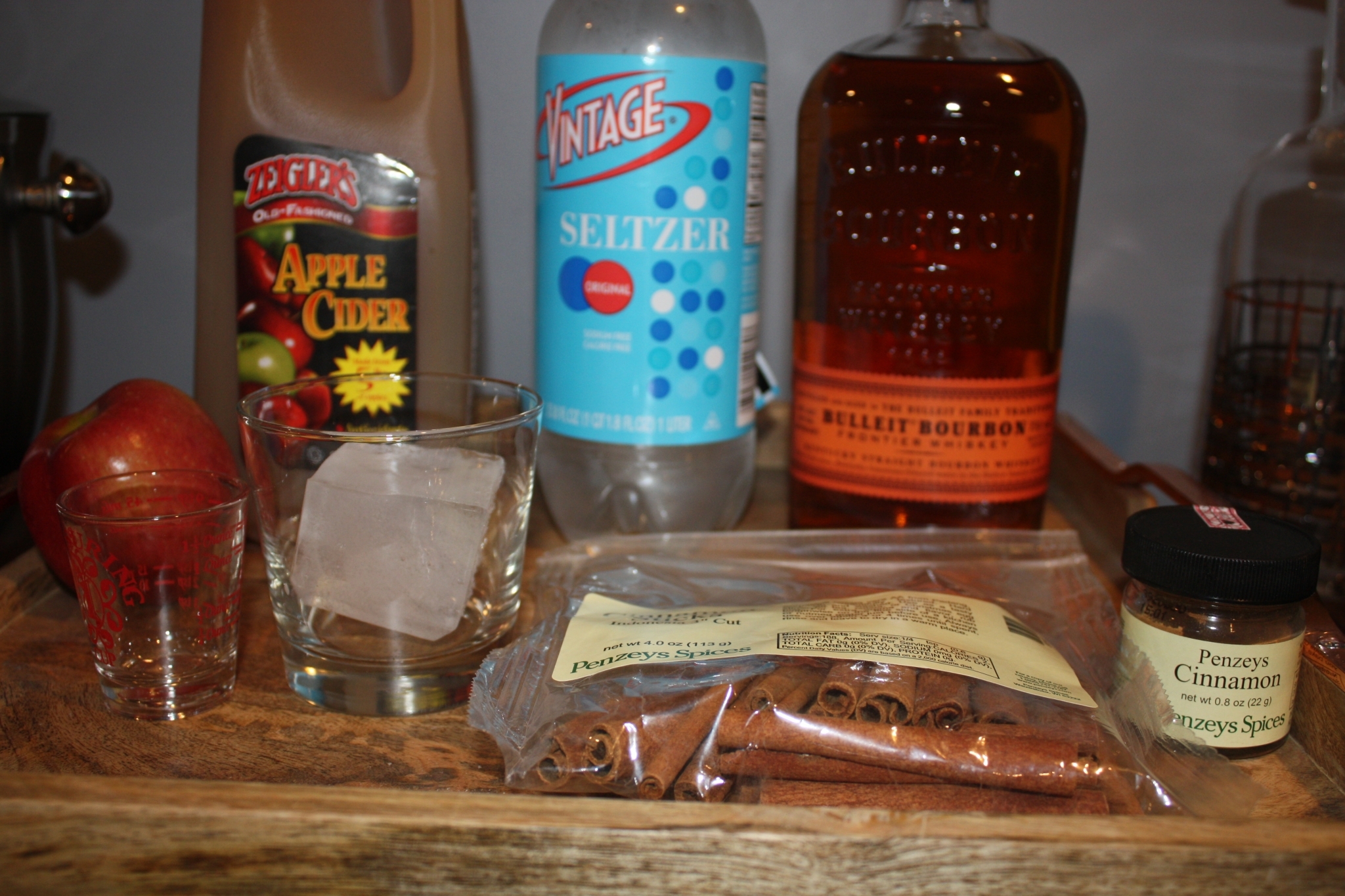 I decided to make three different variations of this cocktail, so you have some options. These recipes each make one drink, but you could easily mix up a double batch and split it between two glasses. If you're having a party, I'm sure you could make a huge batch and serve it as your signature cocktail!
Variation One: The Regular Apple Bourbon Cocktail!
This one most closely matches the actual drink from the restaurant. I didn't try to lighten it up at all from the original.
Ingredients:
Ice
1 oz Bulleit Bourbon
2 oz apple cider
cinnamon, cinnamon sticks, and apples for garnish
a rocks glass (or any glass you want to use)
Directions:
If you'd like to rim your glass, sprinkle a good amount of cinnamon on a plate. On a second plate, pour a little water. Dip the rim of your glass in the water, then in the cinnamon. Move it around a little until the cinnamon sticks to your glass enough. I'm sure there's a more official way to do this, but this is what I did with what I had on hand!
Put ice in your glass. I love the giant ice cube tray that we have, so that's what I used!
Add 1 oz bourbon. I used this awesome shot glass that has measurements marked on it, but you could just use a regular shot glass full.

If I were making this for my husband, I would stop here…

Add 2 oz apple cider. If you don't have a shot glass with measurements, you could just use two regular sized shots of cider.
Add a slice of apple and a short cinnamon stick. Use the cinnamon stick to stir the drink. You could also skip the garnish and just stir with a spoon or stirrer.
Enjoy!
Variation 2: Lightened up Apple Bourbon Cocktail
This variation saves some calories by using seltzer. It also has a bit less bourbon, which saves calories and keeps the drink a little lighter in terms of alcohol content. This is also a good choice if you're just starting to get into bourbon since it doesn't have as much bourbon flavor as the others.
Ingredients:
Ice
½ oz Bulleit bourbon
1 ½ oz apple cider
1 oz seltzer
cinnamon, cinnamon sticks, and apples for garnish
a rocks glass (or any glass you want to use)
Directions:
If you want to, rim your glass with cinnamon following the directions in the previous recipe.
Add ice to your glass.
Measure and add the bourbon, the cider, and the seltzer. If you don't have something that will measure half ounces, you can estimate. A regular shot glass is an ounce, so half of a shot glass will be about half an ounce.
Stir and add an apple slice and cinnamon stick as garnish. Enjoy!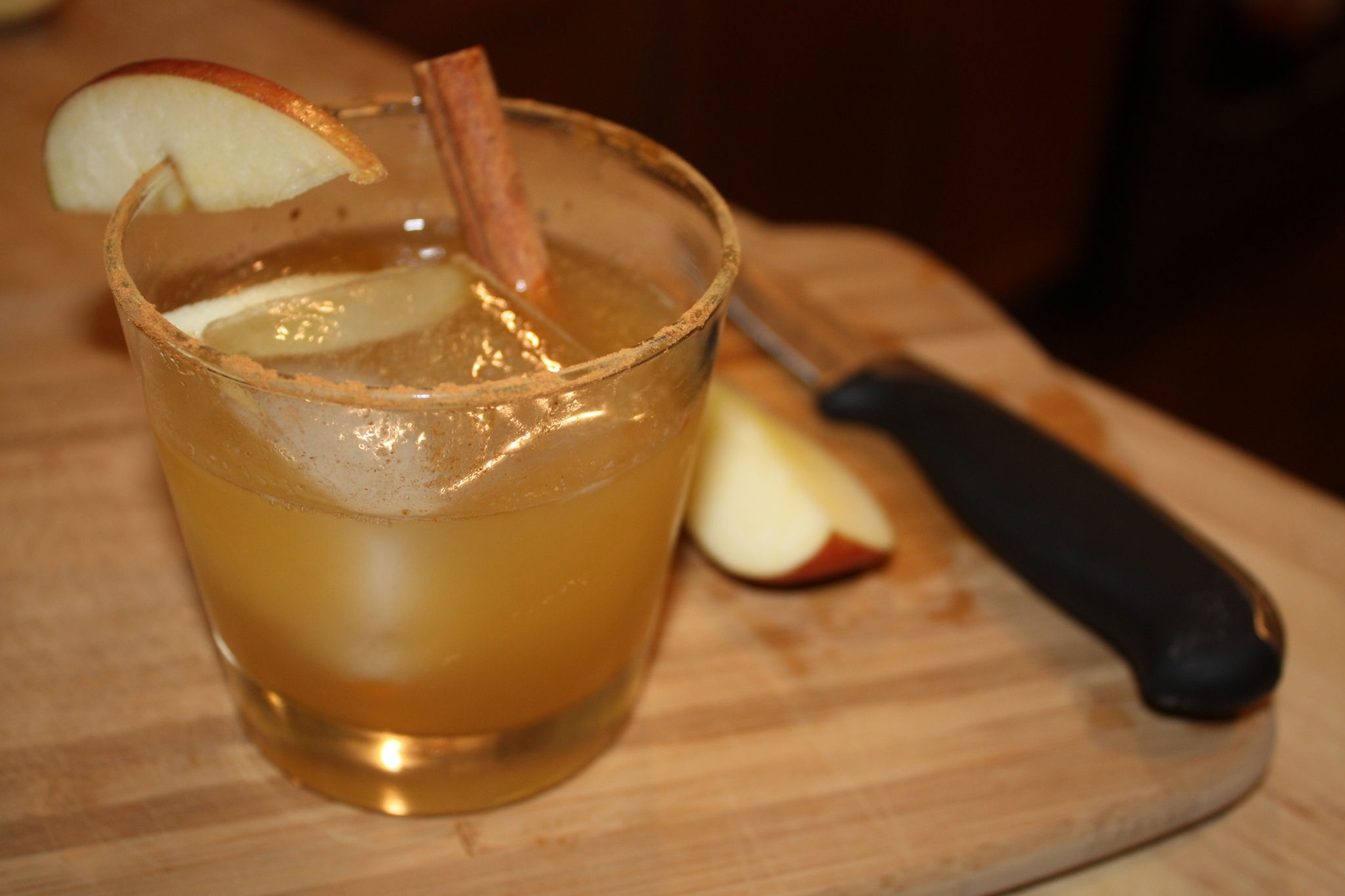 Variation 3: Saturday Night Apple Bourbon Cocktail
I decided to call this one the "Saturday Night" version because it has a bit more bourbon than the lightened up one! This one is definitely for people who like the taste of bourbon! Since it does use seltzer to replace some cider, it is still lightened up when compared to the original recipe.
Ingredients:
Ice
1 oz – 1 ½ oz Bulleit bourbon
1 oz apple cider
1 oz seltzer
Cinnamon and apples for garnish
Directions:
Again, if you'd like, you can rim your glass with cinnamon. As you can see from these pictures, I skipped this step for this variation because I wanted to get right to the tasting!
Add ice to your glass.
Add the bourbon, cider, and seltzer. At first, I used 1 oz of bourbon. It tasted delicious, but since this is the Saturday Night variation, I just had to try adding another half ounce. Of course, it was even more delicious! So feel free to experiment and see what you like.
Stir and garnish with apples and cinnamon sticks as desired.
As much fun as going out for drinks can be, sometimes it's just as nice to stay home and cozy up on the couch with a drink you've made yourself. As you can see, making cocktails at home can be quick, easy, and delicious! Let me know if you try one (or all!) of these recipes! And follow me on Instagram at myjerseykitchen to see more of my food (and beverage) adventures!