If you're looking for something fun to do this weekend, check out these virtual events.
Friday
HipFit Fundraiser for JC Relief
April 3 @ 8:00 PM
The JC Relief team is collaborating with Laura of HipFit Dance Fitness for a hip hop class benefitting the JC Relief efforts. You can sign up by donating any amount to @LauraHipfit on Venmo and include your email so you can get the Zoom link.
Midnight Market – Quarantine Edition
April 3 @ 8:00 PM – 12:00 AM
Take part in the take-out flash mob by ordering pick-up or delivery from participating local businesses, try your hand at bartending at home, and enjoy live sets from some local DJs. You can stream the event directly on their website.
Saturday
Open Mic Anywhere
April 3 @ 7:00 PM
Take part in In Full Color's Open Mic Anywhere, with 10-minute sets for all artists via Zoom. You can find the Zoom link and sign up details on their website. You can also send a pre-recorded set to summer@infullcolor.org for submission.
Saturday Night Online
April 4 @ 8:00 PM
Enjoy an hour of live, interactive stand up comedy on Zoom along with audience prizes during the night. Tickets are $12, available on the Art House Productions website.
Ongoing
JCFPL Virtual Programs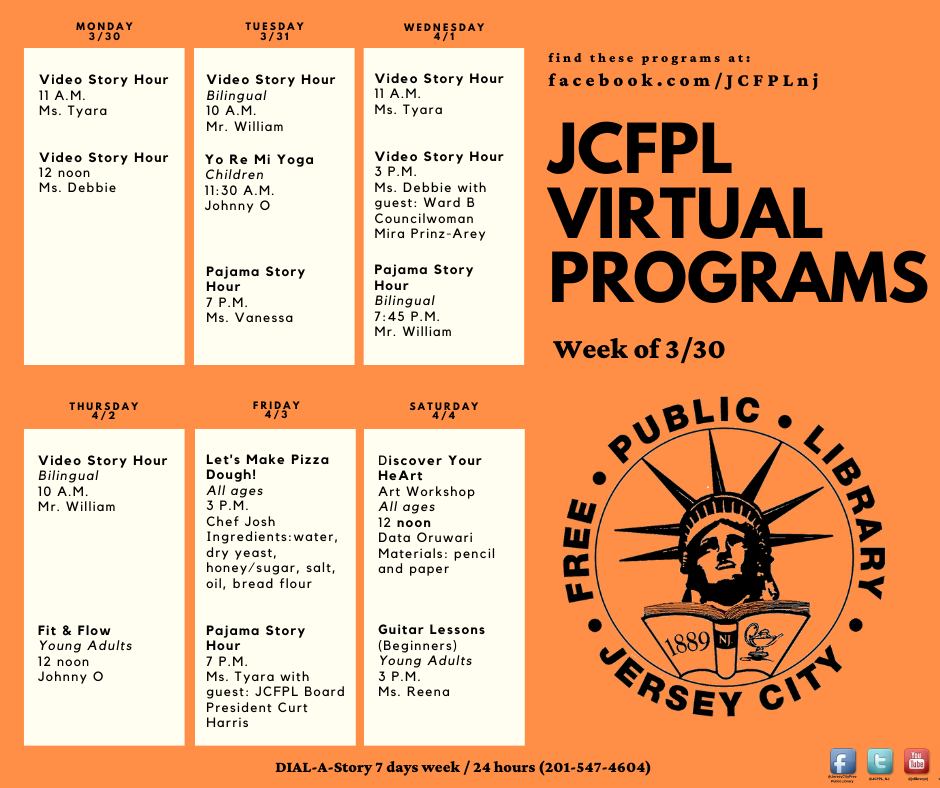 Get the family together for art workshops, cooking workshops, story hours, and more every week! You can catch the live streams on facebook.com/JCFPLnj. Dial-a-Story is also available 24/7 when you call 201-547-4604.
Nightly Met Opera Streams
Every night at 7:30 PM, the Metropolitan Opera is streaming a performances from their Live in HD series through Met Opera on Demand. You can find their full schedule online.
Broadway Shows with BroadwayHD
Sign up for BroadwayHD to enjoy your favorite Broadway shows, or discover some new favorites like Kinky Boots, Macbeth, Cats, and Swan Lake. It's ad-free and you can stream from any device! Check out their selection and start your free trial – https://www.broadwayhd.com/