Looking for something to do this weekend? Check out these virtual events!
---
Virtual Story Slam
April 30 @ 7:00 PM
Listen to stories from 5 different individuals themed around their weaknesses and soft spots. Admission is free with a suggested donation of $5. You can visit their website for more information.
Voices from Around the World: Courage
May 1 @ 1:00 PM
Tune in for JCTC's fourth episode of Voices from Around the World, focusing on Courage with artists from around the world. You can get tickets and more information on their website.
Drag Bingo
May 1 @ 8:00 PM
Play 4 rounds of Drag Bingo with Harmonica Sunbeam via Zoom! Each round has a prize for the winner, and it's $12 per bingo board. Get more information and buy your board on their website.
Fierce Fridays Digital
May 1 @ 11:30 PM
Six26 has gone digital for their Fierce Fridays drag performances. Tune in for performances by Kimmy Sumony, Britney Virazzano, Anida Tension, Catrina Lovelace, and host Stella Luna.
Saturday Night Online
May 2 @ 8:00 PM
Enjoy an hour of live, interactive comedy on Zoom. You can buy tickets for $12 on their website and the Zoom link will be emailed after you register.
Ongoing
JCFPL Virtual Programs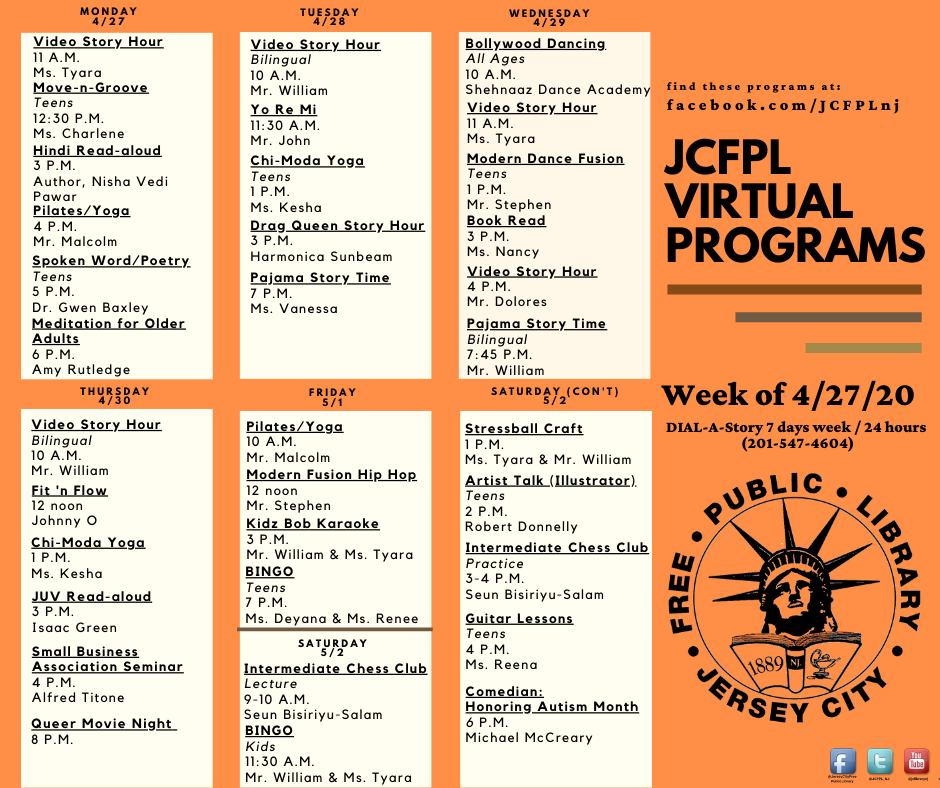 Get the family together for story hours, yoga, seminars, and more every week! You can catch the live streams on facebook.com/JCFPLnj. Dial-a-Story is also available 24/7 when you call 201-547-4604.
Nightly Met Opera Stream
Every night at 7:30 PM, the Metropolitan Opera is streaming a performances from their Live in HD series through Met Opera on Demand. You can find their full schedule online with each stream available until the following day.
Broadway Shows with BroadwayHD
Sign up for BroadwayHD to enjoy your favorite Broadway show. It's ad-free and you can stream from any device. Check out their selection and start your free trial – https://www.broadwayhd.com/
Every Wednesday – Groove on Grove: At Home
4:00 PM
The HDSID modified their Groove on Grove concert series to be a Facebook livestream every Wednesday as Groove on Grove: At Home. The event will also feature a prize giveaway from a local business.