Happy JC Fridays! If your week wasn't crazy enough and you're reading this then things are about to change and fast. Friday is going to be a day full of events (don't forget to grab a JC Fridays map!), over forty of them that will be all across the city! Saturday and Sunday are toned down for JC Fridays recovery. Regardless of what you pick, have fun!
Can't find any events you're interested in? Our Event Calendar has nearly forty events this weekend so if you're looking for something more festive, check there!
---
Party For Peace 2016
September 9th @ 7:30 PM – 12:30 AM
Monty Hall, 43 Montgomery St., Jersey City
$10
21+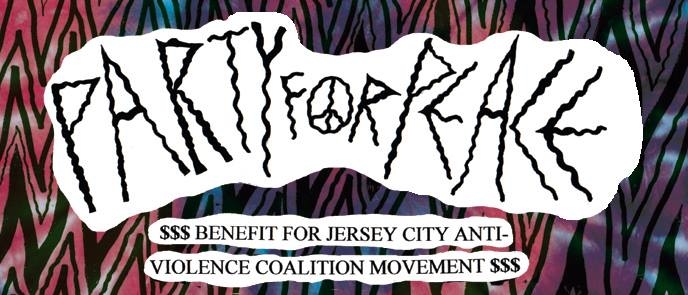 Join Chicpea at Monty Hall on September 9th to Party For Peace with Crazy & The Brain, Overlake, OWL, and DJ Stadium Status! Party For Peace in honor of the lives lost in Baton Rouge, Dallas, Minnesota, Orlando, and all victims of violence across America.
Shut Up and Listen Pt. 4: A Quiet Clubbing Event
September 10th @ 9:30 PM – 2:00 AM
Transmission, 150 Bay St., Jersey City
http://quietevents.electrostub.com/chicpealife
$20 in advance
$30 at the door
21+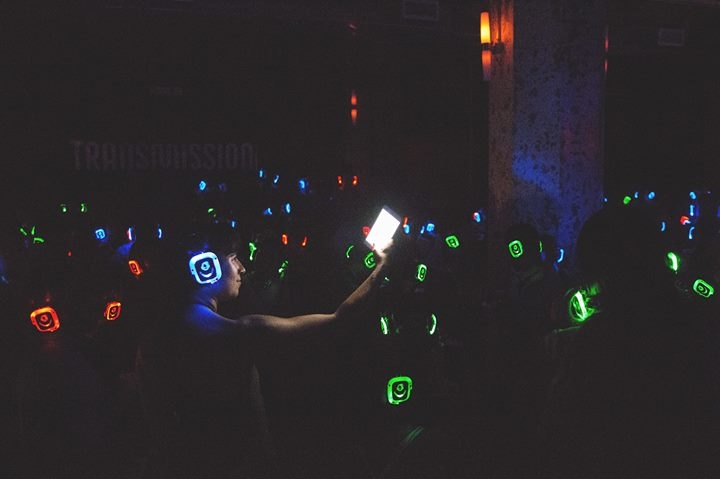 We said our third would be our last… we lied! We couldn't resist bringing another quiet event to the area.
Free icys all night
Glow sticks
Drinks available at the bar as usual
Music from 3 DJs playing all night to keep the party alive:
DJ Izzy E (Green): Top 40 Dance Hits
DJ Stadium Status (Red): 80's, 90's and 00's
DJ Robcast (Blue): Hip Hop/Rap/R&B
If you've been to one of these, you already know the drill: you can switch between three stations and jam out to your favorite songs.
Dress code: casual
Limited tickets available at the door
Event Details
Liberty Science Center After Dark: Dancing with Volcanoes
September 15th @ 6:00 PM – 10:00 PM
Liberty Science Center, 222 Jersey City Blvd., Jersey City
$15-21
21+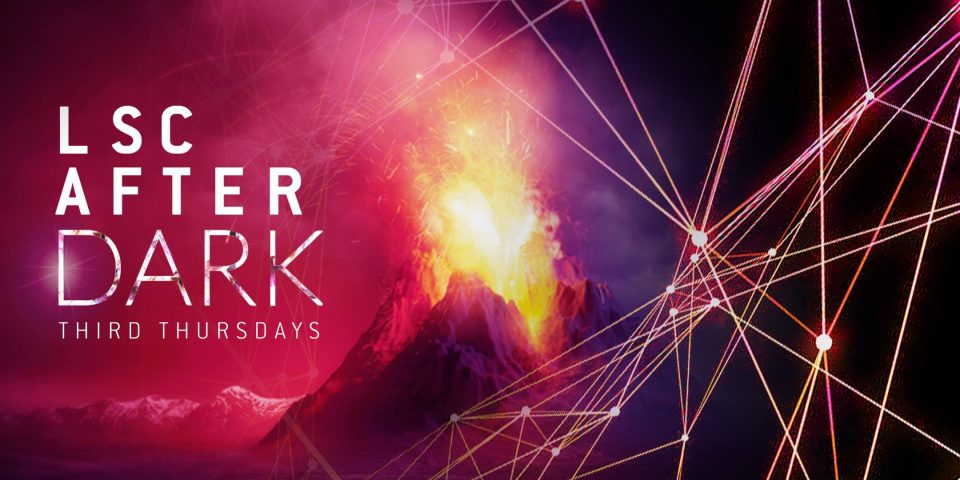 Bring your friends to an after-hours adventure at Liberty Science Center! Guests twenty-one years and over can enjoy cocktails, food, music, dancing, laser shows, and more. It all happens on the third Thursday of the month.
Our next LSC After Dark event is "Dancing with Volcanoes!"
Get ready for major volcanic activity, on and off the dance floor!
Enjoy beer, wine, cocktails and small plates from twenty-eight bartenders – a major upgrade from last party's seven bartenders. ;)
Experience a new David Bowie laser show in our massive IMAX Dome Theater.
Explore exhibits throughout the building such as the Touch Tunnel, Infinity Climber, Rock Wall, and more.
Discounted advance tickets purchased online are $15 per person. For just $6 more, you can also enjoy our premium exhibition, Bodies Revealed – an artful and fascinating exhibit featuring real human specimens respectfully preserved and displayed. There will be a $5 additional charge for all tickets purchased at the door on the night of the event.
http://lscafterdark0915.eventbrite.com/?aff=chicpeajc
---
Friday
1. World Trade Views: Mickey Mathis
September 9th @ 12:00 PM – 3:00 PM
Dineen Gallery, 71 Sip Ave., Jersey City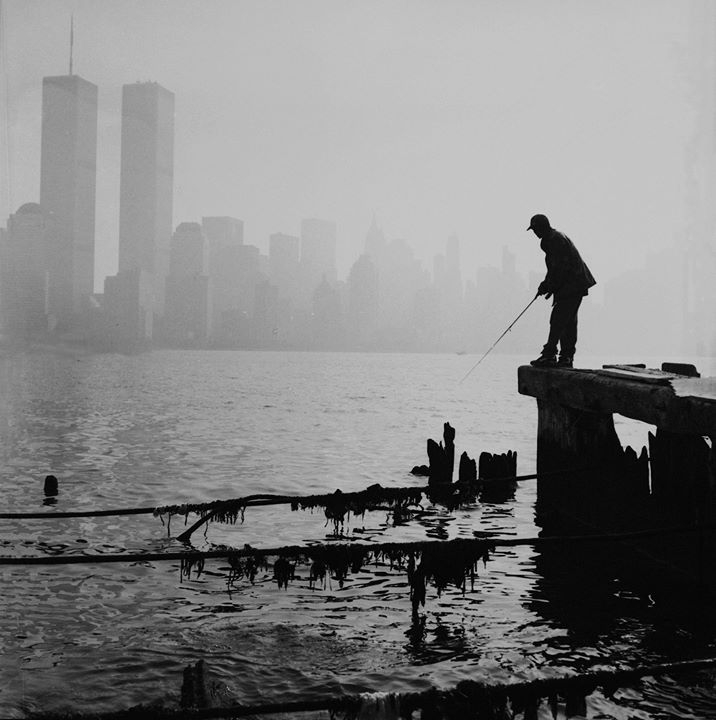 Join HCCC and Mickey Mathis for the opening reception of World Trade Views. Mathis photographed the towers in all their glory and this event is in commemoration to 9/11.
Event Details

2. Groove on Grove Season 9 Finale: JC Fridays
September 9th @ 5:00 PM - 10:00 PM
Grove PATH Plaza, Jersey City

Groove on Grove comes to a close for their 9th season with a kick-off for the Fall JC Fridays and if you're getting off the PATH train then you're already part of it! Dance, shop, eat, drink, and #getyourgrooveon.
Event Details

3. Women Rising: Stories of Hope
September 9th @ 6:00 PM – 9:00 PM
Art House Productions, 136 Magnolia Ave., Jersey City

Join the Speranza Theatre Company this JC Fridays at the place that started JC Fridays! Women Rising: Stories of Hope captures the stories of domestic abuse survivors – the event will begin with a guided tour of the current Art House exhibition, Errand into the Maze preceded by the stories.
Event Details
4. JC Fridays: Panda Suwann Launch Party
September 9th @ 7:00 PM – 10:00 PM
The Hair Room JC, 213 Montgomery St., Jersey City
Visit the Panda Suwann launch party for JC Fridays at The Hair Room JC as she shows off her new paintings and previews her new website!
Event Details

5. JC Fridays: 107 Bowers Gallery Grand Opening and Art Show Weekend
September 9th @ 7:00 PM – 10:00 PM
September 10th – 11th @ 11:00AM – 5 :00 PM
107 Bowers Gallery, 107 Bower St., Jersey City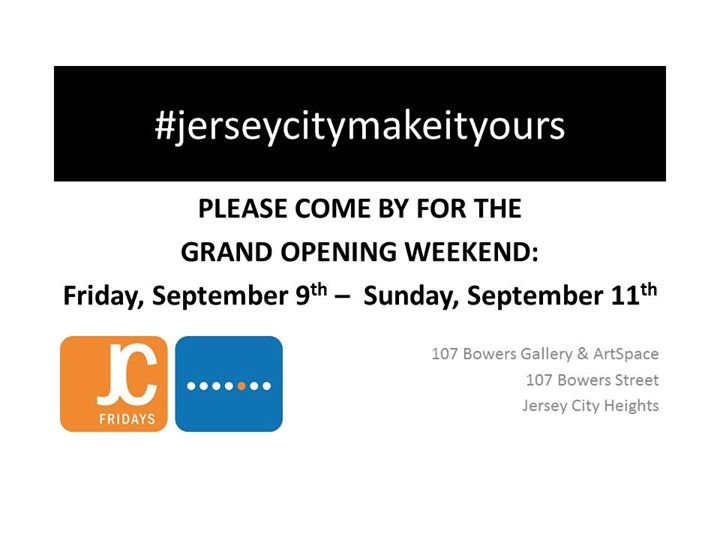 Congratulations to 107 Bowers Gallery for their JC Fridays – Grand Opening! Help bring in the cheer as they celebrate Jersey City artists over art, wine, and fun!
Event Details
6. JC Fridays: Election Year Issues
September 9th @ 7:00 PM – 10:00 PM
New Heights Art Supply, 345 Central Ave., Jersey City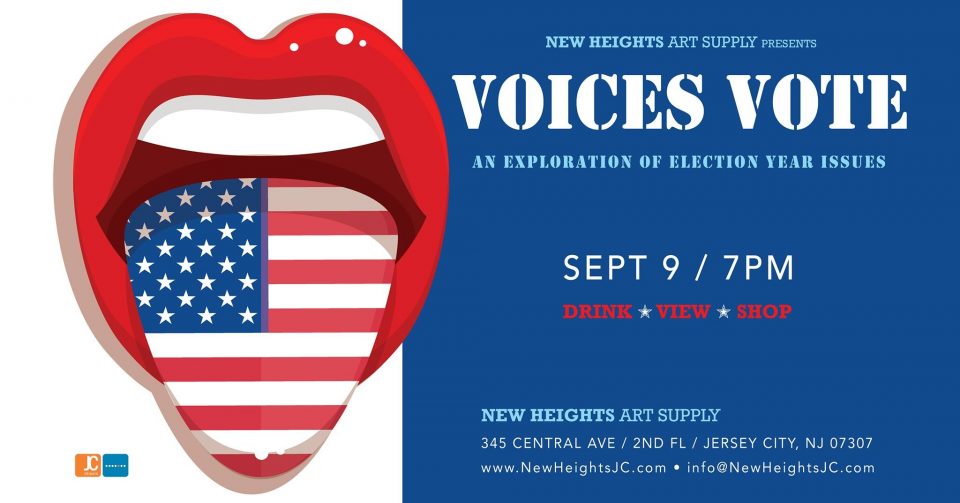 Take to new heights at New Heights Art Supply for their JC Fridays event – Election Year Issues. An exhibition that explores this year's candidates and what's been on the mind of artists.
Event Details
7. JC Fridays: Jazz at the Fountain
September 9th @ 7:00 PM – 9:00 PM
Lincoln Park, The Fountain, Jersey City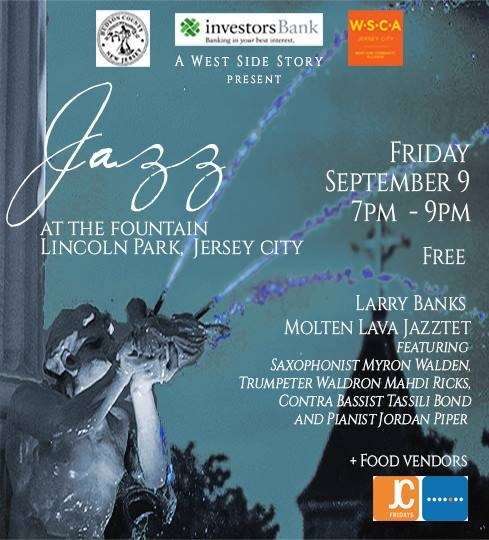 Jazz and the gorgeous Lincoln Park Fountain. What more could you ask for? Don't feel like molding into the hustle and bustle of a Friday evening? Take is slow with smooth jazz and kick back in the grass.
Event Details
8. The Statuary Moves to Historic Holland Street for JC Fridays
September 9th @ 7:00 PM – 10:00 PM
Historic Holland Street, Bowers Street and Palisade Avenue, Jersey City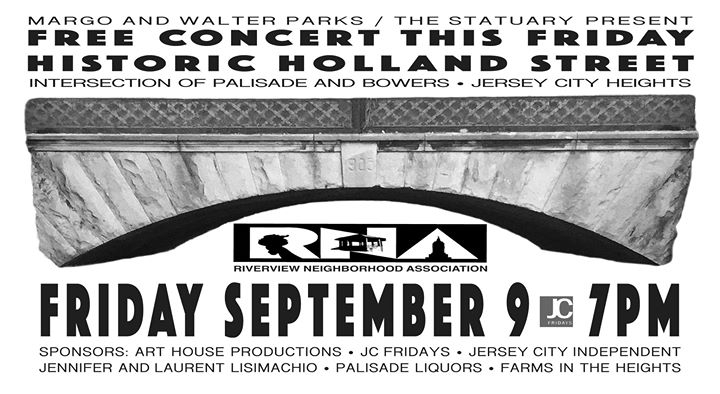 Join The Statuary as the move to Historic Holland street for JC Fridays. Stay for the music, art, and dancing!
Event Details
9. JC Fridays: Pop Up Opera at Another Man's Treasure
September 9th @ 8:00 PM – 10:00 PM
Another Man's Treasure, 353 Grove St., Jersey City

Pop Up Opera – where vintage fashion meets opera. Join Another Man's Treasure for JC Fridays as singers Molly Dunn, Lori Lusted, Victoria Graves, and Marie Putko put their voices to the ceilings.
Event Details
10. JC Fridays: A West Side Story presents "Art and Music"
September 9th @ 9:00 PM
The Park Tavern, 575 West Side Ave, Jersey City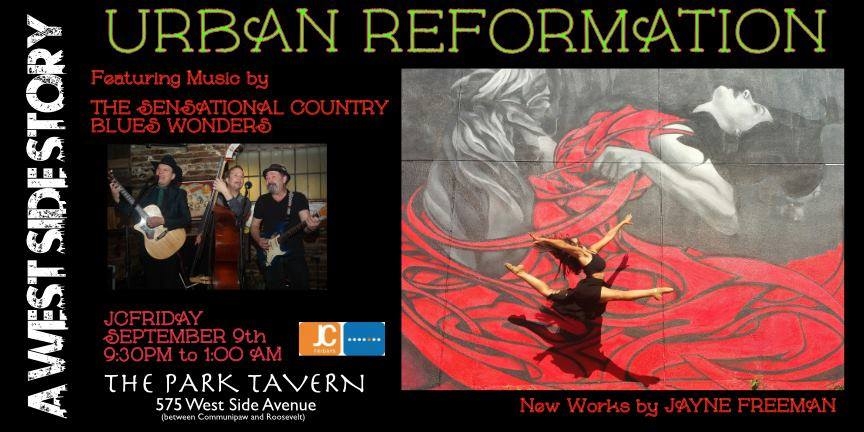 Head to Park Tavern this JC Fridays for The Sensational Country Blues Wonders and Urban Reformation: New Works by Jayne Freeman.
Event Details
Saturday
11. Storytime with Paul Czajak: Monster Needs to Go to School
September 10th @ 11:00 AM – 12:00 PM
WORD Bookstore, 123 Newark Ave, Jersey City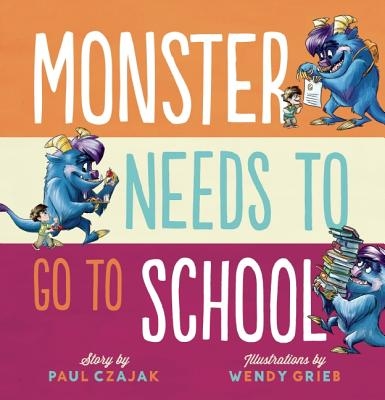 Meet the author, Paul Czajak with your little one as he sits down for storytime this Saturday at WORD Bookstore. Stop by for Monster Needs to Go to School, fun activities, and a book raffle!
Event Details
12. JC Community Knit-In
September 10th @ 11:00 AM – 3:00 PM
Rain Date: September 11th
Cosi, 535 Washington Blvd., Jersey City
Ever wanted to learn how to crochet or knit? Head to Cosi this weekend for the JC Community Knit-In and learn how to make little treasures of your own. Learn to make hats and scarves to donate to the city's homeless.
Event Details
13. Shuster Group presents Summer City Block Party
September 10th @ 12:00 PM – 4:00 PM
Hamilton House, 255 Brunswick St., Jersey City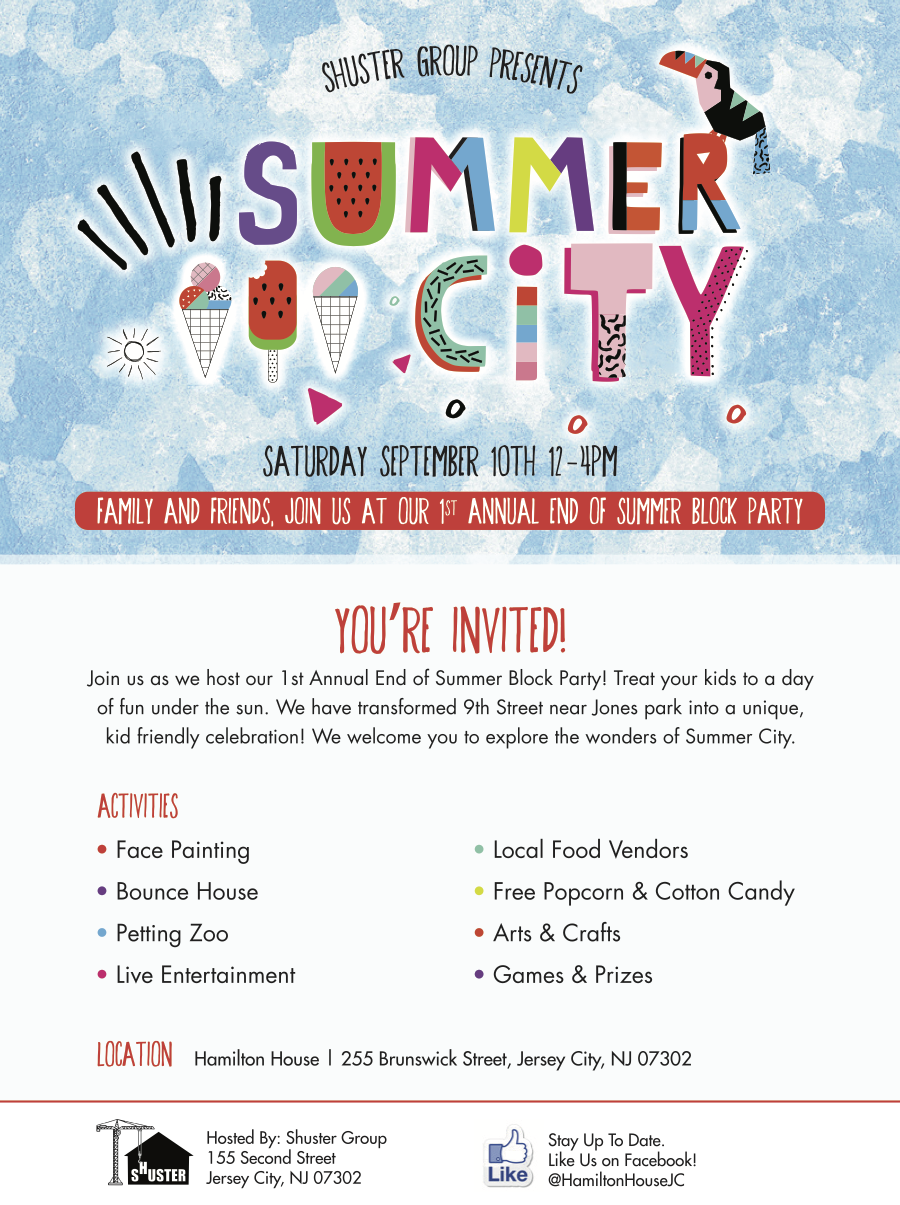 The Shuster Group host their 1st Annual End of Summer Block Party and you're invited! Bring the kiddos and head out for a day of fun in the sun!
Event Details 
14. The North Jersey Indie Rock Festival
September 10th @ 12:00 PM – 8:00 PM
Cathedral Hall, 380 Montgomery, Jersey City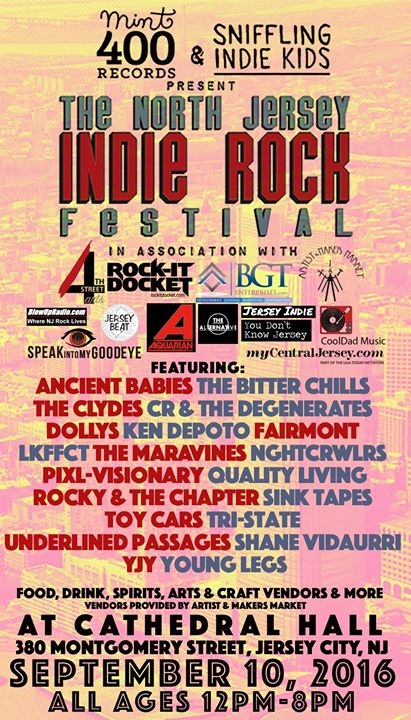 Is Indie Rock your thing? Then Cathedral Hall is the place to be this Saturday for the North Jersey Indie Rock Festival. Join Mint 400 Records and Sniffling Indie Kids for a full day of music and arts in celebration of New Jersey's Indie community.
Event Details 
15. Monticello Avenue Street Festival
September 10th @ 12:00 PM – 6:00 PM
Monticello Avenue, Jersey City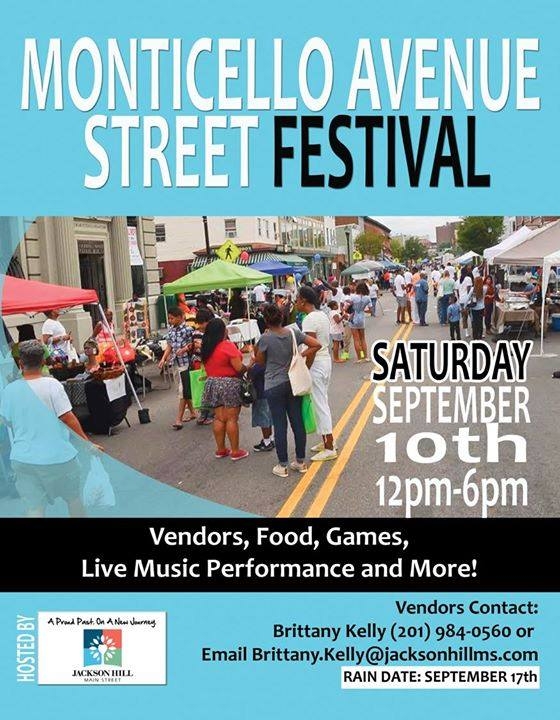 The Monticello Street Festival is back and this year it is filled to the brim with awesome vendors, food, games, and live musical performances! There will be a little something for everyone so don't miss out!
16. A Day in the Life: Jersey City
September 10th until 11:59 PM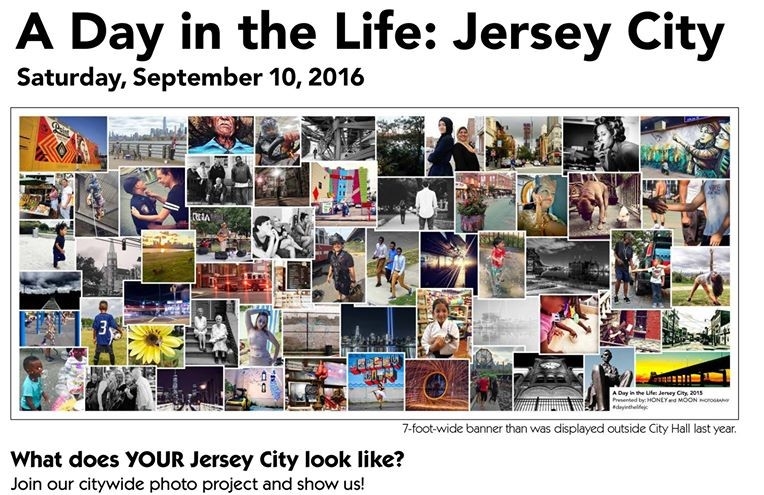 #ADayintheLifeJC is back and ready for the best photos you've got of the city you know and love! You've got all day September 10th to submit your best photos for a chance to have them featured in Honey and Moon Photography's JCAST exhibit and the #dayinthelifejc banner that will be hung in front of City Hall. Only 60 photographs will make the cut so shoot carefully and playfully!
Take your photo and post it to Instagram – make sure you use #adayinthelifejc!
Event Details
17. Union Republic's Last Meal 
September 10th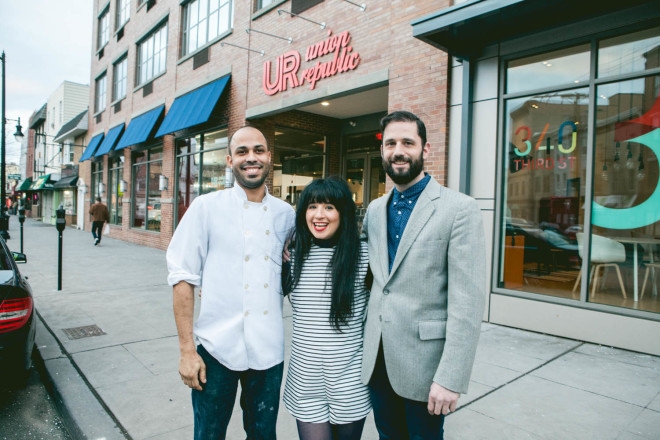 Union Republic is sad to announce that they will be serving their last dinner on Saturday, September 10th. This is a ChicpeaJC favorite, and we're deeply saddened to see it go. Stop by and grab a delicious plate from Union Republic before it's gone!
Sunday
18. Swap Party
September 11th @ 2:00 PM – 4:00 PM
The Hair Room JC, 213 Montgomery St, Jersey City
$10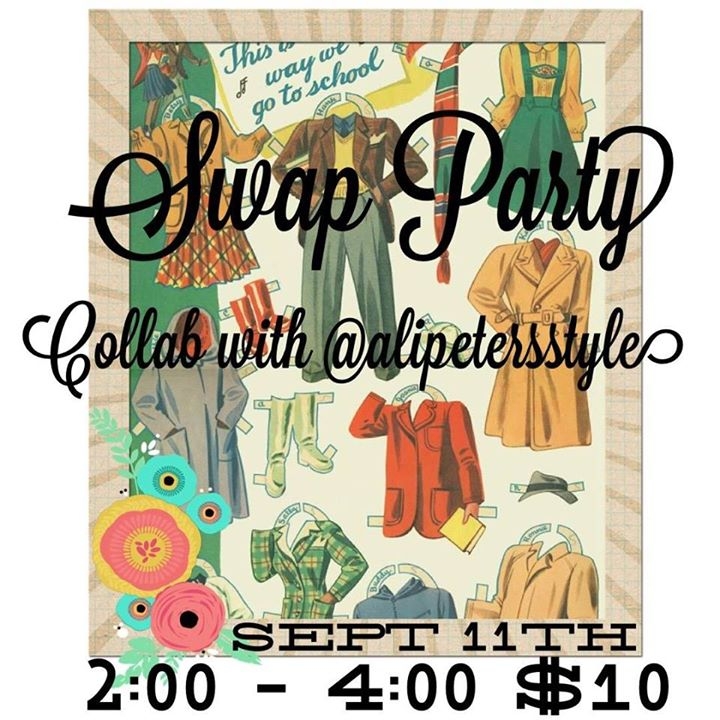 Join personal stylist and ChicpeaJC contributor, Ali Peters for a clothing swap party! Women of all shapes, ages, and sizes are welcome. If you plan on heading to the swap party please bring one to ten items (if you bring one item you can only take one) – including clothing for all seasons, shoes, handbags, jewelry, scarves, etc. and a bag to carry home your newly swapped apparel. Any unwanted items will be donated to a local women's charity.
Event Details