Take the weekend by storm! Get your energy up and get your stress out. There will be dancing, singing, performances, and grub all around you. Don't sit on the couch and wallow, get out there are have some fun!
Can't find any events you're interested in? Our Event Calendar has nearly forty events this weekend so if you're looking for something more festive, check there!
---
Clothes & Vibes Tour Clothing Drive
November 10th @ 6:00 PM – 9:00 PM
Departed Soles, 150 Bay St., Jersey City
Come by for a fun night at Departed Soles and bring your gently used clothes for us to donate to The Hoboken Shelter, York Street Project: St. Joseph's Home, and Covenant House in New York. For your donation, get discounted beer, free bites by Grandma Downtown and vibes by Stadium Status.
Shut Up and Listen Episode 6: Movember Edition
November 12th @ 9:30 PM – 2:00 AM   
Transmission, 150 Bay St., Jersey City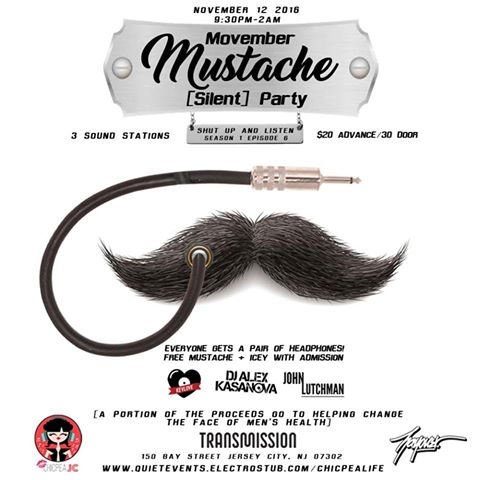 Quiet Clubbing invades a new club Transmission in Jersey City! Three live DJs, hundreds of people singing and dancing all night while wearing glowing headphones.
The party kicks off at 9:30 PM when the headphones go on, and DJs take the stage. They'll be spinning everything to keep you singing, drinking and dancing till 2:00 AM!
Your three Live DJs are spinning all night:
Green DJ: Top 40 Dance Hits
Red DJ: 80's, 90's and 2k Throwbacks
Blue DJ: Hip Hop/ R&B
SPECIAL NOTES:
21+ to party
Rain or Shine
Tickets available at the door, but are limited
Dress code: casual
Event DetailsEvent Details
Liberty Science Center After Dark: Science Speak Easy
November 17th @ 6:00 PM – 10:00 PM
Liberty Science Center, 222 Jersey City Blvd., Jersey City
21+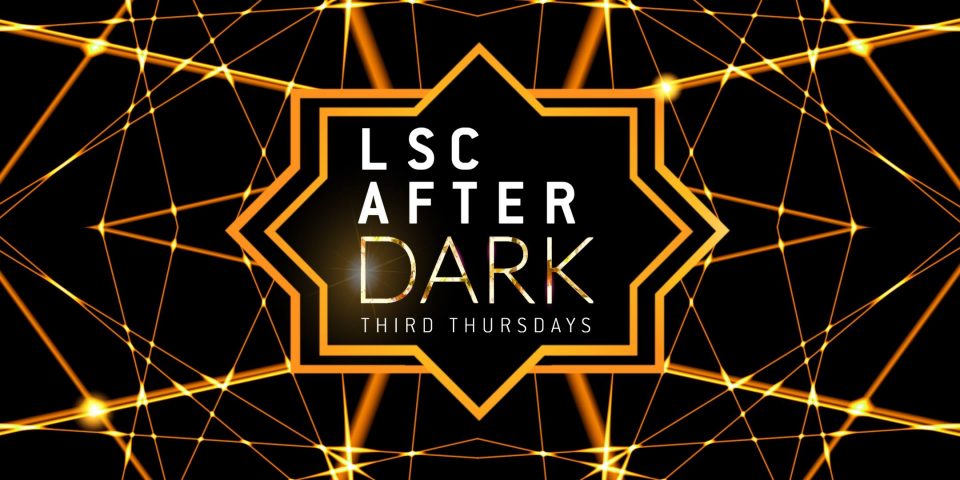 Bring your friends to an after-hours adventure at Liberty Science Center! On the third Thursday of every month, guests 21 and over can enjoy cocktails, food, music, dancing, laser shows, and more.
Our next LSC After Dark party, November 17 from 6 to 10 pm, is "Science Speakeasy!"
• Travel back in time for a glittering shindig at Liberty Science Center inspired by the Prohibition era!
• Meet expert whiskey distillers, taste their products and learn about the science behind the popular spirit.
• Test your luck at casino games like blackjack, roulette, Texas hold'em and more! Watch flaming-hot experiments being performed on the casino floor.
• Get all dolled up in your spiffiest, 1920s-inspired outfit. The LSC After Dark team will be on the hunt for the best-dressed guests – you could win big!
• Follow the clues and look for our secret stage. If you find it, you'll be treated to an enlightening underground tech performance!
• Experience a new laser show in our massive IMAX Dome Theater.
• Explore exhibits throughout the building such as the Touch Tunnel, Infinity Climber, Rock Wall, and more.
Get tickets now for a discounted online price. Tickets are $20 per person; for just $6 more, you can also enjoy our premium exhibition, Bodies Revealed – an artful and fascinating exhibit featuring real human specimens respectfully preserved and displayed.
There will be a $5 additional charge for all tickets purchased at the door on the night of the event.
---
Thursday 
3. Tax Tips for Small Business Owners
November 10th @ 6:30 PM – 8:30 PM 
City Hall, 280 Grove St., Jersey City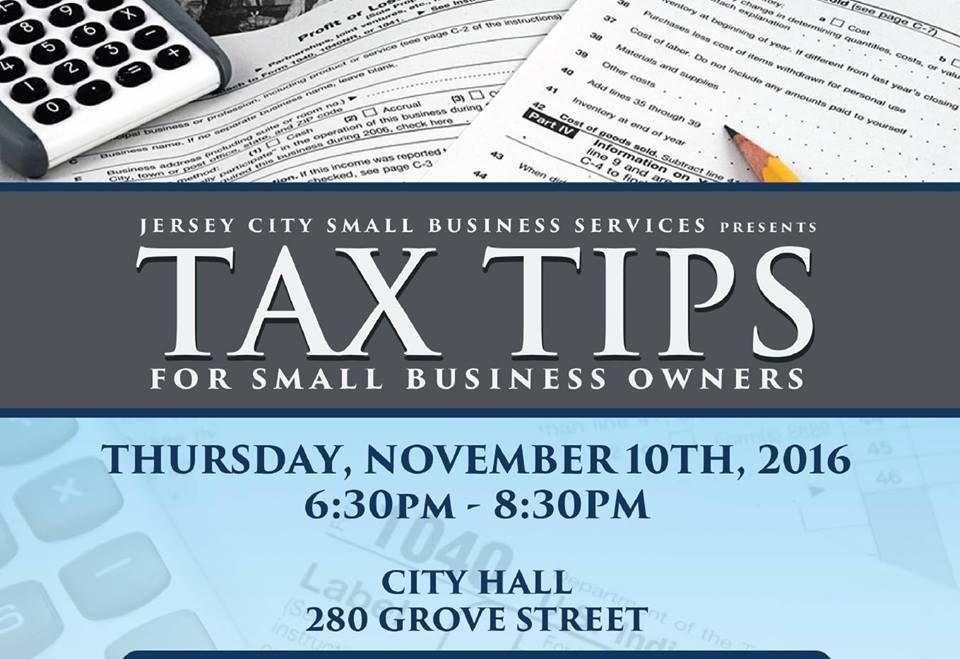 If you're a small business owner and you need help with your taxes – this is the event for you! Jonathan Donenfeld, CPA, MSA of JLD Tax and Accounting will be there to lend a helping hand and give some very good advice.
4. We Are Dandy – An Illustrated Talk and First Look
November 10th @ 7:00 PM – 9:00 PM 
Jersey City Theater Center, 339 Newark Ave., Jersey City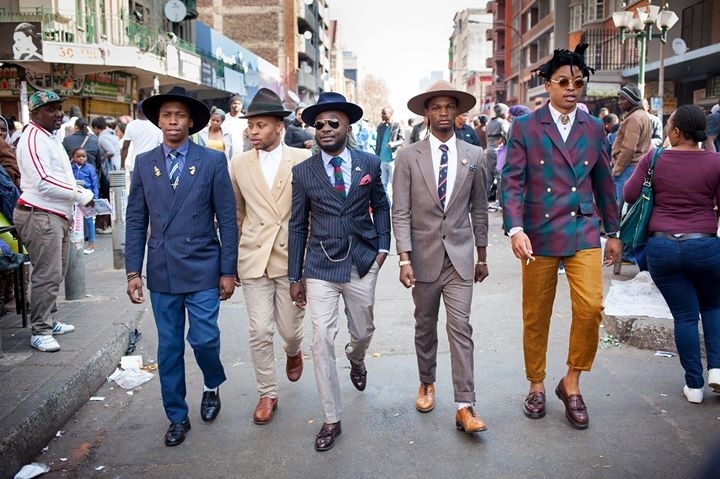 Join co-authors Rose Callahan and Nathaniel Adams for an illustrated talk about their new book; We Are Dandy: The Elegant Gentleman Around the World.
Friday
5. "Honoring Our Heroes!" A Veteran's Day Tribute and USO Show
November 11th @ 1:00 PM – 5:00 PM  
The Historic Jersey City and Harsimus Cemetery, 435 Newark Ave., Jersey City
Veteran's Day Weekend starts off with "Honoring Our Heroes!" This event is a USO-type show to Thank our Troops & Veterans, featuring performances by "The American Bombshells," plus a Special Performance by MTV Top Recording Artist Lovari.
6. The Box – Vanity Closing and Showcase
November 11th @ 7:00 PM – 10:00 PM 
Jersey City Theater Center, 339 Newark Ave., Jersey City
$5 (Suggested Donation)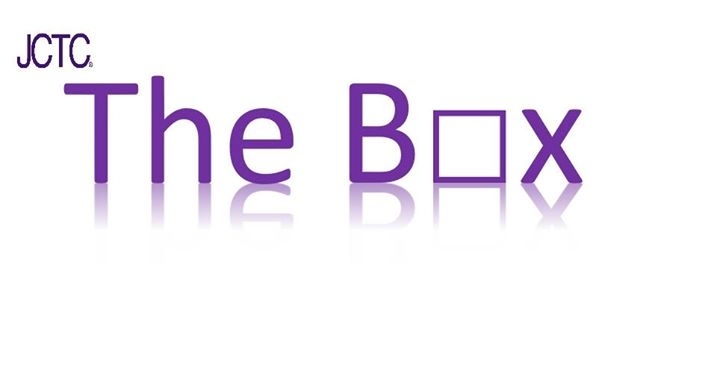 JCTC's The Box is a performance that showcases music, dance, poetry, spoken word, and multimedia platform. This event will be paired with the closing of the Vanity exhibition.
7. Porta Music Series
November 11th @ 11:30 PM – 2:30 AM  
Porta, 135 Newark Ave., Jersey City
$5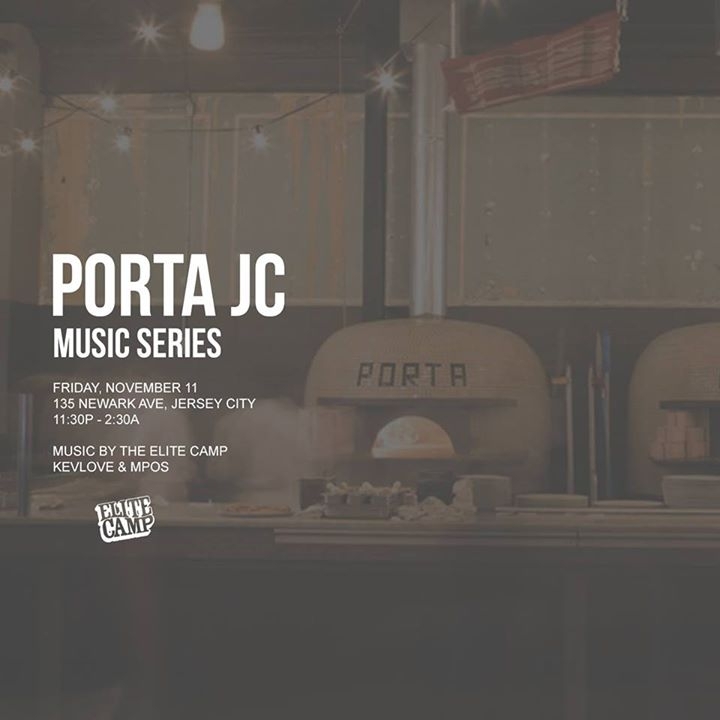 Since Porta has closed off the roof, they'll want you to join the for a great music session this weekend! Grab a slice and listen to great vibes. RSVP to get in for FREE!
Saturday
8. Warwick Winery
November 12th @ 11:00 AM – 5:00 PM 
Jersey City Day Trippers, Grove Street and Christopher Columbus Drive, Jersey City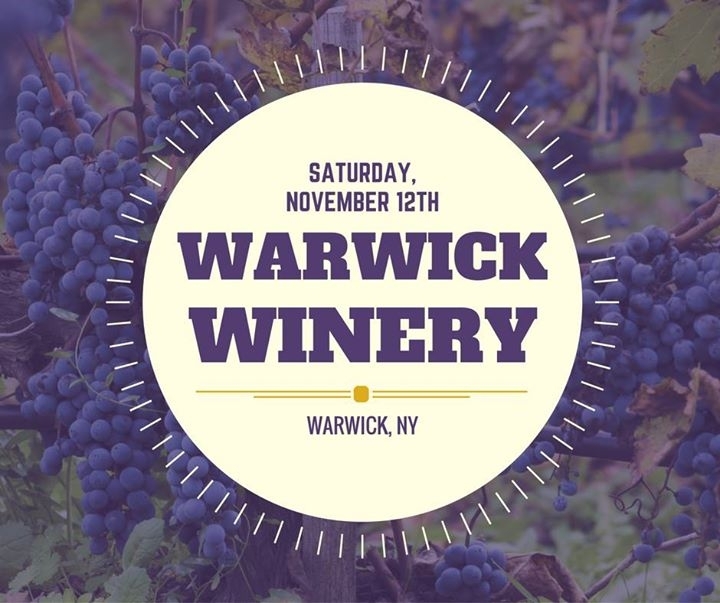 Need a little wine in your life? The Jersey City Day Trippers are ready to take you and your friends to the Warwick Winery for just that! Stroll the gorgeous vineyards, taste and sip all in one place.
9. Parade of Veterans and Heroes
November 12th @ 12:00 PM
Newark Avenue side of Dickinson High School, Jersey City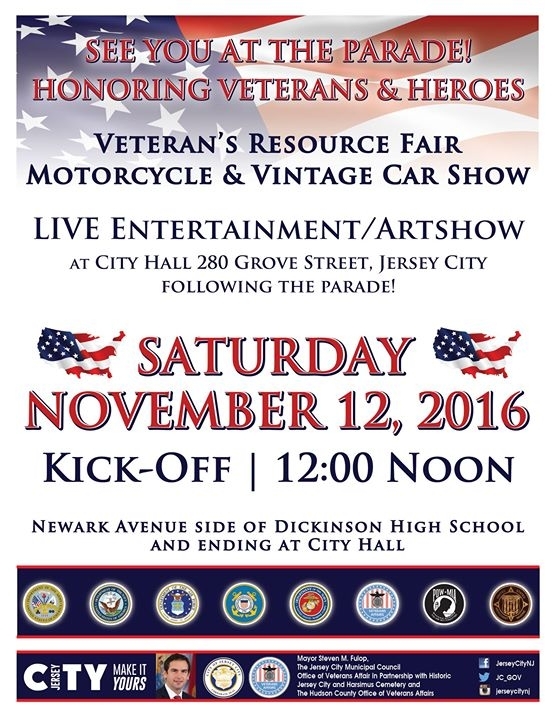 Be part of the parade and walk with those who matter! In honor of Veteran's Day, the parade will kick-off by Dickinson High School and end at City Hall.
10. JC Veteran's Day Celebration feat. Cab Sav and Gully Hubbards
November 12th @ 1:00 PM – 4:00 PM
City Hall, 280 Grove St., Jersey City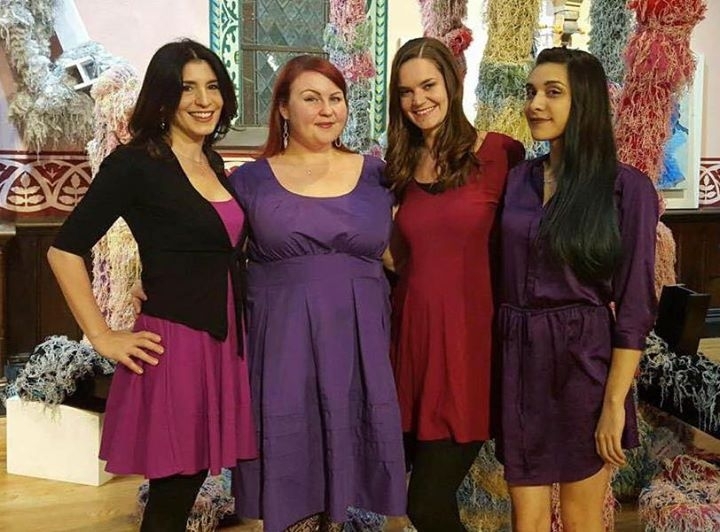 Join Cab Sav and Gully Hubbards on Nov. 12th at City Hall for Veteran's Day. They will be performing in honor of the new JC police recruits!
Sunday
11.WSCA Blood Drive in Honor of Chloe Rose: Stick It to Cancer! 
November 13th @ 9:00 AM – 2:00 PM 
Hank Gallo Community Center, 1 Lincoln Park., Jersey City 
Sign up for a scheduled donation time. Use keyword: CHLOE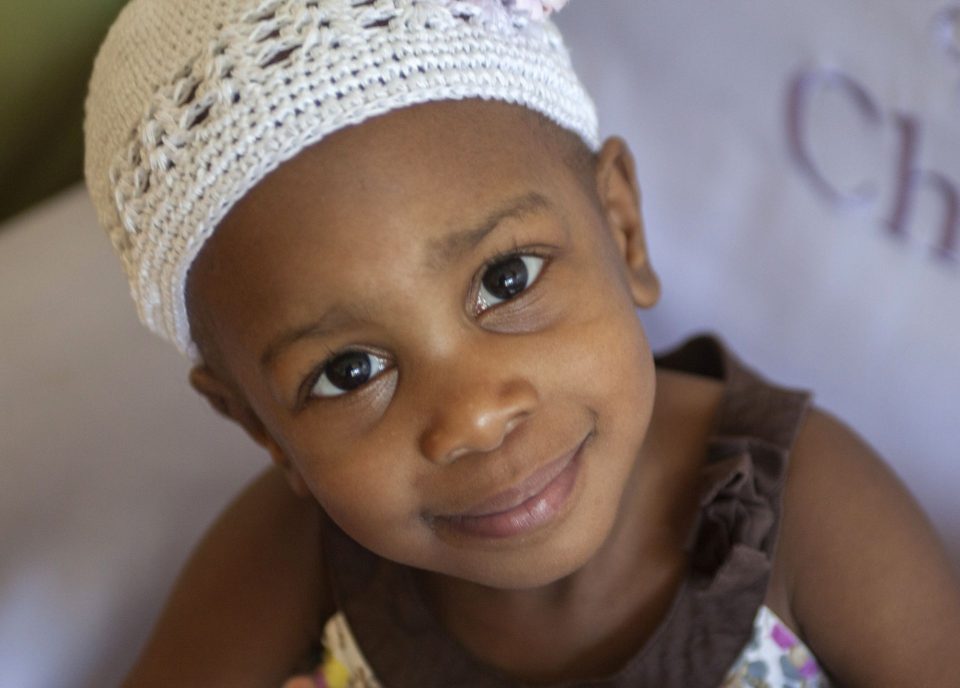 Make a difference and donate blood this weekend!
"In the summer of 2016, our Lincoln Park neighbor Chloe Rose was diagnosed with Stage-3 Neuroblastoma, a childhood cancer affecting 700 children every year. Almost overnight, she went from being a playful, carefree two-year-old to requiring hospitalization, surgery, chemotherapy, and many, many blood transfusions."