Last weekend was a blast, and just as you're all coming down from your sugar rush we've got a new list of great events for you to attend this weekend! If you're not in the mood to dance – you don't have to! Get on stage, enjoy some artwork, eat some grub! Whatever you do, avoid the couch and head on out!
Can't find any events you're interested in? Our Event Calendar has nearly forty events this weekend so if you're looking for something more festive, check there!
---
Shut Up and Listen Episode 6: Movember Edition
November 12th @ 9:30 PM – 2:00 AM   
Transmission, 150 Bay St., Jersey City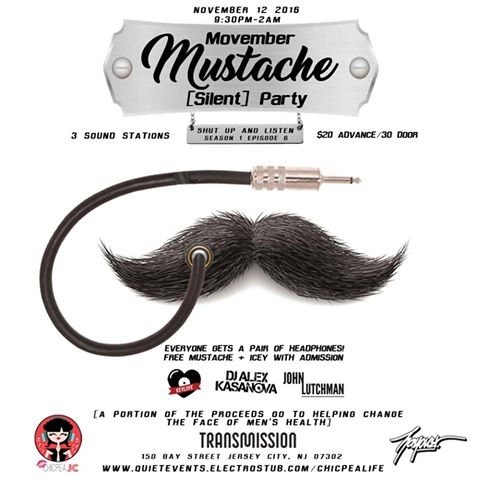 Quiet Clubbing invades a new club Transmission in Jersey City! Three Live DJs, hundreds of people singing and dancing all night while wearing glowing headphones.
The party kicks off at 9.30 PM when the headphones go on, and DJs take the stage. They'll be spinning everything to keep you singing, drinking and dancing until 2 AM!
Your three Live DJs are spinning all night:
Green DJ: Top 40 Dance Hits
Red DJ: 80's, 90's and 2k Throwbacks
Blue DJ: Hip Hop/ R&B
SPECIAL NOTES:
21+ to party
Rain or Shine
Tickets available at the door, but are limited
Dress code: casual
Clothes & Vibes Tour Clothing Drive
November 10th @ 6:00 PM – 9:00 PM
Departed Soles, 150 Bay St., Jersey City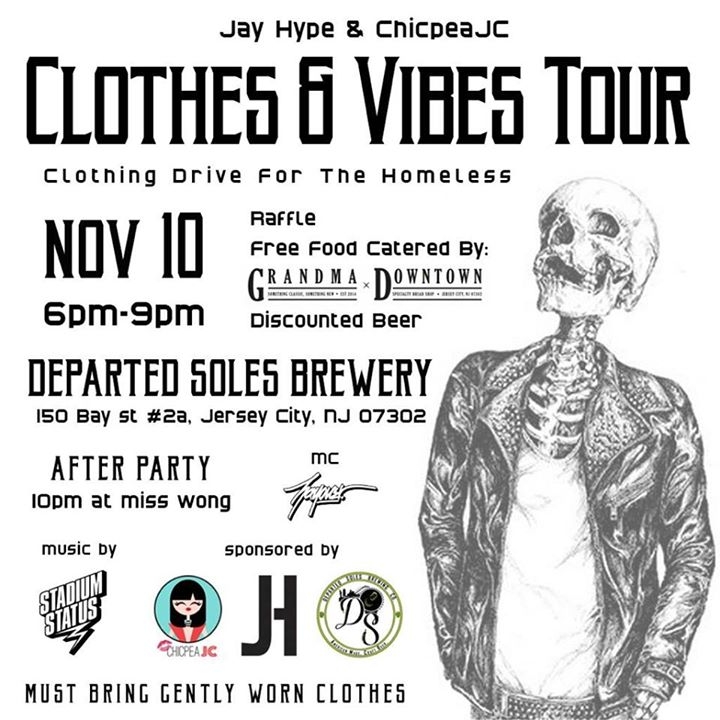 Come by for a fun night at Departed Soles and bring your gently used clothes for us to donate to The Hoboken Shelter, York Street Project: St. Joseph's Home, and Covenant House in New York. For your donation, get discounted beer, free bites by Grandma Downtwon and vibes by Stadium Status.
---
Thursday
3. Art House Performance Night and Open Mic
November 3rd @ 8:00 PM – 10:00 PM 
Art House Productions, 136 Magnolia Ave., Jersey City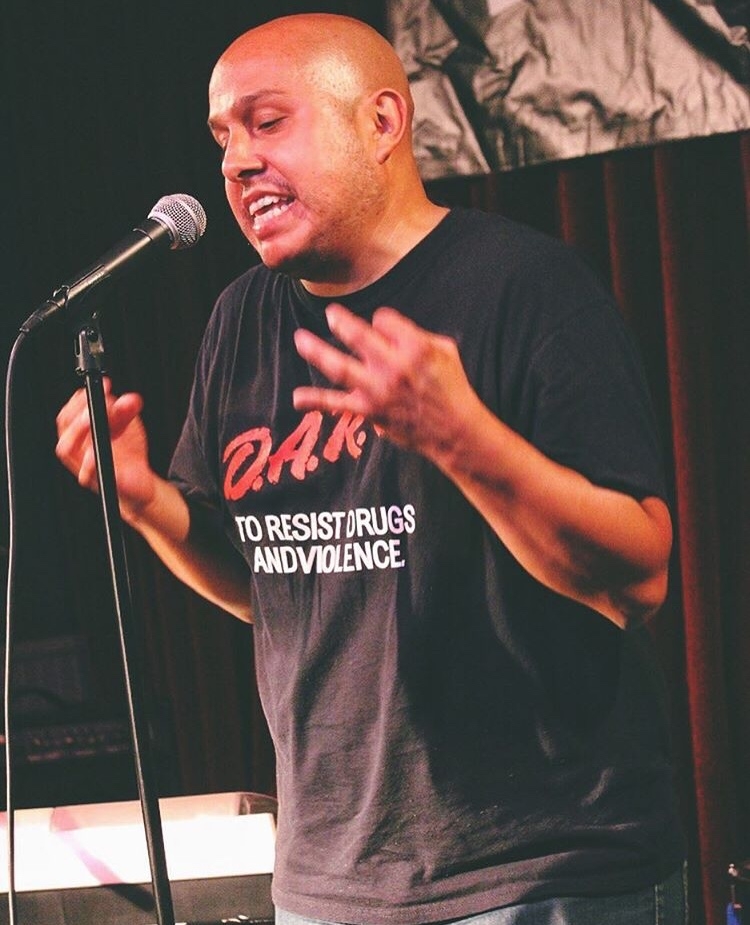 Performance night and open mic are back at Art House! Whether you're a performer or a spectator come out and support your fellow artists as they get on stage! Are you a poet, comic, actor, dancer, or musician? Have something you want to say on stage? Now's your chance!
Friday
4. Kobra Mural Unveiling
November 4th @ 5:00 PM – 8:00 PM 
Cast Iron Lofts, 837 Jersey Ave., Jersey City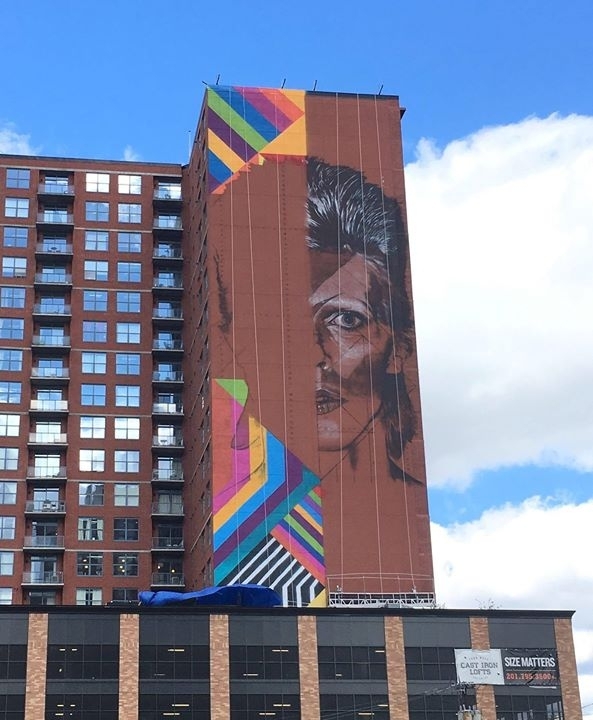 If the beautiful mural of David Bowie on the Cast Iron Lofts building has yet to catch your eye, take a moment a see it up close and personal. Join Mayor Steven Fulop and Eduardo Kobra for the mural unveiling this Friday!
5. Timothy David Lang – Blended Recent Works: Opening Reception 
November 4th @ 5:00 PM – 10:00 PM  
107 Bowers Gallery and ArtSpace, 107 Bowers St., Jersey City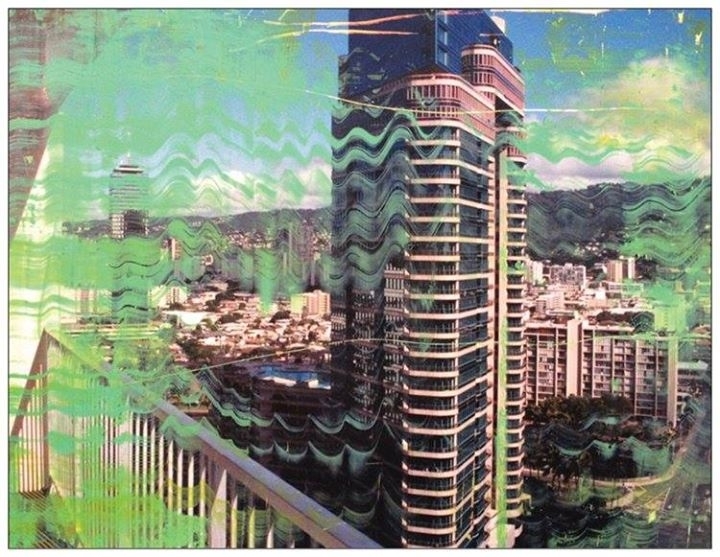 Need to spice up your Thursday? Head to 107 Bowers Gallery and ArtSpace for the opening reception of Blended Recent Works by Timothy David Lang. His works fuse realism and abstraction.
6. 3rd Annual Jersey City International Television and Film Festival
November 4th @ 6:00 PM
NJCU School of Business, Harborside 2, 200 Hudson Street, 
The Skyline Room 233, Jersey City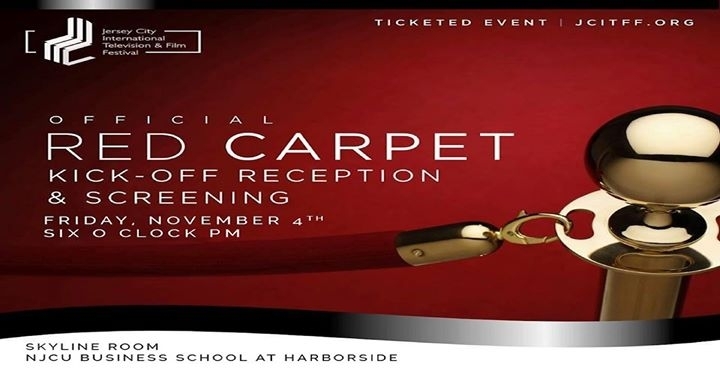 Are you ready for the 3rd Annual Jersey City International Television and Film Festival? Make your way down to the red carpet kick-off reception for a night of screenings and more!
7. Midnight Market Jersey City
November 4th @ 6:30 PM – 12:00 AM  
147 Harborside Financial Center Platform, Jersey City
21+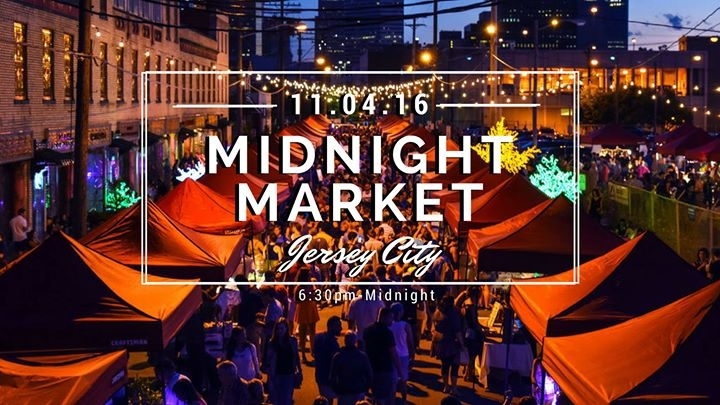 A sort of midnight bazaar chock full of some great grub and amazing vendors from around the city. Head out for this great cash-only event where everything is $5!
8. Community Dinner
November 4th @ 6:30 PM – 9:00 PM 
The Bethune Center, 140 MLK Dr., Jersey City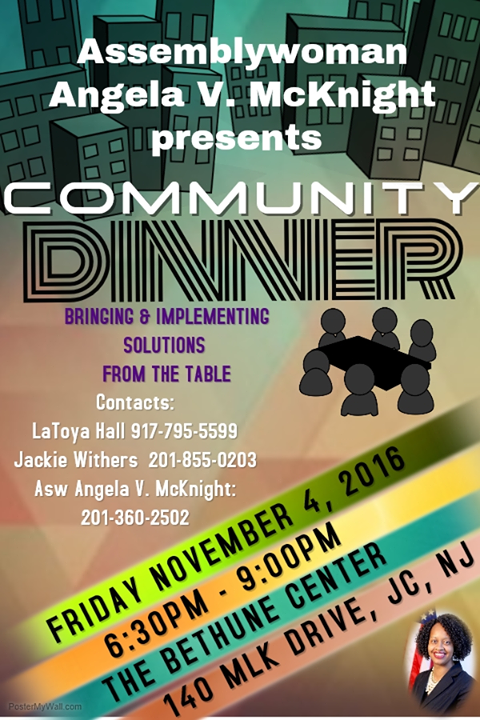 There will be a Community Dinner held Friday night at The Bethune Center. The goal of this community dinner is to bring and implement solutions to the dinner table about the community.
9. Crazy & The Brains / Bad Cop Bad Cop / Nervous Triggers
November 4th @ 7:00 PM
Funhouse, 32 Center St., Jersey City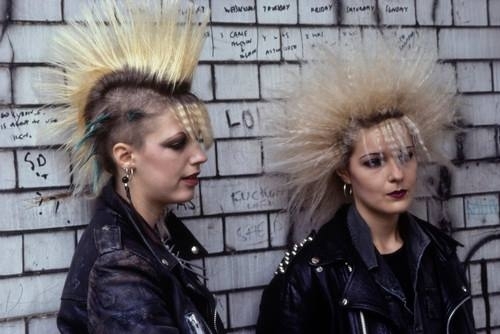 If you haven't made time for the Funhouse in the past few months, then you'd better do so this Friday. Crazy & The Brains are back! Including performances by Bag Cop Bar Cop, Nervous Triggers and more!
10. Animal Ventura Live in the Parlour
November 4th @ 10:00 PM – 11:55 PM 
Fox and Crow, 594 Palisade Ave., Jersey City
$10 Suggested Donation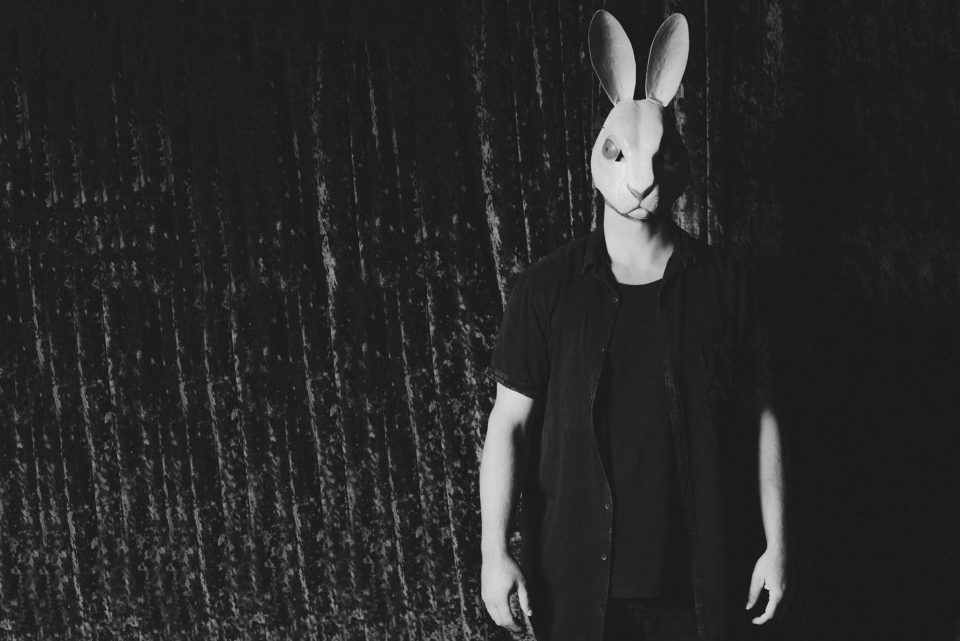 The Fox and Crow are calling. Pay a visit to the parlour Friday evening for Animal Ventura. "Animal Ventura combines the organic sounds of the acoustic guitar with the edgy, electronic percussive beats of a drum sampler, creating a show that is both melodic yet rhythmic and highly danceable."
Saturday
11. Peaceful Frogs at Hudson County Community College
November 5th @ 12:00 PM – 2:00 PM 
Hudson County Community College, Dineen Hull Gallery, 71 Sip Ave., Jersey City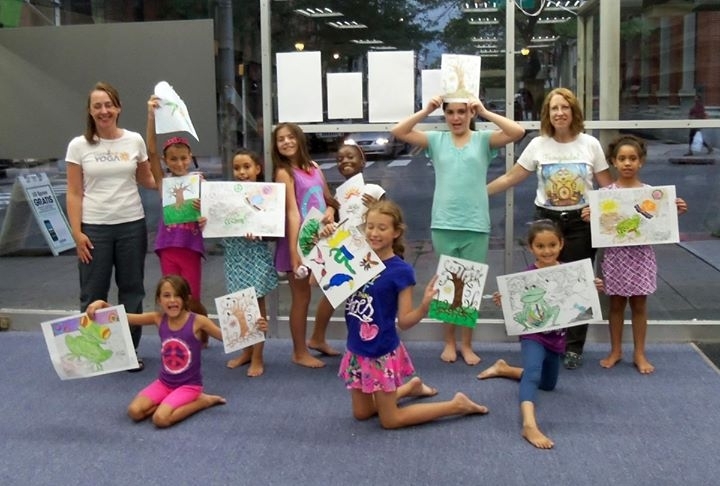 The Peaceful Frogs are back, and this time they have made their way to Hudson County Community College. Bring your children for an afternoon of yoga and art! This event is designed especially for children aged 4 – 10 (accompanied by parent).
To RSVP Call Susan Newman (Frogs Are Green) at 201-420-8205 or email info@frogsaregreen.com & Jamie Wilson-Murray (Mindful Play Yoga) at 646.552.2982 or email mindfulplayyoga@gmail.com.
12. State of the Union – Artist Talk with Joe Waks

November 5th @ 3:15 PM – 3:45 PM  
Drawing Rooms, 180 Grand St., Jersey City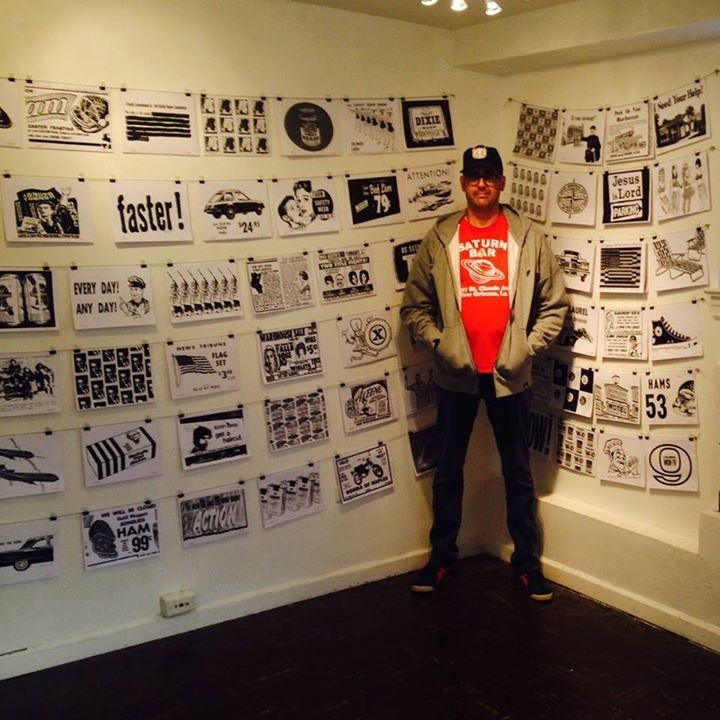 If you have yet to see the State of the Union exhibition at the Drawing Rooms, now's your chance! Join the artist, Joe Waks, this weekend for an artist talk about his pieces in the show.
13. 80s New Wave Party

November 5th @ 10:00 PM – 12:00 AM  
Raval JC, 136 Newark Ave., Jersey City 

Hey, New Wave fans! Head to Raval JC this weekend for a New Wave Party in honor of Depeche Mode's new album! DJ George Soul will be spinning all night.
14. JCTC Kids/Puppetworks – Alice in Wonderland
Sundays @ 1:00PM 
Jersey City Theater Center, 339 Newark Ave., Jersey City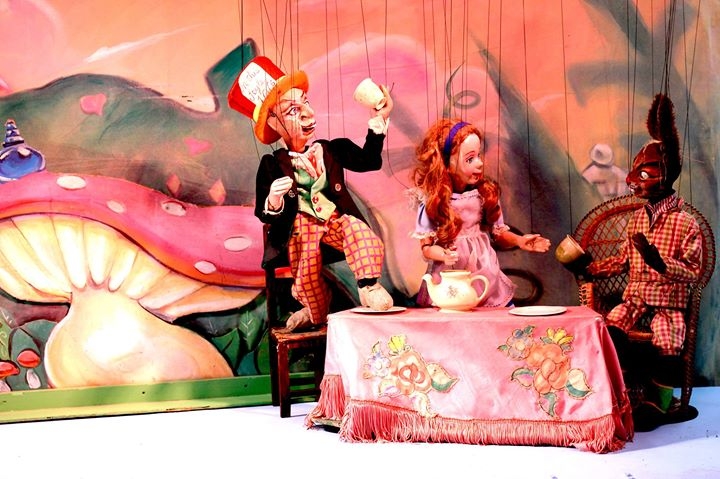 Dive into the world of Alice in Wonderland this weekend as Puppetworks dazzles you through one of Alice's afternoon naps.