There's always something fun going on in the area. Check out these local events and make some plans with friends!
---
Jersey City
Thursday
St. Patrick's Week
March 12 – March 16
Zeppelin Hall, 88 Liberty View Dr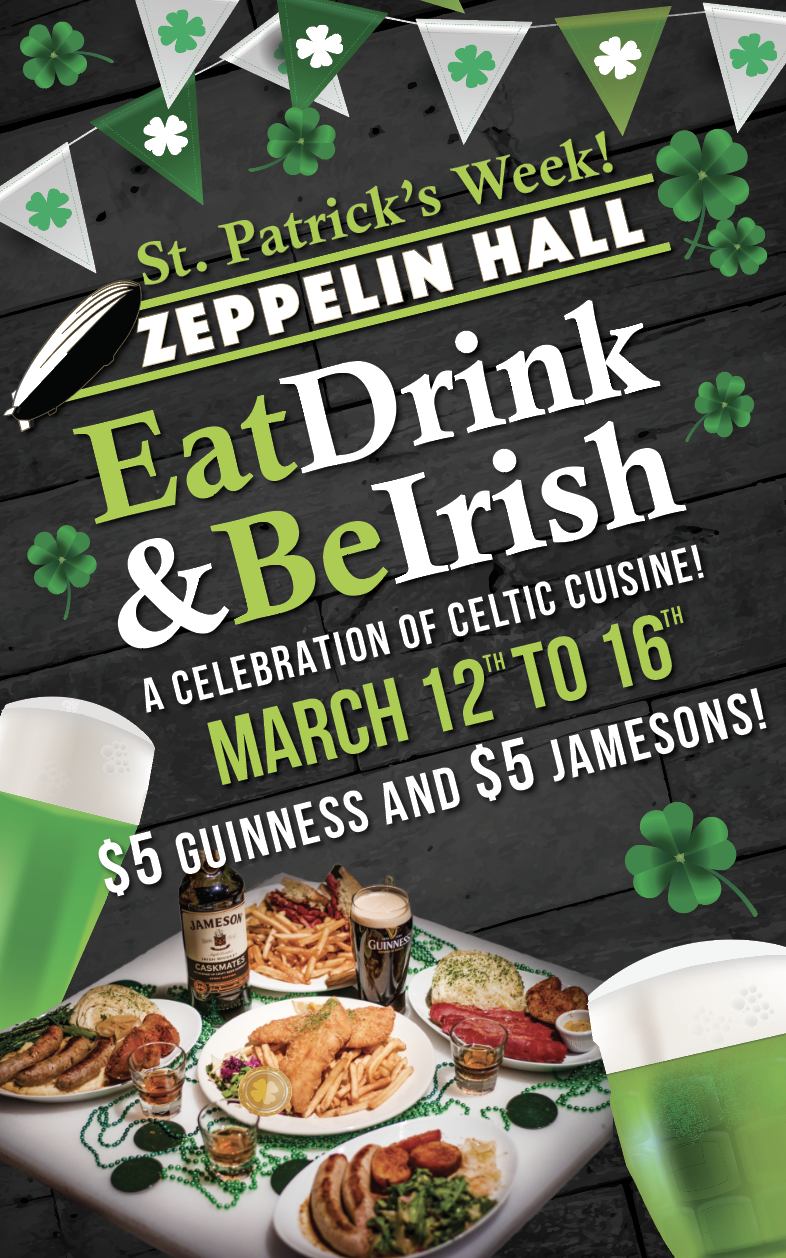 Celebrate St Patrick's Day with food and drink specials on the days leading up to it! Zeppelin Hall will be serving up six Irish dishes including the Irish Reuben Sandwich and the Blarney Stone Burger, and you can also indulge in $5 Guinness and $5 Jameson.
Live in the Parlour
March 12 @ 8:00 PM – 10:00 PM
Fox and Crow, 594 Palisade Ave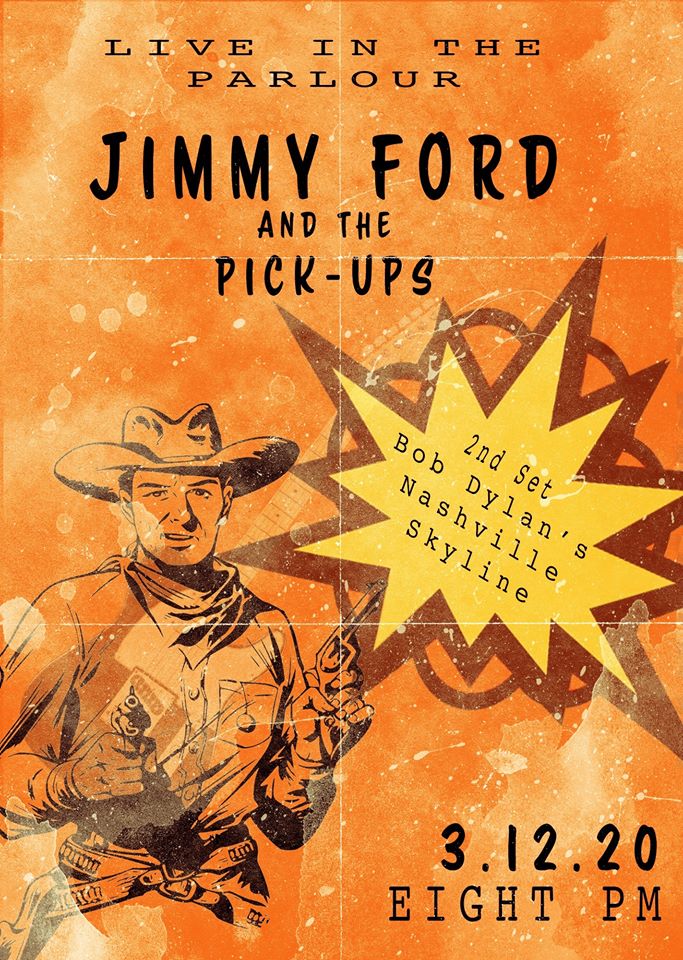 Enjoy music by Jimmy Ford and the MFin' Pick Ups as they begin their new monthly residency as well as performances by Bob Dylan's Nashville Skyline.
Event Details
Friday
Resistant Women Art Exhibition Opening
March 13 @ 6:00 PM – 10:00 PM
Jersey City Theater Center, 339 Newark Ave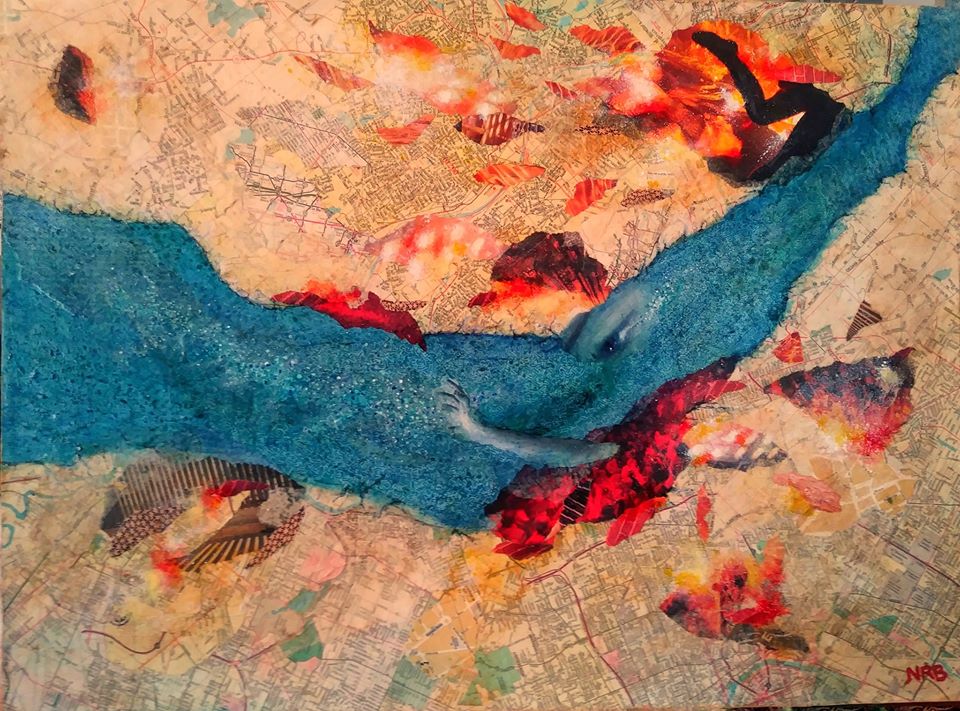 This Friday is the opening of Resistant Women: Art, Empowerment and Activism, a group exhibition highlighting ways women have challenged norms and authority.
Event Details
Spring Awakening; A Yin Yoga and Sound Healing Experience
March 13 @ 7:00 PM – 9:00 PM
Sattva Yoga, 523 Palisade Ave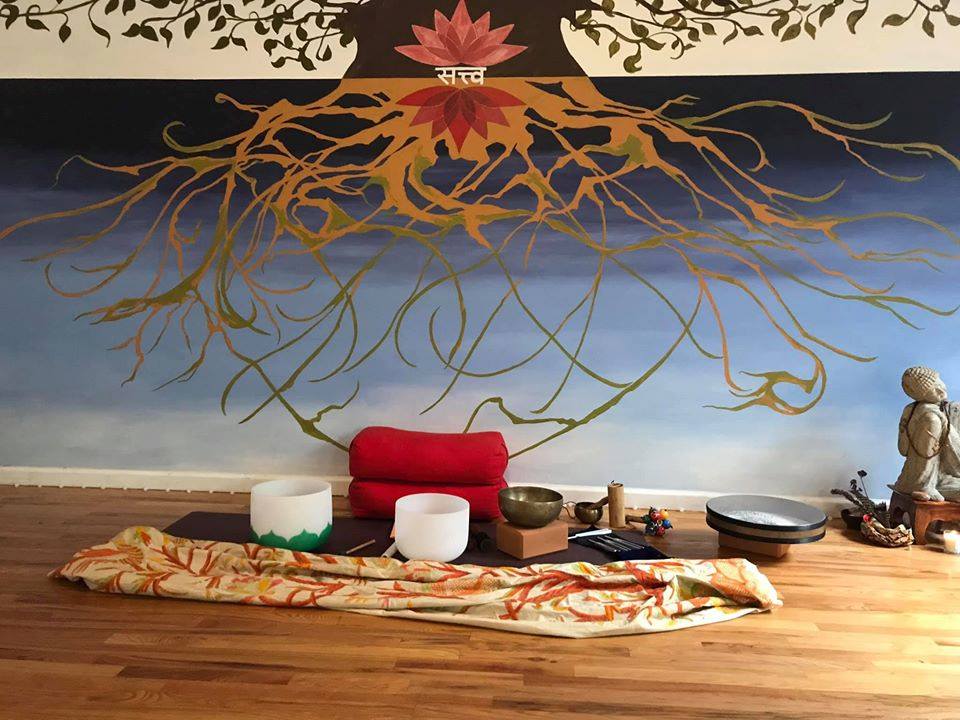 Destress and clear your mind with Sattva Yoga. Yin Yoga is accessible to all levels and designed to balance your chakras, and the soundscape by Sally Cannon will use chakra-specific crystal singing bowls. It's a 2-hour session and admission is $40.
Event Details
Saturday
Pi Day Celebration
March 14 @ 9:00 AM – 5:30 PM
Liberty Science Center, 222 Jersey City Blvd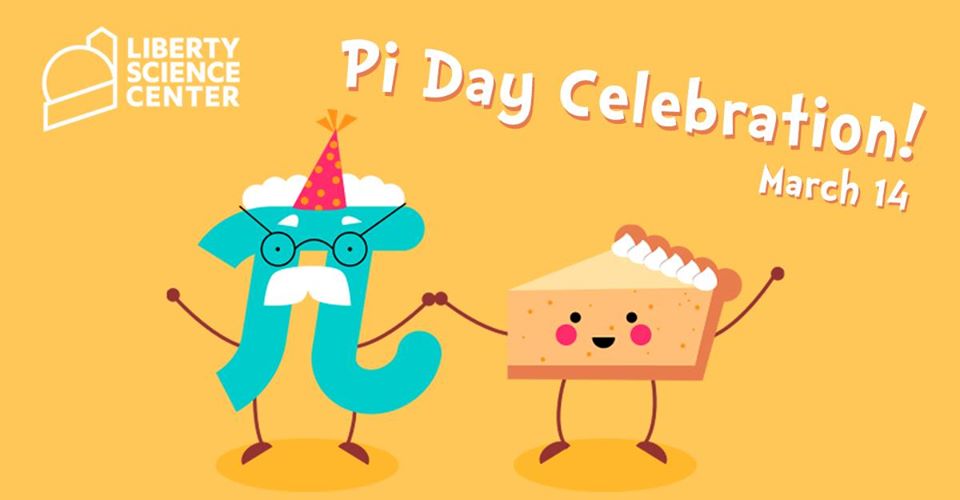 Bring the family to Liberty Science Center to celebrate Pi Day! Enjoy themed activities and join the LSC animal team for their annual Cockroach Count.
Event Details
bwè Youth Film Festival
March 14 @ 7:00 PM – 9:30 PM
bwè kafe, 140 River Dr S
For the first time, bwè kafe will be hosting their bwè Youth Film Festival, showcasing work from students of the DCTV program. There'll be a screening and Q&A session. There's a $10 suggested donation at the door.
Event Details
Art Max Fundraiser
March 14 @ 7:00 PM – 2:00 AM
Manny's District Lounge, 210 Hudson St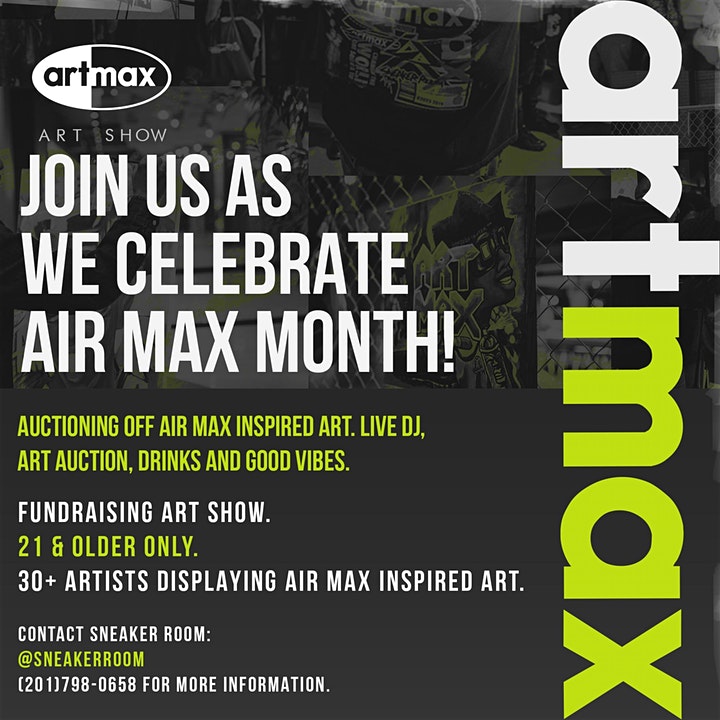 Sneaker Room is bringing their third annual Air Max-inspired Art Max fundraiser to Manny's! The Art Max fundraiser features work by 40+ artists, all available for sale. Proceeds will go toward the Sneaker Room Foundation to fund youth programs. Admission is $20 and it's a 21+ event.
Event Details
New York City
Thursday
Puppies x Plants Pop-Up
March 12 @ 5:00 PM – 8:00 PM
Rooted NYC, 191 Centre St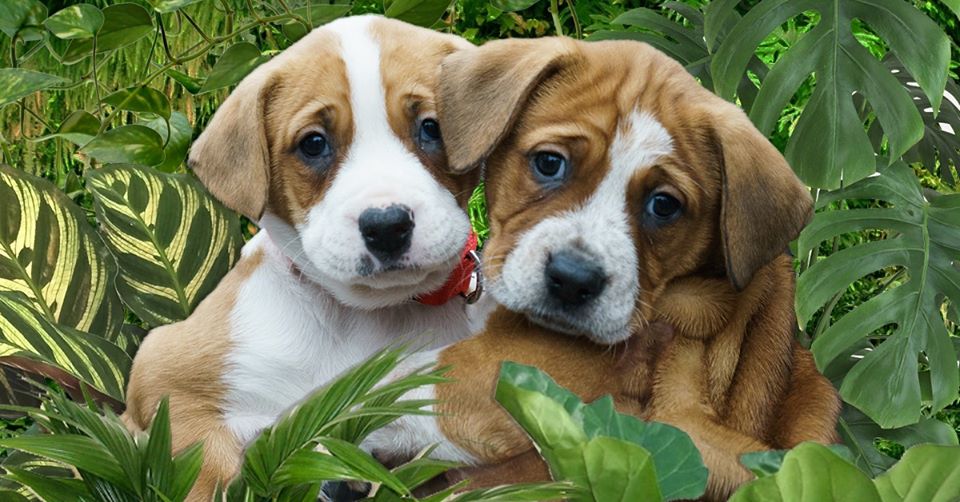 Muddy Paws Rescue is hosting a plants and pups pop-up! Pass by Rooted to learn about how you can help pups as a foster parent, cuddle some cuties, and take home a pet-friendly plant.
Event Details
Jean-Michel Basquiat: Chaotic Genius
March 12 @ 6:00 PM – 8:00 PM
Guy Hepner Contemporary Art Gallery, 520 W 27th St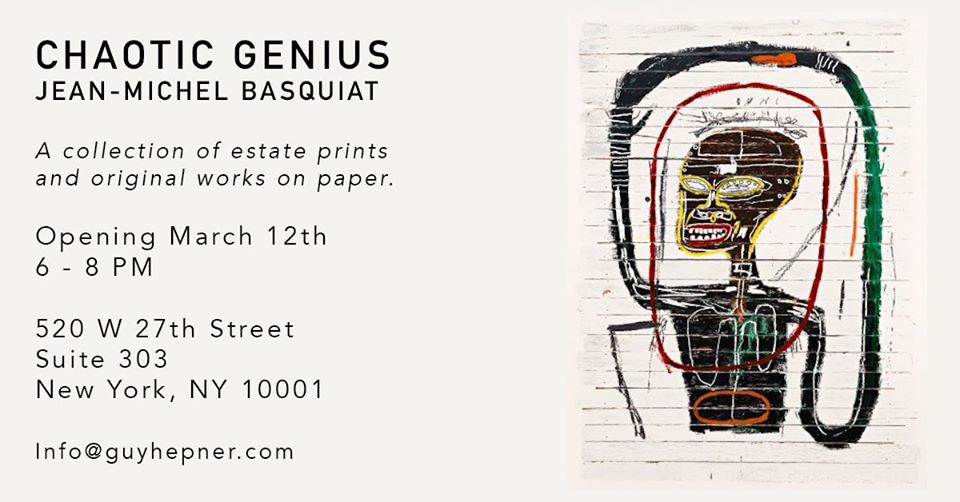 Chaotic Genius showcases original work by Jean-Michel Basquiat and prints published by his Estate. The exhibition opens on March 12th and will be available for viewing until April 25th.
Event Details
Only The Stoned: March Dab-ness
March 12 @ 7:00 PM – 10:00 PM
Secret location, Brooklyn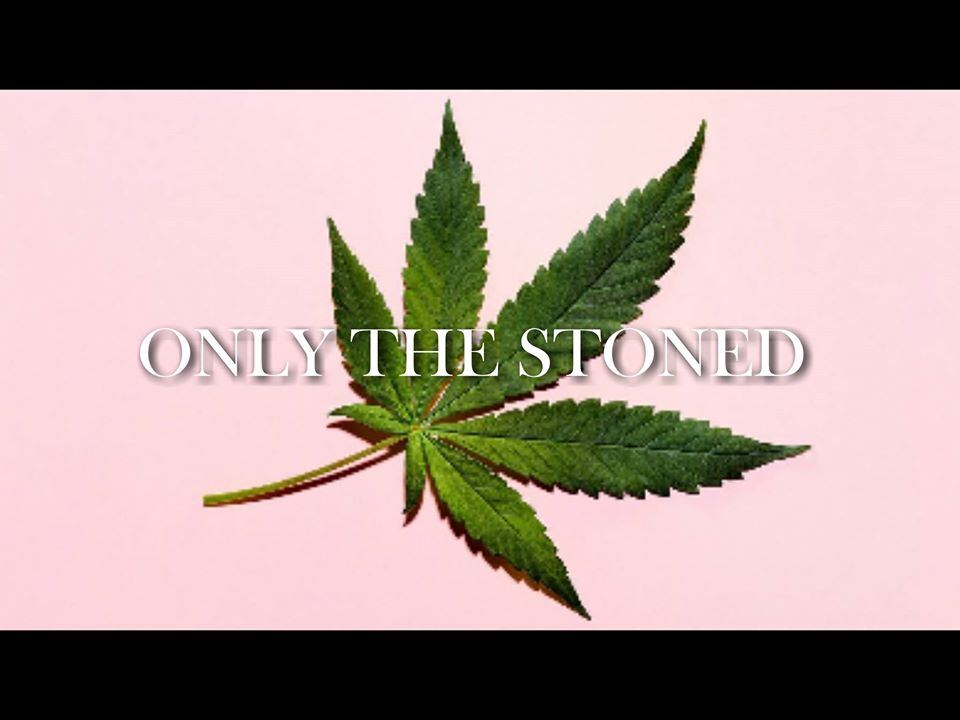 The Wild High Club, BK Wildlife, and OneLifeGame are presenting an event with a lineup of performances, drinks, and snacks. Admission is $20 and it's a 21+ event.
Event Details
Friday
Dreamscapes: Art Exhibition
March 13 @ 5:30 PM – 7:30 PM
Iris-Kaplan Center, 276 5th Ave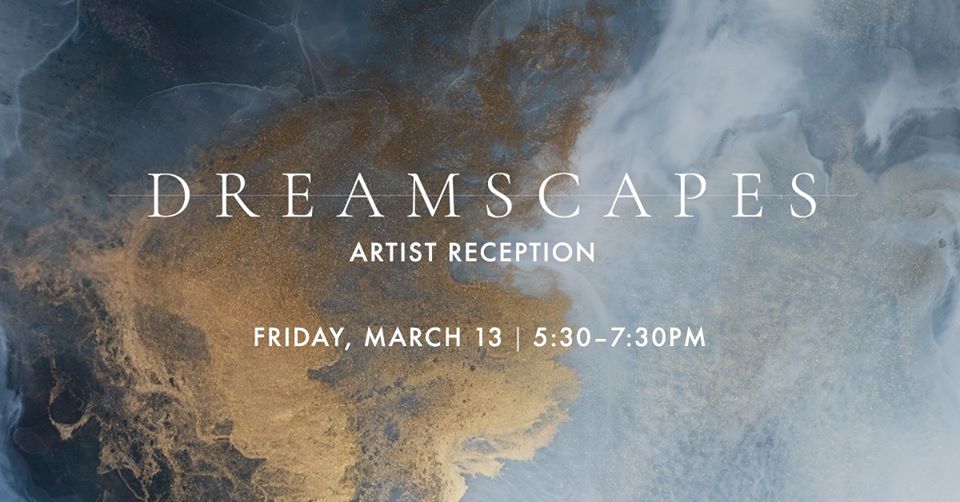 Join contemporary artist Frankie Hsu for her first solo exhibition of the year at Iris-Kaplan Center. Dreamscapes features "a metaphoric interpretation of the human spiritual journey and its relationship with nature." There'll be complimentary wine and beverages available for the opening reception.
Event Details
Queens Wine Glass Paint Night
March 13 @ 7:00 PM – 9:00 PM
Paint With A Purpose Art Studio, 103 Monroe St, Brooklyn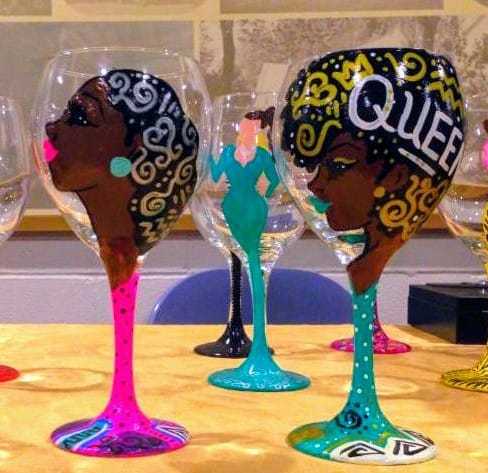 Bring your girls for glass painting and drinks! Admission is $25 per person – RSVP ahead of time.
Event Details
Rumberas: Empowering Women through Voice and Percussion
March 13 @ 8:00 PM – 10:00 PM
Aspire 2 Dance, 1195 Bedford Ave, Brooklyn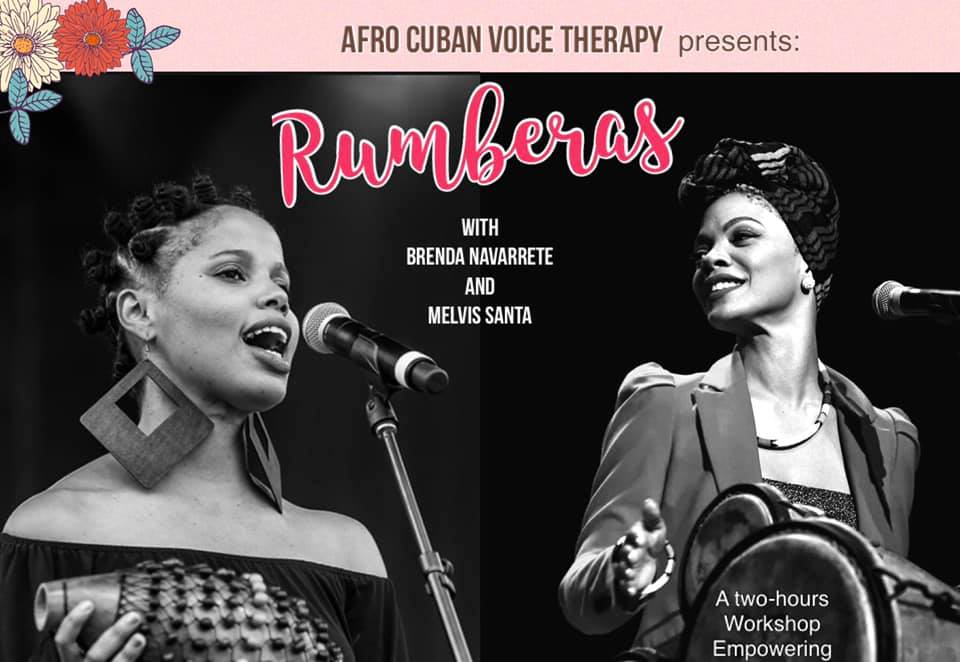 Afro Cuban Voice Therapy is hosting a 2-hour music workshop to empower women through music and sisterhood. Tickets are available for $30 and the event is BYOB.
Event Details
Saturday
Lumeroom + Psyop Present: Between by Shane Griffin
March 14 @ 12:00 PM – 6:00 PM
393nyc, 393 Broadway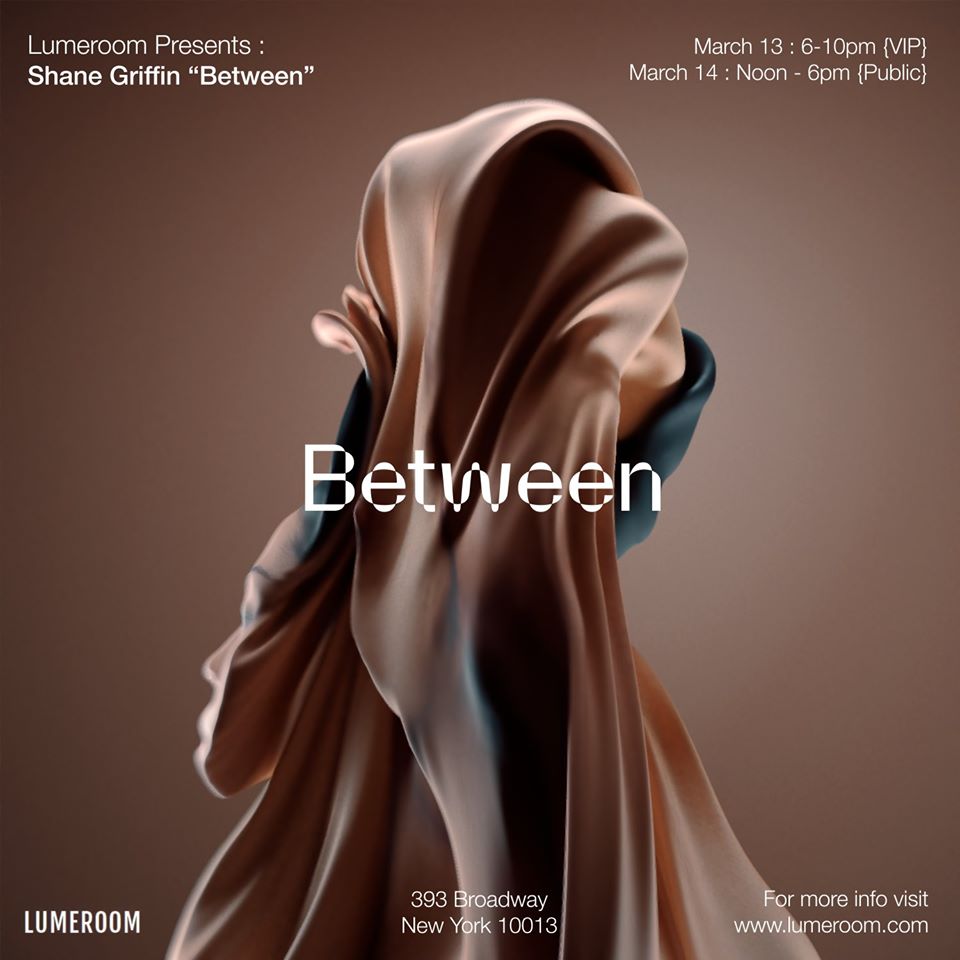 Shane Griffin's work in Between highlights the "exploration of entanglement between the human body, and the space that surrounds it" through an immersive experience.
Event Details
Roller Disco Brunch Party: Skating & Mimosas
March 14 @ 12:00 PM – 7:00 PM
Schimanski, 54 N 11th St, Brooklyn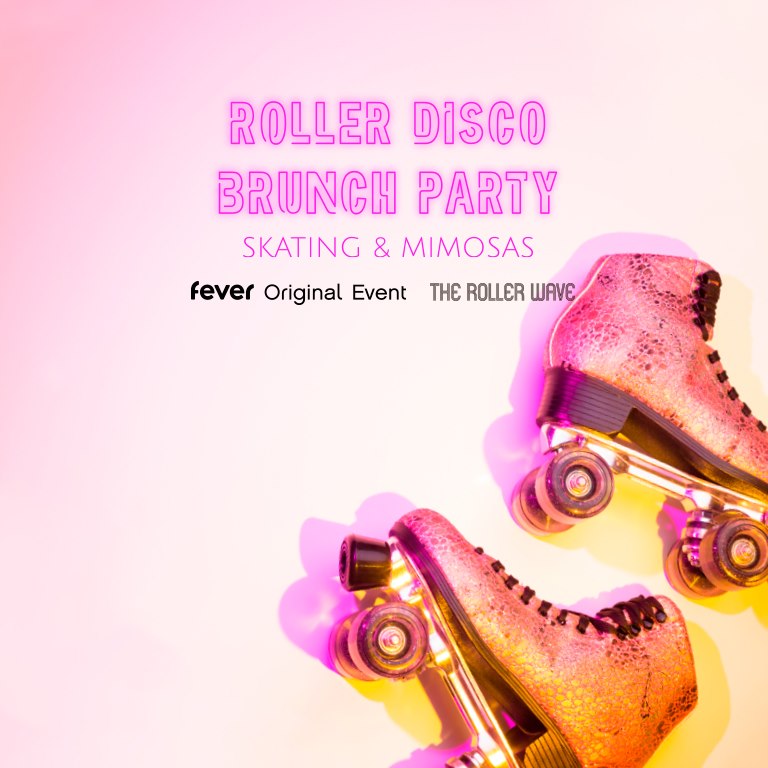 Have fun roller skating to 1980s disco and enjoy a couple of mimosas for brunch. Ticket prices start at $23 with sessions starting at 12 pm, 2:30 pm, and 5 pm.
Event Details
Frida
March 14 @ 4:30 PM – 6:00 PM
La Pittura Art Studio, 145 West 26th St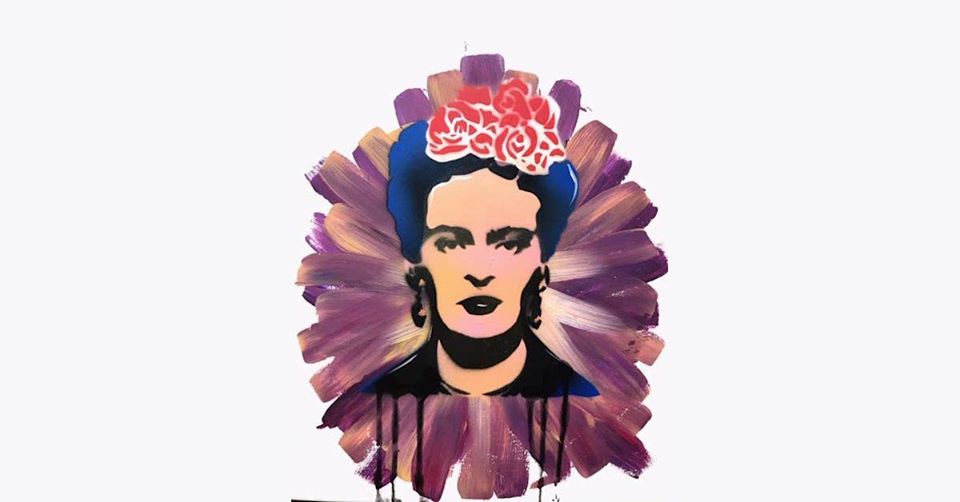 Relax with a 2-hour sip & paint session with Frida Kahlo as the subject of the painting. Light bites and wine are available for purchase
Event Details
Roadie Worldwide – Anniversary Party + WHM Celebration
March 14 @ 8:30 PM – 1:00 AM
Good Behavior, Made Hotel Rooftop, 44 West 29th St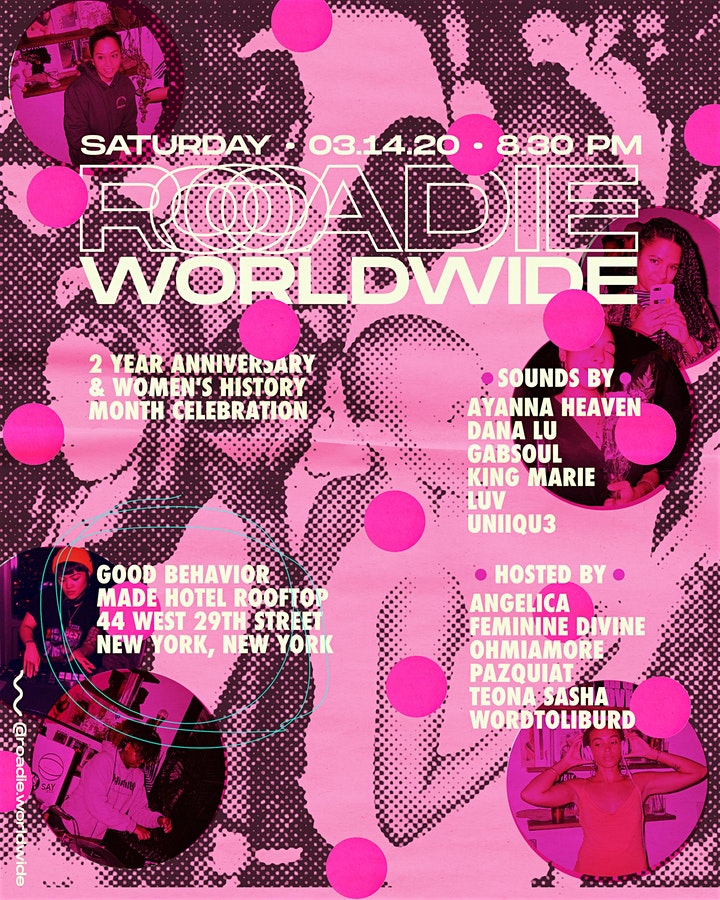 Roadie is celebrating their 2-year anniversary and Women's History month with a lineup of talented DJs and hosts. The celebration is for women of color from all walks of life, and honoring women who are pursuing their creative passions.
Event Details
Sunday
Craft Pop-Up
March 15 @ 10:00 AM – 5:30 PM
Grand Bazaar, 100 W 77th St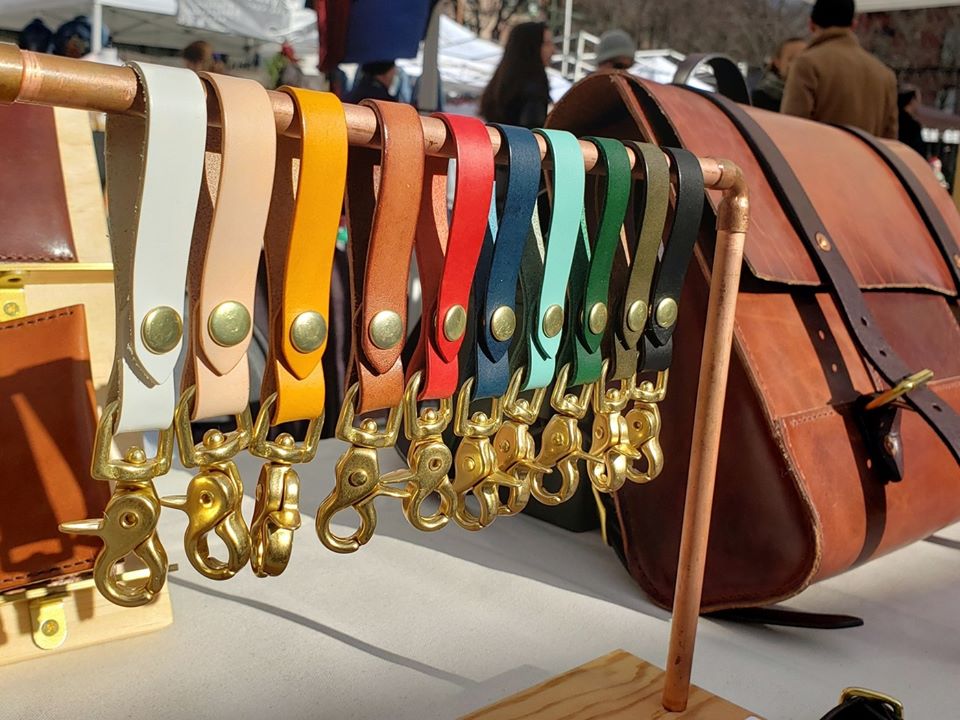 In honor of National Craft Month, Grand Bazaar will have a Craft pop-up featuring local crafts-makers who bring one-of-a-kind pieces, from furniture to jewelry.
Event Details
Japanese Textiles: New Perspectives
March 15 @ 11:00 AM – 2:00 PM
Japan Society, 333 E 47th St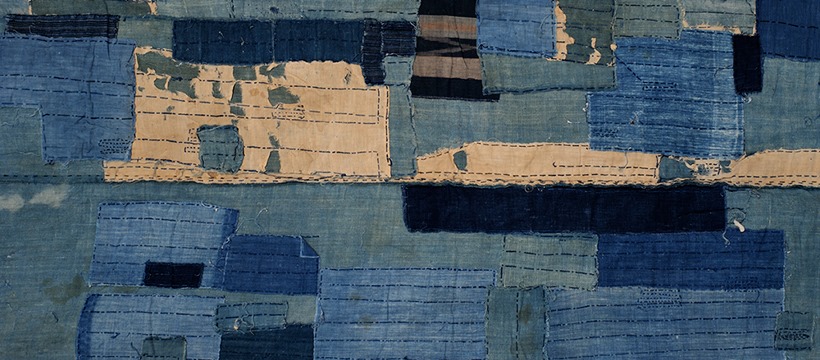 Join Elizabeth Wilson, owner of Asiatica, and Thomas Murray, author of Textiles in Japan, in a moderated discussion with Dr. Monika Bincsik of The Met. Tickets are $15.
Event Details