Whether you're looking to observe Black History Month this weekend with the family or you'd like to network with the community, we've got you covered!
---
Thursday
Black History Month – Crafts
February 21 @ 3:00 PM
Lafayette Branch Library, 307 Pacific Ave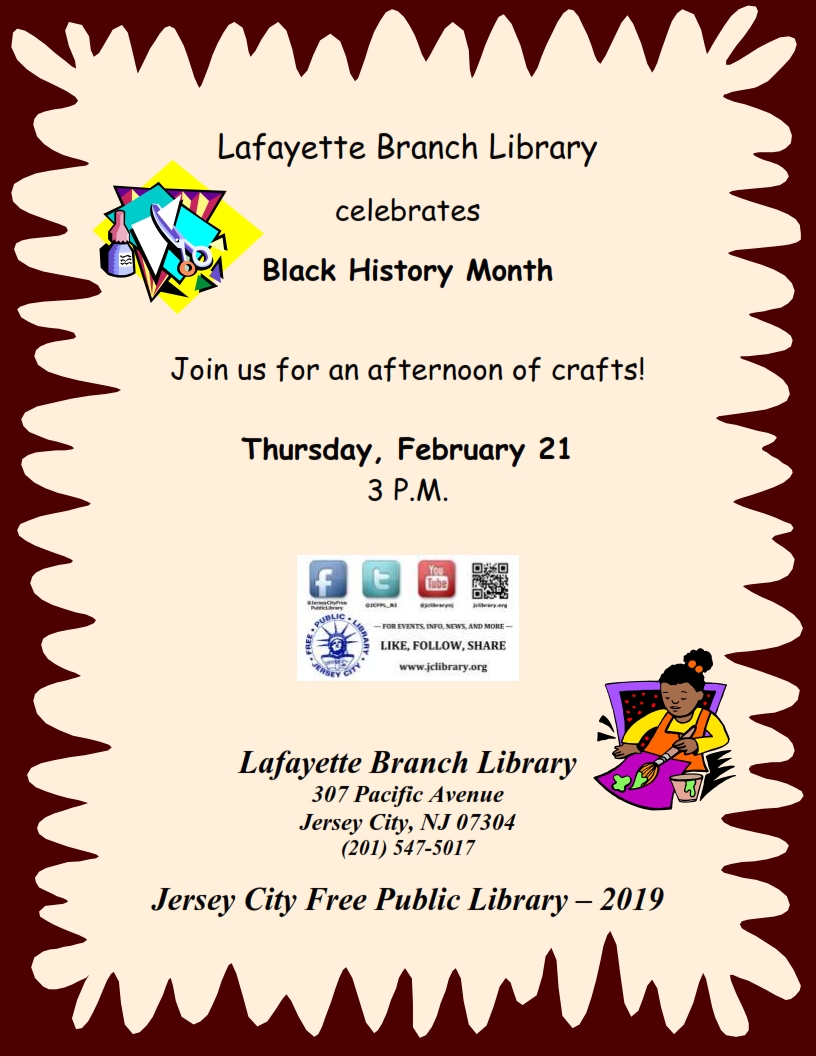 Bring the family to the Lafayette Branch library on Pacific Ave for an afternoon of crafts!
Event Details
Speed Networking Event- ChicpeaJC x JCTechMeetup
February 21 @ 6:00 PM – 8:00 PM
Andco, 201 Montgomery St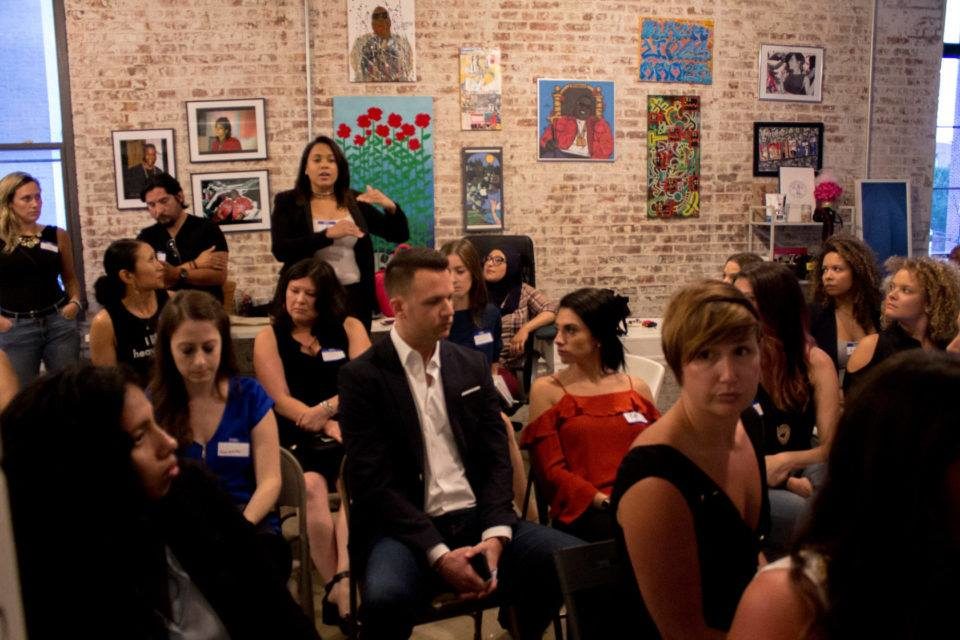 Meet with a number of diverse professionals and potentially find your next business investor, employee, etc.
Event Details
Poetry Slam & Open Mic
February 21 @ 7:00 PM
Snapdragon Coffee & Social, 190 Monticello Avenue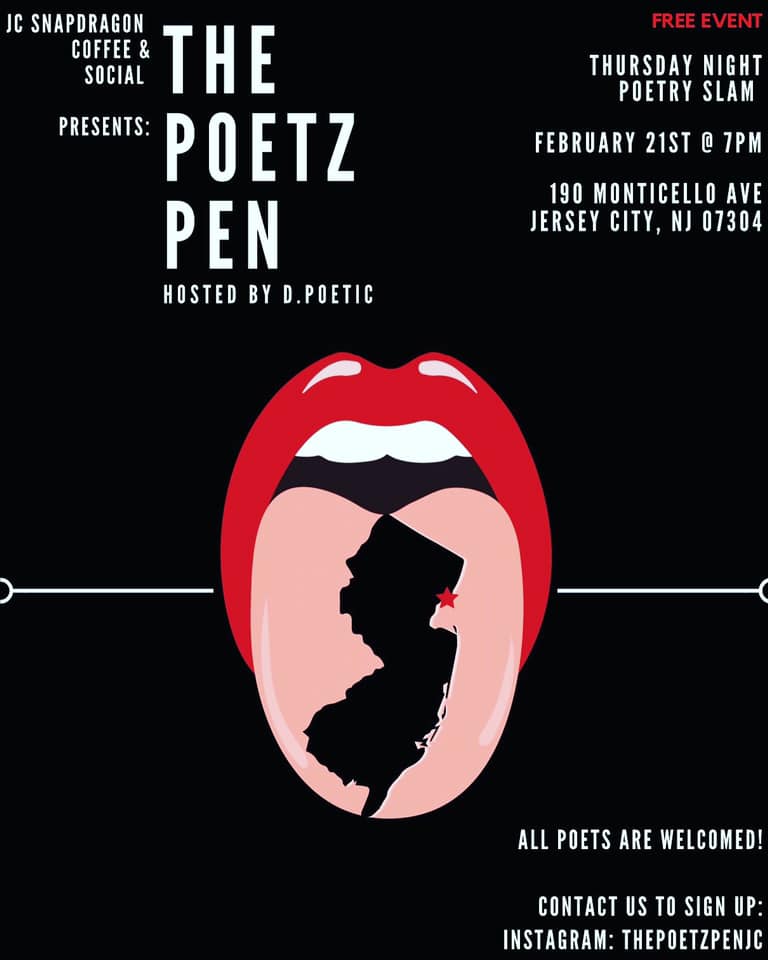 Enjoy poetry and spoken word at Snapdragon! Sit back and check out local talent or perform and go with the flow.
Event Details
Black History Month Group Exhibition
Until February 28
Rotunda Gallery @ City Hall, 280 Grove St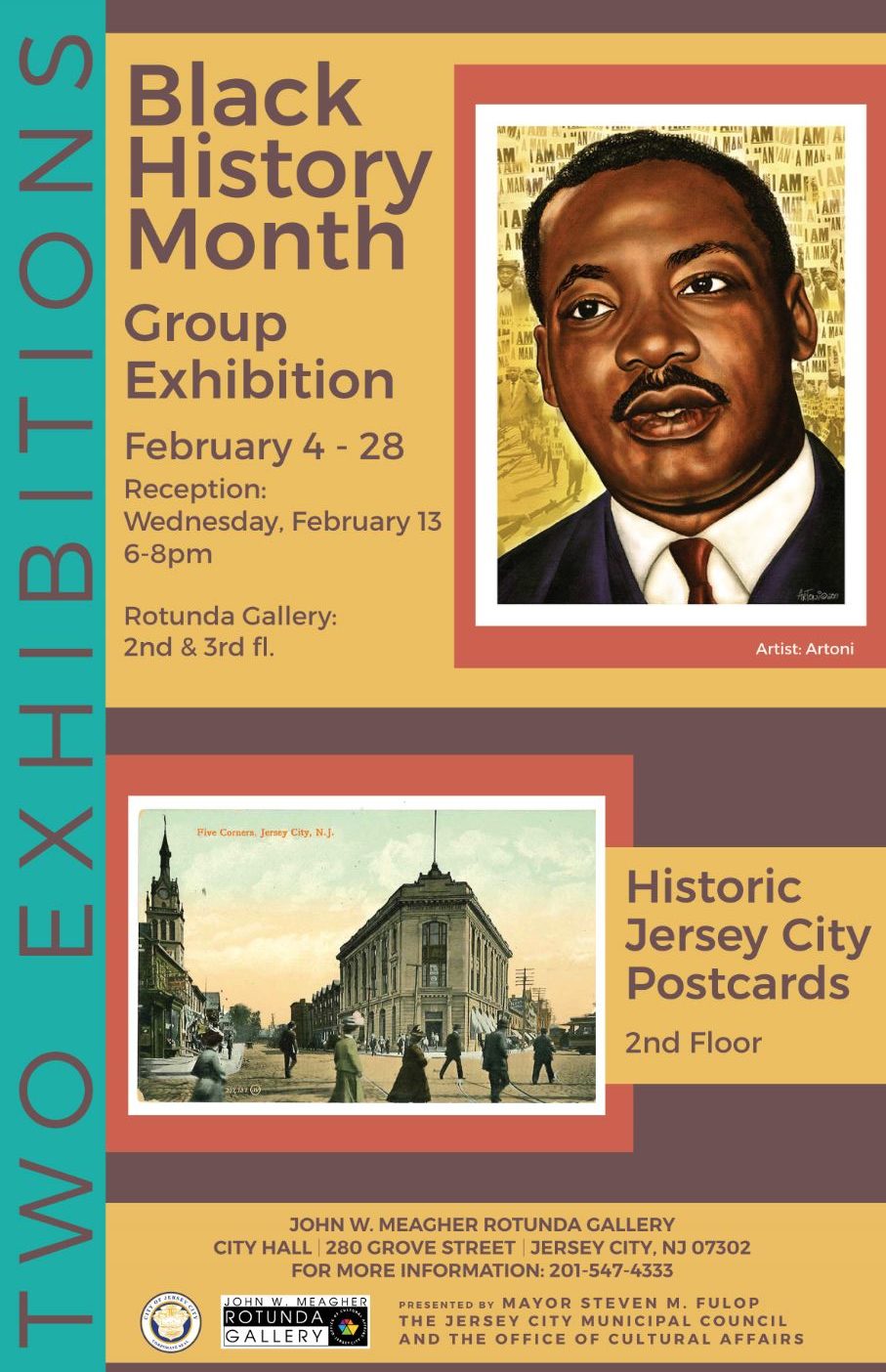 You can stop by the Rotunda Gallery at City Hall until February 28th for an art exhibition and historic postcards.
Friday
Dominican Bar Association: The Quisqueyanos Series
February 22 @ 6:30 PM – 9:30 PM
Shakin, 342 7th St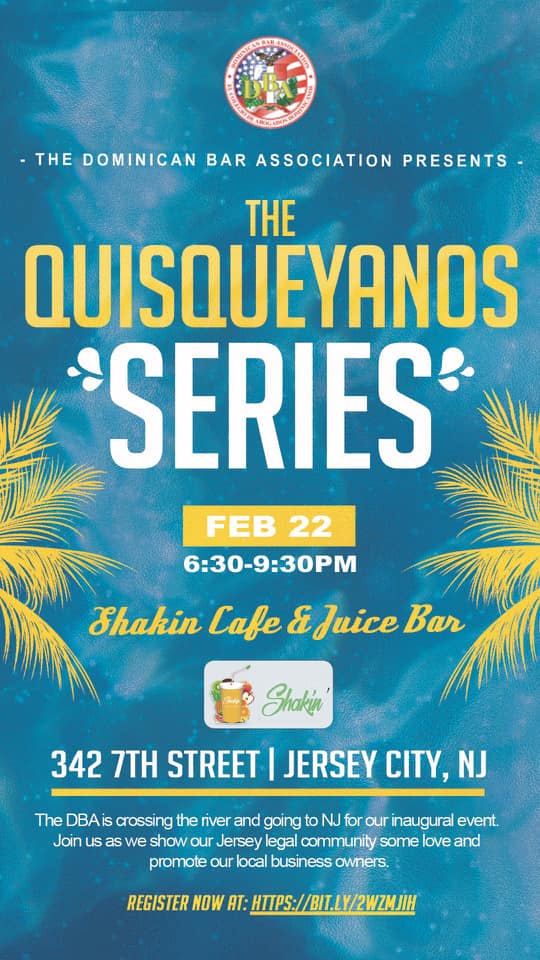 The Dominican Bar Association is coming to NJ to support Dominican owned/operated businesses. There'll be fun, raffles, and food at Shakin for their inaugural event of the series.
Event Details
Back to Black – an Installation
February 22 until June 28 @ 11:00 AM
Benjamin J. Dineen III and Dennis C. Hull Gallery, 71 Sip Avenue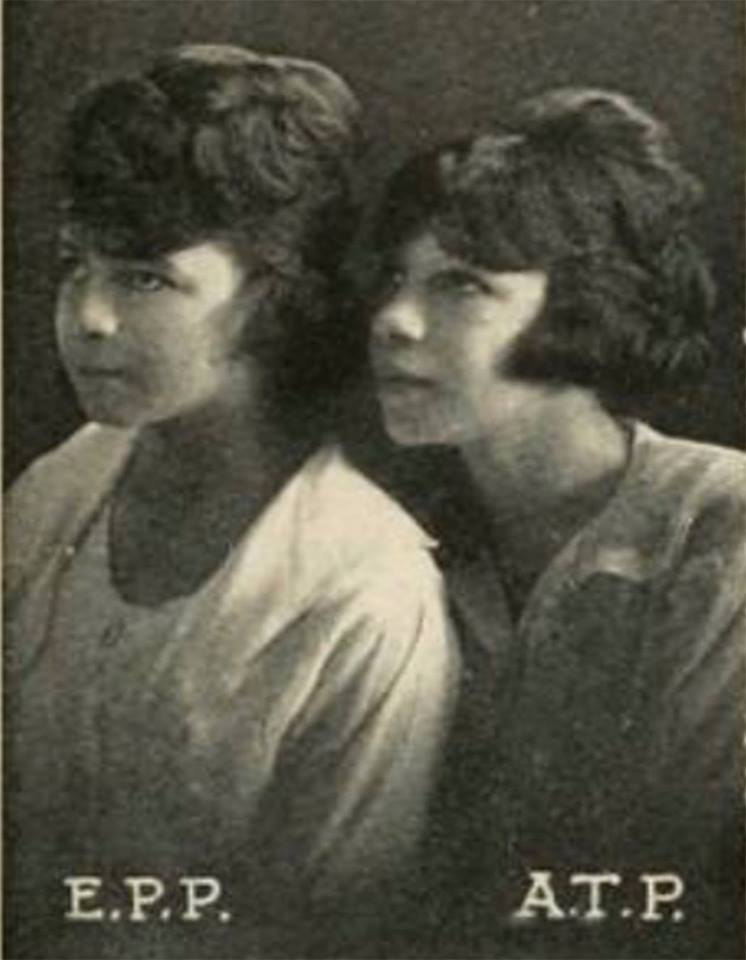 "Back to Black" highlights the 1919 World War I self-published poetry book War Poems by Ada and Ethel Peters. The installation will honor Black History Month, Women's History Month, National Poetry Month in April, and close at the end of June to celebrate the anniversary of the Treaty of Versailles.
Event Details
Saturday
African Clay Mask Workshop
February 23 @ 12:45 PM
Five Corners Branch Library, 678 Newark Ave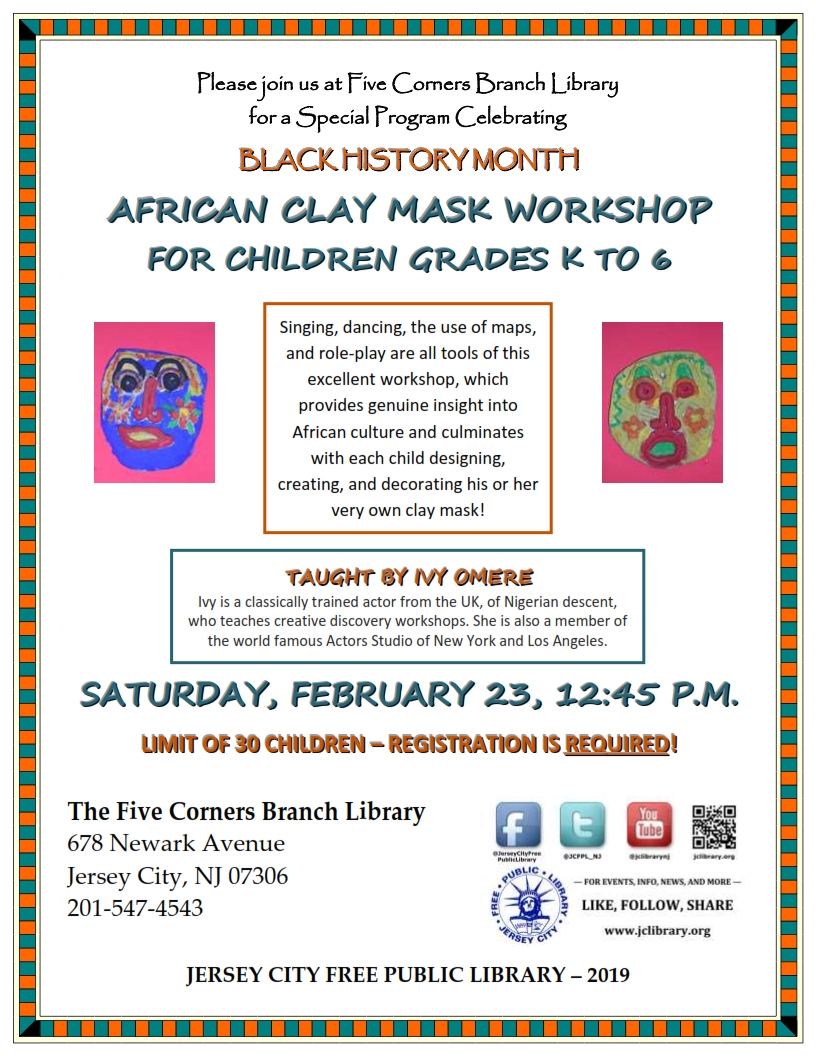 Bring the kids for an African clay mask workshop at the Five Corners Branch library on Newark Ave. Contact the library for information to register.
Event Details
Black History Month Presentation
February 23 @ 1:00 PM – 5:00 PM
Redeemer Lutheran Church Parsonage, 37 Warner Ave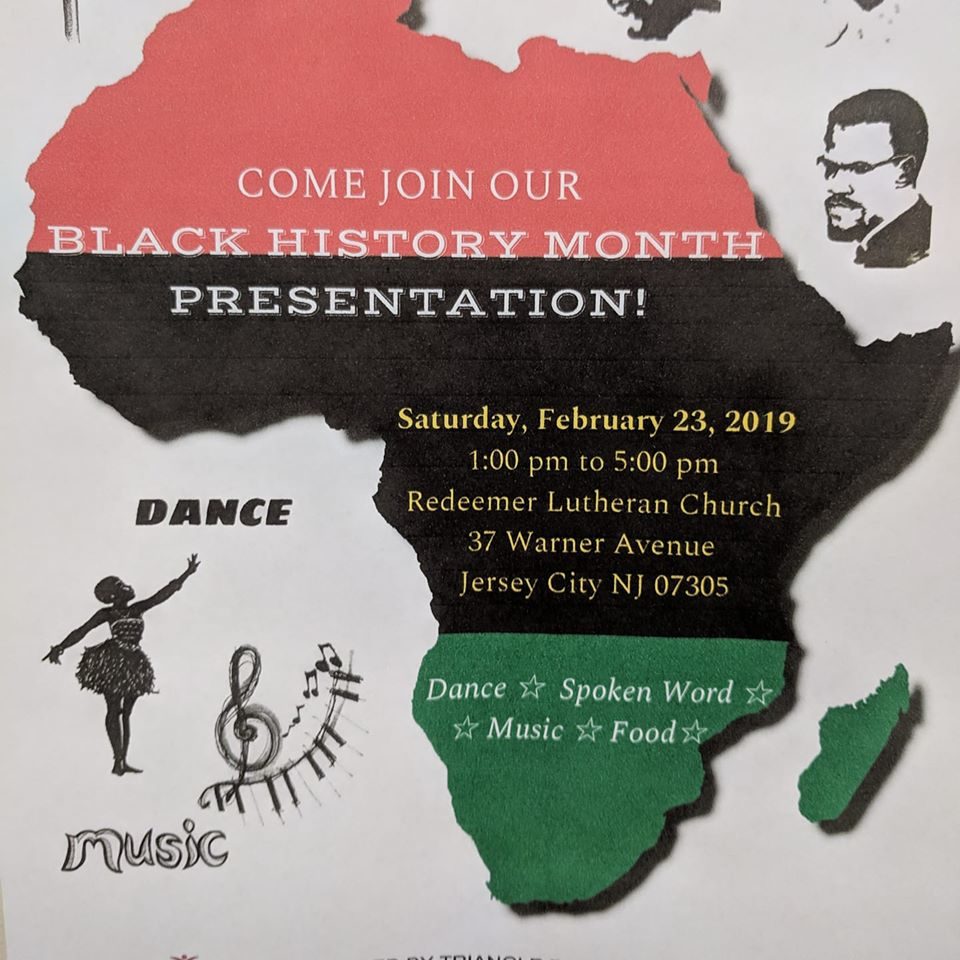 Stop by Triangle Park Community Center for their 1st Ubuntu Black History month presentation with performances by local residents and refreshments throughout the afternoon.
Event Details
Joyful Noise Gospel Competition
February 23 @ 6:00 PM
Mary Bethune Center, 140 Martin Luther King Jr. Dr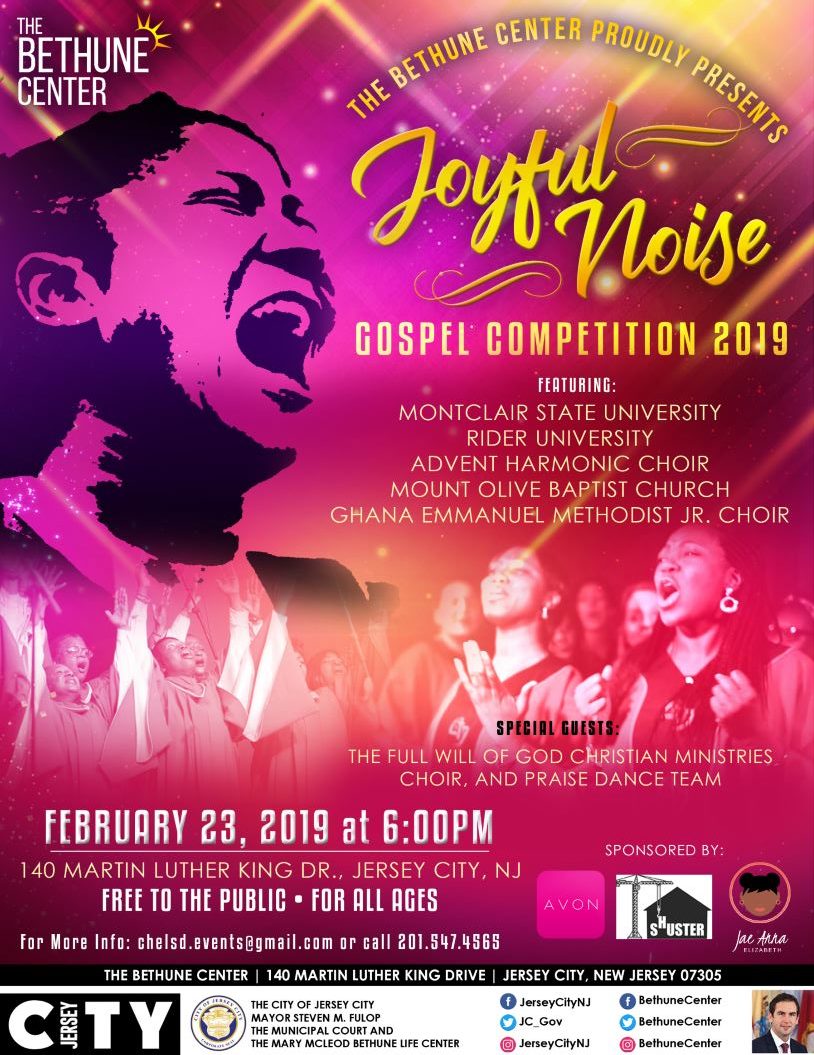 The Bethune Center is honoring the tradition of gospel in African-American churches with a gospel competition featuring church choirs and universities. It's free and open to all ages.
Event Details
Sound in Color
February 23 @ 7:30 PM
FM, 340 3rd St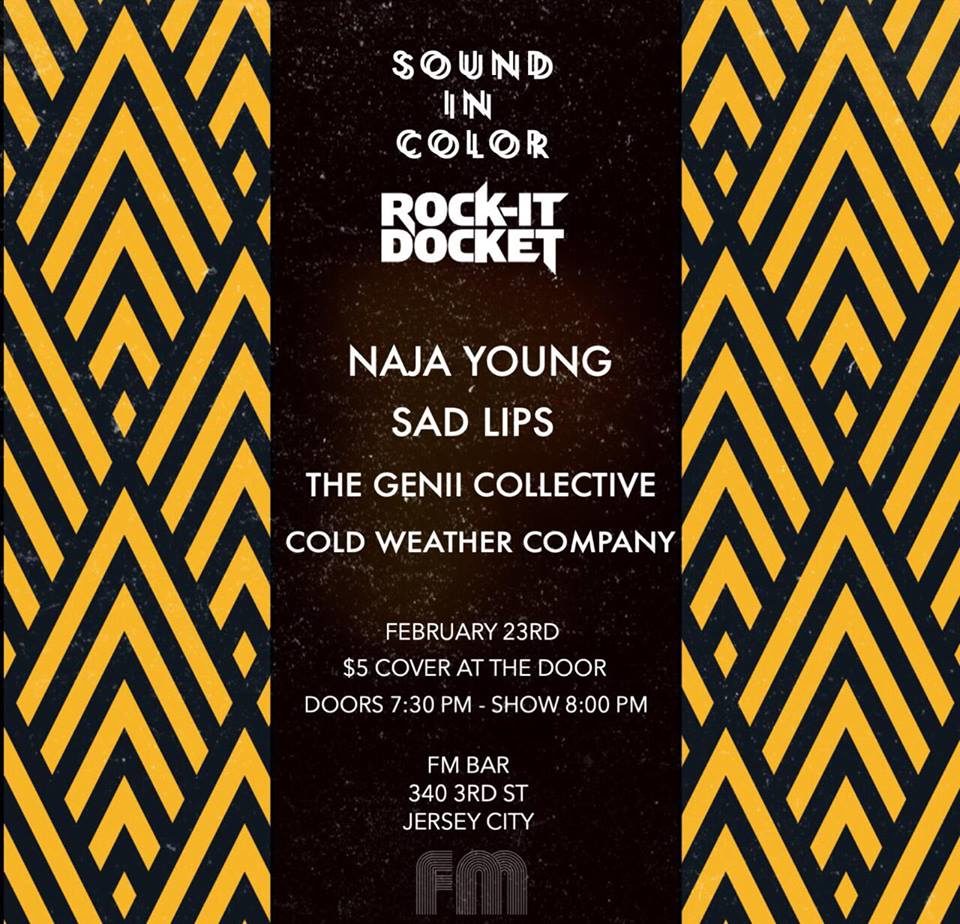 Enjoy music by Naja Young, The Sad Lips, Genii Collective, and Cold Weather Company with only a $5 cover at the door.
Event Details
Sunday
Abstract Painting Class with Philip Hardy
February 24 @ 9:00 AM – 12:00 PM
Jersey City Art School, 29 McWilliams Pl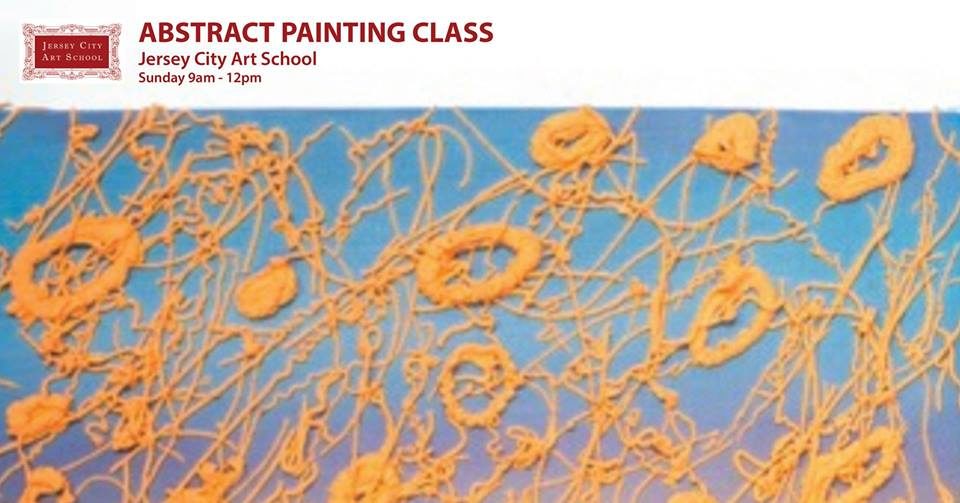 Over the course of 6 sessions, learn how to create compelling works of art. To sign up for all six sessions, it's $300 + $50 for materials. You can enroll online.
Event Details
Black History Tribute – Civil War
February 24 @ 12:00 PM
Historic Jersey City and Harsimus Cemetery, 435 Newark Ave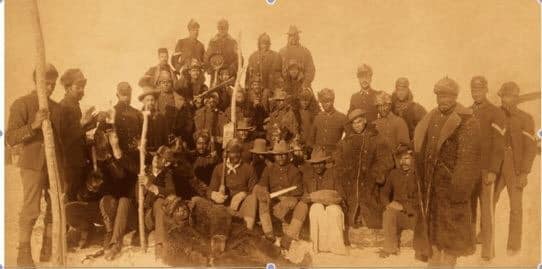 On February 24th, the Historic Jersey City and Harsimus Cemetery will host an afternoon with Civil War artifacts and the experience of Civil War 'USCT' (United States Colored Troops) Soldiers.
Event Details
---
Upcoming Events
Youth Networking and Mentorship Event
February 28 @ 4:00 PM – 7:00 PM
The Cove, 312-314 Pacific Ave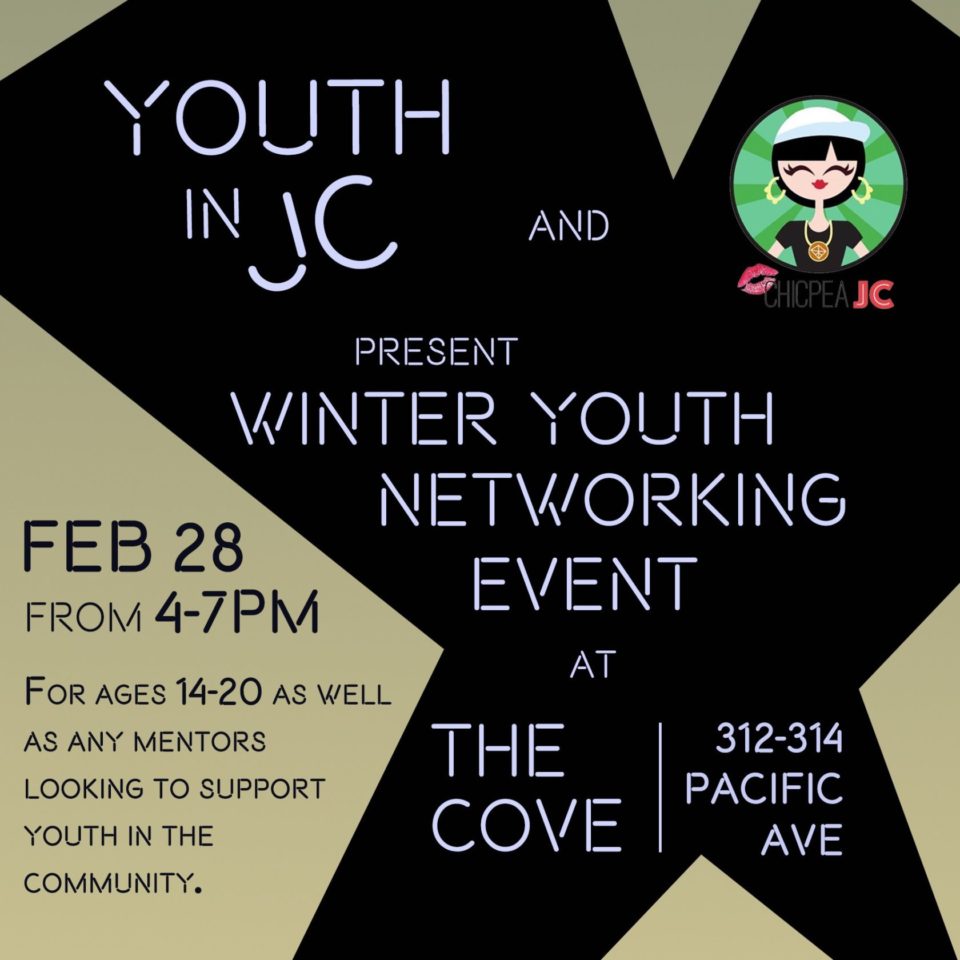 Youth in JC is back with another free networking and mentorship event for youth ages 14 to 20! Stop by to meet potential mentors.
Event Details