The weekend isn't the weekend until you've checked out the top things to do in Jersey City! We've got a list full of fun, kid-friendly, and of course adult-friendly events that all may or may not include ice cream at some point or another! So check it out and see if what we've picked will to the trick and make your weekend spectacular.
Can't find any events you're interested in? Our Event Calendar has nearly forty events this weekend so if you're looking for something more festive, check there!
Friday
1. FUNtastic Friday
July 8th @ 3:00 PM – 8:00 PM
Exchange Place., Jersey City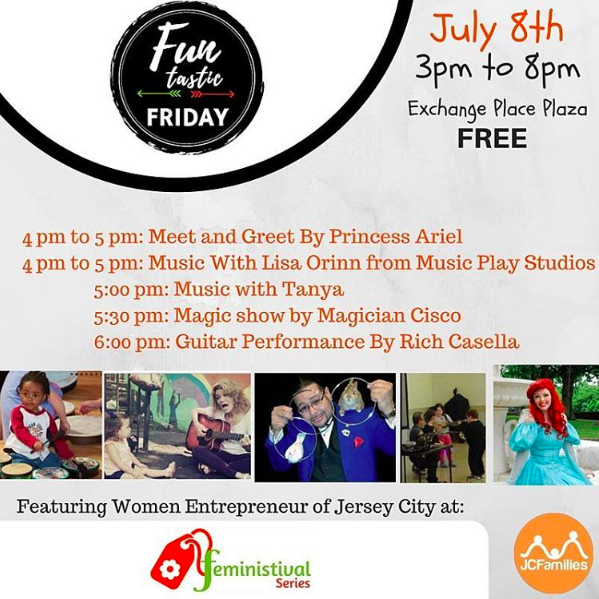 Entertainment in the Exchange Place Plaza is coming this Friday for kids and adults! JCFamilies has an exciting lineup for FUNtastic Friday including music, food, a meet, and greet with Princess Ariel, music by with Lisa Orinn, Magic by Magician Cisco and more!
2. The Last 5 Years
July 8th @ 8:00 PM
Art House Productions, 136 Magnolia Ave., Jersey City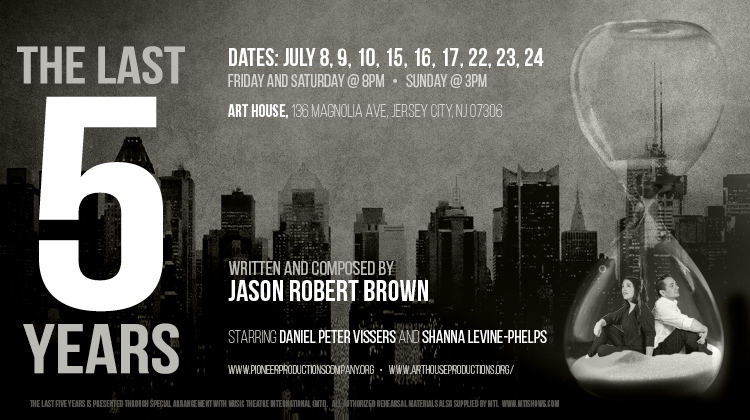 Are you longing for a musical but just haven't had the time to venture out and find one? Now is your chance! Join the Pioneer Productions Company for the next three weeks for The Last 5 Years, a masterpiece that chronicles the turbulent journey of a young couple throughout their five-year relationship.
3. Break A Leg: Tres Leche (Latino Appreciation)
July 8th @ 9:30 PM – 2:00 AM  
Café Sole, 496 Communipaw Ave., Jersey City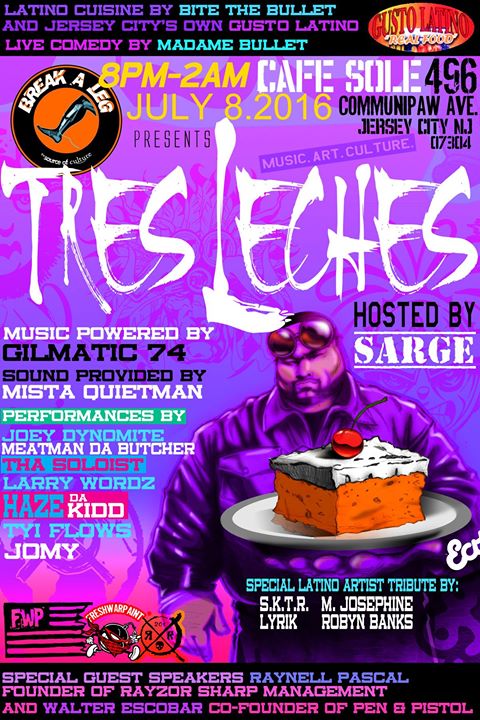 Break A Leg is back with their Latino Appreciation show "Tres Leches!" Join them for a night of music, art, and culture all in one place! Try some delicious Latino cuisine by Bite the Bullet Jersey City's own Gusto Latino and then laugh it up with comedian Madame Bullet.
4. Pat Van Dyke: Live in the Parlour (w/DJ Prestige)
July 8th @ 9:30 PM – 12:30 AM
Fox and Crow, 594 Palisade Ave., Jersey City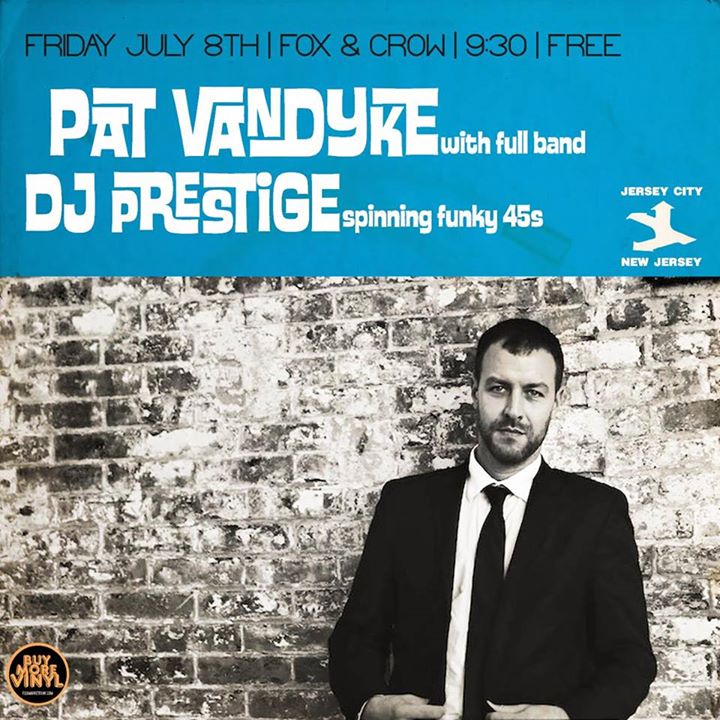 Are you looking to tone down your Friday? Then head to the Fox and Crow this Friday night as Pat Van Dyke and DJ Prestige team up to bring you a night full of jazz, soul, and funk!
Saturday
5. Build a Better Block Street Fair
July 9th @ 10:00 AM – 3:00 PM (Rain Date July 10th)
Bergen Ave from Montgomery St to just south of Fairmount Ave, Jersey City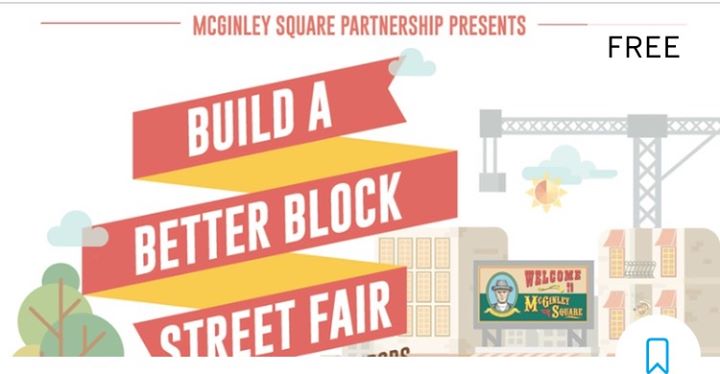 It's time to build a better block, and there's no way else to do it than gathering together as a community. Head down to the Build a Better Block Street Fair this weekend for live music, incredible eats, painting, and so much more!
6. Pitness in the Park
July 9th @ 11:00 AM – 2:00 PM  
100 Sinatra Dr., Pier A, Hoboken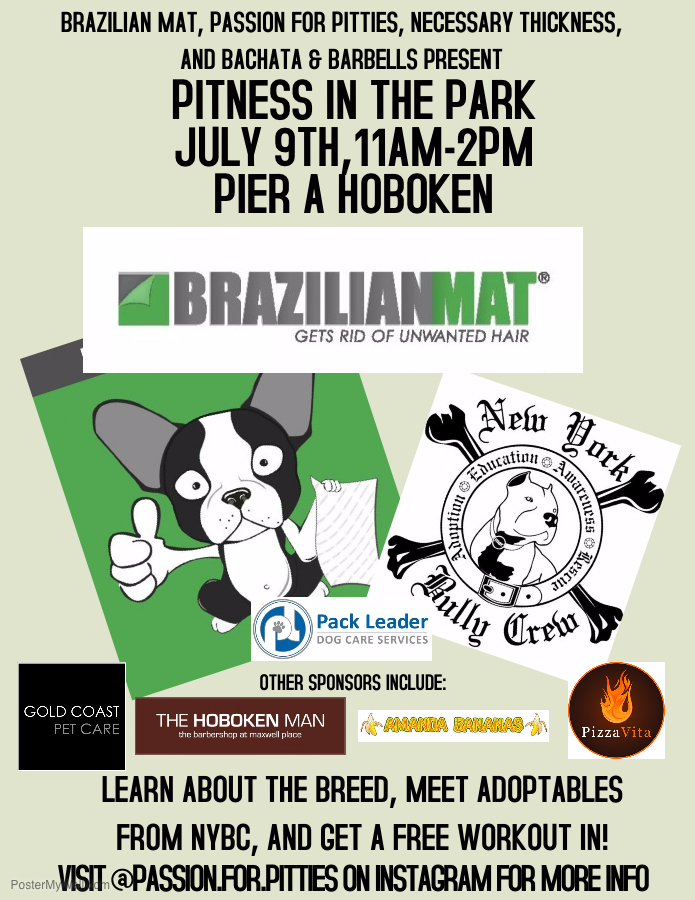 A pier, a ton of pit bulls, and fitness! If that sounds like the ideal day to you, then head down to Pier A in Hoboken this weekend for Pitness in the Park! It is said that pit bulls are stigmatized and have come up with a bad reputation, and Pitness in the Park will bring people one step closer to changing that impression. Find your forever Pit and do some yoga while you're at it!
7. Pacific Flea is Back!
July 9th @ 11:00 AM – 5:00 PM  
Pacific Flea, 149 Pacific Ave., Jersey City

Have you been missing your favorite flea market? Well, it's back and better than ever! Head to the Pacific Flea this weekend for some good 'ol antiquing, amazing art, and more!
Sunday
8. ItsAll. Love
July 10th @ 12:00 PM – 8:00 PM (Rain Date July 17th)  
Liberty State Park, Jersey City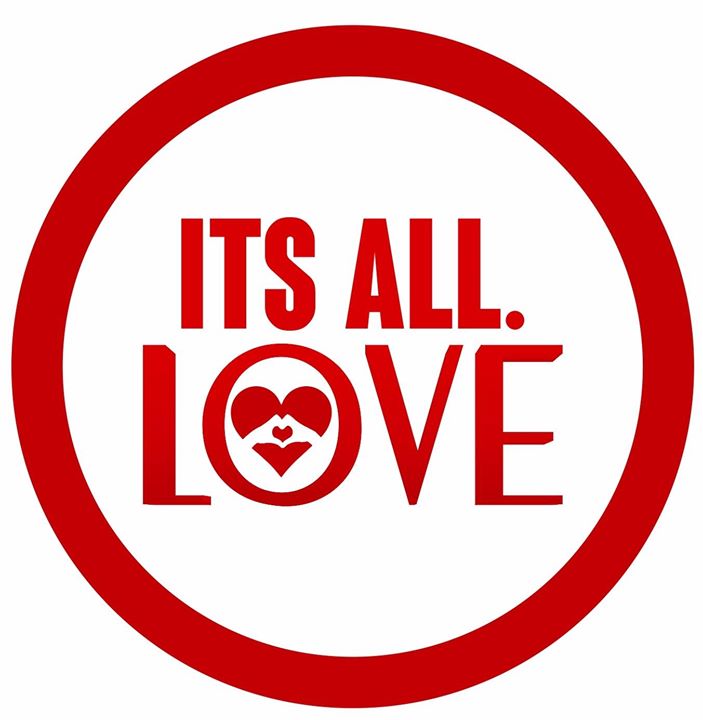 The annual family and friends BBQ is back! Head to Liberty State Park this weekend and enjoy some fun in the sun with a little BBQ to get your hands dirty. Grab yourself a T-Shirt too because all T-Shirt proceeds will go towards the ItsAll. Love Book Bag Drive!
9. Customer Appreciation Bee-Day Party   
July 10th @ 12:00 PM – 3:00 PM
Van Vorst Park, Jersey City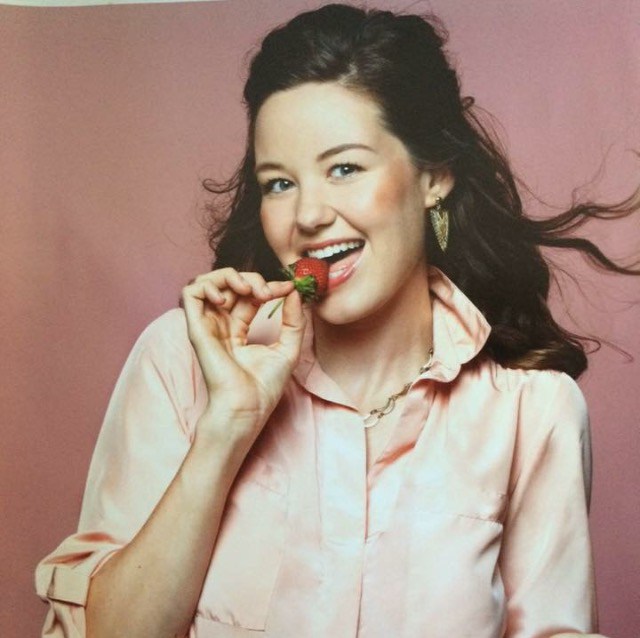 Help Busy Bee Organics celebrate their second year of bringing the buzz to fabulous meals! Enjoy a full afternoon of celebration with eats, fun, music, mingling, and more!
10. Mini Cone Madness Ice Cream Party!  
July 10th @ 2:00 PM – 6:00 PM  
Milk Sugar Love, 19 McWilliams Pl., Jersey City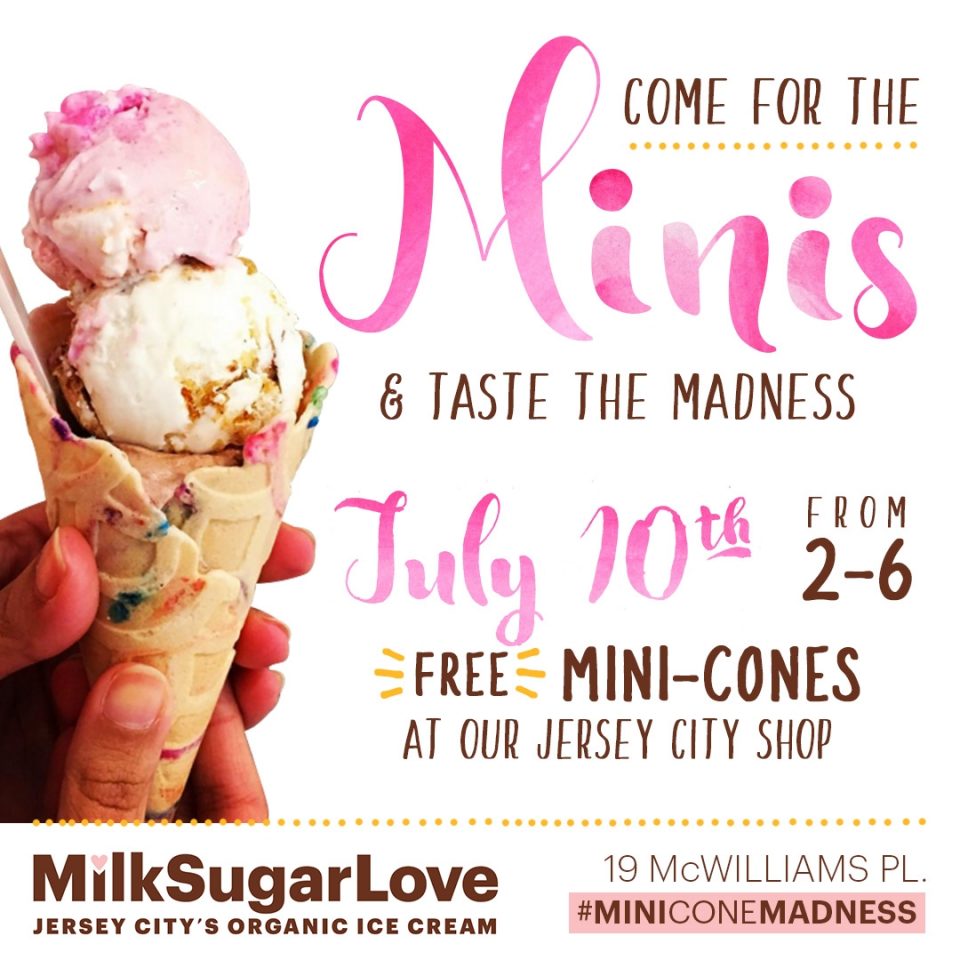 What's more delicious than a mini cone? A mini cone from Milk Sugar Love of course! This weekend the MSL army will be invading the neighborhood with ice cream and a dance party! Don't miss it! It'll be hot, and those mini cones will be cold!
11. The Peace Train 2016 USA Jersey City Concert
July 10th @ 5:00 PM – 8:00 PM
Liberty State Park, 1 Audrey Zapp Dr, Jersey City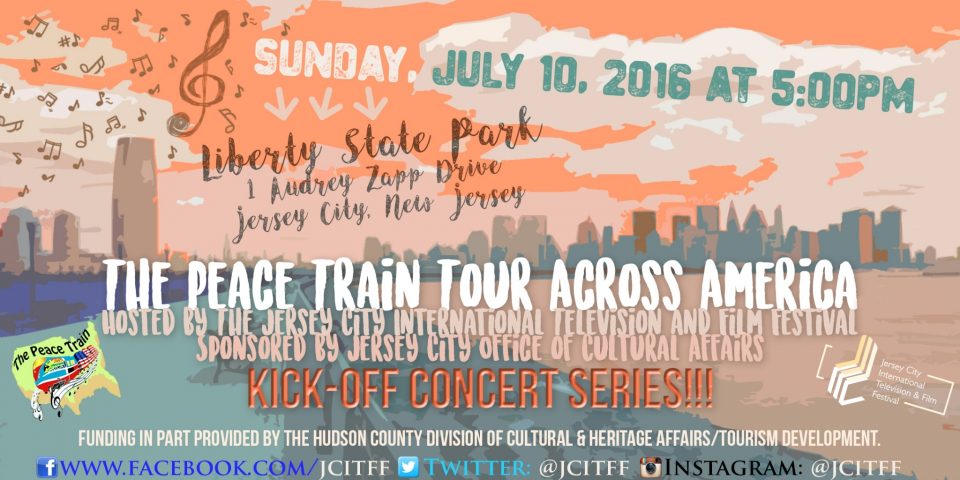 Welcome the Peace Train band in headlining Jersey City's Office of Cultural Affairs Kick Off Summer Concert series with a stop at Liberty State Park!
12. Whealth Presents: Brunch at Transmission
July 10th @ 11:00 AM – 4:00 PM
Transmission, 150 Bay Street, Jersey City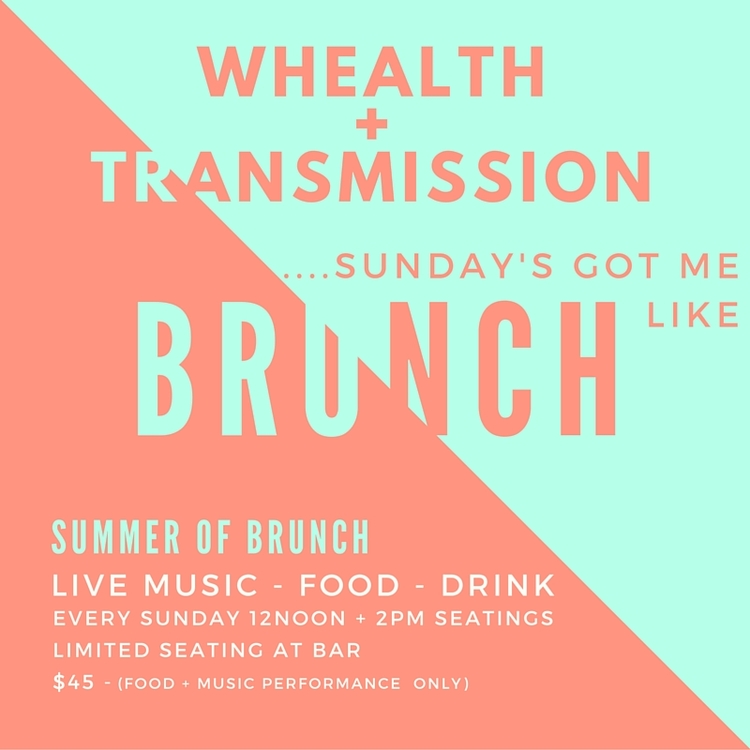 Whealth has partnered with Transmission to bring Food and Music together for a brunch experience like no other! Make a reservation and enjoy good food with musical performances.
Monday
13. JCITFF 2016 Launch Party
July 11th @ 6:00 PM – 8:00 PM
Mack-Cali Harborside Atrium, 147 Hudson Street, Jersey City
Kick off the Summer Concert Series with the Jersey City International Television and Film Festival! The Peace Train band will be the entertainment for a fun night at the Atrium. Don't miss it!