The smell of peppermint and hot chocolate. Let that linger. Decorated Christmas trees and the start small trinkets wrapped below them. The jingling of wind chimes echo through the darkness. Sweet treats baking in the oven and you, heading out for gifts and events with musical performances to sink you deeper into the holiday spirit.
Can't find any events you're interested in? Our Event Calendar has nearly forty events this weekend so if you're looking for something more festive, check there!

---
LSC After Dark: Space Cantina 
December 15th @ 6:00 PM – 10:00 PM 
Liberty Science Center, 222 Jersey City Blvd., Jersey City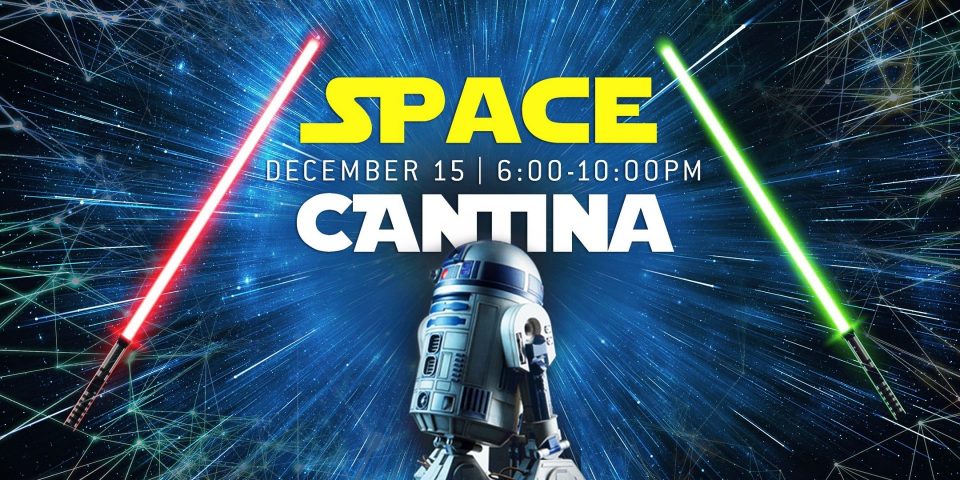 Bring your friends to an after-hours adventure at Liberty Science Center! On the third Thursday of every month, guests 21 and over can enjoy cocktails, food, music, dancing, laser shows, and more.
Our next LSC After Dark party, December 15 from 6 to 10 pm, is "Space Cantina!"
Go "rogue" with us as we celebrate the new film from a galaxy far, far away. It's an evening filled with out-of-this-world activities: drone racing, virtual reality, and even a mysterious Jedi Quest!
Show up in your most stellar space look. We're giving out prizes to guests with the best costumes.
Oh, and speaking of prizes… make sure to practice your Wookie call! We're throwing a competition to see who can make Chewbacca proud.
Dance the night away with everyone's favorite droid! Plus, embrace your dark side and indulge in delicious Cantina treats and cocktails.
Experience a new laser show in our massive IMAX Dome Theater, as well as a Star Wars-themed lightning show with our Tesla coils.
Explore exhibits throughout the building such as the Touch Tunnel, Infinity Climber, Rock Wall and more.
Get tickets now for a discounted online price. Tickets are $20 per person; for just $6 more, you can also enjoy our premium exhibition, Bodies Revealed – an artful and fascinating exhibit featuring real human specimens respectfully preserved and displayed.
Purchase the All Access Pass for admission to the party, Bodies Revealed and an exclusive LSC After Dark screening of Star Wars: Rogue One at 11 PM at Frank Theaters South Cove Stadium 12 in Bayonne, NJ.
There will be a $5 additional charge for all tickets purchased at the door on the night of the event.
A Night To Remember – NYE at Taphaus 
December 31st @ 9:00 PM – 3:00 AM 
Taphaus, 2 Second St., Jersey City

Chicpea X Hayoner Present:
A lavish black and white grand ball on the water. Celebrate New Year's Eve at Taphaus in Downtown-Jersey City, NJ.
Inspired by Truman Capote's 1966 'Party of The Century'
Dress Code:
Men: Black suit – Black Mask
Swans: White/ Black Dress – White Mask
–Premium Open Bar from 9 PM -12 AM
–Passed Hors d'oeuvres
–Unlimited Champagne
–NYC Skyline View
–Ball drop w/ countdown
–Photobooth & NYE souvenirs*
–Fireworks on the Hudson**
— Much more!
Parking Not included. USE LYFT CODE: 62347 For 20% Off.
VIP PACKAGE (Limited seats)
-6-8 Guests
–Includes above package for ea. guest
–1 Magnum Bottle Moet
–1 Magnum Bottle Belvedere Vodka
–Seating area with skyline view
Music by: BizzNice + DJ Robcast
VIP Seating and *NYE souvenirs are first come first serve and are limited. **Fireworks on the Hudson are third-party operated and are not guaranteed.
---
Thursday
3. Christmas Toy Drive at Soled Out JC
December 15th & 16th @ 11:00 AM – 7:00 PM
Soled Out JC, 633 Newark Ave., Jersey City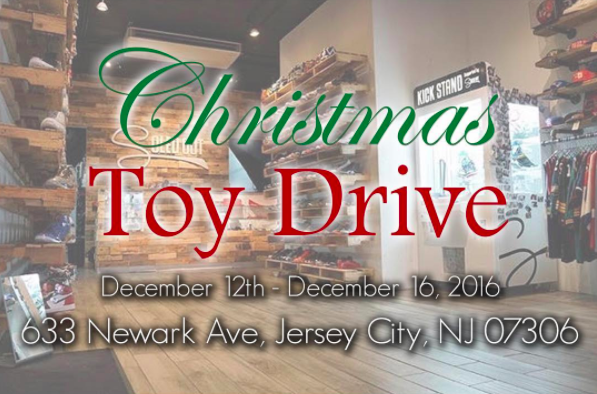 Grab a toy and come on down to the Christmas Toy Drive at Soled Out JC. All toys will be donated to those who are less fortunate.
4. Trunk Show at Love, Liesel
December 15th @ 4:00 PM – 9:00 PM  
Love, Liesel, 353 Grove St., Jersey City 

Are you still holiday shopping? Do you have one person that you're just clueless about? Join Glim and Glow, Modern Sage, and Silver Sculptor this Thursday at Love, Liesel for a Trunk Show of gifts and trinkets for all!
The first twenty customers with children to arrive will receive FREE an Inkless Wipe Kit from Silver Sculptor. The kit can be used to purchase one-of-a-kind handprint jewelry using actual fingerprints.
5. Word Up! Sessions ~ Poet's Nite 
December 15th  @ 7:00 PM – 11:00 PM 
The Hive JC, 77 Cornelison Ave., Jersey City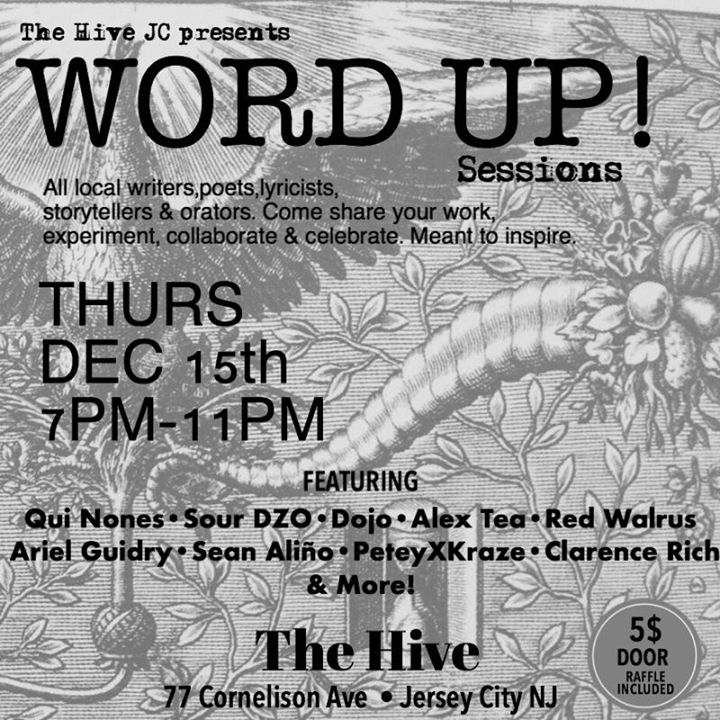 Calling all local writers! Head down for the Word Up! Sessions ~ Poet's Nite and share your stories, experiment, collaborate, and celebrate words with friends new and old! Featured writers are Qui Nones, Sour Dzo, Dojo, Clarence Rich, Alex Tea, Red Walrus, Ariel Guidry, Sean Aliño, PeteyxKraze, The Poetaster, Rashad Wright, Rescue Poetix, and YOU!
Friday
6. Jersey City's 20th Annual Toy Drive Collection
December 16th @ 5:00 PM – 6:00 PM 
City Hall, 280 Grove St., Jersey City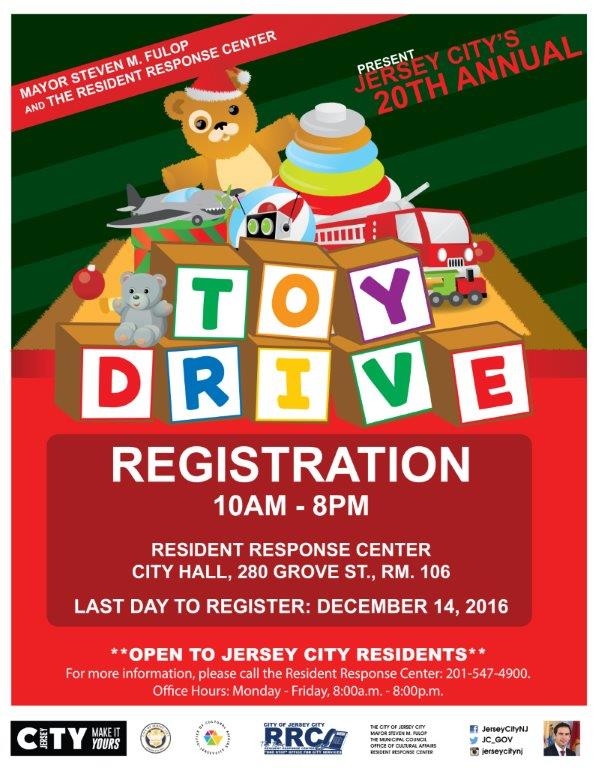 The holidays are about love and celebration so let's gather some awesome toys for those who are less fortunate! Help put a smile one a child's face!
7. APP: The Eight Reindeer Monologues by Jeff Goode
December 16th @ 8:00 PM – 10:30 PM
Transmission, 150 Bay St., Jersey City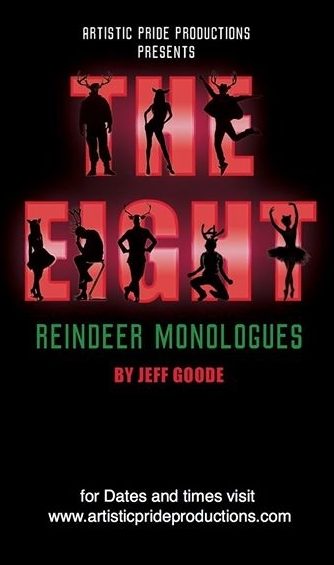 You know Dasher and Dancer / And Prancer and Vixen/ but have you heard their monologues? Join Artistic Pride Productions this weekend for The Eight Reindeer Monologues, a hilarious comedy written by Jeff Goode "where the reindeer give their opinions of Vixen's allegations that Santa made more than inappropriate advances at her." With musical performance by Glen Coleman, Kenny Jaworski, Camila Camilo, Robin Frost, Alishia Taiping and Forget the Whale!
Saturday
8. Holidays at Harborside with Rooftop Films: The Muppets Christmas Carol

December 17th @ 1:00 PM – 4:00 PM
The Atrium at Harborside Terminal, 147 Harborside Financial Center, Jersey City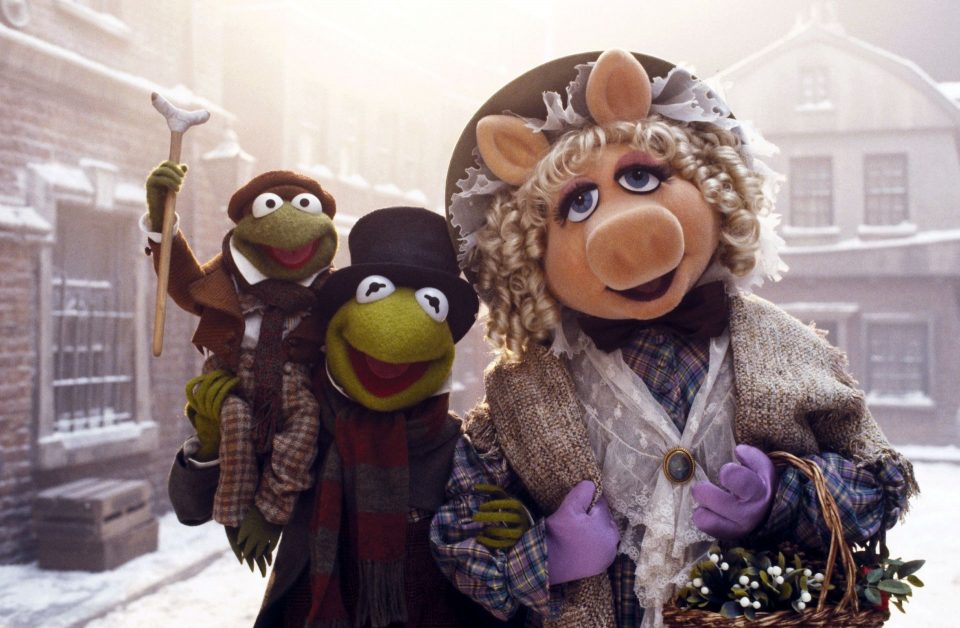 Grab the family and head to The Atrium at The Harborside for a FREE screening of The Muppets Christmas Carol! This event comes complete with complementary face painting and crafts, as well as some great food options for local vendors within The Atrium!
9. Winter Fashion Walk

December 17th @ 2:00 PM – 6:00 PM

The Hive JC, 77 Cornelison, Jersey City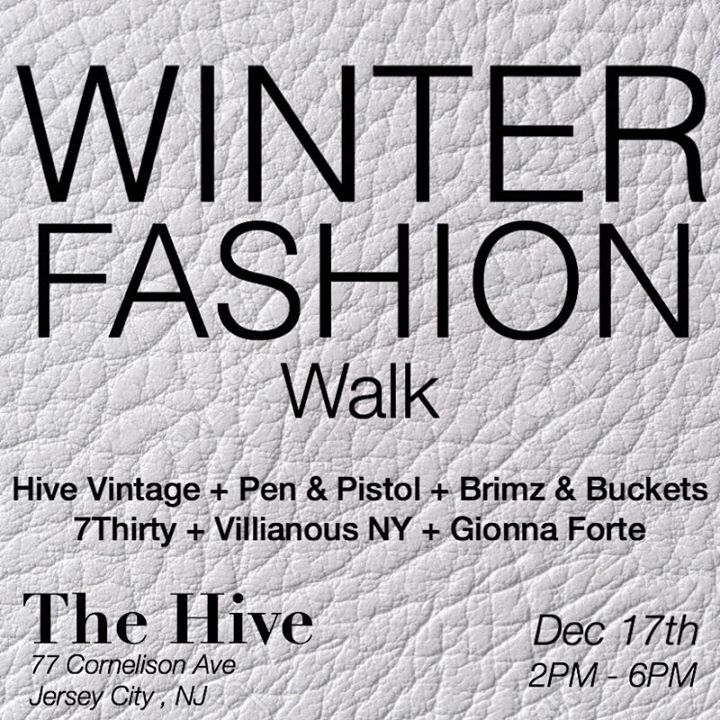 Are you a winter fashionista who simply loves winter fashion? Then this is the event for you! Watch as Jersey City fashionistas strut their winter looks for 2017! And of course, stay and browse The Hive Holiday Market and grab some last minute gifts! Vendors are Alpaca sweaters by xox, Leatherworks by Pen & Pistol, Hats by Brimz & Buckets, Hats & Skullies by 7Thirty, Vintage, Caps & Tees by Villainous NY, Handmade Jewelry & Hair Accessories by Gionna Forte, Hand Knit Scarves by Sara Jane, and T-shirts by Clarence Rich.
10. The Jersey City Mayor's Christmas Concert
December 17th @ 6:00 PM – 9:00 PM  
The Landmark Loew's Theater, 54 Journal Square Plaza., Jersey City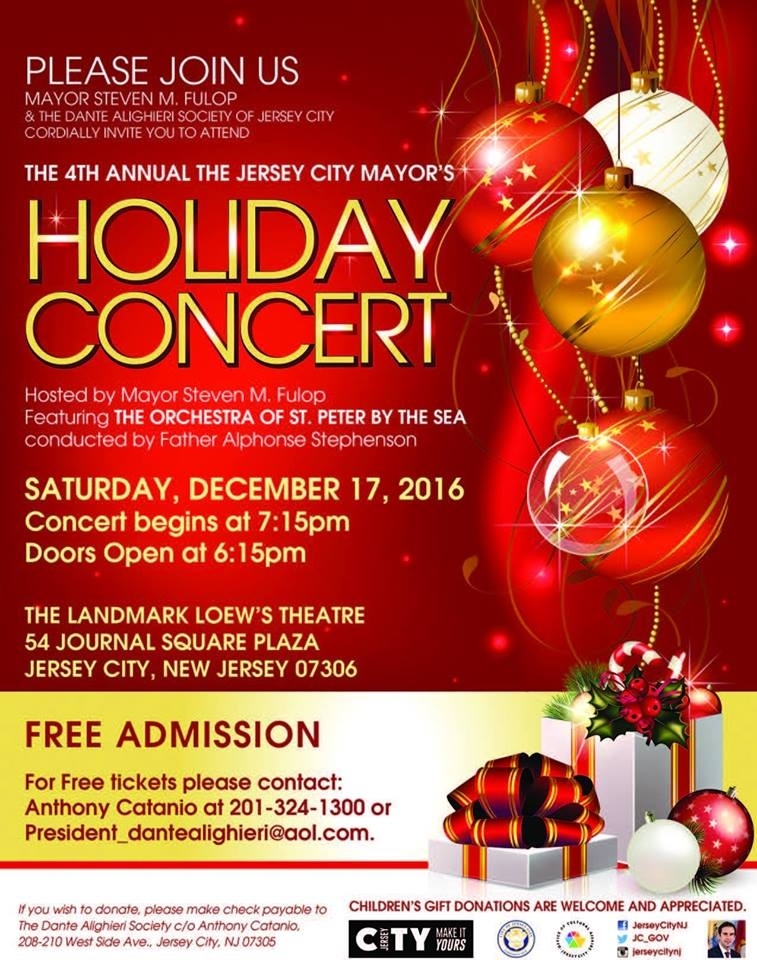 Come out for the Holidays and enjoy live musical performances at the Mayor's annual Christmas Concert!
11. Overlake w/ friends at Cathedral Hall

December 17th  @ 8:00 PM – 1:00 AM
Cathedral Hall, 380 Montgomery St., Jersey City 
$5
21+

Head to Cathedral Hall this weekend for live performances by Overlake, Vaureen, ohnomoon, and Sunshine & The Rain. Steve and Steve from Iris Records will provide you with an all-vinyl dance party before and after the show!
Sunday
12. Downtown Christmas Service

December 18th @ 10:00 AM – 12:00 PM

Downtown Community Church, 175 8th St., Jersey City 

The Downtown Community Church will be holding a Christmas service on Sunday morning. There will also be kids classes offered from 10:00 AM for ages six weeks to five-years-old.
13. Hanukkah Party

December 18th @ 1:00 PM – 4:00 PM

HudsonPlay, 189 Brunswick., Jersey City 

Join HudsonPlay for a Hanukkah celebration! All the fun starts and 1:00 PM with "Across the Sea" by Goshen Theatre from Israel, followed by games, a fun obstacle course, and delicious Sufganiyot for everyone!
14. Gayborhood TUSK Holiday Party

December 18th @ 5:00 PM – 9:30 PM
Transmission, 150 Bay St., Jersey City

Calling all Gaybors! Come and celebrate the holidays with the Gayborhood this Sunday at the special holiday edition of TUSK. Come in for Disco House T-Dance and stay for the Two Queers and A Bitch, Christmas Show!
15. Coat the City
December 18th @ 11AM – 4PM
Talde, 8 Erie St, Jersey City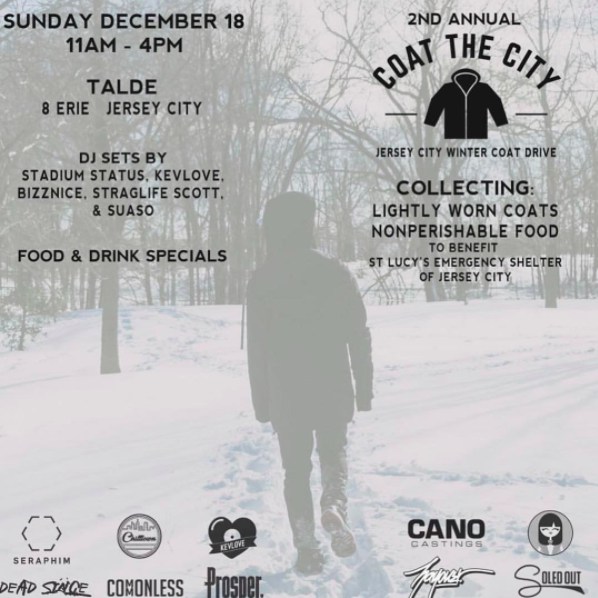 Bring your gently used coats and non-perishable food that will be going to St Lucy's shelter in Jersey City. We're happy to be part of this again!