Whether you celebrate Thanksgiving or just want to enjoy your time off from work/school, Jersey City has some events going on just for you. Check them out, or look through our Event Calendar.
---
Wednesday
AngelaCARES 7th Annual Thanksgiving Feed the Seniors
November 22 @ 3:00 PM – 7:00 PM
Golden Door Charter School, 3044 Kennedy Boulevard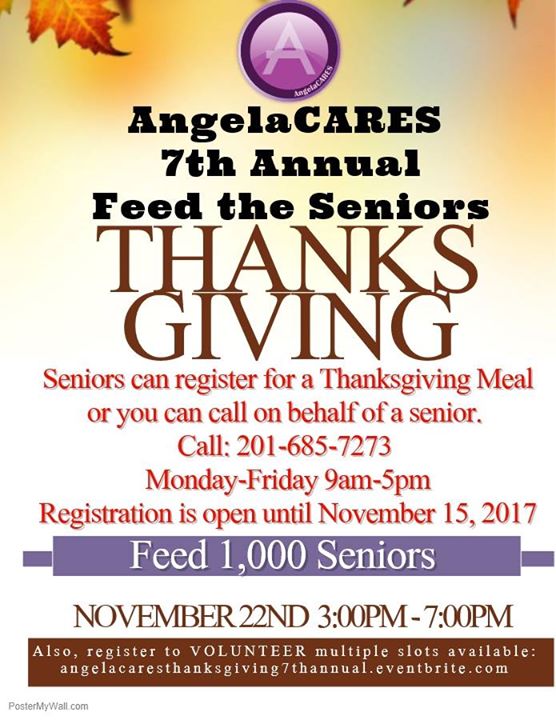 Join AngelaCARES, Inc. for their 7th Annual Thanksgiving Feed the Seniors dinner. Volunteer to package and deliver 1000+ Thanksgiving meals to homebound and seniors living alone throughout Hudson County.
Event Details
Thanksgiving Eve 2017 – The Biggest Party Night of the Year!
November 22 @ 6:00 PM – 1:00 AM
VB3, 475 Washington Blvd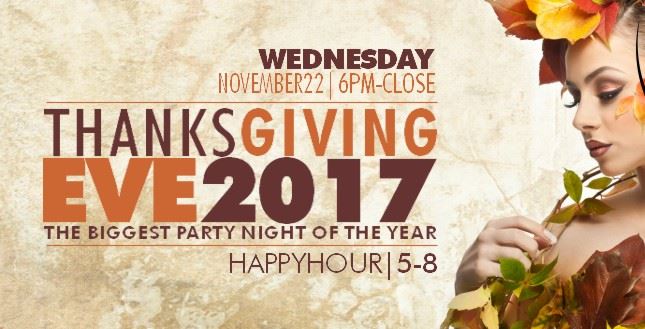 Stop by VB3 for a live DJ, free admission, and drink & shot specials all night!
Event Details
Ho99o9 (Horror) / Pink Mass / GDP / The Bennys at White Eagle Hall
November 22 @ 8:00 PM
White Eagle Hall, 337 Newark Ave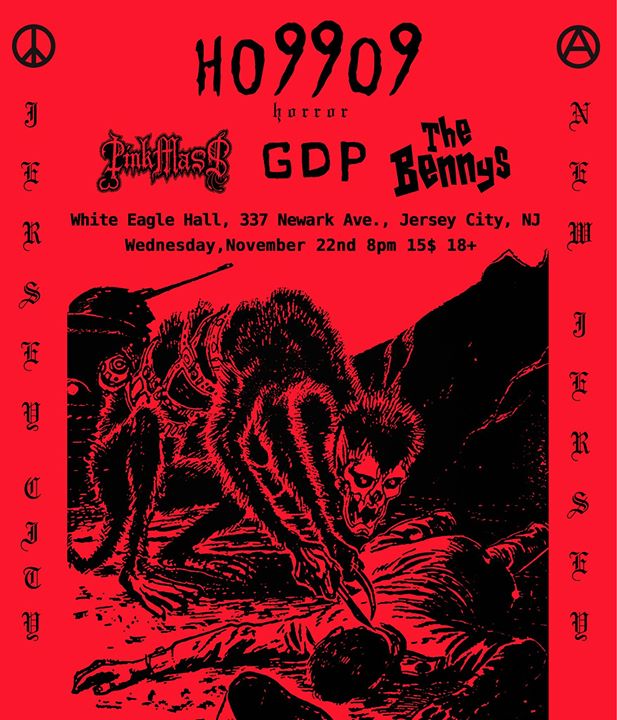 Looking for a night of music? Stop by this show at White Eagle Hall.
Event Details
Thanksgiving Eve Bash at FM Jersey City
November 22 @ 9:00 PM – 2:00 AM
FM, 340 3rd St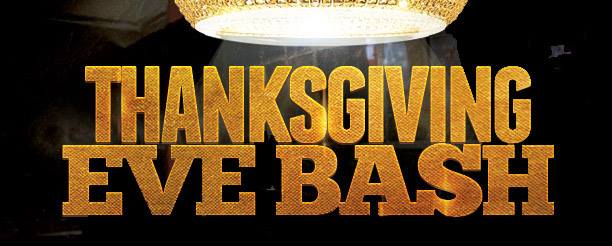 Spend the night at FM with drink specials while DJ Marvilous plays a full spectrum of music.
Event Details
Thursday
Thanksgiving Dinner for the Community
November 23 @ 10:00 AM – 2:00 PM
Hard Grove, 284 1st Street


The Hard Grove Restaurant and PACO will be serving anyone facing adversity this season with a hot Thanksgiving meal.
Event Details
Give Thanks With Us!
November 23 @ 1:00 PM – 6:00 PM
Liberty House Restaurant, 76 Audrey Zapp Drive
Join Liberty House for a thanksgiving dinner! There'll be a 3-course prix-fixe menu available.
Event Details
Friday
26th Annual Day-After-Thanksgiving R&B Concert
November 24 @ 8:00 PM – 11:30 PM
Miller Branch Library Auditorium, 489 Bergen Ave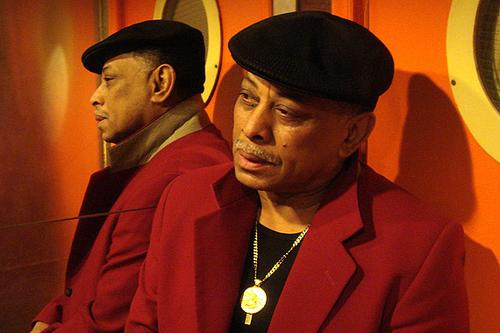 Enjoy this free, 21+ R&B show featuring Joe Bataan, Soul Generation featuring Cliff Perkins, Tony Riley, and PRIME!
Event Details
More Fun for Thanksgiving Day
If you're looking for a little more oomph for your Thanksgiving Day, you've come to the right place.
So you don't want to bother with the mess of making a turkey? 
Stop by Hamilton Pork
247 10th St, Jersey City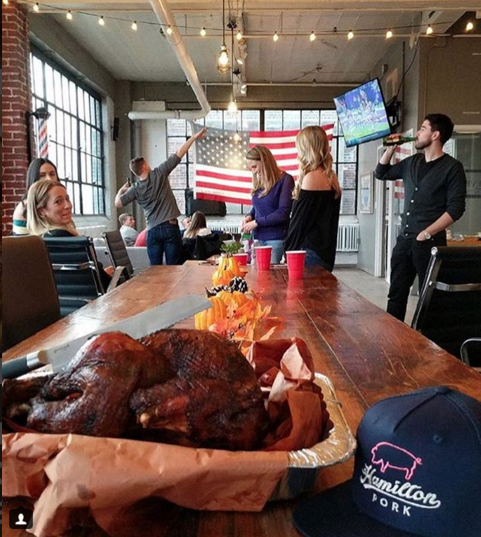 Hamilton Pork is smokin' turkeys like nobodies business.  Hurry and reserve yours today they're only available while supplies last.
364 Marin Blvd Jersey City NJ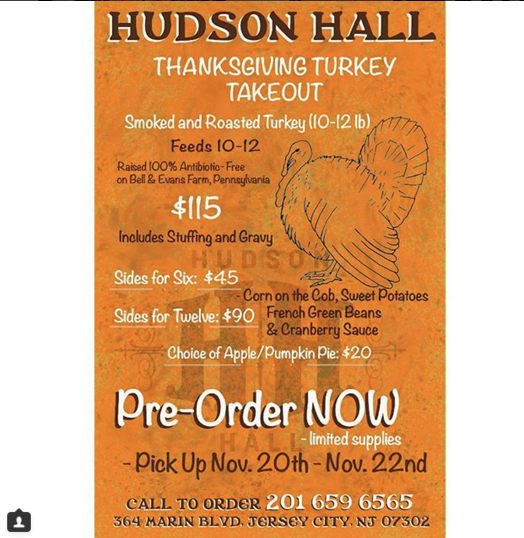 Hudson Hall too, will be handling all your Turkey needs, just give them a buzz.
If you're looking for ways to volunteer, donate, or get involved
The brothers of Alpha Phi Alpha fraternity Inc.  in collaboration with the Jersey City Greek alliance, and NJCU greek senate present –
"FEED THE CITY"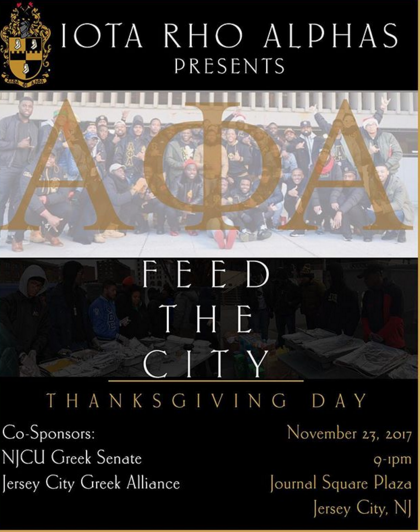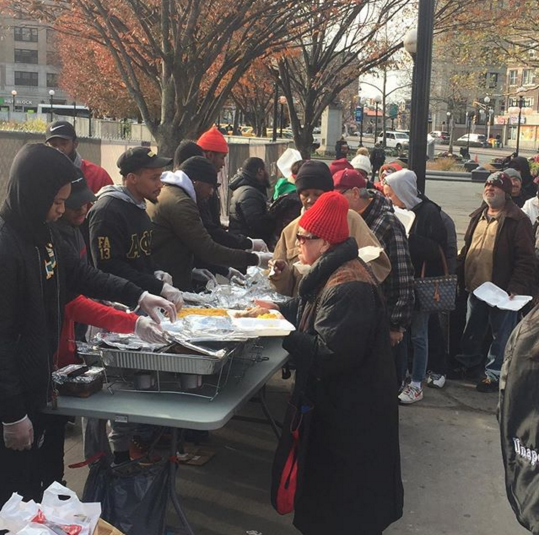 From 9am to 1pm, members of the greek community in Jersey City will be serving up plates of hot food to those in need on the Journal Square plaza. This Thanksgiving, they are looking to serve turkey, ham, chicken, green salad, mashed potatoes, corn, and more. Currently, they are taking donations and accepting volunteers. If anyone would like to contribute or assist them in serving the community, they can reach out to ipalphas@gmail.com for more information and further instructions.
Looking for ways to let loose before dinner?
Make your way over to Porta!
135 Newark Ave, Jersey City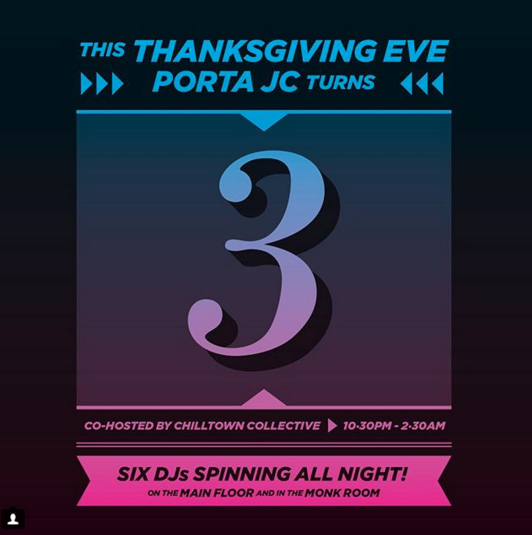 8 Erie St, Jersey City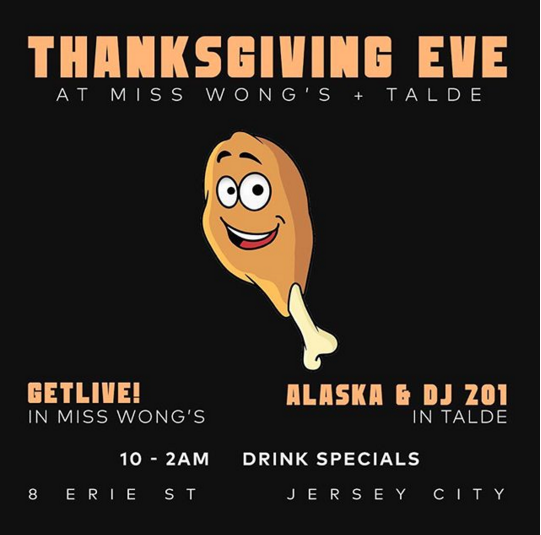 South House Rec Room
149 Newark Ave, Jersey City