The leaves are changing and the weather is completely confused, but that doesn't mean that you should be too! This weekend is overflowing with super events that scream fall. From Friday to Sunday there are forty events that we've managed to carve down to our top ten choices.
Not interested in what we've picked out? Make sure you head to the CHICpeaJC Event Calendar and find the fit for your weekend!
Friday
1. JCR Pop Up Shop, Happy Hour!
Drinks + Shopping = Perfect Friday night. Get some cute fall looks from Deen Boutique, Caviar Noir, Republic of Pigtails and more!!
JCR Realty, 109 Christopher Columbus Drive.

2. The Rocky Horror Picture Show and Live Performance at Historic Jersey City Cemetery!
October 23rd @ 7:30PM – 10:00PM
Historic Jersey City Cemetery, 435 Newark Ave., Jersey City
$15 (Suggested Donation)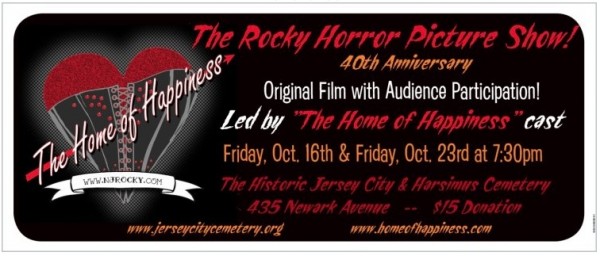 "Dammit, Janet," grab all your family and friends and make your way down to the Historic Jersey City Cemetary for the 40th anniversary of The Rocky Horror Picture Show and a live performance by The Home of Happiness. "Let's do the Time Warp again!"
3. Navatri Festival in India Square
This weekend is your last chance to experience the Navatri in India Square. Read all about ChicpeaJC's experience here!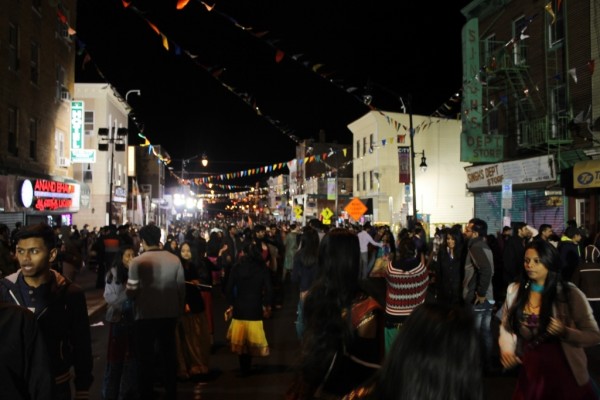 Saturday
4. Another Man's Treasure Epic Sidewalk Sale
Did someone say Vintage?!
"MOST EPIC SIDEWALK SALE EVER!!!! AMT is doing a  MASSIVE clear-out and what better time to do it than Halloween.. Come and snag a BARGAIN! Prices starting at $1.. they are selling CHEAP CHEAP CHEAP!!"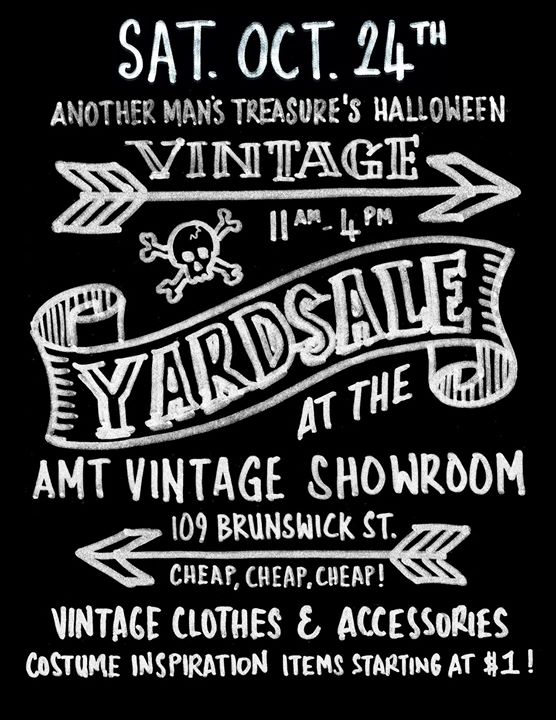 5.  "The Ghost of Uncle Joe's"
The biggest Halloween event that should not be missed! Cover bands at a cemetery…. That's really all we need to say about that.
This Saturday October 24th, (The) Rock-it Docket & The Historic Jersey City and Harsimus Cemetery present the Ghost of Uncle Joe's Halloween Costume Ball & Fundraiser !!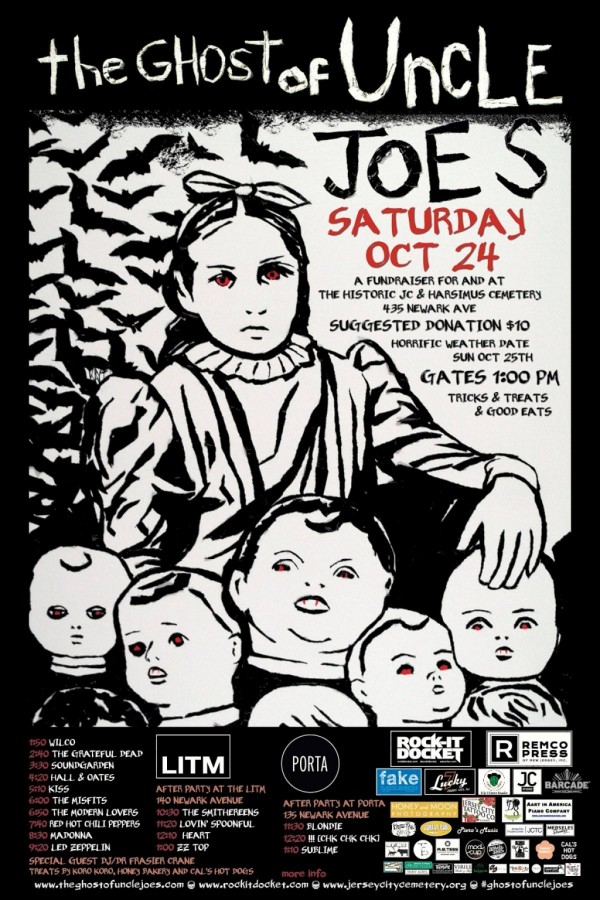 This annual event is rock show in a cemetery with local musicians performing covers of famous bands. There will be delicious food, refreshing beer, prize giveaways for best costumes and more !!
Entry is a $10 donation at the gates – which helps to restore & preserve The Historic Jersey City and Harsimus Cemetery. Please don't bring your pets or any glass containers to the event. If you can't make please donate at www.jerseycitycemetery.org
Gates at 1pm
1:50 Wilco – Miss Ohio
2:40 The Grateful Dead
3:30 Sound Garden
4:20 Hall & Oates – the Dirty Water Dogs
5:10 Kiss – mbrs Girltown
6:00 The Misfits – The Hosts of Uncle Joe's
6:50 The Modern Lovers – WFMU's Hoof & Mouth Slimfonia
7:40 Red Hot Chili Peppers – JC Studios
8:30 Madonna – Plastiq Passion
9:20 Led Zeppelin – member' Rye Coalition
After party at the LITM
10:00 The Smithereens – Lost Romance
10:50 Lovin' Spoonful -Glenn Morrow's Cry for Help
11:40 Heart – Hey Anna
12:30 ZZ Top – Bongo Surf
After party at Porta
11:30 Blondie – The Little Babies
12:20 !!! [chk chk chk]
1:10 Sublime –
Lucky 7's Mischief Night Halloween 10/30
8:00 Rob Zombie
8:50 Judas Priest
9:40 NOFX
HDSID 10/31 Adult Party in the Plaza 6 pm to 10 pm
6:00 Hank Williams – Lonesome Prarie Dogs
6:50 Prince – Sandra Small
7:40 Guns n Roses – reprise of last year's killer finale at GOUJ
8:30 The Rolling Stones – Jeff and the Mutts
9:20 Queen – The Handsome
Sunday
6. Fall Harvest Brunch with Three Little Birds, Bella's Face Painting and Preschool of Rock
October 25th @ 11:00AM – 2:00PM
BELL + GRAY, 8 Erie St., Jersey City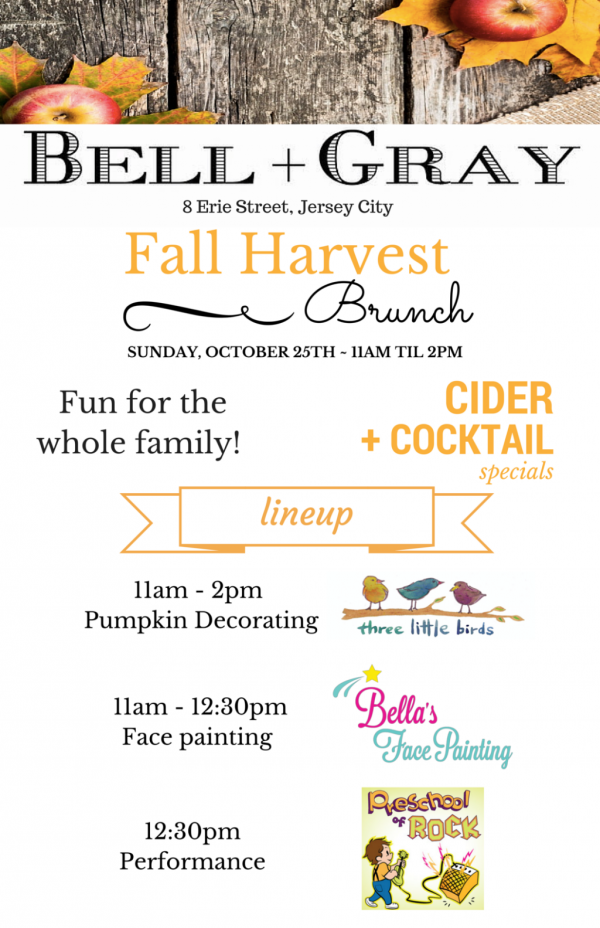 Join us for a Fall Harvest Brunch at BELL + GRAY. There will be assorted events such as Pumpkin Decorating with Three Little Birds, Face Painting with Bella's Face Painting, and a performance from Preschool of Rock! It's fun for the whole family!