The weekend is here! We have a bunch of events ready for you this weekend and for the month of May. Get a head start on your plans!
Can't find any events you're interested in, or want to find some events for the new month? Our Event Calendar is full of options!
---
Featured Events
Shut up and Listen Pt. 8 – White Headphone Party
April 29 @ 9:30 PM – April 30 @ 2:30 AM
Transmission, 150 Bay St., Jersey City
21+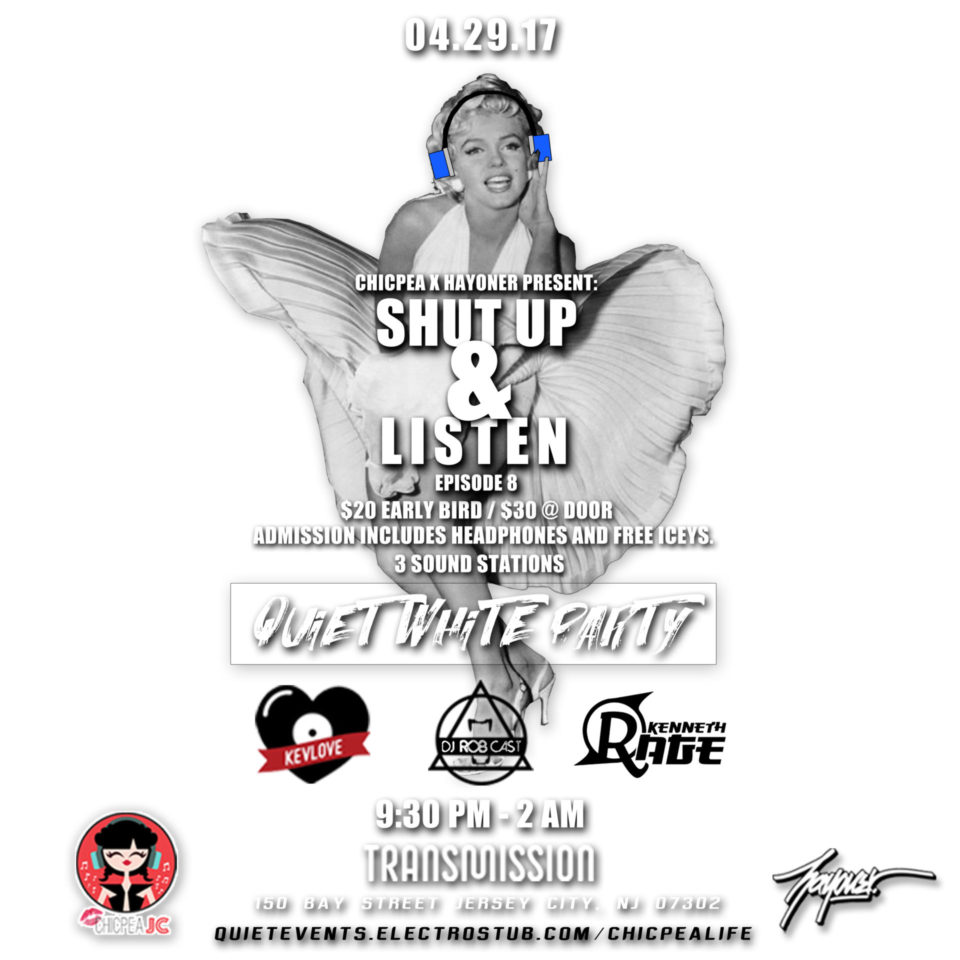 Wear all white as we kick off the warmer months! There'll be 3 DJs: Kenneth Rage, DJ Robcast, and DJ Kevlove! Choose from Hip Hop, Top 40, and Throwbacks as you party all night.
Hoboken Girl's Prom Prep Rally for Charity
April 27 @ 3:00 PM – 6:00 PM
Hoboken Junior Senior High School, 800 Clinton St., Hoboken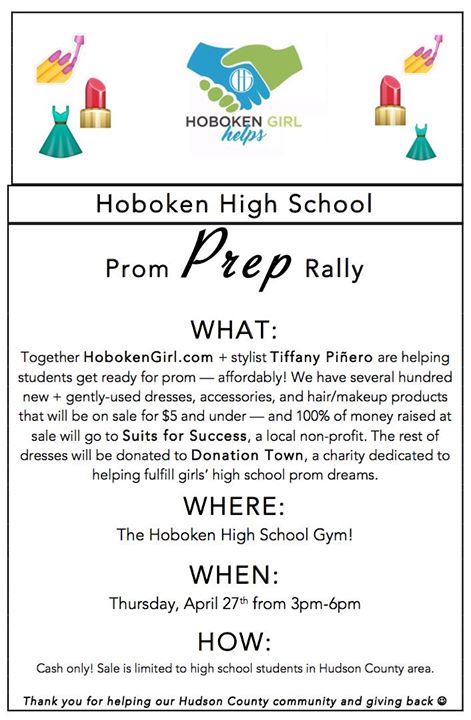 Students from anywhere in Hudson County can attend the sale from 3PM to 6PM at Hoboken High School on April 27! All teens are welcome. Dresses will be on sale for $5 and under, makeup and hair products (new) for $1 each, and jewelry for $3. 100% of funds raised will go towards Suits for Success as a way for the students to pay it forward. Cash only! Sale is open to students in Hudson County ages 14 to 18 only. Must show student ID or proof of residency. Stylist Tiffany Pinero will be there to help with outfit choices as well.
Event Details
---
Thursday
3. Eliza Neals 10,000 Feet Below Album Release Party
April 27 @ 7:00 PM – 8:30 PM
Transmission, 150 Bay St., Jersey City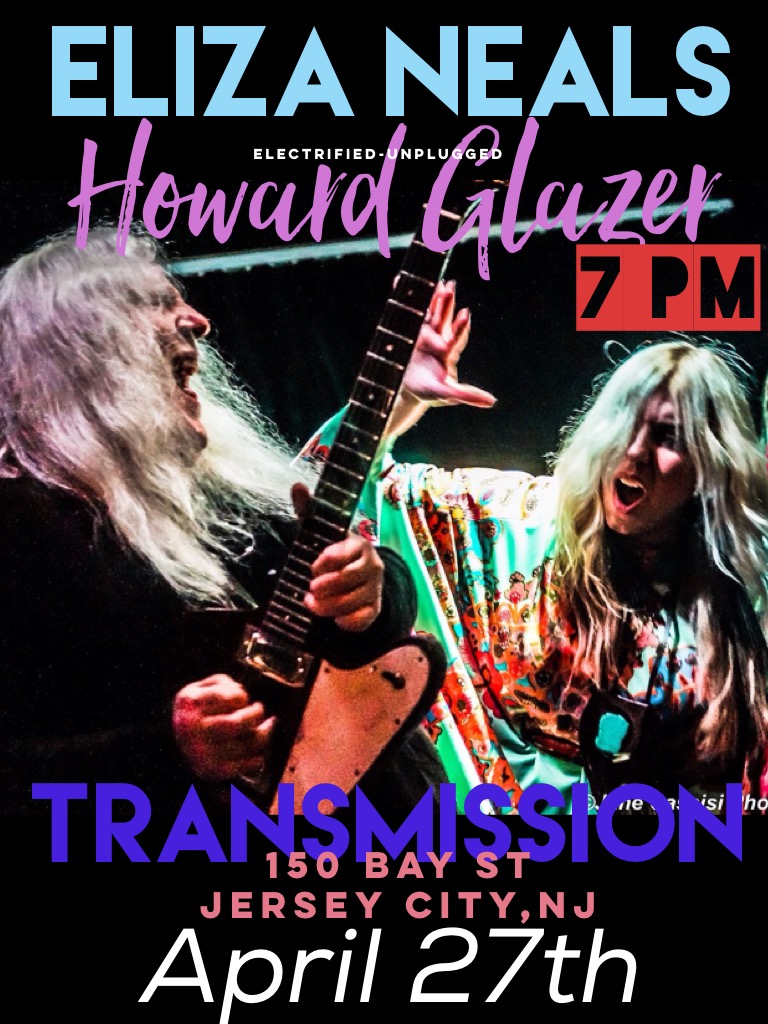 Check out the free event at Transmission for Eliza Neals' album release party, featuring Neals on the grand piano, the tambourine, and vocals.
Event Details
4. JCTC presents ARTSpeak
April 27 @ 7:30 PM – 10:00 PM
Jersey City Theater Center, 339 Newark Ave., Jersey City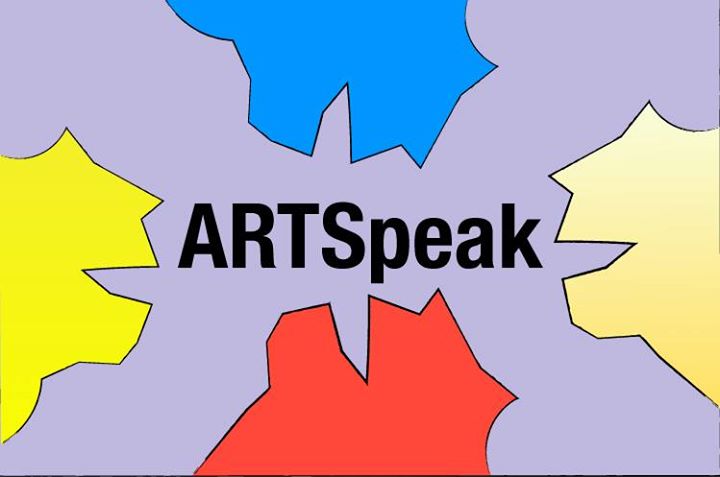 Join JCTC for a different kind of artist talk! Two artists are chosen and each will give a 30 minute "interview/talk," and then the audience gets the chance to ask quirky questions. Don't miss out on a fun experience!
Event Details
Friday
5. Relay for Life at NJCU
April 28 @ 6:00 PM – 9:00 PM
John J Moore Athletics & Fitness Center, NJCU, 2039 Kennedy Blvd., Jersey City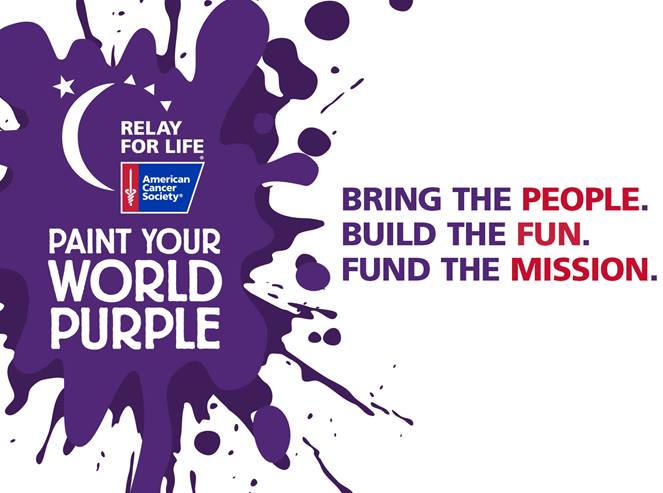 Join the JC Rotary Team and NJCU for Relay for Life in the NJCU gymnasium! Their team goal is $500 and if the goal is reached, the Jersey City Rotary Foundation will match it! Click below find more information on donating and registering for Relay for Life.
Event Details
6. Drink and Draw
April 28 @ 8:00 PM – 12:00 AM
Jersey City Art School, 29 McWilliams Place, Jersey City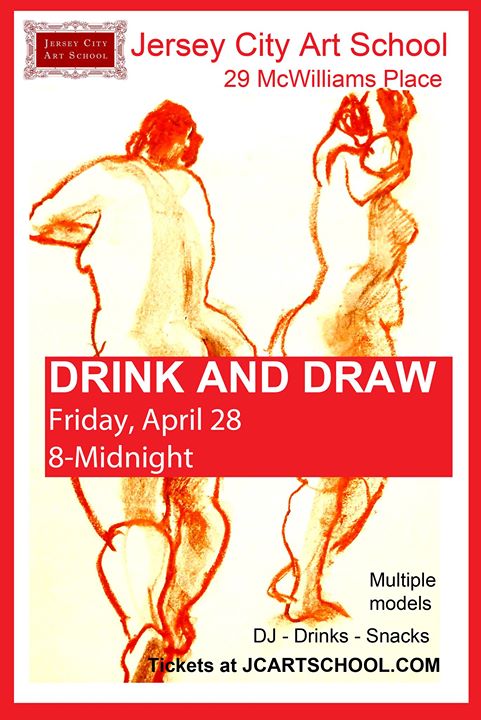 Stop by for night of figure drawing at the Jersey City Art School! There'll be two nude models, and drinks and snacks are included!
Event Details
Saturday
7. Annual "Celebrate Mother Earth Festival!" Fundraiser
April 29 @ 12:00 PM – 6:00 PM
Historic Jersey City and Harsimus Cemetery, 435 Newark Ave., Jersey City
Celebrate Mother Earth with the annual family-friendly festival of eco exhibits, urban farming, live music, food, drinks, mini tours, and animals!
Event Details
8. Surati Holi Hai 2017
April 29 @ 12:00 PM – 8:00 PM
Exchange Place Waterfront, Jersey City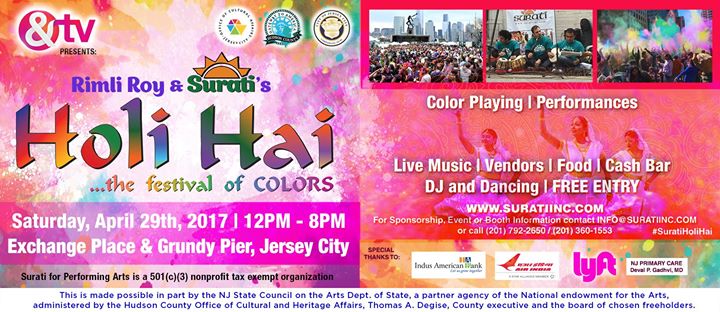 Celebrate Holi on the Waterfront with color playing, live performances, vendors, food, a cash bar, and an after party with a DJ. It's free and family-friendly!
Event Details
9. Soulful Cypher presents A Vibe Called Blessed
April 29 @ 8:00 PM – April 30 @ 2:00 AM
JC Underground, 116 Newark Ave., Jersey City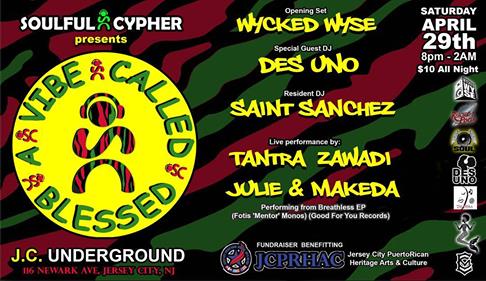 Stop by JC Underground for live performances for $10 all night! Proceeds will benefit Jersey City Puerto Rican Heritage Art & Culture and the JC Puerto Rican Heritage Festival and Parade.
Event Details
Sunday
10. Spring 2017 Open House at Mana Contemporary
April 30 @ 1:00 PM – 6:00 PM
Mana Contemporary, 888 Newark Ave., Jersey City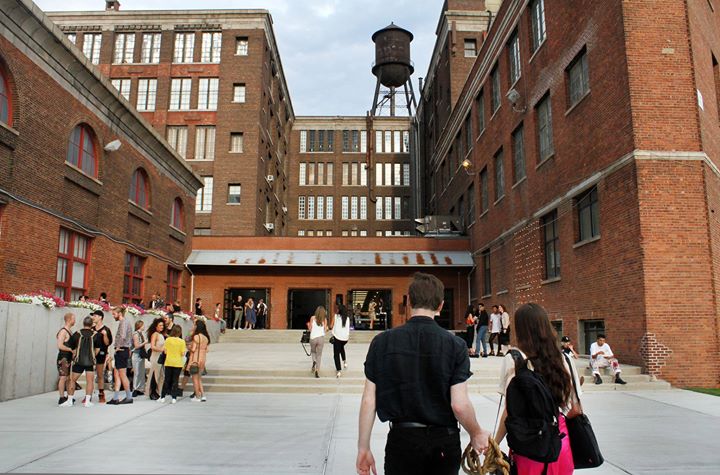 Mana Contemporary is welcoming guests as they lead a nationwide protest against the Trump Administration's threat to the arts and the NEA, and encourage guests to participate by signing a petition voicing their dissent. Sign the petition by clicking the link below!
Event Details
---
Upcoming Events
HDSID Farmers Market 10 Year Anniversary Celebration
May 1 @ 3:00 PM – 8:00 PM
Grove Street PATH Plaza, Jersey City


Join the HDSID for opening day festivities including a ribbon cutting ceremony with the Mayor Fulop, DJ Dancing Tony, and more. ChicpeaJC will be there, so make sure to pass by and say hello!
Event Details
Decade-ance -The Groove on Grove 10 Year Anniversary Party
May 3 @ 5:00 PM – 8:00 PM
Grove Street PATH Plaza, Jersey City

Celebrate Groove on Grove's 10th year with live performances and a cocktail night! Enjoy cold drinks and delicious food from some of your favorite local restaurants, and check out the vendors of the Artist & Maker Market.
Event Details
Grand Opening of The Lutze Biergarten
May 5 @ 5:00 PM – 12:00 AM
The Lutze Biergarten, 15 Second St., Jersey City


Join The Lutze Biergarten on May 5 for their Cinco de Mayo Grand Opening Celebration featuring over 100 vendors, drinks, food, games, live music, and fireworks!
Event Details
Save Our Biomes – Social Studies Fair and Street Carnival
May 6 @ 9:00 AM – 1:30 PM
Hudson Montessori School, 10 Regent St., Jersey City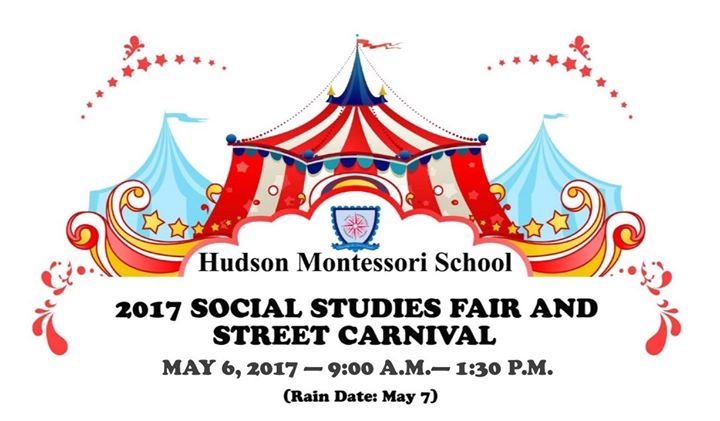 Hudson Montessori School is holding its 8th Annual Social Studies Fair on Saturday, May 6 from 9 AM to 1:30 PM. This free, fun-for-the-whole-family community event spans three blocks from 10 to 50 Regent Street and features a street carnival chockfull of activities, food, and entertainment.
Event Details
ChicpeaJC Turns 3/Launch of CCAJC
May 13 @ 6:00 PM – 12:00 AM
Harborside Plaza 3, 210 Hudson St., Suite 700
$15 – $40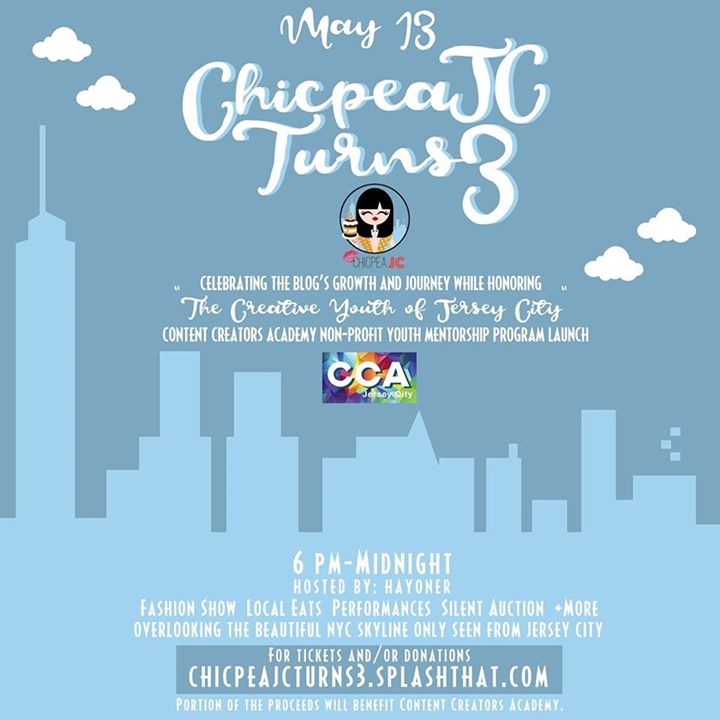 On May 13th 2017, ChicpeaJC will turn 3 at The Harborside on the Waterfront in Downtown Jersey City. This event is not only a celebration of the blog's journey and growth, but it is also the official launch of Content Creators Academy (CCAJC) – a non-profit youth mentorship program that provides resources for young individuals who are interested in the creative and digital space, and have an entrepreneurship spirit.