The Rockefeller Center tree was recently lit for the holiday season, which marks the peak of the festivities in Manhattan! If you're looking to celebrate the holidays with sights and activities in the city, we've got you covered.
---
Sights + Displays
If you want to view some elaborate light displays and shows, brightly lit trees, and beautifully decorated businesses and homes, here are spots you can check out!
The Rockefeller Center tree + Saks 5th Avenue Show
The Rockefeller Center tree is a huge spectacle every year, from the picking of the tree to the lighting of the tree accompanied by live performances. Head over to Rock Center to see the tree in all its glory and stay for the Saks 5th Avenue Holiday Lights show.
Dyker Heights Christmas Lights
Head over to Brooklyn to view the extravagant displays in Dyker Heights. It's a little Christmas town with homes covered in decorations, from life-sized Santas to hundreds of lights.
Macy's Herald Square
This year, Macy's Herald Square is bringing six displays to fit their "Believe in the Wonder" theme following the story of Santa Girl and the magic behind the holidays.
Bergdorf Goodman
Luxury department store Bergdorf Goodman brings high fantasy to their window displays every year. Each display is a piece of art in itself and they're definitely worth the trip.
Bloomingdale's
The window displays at Bloomingdale's on 59th St this year highlight space travel for the 50th anniversary of the Apollo 11 moon landing.
Markets + Shops
Do some holiday shopping at local markets!
Bryant Park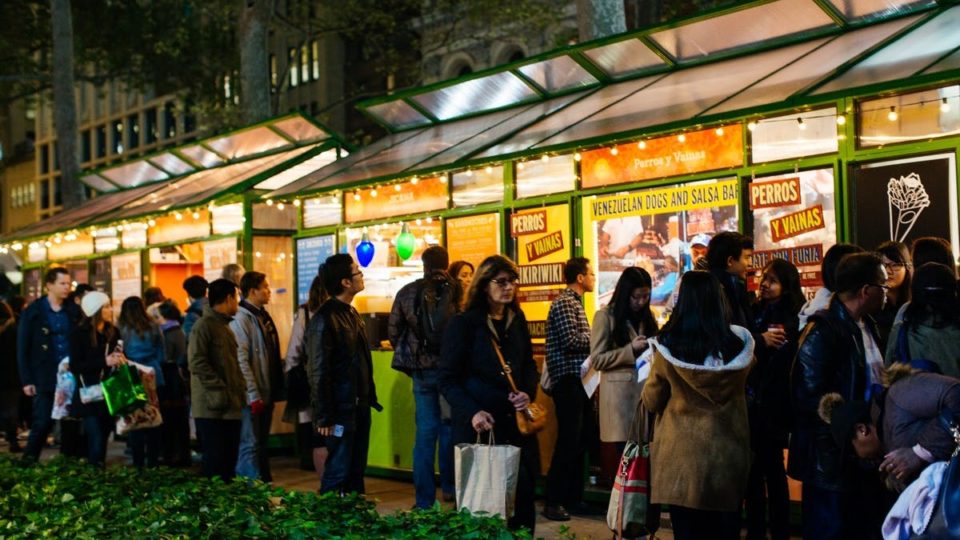 Bryant Park's holiday shops include over 175 businesses and artisans. The shops are open from 11AM to 9PM on weekdays, 10AM to 9PM on weekends.
Union Square
The Union Square market features over 200 vendors and new sections including Little Brooklyn. They're open from 11AM to 8PM on weekdays, 11AM to 7PM on weekends.
Harlem Night Market
From 4PM to 10PM on December 14th and 21st, you can visit the Harlem Night Market for a celebration of culture and art at the historic La Marqueta (1590 Park Ave).
Turnstyle Underground
Featuring 39 shops in an underground location, Turnstyle Underground is a holiday market beneath 8th Ave between 57th & 58th St. Stop by for gifts, food, and drink!
Grand Baazar
Every Sunday, shop through an indoor + outdoor market with over 100 vendors at 100 W 77th St. The profits benefit four local public schools. The market is open from 10AM to 5:30 PM.
Shows + Festivals
If you want to sit down for a show or enjoy a spectacular festival, there are plenty of options in the area.
Winter Lantern Festival
The Winter Lantern Festival on Staten Island features eight acres of lights, live shows, interactive exhibits, and more. You can visit until January 12th – tickets are available online.
Radio City Music Hall Christmas Spectacular
The Christmas Spectacular is always a big deal for the holidays. If you've never seen it before, you should definitely check it out! Tickets can be purchased online with prices varying based on time + date.
A Christmas Carol in Harlem
Until December 21st, head to Aaron Davis Hall for A Christmas Carol in Harlem. It's set in present-day Harlem and infuses the Christmas classic with a modern-day flair. Tickets are available online. 
Holiday Train Show
Until February 23rd, you can enjoy the annual Holiday Train Show at Grand Central Station. It's open from 8AM to 8PM on weekdays, 10Am to 7PM on weekends.
The Nutcracker
Catch a production of the New York City Ballet's The Nutcracker until January 5th! Tickets are available for purchase online.