On June 14th, head over to Kearny Point for The Real Estate Disruptor! Join a group of influencers as they reveal insider secrets on how to build a profit-driven brand guaranteed to maximize your leads, multiply your wealth, and generate media coverage.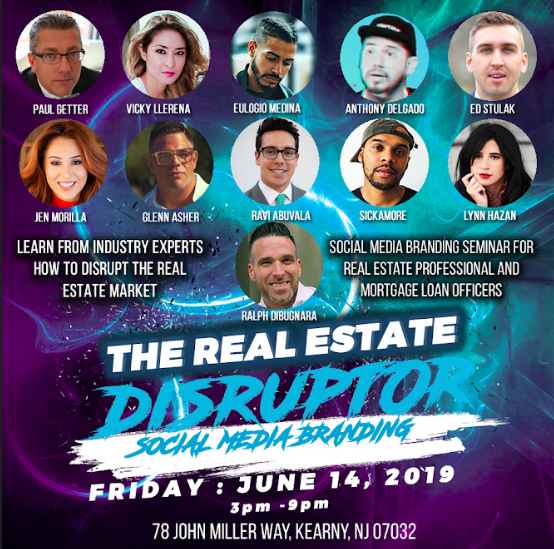 Location and Time
June 14 @ 3:00 PM – 9:00 PM
Kearny Point, 78 John Miller Way
Speakers
Speakers include:
Ralph Dibugnara – @dibug – President of Home Qualified and Creator of Real Estate Disruptor
Eulogio Medina – @_whattagoodchoice – Co-Founder of HQ Media and Social Media Expert
Vicky Llerena – @llerenavicky – Branding Strategist and Co-Creator of The Real Estate Disruptor
Jen Morilla – @jenmorilla – Impact Traveler + Business Mentor + Speaker
Paul Getter – @Paul – The Internet Marketing Nerd
Glenn Asher – @askthetitleguy – CEO Network Marketing & Host American Dream TV
Ravi Abuvala – @raviabuvala – Founder of Prospect Social
Anthony Delgado – @anthony.disrupt – Founder & CEO of Disrupt Digital
Ed Stulak – @edstulak – NJ Licensed Realtor & Social Media Shark
Lynn Hazan – @chicpeajc – Founder of ChicpeaJC
Sickamore – @sickamore –  Senior VP of A&R & Creative Director at Interscope Records
Entertainment
DJ Justyn Cruz will be spinning for the night!
Tickets
Tickets are $100 for general admission and includes access to all speaker sessions and access to the networking lounge.
You can find more information about the event and get your tickets on therealdisruption.com.