Keep Jersey City Beautiful (KJCB) is the first affiliate of Keep America Beautiful (KAB) in the State of New Jersey. KAB is a leading national nonprofit that inspires and educates people to take action every day to improve and beautify their community by mobilizing volunteers for civic engagement. In honor of Earth Day, the City of Jersey City and its community partners will once again be hosting its annual Great Jersey City Clean Up for a fourth year. During this citywide initiative, residents are encouraged to clean parks and streets, for example, maintenance on tree pits and planters, while also separating recyclables from non-recyclable items.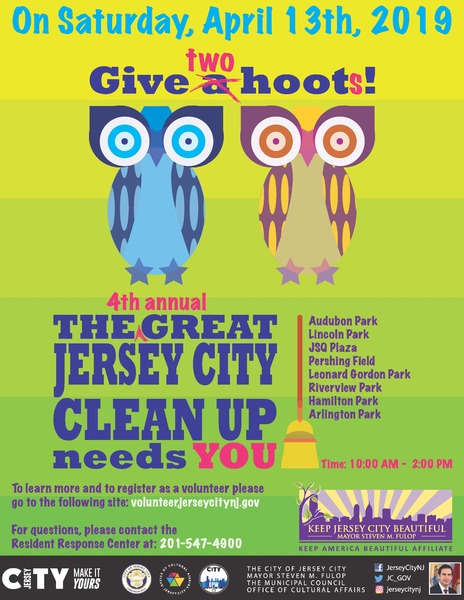 The 4th Annual Great Jersey City Clean Up is happening on Saturday, April 13th from 10AM to 2PM!
Residents, neighborhood groups and community leaders are encouraged to roll up their sleeves and help clean our city on a single day! In 2018, over 1000 volunteers participated and helped college 19 tons of garbage and 9 tons of recycling. These Clean Up events truly make a difference.
With John Lynch, Chief of Administrative Services for the Jersey City Department of Public Works, taking the lead this year, the city is ramping up its recruiting effort and wants to double the number of volunteers to 2,000. The recruiting effort is being aimed at students, especially those looking to fulfill their schools' community service hours requirement.
There will be a main tent in every location where volunteers will gather before heading to their clean up zones. Light breakfast will be provided and there will be staff from city and county agencies providing informational materials and giveaways.
To volunteer, sign up now: https://www.cognitoforms.com/CityOfJerseyCity1/_4thAnnualGreatJerseyCityCleanUp2019